Buying shoes is quite often a fun and exciting activity. But for sufferers of flat-feet (like myself), it can prove to be a tedious and overwhelming task. There are many shoes on the market sporting all kinds of cool tech, different designs, and styles, but what are the best shoes for flat feet? There are some essential characteristics to look out for those with flat-feet. This condition is sometimes misunderstood and can cause considerable discomfort to those unfortunate enough to be afflicted by it.
But being flat-footed doesn't mean you're limited in any way. An estimated 20% – 30% of the population has some form of the condition which highlights just how common it is among the general public. There used to be a time where people would be disqualified from joining the US Military if they had flat feet (luckily, that is no longer the case).
It was a recognized norm that flat-footers had less tolerance to foot stress than regular people. Studies have shown that people suffering from flat-feet generally experience a lower quality of life due to the various stresses resulting from irregular weight distribution on their feet, back, and hips. But, on the bright side, people with flat-feet can function just as effectively by implementing a few corrective measures.
What are Flat-Feet?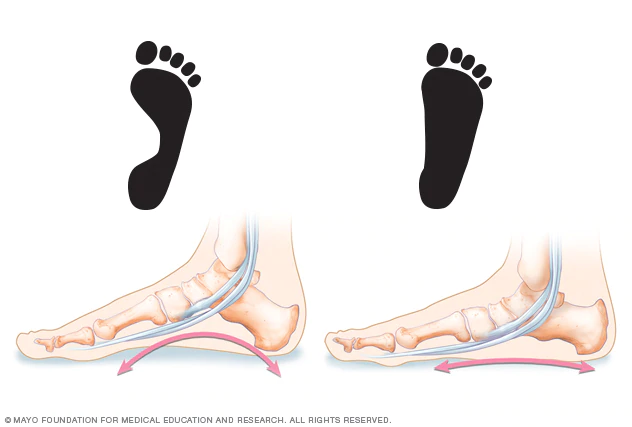 Flat-Feet (also referred to as overpronation) is a relatively common condition where the arches of the feet have fallen, either partially or completely. There are various grades of flat-feet and it is often a condition that is genetic and requires no surgical treatment. It is relatively easy to determine if you have flat-feet – wet your feet and press them on a flat surface to determine your arch type.
If the resulting print is a complete imprint of your foot, then you are highly likely to have flat-feet. Symptoms of flat-feet may include aches on your calves, lower back pain, and constant stabbing pain in your heels. Flat-feet may also contribute to reduced physical activity and low motivation due to the fact that you're in pain anytime you try to walk a block or two. This makes choosing the right type of shoes incredibly important.
---
Shoes for Flat Feet
Many of the above-mentioned issues can be easily avoided by buying the right pair of shoes with adequate arch support to make up for what your foot is naturally lacking. It's also important to keep a note of other conditions you might have apart from flat-feet – like if you're someone with wide or narrow feet.
In this article, we will identify a variety of shoes that aren't tailored to a single activity but a whole range of them, for both genders. Whether you're looking for walking shoes, work shoes or running shoes, there will definitely be a pair here that might catch your interest and help your flat-feet.