Walking and running have been an essential part of human activities since existence. Back then, no one really paid attention to how their foot hit the ground when they walk or run. After all, we make the motion a countless number of times throughout the day. It then becomes surprising to find out that the way we make those walking steps actually matter and is a reflection on our health, especially if one is into sports, such as running. And that is where the term pronation comes into play.
What is Overpronation?
Pronation is simply the motion of the foot as it strikes the ground through the movement of the heel to the forefoot during running. It is not surprising that there are different types of pronation conditions in people. Overpronation is also referred to as flat feet where the foot rolls inward excessively.
However, essentially, there are three types of pronation – neutral pronation, underpronation (flat-feet), and overpronation. People with neutral pronation are able to distribute the stress impact as a result of running proportionally and there is likewise an even pushing off from the front of the foot.
Neutral pronation is the most common type of pronation. And it is defined so as a result of the foot making its impact from the outside to the heel and rolling nicely and evenly to the ball of the foot – about 15 degrees inward.
Underpronation, on the other hand, involves the foot making contact with the ground through the outside of the heel. Meanwhile, the foot will continue to roll onto the outside of the foot. This means that all the impact of the foot is forced into a certain area of the foot and the pressure from the pushing off is often applied to the smaller toes.
On to our reason for this very important discussion – overpronation. Like in underpronation, the foot will make initial contact with the outside of the heel, however, in this case, the motion of the ball of the foot will roll inward more than the ideal 15 degrees. This condition is also known as flat-feet. In a very few occurrences, severe overpronation can also occur; in this case, the motion of the foot causes significant pressure on the big toe.
There are different ways through which you can know your condition and if you overpronate. One of the easiest ways to determine if you overpronate is to simply observe the wear and tear of your shoes. Notice if most of the wear on the shoe is on the inside of the sole and near both the foot and the big toe. If this is the case, there is a high chance that you overpronate or have flat feet.
Some other means of identifying if you overpronate is to examine your shoes. If there is a tilt inward when you look at them on a flat surface, then you could have overpronation.
It is also not uncommon to experience some symptoms if you overpronate. Some of these symptoms include the heel or arch pain, corns or calluses, pain in the knee, hip or back and sometimes hammertoes.
In other to get relief from these pains and eventually overcome overpronation, you should try out different running shoes. Orthotics or insoles for flat feet are also used by many. These inserts support the arch and help to improve the way the foot hits the ground.
Tips on How to Pick Running Shoes for Overpronation
Finding the best shoes to overcome overpronation can be a hurdle too high to cross, however, with the right information, you will be fine and your running won't be hindered. Before getting any type of running shoes, it is important to get your feet measured at home or in a store to ensure you are not getting a pair of shoes that won't fit you well. Pay utmost attention to the width and length of your feet. Do you have wide or narrow feet? These are some of the things to take into consideration.
It is also recommended by professionals to get shoes later in the day rather than in the morning. This is because the feet swell and expand throughout the day and it is important to get a shoe that will make room for this change. The type of socks too can determine if a shoe will fit you or not. So, when getting a new pair of shoes, it is important to take your socks along with you.
Another important thing to consider is not to sit and hope that your new shoes will stretch over time. If the shoes feel tight, it's best to pick the next size up.
Aside from all of these, the anatomy of a shoe also plays significant roles. For instance, the best running shoes for flat feet have uppers made from mesh fabrics that aids breathability, leather, synthetics or Goretex for waterproof and so much more. The upper is the part of the shoe that covers or encases the foot. The upper should fit snugly, but neither too tight nor too loose.
Another important part of a shoe is the midsole. It is the part between the outer sole (outsole), which is in contact with the ground, and the shoe's upper. Shoe midsoles are made from a variety of materials, however, the best ones are often made from EVA foam and sometimes polyurethane. It is the midsole that that is responsible for providing cushioning and comfort. Some shoes will have a TPU heel clip in order to offer more support and stability for people with flat feet.
The outsole is also quite an important piece in the makeup of a running shoe. It is often made from hard carbon rubber, blown rubber or a combination of both. The outsoles of running shoes are made to resist wear and tear from road running in particular.
Other parts of running shoes include the insole or sock liner, heel counter, heel collar, shoe tongue, and many others. Most running shoes have removable sock liner and that means you can put in aftermarket inserts of your choice.
Here's a list of our 10 best running shoes for flat feet and overpronation to choose from.
1. Brooks Adrenaline GTS 19 (Unisex)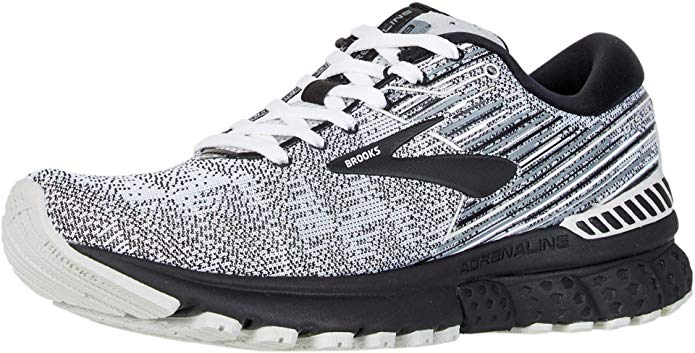 The Brooks Adrenaline GTS 19 is different from any other shoes made that has ever been made by the company. It has a 12mm drop midsole. The midsole is comprised of a dual-density foam that gives this running shoe a stable and comfortable ride all while correcting the effects of overpronation.
Brooks made the GTS 19 to be a successor to their very popular Brooks Adrenaline GTS 18 line with support, stability, and responsiveness being given very careful consideration. Runners with overpronation will appreciate the ride that this shoe has to offer and these are some of the best Brooks shoes for overpronation.
The perfect combination of the plush DNA LOFT cushioning and the responsive BioMoGo DNA midsole makes the shoe a must for runners who require stability in their everyday runs. The Brooks GTS 19 has a low profile, but don't be deceived, the comfy support system makes it easy for athletes with overpronation to run without pain or hindrance.
The only drawback of the Brooks Adrenaline GTS 19 is that it is somewhat on the heavy side compared to other road running shoes.
Pros
+ Comfortable and secure upper unit
+ Responsive midsole with good energy return
+ Available in a variety of widths
+ Phenomenal outsole grip
Cons
– Heavy (11.1 oz (M), 9.2 oz (W))
---
2. Altra Provision 3.5 (Unisex)
Altra is known for producing innovative comfortable shoes with good support. This brand manufactures one of the best running shoes that people with overpronation or fallen arches will love. Whether you plan on running or going for a long walk, the Altra Provision 3.5 is designed specifically for this purpose.
The shoe is built with just the right amount of mesh that gives dynamic support and comfortability to the wearer. The combination of Altra's GuideRail tech, StabiliPod anti-pronation support, and the Varus Stability wedge ensures that you have a stable and comfortable ride.
Altra Provision 3.5 comes with a generous toe-box that allows the toes to relax and spread out naturally. It also helps the big toe to remain in a straight position and that provides stability and power to push off the ground. These shoes allow for a level platform for your foot to strike the ground that some overpronators will appreciate. And the Altra Provision 3.5 takes care of this perfectly with its Zero Drop Platform.
Its Varus Stability also provides extra support to those who need it, through the full-length wedge slopes that go down from the medial to the lateral sides of the foot. But keep in mind that this can sometimes be uncomfortable and it's best not to get these shoes if you don't require the added stability.
Pros
+ Lightweight and roomy toe box
+ Quality construction and materials
+ Durable mesh upper
Cons
– Colors of the inner sleeve bleed out
– Uncomfortable stability
---
3. Mizuno Wave Inspire 15 (Unisex)
The Mizuno Wave Inspire 15 is a shoe that stands out from the crowd. With a 12mm drop and a weight just above 10 ounces, it will propel you forward like a rocket strapped to your feet. The shoe has an incredibly comfortable upper and a seamless design that makes it simple but trust me, it gets the job done. These shoes are ideal as daily runners and also great for long-distance running.
The Wave Inspire is also quite responsive. And has a midsole unit that has the signature Mizuno Wave technology that offers impact protection and stability for runners with flat feet.
The Mizuno Wave Inspire 15 is a really good shoe for people with flat feet that require a medium arch. The DynaMotion Fit technology in the upper makes this shoe very flexible that moves with the feet effortlessly while conforming to your foot's shape. This shoe also provides a smooth transition with every step from heel to toe.
The outsole of the Wave Inspire 15 is quite durable and has a high-abrasion carbon rubber that protects the shoe from wearing out easily. This shoe has an unbelievable ventilation system thanks to its jacquard mesh upper that reduces heat and humidity and provides great breathability.
The Inspire 15 also comes in a variety of wide sizes for both men and women. The midsole is the standout feature on this shoe that provides guidance, cushioning and comfortable underfoot experience. Whatever level of overpronation you have; severe, or moderate, this is the right shoe that aids running and walking with no pain or discomfort whatsoever.
If you want a premium sock liner, shock attenuation and durability in a pair of shoes, look no further than the Mizuno Wave Inspire 15. But, it is not without its fault though and the heel portion of the shoe feels somewhat tight. The upper also looked worn out after I had these on for a few months. There also seems to be a price difference between the same running shoes for men and women, with the women's shoes costing about $30 cheaper.
Pros
+ Well-ventilated and breathable upper
+ Good balance between cushioning and stability
+ Secure and snug fit
+ Ideal for everyday use
Cons
– Heel area is a bit tight
– Upper unit frays after a few months
---
4. New Balance 870v4 (Unisex)
Another entry in the list of the best running shoes for overpronation is the New Balance 870v4. The shoe is popular among the New Balance series for its flexibility and great support. It has an enhanced aesthetic feel and midsole that effectively adapts to the foot. It is built for people with mild overpronation since the arch support is not too intrusive as other contenders on this list. For this purpose, the NB 870v4 is not good for people who have moderate to severe flat feet or overpronation.
The new balance 870V4 also has a seamless construction that has a few synthetic overlays for not just looks, but this enhances breathability and adaptability. The REVlite midsole foam that is incorporated into the shoe makes it lightweight and provides responsive cushioning. The ABZORB crash pad made from sturdy rubber and propriety foam also gives the NB 870v4 exceptional shock-absorbing capabilities. The shoe also strengthens the arch without hindrance to curb overpronation and flat feet.
The shoe provides sufficient support, excellent breathability and a structure that an individual with overpronation will appreciate. New Balance 870V4 also has the FantomFit technology that firmly holds and supports a runner. Its interior design also has anti-microbial properties that protect the feet against infections and germ.
Pros
+ Lightweight and flexible
+ Good support and stability for mild overpronators
+ Versatile running shoe
Cons
– Too narrow for runners with wide feet
– Not enough arch support for severe overpronation
---
5. Brooks Ravenna 9 (Women's)
Here is another great shoe that helps to correct overpronation. Reviewers have attested to its ability to not only take away their pains of long years but also give them great support and confidence. It packs responsive cushioning that doesn't feel too cumbersome leaving you with a shoe that is both lightweight and snappy.
The Brooks Ravenna 9 is one of the best shoes for flat feet for women. It is a lightweight shoe that comes with responsive cushioning which provides a springy underfoot feel. It also comes with reflective saddle wraps around the midfoot which helps to give a secure fit. If you are also looking for a shoe with plenty of breathing room for the toes, then the Brooks Revanna 9 is the right shoe for you.
The shoe is made to work perfectly on smooth surfaces like roads, gyms, and treadmills, so whether you are running or walking and you have overpronation, then the Brooks Ravenna 9 is highly recommended for you.
Pros
+ Sufficient arch support for most flat-feet types
+ Fast transition and responsiveness
+ Flashy and trendy colors
+ Comfortable and secure fit for people with narrow feet
Cons
– Not recommended for those with wide feet
---
6. New Balance 1540 v3 (Men's)
Here is another member of the New Balance series that makes the list of the best running shoes for severe overpronation. It was designed to be the perfect shoe for motion control. With a low arch, a mesh upper and rubber sole, the New Balance 1540 v3 prides itself as a breathable, cushioned and comfortable shoe.
It is suitable for daily running over long-distance or even in a marathon due to its excessive padding and rigidity. The shoe comes with a full-length outsole layer that is designed to protect the midsole from wear and tear. It also has a traction capacity that helps to reduce slips and adhere to surfaces when walking or running.
The ENCAP technology in the shoe makes it consistently supportive. This technology is a thermoplastic polyurethane (TPU) carrier that encompasses an EVA core. It also has a great cushioning system for heavyset runners. Even though the NB 1540 v3 is not lightweight, it doesn't feel cumbersome. The only real complaints with these shoes are that the laces are a bit short and if you're wearing this without any socks, it can rub uncomfortably on your skin.
Pros
+ Supports heavyset runners
+ Durable and robust construction
+ Comfortable and stable performance
Cons
– Short shoelaces
– Can be uncomfortable if worn without socks
---
7. Asics Gel Foundation 13 (Unisex)
The Asics gel foundation 13 is a capable stability shoe made specifically to guide overpronators and flat footers effortlessly through the gait cycles – from heel strike to toe-off. Do you have a large build? No problem, since its wide forefoot construction and maximum support make it the right shoe for you especially if you are a heavyset athlete. These shoes have a defined arch and are meant for those with severe flat feet.
The Gel Foundation 13 is a versatile shoe no doubt. It helps to attenuate shock during impact and also allows movement in multiple planes. The shoes SpEVA Foam midsole material makes it possible to have a bounce-back characteristic and also helps decrease midsole breakdown. The gel foundation 13 also has a dynamic DuoMax support system that aids stability and support through reduced weight and increased platform support. This helps to keep your foot in a neutral position at all times and thus preventing injuries and alleviating discomfort associated with overpronation.
The AHAR outsole is made from Asics High-Abrasion Rubber and performed admirably even after I clocked many miles in these. An extra layer of cushioning is delivered to the underfoot through the DuraSponge material present in the outsole. Also present in the outsole are flex grooves that allow for maximum range of motion and foot movement.
One of the only problems with the Asics Gel Foundation 13 is that it requires a break-in period of around a week and the upper is not as durable as its outsole.
Pros
+ Fends off pain and gait deviations
+ Great cushioning system aiding underfoot support
+ Flex grooves make this shoe very flexible
Cons
– Requires a break-in period
– Upper not as durable
---
8. Adidas UltraBoost ST (Unisex)
The Adidas men's ultra boost ST might be a slightly heavy shoe, but it's a shoe that feels like you got pillows strapped to your feet. It provides great support and has a thick forefoot and rearfoot stack heights that helps to correct overpronation and flat feet. It is by far one of the best running shoes for flat feet especially for people that want a plush and highly-cushioned ride.
It actively corrects the effects of overpronation and the Boost foam ensures this function is duly carried out. With the UltraBoost ST, it does not matter if you have gone 500km or only 5km, the shoes feel just the same as you just bought it. The only problem with this shoe is that if you bought the UltraBoost ST with white midsoles, then they are prone to getting dirty quite quickly. It requires regular maintenance, but you can't really complain much especially when this shoe easily doubles as lifestyle footwear that goes well with any kind of clothing.
This shoe has one of the most cushioning midsoles, a prime knit upper and sturdy Continental outsoles that makes it one of the best shoes for flat feet. It is durable and also, it holds the feet firmly while running or walking. It is definitely a good running shoe for overpronation.
Pros
+ Durable Continental outsole
+ Smooth fitting cloth upper
+ Noticeable springiness from the Boost midsole
+ Looks stylish with street clothes
Cons
– Premium price-tag
---
9. Saucony Guide ISO 2 (Women's)
The Saucony Guide ISO 2 is one of the best running shoes for overpronation for women. It is a running shoe that offers a stable cushioned profile that is ideal for long-distance and road-running. Saucony uses the ISOFIT that hugs the foot without being too tight. The upper combines a plush RUNDRY inner sleeve with a supporting cage to fit the foot's shape. The inner sleeve is made from moisture-wicking fabric that keeps your feet dry all day. The upper is also designed in such a way to avoid bunching up as the foot flexes.
The perfect combination of the PWRFOAM and the EVA stability post helps combat the effects of flat feet and overpronation while walking or running. The EVERUN technology in the topsole is meant to give an extra oomph to each step and enables the foot to push off the ground with explosive force. The PWRFoam ensures ample durability and better stability for all-day use.
The Saucony Guide Iso 2 is a lightweight shoe and despite its stiffness, it gives the wearer a flat and stable underfoot feel. The outsole is covered in a hard rubber compound called XT-900 which is designed to protect the midsole from high wear and tear.
Despite this, some might find the shoes a little stiff especially if you're used to running shoes with plush cushioning. The fit is also a bit weird at times where the forefoot is narrow and the heel is wide.
Pros
+ Comfortable for road-races and distance running
+ Breathable and flexible mesh upper
+ High stability and support
+ Reasonable price tag
Cons
– Some might find it too stiff
– Narrow toe box
---
10. Nike Air Zoom Winflo 5
The Nike Air Zoom Winflo 5 might come as a big surprise for many especially for its price, but it's worth every penny; if not more. The midsole is partly made from a dense compound known as Cushlon ST that is meant to hold the structural rigidity of the arches while running. The Winflo 5 also has a crashpad that cushions the feet from heel-strikes. This is one of the highlight features that makes this shoe different from other running shoes for overpronation.
The outsole of the Winflo 5 is made from a hard rubber compound and offers good traction even over wet surfaces, you should have no problem wearing this while running out on a rainy day. The responsive feel of the shoe is restricted to the heel, however, the efficient transition that it gives the wearer balances that up.
The upper is made from an engineered mesh and contains perforations that keep the foot well ventilated. Nike's signature Flywire lacing system keeps your feet tucked in at all times regardless of the intensity of the run. Another standout feature of the Winflo5 is that it fits true to size, unlike other shoes with the Nike brand.
Having said that, there are durability issues with the Nike Air Zoom Winflo5. The midsole unit creases easily after just a few runs and the laces also seem to be coming apart after a few weeks of wearing these. Regards of these quirks, the Nike Winflo5 is one of the best running shoes for flat feet especially for those that want a name-brand shoe at an affordable price tag.
Pros
+ Affordable price
+ Heel is well-cushioned
+ Breathable and flexible upper
Cons
– Some durability issues
– Forefoot area is a bit narrow
---
Review Criteria for Flat Feet Running Shoes
Choosing the best running shoes for pronation can be such a hurdle too high to cross. And the reasons for these are not far-fetched. Each person has a different foot posture and there are numerous shoes out in the market today.
Choosing the wrong shoe for overpronation and flat feet can cause more harm than you can imagine. Pain and injury are some of the most common symptoms of an ill-fitting shoe. However, it is important to take heed and consider some features that will ensure that the shoe you are getting is right for you.
In this section, we will go over the factors that help to determine the best shoes for flat feet. Before getting your running shoe, you should consider these factors:
Comfort
Overpronation is a condition that often involves pain and discomfort; therefore, it is important to get shoes that offer an increased level of comfort. It is true that no one wants to be walking around in uncomfortable shoes, let alone be running in one. The condition of overpronation requires a person to keep their feet cushioned and comfortable at all times especially when it comes to running because that is where a cushioned midsole will play an important role.
Support
The support that a shoe offers is another important factor to consider before getting a running shoe for overpronation. Overpronation does not only reduces the stability of the feet, but it also affects movement. It is essential to get shoes with arch support depending on the severity of your flat feet.
So, when you are about to purchase your next running shoe, don't just buy shoes that look nice, but get a shoe that is comfortable, has arch support for your feet and also helps in correcting your foot's condition. Having said that, any of the shoes reviewed above fits into this category perfectly.
Durability
The durability of your running shoe is greatly dependent on the materials with which it was made. And it is another important factor to consider when buying shoes to combat overpronation. Make sure that any shoe you intend to buy is of good quality and can serve you for a long time.
Running shoes will most often have reinforced outsoles to withstand wear and tear. Durability will also add more value to your shoes over time and avoid having to replace them frequently.
Design and Build
The design of a shoe does not have much to do with its functionality, but it's good to have a pair that you can wear for everyday use. Many running shoes sport flashy colorways and designs that it would be a mistake to not use them for anything other than running. Some running shoes are made from engineered mesh, while others are made out of fabric like the Adidas Ultra Boost ST.
Fabric uppers are usually more form-fitting and stylish but aren't as durable as synthetic mesh. But, regardless of what you get, make sure your running shoes can serve several purposes.
Breathability
Every running shoe must allow for breathability especially for it to stay ventilated. Breathability is dependent on the materials from which a shoe is produced. Shoes that have mesh and fabric parts allow free airflow, so choose shoes that have this material in other to aid breathability. On the other hand, shoes made from leather might be comfortable but are not very good on breathability.
Fit
Fit is one of the most important factors in a shoe. Buying running shoes for overpronation that does not fit you will more often than not leave you with pain and discomfort. Running shoes for overpronation should fit just right.
Shoes that are too tight will cause swelling, while a loose-fitting shoe will produce blisters and rashes. Make sure you are sufficiently comfortable in your shoes and always leave about half an inch of space between your toes and the tip of your shoes.
Price
Price does not always equate quality! You should always consider the price of the shoe you intend to purchase. Consider the factors discussed earlier, and get a shoe within the range of your budget.
However, it is important to note that in order to get the right shoes that provide support, breathability and a host of other benefits mentioned above, a fair amount of money needs to be spent. So, when you want quality, be ready to do away with some funds.
---
Frequently Asked Questions (FAQs)
What is the best way to pick running shoes for overpronation?
There are running shoes for overpronation that come with all kinds of features and design. It is best to find out how bad your flat feet are by doing the wet test where you wet your feet and stand on a piece of paper towel to get your foot's shape. Once you've identified this, you can figure out if you are a mild, moderate or severe overpronator. The more severe the condition, the more arch support you will require.
Can running shoes cure overpronation?
Using a pair of running shoes does not cure overpronation. A good shoe for flat feet will correct your condition, but not cure it. Your running shoe will work hand-in-hand with other factors that will aid in foot health. Also, never neglect your doctor's advice and diagnosis. Shoes are not to be substituted for your doctor's diagnosis.
Can females have Overpronation?
Overpronation can occur in both genders, so, yes, females can have overpronation. Hence, if you notice the symptoms of overpronation, don't panic, rather visit a hospital to have a test or diagnosis carried out on you and get a pair of running shoes for your flat feet.
Can I use any type of shoe when I overpronate?
The answer to this question is, No. People with overpronation should buy shoes that have good stability, supportive midsoles and a more structured cushioning under the heel. So, when you have confirmed that you have overpronation, it is advisable to only wear running shoes that are specifically designed to correct overpronation and flat feet. Some of them are listed above.
---
Conclusion
Our feet are no doubt important parts of our body. They carry our body weight and ensure that our movements go unhindered. Issues then arise when overpronation sets in especially for athletes or those that compete at a high-level.
Understanding your condition of flat feet will help to determine how best to combat it. The best running shoes for overpronation are of different types and brands, however, the one common factor is that they all are stability shoes that offer a good amount of arch support.
The ten running shoes for flat feet discussed above in this review are some of the best shoes for overpronation in the market that you can find. They are durable, smart, cost-effective and well-fitted.
Aside from the fact that they are durable and smart, these shoes also have some advanced technologies incorporated into them and this aids their ability to actively correct overpronation, even in severe cases. However, it is important to note that these running shoes are not the be-all and end-all solution to overpronation. Other solutions like flat feet sandals and insoles also exist. The diagnosis of your doctor and the advice he or she gives is also very important.