What Are Flat-Feet?
Flat-feet or fallen arches describes the condition where a person has a very low or non-existent foot arch, meaning that one or both of their feet are more or less flat on the ground. Normally, humans have an arch to their foot, providing a spring in their step and it helps distribute weight evenly across their feet and legs – it helps your feet stay flexible and adapt to the stress of walking on a variety of surfaces.
Common issues include mild to severe pain in the arch, knee, lower back or the rest of your lower body when excessively walking and running. Your feet may also feel "stiffer" from the excess stress being placed on them. This is why you need the best arch support insoles for flat feet.
By purchasing and using customized flat feet insoles that are designed to provide the support your foot lacks, you will be able to walk for longer, reduce the pain you would normally experience while on your feet for long periods of time and improve your overall well being.
Here is our list of what we consider to be the 8 best insoles for flat feet.

---
1. Samurai Insoles Instant Relief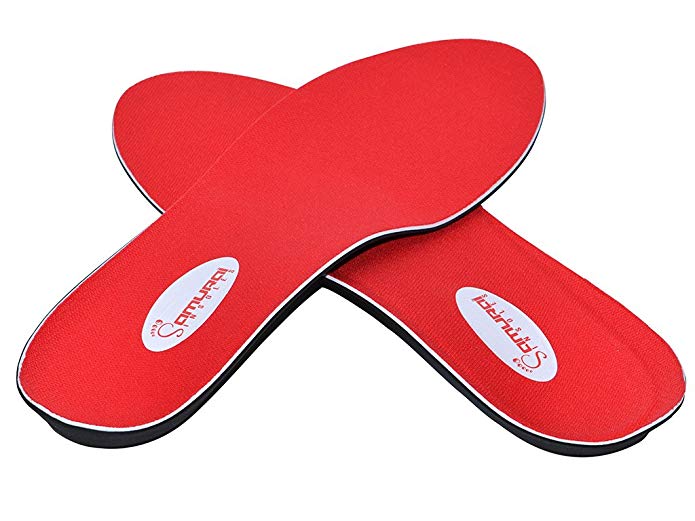 First up is the Instant relief model of insoles by Samurai Insoles. Their main gimmick is the fact that these were created by a leading podiatrist who suffered from flat-feet himself. Having gathered together industry leaders to engineer these insoles, they are designed to support your arch, fix foot pain at the root, gently correct and mediate things such as overpronation, low or fallen arches, plantar fasciitis, and even severe overpronation.
They are a comfortable, low-profile and wear-anywhere orthotics for flat feet. Rather than being one extreme (soft foam) or another (hard plastic), these Samurai Insoles provide ample support, mold to your feet during motion, but also pack a bouncy feel to every step. The insoles feature a springy molded orthotic that is hidden inside the insole. You're getting all the support you need in the right places, and it is a good choice for those of you who cannot tolerate rigid orthotic inserts, as it may irritate or hurt your flat feet.
The Samurai insoles are made from high-quality materials and this brand has gained a solid reputation for this design, in part due to its qualities, but also the fact that it is simple to use. These insoles do not require any special trimming or preparation and fit into almost any shoe types on the market currently. When it comes to sizing, they are designed to fit true to size, so you simply order the size of your foot.
Oddly enough, the biggest issue present with these insoles isn't so much the quality or effectiveness of its claims, but actually the fact that they tend to dye your socks pinkish after a lot of uses. The fabric eventually wears down and the dye stains socks from the friction generated from simple movements and accumulated sweat. As a result, maybe it would be best to wear dark socks with these on. While not a serious issue and the dye can be washed off from the socks, it must be noted for those that would take great offense to their pristine white socks turning pink after a couple of days out on the town with the Samurai Insoles.
Pros
+ Designed for flat feet and a wide range of other conditions
+ Economical pricing
+ Unique hidden orthotic
+ Money-back guarantee
Cons
– Can dye your socks pink from excessive use
---
2. Superfeet BLACK Premium Insoles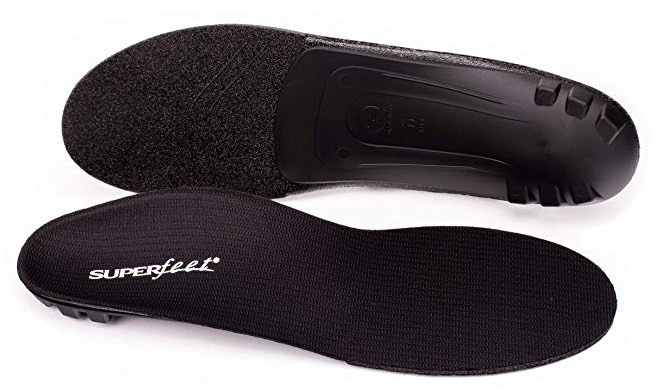 Next up is the BLACK Premium insoles by Superfeet. They are a completely synthetic set of inserts with a synthetic lined sole. The insole is low-arched for light support for those with moderate flat feet. The and also great for common foot pains, flat feet, arch pain and plantar fasciitis. Its features are its stabilizer cap, heel cup, high-density foam layer, and odor-controlling coat. The stabilizer cap is present in the rearfoot as a reinforcement mechanism to provide structure as well as support for the foot.
The heel cup is an accommodating design that helps stabilize the foot, keeping it in proper positioning and supporting it passively. It also has a biomechanically engineered design that is intended to support your overall foot, ankle, and knee health. The high-density foam layer is a closed-cell layer of foam that cushions the foot for long-lasting comfort. The NXT odor control coating is an all-natural, organic layer that eliminates odor-causing bacteria with specialized enzymes.
The BLACK is Superfeet's shot at an accommodating insole that will fit the widest range of footwear, providing the most comfort with the least amount of real estate. It is a thin, low volume and low-profile design that will help improve the fit and feel of close or snug-fitting footwear. They also find themselves to be particularly accommodating to a variety of foot conditions because of the decision to have low-arches.
These insoles only have a few issues – namely the fact that the lining is coarse and shouldn't be worn without socks, and the fact that its pricing is a bit higher than other options currently available on the market.
Pros
+ Great for moderate flat feet because of gentle low arch
+ Engineered to provide exceptional comfort
+ Low profile and low volume, can be worn with any shoe
Cons
– Bit more expensive than other options
– Feels rough if worn without socks
---
3. SOLE Unisex Dean Karnazes Signature Edition Insole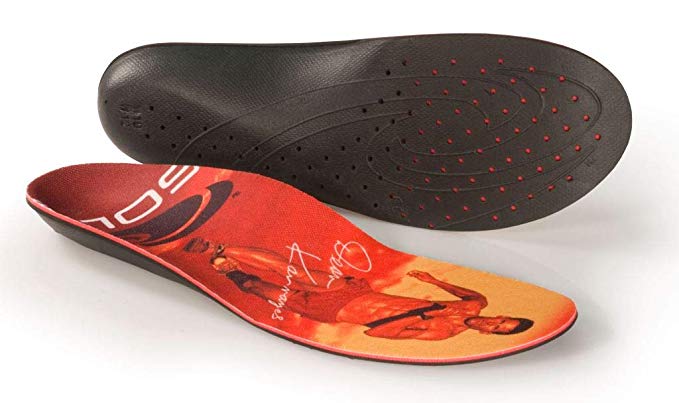 Despite being a premium edition of an insole, the SOLE DK's are actually significantly better than other versions of the same model. SOLE Insole is a leading manufacturer of one of the best arch support insoles for flat feet, so it is no surprise their name would make it onto this list. They feature a three-layer construction of 3M Thinsulate 400g insulation – which is meant for use even during cold weather conditions.
This piece of footwear is medically accepted by the APMA (American Podiatric Medical Association) because of its great arch support and superior heel alignment. They are low profile measuring 1.6mm, making them suitable for most any pairs of shoes, and they can be molded via exposure to heat, making it a completely customizable experience that not many other insoles can claim.
These insoles are great for anyone suffering from flat feet that loves to take part in high-impact activities like mountaineering, snowboarding, hiking or all varieties of running. Their lining features moisture-wicking material so you won't have to be fearful about your feet feeling too stuffy or heated up.
While these insoles are great because they offer good support for flat-feet, and they are customizable via heat exposure, wearers with narrower feet will run into a bit of a problem. The DK's are unfortunately a tad wider than other insole brands, and as a result, it may be a bit more difficult to slip them into certain shoes or have them be the right fit for someone with a narrow foot. On top of this, they are becoming increasingly harder to come by, given their special edition status, and are consequently fairly expensive.
Pros
+ Great feel for those with flat feet
+ Can alter its shape by applying heat
+ Medically accepted by the APMA
+ High-quality construction and materials used
Cons
– Limited stocks available online
– Run wide, not ideal for narrower feet/shoe styles
---
4. Spenco PolySorb Crosstrainer Insoles
These insoles by PolySorb are great for exercising and running, including day-to-day activities for people with flat feet. It is made of a soft 4-way stretch fabric that has a Silpure antimicrobial coating to not only wick away moisture and keep your feet cool and dry but also prevent any kind of blistering while doing high impact exercising.
Additionally, there is a forefoot pad as well as a heel strike pad, both of which are made of durable and flexible EVA for added support and energy return, keeping you comfortable on your feet for longer. These are some of the best arch support for flat feet geared towards those that maintain an active lifestyle. Spenco's SpenCore material makes up the insoles and is designed in a way to make impact shock a lot more bearable and is easily absorbed by the SpenCore layer.
Foam cushioning is also made of PolySorb polyurethane material that is not only lightweight but also designed to be helpful to your arch and heel areas. If you're an active individual who suffers from flat feet, but still want to keep active in your sport or hobby of choice, SpenCo PolySorb Crosstrainer insoles are an excellent choice.
Similarly to other SpenCo line of insoles, these Crosstrainer insoles tend to run a bit larger than true-size, and it is recommended you either get yourself a half-size down or perhaps trim the top to be the proper proportion for your shoes and feet. Being either too big or too small is not ideal for inserts as they will not only feel awkward when walking but also cause improper placement and risk harming your feet further.
Pros
+ Anti-blister and moisture-wicking fabric
+ Good shock absorption
+ Works well for those who remain active
+ Ideal for exercising and marathons
Cons
– A bit more expensive than other options
– Run big, required to get a half size smaller or trim
---
5. Superfeet GREEN Premium Insoles
The second pair of Superfeet insoles to make this list, the Green variant does more than just give an extra splash of color. It also adds exceptional stability along with foot and arch support thanks to its biomechanically engineered high profile, high volume form. It helps keep your feet in the proper position to avoid unnecessary tension or points of stress, alleviating the burden from your joints and knees.
The Superfeet GREEN features prominent rear and mid-foot control points aimed at reducing overpronation and stabilize your midfoot region. It has a light-weight polypropylene stabilizer cap that allows for better control, alignment, and flexibility overall. What's to be expected for Superfeet insoles is the Agion NXT antimicrobial top cover treatment, which reduces bacterial growth and prevents odor. There is also a deep-heel cup to offer maximum support and help with shock absorption.
These insoles are made to be used for running, trail hiking, skiing, snowboarding or just general wear. These are some of the best arch support insoles ideal for those of you with moderate to severe flat-feet who would appreciate the added support. They also come in narrower or wider varieties, depending on your foot shape or shoe design. Overall, these are affordable professional-grade orthotic support, performance and comfort pick for those of you with flat-feet.
Their only glaring weakness is that they aren't ideal for tight or snug shoe designs since they do tend to take up a lot of real estate inside the shoe – for that, something like the previously listed BLACK model would be optimal. On top of that, depending on where you shop, this could end up being on the upper end of the price models for insoles.
Pros
+ Great arch, midfoot and heel support
+ Lightweight and aids with flat-feet and other common foot conditions
+ Come in different selections based on width – support for those with wider feet
Cons
– Expensive if bought from a physical store or pharmacy
– Not ideal for smaller shoes as the insoles take up a lot of shoe space
---
6. Dr. Scholl's Gel Advanced Insoles
Next is the Gel Advanced insoles by Dr. Scholls. These insoles are dedicated to those of you who are either larger in size or for some other reason tend to put a lot more strain or pressure on their feet – like people in the service industry who spend a lot of time on their feet standing or walking. They also find themselves particularly useful for those of you with flat arches, thanks in part to their great malleable and soft gel materials.
The gel cushioning in Dr. Scholl's aids in massaging and comforting sensitive areas in the bottom of your feet, helping alleviate some of the pain or discomfort associated with flat feet, while also offering up some extra shock absorption. This is thanks to their massaging GelTechnology that helps reinforce arch support and lets you stay on your feet for longer.
The wavy effect formed by the gel areas helps the sensitive areas best. It is present in the ball of the foot area in particular, as this is where a lot of the pressure from walking is built-up when in mid-stride or stationary position. These insoles also feature unique midsole support in the form of their U-Shape design that aims to help absorb excess stress.
To be frank, this pair of insoles have a lot going for it, with a recognized name, dedicated ergonomic design, ease of use, and a very low price point. With that said, given that these are not custom-tailored like some of Dr. Scholl's other models, nor are they priced as such, you will find they will wear out a bit quicker than the more expensive models.
As a result, if you're looking for a one-and-done insole that will last a significantly long time even while taking a daily beating, these aren't the ones for you. If you're looking for a pair of insoles that meet your needs but will need to be replaced for a low cost every so often, and that doesn't bother you, go for something like these Gel Advanced insoles.
Pros
+ Ergonomic design
+ Great support for flat feet
+ Easy to slip into different shoes
+ Low price point
Cons
– Will have to be replaced every so often.
---
7. ALINE Cushion Insole
Our penultimate insoles for flat feet is the Cushion insole by ALINE, which were specifically designed to alleviate pain from flat feet – successfully balancing support and cushioning to create a comfortable feeling that will keep you walking all day long. The topmost layer is a sheet of memory foam that contours to your foot's specific pressure points and high impact zones, along with a special antimicrobial coating that prevents the buildup of sweat as well as eliminating odor-producing bacteria.
The ALINE insole is biomechanically enhanced to include structures to provide your feet with support where it needs it most, and this isn't just because of the memory foam. It actually has over 100 moving ribs that can flex or return to form, allowing your feet to have their natural range of motion during day-to-day activities while also providing the support and rebound-ability you need to still remain comfortable.
ALINE's Cushion insole also has patented activation and compression zones that help keep your feet and lower body (joints, knees, lower back) aligned with every step you take. All of those features in tandem make sure that when you put these insoles on, your flat feet will be feeling a lot more relaxed and much less painful throughout the day.
It should be mentioned that these insoles come in a whole host of sizes – from children's all the way up to men's size 15. One if it's few major drawbacks, though, is the fact that it lacks wider options for those who have wide feet and flat-feet, and therefore need a bit of extra insole on the sides of their feet. Secondly, given that these ALINE cushion insoles have had a lot of technology and research implemented into them to alleviate serious foot conditions, they understandably have the associated price tag. Meaning, they are more expensive than other options on this list.
While this, of course, means you should be getting a higher quality and longer lasting insole, it also means having to shell out more of your money, which may or may not be an option you have at the current moment. If you have the means to purchase a specialized insole, this is a great option and compared to other high-end insoles it is not terribly expensive, but it must be said that this is going to cost a bit more.
Pros
+ Aligns to your foot's specific needs, good for flat feet
+ Has activation and compression zones to alleviate pain
+ Consists of 100 ribs to move with your foot and provide support
Cons
– No wider options for those who have flat and wide feet
– Expensive compared to other options on the list
---
8. Vionic Active Orthotic Insole
Our final insole to share with you to combat flat feet is the Active Orthotic by Vionic. A well-known brand for their shoes, Vionic entered the insole market with the aim to create a podiatrist-designed cost-effective alternative to other custom-made orthotics. This Active Orthotic has the APMA Seal of Acceptance, one of the few on this list, and is clinically proven to help reduce excessive overpronation, a contributing factor to flat-footedness.
The Vionic Active insole is designed to provide you with a better feel and control in high-intensity activities such as running or exercising, with a 4-degree rearfoot wedge to help support and control excessive overpronation. It is also contoured around the natural shape of your heel and arch to have full foot contact, as well as an EcoFresh anti-bacterial odor-absorbing coating across the entire insole to help reduce sweating and therefore blister-creation and odors.
Under the top layer is an EVA orthotic with a reinforced hardened PE plastic shell that allows for added motion control as well as stability when doing a variety of movements.
On top of this, for added comfort, there is a cushioned shock-dot in the heel to absorb impact more effectively when you are putting your feet are hard at work. This Active Orthotic can be trimmed at the forefoot area to better match your shoe or foot specifications if required, without compromising the integrity of the design. These are perhaps one of the best shoe inserts for flat feet considering they are medically approved and endorsed by APMA.
It's no double that this orthotic has been created with flat-feet in mind, but the Vionic Active insole does have a design drawback in the fact that while there is a lot of attention to comfort and reliability in the heel and arch area, the ball of the foot is lacking sufficient support. If you experience a lot of pain in the ball of your feet, you will definitely be needing an insole that addresses that concern, which is where this insole is lacking.
If you simply have flat-foot issues and need proper heel and arch support to alleviate your pain, this is a great option at a reasonable price-point. It is not the cheapest option on this list, but it's not the most expensive either. It's smack in the middle of the price spectrum.
Pros
+ APMA Seal of Acceptance
+ Contours to your natural foot shape
+ Orthaheel technology to reduce overpronation
Cons
– Lack of meaningful support for the ball of the foot
---
Conclusion
To conclude, we have brought to you what we consider to be 8 of the best insoles for sufferers of flat-feet. I'm personally someone that suffers from severe overpronation and I've tested all of the above-mentioned insoles before making a recommendation. If you don't own specialized walking shoes for flat feet, then these insoles can be more or less placed in any kind of shoe, for any kind of occasion as they do not have an overbearing profile or volume.
There are a variety of budget-friendly options on this list if you do not have the funds currently to purchase a top of the line insole for your foot condition – nor is there a need to, as many of the insoles on the cheaper end of the spectrum do a fine job of keeping your flat-feet in check.
We do also include a few middle-of-the-road or higher priced insoles if you are so inclined, and they are specifically identified. Needless to say, if you have flat-footedness and require some form of additional support to alleviate the excess stress and pain caused by this condition, you are implored to try any of the insoles on this list, as they have all been proven to help correct the issues experienced by flat-feet.