Flat-feet, also known as fallen arches, is a fairly common condition among humans, that can be easily diagnosed by taking a simple look at the shape and formation of one's foot. If you're looking for the best walking shoes for flat feet (men or women), there are few things to take into consideration.
The prominent characteristic of flat-feet is the lack of a gap between the upper and lower sections of the foot. This "gap" forms an arched shape and is unmistakably not present in some – and instead of having a bow-like shape, some people have completely flat straight-lined feet.
---
What causes flat-footedness?
For some people, being flat-footed is present at birth, but flat-footedness can arise from various situations, such as pregnancy, obesity, or even doing long, consistent hours of activities that force our feet onto a surface, such as running.
Overpronation (flat feet), which is present not just when in movement, but actually at all times – it is essentially a stance that your body has developed habitually as a result of your flat-footedness. Pronation is the word used to describe the foot's natural way of moving, as weight is displaced from the heel all the way to the ball of the foot.
Overpronation is just that, to an excess – and your foot rolls inwards towards your arch excessively. This stance puts people at an increased risk of injuring themselves in serious ways, because as simple as it seems, this rolling inward disrupts our natural alignment, creating more stress and increased impact when our foot comes into contact with the ground.
---
Benefits of Walking Shoes for Flat Feet
It might not seem like a particularly important aspect, but the bow-shape along our inner foot serves a particular purpose. Typically, among those with arched feet, there is a bit of a raise in the center of the foot when planted on the ground that helps not only distribute the body weight when walking, giving us a "spring" in our step, but also relieving a lot of pressure across the rest of our leg, by offsetting our body mass.
When you have flat feet, and this arch shape is absent, your feet might oftentimes roll to the inner side or point outward when walking or running – these walking abnormalities cause problems over time, such as faster leg-exhaustion when exercising or even soreness. This is why you need specialized motion-control shoes when dealing with flat-feet while walking or running.
Such injuries include shin splints, heel pain, stress fractures in the foot/lower leg area, chronic lower back pain, knee inflammation, and bunions. Needless to say, this is a condition that is to be avoided and mitigated if you have flat-feet or already have overpronation.
One of the most effective ways to offset this problem is to take into consideration shoes that are custom made to support your foot in the right ways and take away some of the stress you'd be feeling when walking or running. As a cheaper alternative, you can also get custom orthotics for flat-feet.
In this article, we will cover 11 of the best shoes for walking with flat-feet for both men and women. We will break down some of the specifics regarding their design, such as midsole, upper and outsole, as well as critique their comfort, durability and list their pros and cons at the end.
The Best Walking Shoes for Flat-Feet
1. Brooks Beast '18 (Men's) / Brooks Ariel '18 (Women's)
Kicking off our list is this comfy couple – the Brooks line of Beast and Ariel. This is considered a must-have by anyone looking for a wide range of stability, motion control, and a secure, tight walking stride. Despite their initial purpose being for running, the characteristics of the Beast/Ariel make them great for not only walking but for those with overpronation and flat-feet issues. These are by far the best walking shoes for flat feet for both men and women.
They possess a diagonal rollbar to help keep overpronation in check, an adaptable DNA midsole and are all kept together by moisture-managing materials – resulting in a shoe that is not only smooth and comfortable but also odor-free for those of you who can't spend a day without going for a run or walk.
Probably one of the biggest drawbacks is the fact that it is both high priced and not true to size – running a bit smaller. Both the Beast and Ariel models are on the bulky side, meaning they are heavy-feeling. For those that want to feel light on their feet rather than firmly planted, this might be a dilemma.
Pros
+ Gender-specific designs
+ Good selection of colorways and breathability
+ Minimalistic looking design
+ Supportive midsole
Cons
– Pricey
– Bulky design and runs half a size smaller
---
2. ASICS GT-2000 7 (Unisex)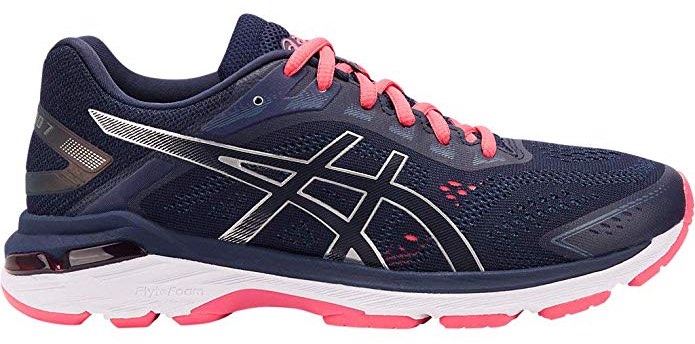 Asics are a staple name when it comes to feature-packed walking and running shoes. These shoes feature a gum rubber sole, offering a bit more support as well as protection than other soles. There is also a strong desire on the part of this design to keep your foot well ventilated and excels at relieving your feet of any built-up body heat or sweat from a long session of walking or running. What sells this shoe is the fact there is a lot of padding and cushioning internally which is great for long-distance walking or running.
The well-gripped sole provides ample traction to keep you firmly on the ground and in the proper position, a problem for those with flat feet or overpronation. It has a FlyteFoam Lyte midsole – the lightest midsole in the ASICS line-up, as well as their Ortholite sockliner that helps with managing moisture internally. The shoes have a comfortable feel from the moment you put them on to the time you're ready to take them off.
The adjustable laces provide accommodation for a wide fore-foot as well as a plethora of foot shapes and sizes, so no matter your foot nor your issue, the ASICS GT-2000 will be a proper fit. The price is in the mid-range, with a wide range of colors to choose from. Probably the most attractive part, for those with flat feet or overpronation, is the rear and forefoot GEL cushioning that attenuates shock during impact and toe-off phases.
Pros
+ Gel cushioning and breathable fabric
+ Durable outsole
+ Various colors to choose from
+ True-to-size fit
Cons
– The upper material starts to come off first
– Some colors might not be available
---
3. Saucony Grid Omni Walker for Flat Feet (Men's)
For those with mild to moderate overpronation, Saucony Grid Omni Walker may be for you. They are budget-friendly, synthetic leather, with the insole and midfoot bridge designed to provide comfortable arch support for flat feet and overpronation. The SRC crash pads present in the Omni Walker's heel also provide additional comfort when walking as well as adequate shock absorption to take some stress out of your step.
They also feature a compression-molded EVA midsole with a higher durometer, aimed at slowing down the rate of pronation among wearers. Definitely engineered for you. The outsole is fairly durable and does a good job of hugging the ground even on wet surfaces, so the chances of tripping over on a rainy day are minimal.
When it comes to looks, though, the Saucony Grid Omni Walkers aren't winning any prizes (especially in the looks department). Given that it is a low budget, cost-effective shoe dedicated to providing comfort and alleviating overpronation, looking great was never on the menu.
These are a basic design with three colors: Black, White, and Silver. For some, the support provided in-shoe won't be enough, but there is ample space for your own insole depending on your comfort needs. The Omni Walker is easily one of the best walking shoes for flat feet in terms of price.
Pros
+ Designed with overpronation and flat-feet in mind
+ Comfortable and Cost-effective
+ Good grip on wet surfaces
Cons
– Not a trendy design
– Might require additional insoles for added support
---
4. Adidas UltraBoost ST (Unisex)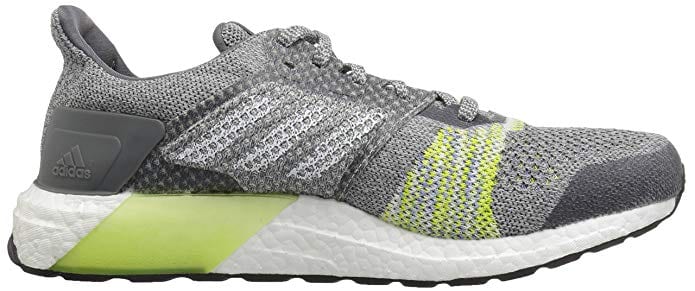 Adidas is an industry leader when it comes to making some of the most trendy shoes on the market. Adidas is no stranger to making walking and running shoes. However, the best shoe for flat feet in their lineup is the Adidas UltraBoost ST.
The Boost technology on the midsole provides exceptional stability and cushioning for long or medium walking sessions. They also look cool, so you'd definitely want to walk more. We can't describe just how plush the comfort levels of this shoe are and if you're suffering from flat feet, you can't wrong with this option.
The shoe offers good responsiveness coupled with a proprietary Primeknit upper for increased breathability. This shoe is like your neurosurgeon who also looks like a Hollywood star. Our only complaint is that the midsole can get dirty fairly quickly. If you're looking for a walking shoe for flat feet that sports a sleek aesthetic, the UltraBoost ST are right up your turf. Provided you can afford its premium price.
Pros
+ Excellent support and comfort for long-distance walking
+ Holds up well for daily use
+ Stylish looks that double as lifestyle wear
Cons
– Premium price tag
– Oversized heel tab
---
5. NIKE Lunarglide 9 (Unisex)
Beyond their appealing aesthetics, the Lunarglide 9's use a mixture of lightweight fabrics and durable rubber construction to form a great pair of shoes that are both easy to slip on and long-lasting. They ensure that there isn't much weighing you down while also providing enough protection and comfort to keep your feet feeling cozy and safe. They feature a rubber outsole, Flywire/Mesh upper, and come in a plethora of colors. The midsole has a good level of bounce and responsiveness to every stride and is ideally suited for medium or long-distance walking.
The Lunarglide also features a water-repellent coating to increase its longevity, so you won't have to worry about replacing these shoes in a few month's time. For those with overpronation, these shoes will make running and walking much less exhausting, as they keep your feet stable and supported at all times.
Unfortunately, one of the biggest issues with this design is that the soles have deep and wide ridges, a perfect place for debris or small stones to get caught in and disrupt your walking or running. These shoes are not adapted for trail running on dirt roads. For people who hike or intend to walk or run outdoors with lots of pebbles or twigs along your path, be wary.
Pros
+ Sleek and trendy design
+ Springy and responsive ride
+ Good mix of support and comfort
+ Lightweight construction
Cons
– Forefoot can be a bit narrow for those with wide toes
– Ridges in the outsole can prove to be meddlesome
---
6. New Balance Suede 928v3 (Men's)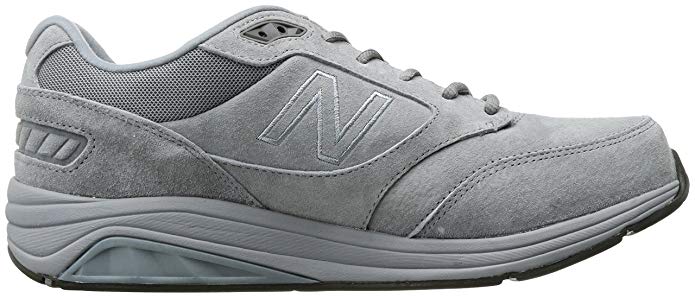 This is a shoe with a straightforward design with a trusted manufacturer backing. The NB 928v3's come in leather or natural cork upper, for those that prefer one or the other. These shoes feature a stable rubber sole as well as a durable outsole. Podiatrists often recommend this shoe for a slew of foot issues and conditions – flat feet being chief among them. Medicare even includes them on the list of shoes for diabetics – a versatile shoe, to say the least.
It has a graphite rollbar aimed at minimizing rolling heels, outwards or inwards overpronation and prevents avoidable injuries as a result. Inside is an ABZORB cushioning system that is designed to reduce shock and disperse the impact/force of striking your foot on surfaces. Given that some designs come in leather, it is pertinent to know that there is a seamless Phantom Liner that is able to keep your feet fresh and odor-free throughout the day.
There isn't a lot of colors on offer here, with only the basic brown, tan, black and white being covered. The NB Suede 928v3 isn't as flashy looking as the Nike or Adidas variants on this list, but it does make up for it in terms of versatility.
Pros
+ Designed with various foot issues in mind, including flat feet
+ Removable orthotics
+ There is a lace-up, as well as Velcro design
+ Less clunky than previous iterations
Cons
– Pricey
– Lack of colorful designs
– Not ideal for long-distance walking/running
---
7. Spira Classic Leather Shoe (Women's)
This specific model put out by Spira has gained a lot of traction for its comfort and suitability for women who have flat-feet. They are a lace-up walking shoe that not only features perforations to improve the breathability of the shoe but also Wavespring technology across the heel and forefoot for a steady stride. This Wavespring technology is also an excellent source of comfort in both areas, providing ample cushioning. They are also equipped with a slip-resistant outsole for traction and increased stability. So, you should have no problem walking on a wet surface.
Spira's Wavespring technology is engineered to disperse the energy and impact created by each step you take and recycle expended energy back to your feet. The Spira Classic also features a wide size that is perfect for those who need their own insoles, but Spira touts this design as walking on air – even for those with some of the most severe foot, leg, or lower back issues.
The only foreseeable drawback is the price associated with these unique shoes, as they are specialized and made from full-grain leather, complicating the cost associated with creating each pair. On top of this, given the premise of this shoe is function over fashion, the only available colors are Black and White. Overall, these are some of the best walking shoes on the market for flat-footed women if you can get over their not-so-runway look.
Pros
+ Incredibly well made with full-grain leather construction
+ Features some of the best designs for reducing flat-foot issues
+ Wide sizes provide ample space
Cons
– High price
– Not very fashionable
---
8. Brooks Adrenaline GTS 19 (Unisex)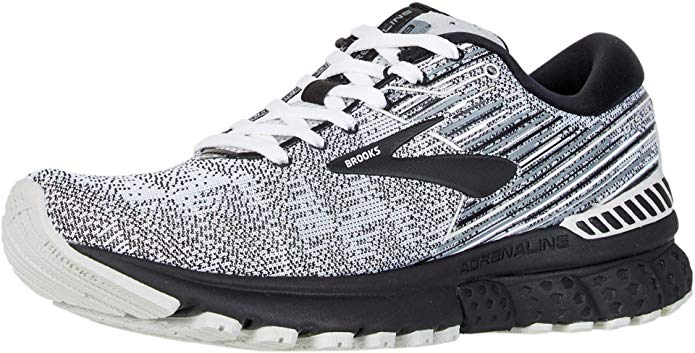 Another Brooks line makes it onto this list – these are shoes designed for fitness walking as well as running while keeping comfort in mind. This shoe is ideal for the more active walkers and runners who look to support their arches and overall foot health. The Adrenaline GTS 19's feature a new GuideRail Support system, which focuses beyond just our feet as a primary source of injury – the knees. The GuideRails keep you moving at a comfortable pace and keeps the excess movement, such as a result of overpronation, in check.
The design is soft and protective, with BioMoGo DNA and DNA Loft cushioning working in-tandem to provide the just-right level of softness for your underfoot, without costing you any amount of responsiveness and durability. The impact experienced is incredibly lessened with this protective underfoot duo.
As for the fit, it has an engineered mesh and a 3D Fit Print to provide the support and proven feel to make this shoe a go-to option, while also looking fairly stylish. They are true to size and have a proven track record of helping alleviate discomfort among people with foot arch and foot alignment issues, with the only drawback being that some colors and size combinations can be hard to find for a reasonable price. From underfoot to exterior design, research has been put in to determine what would feel the most comfortable for walkers and runners with flat feet and other conditions.
Pros
+ Support system aids your overall leg and reduces overpronation while walking
+ Comes in a variety of colors and width options
+ True to size with the added option for custom inserts
Cons
– Certain sizes and colors are unavailable
– Brand-name pricing
---
9. Ryka Devotion Plus 2 Walking Shoe (Women's)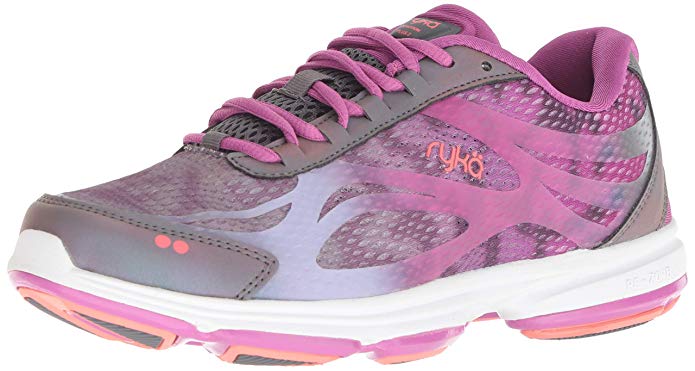 The Devotion Plus 2's a design with a low arch, breathable, and stretchy materials, made from all synthetic materials. These Devotion Plus 2's are ideal for both walking and general exercises either indoors or outdoors. It has supportive synthetic overlays and a breathable mesh to prevent too much moisture build-up, as well as an anatomically precise-return footbed that aims to provide comfort and alleviate built-up or excessive stress on your flat-feet.
The Devotion Plus 2's have a full-length Rezorb platform, an external pod network between both the midsole and outsole and a full-length internal foot insert. It goes without saying, the internals of this shoe is packed with tech to provide as much comfort as possible. Compounded by the fact it has an eight-piece radiused skeletal rubber, walking on this line of Ryka shoes is a breeze without any hitches. They fit fairly true to size and have a variety of flashy colors for you to choose from. The Devotion Plus 2 is by far the best walking shoes for flat feet and overpronation in terms of comfort.
One of the very few drawbacks to these Devotion Plus 2's is that there aren't as "sticky" as other designs, meaning the underside of the shoe doesn't have a supreme amount of traction to them on their own, so it's best not to use them on wet surfaces.
Pros
+ Great design with various colorways
+ Durable synthetic construction
+ Excellent comfort for those with overpronation/flat feet
Cons
– Lacks traction and not recommended on wet surfaces
– Upper wears off quicker than other competitors on this list
---
10. ASICS Gel-Venture 6 (Women's)
Surprise! Another ASICS on the list. The GEL-Venture 6's are made for normal overpronation to medium supination (the condition of laying your plantar upwards). It is a minimalistic design that has become a hit in the flat-foot market for dealing with overpronation effectively. One such feature that helps with flat-feet is the Venture's Rearfoot GEL cushioning system, which is famous for its shock absorption – lessening the impact of your feet striking surfaces and providing a smooth transition during the toe-off phase.
The Venture 6 also has an AHAR (ASICS High Abrasion Rubber) outsole for excellent grip and durability, as well as a CMEVA midsole material for increased cushioning all across the sole. The AHAR Outsole has rubber placed in critical areas for increased durability and comfort. The midsole is engineered to maintain high durability at softer densities, meaning a better, more flexible, and comfortable experience with exceptional longevity. It also improves natural running and walking stance with its platform adaptability.
The ASICS GEL-Venture 6 also sports a fairly affordable price tag considering the features packed in these shoes, making them a reasonably good pick for budget-conscious buyers. Finally, the Gel-Venture 6 line also boasts a great deal of color selection. With all that said, be wary of ordering a size too small, as they tend to run shorter.
Pros
+ GEL cushioning system that provides proper support and comfort
+ AHAR outsole and CMEVA midsole helps with overpronation and stance
+ Budget-friendly price point
+ Stylish coloring
Cons
– Narrow along the midfoot
– Size runs small, so ideal to get half a size up
---
11. Vionic Orthaheel Classic Walker (Men's)
Vionic is a brand that is typically associated with pronation, bunions, heel spurs, and above all, flat-feet. They design shoes that are best at helping flat-footed people have the smoothest walking experience possible. The Orthaheel Technology Classics have an excellent design for motion control, available for both men and women. This design is recommended by even the most stringent podiatrists, for a good reason, as it helps their patients correct some serious overpronation issues.
It has a support upper-shoe, a biomechanical, and removable anti-bacterial orthotic on the inside, meaning that the Orthaheel Technology Classics are a super comfy and secure shoe to wear. The midsole is built with shock absorption in mind, and by dispersing the energy created when coming into contact with hard surfaces, the pressure is reduced on your back, knees, and ankles. The grip on the Orthaheel Classic's is nearly unparalleled, with a non-slip design for a premium (and safe) walking experience.
With that said, these shoes are often not true to size, do not feature many colors or styles, and can run into some durability issues. But, for people who are looking for purpose-built shoes for their flat-feet, you can't go wrong with the Vionic – since your podiatrist might also recommend the same.
Pros
+ Specifically designed for people with serious overpronation and flat feet
+ Removable anti-bacterial orthotic for moisture control
+ Medically approved with great shock absorption
+ Non-slip outsole
Cons
– Upper not very durable and wears out quickly
– Sizes run small and they are pricey
---
Things to Look for When Picking Walking Shoes for Flat-Feet?
Sole
Making sure that your sole is firm and relatively inflexible at the heel as well as the midsole area so that the shoe will be durable as well as versatile in many environments.
Toe Box
The toe box is what is known as the front part of the shoe, where your toes will be spending their time, and it should have enough space for a natural, non-irritating feel. Ideally, the toe box isn't too roomy but also does not make your toes curl when you have your shoes on.
Heel
The heel is an area that must be properly supported in the highest of pressures, so it is crucial to pick a shoe that will adequately support and stabilize your heel to prevent any improper bending or twisting.
Arch
For flat feet, you're looking for an arch support system that provides motion control first and foremost. With every step you take, your foot is going to roll inwards naturally, to support the rest of your foot area and legs.
Materials
It is ideal to get shoes with materials that are aimed at providing high breathability. Looking for high-quality materials that don't lock in moisture is best for the most comfortable walking or running session.
---
Conclusion
To Conclude, we have covered a wide array of walking shoes meant for flat-feet and keeping overpronation in check. The shoes included in this list should give you, the reader, an idea of the sheer size and selection of quality shoes on the market that caters to flat-footedness. The possibilities are endless, and these shoes are just what we believe to be some of the best for flat-feet. They are equally good as flat feet running shoes as they are for walking.
Whether you're a man or a woman, regardless of shoe size, there is a shoe here on this list that works for you. In addition, we have a separate buyer's guide on running shoes for flat feet that might interest you.
Some of our shoes on this list are great on a budget, such as the ASICS Gel-Venture 6's, ASICS GT2000 7 runners, or Saucony Grid Omni Walkers. Some of our shoes are more expensive, and as a result, typically more durable and have higher quality and longevity, like the Brooks Beast 16's or Brooks Ariel 16's. Some of our shoes have been medically acclaimed. They have a proven track record for patients with flat-feet or overpronation, such as the Spira Classic Leather Shoes or the Vionic Orthaheel Technology Classics.
Needless to say, with this amount of selection at your disposal, it all comes down to what you look for in a shoe. It could be that you're looking for something more fashionable, if that were the case, something like the NIKE Lunarglide 9's, or Ryka Devotion Plus 2 walking shoes would be best, given their aesthetically pleasing design and overall look.
If you're looking for something with a proven history and a lot of research put into solving some of your flat-feet conditions, without a doubt, the Spira Classic Leather Shoes or VIonic Orthaheel Technology Classic's are above and beyond. Regardless of all the choices at your disposal, we can't stress enough the importance of proper footwear for flat-feet to avoid further aggravating your condition.
If you're looking for something in-between both extremes, not too looks-focussed nor too "clinical"-looking, then perhaps the Brooks Beast/Ariel 16's or Brooks Adrenaline GTS 19's are more up your alley. These pairs do not sacrifice look or function to an extreme, and try to give you the best of both – a shoe that meets your condition's needs, but also can be worn beyond just exercise rooms, trails or on hiking trips.
While your reasons may vary, and your choices vary based on your needs, we hope that this article helps you better understand issues you or people close to you may be experiencing (flat-footedness, overpronation), as well as some of the options available on the open market to combat it. We hope you enjoyed reading this and learned something today. Good luck and keep on moving!