If you are looking for a new pair of running shoes, either because you're getting into running, replacing an old pair, or looking for a different feel or ride than your current ones, this catch-all list is for you.
How We Analysed the Best Running Shoes
In this article we will cover what we consider to be the best running shoes for men as well as women – neutral, cushioned, and stability shoes all find a home on this list. Some of the models or brands might be staples in the running shoe industry, and some may be lesser-known ones you should really look into.
We've poured 52 hours of research into this article and examined the technical aspects of every running shoe on this list such as their midsole, upper and outsole, as well as overall satisfaction, feel, and aesthetic. This list is supposed to be as encompassing as possible so no matter what style or feel you are into, one of the shoes on here will cater to that. Our lists of running shoes will be divided by gender, one section for the best of men's shoes and immediately following is the list of best of women's shoes.
If you like a pair of shoes here, but they're on the opposite gender's list, many of them also have a variant for both genders, so you may also be inclined to look into that instead of being deterred by the predominant gender-class of a certain model. Have fun reading, and let's get right into it!
10 Best Running Shoes for Men
1. ASICS Gel Nimbus 20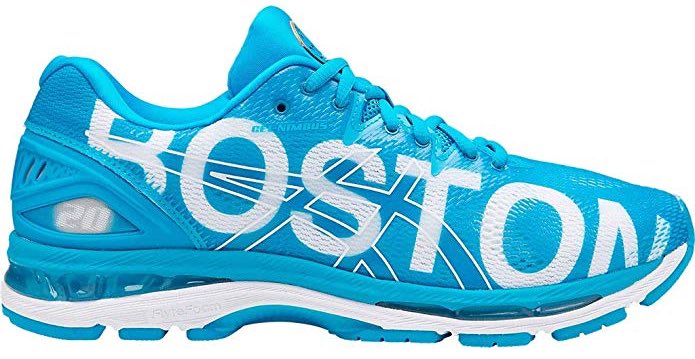 First up on our list of top running shoes for men are the Gel Nimbus 20's by ASICS. They feature a flytefoam/fluidride midsole tech with a rubber sole to provide you with a great mixture of both bounce-back feel and responsive cushioning. The midsole also reduces the overall weight of the shoe without having to compromise any of its structural integrity or durability.
The Nimbus 20 has a very responsive design, using its organic super fibers that are built in to reduce packing out that is frequent with lower density and softer foam midsoles. When you put these on, you'll have a smooth and energetic ride, and you'll be reminded of it with every step you take. Inside these shoes are also the Guidance Line Tech, which enhances your natural gait efficiency through vertical flex grooving. There are a wide variety of colors, too many to list, so you'll be fairly satisfied with the options, no matter your preference.
The Nimbus 20 isn't perfect though, and a major drawback it has is that the toe-box can feel a bit narrow, so if you're someone who prefers a wider toe-box section, this shape isn't ideal. On top of this, despite all it's cushioning, the arch support present on the Nimbus 20 is adequate but not stellar. So, it's not ideal if you're looking for shoes with extra arch support.
Pros
+ A wide array of colors to choose from
+ True to size
+ Responsive cushioning
+ Affordable pricing
Cons
– Smallish toe box
– Only moderate arch support
---
2. Nike Air Zoom Pegasus 36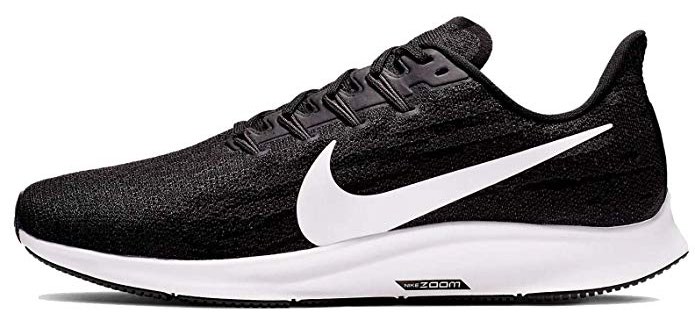 Next up is the Air Zoom Pegasus 36. It has a completely redesigned mesh upper that reduces much of the bulk of its predecessor and also contains perforations to enhance the breathability of your forefoot and arch area. The Pegasus 36 also has a full-length Zoom-Air unit built in to accommodate a smooth, comfortable, and responsive ride.
Compared to other models in the series, it is a bit slimmer in design, reducing the overall bulk for a more foot-conforming fit. Inside, there is a Cushlon ST foam to give your feet the needed cushioning it needs for an intense run. The cushioning is meant to be very responsive while running as well as being very comfortable, allowing you to run longer without feeling worn out or in pain.
Exposed Flywire cables in the midfoot are there to give you a tight and secure fit without limiting your range of motion or making you feel too constricted. If you live in an area with a typically hotter climate or prefer to run during the summer heat, these running shoes are a great option as they were definitely designed to provide increased breathability.
While this shoe has a lot of attractive features, if you are a person with a wider-than-normal foot, these might not be the pair for you. The Pegasus 36's are a bit narrower in design than previous iterations. So, if you have particularly wide feet or just don't like a form-fitting shoe, that is a major drawback of this model that you have to take into account. The price tag associated with the Pegasus 36 is definitely on the upper end of the spectrum as well.
Regardless of these quirks, the Nike Pegasus 36 is one of the best running shoes on the market right now, especially for those that don't want to compromise on quality and looks.
Pros
+ Extremely good-looking shoes
+ Comfortable and form-fitting
+ Breathable and snug fit
+ Good for hotter climates
Cons
– High price tag
– Not ideals for people with wide feet
---
3. Under Armour Charged Bandit 3
First of the Under Armour line on this list is the Bandit 3 running shoe. It is comprised of a synthetic and textile blend upper with a durable rubber sole. The lightweight upper is meant to be form-fitting, hugging your foot just enough to be snug but also flexible, breathable and supportive as well.
Internally, there is also an anti-microbial Ortholite sockliner which molds to your foot's contours and overall shape. The design philosophy that Under Armour had in mind for this model was one of balancing firmness and flexibility with adequate support. Because of this, there is an innovative UA SpeedForm construction that molds to the foot for a precise fit.
The midsole has dual-layered charged cushioning providing you with even better responsiveness and durability when out on a run. To increase the aforementioned flexibility, there are flex grooves placed in anatomically correct positions to offer you the flexibility you need in key areas when performing a wide array of movements.
The solid rubber outsole covers most of the high-impact zones related to running and because of their material, they are very durable but don't sacrifice on being lightweight. Thus, you will have a pair of running shoes that not only lasts a while but are very light as well.
It is apparent these shoes are a mean machine that is both light and durable, but there are a few caveats. Namely, the fact that some of the support you've come to expect from less minimalist shoes are absent here, and the traction from the rubber sole isn't quite enough for wet environments.
As for the pricing, it too is a bit on the higher end. These are definitely shoes that are ideal for someone who is typically indoors or away from watery trails and prefers a closer fitting shoe.

Pros
+ Snug fit and stylish design
+ Flexible and durable outsole
+ Breathable and lightweight upper
+ Anti-microbial sockliner
Cons
– Arch support is a bit lacking
– Rubber outsole isn't ideal for wet surfaces
---
4. Nike Epic React Flyknit 2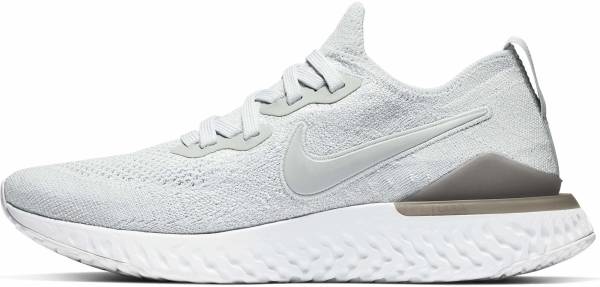 It's not surprising that another Nike has made it to the list. The Nike Epic React Flyknit 2 is quite an eye-candy to behold and they are one of the few best runners that pack both power and beauty.
The upper is made of a single piece of lightweight Flyknit material that provides a snug sock-like fit that doesn't leave your foot feeling too constricted. Support and stability are delivered via an integrate heel-counter to keep your foot aligned while running.
If you're looking for a shoe that is as good looking in the mall as it is on the track, then you can't go wrong with the React Flyknit 2 since they are extremely stylish. The upper has perforations for breathability and ventilation, but it is also flexible to conform to the shape of your feet.
React foam largely makes up the midsole on the Flyknit 2 and it has both bounce and responsiveness, so it neither feels too mushy nor too firm and offers the perfect balance between cushioning and support. This makes them a great all-round pair to use for either racing or long-distance running, so the choice is yours really.
The outsole consists of strategically placed hard rubber compounds to withstand most types of terrain and even performed admirably in wet and rainy conditions. Moreover, the React foam in these shoes is extremely flexible and responds well to making sharp turns while running.
The only drawback of the Nike React Flyknit 2, as with all Nike branded shoes, is that they run a bit small and hence it's better to order half a size up for a perfect fit. The second point of contention is that the shoes are on the expensive side, but that's not really a con and it's to be expected with shoes of this caliber.
Pros
+ Well-ventilated upper keeps your feet cool
+ Elegant and stylish shoes
+ Ideal for both short and long-distance running
+ Flexible, lightweight and responsive
Cons
– Sizes run small, better to order half a size up
---
5. Brooks Adrenaline GTS 20
The Brooks Adrenaline GTS 20, the successor to the critically-acclaimed GTS 19s. This style of shoe is ideal for those of you who are active runners who want to benefit from ample support for the arches and are conscious of their overall foot health.
Just like the 19s, the GTS 20 features a GuideRails Holistic Support system that focuses beyond just the feet but also targets one of the most injury-prone parts of our body – the knees. The GuideRails keep you moving at a comfortable pace and keeps any excess or unhealthy movement in check.
The design is soft and protective, with BioMoGo DNA and DNA Loft cushioning working in-tandem to provide the just-right level of softness for your underfoot, without compromising on responsiveness and durability.
The GTS 20 also has an engineered mesh and a 3D Fit Print upper to provide the support and comfortable feel to make this shoe a go-to for seasoned runners.
The only drawback of these shoes is that the heel area may be a bit narrow for some and the color variations available are rather minimal. If you're a runner with a wide heel or are dead-set on getting flashy looking shoes, the GTS 20 may not be the shoe for you.
Pros
+ Features GuideRails system to promote a healthy gait
+ Soft and protective cushioning
+ Comfortable feel thanks to 3D Fit Print
+ True to size
Cons
– The heel area may be slightly narrower for those with wider heels
– Minimal selection of color options
---
6. Saucony Kinvara 10
Next up is the Kinvara 10s by Saucony. These were designed to be a pair of running shoes that are lightweight and responsive while also putting an extra spring in your step. They feature an EVERUN topsole comprised of some of Saucony's best cushioning, such as FLEXFILM. It is a lightweight and strong material melded to the upper, allowing for a seamless and flexible feel.
The mesh upper is designed to provide enhanced breathability while in motion so you won't be getting any "hot feet" while in these. The footbed is a FORMFIT contoured design that was created to enhance your comfort as much as possible, while the EVA+ midsole gives you an energetic and smooth ride. Putting all this together, you get a flexible and responsive shoe that doesn't hold back. These are one of the best shoes for running from Saucony without a doubt.
It isn't without its faults, though, as a lot of people have experienced the Kinvara 10's vibrant colors wash out over time or get dirty fairly quickly. On top of this, it is not exactly a lightweight shoe, so keep that in mind if you plan on getting these shoes. Other than that, these are very capable running shoes for men
Pros
+ Vibrant and lively colorways
+ Flexible and responsive cushioning
+ Springy, yet stable midsole
+ Good price for the features it packs
Cons
– Not very lightweight
– Colors have a tendency to wash out over time
---
7. Adidas Adizero Adios 4
A staple for runners everywhere is this next pair, the Adidas Adizero Adios 4. Worn by top runners everywhere, and crafted by master-class shoemaker Omari, these shoes are made to provide a precise fit for racing as well as long-distance running. It features a boost midsole that returns explosive energy from impact at every step, a lightweight and breathable upper mesh to keep your foot cooled off, and internal reinforcements to make sure your foot is well-supported.
Similar to other Adidas designs, it has the STRETCHWEB system, providing a superior grip that is able to adapt to every runner's foot strike by moving harmoniously for a smoother ride. The microfit design employed in the Adios 4 locks down your heel and midfoot area for a more secure and faster run.
Its outsole unit is a grippy and highly durable rubber that makes sure that you'll never slip. It also comes in a variety of flamboyant colors to be used as lifestyle wear. Overall, these are the best running shoes for men from a reputed manufacturer, so you cannot go wrong with these.
Despite its acclaim, this shoe isn't perfect. The Adios 4's upper feels scratchy and isn't ideal for use without socks, as the upper can be an irritant to bare skin. So, if you're getting these running shoes, make sure your foot is properly covered to ensure you do not experience any chaffing. This shoe is also a bit narrower than you may be used to, so if you're the kind of person who appreciates ample toe-space rather than form fit, this option may require reconsideration.
Pros
+ Lightweight, flexible, and breathable
+ Responsive and grippy outsole
+ Durable, with a long life-span
+ Stylish colorways
Cons
– The textile upper can be an irritant and requires socks
– Narrow fit
---
8. Nike Zoom Air Terra Kiger 5
Our third Nike of the list, the Zoom Air Terra Kiger is also a strong contender when it comes to running on both road and trail. This is a well-cushioned shoe that is great for short and medium-distance running, as it is lighter and faster than its predecessors. It's also ideal as a daily runner since it's quite durable while you clock in the miles.
It features a grippy rubber sole and a Zoom Air unit placed in the heel to give you responsive cushioning and comfort. Inside is also the Nike React technology, which is a lightweight and durable foam that delivers a smooth ride on most terrains. There is a perforated mesh and synthetic uppers that drains out water and further increases its overall breathability so you're unlikely to feel stuffy in these.
The outsole also features sticky rubberized traction pods that help keep traction even on wet surfaces. Around the forefoot are overlays that increase the Kiger 5's overall durability. On top of this, it is a very stylish and casual shoe with an aggressive boyish look, so on top of being used for running, they are a great fashion choice.
Unfortunately, this shoe does have some drawbacks, namely the fact that it is an expensive purchase and becoming exceedingly harder to find as time passes. On top of this, some people have felt the heel collar to be a bit stiff, so these do require a sock layer to prevent any unnecessary abrasions.
Pros
+ Great for short and medium distance running
+ Aesthetically pleasing outside of being good runners
+ Good fit and comfort
+ Outsole is good for wet surfaces
Cons
– Expensive and getting harder to find
– Heel collar might be a bit stiff for some
---
9. Saucony Cohesion 12
Next up for Saucony are their Cohesion 12's, a lightweight all-day runner that is also very affordable. It is a fabric and textile blend upper with a durable rubber sole, with a low-top measurement from the arch.
Inside the Cohesion 12's are an ample amount of VERSAFOAM cushioning to give you a great sensation of responsiveness and comfortability when making your strides. The outsole is made of segmented rubber that flexes to give you a smoother feel and keep you going for longer distances. The heel grid system also offers a great amount of stability and cushioning.
The upper construction is a practical, straightforward design that is well-ventilated and gives you a secure hold. These shoes also easily accommodate prescription orthotics, as the foot-chamber has ample room.
With that said, there are a few minor issues with these shoes. Notably, there is less room in the toe-box in comparison to previous models, secondly, the colors displayed by the photos are often slightly different than the actual shoe, so be wary of that if color-correctness is of deep importance to you.
Other than that, what Saucony has created with the new Cohesion 12 is a very comfortable running shoe for men that need it most.
Pros
+ Affordable price
+ Great breathability and ventilation
+ Can have aftermarket orthotics inserted easily
+ Improved VERSAFOAM cushioning
Cons
– Less room in the toe-box compared to previous versions
– Colors advertised are slightly different than the actual product
---
10. Under Armour Micro-G Pursuit Running Shoes
Next up are the Under Armour's Micro-G Pursuit. These are a synthetic pair of shoes, with a low-top design from the arch. The Micro-G Pursuit has a lightweight mesh upper to provide you with complete breathability and cooling. Around the ankle collar and underneath the tongue area are foam padding placed to give you added comfort as well as a better fit and feel.
The sock liner is a high-rebound die-cut EVA build with extended arch support. The one-piece Micro-G foam midsole creates a nice cushioned landing for your foot and then converts it into explosive power for better takeoffs.
The outsole pattern takes its inspiration from tires, with added flexibility, control, and superior traction – meaning you won't be slipping or sliding with these shoes on. They also have a wide-width option for those of you who need or prefer having a wider shoe.
Of the issues with this shoe, the most prominent is the fact that they often enough breakdown after extensive use, specifically the upper, and that the black/white color scheme is often more like dark grey/white. If you are looking for a shoe that will last years, these are not the best option, but if you are looking for a sleekly designed shoe that doesn't need to be put through a whole lot of rough and tough situations, these fit the bill just fine.
Pros
+ Lightweight and clean design
+ Flexible and designed to move well with your natural foot contours
+ Wide-widths are available for people with wide feet
+ Can be worn casually
Cons
– Not meant for hard and rough use
– Colors are slightly off
---
10 Best Running Shoes for Women

1. Brooks Ghost 12
The Brooks Ghost 12 is the successor to the famous Ghost 11 that holds a respectable place amongst veteran runners. Underfoot cushioning is delivered through two different technologies that are incorporated into the midsole for a reliable and stable stride.
At the base of the midsole is the full-length DNA Loft foam made of rubber and EVA that absorbs impact forces from the ground and translates that into forward propulsion. Then there the BioMoGo DNA unit that forms part of the topsole that is responsible for cushioning and comfort. Moreover, the topsole is made from recycled materials so if you're a fan of planet Earth, these are the shoes for you! Also present in the midsole are crashpads that are segmented into different sections. This shoe is thoroughly built for running and jogging.
The outsole is made from hard blown rubber that protects the midsole from the stresses of running on roads and other terrains. There are deep flex grooves in the outsole that bends and contorts to the natural movement of your feet when running. This flexibility also makes the heel-to-toe transition smooth and effortless.
The Brooks Ghost 12 sports an engineered mesh upper that keeps the foot well-ventilated on warm days. The upper has a fabric-like construction that alleviates hot-feet with its sock-like fit. Fixed along the sides of the shoe are the 3D Fit Print pieces that are responsible for maintaining the structural integrity of the upper, so it doesn't collapse into itself.
The soft inner lining of the Ghost 12 adds a comfortable in-foot feel to a shoe that already has an impressive list of features. The only complaint I have about these shoes is that they're not as flashy as some of the other shoes on this list. But if you're looking for the best running shoes for women that mean serious business, then you can't go wrong with Brooks Ghost 12.
Pros
+ Upper unit hugs the foot perfectly
+ Heel-to-toe transition is smooth and easy
+ Dual compound midsole with crashpads
+ Outsole is very flexible and durable
Cons
– Colors are so-so
---
2. Hoka One One Clifton
The Hoka brand is one that prides itself on creating shoes with great cushioning, and the One One Clifton's aren't an exception. The Clifton's give you firm support in your heel area and a blend of softness and comfort for the rest of your feet that you'd expect from high-quality foam.
There is a single piece of EVA foam that runs throughout the Clifton's midsole, grooved around the edges and curves around the foot for absolute comfort and the right fit. The EVA foam provides much-needed support and cushioning for your foot, by dispersing the tension and impact from ground-striking across your foot rather than in specific locations which can later develop issues from being overworked or overstressed – such as your heel, knee and ankle.
The Clifton run's true to size, is incredibly lightweight and comfortable overall, lending itself to half and full marathon runs with ease. The shoe sports a very thick wedge that some might consider overly plush, but the midsole strikes a perfect balance between cushioning and firmness.
Some of its issues include the fact that if you have a narrow foot, it may not feel as snug as you'd like it to, exacerbated by the fact that the tongue unit is a bit flimsy. To some, the Clifton's insole may be a bit too thin and slide around, which is another symptom of narrow or smaller feet simply not having a tight enough fit in these shoes. Regardless, these are one of the best shoes for running in terms of cushioning and comfort.
Pros
+ Great comfort and lightweight design
+ Runs true to size
+ Aesthetically pleasing design with unique colors
+ Thick midsole helps with foot and knee pain
Cons
– Design provides a lacklustre feel to those with narrow feet
---
3. New Balance 890v7
The New Balance 890 v7's are an overall upgrade to their predecessors, the v6's. The v7's feature a REVlite midsole that is designed to be very lightweight as well as having TPU inserts integrated into the REVlite to add just a touch more support and flexibility in the right places.
The NB 809v7's upper is completely different, with a new single-layered knit fabric compared to previous installments' mesh. It is a complex knit that is very breathable and prevents excess sweat and buildup to accumulate throughout the run, marking an overall great improvement. It also features a gusseted tongue to give you a snug midfoot feel, adding to the overall impression of a sock-like feeling. The minimalist design makes it a great pick for almost any occasion, be it running, walking, or some other errands.
Some of its faults with this shoe are the fact that you will likely be better off half a size up as to avoid any irritation from the rather narrow foot chamber, as well as the fact that the built-in sole can in some cases come out of place after some time running, which is a serious annoyance mid-run. The shoe can fit custom orthotics, which mitigates that issue to a degree, though.
Pros
+ Lightweight and sock-like feel
+ Flexible and supportive design
+ Highly breathable upper
+ Easily accommodates custom orthotics
Cons
– Might need half a size up if you have bigger or wider feet
– Insole has a tendency to become displaced
---
4. Brooks PureCadence 7
The Brooks PureCadence 7's are a lively and colorful pair of runners with an upper made of a stretch mesh and synthetic fibers. This 3D fit upper by Brooks utilizes its strategic stretch and structure for a comfortable yet firm construction. The lace-up closure with padded tongue and collar means you'll have the snug grip you need without any discomfort.
The fabric lining is soft, smooth, and gives you a very comfortable in-shoe sensation. The inside features a removable insole with lightweight Guide Rails to ease your body into a natural and healthy rhythm. The midsole is comprised of eco-friendly BioMoGO DNA with dynamic cushioning that adapts to each impact appropriately. Brooks designed this with a rounded heel further to promote better foot alignment, so if you are also looking for a shoe that ensures a healthy stride, the PureCadence 7 is one of the best running shoes for you.
There are a few issues with the PureCadence 7's namely that they can run a bit narrower, so if you aren't one for a form-fit, this might be a deal-breaker. On top of that, despite their colorful options, they are very limited in quantity. They have Grey/Black/Pink, Black/Purple/Grey, and Grey/Rose/White. So, your mileage may vary depending on what colors are currently available online.
Pros
+ Lightweight and comfortable
+ Fits snugly and is very supportive
+ True to size and helps promote healthy strides
Cons
– Tends to be a bit narrower
– Colour options are fairly limited outside of the main three
---
5. Saucony Ride ISO 2
Next up is the Saucony Ride ISO 2's, coming in a variety of upper colors made of synthetic and mesh fibers. The engineered mesh upper provides you with a dynamic lightweight fit, with a woven heel piece to give you added structure and support to keep your foot properly locked down.
In typical Saucony fashion, there is an EVERUN topsole with quality-construction for enhanced energy return as well as continuous supportive cushioning with every step you take. The updated ISOFIT PWRFOAM midsole in tandem with other new form-fitting technologies employed in the design help to adapt to the shape and motion of your specific foot. On top of being visually striking, it is a highly comfortable shoe that improves on its previous iterations considerably.
Unfortunately, there are two issues with the Saucony Ride ISO 2, the first of which is the fact that its collar tends to rub and irritate your Achilles if it isn't properly layered, and is especially noticeable the longer the run goes on. The second is the fairly significant price tag, in the upper end of the spectrum.
Pros
+ Very comfortable cushioning
+ Form-fitting and secure fit
+ Variety of colors to choose from
Cons
– Collar rubs against Achilles tendon frequently. Require layering to avoid
– Pricing is on the upper end of the spectrum
---
6. Brooks Glycerin 17
Another Brooks line makes the list, with the Glycerin 17 making its appearance on our best runners for women's list. This is a neutral shoe for runners that are looking for a lightweight and smooth ride without compromising on cushioning. They feature the classic DNA LOFT cushioning that works to give you a just-right softness for your underfoot without taking away any responsiveness nor durability.
On top of this, there is a 3D Fit Print engineered mesh that Brooks employed to not just act as a visual appeal, but it also gives the upper structure and stability. Their lace-up system is also ideal to keep your intended fit preference without compromise, as they don't unravel quickly.
Unfortunately, there is one issue with the Glycerin 17, namely, the price is on the higher end and it may be out of reach for a lot of runners who are on a budget. But, if you're looking for a no-compromise pair of shoes for running, then these are one the best runners on this list.
Pros
+ Great cushioning from the DNA LOFT unit
+ Breathable upper
+ Does not feel bulky
Cons
– Pricey
---
7. Adidas Pure Boost Go
Now here we have the Pure Boost Go by Adidas, which are a completely synthetic pair of shoes with a durable knit upper. This upper is aimed to be fairly breathable and long-lasting. It is a minimalistic design with width profiles that are actually very conducive to snug-fitting regardless of whether you have a wide foot or narrow foot.
Inside is a FitCounter molded heel counter that provides a natural and contoured fit, allowing for more optimal movement of your heel and Achilles tendon. The outsole is made of STRETCHWEB rubber that flexes across the underfoot in key areas to give you a smooth and comfortable ride. Adidas says that Boost is their most responsive cushioning ever, effective in delivering an incredible amount of energy return. The more you give, the more you get back. Given its materials, it is a shoe that is not so much meant for rugged or harsh terrain, but for indoor or less trying conditions.
The pricing of this shoe is actually very much on the affordable side, so it gets full points for that. Where the Pure Boost Go's fall a bit short is in the fact that the fabric upper is very thin, to the point you may actually see your toes through them when they're on – which could be a sign of longevity issues down the line.
On top of this, the way the laces are designed means that if you make them too tight, it may put excessive pressure on the instep of your foot during motion.

Pros
+ Highly durable and made of quality material
+ Breathable and flexible
+ Responsive and energizing midsole
Cons
– Fabric upper is fairly thin
---
8. Hoka One One Bondi 6
Another Hoka design makes it on our list, this time it is the Bondi 6. It aims to give you great cushioning and support while also providing great shock absorption, allowing for a smoother ride and better energy rebound. The Bondi 6 features a rocker design to help guide your foot into a comfortable and healthy running motion.
This model is also slightly heavier than other shoes here, but this is sometimes ideal for those who want to feel properly planted to the ground. The Bondi 6 is also great for those of you who have a variety of issues ranging from pain in the joints, tendons, muscles or overall lower leg area, as it alleviates a lot of the discomfort of these conditions while running. It does this by letting the midsole absorb most of the shock generated by heel-striking.
On top of this, they also can be paired with custom insoles, to further increase your comfort or mediate painful conditions. Though they are a little bit bulkier looking, namely in the outsole, the Bondi 6 comes in a plethora of colors to catch attention or simply appease your aesthetic desires.
On the downside, the Bondi 6's are not free from criticism, as they are viewed by some as too narrow. The tongue can also be an irritant to your instep, and that the underfoot experience is a bit stiffer than previous iterations of the Bondi.
Pros
+ Designed to help guide your foot's natural running motion
+ Great for everyday uses
+ Great energy return
+ Variety of color options
Cons
– Feels narrow
– The tongue on the shoe can be irritating
– Underfoot experience is stiffer than previous Bondi models
---
9. Under Armour Charged Rogue
Our second-to-last pair of runners for those of you that are of the female persuasion are the Under Armour Charged Rogue. These are a pair of 100% synthetic shoes with a durable rubber sole. They are a low-topped shoe as measured from the arch, and are for those of you who need a mixture of flexibility as well as cushioning and versatility.
The engineered mesh upper is designed to be extremely lightweight as well as breathable, with strategic support where you need it the most. There is an external heel counter that is lightweight and supportive, helping keep the back of your foot locked in place no matter how intense your run.
The midsole is a Charged Cushioning system that uses compression molded foam to give you even better responsiveness and durability, with optimal cushioning and energy return when you're on the move. The sockliner is removable but aims to provide a comfortable and responsive ride when kept in place.
The solid rubber outsole covers high impact zones especially well and as a result, is more durable and long-lasting despite being lightweight. If you're a runner who tends to go out at night, the Under Armour Charged Rogue's have built-in 360-degree reflectivity for increased visibility when you're on a late-night or low-light run. This is an incredibly versatile and affordable pair of running shoes, to say the least, and are a deserved addition to our list of the top running shoes.
The only issue with the Charged Rogues is the fact that they tend to run a tad small, so to account for that sizing issue, you are likely better off buying a half-size bigger for the most optimal fit.
Another minor issue is the fact that these really only come in variations of Black and White, with a small smattering of color in some of their options. If you're one for vibrancy and colorful footwear, these aren't going to meet those needs very well.
Pros
+ Durable yet lightweight
+ Comfortable and supportive
+ Great for running at all hours of the day, in the gym or on the road
+ Affordable price
Cons
– Runs slightly smaller – better to go up a half size
– Color selection is limited to variations of black and white
---
10. Nike Air Zoom Structure 22
Firstly, congratulations on making it this far. Secondly, we have our last best runner for women – the Nike Air Zoom Structure 22. These shoes come in a variety of colors, the most astounding of which is easily the flashy Blackened Blue/Orange Peel/Flash Crimson.
If you're looking to stand out in a way other shoes don't, Structure 22's have you covered. These shoes are built to be a daily runner most of all, more so than perhaps a dedicated stability or cushioning shoe. They feature an engineered mesh to give you specifically targeted ventilation as well as adequate support.
The midsole is a dual-density mixture of Phylon and Cushlon foam, giving you the softness around the outside with the firmness on the inside of the foot. The Dynamic Support system of the sole unit is there to give you a smooth and stable transition when running.
There are partial booties that wrap the foot in a snug and comfortable fit that is sure to not loosen when on the run. In the forefoot, you will find the classic Zoom Air unit that provides a responsive yet low-profile cushioning.
There were a few issues with the Structure 22's though, as some people found that the firmness provided by the sole was a bit overbearing and that sometimes the heel collar wasn't secure enough to keep them in place, so there was some heel slippage, which can be remedied by wearing thicker socks. Apart from this, they are a perfectly fine mid-range priced runner and a great jack-of-all-trades.
Pros
+ Great aesthetics
+ Good breathability and comfort
+ Flexible torsion system
+ Excellent stability and arch support
Cons
– For some, the sole may be a bit too firm
– Some heel slippage due to heel collar
---
Conclusion
That's it! We've exhausted our list of some of the best running shoes for both men and women! We tried to incorporate as many shoes from various archetypes into a single list, like the best neutral runners, or the best-cushioned runners, stability, etc. while also balancing the list with some higher-end and pricier shoes.
Some of these shoes are decidedly minimalistic, for those of you who don't want to show off but get the results you need. Some of them are very lively and eye-catching, for those of you who like to finish with style. Remember, that many of these shoes have variants for the opposite gender, so just because you see it on the list of one gender, doesn't mean it isn't also available for the opposite.
If you see a pair you like, but they're not in your gender list, give it a search with your gender tacked on and see what comes up. You'll be pleasantly surprised. Best of luck on your journey to get your perfect pair of running shoes, and keep on pushing!