Hazards of Working Long Hours on Concrete Floors
If you are in a job where you often find yourself standing up straight for long portions of the day, such as a construction worker, retailer, officer, or nurse, you'll realize that standing on concrete all day can be a taxing endeavor by itself.
Without proper support, standing for prolonged periods of time can lead to a whole host of complications like lower back, leg, and foot problems ranging from mild pains to even the development of conditions like plantar fasciitis that stem from too much stress on your foot from standing all day.
For this reason, it is best to try and mitigate such things by dealing with the root of the problem – comfort and support for your foot area. By wearing a pair of shoes that don't provide support for your foot, you run into trouble. On the other hand, if you wear shoes that actually support and cushion your feet, not only will you avoid many of the aforementioned issues completely, but you'll also be able to be more productive and feel less fatigued after your long day. This is especially important as you age and the built-up stresses can start taking a toll on your physical health.
---
What to Look For in Work Shoes
This is likely your first question: how do you distinguish between a shoe that will actually help you in your day-to-day life and one that will only exacerbate the issue? Here are a few things to be mindful of when you're picking a shoe for walking on concrete:
First and foremost, you want your feet to be cushioned during your work hours as standing up or constantly walking takes a big toll on them. It's uncomfortable most of the time, and that's where proper cushioning alleviates a lot of stress. A great midsole is the hallmark of good cushioning. It is the part of the sole between the outer and insole, so it is the part of the sole you don't see, but also the one you're standing on. A cushioning midsole will evenly distribute your body weight and dispel the impact forces from walking on concrete all day long.
If you're particularly fervent about your foot health, you're likely better off purchasing additional aftermarket insoles specifically dedicated to comfort and support while at work. It's the cheaper alternative to changing your shoes completely, but a dedicated pair of work shoes will go above and beyond to keep you comfortable all day long. In the following list, we'll mention which shoes have good, supportive insoles, or those which can allow for easy removal and replacement for a custom insole.
If you already have a certain condition, like low arches and overpronation, or high arches and underpronation, you're going to need good arch support for your specific issue. If you're someone with neither, count it as a blessing but still keep in mind that proper arch support will help you avoid foot fatigue especially if you're standing all day.
With those basics out of the way, we now make our way to the list of what we consider to be the best shoes for standing on concrete all day. We will divide the list into 5 male and 5 female-centric options for your benefit. So, sit tight (or stand tight)!

---
1. Skechers Glides Calculous Slip-On Loafer (Unisex)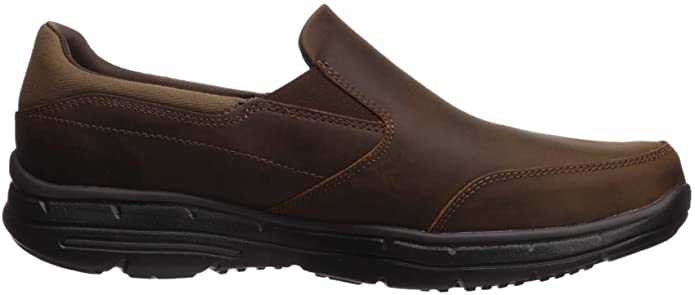 First up is the Glides Calculous by Skechers. These are a slip-on style loafer that is best for work that involves a lot of standing or walking. They offer a good amount of comfort, support, and a bit of style.
The insole is comprised of a gel-infused memory foam, which is very good if you're walking around on concrete or standing on hard floors all day. Since these are slip-ons, they are easily put on as well as removed. The upper is a smooth oiled leather with stitching accents and a moc-toe front.
The midsole is shock-absorbing and lightweight, both of which being sought after qualities on a shoe you'll be wearing for long hours. The outsoles are no-slip and provide ample traction, so if you're working on freshly washed floors, you shouldn't have to worry about slipping up. You will remain planted on the ground thanks to the Glide Calculous' grippy outsole. Finally, these shoes come in a wide option for those of you who have bigger or wider feet and will appreciate more room at the sides.
The main issue with these shoes is that they can fall apart rather quickly after constant use – with a lifespan of around half a year. While these shoes are relatively inexpensive, if you're looking for a pair that isn't going to give out for a while, these shoes may not be it for you. But for the price and features, these are one of the best work shoes you can buy.
Pros
+ Comfortable slip-on
+ Good insole and outsole duo for prolonged walking
+ Affordable pricing
+ Lightweight and flexible
Cons
– Fall apart after half a year of extensive use
---
2. Dansko Paisley Sneaker (Women's)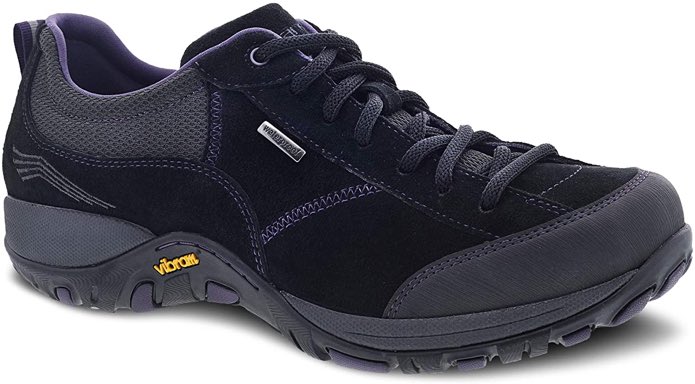 Next up are the durable, low-key, versatile, and comfortable Paisley shoes designed by Dansko. They are a lace-up style sneaker, with a 100% leather upper meaning it can take a beating when needed and is quite easy to maintain. There is a removable triple-density footbed with a moderate arch to support your feet while standing for hours on end. The shoes also consist of DuPont Sorona fiber for maximum moisture management to keep your feet cool and dry all day long.
The design choices of this shoe lend itself to keeping your foot secure while also not limiting your range of motion – as the collar around your ankle area is flexible yet supportive. When you put on the Paisley sneakers, it has a sock-like feel that makes it hard to ever want to take them off. The Paisley also comes in both normal and wide sizes so it can accommodate almost all foot types.
The outsole of this shoe is also slip-resistant making sure that you're stable and in control at all times. Since they are lace-up, you also get to control just how snug or loose-fitting you want them to feel. These shoes are APMA certified for promoting good foot health, so no matter how long you're on your feet, you can be assured that you won't feel any pain or discomfort.
If you're someone who is looking for an unassuming and sleek work shoe that gets the job done, the Paisley sneakers are a decent choice, especially for retail, but if you're looking for something that feels more like a true running shoe, this may not be it.
These shoes are a little bit hefty given its multi-layered leather, which is great for its protective properties, but not for being lightweight. Regardless of these quirks, the Dansko Paisley sneaker is one of the best shoes for walking on concrete and is trusted by many retail and healthcare workers.
Pros
+ Prioritizes function over aesthetics
+ 100% Leather
+ Good for people constantly on their feet
+ Anti-slip outsole and comfortable insole
Cons
– Feels more like a small boot rather than a sneaker
---
3. ASICS Gel-Venture 6 (Men's)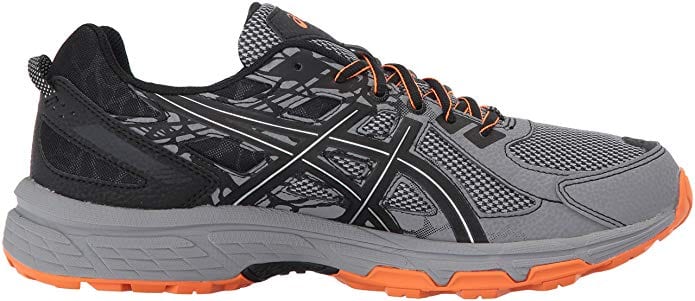 Next, we have the Gel-Venture 6 by ASICS. These are a fantastic lightweight shoe that has breathable mesh panels throughout, a padded tongue, collar, and removable insole. The mesh upper consists of a synthetic overlay that makes sure that your feet are comfortable and supportive after being on concrete floors all day. The upper is also fairly ventilated to keep your feet cool and airy.
The Gel-Venture 6 also features a supportive heel collar with Rearfoot GEL cushioning that conforms to your foot's natural shape, giving it the highest quality heel support possible – helping you feel secure and comfy all day. The midsole is also excellent for dispersing impact forces evenly across your feet while walking on concrete floors.
As mentioned earlier, the foam insoles are removable, which is an ideal feature if you want to take your foot health and care to the next level with aftermarket insoles of your own. This may be because you need a specific condition treated, or simply because it is better for your feet in the long run. Either way, Venture 6's internals are conducive to it. If that isn't for you, the stock insoles have adequate cushioning at the balls of the feet and other high impact areas to help add comfort to your stride.
The few issues with this shoe are the fact that the Gel cushioning system becomes firm over time which might require you to either replace the insoles or get new shoes. Secondly, the outsole on this shoe isn't as grippy as other dedicated work shoes on this list. It is however on our list simply because of its affordable pricing, lightweight feel, and amazing walking experience.
If you work in an industry where you don't need dedicated non-slip soles, you can definitely get away with purchasing the Gel-Venture 6 as they are one of the best shoes for concrete floors.
Pros
+ Breathable Biomorphic Fit upper
+ Duomax support system helps your heel area with impact
+ Easily removable insoles, allows for custom orthotics
+ Well ventilated upper
Cons
– Outsole not as grippy as dedicated work shoes
– Gel cushioning becomes firm over time with use
---
4. Alegria Classic Clog (Women's)
Alegria decided to go with a clog design for their Classic shoe, as some say that when you want the best comfort on a busy day, clogs are the way to go. These are a stylish and classy shoe for a woman in any profession that happens to be constantly on the move or standing for long periods of time on concrete floors.
The Classic clogs feature a moderate 1.75" heel that is stain and slip-resistant, for when you find yourself in a slippery situation and need extra grip and balance. They feature breathable leather lining, a PU sole to reduce the pressure of walking on hard concrete as well as being fairly shock absorbent. Around the collar, there is extra padding for additional comfort and to make sure there is minimal chafing when in motion.
There are a few issues with these clogs though. Namely, they aren't true to size and run a bit small, as well as the fact that if you're inexperienced in wearing heels or simply don't enjoy wearing them, this clog/heel hybrid won't be doing you any favors. In that sense, you'll need some time to break them in as well as accustom your foot to this style of shoe.
In many cases when you're buying shoes, you're looking for shoes that you can wear right out of the box without any issues. These shoes are very aesthetically pleasing, but in the end when it comes to comfort, function trumps form, so you have to consider whether this style is conducive to your feet and walk.
Pros
+ Elegant design
+ Clog style is fairly comfortable
+ Slip-resistant sole
+ Can be worn for various occasions outside of the workplace
Cons
– Runs a bit smaller, roughly half the size
– The clog/heel hybrid may take some getting used to
---
5. Dunham Windsor Oxford Shoes (Men's)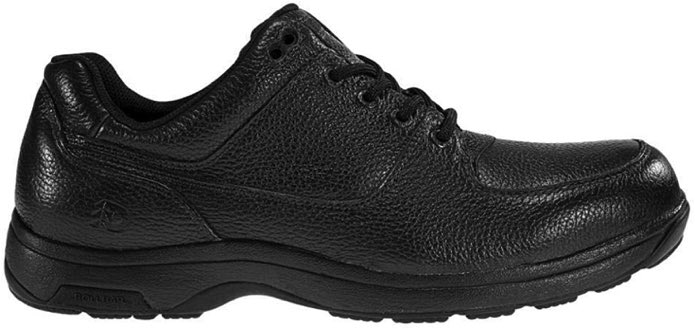 Next up, we have the Windsor Oxford shoes by Dunham. These shoes are meant to be a great multi-purpose work shoe that is also incredibly comfortable. It is made from 100% synthetic leather that is waterproof and easy to maintain like real leather. The lining of the inner shoe allows for wicking away any build-up of sweat or moisture.
Its durable rubber outsole is also slip-resistant. So on top of being waterproof, these shoes are also safe to walk over puddles or liquids without fear. This shoe sports a lace-up design and can be used for casual, work, or outdoor events, and most importantly meant to last for years in all sorts of weather conditions – be it wet or dry.
Most unique about this shoe is Dunham's policy that "they fit", meaning any shoes they create, (Windsor included) will fit a huge spectrum of foot types, as they have options ranging from neutral, to narrow to even XX-Wide. If you are someone who is spending a lot of time on concrete floors and you also happen to have a unique foot composition that makes it hard to find a perfect fit without something being a bit nonoptimal, the Dunham Windsor's will give you that perfect fit without compromise.
If you need a custom insole, these shoes are also capable of supporting it, with a removable insole. Given how versatile and smart-looking the Dunham Windsor is, we can safely recommend it as one of the best men's shoes for standing all day on concrete.
Truth be told, there isn't a lot to knock these shoes for. The only quirk you may have is the fact that they squeak a lot especially on linoleum floors which can not only be a distraction but an annoyance especially if the noise is constant. The squeaking is not constant though and many other users have not reported this to be an issue.
Pros
+ Waterproof and slip-resistant
+ Huge spectrum of sizes for all foot types
+ Comfortable and allows for custom orthotics
+ Smart and sleek design
Cons
– Squeaking noises
---
6. Skechers Sure Track Work Shoes (Women's)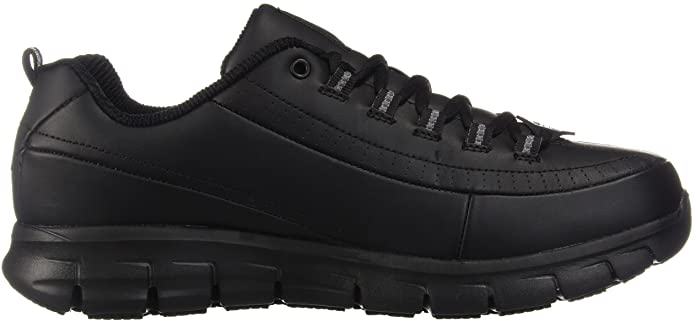 These specialized work shoes are primarily focussed for use in areas involving live wires or general electrical fields, as the Skechers Sure Track had these EH-Safe tested and they also comply with ASTM regulations. These are non-conductive and ideal for people that work with electrical hazards.
The upper is made of all-leather for added durability as well as comfort and class. The outsole is made of rubber and is slip-resistant, ideal for any circumstance. Skechers put memory foam insoles into these work shoes for added comfort. The cushioning makes for a smooth ride and especially helps with long-hour shifts.
The FlexSole midsole is noted to have exceptional arch support, so much so that people with custom orthotics didn't even need to use them with this shoe. It has a slip-on design meaning you can easily put them on or take them off on a whim.
The only issue with these shoes is that they typically run a bit small, so it is recommended that you purchase them half a size up. They are also a bit narrow and not ideal for those of you with wide-set feet.
Pros
+ ASTM compliant
+ Protective leather upper
+ Removable insole with memory foam topper
+ Slip-resistant
Cons
– Runs a bit small and narrow
---
7. Dr. Comfort Stallion Casual Shoes (Men's)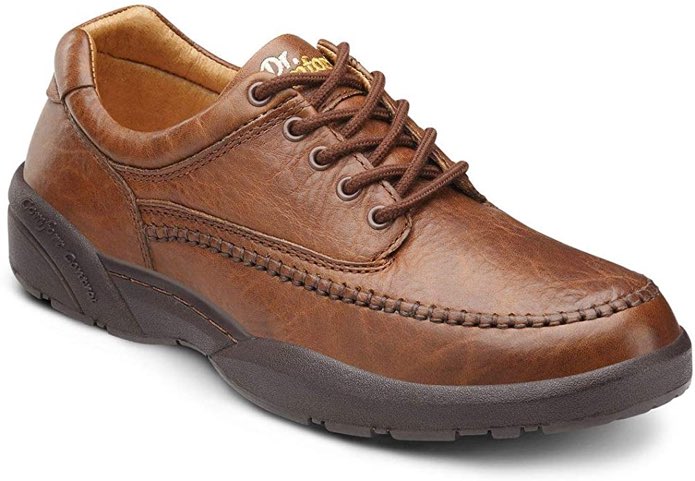 The Stallion's by Dr. Comfort is designed to be a lightweight, moccasin-toe casual lace dress shoe meant for almost any occasion. If you're looking for a shoe that helps with certain foot conditions like flat feet, edema or neuropathy, the Stallion's were created to combat those issues.
They are a highly comfortable pair of shoes that also come with a complimentary pair of Gel Plus insoles with your purchase, for even greater comfort and support when you need it. They come in a variety of widths to accommodate many foot types, such as Wide and X-Wide.
Despite being made for those of you with a particular condition, these shoes are actually great for people from all different work backgrounds and preferences, especially if you're on your feet all day on concrete. The tongue and ankle area have additional padding to not only lock your foot in place snuggly but also prevent any irritation or discomfort that may build up over the course of a long work shift.
From a practicality standpoint, these shoes are really quite good, there are no glaring flaws. The only potential issue is that this style of shoe may not fit quite well with certain people's tastes, or perhaps it isn't standard in their work environment and they don't wish to stick out by buying a radically different shoe style. But other than that, these are some of the best men's shoes for standing all day.
Pros
+ Great for specific foot conditions
+ Come with Gel Plus insoles
+ Wide variety of width options available
+ Covers all men's sizes 6-15
Cons
– Aesthetically may not match certain job environments or your tastes
---
8. Nurse Mates Velocity (Women's)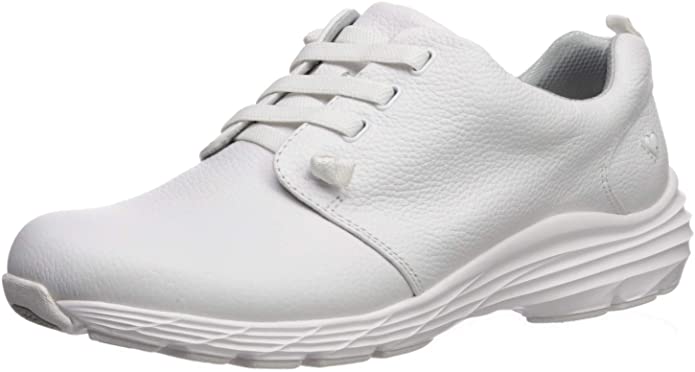 Our penultimate women's shoe is the Nurse Mates Velocity, which is specifically designed for Nurses, who undoubtedly spend a load of time on concrete floors constantly on their feet or in motion tending to the needs of doctors and patients at all hours of the day.
The Nurse Mates Velocity features a full-grain leather upper with a polyurethane rubber outsole for maximum durability and comfort. The lace-up design is adjustable and stretchy to accommodate one's instep. Inside the insole is a stabilizing composite shank that corrects posture and secures you in a healthy gait cycle, in tandem with their align-corrective orthotic built into the shoe.
They also come in a variety of aesthetically pleasing designs and a few color arrangements to allow you to express yourself a bit outside of your plain hospital scrubs. Overall, these shoes are great as they were designed with standing on concrete and spending a lot of time on your feet in mind and are well-equipped to keep your feet in the right position and comfortable at all times.
The biggest issue with these shoes is actually the break-in time required to get a comfortable fit. This can take up to a few days for the Nurse Mates orthotic to mold to your feet completely. It is recommended that you actually wear them around the house a few days prior to your long shifts at work. You can also read our in-depth article on nurse's shoes to get a better understanding of what you'd need.
Pros
+ Made for those who spend long hours on their feet
+ Comfortable and supportive design
+ Orthotic insoles help correct posture
+ Come in a few different designs
Cons
– Need a few days to be broken in
---
9. Reebok Work n' Cushion 3.0 Work Shoe (Men's)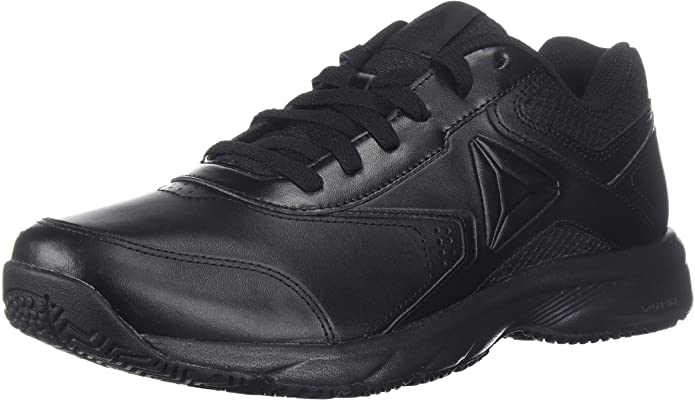 Our last pair of best shoes for walking on concrete for our male audience is the Reebok Work n' Cushion 3.0. These are great shoes for anyone who casually or by trade spends a lot of time walking or working on concrete floors.
These shoes give you a good bang for your buck with their leather and synthetic upper and durable rubber sole. It is a low-cut design with DMX-ride technology and Beveled heel construction, both of which not only provide you with a great degree of stability but also comfort and shock absorption on impact with concrete flooring.
The outsole is completely oil-and-slip resistant meaning there should be no hesitation no matter what is thrown at you, that your shoes can take it. On top of this, wide sizing is also available, which is ideal if you need or want more room in the sides of your shoes for a better overall fit. The shoes come in either lace-up design or velcro if you are so inclined.
The only true issue with these is that they only come in black or white, and the black variation of this shoe tends to fade over time. If you are someone deeply concerned with aesthetics or want a shoe that won't fade no matter how often you put it to work, then rethink the Work n' Cushion 2.0's.
Pros
+ Comfortable and durable upper
+ EVA outsole has great traction
+ Wide sizes and Velcro options available
Cons
– Only come in black or white
– Black color tends to fade with time
---
10. AVIA Trivet Service Shoe (Unisex)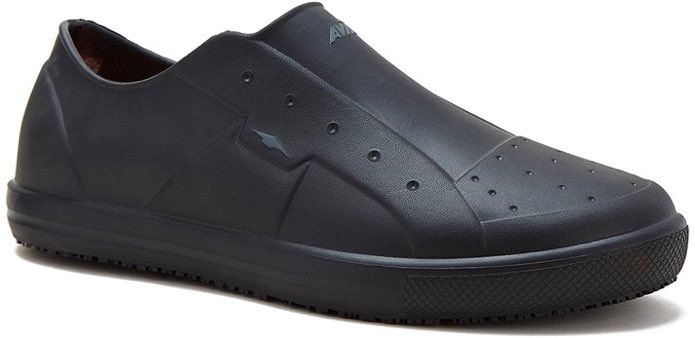 The final shoe on our list is the Trivet by AVIA. It is engineered from 100% synthetic upper with a synthetic outsole. The synthetic leather upper is treated with Scotchgard for improved water-resistance as well as stain resistance.
Inside, the midsole is made from compression-molded EVA as well as a soft gel heel unit combined with a Cantilever support system for exceptional cushioning and shock absorption on concrete floors. The Avia shoe also has a molded and removable EVA insole, as well as sockliner that prevents the accumulation of sweat and wicks it away without leaving behind any nasty odors.
The outsole is also completely oil and slip-resistant with rubber treads for enhanced grip on the ground, even in the slipperiest or smoothest conditions. These are exceptionally good shoes especially for warehouse workers who are required to be in constant motion.
Simply put, these shoes are an affordable option for you to pick, with the only drawback being that they don't last as long as more expensive alternatives. The lifespan of the Avia Trivet is up to a year (practically speaking), and with extreme use, likely a bit less than that.
So if you are looking for a cheap alternative you don't mind replacing down the line, these are great. If you want a one-and-done purchase, these aren't exactly ideal.
Pros
+ Affordable and economic choice
+ Durable and resistant synthetic leather upper
+ Enhanced rubber traction outsole
+ Soft gel and compression-molded midsole
Cons
– Aren't built to last years, and will need to be replaced.
---
Conclusion
Congratulations on making it all the way down here! We're hoping you found at least a few pairs of shoes here you'd consider picking up if you're currently in a job where you're standing or walking all day on concrete floors.
It cannot be stressed enough how important it is to make sure your feet, and by extension legs and lower back, are being treated properly. If your workplace requires boots rather than shoes, we have an extensive guide on comfortable work boots for tradesmen like electricians, plumbers, construction workers, etc.
This is doubly true when a large part of your job has you constantly stressing your feet and legs over a prolonged period of time. All of these shoes have a great deal going for them, even with a few nitpicked issues, and they are all worth consideration, in our opinion, as the best shoes for standing all day long.
Aside from this, it also recommended to take breaks (even 5 minutes) and massage your feet whenever you can so your feet don't develop any foot ailments down the road. So, have fun and work safe!