The Perfect Companion to your Work Shoes
A good pair of work boots are a necessity for comfort, traction, and protection on tough, risky jobs or precarious terrain. But the insoles you find built-in are oftentimes not built to last quite as long as the rest of the boot. Considering just how much wear and tear a single pair of work boots go through, not to mention the grueling work routines they are applied on, it makes sense to spend as much time as you do finding the right work boot insoles that you did finding the right pair of work boots.
If your pair of boots feel uncomfortable on the inside, like they've been worn down, but the outer is holding up well, consider getting replacement insoles and inserts for your shoes. This will give your footwear a whole new life and in-foot comfort without having to buy a new pair of boots for work. Alternatively, if you have flat-feet, you can check out our detailed guide on flat feet insoles.
Insoles and inserts for boots are meant to protect your legs and joints from excessive stress and improve your overall comfort. We will be listing the 10 best insoles for work boots, discussing the following aspects of each pair of insoles: arch support, comfortability, durability, shock absorption, and material quality. So, read along!

---
1. Superfeet COPPER Memory Foam Comfort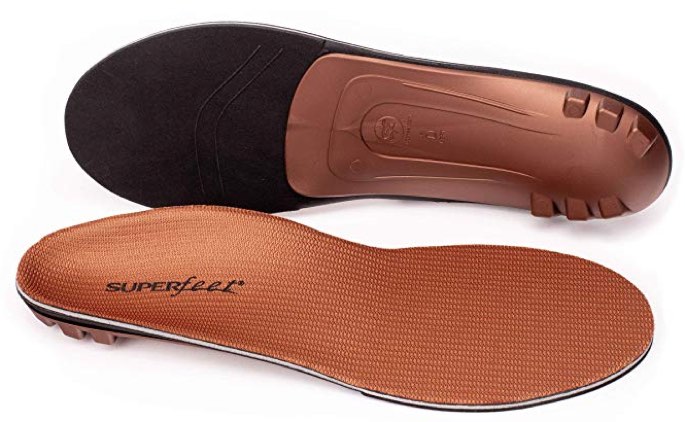 The first on our list is the COPPER Memory Foam by Super feet. They are a synthetic insole with a high volume (amount of space taken up by the insole inside the shoe) and low profile (how thin an insole is under your foot). Meaning, you should expect a snug fit when using this insole with your work shoe, but you will not feel overly constricted while having these insoles in place. The Superfeet COPPER features a reinforced stabilizer cap where the base of the insole supports your rearfoot while also providing extra stability and structure to the memory foam.
On top of this, it has a deep-heel cup, which is a narrow supportive piece that supports your foot during high impact work or endurance activities. On tough jobs like construction or drilling, you're likely to experience a bit of both depending on the task at hand, so the deep-heel design is great for prolonged comfort. The aforementioned low profile shape of the insole helps to cradle your foot and reduces the stress you'll be feeling on your knees, ankles and, of course, feet. This is compounded by the memory foam material that is pressure-sensitive and molds itself into your foot for a personalized level of comfort.
Finally, it is covered in an organic odor-controlling coat that eliminates odor-causing bacteria that builds up over a long day at work. The Superfeet COPPER is one of the best boot insoles for those that require all-day comfort and cushioning.
The only noticeable issue with the COPPER's is that it requires a break-in period to get a custom fit, so you should expect a bit of an unusual feeling when settling into the arch area. This goes away with time as your foot gets acclimated to this insole, and you will see a noticeable improvement in overall joint health and even an improved gait.
Pros
+ Comfortable Memory Foam cushioning
+ Great for labor-intensive work
+ Reduces stress and improves stability
+ Cost-effective
Cons
– Break-in period required to get a custom fit
---
2. Dr. Scholl's Work Insoles w/ Massaging Gel

Dr. Scholl's is a renowned brand that is known for developing insoles for people with a variety of foot conditions and chronic fatigue. Given their history and pedigree, Dr. Scholl's WORK insoles do not disappoint. These insoles are made with, as the name implies, Massaging Gel technology, aimed to double the comfort of your shoes which is especially helpful for those with general foot discomfort. These Work Insoles help you feel comfortable and therefore more energized than you would without them.
These are a general use type of insole, that is incredibly cost-efficient, clocking in the lowest of double-digits and they pack a lot of value for its price-point. One of the many reasons they are on this list is that not only are they practical for work boots, but they can also be put in your casual wear shoes to mitigate discomfort. After long days of arduous tasks, weeks and months on end, it is expected that your feet will fatigue significantly quicker, and Dr. Scholl's Work Insoles with the Comfort Massaging Gel helps alleviate a lot of the associated pain, general discomfort or fatigue you have come to expect from laborious work.
The design of these insoles is meant to not only be as ergonomic as possible but also help provides extra spring in your step. The Responsive Wave Cushioning in the ball-area of your foot is packed with lower-density softer gel waves that are not only more gentle but give you an extra rebound of energy with every step that you take.
One significant drawback of this pair of insoles is that given they are actually intended for work use, the soft gel in the heel area hardens over time with many months of use. As a result, you will likely need to buy replacements in the future, though this issue is largely offset by the fact that they are very inexpensive to re-purchase.
Pros
+ Incredibly inexpensive
+ Gel material gives added comfort and flexibility
+ Designed to improve fatigue and chronic foot pain
+ Specially made for work boots
Cons
– Gel hardens over time needing to be replaced
---
3. Sof Sole Insoles ATHLETE Performance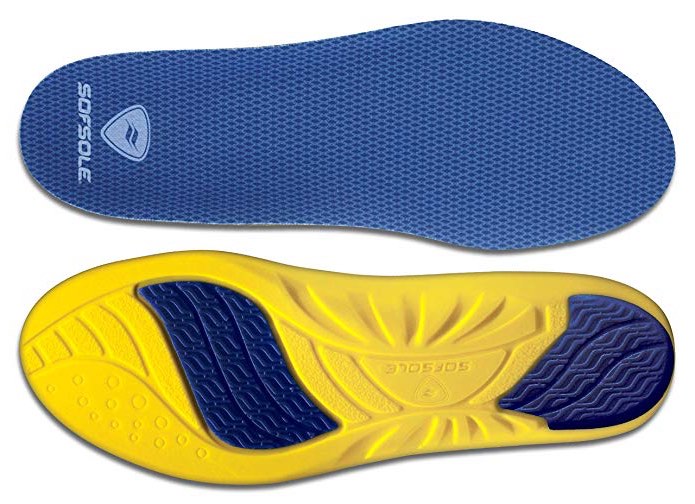 These are a full-length gel shoe insole that is made of 100% Implus® foam. It features a neutral arch design that is catered to most foot types. However, if you find the insole to be too long, you are able to trim the forefoot area to fit properly inside of your work boots. The same is not true for the sides of the heel, as it is deliberately designed to function the way it comes out of the box and trimming it could alter the placement of the heel cup.
The gel pads are strategically placed in the heel and forefoot to provide cushioning, along with Hydrologix moisture management to keep your feet cool and dry even when sweating. These insoles are made with athletes in mind, as a result, there is increased energy return. The aim to increase performance and comfort is at the very foundation of its design. But, don't underestimate these insoles of not being capable of adjusting to work boots.
The Sof Sole ATHLETE insoles overlap quite well with tough jobs that require endurance and performance above all else. The insoles are, similar to our last pair, relatively inexpensive alternatives and a jack of all trades but bolster greater durability.
The drawback of the Sof Sole ATHLETE Performance Insoles is the fact that they don't list the thickness, as this model has high volume. If you have a pair of work boots that would work better with low volume, this specific model by Sof Sole may not be the best pick, and another one in their extensive catalog may be better.
Pros
+ Designed to be durable and performance-focused
+ Gel material for added comfort
+ Inexpensive price
Cons
– Has some thickness and may not work for certain work boots
---
4. Spenco Polysorb Heavy Duty Insoles
The Spenco Heavy Duty insoles are a special pair of work boot insoles that are great for general use but function especially well for boots and labor-intensive jobs. They feature a 4-way stretch fabric with a Silpure antimicrobial coating to prevent blistering or moisture-trapping while also controlling odor. The forefoot pad is made of EVA foam, providing superior cushioning as well as energy return, great for when you are on your feet all day long.
The Spencore material the Polysorb insoles are comprised of is engineered to absorb shock and impact as well as adding intense cushioning and comfort for long hours of work. The foam cushioning is made of light-weight polysorb polyurethane for improved arch and heel support. There is also a heel strike pad to increase the overall design and feel when you're on your feet.
The only drawback of the Spenco heavy-duty insoles is that they run a bit big, and are recommended to get half a size down. Otherwise, you run the risk of discomfort. It is not unusual for improperly sized insoles to cause problems like poor support or awkward placement in comparison to one's foot. It cannot be stressed enough that if you are considering this or any other not-true-to-size insole, you adhere to sizing guidelines stringently.
Pros
+ Durable EVA
+ Anti-blister and moisture fabric
+ Comfortable and ergonomic design
Cons
– Run bigger, and it is recommended to get half a size down
---
5. KEEN Utility K-20 Cushion Insole
While these insoles are specifically designed to fit the KEEN brand of utility boots perfectly, they can also be trimmed down to fit various other types of work boots. These are a pair of 100% synthetic insoles with a premium full-length shock-absorbing material. It evenly cushions your entire foot without any compression. The material features high rebound foam that helps provide all-day comfort through plenty of energy return upon impact.
The built-in heel cup centers and aligns your heel as well as the rest of your foot to improve your alignment post-heel strike, giving you much better stability throughout each gait-cycle. Arch support is medium but it does a great job at supporting the center of your body's alignment. The Cleansport NXT technology is built into the K-20 and is a quick-drying, organic-based tech that produces enzymes that break down the odor and sweat you've built up throughout the workday. More than just removing odor, this technology also helps with lessening the likelihood of blisters or any other discomfort associated with excess perspiration.
For those of you who need high arch support, be it due to foot-related conditions or personal preference, the KEEN K-20 might prove to be a bit lacking in that department as its main goal is to provide more support towards the sides of the feet and heel. This is likely to be the only major drawback of the K-20's, as it meets all the other needs it sets out to alleviate or support. So, with all said and done, the KEEN K-20 is one of the best insoles for work shoes especially if you're looking for all-day foot relief.
Pros
+ Highly shock absorbent
+ Designed for high performance
+ Perfect fit for KEEN or other work boots
Cons
– Not designed for high arch support
---
6. Carhartt Insite Technology Footbed CMI9000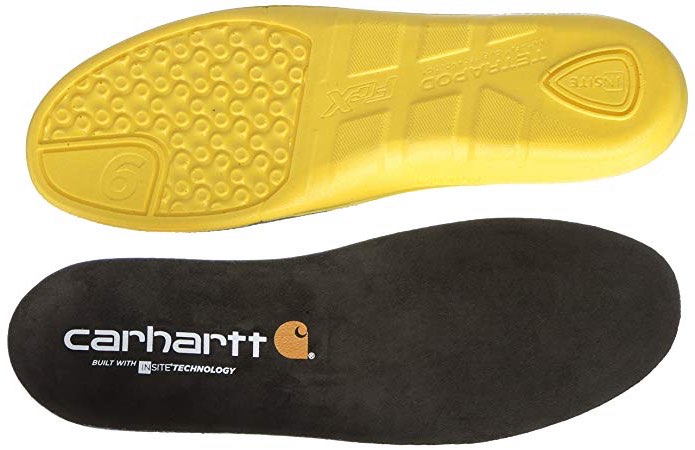 Best known for their production of rough, tough, and built to last attire for decades, Carhartt dipped its toes in the insole market with the CMI9000's. This insole was designed after analyzing upwards of a quarter-million 3D foot scans, and the result of their research was a flexible, durable, and most of all, comfortable insole. This design, given Carhartt's background, is understandably more focussed on performance enhancement rather than support, and it is great at its job.
The top cover material is made of Ax Suede, which provides 30% more grip than normal market materials, reducing chances for slippage as well as fatigue. There are also two different layers of foam to provide compression and rebound abilities which again goes towards reducing fatigue and prolonging workability. The last layer is a heavy-duty Tetrapod layer, which is located on the underside of the insole, and disperses compression from hard labor in multiple directions while still maintaining the insole's shape.
It should be noted that these insoles are meant for high arches, to improve and support your foot's natural contour. If you suffer from flat feet or similar conditions, it would be recommended to get a pair of insoles that take that condition into consideration, as these will only exacerbate the issue further.
Pros
+ Well-researched design
+ Made with performance in mind
+ Great to slip into work boots for any job
Cons
– Not meant for people with flat-feet
---
7. Timberland PRO Men's Anti-Fatigue Insole
Timberland has manufactured the PRO Men's Anti-Fatigue insole to cater to performance and comfort for people that work long hours of work. The technology inside the insole features what is Timberland's exclusive inverted cone foam, designed specifically to absorb shock and return energy as efficiently as possible.
The base has a geometrical pattern that returns energy in every step, delivering an all-day comfort that allows you to stay on your feet at all times of the day. Key pressure points and impact zones, like the heel or ball of the foot, are aided by this contoured insole for maximum support and comfort.
The PRO Anti-Fatigues have a dynamic Ortholite arch design that is intended to be form-fitting to your feet and provide relief to key areas, unlike many other work boot insoles that do not bother with the more technical or specific nuances of building an insole. Many simply focus on performance, rightly so, but if you are looking for an insole for your work boots that also aims to help with conditions, or alleviate stress in your knees, joints or other ligaments, the PRO Anti-Fatigue is one the best work boot insoles in its class.
This pair of insoles is not without its share of troubles, though, as it oftentimes comes a bit large for customers to trim down to their exact specifications, so if you are not too accustomed to trimming down insoles properly, or just want a pair you can slip in without much thought, the PRO Anti-Fatigue's may not be your first choice.
Pros
+ Unique inverted-cone design for shock absorption
+ Designed with foot conditions in mind
+ Comfort for those that work extended hours
Cons
– Needs to be trimmed properly when purchased
---
8. FORM Premium Insoles Maximum Support
The FORM Premium Maximum support's are a custom fitting insole for both men and women that are designed to provide a prolonged shock-absorbing comfort, on top of needed arch support and stability. The specifically shaped arch is molded in a way to provide ideal support for your arches, reducing the stress on your feet, knees, and joints.
These insoles incorporate the very latest biomechanical designs and also an optional molding feature that enhances its fit and comfort for your custom needs. They are specialized to relieve pain and are great for a whole host of shoe types, including work boots. These insoles are designed with practicality, durability, and comfort in mind. They feature a Temperweave top layer of fabric which will help reduce any odor or built-up moisture, ideal for work boots and jobs that see you active all day long.
The fact you can custom mold these by applying heat, in a simple way you can do at home, make these a very attractive offer, completely different from the current competition. Given that you can also pair these with more than just your work boots, these insoles are a hard-to-pass up option even outside of work.
The only problem with these insoles is that for those of you who have wider feet or wear a wide pattern shoe, the FORM Premium's will likely be a few millimeters narrower than you'd like. Unfortunately, FORM does not make a wider version of the Premium insoles, so keep that in mind to make sure that the width isn't too narrow for your needs.
Pros
+ Optional heat-molding feature is great for a custom fit
+ Practical and durable for high-intensity work
+ Can be used outside of your work boots
Cons
– Do not come in wide variations, can be a problem for wider feet
---
9. Sof Sole Men's AIRR Orthotic Insole
The AIRR Orthotic insole by Sof Sole, second of this brand's to make it on this list, was created to provide the wearer with athletic orthotic support for flat feet as well as generally low arches. It features a reinforced nylon stability plate to enhance motion control and therefore promotes better alignment and gait for low arched feet.
The AIRR also has SKYDEX air bubble shock absorption technology located in the heel and arch, absorbing impact during all forms of motion and impact. The fabric covering is COOLMAX, and it wicks away moisture to keep your feet feeling cool and dry during intense activity, instead of sweaty, hot and uncomfortable. The fabric is also treated to prevent the proliferation of odor-causing bacteria.
The Sof Sole AIRR also features options for heavy and wide-footed individuals, meaning all types of feet are supported by this easily accessible insole. A great pick to put inside your work boots, no matter what your career is, the Sof Sole AIRR should have you covered.
The only serious drawback of these insoles is that they need to be replaced bi-annually if under constant stress and use. This is majorly offset by the price point, which even when purchased twice a year, would be a very reasonable bargain. It is still something to note if having to purchase new soles every so often is an issue for you and you would prefer something that would last a full year or beyond.
Pros
+ Great shock absorption
+ Can be used for multiple tasks
+ Many sizing options for all foot-types
Cons
– Need to be replaced every so often
---
10. Powerstep Unisex Pinnacle
The final shoe on this list is the full length, total contact Pinnacle Unisex by Powerstep. This is one of the few soles on our list that is dedicated whole-heartedly to various foot conditions and not just performance under stress that work boots endure. The Pinnacle orthotic insole is ideal for the prevention and alleviation of pain varying from Plantar Fasciitis, heel or arch pain/discomfort, soreness or aching feet, metatarsal pain or other fairly common foot ailments.
It features VCT (Variable Cushioning Technology) which provides targeted and controlled cushioning while still giving you softness and support. Cushioning is delivered through a dual-layered EVA foam base to increase its longevity and durability. There is a semi-rigid foot arch support and heel cradle to increase the support and stability you will feel in your work boots.
The Powerstep Pinnacle consists of a fabric cover that is heat and friction-reducing and has antimicrobial properties that help mitigate a lot of the built-up heat and sweat you create throughout the workday and eliminate a lot of the common bacteria that cause odor. A big upside to the Pinnacle is the fact that it is movable from boot to shoe with no trimming required, as such, it is a fairly low maintenance insole that you can slip right in with ease. If you want a pair of insoles for your work boots that are catered to a specific condition you have, these are a great choice.
These insoles, just like every other on the market, has its flaws. Namely, it requires a week-long breaking in period. The first few days with these on will feel a little unusual, but it is typically worth the hassle. One tip for quickly breaking them in, along with any other insoles, is to wear them a couple of hours a day during the night until they are properly worn in to be worn all day at work without issue.
Pros
+ Designed to alleviate many foot conditions
+ Durable and long-lasting
+ Easy to slip into, no trimming needed
Cons
– Needs to be broken in for optimal comfort
---
Conclusion
You'll find that at the end of this is a comprehensive list of possible choices for you to make – and answers the itching question you have about what insole to use for your work boots. We have a variety of options to choose from, with varying design choices and intentional goals. Some are more adept for hard-labor while other shoe inserts are more geared towards improving any foot-related conditions. If you find that you suffer from heel pain or plantar fasciitis, you can check out our detailed guide on plantar fasciitis insoles to get a more targeted list for your condition.
So, depending on what you value most, from performance to comfort to mediating foot conditions, there is an option on this list for you to look into and try on for size.