If you're a working person, you might sometimes find yourself standing on your feet all day as a part of your job requirements, or it is the very nature of your job. You come to realize just how vital it is to have the best work boots for these long and arduous days.
Not all safety shoes are created equally. A good safety boot makes a world of difference compared to something sub-standard, and because you're on your feet constantly, you'll be able to tell the difference immediately.
If you do any form of manual labor – ranging from construction, farming, yard work, landscaping, manufacturing, or other industries, you know that fighting off fatigue is a reality. Having the best pair of work boots on promises to make that reality much simpler. After a long day on your feet, you'll appreciate the time you took to find the right equipment.
The work boots we've reviewed are meant to not only provide comfort and cushioning under a variety of conditions, but they serve as well-needed protection for your feet and toes in particular. Certain job sites have dangers associated with them that you'd like to be avoiding at all costs, for the sake of your livelihood and your wellbeing. Hence, all work boots must meet ASTM or international safety standards.
---
Types of Safety Toes in Work Boots
Steel-toes
This is a classic style of work boots, as well as being the heaviest-set of all current work-boot options. These boots feature a steel toe cap and slip-resistant soles to keep you on your feet, grounded, and most of all, protected from dangers above (onto your toes) or below (causing you to fall).
These shoes are usually combined with a midsole plate that is placed to protect your foot from any dangers from below (like a nail), other than slippery terrain. If you find yourself in a job that has a lot of heavy objects, equipment, spills, or a serious danger of stubbing or harming your toe area, then you need a pair of boots that is up to the task of taking as much abuse as possible while keeping you safe.
Steel toe boots are typically the go-to option for most workers as, beyond a certain limit, they bend under pressure whereas other boot types would shatter. Steel-toe boots can take more pressure than both Aluminum or Composite toes. If you find yourself working with electricity or static hazards, though, these are NOT recommended, nor are any other conductive metal boots.
Aluminum-toes
This is a lighter and thinner variation to the steel-toe capped work boots, yet not too far off from them in terms of overall durability, strength, and protection. Typically, these types of work boot caps are made of an alloy of aluminum and titanium (also giving them the name alloy-toes).
This combination gives you top-quality protection, but the thinner silhouette means more room in your toe area if you prefer that. The drawback here is that these shoes and their toes are more sensitive to extremely hot or cold temperatures than steel-toe boots. Essentially, these boots are a lighter and slightly weaker version of steel-toes, but if you've worked long hours, you know that taking off a bit of weight from your feet and having comparable protection is a god-send.
Composite-toes
Lighter still are composite toe boots which are made of carbon fiber, Kevlar or plastic. You can use these in hot or cold temperatures just fine and they offer enough protection against bumps and impact, but not to the same degree as either of its metallic counterparts. It should also be noted that these boots are the go-to for people who work in areas with electrical hazards, or have to pass through metal detectors. The reason for this is because the composite materials are not conductive, making it the only real protective choice for those environments currently.
Soft-toes
These simply work boots, also known as non-protective toe boots. They do not have a toe cap or plating below like the other options listed, but they also don't have all the added weight either. These boots are not without purpose, as they're ideal for jobs that do not have risks of serious hazards like falling objects.
Soft-toe boots are more comfortable and flexible, providing you with solid footing on the ground with an anti-slip technology, or ideal if you are found in situations with live wires frequently. If you need the extra mobility and comfort and don't have to fear severe hazards in your workplace, soft toe boots are a recommended option.
You might find that the weight of the metal-toed boots is too much of a detraction, as well, and not particularly necessary for your specific job.
---
Things to Look for in Work Boots:
With all the options covered, you will need to decide what kind of boot you need for your line of work. But there are other factors to consider as well, beyond the type of work boots you need, and we'll cover some of them here.
Durability
Having a long-lasting and tough pair of boots is absolutely crucial no matter what line of work you'll find yourself in. It is a universal requirement above all else. A big part of the durability and longevity of a work boot is actually how its made and there are a few different ways to make a proper work boot:
Cement Construction: This is also called direct-attach. It involves a high-strength adhesive like shoe cement, to attach to the sole. This is a highly flexible and light boot which gives a lot of comfort. With that said, this is also the cheapest option to produce a lightweight, comfortable boot, and when the sole breaks off or gets detached from the rest of the boot, you can't fix it. It will have to be replaced.
Leather Welt: This is another common method, likely the most popular all over the world. This is a process where a strip of rubber, leather, or plastic is stitched to the upper part of a work boot as well as the sole of the boot. This strip acts as an anchor for the entire boot, holding it tightly together. The welt is isolated and cemented to the outsole, forming the shoe in its entirety. This technique results in boots that last years, and if it actually does come undone, you can get it re-soled, and it doesn't have to be completely replaced.
Direct Technique: This is the final method, where an elastic material is used to attach the soles together. The paste is a molten rubber poured between the upper and the outsole of the work boot, and with a bit of time it hardens and the finished product is a lightweight and durable boot. Similar to cement construction, you are better off replacing it when it comes apart eventually, but it won't happen nearly as fast as a cement constructed boot.
Comfort
This is the very first thing we touched on in this article. Comfort is something that makes or breaks a shoe experience, and all other factors come second to this. If a particular shoe is not comfortable on your feet, it really doesn't matter what it's made of or how long it will last. It simply won't be usable. You could enhance the comfort of your existing footwear by using insoles for your work boots. To find a proper shoe you need to determine the following
Weight: This cannot be stressed enough, and while you may be able to ignore it if your shifts are shorter, but if they drag on, you'll find that wearing heavy boots for 12 hours at a time is torturous and leads to getting less work done. It amounts to an extra load on your in every single step.
Sizing: You need to be sure that your work boot fits right. Not too tight, not too narrow, and not too big. Your boots need to be adequately adjusted to your personal needs. The reason being that this causes irritation such as foot sores, scraping, and irritated skin, as well as blisters. Any of these issues are completely avoidable if you get the right pair of shoes.
Break-in time: Depending on the fabric and leather used, the break-in period of a boot varies. Full-grained leather will have a shorter break-in time than just about anything, so those are typically recommended. It's not uncommon for work boots to take up to a month to be fully comfortable.
Soles: This is another part of determining just how comfortable your shoes will be. Insoles that have ample cushioning are ideal for those of you who stand for long periods of time, don't move as much, or are in an environment where vibrations are constant due to construction machinery. If you're in constant motion, though, extra cushioned soles aren't ideal. Instead, you should look for midsoles with EVA as they reduce impact and don't put your foot through undue stress.
Waterproofing
If you have a job that is prone to liquid, mud, rubble, wet gravel, or just a lot of snow, you are going to need a pair of boots that won't let anything get inside. These types of boots typically aren't the most stylish of choices, but they get the job done. If you try to tough it out and don't have adequately protected boots, you'll be going down a path of pruning, dryness, itchiness, and blisters for your feet in the long run.
With all that out of the way, here is our list of the 11 best work boots in 2022. You'll find a variety of archetypes and niches here – comfort, lightweight, and robust boots all make the cut.
---
1. Timberland Pro Titan Boot (Steel-Toe)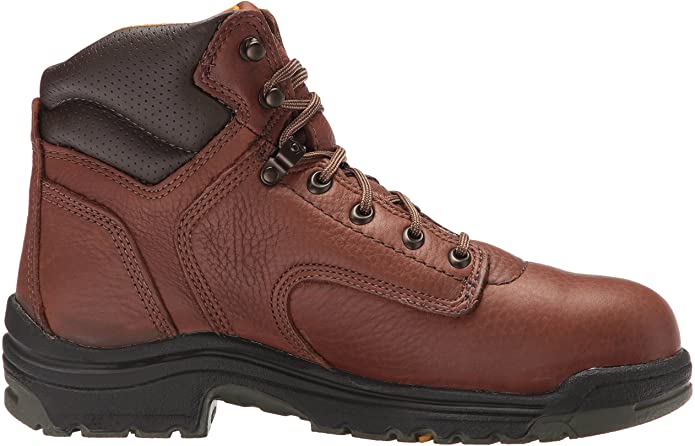 This dark-mocha work boot is made using the cement construction technique, so by default, it will be less enduring and also significantly less expensive than a welt assembly. It has a full-grain leather upper that doesn't stand out too much, yet it is distinctly rugged in appearance.
As for its comfort levels, Timberland put to work an open-cell PU footbed with their Outlast Adaptive Comfort tech that helps to regulate the internal temperature of the boot so that you stay dry, while also not heating up excessively. There is also a mesh lining that helps wick away moisture and an antimicrobial treatment applied to destroy bacteria.
On the outside, the Pro Titan is an overall great pick for those of you who need a safety boot that provides ample protection in a variety of conditions. On top of this, the construction of this boot is ASTM-rated for impact and compression, also meeting the standard for electrical hazards meaning you are protected even if you step on a live wire.
The outsole is made of a durable PRO Rubber, giving you huge traction against slips, oil, and coarse surfaces. On top of all this, if you get these boots and aren't comfortable, it has a 30-day comfort guarantee that allows you to return them if after that time you still don't find them to meet your needs.
This work boot isn't perfect, though. As previously mentioned, these types of boots are lightweight and are meant to endure a whole host of rough conditions, but the day they reach their limit, the outsole will give up and will need to be completely replaced, not repaired. Similarly, the lining thread is liable to wear off if you really do push these to the limit. Regardless, these are one of the best steel-toe boots for the money.
Pros
+ Aesthetically pleasing work boots
+ Waterproof design
+ Protective steel cap that is ASTM-rated
+ 30-day guarantee
Cons
– The construction design makes it irreparable when they come apart
---
2. Thorogood American Heritage 6″ Work Boot (Steel-Toe)
These stylish boots have gained a fair amount of popularity among workers, with a distinguished upper and complementary outsole. The upper is comprised of oil-tanned leather with moc-toe stitching and all held together via welt construction. This makes it is easy to re-sole the boots if it wears out, and not have to replace them.
The sole is comprised of MAXWear PU, and the outsole is constructed from MAXWear wedge slip. It is a non-slip and non-marking sole that meets ASTM standards for non-conductivity. The insole is a Poron 400 shock-absorbing machine that makes you feel like you're walking on a cloud. There is a puncture-resistant fiber-glass shank added in for additional support, protection and also lends itself to posture and walk-correction.
These work boots are very comfortable and can be broken in within hours, not days, so consider wearing them around the house a bit before work. The toe-cap is steel, meaning these shoes are heavier than other capped variants but give you the most protection. You can rest assured that the Thorogood 6″ Moc-toes are as protective as they are comfortable.
Truth be told, there aren't a lot of issues with this model, because it can be repaired, finds itself striking a balance between comfort and utility, and even looks good. The only issue with them is that they aren't water-resistant or waterproof, meaning these shoes are not at all meant to get soaked or be used in environments where that is a likely occurrence.
Also since they are steel-toed, the weight might not suit your line of work. If you are in a field where boots getting wet is a normal part of life, these shoes aren't ideal. If you're in a job that is more dry, then these are ideal. These are perhaps one of the best work boots in terms of aesthetics and build quality.
Pros
+ Comfortable
+ Welt construction means it can be repaired
+ ASTM approved
+ Steel-toe provides ample protection
Cons
– Not waterproof
– Heavier than other toe options
---
3. Irish Setter 83608 Boot (Steel-Toe)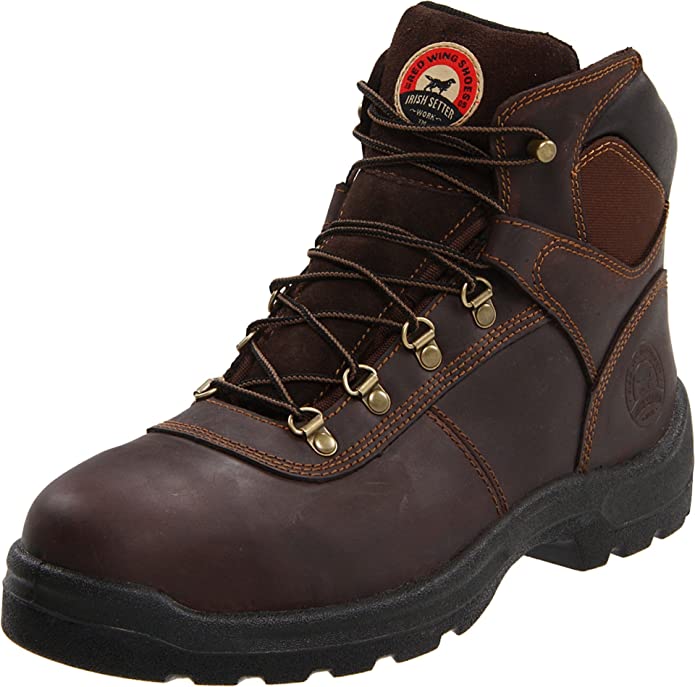 The IS 83608's are a top-quality full-grain leather work boot with a lightweight structure. They are comfortable and flexible enough to not cause you any discomfort after a full day's work. The upper consists of Brown leather, with woven nylon lining, triple-stitching, and brass studs and D-Rings, all in the name of superior quality and a tough look.
If you are on the market for a shoe that you can wear to work as well as after-hours without getting glances, these shoes are rustic enough to give you a pass. The 83608's offer great comfort and relief to your underfoot due to its direct-attach design and dual-density sole. They are designed in "logger" style, with a very thick sole and thicker heels.
In tandem with the molded heel and inner shank, the footbed and sole have a lot of shock absorption in them, meaning you'll get a lot of support and comfort, with a smooth ride throughout the day. The outsole has PU that provides you with great support even in slippery or rugged conditions – from oils to jagged terrain. They are also ASTM compliant, meaning they are safe for environments with electrical hazards, as well as fairly heat-resistant.
Similar to the previous shoe, these use the cement construction technique to hold themselves together, which means it is cheaper and lighter, but when it breaks, they're done for. On top of this, they aren't waterproof. These shoes are better put to use in jobs that do not have a lot of external water sources. If you were planning on taking your work boots into the pool, I'm sorry, these aren't it.
Pros
+ Rustic look
+ Steel toe protection with ASTM compliance
+ Removable footbed
+ Lightweight
Cons
– Not waterproof
---
4. Carhartt CMF6366 Work Boot (Composite-Toe)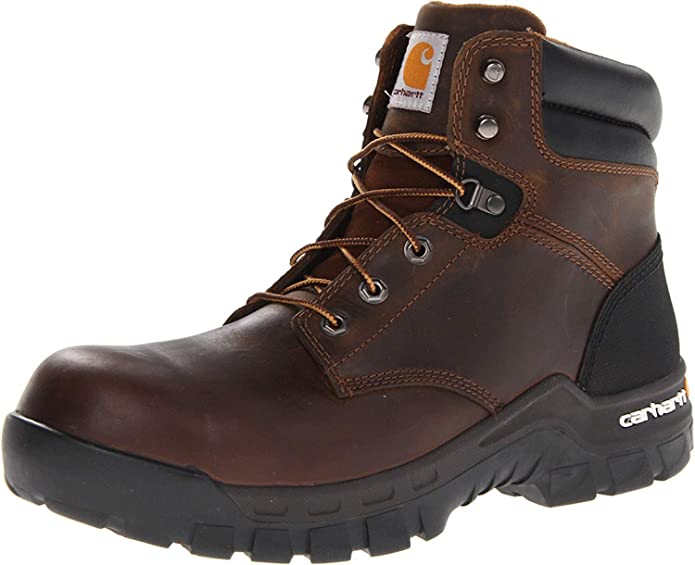 First up to represent the composite-toe design is the CMF6366 by Carhartt. They are a full-grain leather upper, with double stitching and triple stitching, thick rubber outsoles, and some metal hardware. The leather Carhartt has used for this composite boot is water-resistant and high-topped so your ankles are adequately protected, and less likely to have water or other liquids enter the boots.
These boots also have eyelets, D-rings, and studs for laces to keep your feet snug inside of them and ensuring there's no slippage. The CMF's have zero break-in time, which is not just astounding, but incredibly practical right out of the box. You'll be ready to go to work at your peak without the need to have the grueling break-in period. In part, this is facilitated by the well-padded collar, tongue, and most importantly – the OrthoLite insole that Carhartt put in.
The boot has multiple layers of cushioning and antimicrobial treatment to make sure you stay dry and odor-free. There are a steel shank and lightweight EVA midsole helping you have a better, more grounded feel. This helps in shock absorption as well as posture correction.
The CMF's also have Rugged Flex technology to help make movement easier and allows for the boots to have some stretch to them, so you don't feel so rigid after a long day. As mentioned earlier, these are composite-toe boots, meaning its not as strong as pure steel-toe caps, but they will give you added room inside of the shoe as well as less weight. This translates to less pressure on your foot overall – a good thing for people who appreciate a roomier feel to their boots but still want some protection. The shoes are adequate in live-wire environments, meeting most electrical hazard guidelines.
Pros
+ Comfortable insole and ankle-padding
+ Lightweight and roomier
+ Ideal for electrical environments
+ Water-resistant
Cons
– Not as protective as steel toes
– Not waterproof, only water-resistant
---
5. KEEN Utility Braddock Mid Work Boot (Steel-Toe)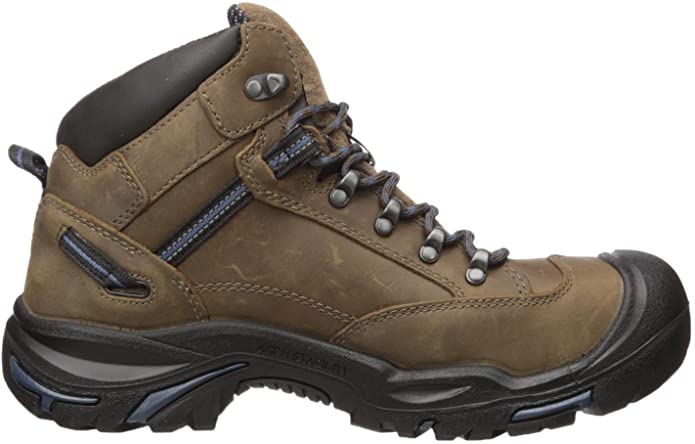 At nearly the halfway point we have the Braddock Mid waterproof work boots by KEEN Utility. The design may seem fairly unassuming, but these shoes are truly a protective powerhouse. A typical issue with steel-toed boots is the fact that the protective layer often hampers movement in the toe-box because it is simply very thick. That is not the case with these boots, as the safety toe is designed for maximum comfort with its asymmetrical layout.
It still retains its ASTM standards yet manages to give you the same protection with more room. The KEEN patented toe protection works wonders, as the boot's outsole wraps up and over the toes for added protection. Inside these boots is KEEN's waterproof membrane, a footbed with arch support, ample heel cushioning, and a stability shank to help keep you stable and grounded.
The laces are no-nonsense and won't come loose at all since they are bound tightly together and require the pull of a tag to fasten. KEEN has also provided a wide-width option for those of you who have larger feet and need more room at the sides.
Overall, these are tough boots meant to protect, but it has some issues when we take a step back and examine its other aspects. Even though it passes protection tests with flying colors, it's not quite as comfortable as other boots, as the insole isn't at the same level of cushioning.
On top of this, these shoes are ideally worn half a size up to get your perfect fit, so they aren't true to size. Perhaps the insole issue can be remedied by third-party insoles, but if you're shelling out a fair chunk of change, you may not want a boot you have to accommodate right out of the box. But, slap on an after-market insole, and these bad boys will be breezing along.
Pros
+ KEEN's dynamic steel-toe allows for great protection and also extra room
+ Arch support and stability shank keep you grounded
+ Wide-width option available
+ Waterproof
Cons
– Insole not as comfortable as other options
– Not true to size, you'll need a half-size up
---
6. Wolverine Overpass 6″ Work Boot (Composite-Toe)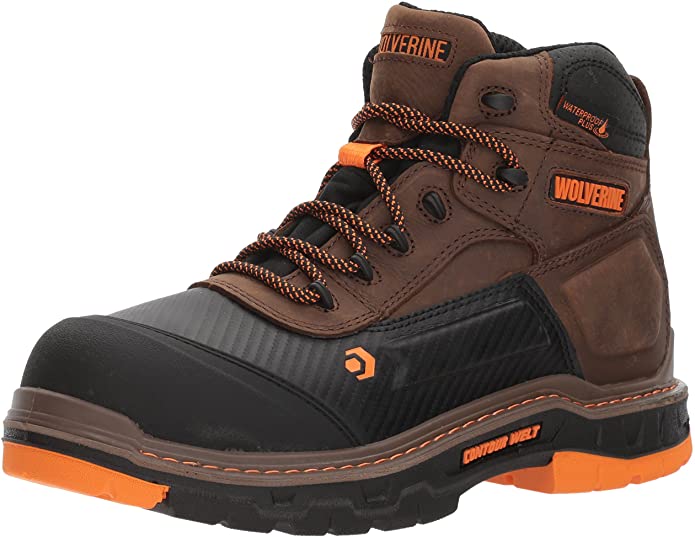 Now we have the Wolverine Overpass work boot, with a 100% leather and textile upper construction and hard durable rubber sole. The leather upper has been treated to give you a premium waterproof quality and the toe area is abrasion-resistant.
These shoes are made using the welt construction method and they are more long-lasting and durable than most other work boots in its class. The Overpass boots are actually placed at a fairly affordable price considering the quality construction used and they packed it to the brim with premium quality materials that will ensure that every aspect of this boot is meant to last you a long time.
If by chance, the welt design gives out after years of service, you can simply repair it with a replacement piece rather than outright replacing the entire boot. This is ideal for those of you who want the most bang for your buck. The Overpass work shoe also features a removable Ortholite cushioned footbed. By itself, it is meant to provide you with amazing all-day comfort and impact absorption, but if for one reason or another you would prefer to put in another insole, the option is available to you.
On the topic of comfort, you'll be pleased to know that they included MultiShox compression pads in strategic areas to help further improve shock absorption and make those long days feel a bit shorter on your feet. These boots are also composite-toed using the Wolverine CarbonMax nanotech that is an ASTM-rated composite material. So it can be used in a whole host of environments without issue.
Unfortunately, these shoes do have some quirks. While the sole can be replaced without too much effort after years of use, given that it is composite-toe, it is more prone to shatter than bend under immense pressure. If you find yourself in that position where the toe shatters, not only might it be painful, but you will have a hard time replacing this part alone.
If you are in an environment with exceptionally heavy objects, you probably already are aware that steel-toes are the best option. If you just need some adequate protection rather than absolutely nothing, composites are a great option and don't weigh you down nearly as much as steel-toes.
Pros
+ Removable OrthoLite cushion
+ Lightweight
+ Affordable
+ Welt design means it can be repaired
Cons
– Composite toes aren't ideal in certain extreme work environments
---
7. Timberland PRO Powertrain Mid Boot (Alloy-Toe)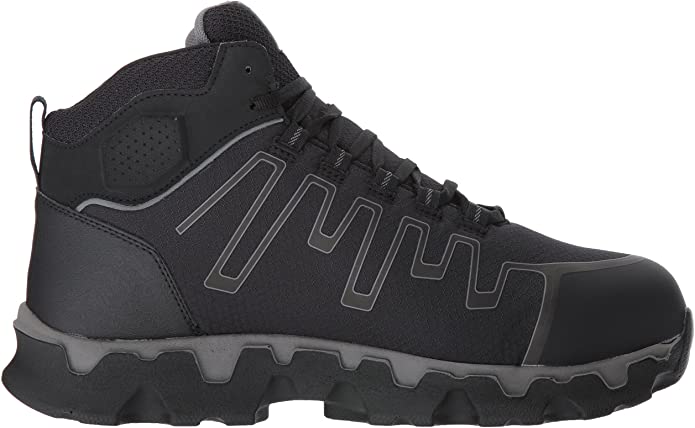 These sleek all-black work boots by Timberland go by the name Powertrain. They are a medium-length work boot with around a 1.5″ heel. It has a durable synthetic upper with ghillie-style lacing which streamlines the tying-up process by a fair amount making it easier to tighten. Timberland implemented a mid-height alloy-toe with ESD protection that keeps your feet out of harm's way.
Because it has the ESD certification, it is able to actively prevent shock in sensitive electrical environments where steel-toes would be more of a hazard. Alloy toes are not quite as sturdy as full steel-toes but they provide a comparable level of protection without any of the conductivity found in steel, making them ideal for certain jobs.
The Powertrains are cement constructed meaning it is more lightweight on your feet and less heavy on your wallet than other construction methods. For those of you who work in electrical environments and need an affordable yet performance-based boot, these are a solid option. The mesh upper is actually fairly breathable as well, so even more ideal is hotter environments as compared to leather which often traps in the heat a bit more.
Unfortunately, because these are cement-based construction boots, they will need to be completely replaced if they start falling apart. Often times this style of shoe lasts about a half year or so, which means you should be prepared to replace them after 6 months of hard use. Fortunately, this is offset by the fact that the Powertrains are fairly affordable.
Pros
+ Sleek mid-size design
+ Alloy toe provides comparable security to steel-toe without conductivity
+ Ideal for electrical environments or exposure to livewires
+ Affordable
Cons
– Likely needing to be completely replaced bi-annually
---
8. Red Wing Heritage Iron Ranger Boot (Soft-Toe)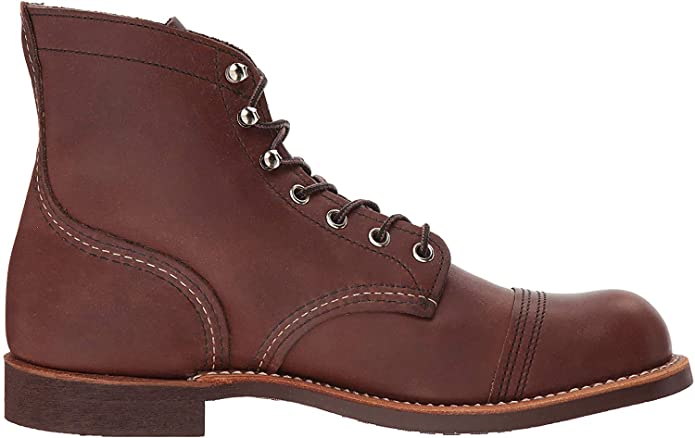 This elegant and refined work boot by Red Wing is made of 100% leather and triple stitched for quality. The outsole is a Vibram 430 Mini-Lug nitrile cork, meaning they can be worn out in the rain all day, no problem. They have more wear resistance and slightly more traction than traditional rubber outsoles.
These boots have fashioned nickel eyelets and hooks with a steel shank inside to provide added support to your feet. The Iron Rangers are of welt construction making them fairly easy to be repaired with a new sole and ideal for those of you who want a shoe that lasts and can also be repaired and not replaced.
These are soft-toed boots with no form of plate or toe cover. While you do have a layer of rugged leather between you and external forces, you shouldn't expect similar protection to other options of metal-toed boots. These boots are designed for you to be light and agile, and not necessarily heavily protected.
If you work in an environment that requires some form of rugged protection, or even with live wires, but not in a seriously hazardous and heavy work environment, these are probably a good lightweight and nimble pair of work boots.
They run a bit large so it is recommended you get a half size smaller than you normally would. On top of this, they are water-resistant, as in you can get them wet, but they aren't fully waterproof. So bear in mind that they aren't recommended to be submerged or withstand prolonged exposure/immersion in water. If you work in the electrical or plumbing field, these are probably great, but in construction or manufacturing, it is likely best to get something more protective.
Pros
+ Welt design means it can be repaired
+ Aesthetically pleasing
+ Nimble and agile boot, lightweight
+ No problem in livewire environments
Cons
– Runs a bit big, you'd be better off getting a half size down
– Not waterproof, only water-resistant
– Little protection from soft-toe
---
9. Timberland PRO Pitboss 6″ Work Shoe (Soft-Toe)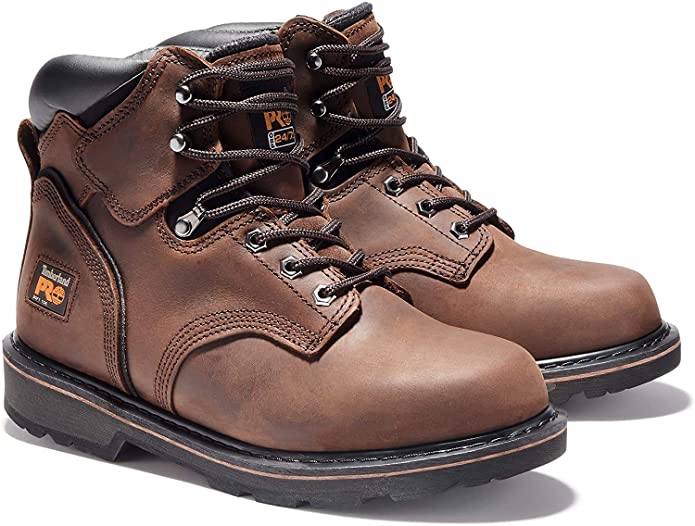 Another pair of the Timberland PRO line makes it on our list with the Pitboss work boot. It is 100% leather, soft toe boot with ankle padding, and measures 6″ from the arch of your foot. These leather work boots have 24/7 Comfort Suspension technology which is a unique comfort system that helps you deal with the most rigorous of work-site demands with support and cushioning.
The system helps reduce foot fatigue over long shifts of work and helps support your arch and reduce impact with every step that you take. The Pitboss are boots that meet the ANSI safety standard and they feature slip, oil, and abrasion-resistant outsoles, providing you with great traction and without the need to worry about minor workplace hazards like liquids or rough surfaces slipping you up or hurting your feet.
The Pitboss' are also made with welt construction, meaning the soles can be replaced, and on average last significantly longer than just cement construction, up to a few years. Given that these are soft-toed boots with no metal components, they are great for electrical environments.
These Pitboss' are good for certain work environments but they do have drawbacks in the fact that they aren't full-coverage protection, and are meant for less extreme work conditions. These aren't shoes you'd wear on the construction site or in a manufacturing plant. These boots are not multi-purpose in that sense but lend themselves to trades like plumbing or electrical engineering, where the risk of heavy objects landing on you or puncturing your foot is far less likely.
Pros
+ Great comfort system works well for long hours
+ Meets ANSI safety standards
+ Good for electrical worksites and plumbing
+ Can be repaired
Cons
– Not a lot of toe protection
– Not ideal for certain heavy-duty jobs
---
10. Caterpillar 2nd Shift 6″ Plain Boot (Steel Toe)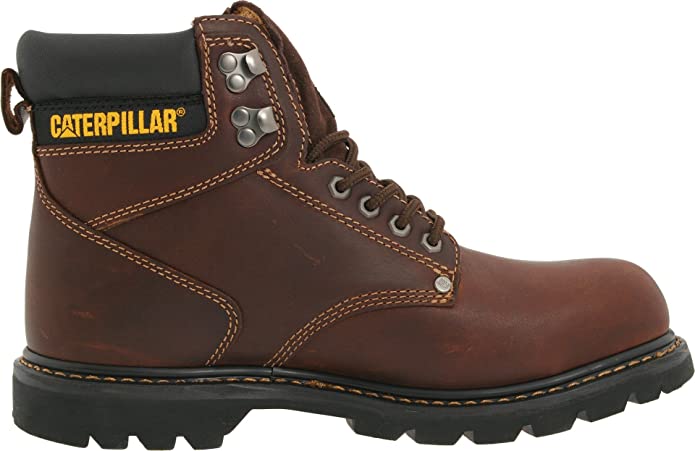 The second-to-last work boot we'll be covering is the Caterpillar 2nd Shift steel toe boot. These boots are constructed by Caterpillar with strong, top-quality leather for a long-lasting lifespan and durability.
It is designed with a welt and the leather is full-grained. This makes it look sharp and has an incredible life span. Even after breaking down, they can be repaired. The soles of these shoes provide a comfy ride for you to keep going on with your work routine without issue, and it helps ensure sturdy footing to minimize the chance of accidents occurring.
The upper is actually fairly breathable for leather with a nylon web that wicks away moisture and helps shield your feet from any bacteria. The sock liner comes with Climasphere and on hot days it'll promote coolness and on cold days it'll promote warmth.
Caterpillar also has a fairly unusual claim to fame with their 2nd shift model, as they come with both reinforced or soft-steel toes, meaning that you can choose which you prefer based on your work environments' needs. Both options are ASTM-approved and work against a whole host of potential hazards and dangers you might find in the workplace environment.
These shoes provide you with a fair amount of support, protection, and comfort, but they do fall a bit flat when it comes to dealing with variations in the environment – like water. These shoes aren't airtight or waterproof contraptions. So if you're working in a place that sees constant exposure to elements like water, it is best to get a pair of shoes that can be adequately soaked and still turn out alright.
Pros
+ Durable quality leather
+ ASTM approved
+ Lasts a very long time
+ Soft as well as reinforced steel toe options
Cons
– Not waterproof
---
11. EVER BOOTS "Ultra-Dry" Premium Leather Work Boots (Soft-Toe)
Our final pair of boots are the Ultra Dry by EVER BOOTS. These are a cheaper alternative pair of work boots with a standard design that doesn't stand out one way or the other. They feature two big draws – the fact it's waterproof, and that it has a 30-day guarantee if they don't prove their worth to you.
It is comprised of leather material, padded tongue and collar area, and lace-ups. The midsole is PU, meaning it is flexible and absorbs shock every step you take during the day. There is a mesh lining on the interior with open-cell polyurethane that helps make it breathable and not too overheated when you're pushing your limits.
These shoes are meant for jobs like farming, gardening, landscaping, or hiking. They are lightweight but also cement constructed meaning they will have to be replaced completely down the line after about a 2-year period.
Because they aren't steel-toed, it isn't advisable to wear them on worksites that have exposure to heavy or sharp objects. They also happen to run a half size or full size bigger than other brands, depending on your reference point.
Pros
+ Affordable
+ Comfortable padding for long hours
+ Good for casual work
+ Money-back guarantee
Cons
– Not ideal for serious work environments that require protection
– Size runs a bit bigger, best to get half a size down
---
Conclusion
We have provided you with a comprehensive buying guide for the best work boots on the market, with a mixture of all four main archetypes. It is important to note that regardless of what shoe or boot you buy, it is essential to properly care for your feet if you plan on having a pain-free work experience. This can be achieved by:
Wearing proper regulated footwear for your work environment
Taking a break every now and then to avoid standing for prolonged periods
Taking your boots off and massaging your feet for 3-5 minutes while on breaks
To consult with a doctor if there are any prolonged aches or pains
Having said that, no matter if you're looking for steel-toed, alloy-toed, composite-toed or simply soft-toed, there are options for you on this list, and they are work boots we consider to be the best in their class.