Why you Should Invest in Nursing Shoes
Being a nurse or medical practitioner in any capacity is a highly demanding job, where you need to be on call at any time, be ready for anything, and most importantly – be where you need to be at a moment's notice. I started my career as an HCA and have been a nurse for the past 3 years in ED. I've been through dozens of shoes and this list consists of my 11 best shoes for nurses that are tried and tested.
Naturally, this means you'll find yourself on your feet most of the time while you're on the frontline of healthcare and you'll need a pair of shoes that adequately comfort you and help you through that long call.
The worst thing you can have is a pair of shoes that drag you down and keep you from doing your best. An uncomfortable shoe is also detrimental due to the fact that it can cause foot fatigue and result in aches and pains down the line.
In this guide, we'll highlight all the great shoe options there are for nurses, what criteria to use when determining comfortable nursing shoes, and finally, our list of the best nursing shoes for women and men. The shoes we pick will be a mixture of sneakers for nurses, nursing clogs, and slip-ons, and each of them will come with a technical breakdown of their good and bad qualities.
---
The Best Shoes for Nurses
---
1. Reebok Women's Work N' Cushion 3.0 (Lace-Up)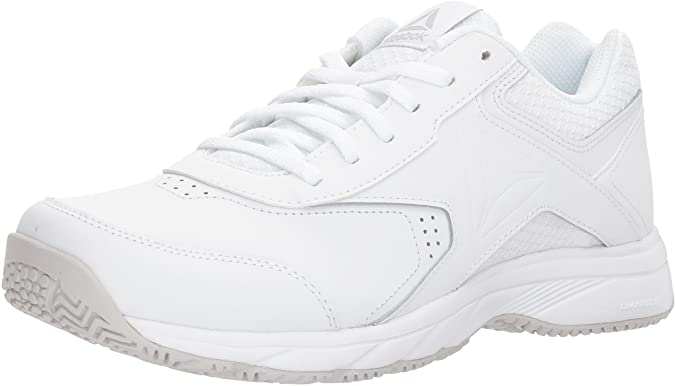 First up are the Reebok Work N' Cushions, which are a great option for nurses standing and walking all day, as they are designed to be comfortable and durable. They feature a synthetic and leather upper with a durable and tough rubber outsole.
It's low cut, and has DMX-ride technology along with a Beveled heel construction, giving you a load of stability, comfort, and shock absorption from when you're walking or running down the halls. If you're in a hospital area with lots of spillages, these outsoles have a completely oil-and-slip resistant tread, so there is no reason to worry about liquids of any kind.
The Work N' Cushion 3.0 feature wider options in sizing, so if you have wider feet and need the extra space, these are the ones to pick. The shoes also come in a velcro design if lace-ups aren't ideal in your circumstance.
Overall, the Work N' Cushion 3.0 is a very solid all-around pick if you find yourself walking and running in an environment where liquid spilling is the norm. These shoes will keep you firm and comfortable while giving you peace of mind around tricky surfaces, which is ideal for nurses.
The only legitimate issue is that the black option of this shoe tends to fade away with time, so while your colleagues may not mind the tattered look, you'll definitely need to maintain them if you want a pristine-looking shoe. With that said, the white variation, which is likely what you'll be going for as a nurse, has no such fading issue.
Given its affordable price tag and feature-packed design, these are some of the best sneakers for nurses in any hospital situation.
Pros
+ Durable and comfortable upper leather
+ EVA outsole is slip-resistant and has great traction
+ Wide sizing and Velcro options
+ All-day comfort and stability
Cons
– Black option fades over time
---
2. Nurse Mates Velocity (Lace-Up)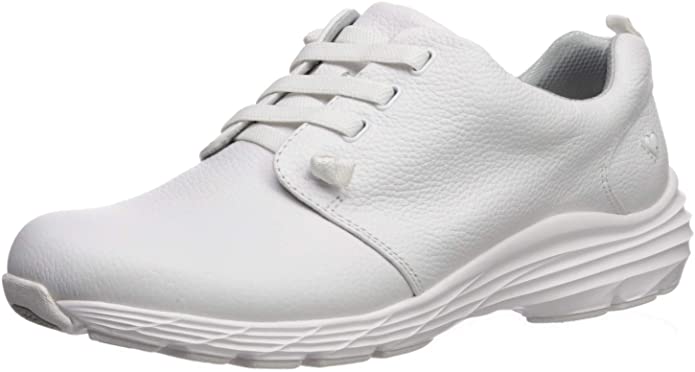 At the halfway point, we have the Nurse Mates Velocity lace-up shoes. These shoes are specifically designed with nurses in mind for people who spend all day on their feet tending to the sick. The Velocity has a full-grain leather upper with a PU outsole to give you great durability and comfort.
The lace-up design is great if you're constantly in motion because it is adjustable and even a bit stretchy to accommodate your instep (not have it feeling overly constricted). Inside the insole is a stabilizing composite shank that aims to correct your posture and ensures you stay in a proper and healthy gait pattern.
If your hospital is particularly lax about coloring, these shoes do come in a few arrangements that are more than just black, brown, or white. These are definitely a safe pick given the entire MO of the design revolves around nursing.
They do have two issues though, which are the fact that the Velocity's insole takes a few days to properly break-in and mold to your foot accurately. And as well as the fact they are on the pricier side. For those of you who want to purchase a shoe that is affordable or can be worn right out of the box, perhaps think twice about these unless you're rooting for a shoe manufactured for nurses.
Pros
+ Meant for the nursing field in general
+ Full-grain leather with PU outsole
+ Good if you are active and in motion often
+ Insole and shank promote a healthy gait
Cons
– Bit pricier than other options
– Insole requires some breaking in
---
3. Crocs Women's Mercy (Clogs)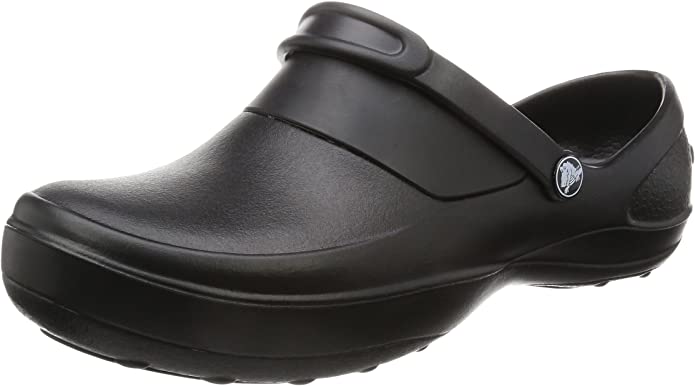 Next up is the Mercy Work Clogs by Crocs. If you're looking for a shoe that keeps you exceptionally comfortable, either because you'll be standing or on your feet a lot, then the Mercy Work Clog is perhaps the shoe for you.
It has a roomy design that is great for the demands of a nurse, a lock-tread to ensure that the clog is secured in place when walking, and a backstrap that snugly grips your heel to make sure that your foot stays locked into the shoe at all times.
The footbed has small comfortable nubs across its entire surface, giving you a massaging feel and also provides extra traction inside the shoe so your feet don't move around. The Mercy clogs also have great insole arch support to keep your feet stable and firm throughout the day, with a non-marking outsole that makes for a lightweight and comfortable ride even during long shifts.
If you're familiar with other Crocs though, you'll find that the Mercy is a bit narrower than the standard designs that Crocs sells. Despite being an attractive and well-made shoe, if you have very wide feet, these won't be the best option available to you. And for that reason, you should be wary and look for a shoe that is dedicated to wide feet.
Pros
+ Comfortable design that is light on your feet
+ Massaging insole feel
+ Adequate arch support and anti-slip outsole
+ Stable footbed
Cons
– Tends to run narrower than other Croc lines.
---
4. KEEN Utility PTC (Slip-On)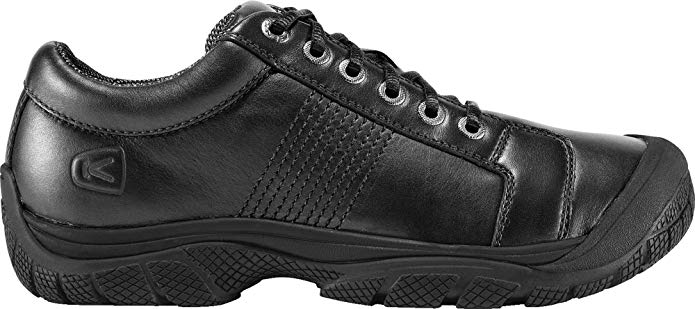 Next up at the PTC Slip-On by KEEN Utility, a staple brand in the protective footwear market. These shoes are made of a full-leather upper with a durable rubber outsole. The upper is stain and water-resistant as well – great for hassle-free cleanup.
The PTC features a recycled PU and memory foam insole that aims to contour to your feet, giving you a personalized and perfected cushioning experience to last the whole day. The outsole provides you with stable footing, having slip-resistant and non-marking properties to give you confidence in each step.
Internally, on top of the insole amalgam, there is a stability shank, elastic panel, and compression-molded midsole to give you balanced support on top of great cushioning. All in all, if you see yourself needing a low-maintenance, slip-resistant, and cost-effective nursing shoe, the PTC's are a good choice.
The only issue with these shoes is the fact that after intense use, the K20 insoles wear out quickly. If you are definitely going to give these shoes a beating, keep in mind that the insoles will wear out in a couple of months and require replacement. The shoes themselves allow for easy removal of the insole, which is a plus, but still not ideal.
Pros
+ Slip and oil-resistant outsole
+ Stain and water-resistant leather upper
+ K20 insole is a very comfortable amalgamation of materials
+ Low maintenance
Cons
– Insoles tend to wear out over a few months of intense use, need to be replaced
---
5. Dansko Women's Professional Mule (Clogs)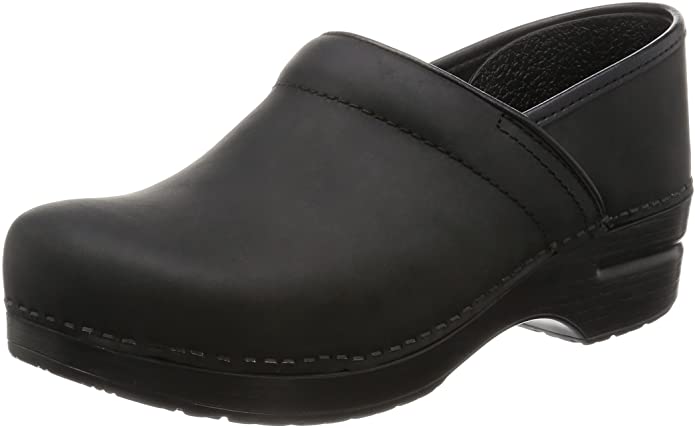 Now we have the Professional Mule Clogs by Dansko, which are a completely leather outer clog with a 2-inch heel. The platform is about .75 inches and features a padded instep collar for added comfort when walking. The toe-box is roomy and reinforced to protect your entire instep and toes, with enough wiggle-room for natural toe-splaying during movement.
The outsole consists of PU with a rocker bottom allowing for the propulsion of your foot forward and gives you adequate shock absorption. On top of this, there is a wide heel strike, which adds to your overall stability when walking or running.
These shoes are great for nurses who have to do a lot of walking or running around to deal with situations in real-time, as the clogs are incredibly comfortable and provide ample support.
Dansko also supplies this model in narrow and wide options, meaning whichever size your foot is, there will be a solid-fitting option in their lineup. These are one of the most comfortable nursing shoes on the market hands down.
Likely the biggest issue is the cost barrier associated with these clogs, compared to the other options on this list. They can be a bit pricier than other competing shoes on this list. Some people might not want to shell out well over a hundred dollars for their shoes when there are comparable alternatives for a reduced price.
While the quality of these shoes is unmistakably high, the price may be too steep a hurdle for some who need a more cost-effective choice. If money isn't a barrier, these are the best shoes for nursing in its price segment.
Pros
+ Roomy and comfortable clog design
+ Toe box is reinforced and has space for toe-wriggling
+ PU outsole with a rocker bottom for added support when walking
+ Comes in wide and narrow options
Cons
– On the more expensive side
---
6. ASICS Gel Dedicate 6 (Lace-Up)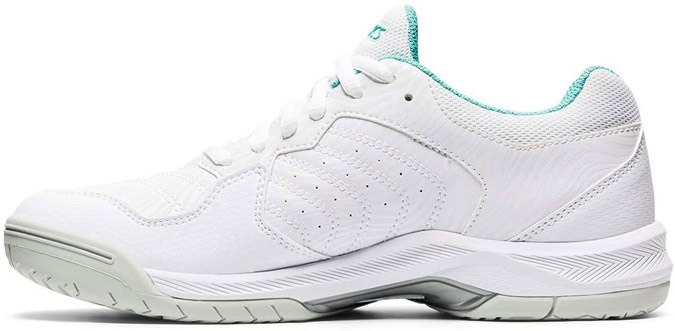 The ASICS Gel-Dedicate 6 lace-up sneakers might not be what you have in mind when you think of nursing shoes. While ASICS is known more for its running shoes, they also double as very good work shoes in the medical field.
Initially meant for tennis, these shoes are comfortable and supportive in all the ways a nurse would need, funnily enough. They have a synthetic upper with an ample amount of cushioning, durability, and support inside and out. The Dedicate 6 has a forefoot GEL cushioning technology, with a solid rubber outsole and the synthetic upper is not just durable but flexible as well, making it ideal for constant movement.
Inside you have the Trussic System technology to reduce the weight of the sole while also maintaining its structural integrity, with the GEL tech providing great cushioning and enhances shock attenuation.
The outsole is a durable rubber that ensures no-slip, meaning you don't have to worry about puddles of liquid making your job any harder than it has to be. You can see how the rapid movement and no-slip design choices meant for tennis overlaps with the exact same needs a nurse has on-call. It is because of this overlap that this design is a great choice for more than just tennis, but nursing too.
The only glaring flaws with these shoes are the fact that the toe-box area may feel small to some, and because they appeal to a variety of demographics, it may be hard to find a pair in your exact size at times. Overall, not serious issues, but something to take into account if you plan to purchase these shoes for your job.
Pros
+ Flexible and synthetic upper
+ Cushioning forefoot GEL technology
+ Trussic system in the insole provides support
+ Great traction on the rubber outsole
Cons
– Toe box may feel small to some
– May be hard to find your size from certain shoe outlets
---
7. Skechers Sport Premium-Premix Sneaker (Slip-On)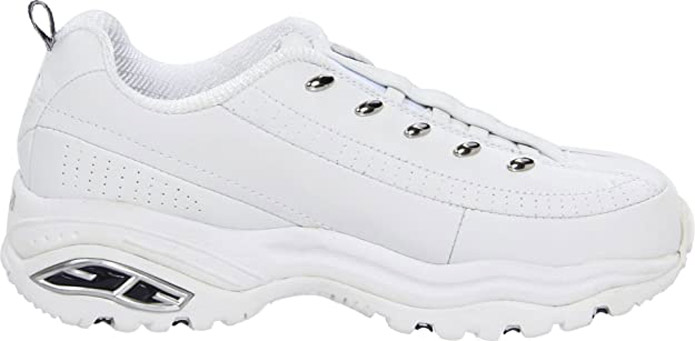 Now we have the Premium-Premix Sneakers by Skechers – a well-known and trustworthy brand in the shoe industry. These Premix' are great in the fact that they are very affordable yet give you premium benefits. It has a supportive air-cushioned heel, tongue, footbed, and collar, meaning you will be getting a whole lot of comfort from every angle without fail.
The upper is made out of a mixture of leather and synthetic blend, so it is a smooth and comfortable experience, with a tough rubber sole that has ample deep grooves and treading to ensure no slipping when you're on precarious surfaces. The slip-on design they chose to go with for this model is also quite convenient as it obviously allows for a high level of convenience and you can simply take them off or put them on in a second or less.
This is ideal for nurses who do a lot of stop-and-go style work, or simply have to be right back on the clock after their lunches and dinners. On top of this, these shoes are very affordable, and as such make it an even easier choice to make should you decide to go with them.
With all that in mind, we have to mention that these shoes notoriously come in at a size smaller than advertised – they run a half or full size smaller than they should. If you intend to buy these shoes, we recommend you get a size up to ensure they fit, and fit right.
Pros
+ Comfortable all-day wear for nurses
+ Durable and low-maintenance upper
+ Solid treading to avoid slipping
+ Affordable
Cons
– Runs a size smaller
---
8. K-Swiss ST329 CMF (Lace-Up)
Our next top pick is the K-Swiss' ST329CMF's, which are a fully synthetic leather upper lace-up sneaker that aims to provide you with stellar comfort and security. It does so with its effective shock-absorbing heel and durable rubber outsole, that together make walking or running up and down halls all day seem like child's play.
The durable rubber keeps your traction on the ground while the heel system helps reduce the impact of every step, making it that much easier. The rest of the insole is a memory foam composition that allows for your foot to be personally adapted throughout the course of a shift, to a point where the shoe feels like an extension of you.
Because it is memory foam, you won't have to worry about the sole losing shape, as it is designed to not lose form at all. So the next time you put them on, they'll be just as supportive as the first time you wore them. As for its aesthetics, it should meet all hospital's standards as even its more colorful options are fairly subdued. You should get a bit of leeway with what color combination you pick without rustling any feathers at work if you so choose.
Since the shoe is so comfortable, supportive, and grippy, it's hard not to recommend you to at least try it out for yourself, so if the design and its functions appeal to you, go for it.
Before completely taking the plunge, though, you should know that this shoe is a bit bulkier than other options, and while this may give you a more planted feel on the ground thanks to its slightly heavier weight, some may not appreciate this feeling and contrarily feel it is making them lagging behind. If you are a person who prefers to be light on your feet or dislikes the planted feel of bulkier shoes, the ST329 CMF isn't ideal.
Pros
+ Soft synthetic upper
+ Cushioned insole and impact-absorbing heel
+ Durable rubber outsole with lots of traction
+ Memory foam insole
Cons
– Bulkier than other options, may feel heavy for some
---
9. Alegria Debra (Slip-On)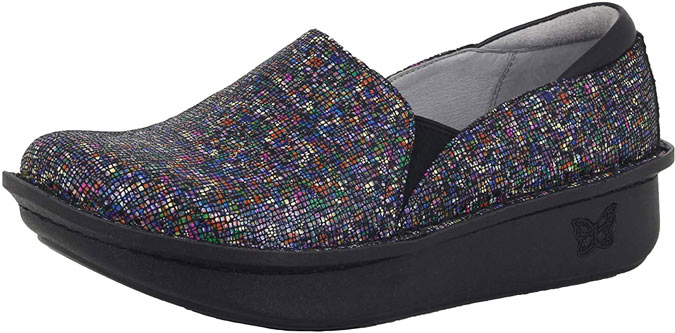 Our next shoe is a slip-on by Alegria – the Debra model. Alegria is a company that focuses on providing top quality shoes specifically made for nurses, and the slip-on Debra stays true to that vision.
It features a leather upper that is low maintenance, easy to clean, and is long-lasting. It is a low-top shoe with an inch-and-a-half heel and a spacious foam insole that provides a lot of comfort. The insole was anatomically designed to provide you with the most amount of comfort, but if you have an after-market orthotic that you would prefer to put in, the Alegria Debra's insole is removable. It is composed of memory form to provide both cushioning and support over long periods of time, so if you choose to stick with it, expect ample cushioning and firmness to last throughout your shift.
The toe-box of this shoe is firm and spacious as well, allowing for a bit of natural splaying when in motion. Finally, the rocker outsole is slip-resistant and lightweight, so you should have no problem getting in gear on a dime while also staying firmly planted on any slippery terrain. If your hospital is more liberal with its shoe policy, the Debra has an astounding amount of design choices to choose – ranging from business casual to a bit more flavorful. Overall, the Debra's are a safe bet if you're looking for a slip-on shoe that gives you support and comfort on your shift.
If you have a higher than average instep though, these shoes may be a literal pain. The upper covering for those of you with a raised instep will often rub against your skin and cause excessive friction. This is obviously not ideal but can be remedied by using a hairdryer to apply heat and stretch out the rubber a bit to alleviate this issue. It should be noted though since not everyone has the patience to experiment on their shoes right after buying them.
Pros
+ Made for nurses specifically
+ Anatomically designed memory foam insole
+ Leather upper that is low maintenance
+ Easy to casually take off or put on
Cons
– Upper may rub up against those of you with higher insteps, and requires heat to stretch
---
10. Anywear Srangel Health Care Shoe (Slip-On)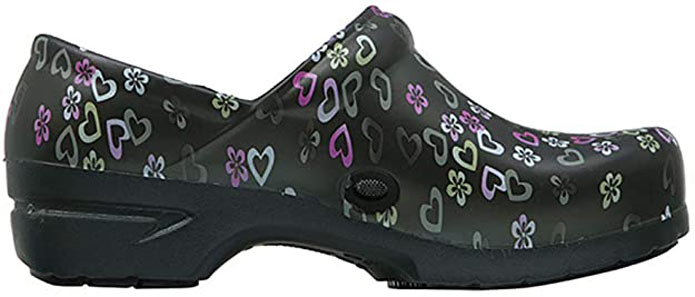 Our second-to-last shoe is the Srangel Health Care Shoe by Anywear. They are a synthetic slip-on shoe with completely synthetic upper and outsole. The outsole is made of a slip-resistant rubber that is customary to most nursing shoes.
The upper is an IMEVA construction with exceptional sturdiness and a lightweight feel, while the insole is a removable EVA foam with an IMEVA midsole tucked away. The insole's top fabric has been treated with an antimicrobial layer, so it reduces odor-causing bacteria that builds up over time and use.
The platform of the shoe is very small, at a quarter of an inch. The EVA insole, though well-ventilated and comfortable, can be removed if need be. The slip-on also has a variety of upper patterns available to choose from, many being muted color designs, but a few vibrant ones as well if you're permitted and willing.
The only issue with these shoes is that you'll definitely need to wear the right kind of socks since these shoes tend to get hot if you're particularly active or on the move. It is recommended to stick to something like cotton, as opposed to thin synthetic fabric, so there is much less heat built-up and no overheating during a long shift in the hospital to make you uncomfortable.
Pros
+ Low maintenance, affordable choice
+ Lightweight and sturdy upper
+ EVA insole and IMEVA midsole
+ Variety of muted color designs
Cons
– Can heat up if you use synthetic-fabric socks
---
11. Natural Uniforms Lightweight Nursing Shoe (Clog)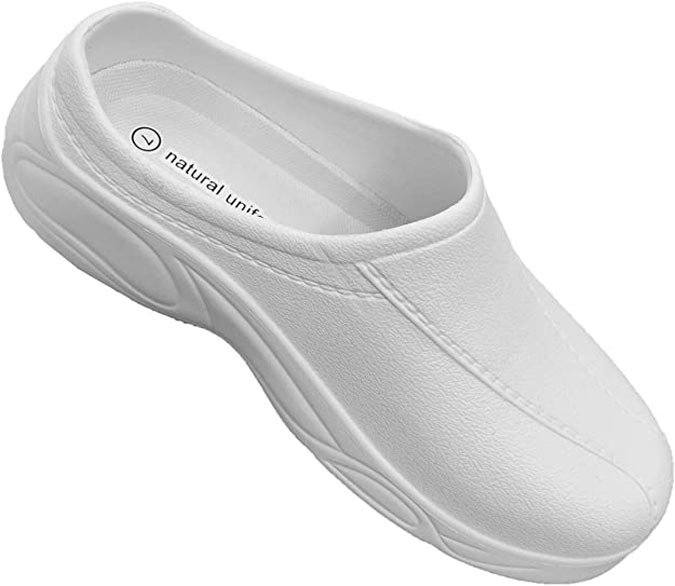 Our final pick for you is the Natural Uniforms' Lightweight Nursing shoe, which is a strapped clog design. If with regular clogs you find your feet often slipping out, the NU nursing shoe has a strap that makes sure you're firmly in place. It is also completely synthetic and lightweight, well-suited for those of you that don't like a heavier shoe.
The insole is made from full EVA foam and the entire shoe is water-resistant. The insole is completely removable if you'd rather opt for a different orthotic. The sole is non-marking and slip-resistant, so nothing will hold you back. Truth be told, there likely isn't a clog out there that can match this shoe.
At this price point, you can buy multiples of them in multiple colors if you so choose. They're that affordable and yet don't skimp out on the quality. If you're someone who prefers variance, and a super-affordable but quality shoe, the Natural Uniforms' Lightweight Nursing Shoe is a must-have.
With that said, this shoe does have a few caveats before buying. They run big, and as such, you should consider buying a full size down to ensure a snug fit. The sole is also prone to wearing out, so if you have a custom orthotic, we recommend putting it in to replace the original insoles when they wear down.
Given their price, it is definitely not a deal-breaker though. These are some of the best nurse shoes as they are made exclusively for those in healthcare.
Pros
+ Incredibly affordable
+ Sturdy and simple design
+ Non-marking and non-slip outsole
+ Removable insole
Cons
– Runs fairly large; full size to be exact
– Original insole will have to be replaced after a while
---
Types of Nursing Shoes
If you're in the market for new shoes either because your old ones broke, or you just don't have a pair that is comfortable, the first thing you should ask is – what kind of shoes do you want to wear? Here are the three types of shoes best qualified for nurses to aid them during a busy schedule:
These are a fairly popular pick among nurses because they are easy to put on and take off at any moment, without fuss. A slip-on might have either an open-back design for you to slip your feet into or an elastic tongue that you can widen to get into. This type of shoe is perhaps the most widely used in the healthcare and service industry given its practicality.
Lace-Ups, colloquially "sneakers", are another great option for nurses if you happen to work in an intense area of the hospital, like the ER, and need to be walking or running often (as opposed to mostly standing). The reason these are ideal in those circumstances is that the laces easily tighten the grip around your foot and keep your shoes and feet securely fastened together. They are also easier to run in compared to other options, especially since a sneaker can hug your feet more closely thus avoiding any heel slippage.
Our final style is the clogs, which are very popular among nurses because they are designed to be put on without using your hands, especially if you've just been paged to attend an emergency. The clog design is a closed front to protect from heel spillage or objects, and a strap at the back to make sure the footwear stays in place.
Depending on the construction, some clogs are cost-effective and made of synthetic materials, while others are made of full-grain leather and provide the most optimal comfort and support for standing or walking around all day.
---
Tips for Choosing the Best Nursing Shoes
We're going to highlight some of the aspects you should look for when determining the best nursing shoes for you. These may seem straight-forward and obvious, but they are easily forgotten when people are smitten over a certain shoe design. Remember to pick what suits your needs and is most practical for you.
Since you'll be on your feet for the majority of your work shift, and probably not just standing around but moving and making things happen, you need a pair of shoes that have the cushioning and comfort that helps you get through the workday. Anything less is not acceptable, so take into consideration where you think your foot needs the support and comfort most, as it varies from person to person. The midsole is largely responsible for providing cushioning and midsoles come in a variety of materials like gel, memory foam, EVA foam, etc.
Though we just touched on this before, support isn't the same as Comfort. Comfort will feel nice at first, and for the first few weeks, you'll feel like you're walking on a cloud, but as time passes, footwear that is overly squishy will compress and become less supportive overall. This isn't ideal and it's best to get something that offers a balance between comfort and firmness to last you the whole shift.
While protection is often associated with riskier work environments that involve injury and danger, the medical field has its own reasons for needing adequate protection. Namely, you need to have forefoot covering as to not allow for injury via bumping, fluids or pathogens. Open-toed shoes are simply out of the question for this reason.

Because fluids are often spilled or washed in hospitals, you need outsole protection from slippage as it's not uncommon to run into wet surfaces. If this is important to you, it's best to get good non-slip shoes.
Finally, though not as universally applicable, certain hospitals require a particular dress code depending on the type of work being done. More often than not, your work will prefer you to wear white or muted colored shoes, as it's better to match the optics of the hospital's sterile and professional environment. This doesn't mean that style is out of the question, as there are various designs we've included in our list, but coloring is at a minimum.
---
Frequently Asked Questions
What are the most comfortable shoes for nurses?
While preference plays a huge role in determining comfortable nursing shoes, it is crucial to put cushioning and support above looks and aesthetics for maintaining optimal foot health in the long run. All the shoes on our list are capable of delivering lasting comfort.

Some of the shoes on our list might require a break-in period, but once broken in, you should feel right at home.
What kind of shoes should a nurse wear?
Again, this comes down to choice, but a popular option amongst a lot of nurses is either cushioned sneakers or tennis shoes – since these types of footwear naturally pack the very best tech, both in terms of comfort and stability.
Are Crocs good for nursing?
Not all Crocs are created equally and while the Crocs Women's Mercy featured in our list is made specifically for nurses and service industry workers, the other types might not be as capable.
Crocs are extremely advantageous when it comes to its ease of putting on and taking off. But some models of Crocs have very stiff cushioning and that doesn't help in the long run, especially after you've worked a 12-hour shift.
How often should nurses get new shoes?
There is no set time or mileage as to when you should replace your shoes. But a general rule of thumb is to replace shoes once one of these things have happened:
The cushioning has become stiff: Shoes that are commonly made out of EVA foam offer a "bouncy" level of cushioning that can become stiffer over time. If your shoes no longer feel comfortable or it feels stiff, this is a sure sign that the foam cushioning has flattened out.
There are visible wear and tear: If your shoe's removable sockliner has started to deteriorate, this can be easily remedied by getting an aftermarket insole. But, if there is wear and tear on the outsole, upper, or midsole, these components cannot be swapped out and it may be time for a new pair of shoes.
What are the most comfortable shoes for standing all day?
We've written an article explicitly talking about shoes for standing all day, but the short answer is – any shoe that provides ample cushioning and support will be ideal for standing all day. The cushioning plays a role in staving off any pain or aches. While the support aspect takes care of proper foot alignment and stability.
---
Conclusion
To conclude, we have provided you with our list of some of the most comfortable nursing shoes on the market today. We've also highlighted a few things to consider as well as the various shoe styles most appropriate for your field, in case you are a newcomer or finding your way into the healthcare sector.
We hope that you are able to pick the best nursing shoe for your specific needs on this list, as we've been trying to compile a list of a variety of shoe types for both genders. Best of luck, and stay strong during those late-night shifts!