Importance of Non-Slip Shoes in the Service Sector
Firstly, a non-slip shoe is a very specific term that is used to describe a particular piece of footwear that aids in securing and planting the wearer even in unstable or slippery surfaces and conditions. It does so by offering industry-compliant grip and traction that ensures you remain on your feet.
They also go by a variety of other names including anti-slip and slip-resistant shoes. These types of shoes are especially important in the service sector for those of you who work in restaurants, or as healthcare workers/nurses, as well as warehouse and manufacturing sectors. In these jobs, wet, slippery, and smooth terrain is commonplace.
In some cases, these occupations even mandatorily require non-slip shoes as part of their protocol to prevent any on-site injuries and make the work-space experience safer for everyone involved. Other workplaces might require safety work boots to deal with hazardous elements.
Now that you understand why exactly they matter, and it's probably no accident why you're reading this guide; we will help you in picking a pair of comfortable non-slip work shoes. So, let's get to the substance – the 10 shoes we consider to be the best non-slip shoes. In this list, we will be looking at five different non-slip work shoes for men as well as five variations of non-slip work shoes for women.
---
1. Skechers Flex Advantage Oxford (Men's)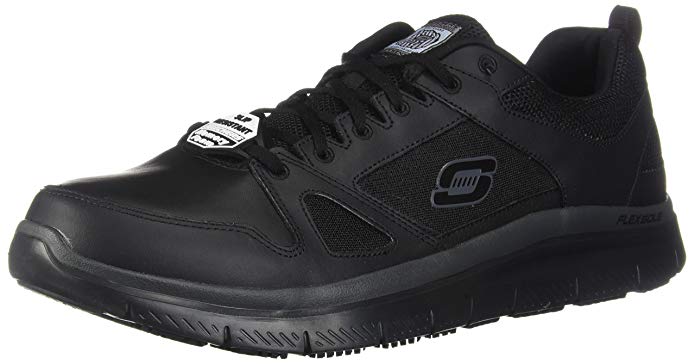 First up are the Skechers Flex Advantage's for men, meant to be worn in any environment, be it work or leisure. The Flex Advantage is a runner-esque type shoe that also provides you a great amount of comfort and durability with their leather upper that is also combined with synthetic mesh to improve breathability.
The midsole of the shoe is comprised of gel-infused memory foam delivering a great deal of comfort and a contoured, form-fitting feel when you put these on. If you find that these don't entirely work for you, though, or have a pair of custom orthotics already in your possession that you'd prefer to wear, the Flex Advantage's insole is also removable so you can feel free to insert your own custom insoles if need be. Needless to say, these shoes are geared toward comfortability on top of their stellar non-slip capabilities.
When it comes to the outsole, it is made up of highly durable rubber, ideal for adding friction and securing grip to any surface. The tread pattern on these outsoles is designed in a way to give you a whole lot of grip that you'd otherwise not get in an inferior pattern.
If there are any complaints about the Flex Advantage by Skechers, it is probably the fact that they happen to make a squeaking sound when you walk in them. If you're the kind of person who is easily distracted or irritated by those kinds of minute noises, perhaps consider other pairs of non-slip work shoes on our list.
Pros
+ Highly grippy outsole keeps your feet planted
+ Comfortable midsoles and ability to insert custom orthotics
+ Leather upper and rubber outsole are very durable
+ Middle of the road pricing
Cons
– Squeaky noise is slightly annoying for some wearers
---
2. Emeril Lagasse Quarter Mesh Slip-Resistant Work Shoe (Men's)
Next up are the Quarter Mesh Slip Resistant work shoes. Their upper is made out of 100% Nubuck/Mesh for increased breathability and overall comfort, making your feet stay cooled off and dry well into the workday.
They have a durable rubber outsole that provides you with superior traction on wet, slippery, and greasy surfaces. The outsole is confirmed to be oil & slip-resistant, and its tread design reflects that aim perfectly – to keep you planted to the ground in any circumstance. The insole is a B.A.M (Balance Active Movement) memory foam that gives you all-day comfort with a contoured feel.
The EVA midsole, in tandem with the B.A.M foam also gives you ample support. As for the upper, it is also water and stain-resistant, so rest assured that not only is this shoe designed with NeverWet technology to repel liquid and dirt that may get on your shoe.
These shoes also carry a middle-of-the-road price meaning they aren't incredibly expensive but neither are they a total steal. Can't knock them for this pricing, but it has to be mentioned that these shoes, despite the Nubuck/Mesh upper, are prone to overheat in hot weather.
As a result, if you work in hotter climates, it may not be preferable to pick these shoes up as they tend to get hot and stuffy in warm climates. If that doesn't matter though, the Emeril Lagasse is easily one of the most comfortable slip-resistant shoes in terms of price and features.
Pros
+ Comfortable contoured midsole
+ Upper is great at repelling liquids
+ Anti-slip outsole is perfect for wet work conditions
+ Good price for the features it packs
Cons
– Tends to get a little hot in warm climates/weathers
---
3. SafeTstep Comfort Moc Slip-On (Men's)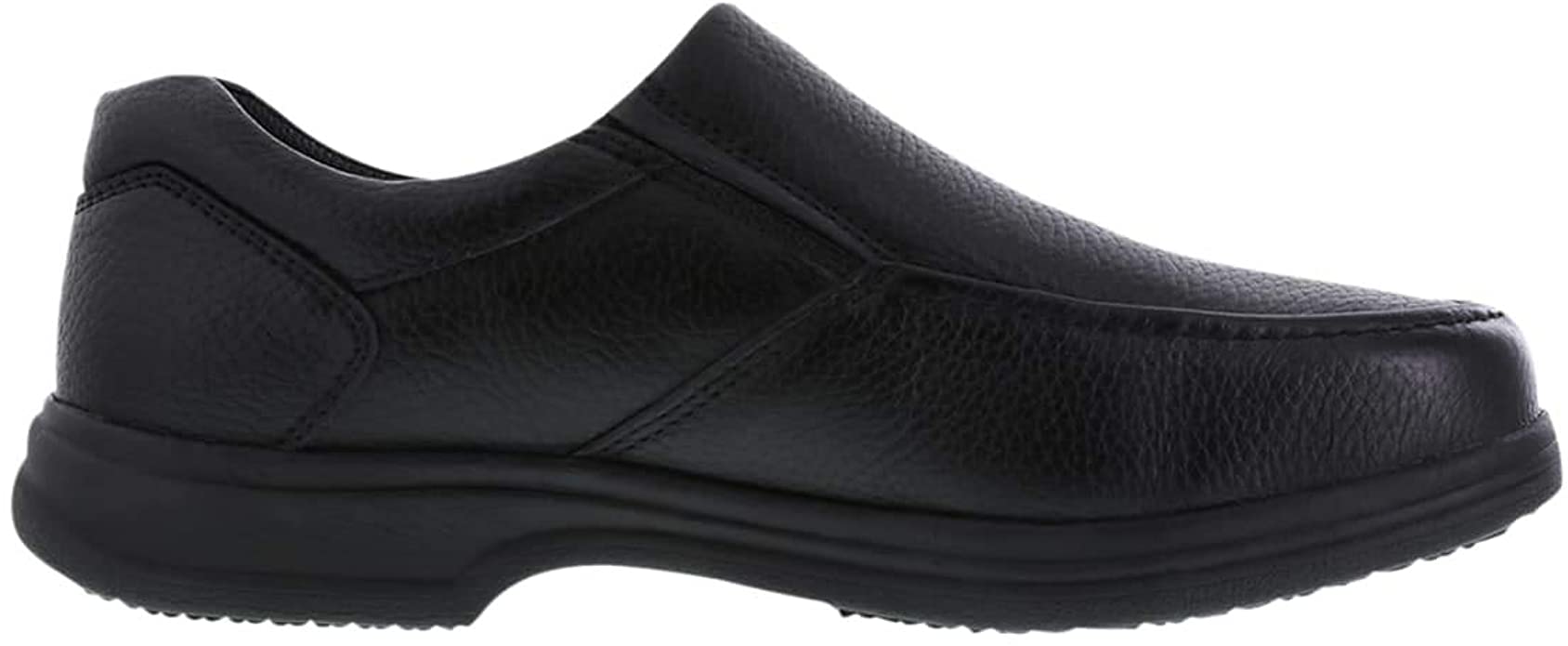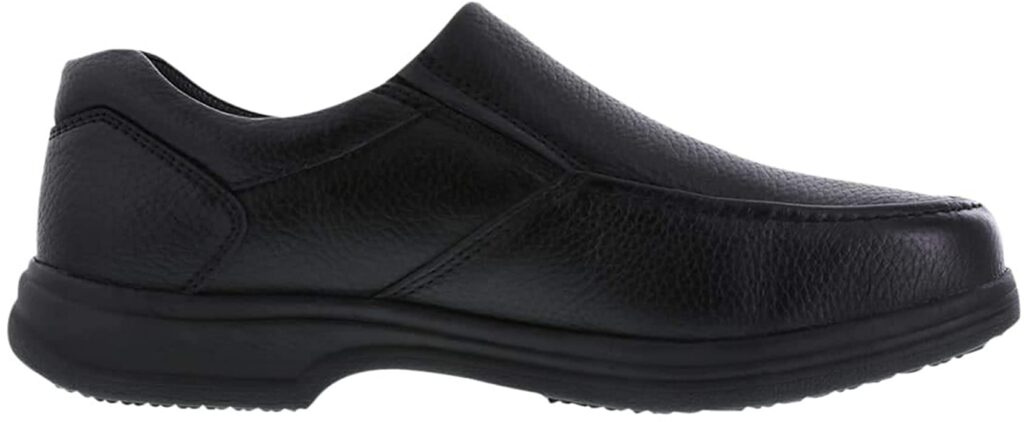 Next up is the all-leather upper Comfort Moc Slip-On shoes by SafeTStep. The leather construction on this work shoe makes it incredibly sturdy and long-lasting. On top of this sturdy upper material that is oftentimes a rarity among work shoes, they feature a padded collar to give you supreme levels of comfort at all times.
This slip-resistant shoe features a comfort insole, ensuring a smooth and comfortable ride all day long, with a non-marking, slip-resistant, and oil-resistant, durable rubber outsole to make sure you are firm on the ground at all times. They are overall a high-quality, soft, and comfortable shoe that gives you dedicated support and traction on a whole host of precarious surfaces, and is an ideal shoe design if you're going for a more distinguished look while on the job.
Unfortunately, the biggest drawback with this shoe, like many leather shoes, is the fact that there is some break-in time associated with it that cannot be ignored. If you're a person who wants a pair of shoes they can pick up and just start going to work in, these may not be it, as they take a few days to get completely comfortable in.
Pros
+ 100% full leather upper
+ Comfortable insole
+ Outsole is resistant to slips, oils, and is non-marking
+ Casual yet distinguished aesthetic
Cons
– Requires a break-in period of a few days
---
4. Nunn Bush Sherman Oxford Shoes (Men's)

Our penultimate pair of men's slip-resistant, comfortable work shoes are the Sherman Oxford work shoes by Nunn Bush. These are work shoes with a faux-leather upper and a classy oxford style design to it, including a traditional lacing system. It is a durable yet functional design, with a smooth and easy to clean leather and padded collar tongue to secure your foot inside the shoe comfortably.
As for footbed comfort, the Sherman features a dual comfort memory foam insole as well as EVA layers for an assured all-day lasting comfort. The outsole is made up of Truecontrol Mark II's that are slip-resistant, non-marking, abrasion, and oil-resistant. Needless to say, this outsole has you covered for a wide variety of situations and circumstances. This shoe is ideal for working in hospitals, restaurants, and kitchen environments, for its no-nonsense look and style
Unfortunately, given the fact it is made out of faux-leather, it is more than likely going to wear itself out much faster than 100% full-grain leather would, so you will have to be wary of its longevity and be sure to keep it properly maintained. Otherwise, you run the risk of just completely ruining them after extensive use. If you want a shoe that can last a long time even after taking a beating, real leather is more than likely the best option.
Pros
+ Classy design, suitable for certain job environments
+ Durable and functional design
+ The sole is resistant to slipping, oil, abrasions and is also non-marking
Cons
– Faux-leather is likely to wear out faster than real leather
---
5. Reebok Work n' Cushion 3.0 (Men's)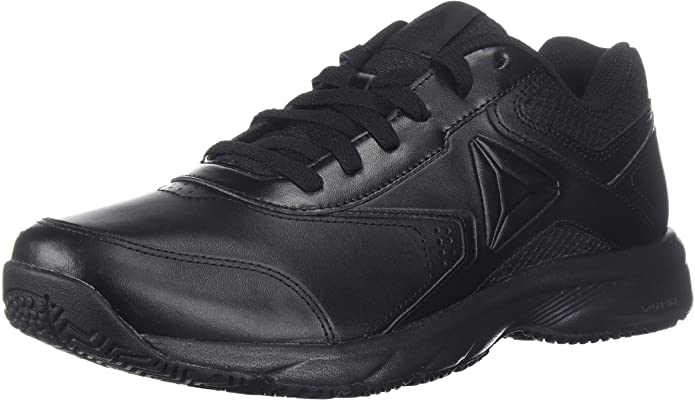 Next up, we have the Work n' Cushion 3.0 by Reebok, which is an all-around great pick for anyone who wants a casual or work-oriented shoe. They feature a 100% leather upper, and the rubber sole is incredibly durable and has a lot of traction to it. This low-cut shoe features the DMX-ride technology and beveled heel construction, making it great for providing you with added stability and shock absorption on all surfaces.
When it comes to the Work n' Cushion's non-slip properties, it is completely oil, grease, and slip-resistant, so no matter what kind of surfaces or situations you'll deal with, they can handle it and keep you on your feet. Another great feature that these shoes bolster is the wide sizing options, namely for those with wider feet, who need the extra space at the sides. If you prefer lace designs, they are also available over the default Velcro system.
The only issue these shoes have is the fact that the colors tend to fade over time, especially after prolonged use. If you are a person who wants their shoes to look as new as possible months after purchase, these will be requiring a fair amount of care and consideration.
Also, the Work n' Cushion 3.0's only really come in black or white color schemes, so if you want a splash of color, you're out of luck. With that said, the Reebok Work n' Cushion 3.0 are some of the most comfortable non-slip shoes you can buy, given its value and feature-set.
Pros
+ Durable and comfortable upper
+ EVA outsole has great traction on all surface types
+ Wide size options
+ Comes in both velcro and lace-up systems
Cons
– Only come in black or white colors
– The colors tend to fade with time
---
6. Dansko Paisley Sneaker (Women's)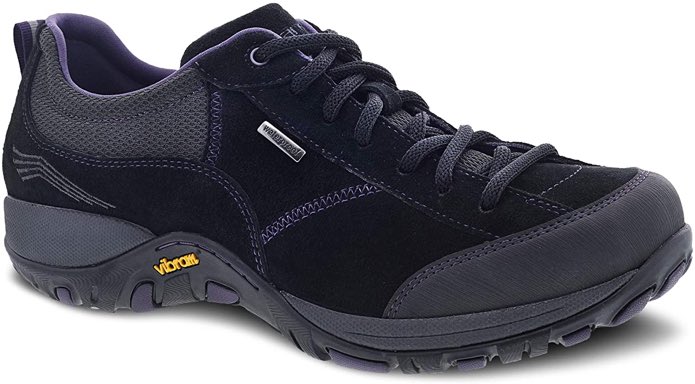 Kicking off our women's section is the low-key, versatile, and comfortable Sneaker design by Dansko. These are lace-up with a full-leather upper and an elastic sockliner to keep your feet cooled off and ventilated at all times.
These shoes are all about keeping your feet as flexible and free as possible without sacrificing on comfort. There is a neoprene collar around the ankle to secure your foot in place, yet it doesn't constrict your range of motion. Essentially, the Dansko Elise is supposed to provide you with a sock-like feel that isn't too overbearing.
On top of this, the outsole is completely slip-resistant, so you'll be feeling stable and in control in any circumstance, even when walking over greasy or fluid-filled surfaces. These shoes given their soles and aesthetics, are a great choice for those of you in the medical industry or in retail and services, as they sport an unassuming design that gives you the results and performance you need.
Unfortunately, these shoes aren't without their share of hitches, and even though it is classified as a sneaker, it truly feels more like a multilayered boot-like shoe. It's great for its ability to protect from all sorts of foreign objects and liquids, but it definitely does have a bulkier feel to it than some may like when looking for a "sneaker".
Pros
+ Minimalistic design
+ 100% leather upper that is very durable
+ Good for the service sector, retail, medical field
+ Anti-slip sole is great under any circumstance
Cons
– Ends up feeling more like a sleek boot than a true sneaker
– Sizing options are a bit limited
---
7. Fila Memory WorkShift (Women's)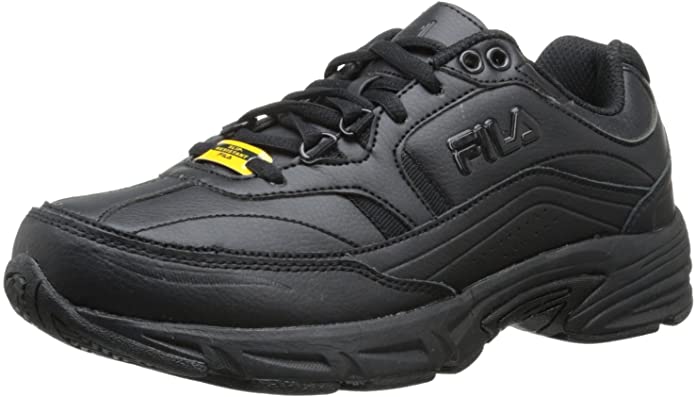 Following the Elise is the Memory WorkShift by Fila. These women's non-slip shoes are made of 100% synthetic upper, with solid traction and performance in mind. The synthetic overlays match and meet your needs when it comes to a sturdy and durable upper that won't give in easily. There are perforations on the upper for enhanced breathability, with a lace-up system to give you a custom fit.
Inside the shoe is a memory foam sockliner as well as an EVA midsole to give you the support you need. The traction on their slip-resistant rubber outsole is designed to prevent any form of slippage or accidents, as the treading performs admirably in a wide array of floorings, keeping you in place no matter where or how your foot is positioned in relation to the ground.
These shoes do have some minor drawbacks, though, in the form of break-in times and clunkiness. The shoe itself is a very bulky design that can sometimes make you feel too planted to the ground, and not airy enough. They also have a bit of an annoying break-in time that doesn't help the fact that they feel so rigid and bulky.
If you want a lightweight shoe, these aren't it, but if you actually prefer tough and tank-like footwear, these may be for you. As far as traction goes though, there are no complaints in that department.
Pros
+ Synthetic overlay is durable and breathable
+ Memory foam sock-liner and EVA midsole
+ Great traction from the well-designed rubber outsole
+ Affordably priced
Cons
– Clunky and rigid-feeling for many
– Break-in time can be a hassle
---
8. AVIA Avi-Union (Women's)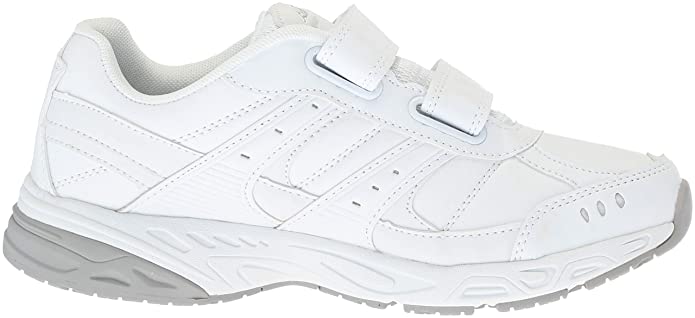 Up next is the Avi-Union's by AVIA. These are a shoe with a completely synthetic upper and synthetic sole, with the upper designed to imitate leather and coated with Scotchgard for added water and stain resistance.
Inside of the shoe is a compression-molded EVA midsole with a soft-gel unit present in the heel. Included internally is a Cantilever support system to give you added cushioning and dispersion of shock upon the impact of the feet with the ground. The Avi-Union's insole is also completely removable, so if you'd prefer to apply your own custom orthotics for increased comfort, that is an option.
The outsole, the main draw of this shoe, is slip and oil resistant, with rubber treading in all directions for great grip on the ground and on tricky surfaces. The Avi-Union is very affordably priced, so if you are budget conscious and want an alternative that is easy on your wallet, these are definitely a contender.
With that in mind, these shoes do suffer from a longevity issue. As one might expect, the less expensive a product is, the less likely it is to be able to have a long durable lifespan under your feet.
You should expect a half-year of good use out of the Avi-Unions, and potentially a little more or less depending just how hard you use them. If you are looking for simple, efficient and comfortable non-slip work shoes without breaking the bank, these are a good choice. But keep in mind that they will need to be replaced down the line earlier than more expensive work shoes.
Pros
+ Very affordable
+ Durable and resistant synthetic upper
+ Rubber outsole is designed to have great traction and is non-slip
+ EVA midsole with soft gel and cantilever design
Cons
– Not durable and may need need to be replaced within the year
---
9. Skechers Soft Stride-Softie (Women's)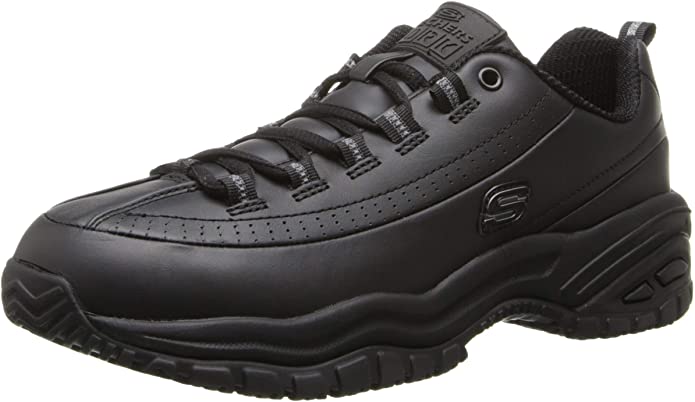 Nearing the end of our list of best non-slip shoes are the Stride-Softie by Skechers, and by now, that's a name you're well-acquainted with. The Stride-Softie is made up of a leather upper and features an adjustable lace-up design to give you a casual but secure fit.
Inside is a PU insole that on its own is made for being put to good use all day long, but these shoes also have the option to allow for custom orthotics to be inserted if that is your desire, or if you need custom orthotics for a specific condition.
The outsole – the main reason it's here on this list, is, of course, OSHA compliant, certified as both slip and oil-resistant so you can wear these just about anywhere without fear where a slippery terrain will cause you unneeded trouble. The aesthetic of this shoe is somewhat minimalistic and subdued, so it is an ideal pick if you're in a sector where you simply need a shoe that has good traction and support, without all the bells and whistles that could be a distraction, such as hospitals or restaurants.
Thee big issue with these shoes is that for many who need it, the PU midsole and interior just don't give you enough arch support, so if you are looking for a shoe with that quality, you could either insert your own custom orthotics or perhaps pick a shoe with built-in arch support. It isn't necessarily a big issue since this shoe allows for custom inserts, but a heads up for those of you who need arch support and might expect it right out of the box.
Pros
+ Full-leather upper
+ Allows for custom orthotics
+ Outsole is OSHA compliant and resistant to slips and oil
+ Minimalistic design that is ideal for certain work environments
Cons
– Built-in insole may need to be replaced if you need arch support
---
10. Brooks Addiction Walker (Women's)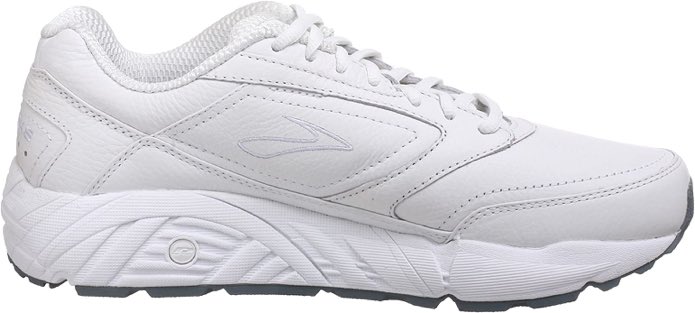 The last shoes on our list are the Addiction Walkers by Brooks. These shoes are constructed from a synthetic sole and upper material comprised of full-grain leather that is meant to be highly breathable and durable.
The Addiction Walker also comes in a variety of widths ranging from narrow to extra-wide. Inside the shoe is an extended progressive diagonal rollbar that specifically targets and supports your arch, guiding your body into a natural gait and range of motion. In the forefoot, there is an MC Pod construction with an innovative outsole that sets your foot in an efficient and stable position.
The cushioning inside the midsole is comprised of BioMoGo DNA, which adapts to your personal stride, weight, and speed, providing you a smooth comfortable ride on a long hour work shift. The midsole is also biodegradable so you can feel good about being environmentally-friendly while wearing these shoes.
There are two things these shoes lack though, even with its array of good qualities. Most notably is that they tend to run a bit small, and you'll need to order a size up to get the most ideal fit. Secondly, there is a bit of a break-in period these shoes have that can be a deterrent for some. So if you're looking for a shoe that is true to size or ready out of the box, these may not be for you.
Pros
+ Full-grain leather upper
+ Features narrow and wide footed models
+ Midsole offers plenty of cushioning and comfort
Cons
– Not true to size, requires a size up normally
– Break-in time can be a hindrance to some
---
Conclusion
To conclude, if you find yourself in the service sector or in general in a field of work that requires being able to safely walk over slippery or smooth surfaces frequently without hassle, you will definitely be needing a pair of non-slip shoes. If you find yourself on your feet often or need that extra bit of stability and traction on the ground, you should also consider non-slip shoes. Furthermore, people in the healthcare sector might need nurse shoes to do their jobs effectively.
By purchasing a pair of non-slips that are dedicated slip and oil-resistant, you can rest assured that the performance of your shoe is dramatically better than a regular shoe marketed as anything other than a non-slip. Some workplaces might even mandate strict non-slip footwear that is OSHA-compliant.
Safety and comfort come first, especially in the workforce, so it cannot be overstated enough that having the right shoes for your environment is of the utmost importance, especially in the service sector.