Around 60% of the world's population has some form of foot abnormality – be it flat-feet, wide feet or Plantar Fasciitis. Growing up, I always faced difficulty finding the best running shoes for wide feet especially for my clown-like feet. As a kid, my parents would custom order medical shoes made to my measurements, but these shoes didn't look as stylish and they lacked personality. 
Fortunately, it's quite easy these days to find the best wide running shoes from top manufacturers without even leaving the comfort of your home, thanks to this magical thing called the "Internet".
The Best Wide Feet Running Shoes
1
New Balance Fresh Foam 1080 v8

Width Options: Narrow, Medium, Wide & Extra Wide
The Fresh Foam series from New Balance needs no introduction when it comes to quality running shoes. NB have improved on the "already stellar" V7 but adding new features to this year's refreshed version. You will find that the upgrades are absolutely phenomenal and it feels like an entirely new shoe rather than a refresh.
The new engineered mesh helps to keep your feet secure and provides better breathability than the previous version. The upper is also quite flexible and stretchy thanks to NB's Fantom Fit technology that gives this shoe a no-sew bootie finish. There is a soft cage in the midfoot area of the upper that provides a locked-down feel without being unnecessarily tight.
A cushioned collar along with a TPU heel counter helps hold the heel in place to prevent heel slippage. If you have wide feet, you'd be pleased to note that the upper provides comfortable wiggle room.
The Fresh Foam midsole is still the standout feature of these shoes. The cushioning is extremely comfortable and trust me when I say this – it is comfortable! Previous shoes in the series had gained a reputation amongst seasoned runners for being the best shoes for wide feet, but this newer version has more tricks up its sleeve (or rather up its midsole).
The midsole also has concave cut-outs in the foam to condense and compress as needed to give you a soft and supple ride. You can expect superior levels of cushioning no matter what type of runner you are. The only downside to the midsole is that it lacks responsiveness and should be taken into consideration if that is important to you.
Another standout feature on the 1080 V8 is the rubber outsole. New Balance has collected data from hundreds of runners and created a "zoned outsole" that uses color-coded hexagon lugs on the outsole to give maximum durability to areas where it's most needed. You can happily clock away those miles without worrying about wear and tear. Also, check out the updated flex grooves in the forefoot for enhanced flexibility.
Pros
+ Midsole is extremely comfortable and cushioning.
+ Good for marathons.
+ Flexible and stretchy upper construction.
+ Various width options to choose from.
Cons
– Pricey.
– Midsole lacks responsiveness.
---
2
Asics Gel Kayano 25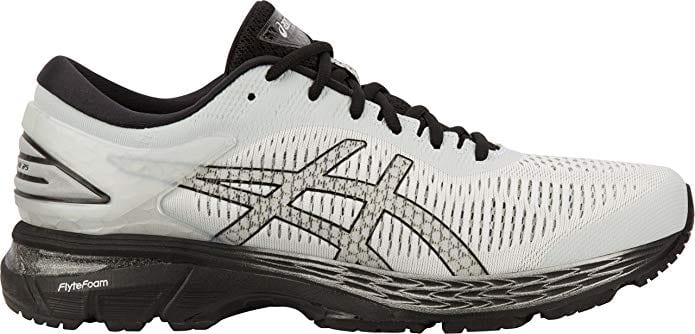 Width Options: Medium, Wide
The Gel Kayano 25 is a shoe that comes jam-packed with more tech than you can shake a stick at. As the name suggests, the midsole is made of dual density silicone-based gel that has excellent shock absorption properties and helps dissipate the impact force of the floor evenly across the foot. The midsole is responsive and comfortable and makes for a smooth transition without feeling overly soft or mushy.
The AHAR Plus outsole is twice as durable as other Asics shoes with the normal AHAR sole. The outsole is covered in softer DuraSponge rubber in certain areas and acts as additional cushioning for your feet. The Asics Gel Kayano 25 is engineered to be a stability shoe and hence, it features crash pads in the underfoot to minimize the effects of pronation
The upper is made from a redesigned stretchy jacquard mesh which conforms to the shape of your feet with little effort. The Gel Kayano 25 utilizes a Meta Clutch external heel counter which did an admirable job in providing a comfortable fit.
What wasn't comfortable though were the shoe's overall weight and the cushioned collar that didn't feel right against my ankles. Nonetheless, the Asics Gel Kayano 25 is a versatile running shoe that can take a beating all day, any day.
Pros
+ Well-rounded and durable running shoes.
+ Gel midsole provides excellent shock absorption.
+ Reduces and corrects pronation.
+ Stylish shoe that comes in various colors.
Cons
– Heavier than competing shoes.
– Cushioned collar feels uncomfortable on the ankles.
---
3
Nike Pegasus 35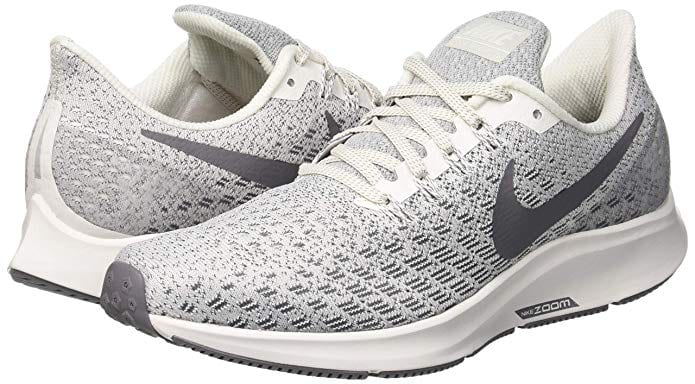 Width Options: Narrow, Medium, Wide & Extra Wide
Nike is a staple when it comes to running shoes. Over the years, I've tested dozens of pairs of Nike running shoes and found that most of them were too narrow for my taste. The Nike Pegasus 35 though is a stark exception. Not only is the newest Pegasus 35 wide enough to accommodate my clown feet, but they also feel snug and comfortable without making my feet feel claustrophobic.
Thanks to the Flywire lacing system and the improved full-length zoom midsole, this shoe is built for performance. The Pegasus 35's midsole strikes the perfect balance between firmness and softness. This makes the shoe extremely comfortable for long runs in part due to its excellent cushioning and responsiveness.
The Pegasus 35 is constructed from an improved Flymesh upper with cross stitches that drastically improves ventilation. The outsole is dotted with Pentagon shaped lugs which do a wonderful job in maintaining a firm grip on any surface, whether it be road, grass or dirt. My only complaint with the Pegasus 35 is that it's a bit on the heavy side at 283 grams (10 ounces).
If you are looking for a pair of wide running shoes with a Nike brand name, the Pegasus 35 is the best wide running shoes for you.
Pros
+ Good balance of cushioning and firmness.
+ The outsole grips well on all kinds of surfaces.
+ Fast and snappy energy return on every stride.
+ Highly breathable upper.
Cons
– Heavier than competing shoes.
---
4
Saucony Cohesion 11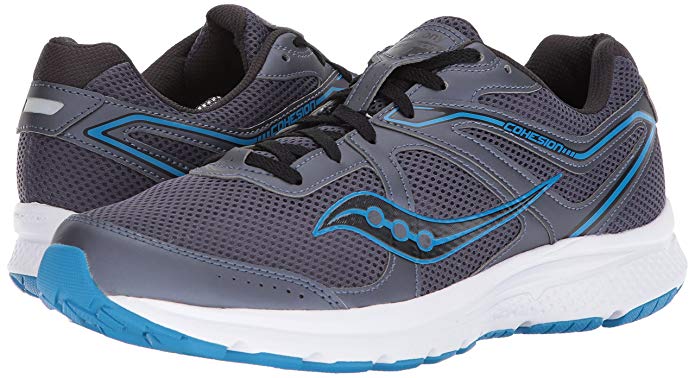 Width Options: Medium & Wide
Durability is key when you're picking running shoes for everyday use. Running shoes have to not only put up with the repeated impact from running but also the harshness of the terrain like mud, grime, and tarmac. Luckily, the Saucony Cohesion 11 is purpose-built with durability as its key selling point.
The outsole of the Cohesion 11 uses a hardened rubber compound that not only lasts a LONG time but also protects the softer midsole from wear and tear. Flex grooves on the forefoot help make these shoes flexible and agile.
The midsole is comprised of a full-length foam that does a good job of absorbing shock and impact, but I found the midsole to be more on the firm end of the cushioning spectrum. The midsole also consists of a "REACT2U" footbed made of memory foam. This footbed takes the shape of your feet and these are great provided you have neutral arches. Not so much if you have high or low/no arches. I was also not a fan of this shoe's styling options and the colorways just didn't seem to match.
The upper uses an open mesh construction which facilitates airflow, thus keeping your feet cool even during long runs. It's not surprising that these shoes are ideal for heavy and long-distance runners that care more about performance than looks.
Pros
+ Ideal shoes for heavy runners.
+ Highly durable shoes for all types of terrains.
+ Affordable price.
+ Lightweight for regular use.
Cons
– Not very stylish and color options are an eyesore.
– Not suitable for people with high or low arches.
---
5
Adidas UltraBoost ATR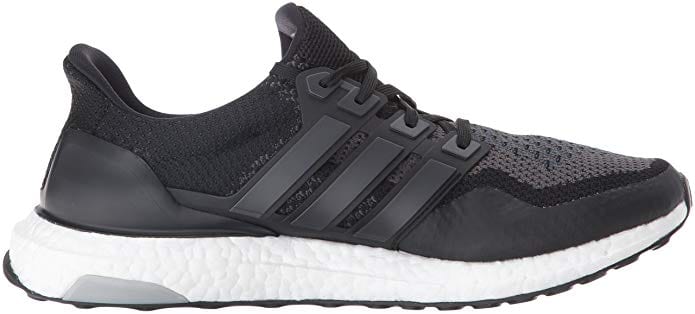 Width Options: Medium
The Adidas UltraBoost ATR may not necessarily come in wide and extra wide options, but I found that going half a size up did the trick. So, why is the UltraBoost on this list even though they don't have wider options?
That's because the UltraBoosts are perhaps the MOST comfortable shoes on the planet thanks to Adidas's proprietary Boost Technology in the midsole that consists of thousands of TPU pellets molded together. This midsole is so soft and plushy that you'll feel like you were walking on clouds.
The upper is constructed from Primeknit fabric and this cloth-like material provides superior flex and breathability compared to other shoes. Also contained in the upper are the TPU fit cages that help give you a locked-down feel.
The Adidas UltraBoosts is not only a great pair of running shoes for wide feet, but they also double as lifestyle shoes and look stylish with casual wear. This design is complemented by a robust outsole made from durable Continental rubber in a web pattern that allows for maximum impact distribution and shock absorption. In our testing, I found that the outsole performed well on different types of surfaces and maintained a good grip throughout.
Pros
+ Extremely comfortable shoes.
+ Good looking and stylish suitable for casual wear.
+ Responsive and bouncy midsole.
+ Durable and flexible outsole.
Cons
– Pricey.
– Only medium width option available. Go 1/2 a size up.
---
6
Under Armour Charged Bandit 3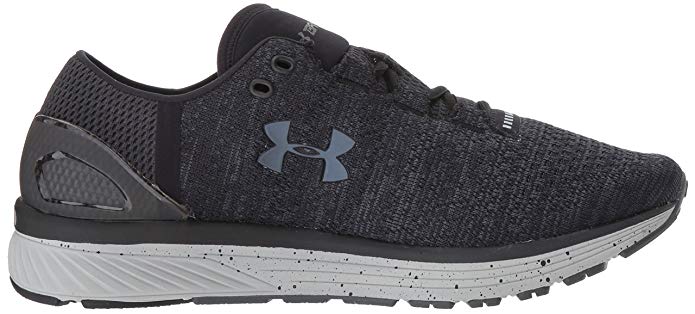 Width Options: Medium & Extra Wide
The UA Charged Bandit 3 is a neutral shoe with a comfortable 8mm heel to toe drop ideal for running on roads and tarmac. Sizes run true so you don't have to compensate by getting a bigger or smaller shoe, plus they are more lightweight than the previous Bandit 2 version. The Charged Bandit 3's cushioning is in the middle when it comes to firmness and hence, it makes a great shoe for running short to medium distances.
The midsole is made from UA's dual compression infused "Charged Cushioning" foam. The foam is the best of both worlds where it's softer in the forefoot and firm around the heel area to provide for a smooth and easy transition between strides.  
The upper is constructed from a lightweight fabric knit that increases airflow and breathability significantly while maintaining its flex and durability. The upper does a good job of keeping your feet snug and an external TPU heel counter compliments the upper by giving you that locked-down feel to eradicate any heel slippage while running.
The outsole consists of flex grooves to allow for foot torsion and has high abrasion carbon rubber in the heel area for absorbing shock, but the sole's grip can be lackluster especially on wet surfaces. These shoes are best recommended for dry roads and treadmills.
Pros
+ Upper is very flexible and breathable.
+ Dual density foam is a mix of firm and soft.
+ Stays locked in without heel slippage.
Cons
– Not suitable for wet surfaces.
– Not ideal for long distance running.
---
7
Nike Air Zoom Structure 21

Width Options: Medium, Wide & Extra Wide
The Structure 21 from Nike is a capable stability shoe designed to improve the negative effects of overpronation. The midsole is manufactured from a dual density foam consisting of both soft Phylon foam for cushioning and support and a harder foam that helps in delivering a responsiveness with every step.
There are also crash pads present in the heel area that helps to mitigate the impact force evenly across the foot making it ideal for marathons and long-distance running. The Structure 21's outsole is covered in hard carbon rubber that provides sufficient traction in all types of terrain conditions. The outsole also contains tiny air pockets made out of Duralon rubber that give this shoe a bouncy feel.
The upper on this shoe is constructed from lightweight and durable mono-filament thread that can take quite a beating while keeping its structural integrity intact. The upper is one of the biggest improvements over the previous iteration of the Structure series. As explained earlier, the Structure 21 is made for running long distances and it's evident from the well ventilated and airy design of these shoes that you can keep clocking on those miles without worrying about hot feet.
My only quip with these shoes is that the fabric that surrounds the ankles do tend to get a bit itchy, but this may not be the case with everyone and it can be fixed by wearing long socks.
Pros
+ Stability shoe ideal for people with flat and wide feet.
+ Plenty of cushioning for running longer distances.
+ Good grip on even wet surfaces.
+ Stylish shoes and visually appealing color options.
Cons
– Padding around the ankle can be itchy at times.
– Requires a break-in period.
---
8
Brooks Adrenaline GTS 18

Width Options: Medium, Wide & Extra Wide
The Brooks Adrenaline GTS 18 is a motion-control shoe for runners with overpronation (severe flat-feet) who need the added stability for a safe and comfortable run. The Adrenaline GTS 18 does a remarkable job of holding supporting and holding your feet firmly in place.
The mesh upper is adequately airy and consists of an inner sleeve that has moisture-control capabilities. This helps to keep your feet cool and dry regardless of how hot it is outside. The shoes also have an internal saddle to keep your feet secured without causing any wobbling or heel slippage.
The midsole is made from a gel-based substance of varying densities to give you a superior level of cushioning compared to conventional EVA foam. The midsole is also bio-degradable and hence more environmentally friendly. The Adrenaline GTS 18 also features a "Progressive Diagonal Rollbar" for added support and to help keep your feet properly aligned to drastically reduce the effects of overpronation.
Rounding up its amazing feature-set is the sturdy outsole made from reinforced rubber which is abrasion resistant. Also present is "Flextra" material on the forefoot region of the outsole that provides varying levels of flexibility.
The Adrenaline GTS 18 gripped well in all terrain conditions. But, keep in mind that these shoes aren't perfect though and I found that after only a month's use, the lace cage and upper material started to look frayed and worn-down. I also didn't like the styling and color options and hence, they don't look good in streetwear.
Nonetheless, if you suffer from severe overpronation, the Brooks Adrenaline GTS 18 are the best running shoes for wide feet and flat feet.
Pros
+ Excellent shoes for runners with severe flat-feet.
+ Suitable for long runs.
+ Good cushioning, support and stability.
+ Ideal for dry or wet terrains.
Cons
– Not very durable.
– Upper material feels cheap.
---
9
Mizuno Wave Rider 21

Width Option: Normal, Wide
Mizuno has a varied history of making quality running shoes. The Mizuno Wave Rider 21 is easily one of their best shoes for runners with wide feet. The newest update to the Wave Rider series consists of an engineered mesh for better breathability and a more secure fit. Other new updates include additional padding for the heel and a premium sock liner that give your feet a better in-shoe experience.
The most notable function of the Wave Rider 21 comes from the midsole that is almost entirely made up of a material called U4ic which is engineered to be lightweight. The midsole is said to be 30% lighter than other Mizuno shoes and has superior shock absorption capabilities to deliver a smooth ride.
The U4ixC (it's a mouthful) heel wedge provides soft underfoot cushioning while also being very responsive. Sandwiched in between the midsole and the heel wedge is the Cloudwave layer that is responsible for delivering that springy and soft ride. The Cloudwave material runs the length of the heel to midfoot to aid in a balanced gait cycle.
The upper is a stretchy engineered mesh that is designed to mirror the torsion and twisting of the feet during the gait cycle. It also provides a comfortable fit with good ventilation to keep the feel cool and dry. The lace-up system is similar to the flywire cables found in Nike shoes in keeping your feet planted and we hardly experienced any heel slippage thanks to the secure fit.
The main drawback of the Wave Rider 21 is that the toe box is narrow out of the box for a shoe that is meant for runners with wide feet. Fortunately, it takes very little time to break-in and achieves a comfortable fit. For most people with wide feet, I'd recommend going half a size up to fully take advantage of these shoes.
Lastly, the colorways on the new Mizuno Wave Rider 21 are dull, boring and leaves much to be desired. It reminds me of those old wide feet running shoes my dad used to wear. Might not necessarily be a bad thing if you do happen to be a dad!
Pros
+ Constructed from high-quality materials
+ Lightweight despite all the extra cushioning
+ Premium sock liner feel amazing
+ Effortless and responsive midsole
Cons
– Limited colors that look dull and boring
– Toe-box is narrow on initial use
– Requires break-in
---
10
Brooks Ghost 11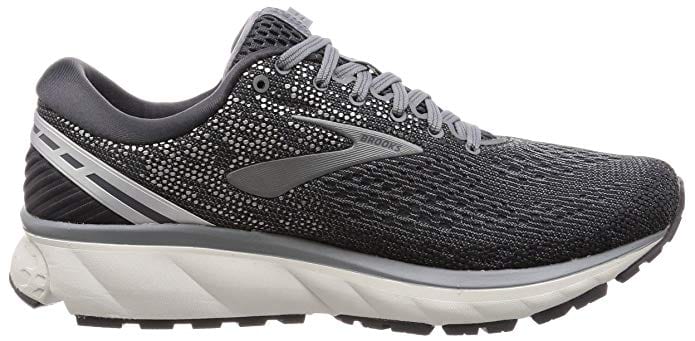 Width Options: Narrow, Normal, Wide
The 11th iteration to the Brooks Ghost series is a shoe that is famous amongst seasoned runners. New features on the Ghost 11 include a lightweight design and a highly durable construction.
The advanced cushioning system and width options are ideal for people with wide feet. The heel-to-toe drop ratio clocks in at 12mm and this makes for a fluid transition from walking to running and vice-versa.
Specialized crash pads take the majority of the shock and impact and distribute it evenly across the base of the foot. Along with good underfoot stability, the Ghost 11 is one of the best running shoes for wide feet from a lesser-known brand compared to the likes of Nike and Adidas.
The outsole is covered in carbon blown rubber and is highly durable for daily use. The shoe does remarkably well for half-marathons and even full marathons to keep you pain-free and relaxed.
The toe box though is somewhat narrow, so people with exceptionally wide feet should jump half a size up for a comfortable fit or select a bigger width profile.
The upper mesh of the Ghost 11 is built from a lightweight material that feels softer and more stretchy compared to the previous version. The engineered mesh upper wraps around your feet without causing any irritation even if you're wearing the shoes with no socks. The heel area consists of a TPU heel counter and is sewn into the fabric of the shoe with negate heel slippage.
As far as looks go, the Ghost 11 looks sleek and sharp with a minimalistic profile. It is also one of the most affordable running shoes for wide feet on the market right now.
Pros
+ Good cushioning throughout the midsole of the shoe
+ Ideal for runners who are heel strikers
+ Excellent daily running shoes for a budget price
+ Eye-catching color schemes
Cons
– Not suited for races and short runs
– Upper wears off quickly
---
11
Hoka One One Bondi 6

Width Options: Normal, Wide
If cushioning on wide feet running shoes was ever your concern, then Hoka has you covered. The Hoka One One Bondi 6 takes the mantle from the now-discontinued Bondi 5 as one of the most cushioned running shoes for wide feet. The heel height, a whopping 1.7 inches (44 mm), is so soft and spongy that it feels like having a pair of pillows attached to your feet.
Given how mushy the shoe is, it's not the most ideal for races and it might not be everyone's cup of tea either. But, it is amazing for runners who have wide feet and bad knees. It does a remarkable job of preventing joint aches and muscle soreness.
The Hoka One One Bondi 6 is excellent for everyday use and the midsole uses a full-length EVA unit and Meta-Rocket technology. The shoe manages to glide naturally through the gait cycle without causing any aches or discomfort. The shoe is quite big and wide on its own and comes in additional width profiles if you have enormously giant feet.
The shoes pack quite a lot of padding in the forefoot and are great for forefoot strikers and greatly helps if you have metatarsalgia. The outsole of the Bondi 6 is covered in a "Hi-Abrasion Lightweight Rubber" in areas that are most susceptible to wear and tear.
Since the high-abrasion rubber doesn't cover the entirety of the shoe, the outsole does wear off fairly quickly compared to other wide running shoes on the list.
The upper of the Bondi 6 is constructed from an engineered mesh with an open-weave design for maximum ventilation. The upper is also stretchy and conforms as needed for people with wide feet. The colorways on the upper are somewhat limited, but stylish nonetheless.
Pros
+ Highly cushioned midsole ideal for runners with bad knees
+ Prevents muscle soreness caused due to running
+ Eye-catching color schemes
+ Well ventilated open-weave upper design
Cons
– Outsole wears off quickly
– Very thick midsole might feel too mushy for some runners
– Padded tongue rubs uncomfortably on the skin
---
12
Asics Gel Cumulus 20

Width Options: Normal, Wide
The Asics Gel Cumulus 20 has got a serious list of upgrades to offer compared to its predecessor – firstly, the upgraded midsole now contains the Flytefoam cushioning compound which adds a level of bounce and springiness to every stride. Secondly, a redesigned upper that has multi-directional stretch to accommodate the movements of your feet.
The upper is constructed of Jacquard mesh material to afford plenty of wiggle room for your toes while remaining sufficiently secure. The lacing system works alongside Asics' Discrete Eyelet feature, which are standalone holes designed to relieve stress from tight laces, to get that snug and custom fit.
The Gel Cumulus 20 only comes in normal and wide sizes for both men and women but I found the wide option to be plenty enough to cradle my feet all day long without causing any pinching or discomfort.
The midsole is crafted from Flytefoam that uses organic fibers to achieve a 55% reduction in weight compared to traditional EVA foam midsoles. Asics has implemented other proprietary tech into the midsole like FluidRide which is a combination of spEVA and Solyte compounds for very soft and reliable ride. On the negative side, the midsole does get dirty very quickly and it lacks responsiveness.
The cushioning on the Gel Cumulus doesn't end there. As the name suggests, gel cushioning is infused into the forefoot and rearfoot areas for added shock absorption and to provide more stability for long and exhausting runs. A premium sock liner completes the marshmallow-like cushioning of this shoe and there's no doubt that the Asics Gel Cumulus 20 is one of the best-cushioned running shoes for wide feet.
Even the outsole (like the midsole) is made from a combination of different compounds – the Asics High Abrasion Rubber (AHAR) and DuraSponge. The outsole provides good ground contact and traction for both wet and dry conditions. The outsole is remarkably durable and these shoes are ideal for marathons if that's your intended goal.
One thing to note though is that the shoe feels a bit stiff out of the box and requires a break-in period. This can easily be achieved by wearing them around the house for an hour or two.
Pros
+ Soft and spongy midsole feels amazing
+ Ideal for marathons
+ AHAR tech on the outsole makes them very durable
Cons
– Midsole gets dirty easily
– Stiff on the first try and requires a break-in period.
---
Things to know before buying wide running shoes
Different widths: Wide shoes come in different options for width ranging from Medium (D) to Extra-Wide (EE) and even wider if needed. The more letters mean a wider shoe.
Proper fit: It can sometimes be a real pain to find the perfect fit. Generally, a shoe with a good fit would not pinch the sides of your foot and give you about a ¼ inch of wiggle room for your toes.
Check the depth: Wide shoes do not mean bigger girth. If your wide running shoes feel cramped, it may be a better idea to order shoes with extra depth.
Avoid straps: Shoes with straps are great for cross training, but not so much for running shoes. For one, they can constrict your movement and cause swollen feet. It's best to get shoes with laces to give you the perfect level of adjustability.
Try them on: It can be tempting to take your new shoes out for a spin. But, before you do that, make sure to wear them around the house to see if they fit properly. If you're not a 100% satisfied with the fit, this would be a good time to send them back for an exchange or refund.
---
Wide Toe Box or Wide Size?
A wide toe box shoe is basically a shoe of normal size but has a "roomy" or spacious toe box to accommodate your feet. Some people have normal sized feet but have a wide forefoot and narrow heel. For these people, a wide running shoe will tend to slip-off in what we call "heel slippage". This is where a shoe with a wide toe-box will be much more helpful than a wide sized running shoe. This is especially true for a lot of Nike running shoes.
A running shoe with a wide or extra wide option is for people who have uniformly wide feet. The width of one's feet can be attributed to either genetics or other foot abnormalities like flat-feet. If you are unsure of what type of wide shoe you have, try it on and if you find that your toes have enough room to wiggle around but your midfoot is being pinched, then this is most definitely a shoe with a wide toe-box.
On the other side of the spectrum, if your shoes are loose fitting or too wide, it's important to change them or go a half a size down. This is due to the fact that wearing shoes that are loose will cause rubbing and blisters on the inside of your feet while running or during other intense activities.
---
Frequently Asked Questions
How wide should my shoes be?
There is no accurate measure of how wide one's shoes must be. People have different feet with varying proportions. Some have feet that are wide only in the forefoot while others have wide feet throughout the length of their feet.
So, the answer to the question is: it depends. When trying on shoes for the first time, you should focus primarily on the fit. If you feel pinching on the sides of your midfoot or your toes, then the shoes are too tight and you should consider picking a wide-feet option. On the other hand, if your feet have ample wiggle room, then the shoes are too loose and you should go half a size smaller or pick a narrower width profile.
How should wide running shoes fit me?
When it comes to running shoes, you must look for a snug and secure fit. The shoes must neither be too tight to cause discomfort or too loose that your heel comes right off. A snug fitting wide running shoe should allow for enough room to flex your toes while feeling like an extension of your feet (like a glove).
Will wide running shoes further widen with use?
All shoes will widen to a certain degree with use. Running shoes today are made from hi-tech mesh and fabric uppers to make the shoes stretchable to a certain extent while retaining its original shape/size. Any further widening beyond this is minimal at best and won't affect your performance.
What is the best way to take care of my running shoes?
Runners are some of the most hardcore people on this earth (yay!). Running shoes take an excessive amount of stress compared to all other shoes on the market and this them need more care than ordinary footwear. When taking off your shoes after a run, always make sure that you don't leave the socks inside so the shoes can air dry naturally.
Make sure to remove any rocks or stones stuck between the treads to prevent them from causing damage to the midsole. And finally, use a sneaker cleaning kit to wash your shoes once a month to maintain your best running shoes for wide feet like the day you bought them.