What is Plantar Fasciitis?
Plantar fasciitis is the inflammation of the thick band of tissue running along your heel to your toes, known as the fascia. Plantar fasciitis causes acute pain in your heel and it is noticeably worse after you've been sitting or laying down for a long time, typically feeling better after some activity, but worsening after being too long on your feet. As you can tell, you deserve the best running shoes for plantar fasciitis to help you through and alleviate your pain.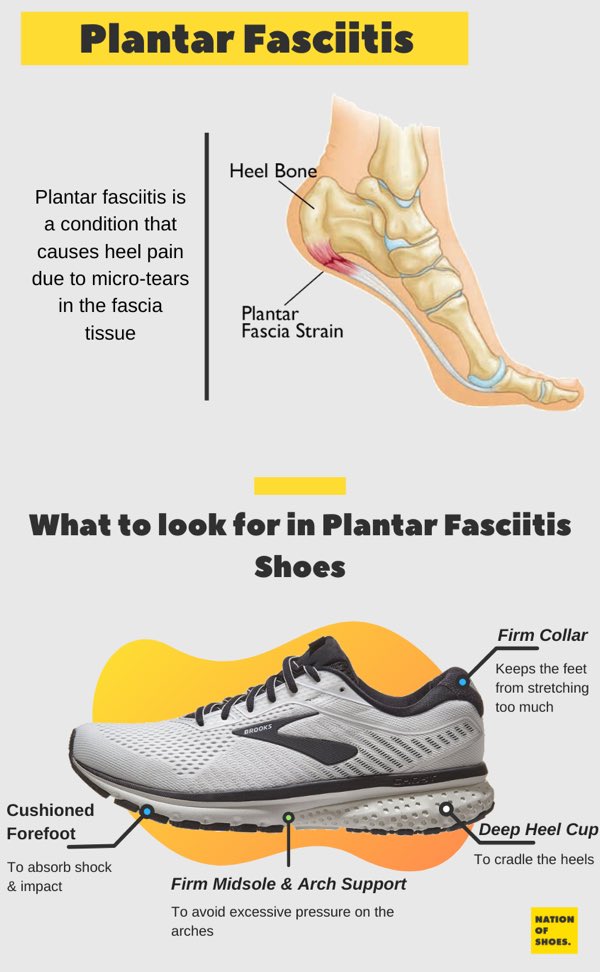 Simply put, the fascia tissue supports the muscles and arch of your foot, and when it is overstretched, small tears can begin to form in its surface, bringing on the aforementioned pain and inflammation.
---
Things that are likely to cause Plantar Fasciitis:
Wearing high heeled shoes often

Aged anywhere from 40 to 60 (can also happen to younger people)

If you're clinically obese

Have flat feet (overpronation) or high arches

Having an unusual walking pattern or foot positioning

Spending many hours standing (especially for people in the service industry)

Wearing worn-out shoes with thinned soles
---
How can shoes help with plantar fasciitis?
By being conscious of Plantar Fasciitis, and making informed purchases, you will be making your life a lot easier and reducing a lot of pain. Buying shoes with supportive soles and extra cushioning will make it much less painful for you to stand or to walk.
Arch supports, for example, can distribute pressure more evenly across your foot and consequently reduce the amount of pain and inflammation on your fascia muscle. If you already own a pair of shoes and don't want to buy another one, you could simply invest in plantar fasciitis insoles which could end up costing less.
Ideally, you want to reduce excessive toe extension as it will decrease the pressure upon the fascia band, meaning a firm toe box is a trait to look for when purchasing shoes for Plantar Fasciitis.
So, with that out of the way, let's get on with our list of the best plantar fasciitis shoes we think you can pick up for yourself to help alleviate pain and discomfort in 2022.
---
1. ASICS Gel-Kayano 25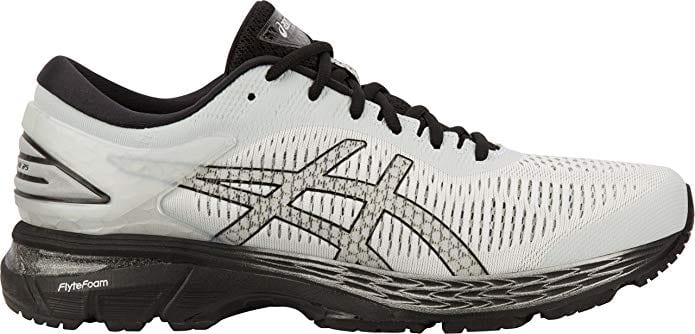 The Gel-Kayano 25 by ASICS is a great pickup for people with Plantar Fasciitis and need the extra support because of the ASICS design philosophy I.G.S (Impact Guidance System) that employs linked componentry to enhance your foot's natural gait from heel-strike to toe-off. ASICS boasts a light shoe with FlyteFoam Lyte tech, making it some of the lightest weight midsole formulations in their catalog. The light midsole provides continuous cushioning thanks to organic nano-fibers incorporated into them.
ASICS energetic Propel Technology also provides great bounce to your step, and their Dynamic DuoMax system in the midsole helps control any overpronation you may develop from pain in the plantar. The ASICS Gel Kayano 25 is one of the best running shoes for plantar fasciitis for those who want no compromise in performance.
The Gel-Kayanos come in a variety of colors so you'd be hard-pressed to find a style that doesn't fit your aesthetic, while also providing all the aforementioned support for your feet. The only issue with these shoes is that they can be difficult to find for a reasonable price, as even when they weren't as rare, they were on the pricier side. As a result, while these shoes are worth it, it isn't for someone who's looking for budget-conscious relief for plantar fasciitis.
Pros
+ Great support
+ Various colorways to choose from
+ A comfortable platform for aches and pains
+ Also helps with foot alignment when walking
Cons
– Pricey pair of shoes
---
2. New Balance Fresh Foam 1080v8
These Fresh Foam 1080's by NB have been a hit amongst runners, especially those with plantar fasciitis. It features innovative technology, a tailored outsole meant for gaining traction while running, a great cushion support system to absorb impact and take the pain away from the fascia, and flexibility to allow for some stretch while keeping midfoot/arch support.
The Fresh Foam 1080v8 is true to size, their color options are plentiful, and a great shoe overall, regardless of any ailments you may or may not experience. The shoe itself is designed quite elegantly with the majority of the upper covered in a jacquard mesh material for improved breathability and flexibility. The inside of the upper is also smooth and soft, so you won't have any trouble wearing these without socks.
The outsole of the 1080v8 is made from hard blown rubber and the traction is improved over the previous iterations. The outsole is peppered with traction pods and flex grooves that allow for lots of flexibility and torsion of the feet while in movement. Moreover, these shoes come in normal, wide, or extra-wide options for people who suffer from plantar fasciitis and wide feet.
Similarly to the Kayano's, they can be a bit expensive, and they aren't quite as light-weight. For those of you who want to feel exceptionally light on your feet, perhaps the NB 1080's aren't as feathery as you'd like. With that said, support and flexibility cannot be praised enough. The cushioning and comfort that this shoe provides is near unmatched and you will not regret your purchase. For this reason, the NB Fresh Foam 1080v8 deserves recognition as one of the best running shoes for plantar fasciitis.
Pros
+ Aesthetically pleasing
+ Various color options
+ Proper midsole/arch support for plantar fasciitis
+ Flexible yet firm
Cons
– Can be expensive
– Not very lightweight
---
3. Saucony Triumph ISO 4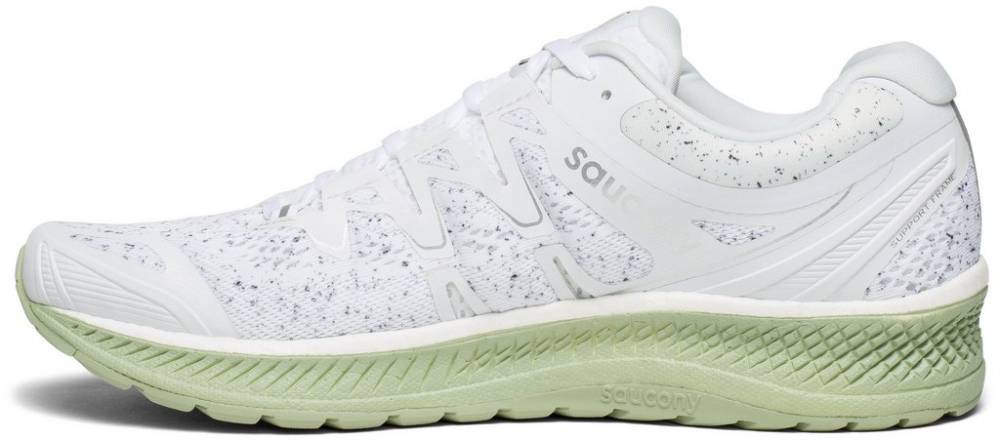 The Triumph ISOs by Saucony are a bold and aesthetically pleasing design that comes in models dedicated to both men as well as women. Saucony touts the Triumph ISO's as their most cushioned trainer to date, making you feel lighter yet supported and feeling firm when you have these on. The ISOs feature an engineered design meant to be very stretchy while also having a supporting frame for your heel.
The ISOFIT design is also meant to increase your comfort while running, as the soft inner sleeve morphs to your foot's shape to give it a sock-like feel, with the support and responsive cushioning you need to soothe pain from plantar fasciitis. The EVERUN midsole enhances energy and provides you with continuous cushioning and support throughout your running session.
The Triumph ISO is a responsive and great design for those with plantar fasciitis and cannot be recommended enough, because it treads the delicate line between comfort, form, and stability quite well. Some of the issues, though, are the fact that it can feel a bit bulky after a while, so for long-distance running, it may end up feeling too heavy. The Triumph ISO also has a bit of a narrower fit, so for those with particularly big feet, you might have to order a size up. With that said, a firm toe box is a good thing for plantar fasciitis.
Pros
+ Firm and supportive cushioning
+ Comfortable and stable midsole
+ Responsive engineered design
+ Feels like an extension to your feet
Cons
– Bulky for long-distance running
– Narrower fit
---
4. Hoka One One Bondi 6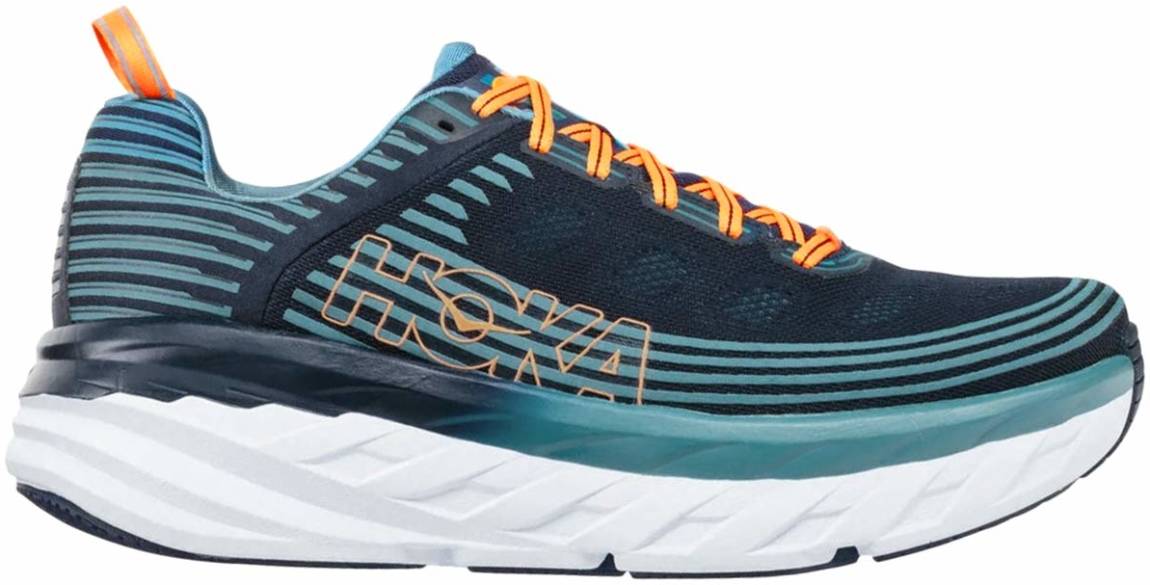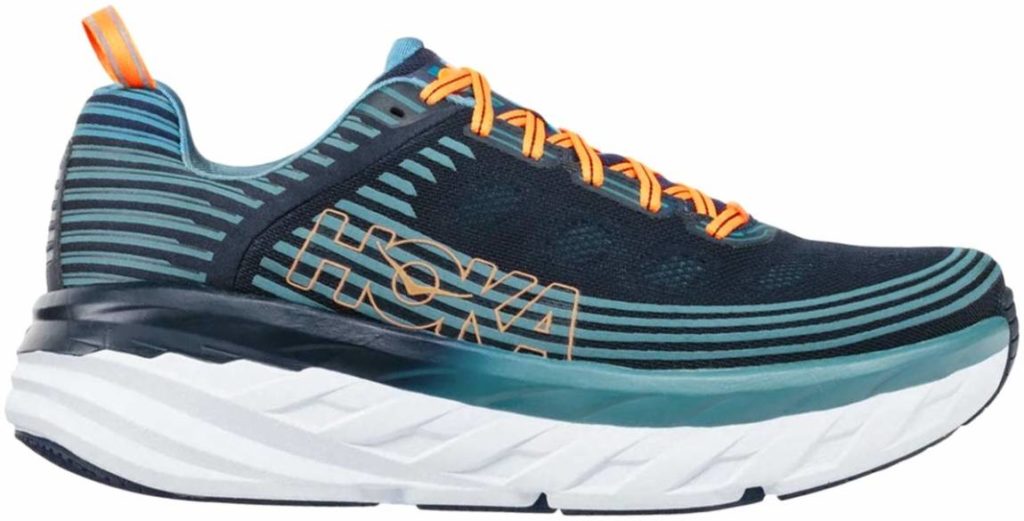 This is another incredibly well-designed shoe. The Bondi 6 provides great cushioning and support while allowing for your feet to recover and absorb the shock from striking your feet on the ground. It features a rocker design in order to help guide your foot into a comfortable and healthy movement while running or walking – a small yet effective aid in helping abnormal foot conditions like plantar fasciitis.
This Bondi 6 is also a bit heavier than some of the other shoes on this list, but the feeling of being planted and guided into correction is an important aspect for some people who need that type of support system.
These shoes can be paired with custom insoles, and have proven to help relieve all the pain associated with plantar fasciitis. While these shoes might not be as aesthetically pleasing as the other sleeker designs out there, the Bondi 6's boxed design is about comfort and cushioning more than looks.
Pros
+ Rocker bottom is good for plantar fasciitis
+ Comfortable and cushioned midsole
+ Designed to help guide your foot while walking and running
+ Sleek colorways
Cons
– Looks and feels bulky
---
5. Altra Torin 4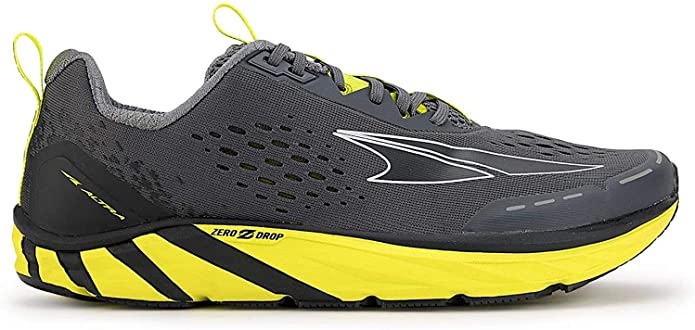 The Altra Torin 4 is a style of shoe dedicated to competitive running – this much is evidently clear from its ergonomic and aerodynamic design. It is meant to improve performance and capability and care less about making a fashion statement. Everything from the toe box to midsole and heel is designed to improve natural foot positioning, increase comfort in the toe box and allow for minimal irritation.
The upper is made of mesh to prevent a buildup of sweat, its midsole is EVA with InnerFlex technology to improve your stability and support, while its platform is fully cushioned for your comfort and ease of running in mind. Torin is one of the best running shoes for plantar fasciitis for runners looking for affordable racing shoes.
This shoe is definitely made for those who have plantar fasciitis but don't want it to get in the way of their competitive running, and it gets the job done. fantastically. The only qualms we have with this shoe is that it isn't true to size, you'll need a half size up. The pricing is affordable and the quality is what you'd expect from a proper athletic running shoe for plantar fasciitis.
Pros
+ Affordable
+ Good option for competitive runners with plantar fasciitis
+ Decent color options
Cons
– Runs small, half a size up is recommended
---
6. Mizuno Wave Rider 21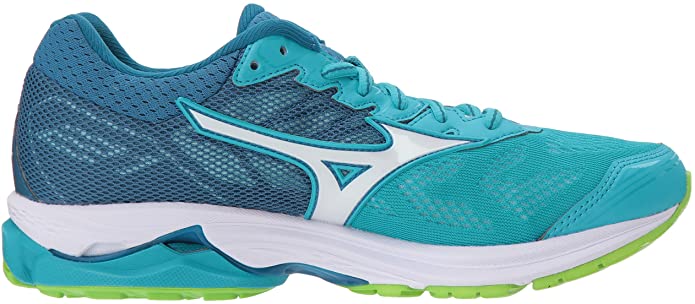 The Wave Rider model by Mizuno has achieved a great name in making itself an incredibly comfortable pair of runners. They are a shoe that provides ultra-soft comfort as well as a secure grip for your foot, given their U4IC and U4IXC technology midsoles that have unrivaled responsiveness and support.
The foam midsole and cushioning technology is inspired by Japanese Hado, meaning life force, and aims to provide superb sensation for the underfoot, easing the pain of plantar fasciitis and giving you a sense of balance and harmony. Overall, a very great choice for those seeking comfort and quality.
The Wave Rider 21 comes in a variety of colors and sizes to keep it fresh and exciting, and the only potential issue with these shoes is that after a while, the beating they take catches up and they eventually break down and you will have to replace them. Besides that, they are relatively affordable as well for a pair of comfortable running shoes for plantar fasciitis.
Pros
+ Comfortable running shoes for plantar fasciitis
+ Good underfoot support system
+ Nice design and colors
+ Affordable pricing
Cons
– Prone to wearing down after awhile
---
7. Saucony Guide 10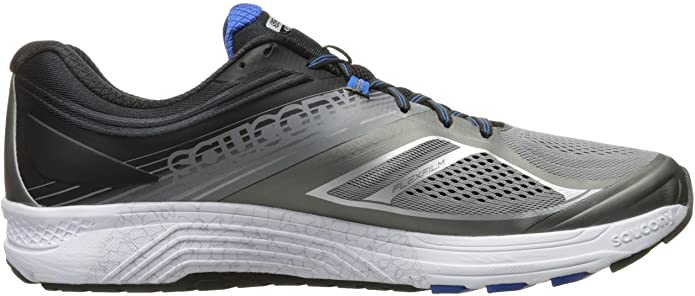 Similar to the other Saucony shoes on this list, these shoes are a game-changer. They feature EVERUN technology and they are not only good for plantar fasciitis but also support mild walking issues such as overpronation. The Saucony Guide 10 provides comfort and stability for people who stand for long hours. These are some of the most stylish sneakers for plantar fasciitis with its elegant colorways and multi-tone design.
The Guide 10 from Saucony is incredibly lightweight and their design, as well as color options, make them stand out while also remaining very comfortable with all the added cushioning. The Guide 10's are a safe bet for any runner, and it's hard to go wrong with a comfortable, stable and balanced shoe that absorbs stress well and keeps you moving without much trouble.
The only glaring issue is that it tends to be a bit narrow, providing a tighter, more form-fitting feel. For many, this may be an issue and a deterrent. Apart from this, again, it is a great pair of runners for those of you with plantar fasciitis or other foot conditions that may stem from it.
These shoes also have a tendency to need to be broken in, so the first few times, it may feel a bit stiffer in the upper as a result, but it will end up conforming to your foot for maximum comfort quite quickly.
Pros
+ Good comfort and shock absorption
+ Sleek design and colors
+ Lightweight and great for long distances
Cons
– Narrow, tighter feel
– Has a breaking-in period
---
8. Brooks Dyad 10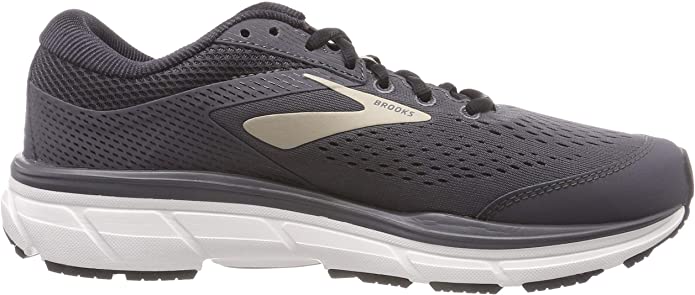 The Brooks Dyad 10 shoes are a classic example of function over form, with a very minimalist design as a sacrifice in favor of great results and comfort. This model puts stability and comfort above all else, with DNA cushioning across the sole and arch pods to increase the stability of your underfoot.
New to the Dyad 10 is a re-engineered upper mesh that is more breathable and flexible than its predecessor. The shoe is also more spacious and lightweight and it gets the job done at the end of the day.
Of course, conversely, if you're one who doesn't want to sacrifice style and needs a lifestyle shoe, there is much left to be desired with the Brooks Dyad 10. They are minimalist, lack good colorways, and don't go out of their way to be glamorous or awe-inspiring shoes.
They also may be a bit hard to get the right size for, and it is recommended you go a size up just in case rather than be left with a very constricted shoe you'll have to replace. But at the end of the day, if you're a no-nonsense runner who simply wants a shoe that will alleviate plantar fasciitis' aches and pain, the Dyad 10 has you covered.
Pros
+ No BS shoe that is effective for plantar fasciitis
+ Minimalist look
+ Relatively affordable pricing
Cons
– Lack of colors
– Not true to size
---
9. Altra Escalante 2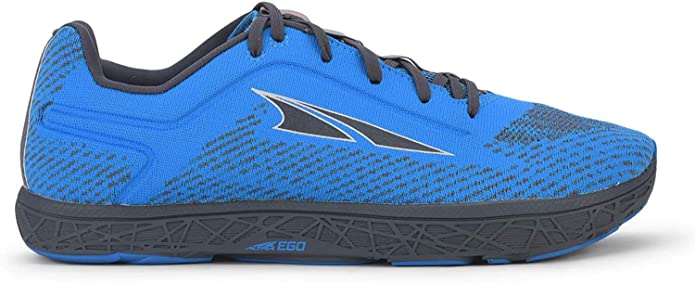 Another shoe by Altra makes our list, this one is similar yet distinct from the previous Torin design. It features a wide toe box, signature of the Escalante line, giving your foot plenty of room to move while still providing the firm support needed for your fascia band. They are ideal for road running, cross-training, or of course just mild running or walking. The midsole consists of Altra EGO technology with an arch footpod support – mapping the bones and tendons of your foot to help it move more naturally and with ease.
Altra EGO is a dual nature midsole with a responsive yet soft feel for increased energy return upon receiving shock-impact, and both these technologies woven into the Escalante make it a great pair of running shoes for plantar fasciitis.
They are affordable, effective, and attractive, simply put. The only real knock against these shoes is the fact that they are simply not well equipped for harsh conditions like sharp edges or rugged terrain. The shoes also don't perform quite as well for quick turns and darting motions. The soft upper makes it a less than ideal experience in those situations, and though these are solely advertised for smooth surface use, it should be noted that using them in situations that have a lot of lateral force isn't ideal.
Pros
+ Great comfort and design
+ Aesthetically pleasing upper
+ Good for plantar fasciitis and other conditions
+ Very affordable
Cons
– Feels bulky and not ideal for lateral movements
---
10. ASICS Gel-Nimbus 21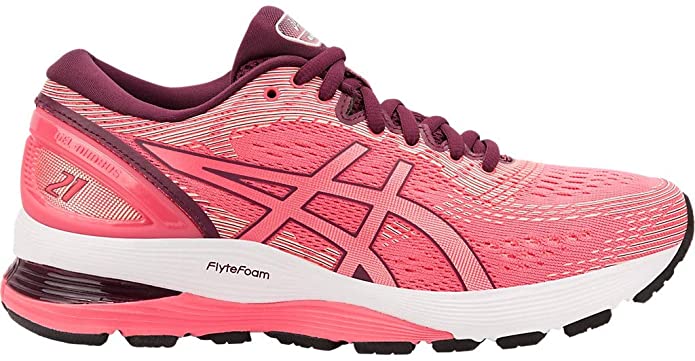 The Gel-Nimbus is another ASICS design to make it onto our list, with their Flytefloam/Fluidride midsole technology doing much of the legwork. The midsole provides the ultimate combination of bounce back and cushioning qualities while also reducing the weight of the shoe without compromising its durability. It is incredibly responsive, utilizing its organic super fibers built in to reduce packing out that happens with lower density, softer foam midsoles.
Essentially, when you have the Nimbus 21s on, you'll experience comfortable propulsion each time your foot hits the ground, and exert less stress on your fascia band. The colors this shoe comes in are almost unending, so you won't be disappointed in the looks department.
The drawback the Nimbus 20's have is that the toe box can be quite narrow, so if you're the type of person who prefers a wider toe box section, or needs it because of your foot's shape, it is better to get the Gel Nimbus 21 in a wide or extra-wide option.
Pros
+ Midsole is great for supporting those with plantar fasciitis
+ Aesthetically pleasing design with a wide array of colors to choose from
+ Responsive engineering top to bottom
+ Good price-to-performance ratio
Cons
– Smallish toe box
– Narrow fit
---
Conclusion
To conclude, we've covered a wide variety of shoes that should be able to scratch your running itch while also not sacrificing your health and wellbeing while dealing with inflammation in the fascia band.
Each of these shoes has its strengths and weaknesses, but they were all chosen with the main goal in mind being that they help alleviate some of the issues that arise when you have plantar fasciitis. In that way, you really can't go wrong with any of the above recommendations, and you should pick the one you like the most.
If you prefer style, we have given stylish and awesome alternatives. If you're more for comfort and function and care less about making a statement, there are a few shoes here too that match that desire. We also have an entire article dedicated to plantar fasciitis sandals, if that's something you fancy.
In the end, the choice is yours and specific to your needs, but rest assured that every shoe on this list will be able to meet the most basic need for comfort when dealing with plantar fasciitis.