What is Plantar Fasciitis?
In the most basic terms, Plantar fasciitis is what is known as the inflammation of the fascia tissue band that runs across your foot – from heel to toe. Symptoms of Plantar fasciitis are the following: acute pain in the heel area, noticeably worse after being stagnant for a while, and typically feeling better after the foot is active once more. It is also noticeably more painful when you've been on your feet for too long.
The Fascia tissue itself is the support mechanism for the muscles and arch in your underfoot. When it is overstretched or overused, small tears are common along its surface, and these tears are what causes the pain and inflammation in the area.
How Sandals Help With Plantar Fasciitis
While a plantar fasciitis shoe may be appropriate in a lot of situations, sandals offer the benefit of being very quick to put on and being open-toe, offers a lot in the way of ventilation. Sandals are ideal when you're visiting the beach, park, or even when going out for a quick shopping trip.
With that in mind, our top 12 list of the best sandals for plantar fasciitis is focussed on the primary objective of alleviating the negative effects of plantar fasciitis. Sure, the styles might be different to suit different needs but the core principle remains the same.
We'll have the list broken down in the following way: 4 unisex sandals meant for both genders, and then 4 sandals for men and another 4 for women. We'll cover their individual technical aspects – midsole, upper, and outsole, as well as their overall comfortability and pros and cons to help you decide for yourself which pair is right for you.

---
1. OOFOS "OOahh" Sport Sandal (Unisex)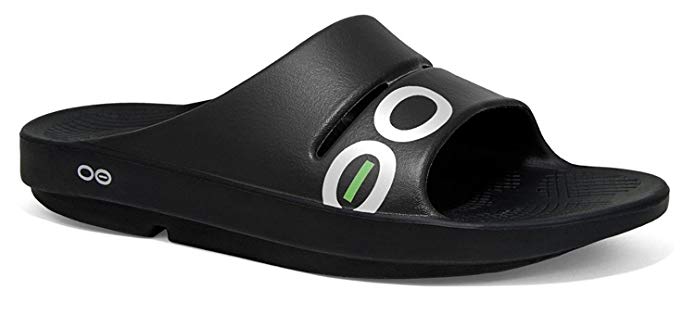 At the top of our list is the OOFOS Unisex OOahh sandals, which are a highly sought after pair of sandals from a brand well known for their shoe designs aimed at treating plantar fasciitis. These are 100% synthetic sandals meant to look equally good on men as well as women. Most importantly, these sandals are designed by podiatrists to help those of us who suffer from chronic pain as a result of plantar fasciitis.
The insole is made of specialized foam, dubbed the OOfoam recovery technology by the makers, that absorbs up to 37% more impact than traditional footwear foam. The OOFOS Sports sandal features a patented footbed that cradles your arches to reduce stress on your sore feet. It is also machine washable and designed to support your foot and guide it to a natural and ergonomic way of moving. The closed-cell foam of the soles minimizes odor and floats in water, for those of you who intend to take your sandals out to the beach.
With that in mind, there are a few drawbacks, in that there are no half-sizes available thus far, and the sandals themselves tend to run a bit large. The material used feels rubbery and that texture might not be the most pleasing to some. But bear in mind that these sandals are meant to last despite their looks and these are by far the best sandals for plantar fasciitis in terms of function and affordability.
Pros
+ Designed by podiatrists to combat plantar fasciitis
+ Packed with tech that improves your foot's comfort
+ Affordable pricing
+ Lightweight and odor-free
Cons
– No half sizes
– Made out of rubbery material that some might not appreciate
---
2. Birkenstock Arizona Sandal (Unisex)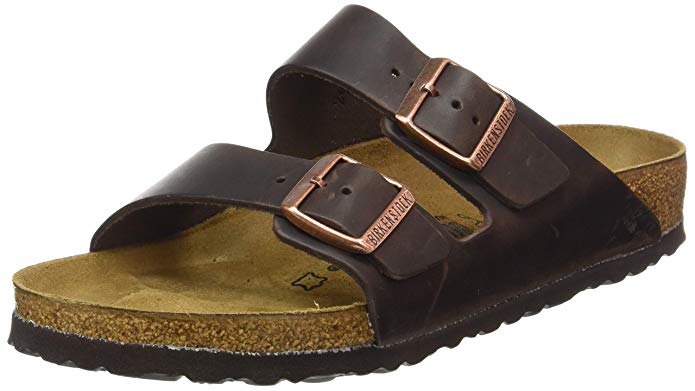 A well-renowned brand with a tried and true design comes in next. The Birkenstock Unisex Arizona sandal is a stylish yet comfortable sandal that is also recommended for sufferers of plantar fasciitis. The design is a simple two-strap "Birko-Flor" with the traditional Birkenstock cork footbed. This footbed is not only made to mold to your footprint and provide comfort in the areas you need it most, but also helps the foot sit in a comfortable position.
The soft molding supports the arches and back of your heels, very tender spots for those with plantar fasciitis. The lightweight EVA sole is also great for extra cushioning and shock absorption. They also come in a variety of sizes and have options for narrow or wide feet. The Birkenstock Arizona is constructed from 100% leather, so you know you'll get nothing but a comfortable walking experience.
My only two gripes with this sandal are that they look bulky and you pay a brand-name price. Regardless of these drawbacks, the Birkenstock Arizona sandals are made from the highest quality materials and have an average rating of 4.5 from 8,000+ reviews on Amazon. These are the best sandals for plantar fasciitis in terms of construction quality and durability.
Pros
+ Cork footbed molds to your foot
+ EVA sole is great for shock absorption
+ Quality leather construction
+ Quite a few color combinations to choose from
Cons
– Relatively expensive price tag
---
3. ECCO Yucatan Sandal (Unisex)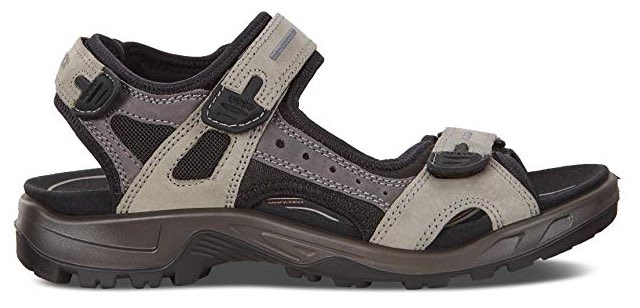 Next up is a sandal from another equally well-known brand – ECCO. The ECCO Yucatan sandal comes in both men and women's variants. It features a Leather/Synthetic upper, rubber sole, and is crafted with a premium nubuck leather with a three-point adjustable strap for a soft yet comfortable and firm fit. The textile lining of the Yucatan also provides a soft and cushioned experience while also allowing for great moisture control.
The footbed is anatomically molded to mimic our natural foot in order to create not only a comfortable all-day fit but increased flexibility. The Yucatan features both ECCO FLUIDFORM and RECEPTOR technology, ensuring a finely tuned balance of cushioning, rebound and durability as well as mirroring human motion and providing walking stability and efficient push-off respectively. These are a great pair of plantar fasciitis walking sandals overall because of it's great traction and rubber outsole, especially if you have a sensitive foot from plantar fasciitis.
A few of its issues include the fact there is a lack of half-sizes, it tends to run a half size small, and some people might not like its bulkier aesthetic. Its pricing is middle-of-the-road, not truly expensive yet not terribly budget-friendly.
Pros
+ Comfortable design for plantar fasciitis.
+ Well designed and firm upper support
+ Pricing is middle of the road
Cons
– Bulky design, some may appreciate a more subdued look
– Size runs small and no half-sizes available
---
4. Vionic Wave Flip-Flop Sandal (Unisex)

The final unisex sandal of this list, the Vionic Wave sandal is a great option for both men and women who suffer from plantar fasciitis and need good arch and support without it costing them an arm and a leg.
These affordable pairs of sandals feature nylon weaved upper, durable rubber outsole, and is podiatrist-designed, featuring a biomechanical orthotic footbed with a deep heel cup to help keep your feet aligned in a natural position.
This is something the Wave shares with a slew of other Vionic designs, with a signature footbed certified by the APMA and clinically proven to help ease the pain of plantar fasciitis as well as other foot conditions. The design is aimed to bring up your arches and keep your feet from falling inward while you're in motion. There is also extra space in the toe-box to allow for extra comfortability.
The only serious issue with this pair of sandals is the fact there is a bit of a breaking-in period, and that the sandals tend to run a bit wide.
Pros
+ Built-in orthotic arch support for plantar fasciitis
+ APMA certified, designed by podiatrists
+ Affordable pricing
+ Variety of colors
Cons
– Break-in period required to get the best experience
– Runs a bit wide, for those who prefer narrower sandals
---
5. KEEN Newport Sandal (Men's)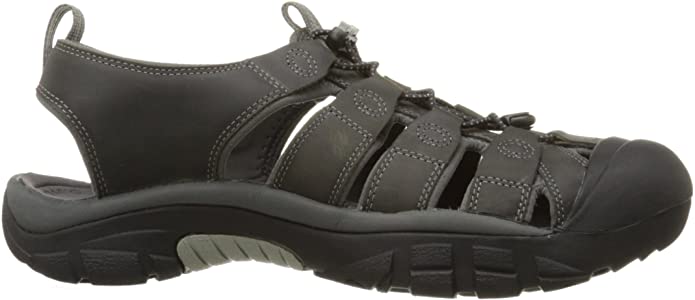 The first sandal up for men is the KEEN Newport sandal. This is a completely unique design, a pull-on sport sandal with a quick-draw bungee lacing system, quick-dry, PFC-free upper with a toe guard to prevent stubbing. The sole is also siped for better grip on wet or slippery surfaces. The Newport's come with a great durable leather upper and internally it features a soft breathable fabric to keep your upper comfortable.
It features an anatomically correct footbed that aims to be supportive as well as comfortable, being able to be worn throughout the day without any issues like your plantar fasciitis acting up. If you plan on getting wet or dirty, the sandal is reasonably covered, protects your toes with a toe guard, and has a very well made and grippy outsole, so you won't have to worry about the terrain you're on compared to other sandals.
There are few issues you can run into with the Newport men's sandals, primarily the unconventional look, which may be off-putting to some, as well as the fact you may heat up a bit more compared to a more exposed sandal design, and finally, they tend to run small so you'll need to purchase a half size up. Overall, a very solid sandal for plantar fasciitis that also fits the niche as a pseudo-shoe for those who like to go out in the rough.
Pros
+ Comfortable and soft upper
+ Anatomically correct footbed aids your fascia tissue
+ Relatively affordable
Cons
– Unconventional look
– Runs half size small
– Can heat up faster than other sandal designs
---
6. Drew Warren Leather Sandal (Men's)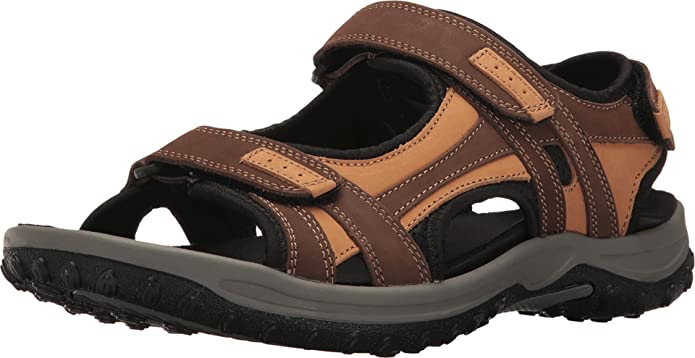 The second men's design we present to you is the acclaimed Drew Shoe design by Andrew Warren, aptly named after him: the Drew Shoe Warren Leather sandal. This is a shoe that has orthotics in mind, and its top priority is to make sure your foot is comfortable and well-supported. It is a hiking sandal with three-point adjustable Velcro hook-and-loop fasteners at the toe, instep, and the heel, which provides you with ample support and a snug fit.
The Warren's are incredibly soft and roomy, especially in the forefoot. The ULTRON footbed is graciously cushioned and offers metatarsal support, while also being able to accommodate custom orthotics. It goes without saying this shoe is designed for and ideal for extreme foot conditions. Finally, it is lightweight and features a tempered shank for increased stability.
As for its drawbacks, it is clearly a well-made shoe but it also comes with a serious price tag. You're really paying for quality with this pair, and also paying for function over form, since these aren't the most stylish on the market. They are minimalistic and have very few color options. This is the ideal sandal for someone who only cares about alleviating the pain of their plantar fasciitis and not so much about going on the red carpet.
Pros
+ Well designed, top to bottom, for plantar fasciitis and other foot conditions
+ Can house custom orthotics
+ Lightweight
Cons
– Basic design and lack of color options
– Rather expensive
---
7. Chaco Flip Ecotread Flip-Flop Sandal (Men's)

Chaco's philosophy has been fit, function, comfort, and quality when it comes to their footwear. They prefer to make shoes and sandals that can be repaired when broken instead of being sent into a landfill. The Ecotreads don't disappoint, by mixing the comfort of an outdoor strap sandal and the ease of a flip flop. The sole is made of a polyurethane composition that is meant to last and be incredibly durable yet flexible. The toe post is durable and ensures that the sandal will stay together for a long time to come.
The Ecotread also features LUVSEAT sole technology that is proven clinically to reduce pain from serious foot conditions such as plantar fasciitis. Building upon the idea of footwear that is reusable, their sandal is comprised of 25% recycled rubber as well as allowing for all aspects of the shoe to be customized to match your unique style. If that isn't enough, you can add specifications to your order so that your sandals meet your needs and desires right out of the box.
This sandal isn't without shortcomings, though as it tends to run small, those with taller arches may find the straps to be tight, and the tread can wear down over time and need to be replaced.
Pros
+ Environmentally friendly
+ Proven effective for plantar fasciitis
+ Affordable
+ Customizable
Cons
– Runs small
– Tread wears down over time
– Straps may be constricting for those with taller arches
---
8. OLUKAI Ohana Sandal (Men's)

The OLUKAI Ohana sandals are a great synthetic and vegan-friendly alternative for those with plantar fasciitis. They have the durability, traction, and support you expect while using 100% high-quality synthetic materials with absolutely zero animal products.
It features an anatomical compression-molded insole with EVA midsole and ICEVA drop-in footbed for a more personalized fit. The outsole is made of non-marking rubber with a coral reef lug design for added grip and sticking to their theme.
The issue with Ohana's maybe the fact that you might need to order a size up, as they run a little small, the strap design is also not always ideal for everyone and finally that the footbed is slightly slippery when wet so you ought to be careful.
Pros
+ Eco-friendly
+ Supportive EVA and ICEVA sole and footbed
+ Designed to get wet and remain no-slip
Cons
– Runs a bit small, might need a size up
– Strap may be irritating to some people
– Slippery footbed when soaked
---
9. Vionic Rest Paros Sandal (Women's)

First up in the exclusively women's sandals dedicated to plantar fasciitis is the Paros Sandal by Vionic. This is a stylish and comfortable pair of sandals that are a great option for almost any occasion, provided it isn't the dead of winter. These sandals have superb arch support for your fascia band, as the sole is well cushioned all around. It features an inch rocker bottom as well as a rubber sole with high traction thanks to its patterned tread, keeping you stable on all surfaces.
Inside there is a smooth microfiber-covered footbed with an EVA midsole for extra flexibility. It absorbs shock, reduces stress on the feet, ankles, and knees. The Paros, like many other specialized sandals, has orthaheel technology that supports your heel and makes sure that any foot issue you have, including plantar fasciitis, is properly taken care of.
The only serious issue with these sandals is the fact that they are typically a bit harder to find for a reasonable price, and their selection of colors and styles are also in limited quantity, as a result, it can be quite a challenge to pick these up in the exact color and size you really desire.
Pros
+ Orthaheel technology for your plantar fasciitis
+ Comfortable and fashionable design
+ Worn to any occasion
Cons
– Difficult to find the exact color/size combination for a reasonable price
---
10. KEEN Whisper Sandal (Women's)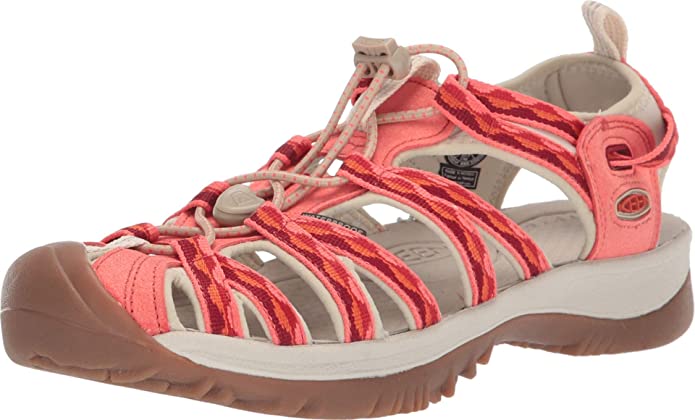 The Whisper Sandal by KEEN is similarly unique to the previous KEEN model for men. It has a bungee-lace capture system, with elastic cording giving you a snug and secure fit. It had hydrophobic mesh lining and a compression-molded EVA midsole. KEEN also implemented a Metatomical footbed design, a form of internal support that is anatomically engineered to provide excellent arch support and cradle your foot naturally, a perfect form of support for plantar fasciitis.
The Whisper Sandal is also easy to manage, being machine washable using a small amount of detergent, as well as being waterproof. Easily the most astounding aspect of these sandals is the sheer range of color options available to you. They seriously have everything.
The only serious issue with these sandals is the fact that all these different colors aren't being made uniformly, but in different factories in different parts of the world, leading to a lot of them fitting erratically.
Pros
+ A plethora of colors available
+ Metatomical footbed helps plantar fasciitis and other conditions
+ Easy maintenance
+ Affordable
Cons
– Erratic sizing
---
11. Taos Trulie Wedge Sandal (Women's)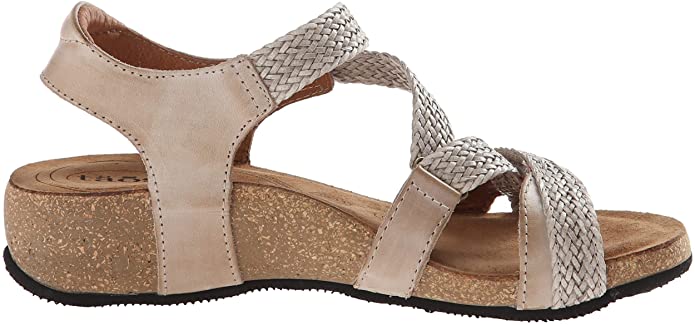 Easily some of the best casual-wear sandals for women who suffer from plantar fasciitis or have sensitive feet in general. Unlike the sandals thus far, this features a pronounced heel at 1.5 inches, elevating your heel and sloping your foot down gently. This assists your natural gait and shifts the pressure away from the arch of your foot. The Trulie also features an adjustable hook-and-loop strap that allows for comfort but also ensuring superb levels of snugness so you don't feel loose in them.
The footbed is lined with suede for extra comfort and comprised of cork to allow for extra comfort and eventually, with wear, the sole will conform to your foot shape for maximum comfort and ease. Finally, it has great metatarsal support by having a raised pad to help support your transverse arch and provide cushioning for the ball of the foot.
As for the aesthetics, you'll find them to be quite interesting and grounded in earth and nature, while also being available in a variety of colors.
There are a few hitches with the Trulie, though, that cannot go unnoticed. Namely, they are fairly expensive compared to the other female or unisex sandals on this list, likely because of the premium leather and suede used in its creation. Another problem is that some customers feel it got worn down faster than normal and that they tend to run on the shorter and narrower side.
Pros
+ Very stylish
+ Features great sole support overall, including metatarsal pad
+ Wide variety of colors
+ Can be worn anywhere
Cons
– Runs a bit short and narrow, given its design
– Can be worn down quickly if worn frequently
– Relatively expensive
---
12. Skechers Reggae Trailway Flip-Flop Sandal (Women's)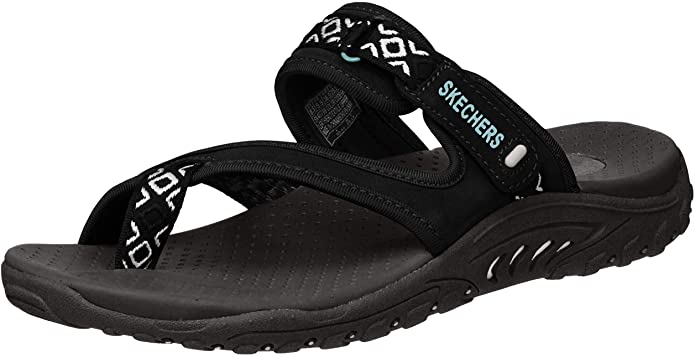 Our last sandal of the list, the Reggae Trailway Flip-Flop by Sketchers are a godsend for women with foot conditions. These are amazing sandals with orthotics in mind, with astounding reviews from women with problems ranging from general foot pain to ankle injuries to plantar fasciitis.
These sandals are a mix of leather and textile, feature EVA rubber sole and a custom-designed footbed for increased comfort. There is also an instep strap with an adjustable side hook-and-loop closure to allow for an increased degree of comfort and grip to your foot when you wear them.
Some of the Reggae Trailway's issues are the fact that is doesn't have a very wide selection of colors, nor is it particularly feminine. It could very well be unisex in design. Some might also not like the strap design, but apart from this, it is a comfortable and affordable option for women with plantar fasciitis.
Pros
+ Comfortable
+ Tried and true design
+ Affordable
Cons
– Lacks color variety
– Strap might not be to everyone's taste
---
Conclusion
In summary, we've covered a wide selection of sandals for both men and women. Every pair of sandals on this list has its own strengths and weaknesses, and for the most part, the only huge difference comes down to design choices and aesthetics, since all these pairs of sandals are great for dealing with plantar fasciitis in 2022. Additionally, running shoes for plantar fasciitis are another option if you're looking for something more protective.
If you are experiencing a lot of unusual pain, it is highly recommended to visit a doctor first since you may have some other underlying conditions other than plantar fasciitis. Having said that, you can't really go wrong with any of the sandals on this list and get a head start on comfortability and dealing with such a sensitive yet important condition.