What is Plantar Fasciitis?
Plantar fasciitis is the condition that causes a stabbing pain in the heel area which usually occurs in the morning. This condition is quite common and is caused due to the inflammation of the plantar fascia tissue that runs along the bottom of your foot connecting the heel bone to the toes.
Plantar fasciitis usually worsens with excessive use especially if you're a runner or work on your feet for long hours. It is also prevalent among people who are overweight. Sometimes, wearing the wrong type of footwear can also aggravate or cause plantar fasciitis. This is why proper plantar fasciitis shoes are important to alleviate and minimize this condition.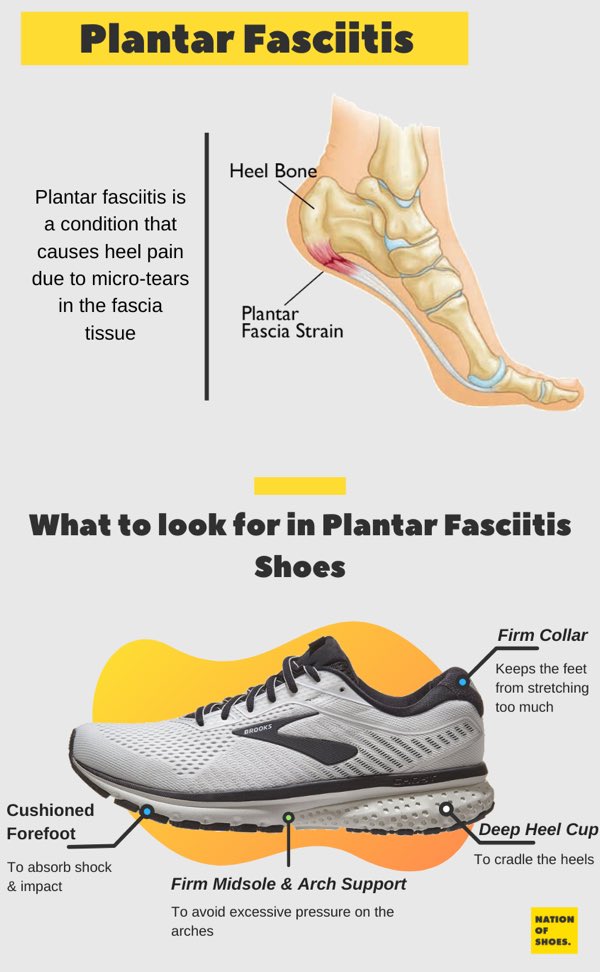 Causes of Plantar Fasciitis
The plantar fascia tissue is responsible for absorbing shock and impact when walking or running. When this tissue is overused, as in the case of runners, micro-tears can occur in the fascia band and cause irritation or inflammation. Some factors can accelerate the cause of plantar fasciitis and this includes:
Obesity: People who are overweight are prone to put more pressure and stress on the fascia tissue.
Age: As with most things related to the human body, with age comes increased risk of causing tears on the fascia band. It is believed that plantar fasciitis is more common among people who are between the ages of 40 and 60.
Excessive Use: People who engage in certain types of exercises that overly stretch the foot (like ballet dancing) or run long distances regularly are more prone to developing plantar fasciitis.
Certain types of jobs: People who work long hours on their feet are at risk of developing plantar fasciitis earlier than those that work desk jobs – like teachers, line-workers, construction crew, etc
Pre-existing foot conditions: Foot abnormalities like flat feet or high arches are can also cause an early onset of plantar fasciitis. This is due to the fact that an abnormal gait cycle can cause an imbalance in weight distribution and hence, add more stress to the fascia band.
---
Things to look for in Plantar Fasciitis Shoes
With plantar fasciitis, the goal is to find shoes that are both supportive and cushioned. For this reason, it is important to AVOID footwear that has very little cushioning and stability like that of minimalist shoes. The cool and trendy five finger shoes are a no-go since these have less padding, lack supportive midsoles and do very little in the way of dissipating impact forces while walking or running.
On the other hand, it is recommended to buy shoes with the following key characteristics:
Firm Cushioning: It is important to pick plantar fasciitis shoes with extra rigidity and firmness in the midsole. Shoes with rocker bottoms or thick midsoles are usually the ideal choice for people with plantar fasciitis. At the same time, the shoe also needs to have softer cushioning in the midfoot region to discourage heel-striking, which can alleviate heel pains.
Supportive Heel Counter: A supportive heel counter disables your feet from stretching too much and causing pain. A firm heel counter will also stabilize your feet and keep them aligned.
Arch Support: Shoes with adequate arch support is important to cradle your feet, thus avoiding excessive pressure on your arches. Arch support is essential to reduce the overstretching of the fascia tissue.
Deep Heel Cup: Shoes designed for plantar fasciitis will usually sport deep heel cups to effectively protect and cradle the heels from overuse. It is important to avoid shoes with soft and plushy heel support like the Adidas UltraBoost series.
---
1. Brooks Ghost 12 (Running Shoes)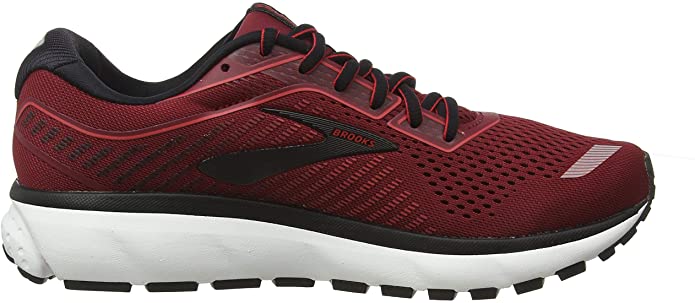 The Brooks Ghost 12 is the latest version of the extremely popular Ghost 11. New in this year's iteration is a decoupled heel platform that works wonders for those with plantar fasciitis as compared to the one-piece unit on the Ghost 11.
The cushioning of this is delivered through a dual-technology midsole called the DNA Loft. This full-length midsole is made from a combination of EVA and rubber. The midsole is lightweight and extremely durable so you won't need another shoe for a few years down the road. The topsole of the Brooks Ghost 12 is manufactured from recycled BioMoGo DNA and accommodates the curvature of the underfoot nicely, which is great for people with plantar fasciitis.
Also present in the midsole are segmented crashpads that absorb most of the impact forces generated from walking or running and keep your feet free from heel pains. The midsole also allows for a more natural gait cycle without being overly constricting. If you require extra firmness, you can always interchange the removable insoles with custom orthotics to suit your taste.
Wrapping up the list of impressive features is the outsole with its blown rubber construction. The rubber compound offers added protection for the midsole from the stresses of running on asphalt. The outsole consists of flex grooves along the forefoot for increased flexibility and torsion while running or walking. The traction of the Brooks Ghost 12 is en-point and precise without adding any extra bulk or rigidity. For this reason, the shoes are great as a daily runner or for use in marathons and long-distance circuits.
The Brooks Ghost 12 is not flawless though. For one, the design is very minimalistic and the colors are very uninspiring. Secondly, the toe-box isn't very roomy and might feel like a tight fit for those who have wide feet. Having said that, the Brooks Ghost 12 is one of the best shoes for plantar fasciitis especially for daily use and running.
Pros
+ Excellent choice for everyday use
+ Smooth and energized transitions
+ Upper breathability is uncompromised
+ Firm cushioning for people with plantar fasciitis
Cons
– Boring colorways
– Toe box might be a bit tight for those with wide feet
---
2. Asics Gel-Kayano 26 (Running Shoes)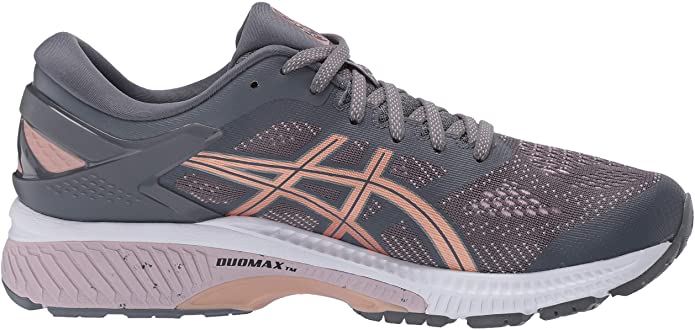 Asics is building upon the success of its extremely popular Gel-Kayano 25 with an all-new open weave upper with better reflectivity so your shoes are more visible at night. The upper is a jacquard mesh that feels very cloth-like, has excellent breathability and fits like a glove.
Asics calls this their FluidFit technology and the upper consists of synthetic fibers that stretch and conform to the movement of your feet. The upper also provides a very soft internal ideal for those who like to wear their shoes without socks. To prevent this cloth-like upper from collapsing, the manufacturer has also integrated the shoe with printed overlays that reinforce and retain its overall structural integrity.
The Gel-Kayano 26 is all about all-day comfort and that wasn't evident from its upper, it becomes more clear when we look at its midsole. The midsole of the Gel-Kayano 26 is made from proprietary FlyteFoam Lyte technology. This cushioning technology makes the midsole lightweight without sacrificing on cushioning. The midsole provides stellar levels of support and cushioning with a good balance of firmness and softness.
The midsoles on the Gel-Kayano 26 are also made from organic nanofibers, so it's more environmentally friendly for those that are conscious about their carbon footprint. Moreover, there is a GEL cushioning wedge that is placed under both the forefoot and heel areas for increased stability and impact-mitigation. It is for this reason that the Gel-Kayano 26 is equally good for people with flat-feet as it is for those with plantar fasciitis.
To further cement its reputation as one of the best shoes for plantar fasciitis, the midsole consists of a dense Dynamic DuoMax foam in the midfoot region for the appropriate levels of firmness and stability.
When it comes to the outsole, the shoe uses AHAR (Asics High Abrasion Rubber) to make them durable and good for daily use. Strategically placed flex grooves also improve the overall flexibility and make for an amazing in-foot experience.
Unfortunately, the Asics Gel-Kayano 26 does two minor drawbacks. Firstly, the shoelaces had a tendency to becoming undone while running or hiking. Secondly, the shoes run a bit bigger in size and it is recommended to get half a size down for an optimal fit.
Pros
+ Dual-density cushioning combines both firm and soft foams
+ Great for people with both plantar fasciitis and flat feet
+ Highly breathable cloth-like upper
+ Reinforced outsole for daily use
Cons
– Shoelaces are prone to become undone
– Runs half a size bigger than standard
---
3. Hoka One One Bondi 6 (Walking Shoes)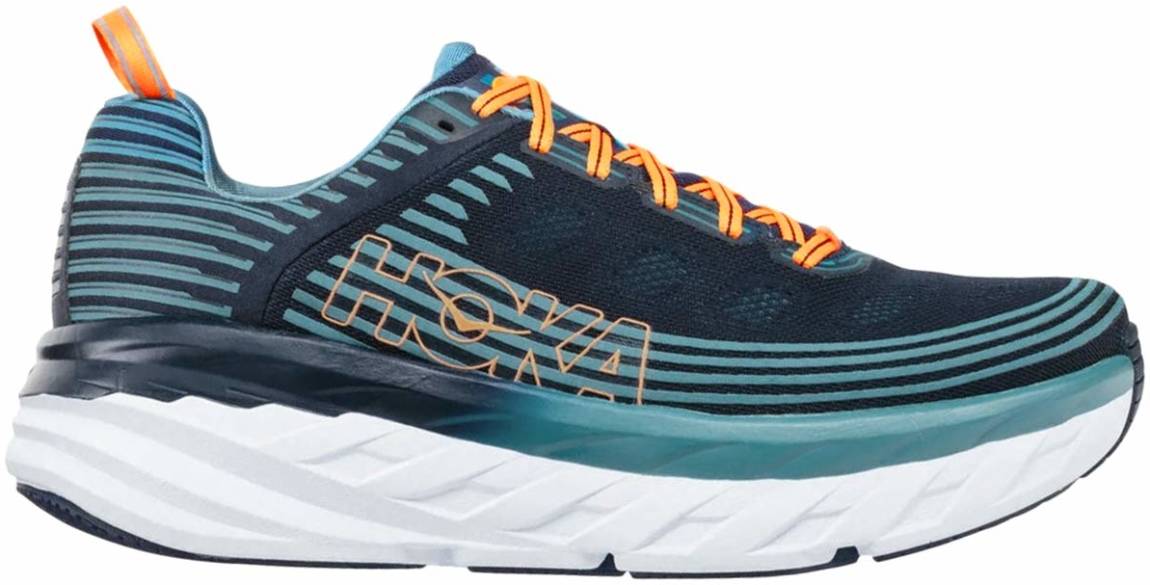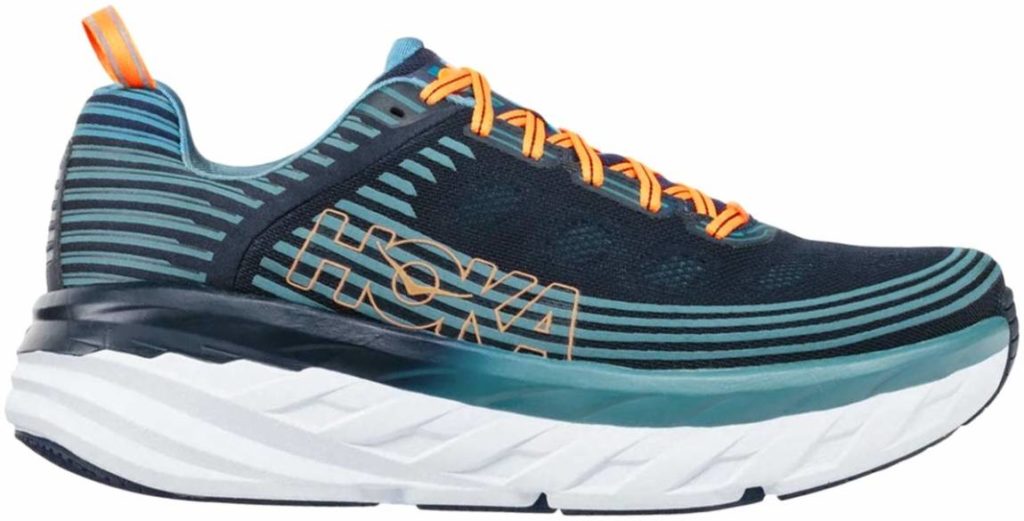 When it comes to extreme levels of cushioning and support, very few shoes meet that criteria like the Hoka One One Bondi 6. These shoes sport a rocker design that glides the feet into a natural gait cycle. The thick midsole does an amazing job of absorbing the impact forces exerted by the ground and spreads them evenly across the foot.
The Bondi 6 runs true to size and also comes in medium and wide sizes. The thick midsole of this shoe is made from soft EVA foam, but don't be fooled by that. The midsole is actually more on the firm side and does not feel mushy at all – which is a good thing for people with plantar fasciitis.
The outsole unit on the Bondi 6 is covered in a lightweight rubber compound in key areas that experience the most wear and tear. The outsole is fairly thin in an effort to reduce the overall weight of the shoe, but this doesn't impact the durability of the outsole. Finally, the upper of the Bondi 6 utilizes an engineered mesh and an open-weave design to increase airflow and breathability while maintaining a moisture-free internal.
Unfortunately, the shoes can be quite narrow and may not be everyone's cup of tea (or coffee). The only way to remedy this is to get the shoe in wide sizes. But, if you're someone with abnormally wide feet, even that may not be enough. Also, the tongue on the Bondi 6 can sometimes rub uncomfortably against your feet especially if you're wearing very thin socks. Having said that, this shoe is actually quite feature-rich and we can comfortably recommend this as one of the best walking shoes for people with plantar fasciitis.
Pros
+ Helps with heel, back and knee pain
+ Rocker bottom guides the feet into a natural gait cycle
+ Snappy and refreshing colorways
+ Thick but firm midsole for plantar fasciitis
Cons
– Narrow along the forefoot
– Tongue unit can sometimes rub against the foot
---
4. Brooks Addiction Walker (Walking Shoes)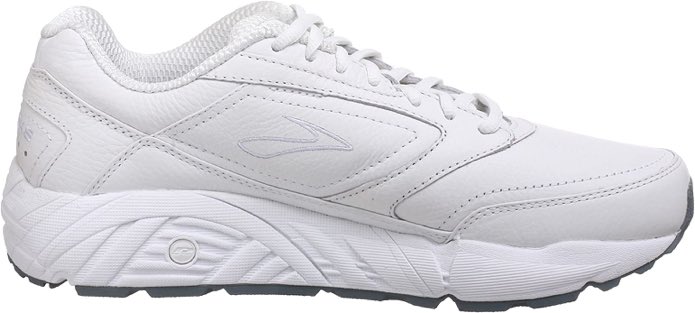 The Addiction Walker is a dedicated pair of walking shoes by Brooks and it's made with all-day comfort as its strong selling point. The Brooks Addiction Walker does a fantastic job of relieving foot and leg pains along with plantar fasciitis and it does so with its sturdy footbed and padded collar.
The Addiction Walker uses the same BioMoGo DNA midsole that you'll find in more expensive top-of-the-line running shoes. The cushioning stays intact months down the line and does not lose its firmness or stability. The midsole also has PDBR technology for arch support to guide your feet from landing to toe-off.
The outsole on the Brooks Addiction Walker comes with an ASTM-certified non-slip grip. This compound is excellent for those who work for hours on their feet. The forefoot area of the shoe has MC Pods for attenuating ground impact.
Moreover, the upper is made from full-grain leather to deliver a premium-feeling walking shoe. The upper is soft and durable as one would expect from quality leather products. The inside of the shoe is filled with a plush lining for an extremely comfortable in-foot experience and snug fit. The Brooks Addiction Walker is also fairly priced given its impressive set of features and build-quality.
If a lace-up enclosure is not your thing, these shoes also come in a strap variant. Having said that, we did find the included laces to be a bit short to get a custom fit. In terms of quirks, the Addiction Walker does look and feel bulky, and the outsole is prone to squeaking when walking on linoleum floors. Other than that, we really can't fault the Brooks Addiction Walker especially given its affordable price point.
Pros
+ Quality materials and construction used
+ Soft plush lining for comfortable in-foot experience
+ ASTM certified non-slip soles
+ Sturdy and durable midsole
Cons
– Looks and feels clunky
– Squeaky soles
---
5. Skechers Glides Calculous Slip-On (Men's Work Shoes)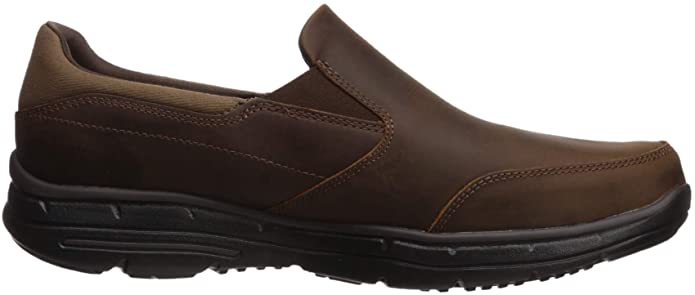 It is equally important to wear work shoes geared towards plantar fasciitis especially for people who work long hours on their feet. Skechers is a brand that is a market leader when it comes to making quality work shoes. The Glides Calculous by Skechers is a slip-on style work shoe that provides style, support, and all-day comfort.
The shoe consists of gel-infused memory foam that gives both support and stability while maintaining a high level of cushioning. Apart from that, the midsole provides ample amounts of shock-absorption while being fairly light. The Glide Calculous also consists of a moisture-wicking insole, and along with the gel-infused midsole, your feet will stay cool and dry regardless of how long your shift may be.
On top of this, the outsole is fairly grippy and packs a good amount of traction. And as for the upper, it's made out of smooth oiled leather to give it a rugged and worn-out look. With use, the upper unit does develop a nice patina and is fairly easy to wash and maintain.
The Glides Calculous is also easy to put on and take off for those that work a busy schedule. Unfortunately, they are not very long-lasting and do come apart if you put them through rigorous use. But, these shoes are inexpensive compared to other work shoes and for this price, you can't really go wrong.
Pros
+ Affordable price
+ All-day comfort for plantar fasciitis
+ Lightweight design
+ Sleek leather upper
Cons
– Durability takes a hit with extensive use
---
6. Dansko Emma Sneaker (Women's Work Shoes)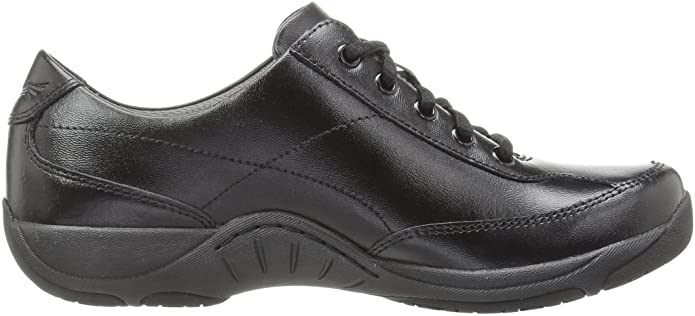 Next up for plantar fasciitis work shoes are the Dansko Emma sneakers for women. These are minimalistic, 100% leather construction work shoes that are not only easy to maintain but can take quite a beating regardless of what you throw at it.
The upper is adequately ventilated and does a good job of keeping your feet cool and well-ventilated throughout the day. The Dansko Emma does come with some bulk, but it's not something that feels too overbearing. The design of these shoes offers optimal support for your ankle while also being flexible and not inhibiting your range of motion. For further support and cushioning, there is a removable sockliner that maintains its shape and rigidity weeks after use.
The outsole on the Dansko Emma is slip-resistant, so it is ideal for people that work on slippery surfaces. The only drawback with these shoes is that some might find it too bulky due to its multi-layered midsole cushioning.
Pros
+ Versatile work shoes
+ Slip-resistant outsole
+ 100% leather construction
+ Minimalistic styling
Cons
– Bulky design due to multi-layered construction
---
7. KEEN Targhee II (Hiking Shoes)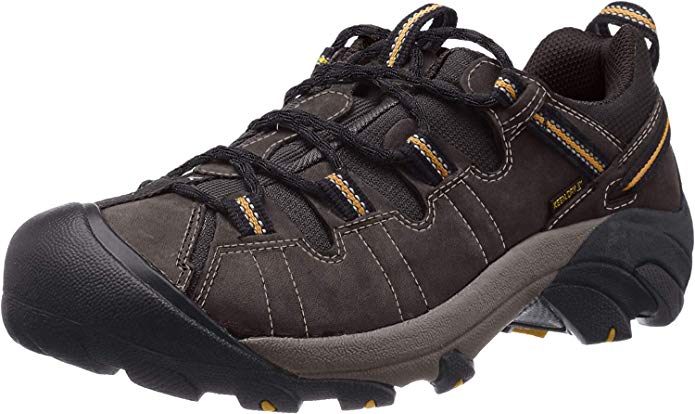 When it comes to hiking with plantar fasciitis, it is essential to wear the proper footwear to protect your feet from uneven terrain and rock bruising. The Keen Targhee II is a hiking shoe for people with plantar fasciitis and its build-quality is impressive none-the-less. It is made of 100% waterproof nubuck leather on the outside and soft cushioning on the inside.
The Keen Targhee II is a low-cut hiking shoe, but they're also available in mid-top variants for added ankle support. The leather lining of these shoes is decent when it comes to breathability to ensure your feet are moisture-free. There is also a wide range of colors available to choose from so it's not a shoe that is boring in any way.
As for the midsole, there is a dual-density compression-molded EVA foam footbed to keep plantar fasciitis in check by adequately protecting and supporting your feet. There is also a noticeable arch and good ankle support to keep you on your feet while traversing the off-beaten path.
The only two issues with this shoe are the fact that the shoes run half a size small and the quality is sometimes hit or miss where some users have reported having used these for years, while others report claim that theirs broke down within a few months. Our sample pair did last us a fair bit and even after 6 months of use, the only noticeable damage was the scuff marks along the upper when I had gone zip-lining in Thailand.
Pros
+ Packs a firm and protective midsole
+ Waterproof leather upper
+ Rugged design
+ Variety of colorways
Cons
– Runs about half a size small
– Inconsistent durability, so YMMV
---
8. Birkenstock Arizona (Sandals)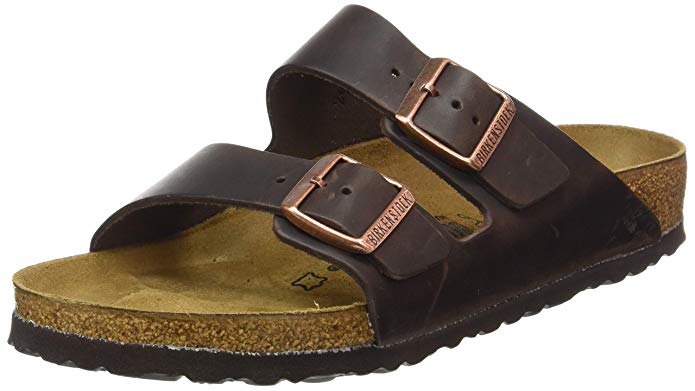 There are some people who absolutely hate the looks of the Birkenstock sandals and some that love and swear by it. Regardless of which camp you belong to, there is no denying that Birkenstock makes some of the highest quality footwear on the market and their jaw-dropping price-tag is evidence of that.
The Arizona by Birkenstock is an extremely comfortable pair of sandals with soft molding to support the heel and a lightweight EVA sole for cushioning and impact absorption. The signature Birkenstock cork footbed is engineered to mold to the shape of your feet and provide comfort in the most critical areas of your feet's underside.
True to its price tag, the Birkenstock Arizona is made from 100% leather so these sandals are not just comfortable, but they last an ungodly amount of time. Truth be told, I still use my Birkenstock sandals that I bought 9 years ago! Sometimes I wish the damn thing will rip already so I can use that as an excuse to buy another pair.
As far as designs go, as I'd previously stated – you either love it or hate it. The Arizona sandals sport a clean two-strap adjustable design to hold your feet in place. Having said that, my only gripe with these sandals is their high price, but as the old adage goes – you get what you pay for!
Pros
+ Cork footbed is extremely cushioning
+ Quality construction all around
+ Highly durable and lasts a very long time
+ Clean and simple design
Cons
– Get ready to pay a hefty price
---
9. OOFOS "OOahh" Sport (Sandals)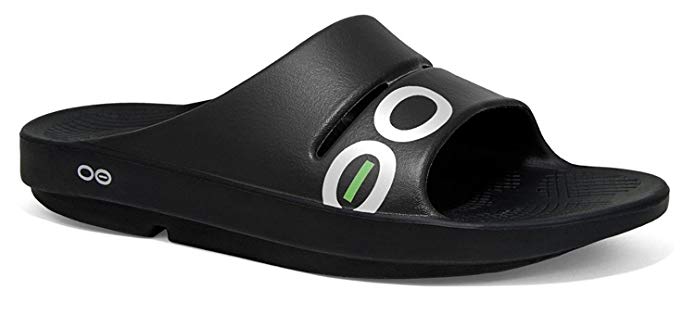 The OOFOS Sport Sandal is a 100% synthetic purpose-built sandal that is meant to look good on both men or women. Looks aside, these sandals were designed by podiatrists to alleviate pains related to plantar fasciitis.
The cushioning is delivered via the OOfoam recovery technology that is engineered to absorb 37% more impact forces compared to traditional EVA foam. On top of this, the OOFOS sandals also carry a patented midsole that perfectly cradles the arches and provides ample amounts of support and cushioning.
The sandals do a good job of relieving pressure and stress while in motion, and the closed-cell foam eliminates odor and moisture buildup. They also float in water, so there's no need to be worried if you decide to take them to the beach. The OOFOS sandal is also machine washable and easy to maintain given its synthetic construction.
With that in mind, the very same synthetic construction might feel a bit cheap for some who are used to leather footwear. The material does feel rubbery and the texture can be a bit rugged. Also, the sandals don't come in half sizes (for now) and they run about a size larger than normal. So, it's recommended to get a full size down for an optimal fit.
Pros
+ Podiatrist-designed for plantar fasciitis
+ Floats in water
+ Lightweight and affordable
+ Stiff and supportive midsole
Cons
– Rubber construction doesn't have a soft feel
– Tend to run a full size larger than normal
---
Conclusion
We've tried to include every type of footwear for those that suffer from plantar fasciitis. Every shoe on this list has its strengths and weaknesses, and it mostly boils down to looks and some additional features. If you're a runner who happens to suffer from heel pains, we have a dedicated buyer's guide that includes a host of plantar fasciitis running shoes for your reading pleasure.
At the end of the day, shoes are the easiest and least invasive method for dealing with plantar fasciitis compared to surgical procedures. Depending on your lifestyle, you will find a shoe on this list to match that lifestyle. It ultimately comes down to your personal preferences, so stay safe and healthy!