What is Plantar Fasciitis?
Plantar fasciitis is the condition that causes a stabbing pain in the heel area which usually occurs in the morning. This condition is quite common and is caused due to the inflammation of the plantar fascia tissue that runs along the bottom of your foot connecting the heel bone to the toes.
Plantar fasciitis usually worsens with excessive use especially if you're a runner or work on your feet for long hours. It is also prevalent among people who are overweight. Sometimes, wearing the wrong type of footwear can also aggravate or cause plantar fasciitis. This is why proper plantar fasciitis shoes are important to alleviate and minimize this condition.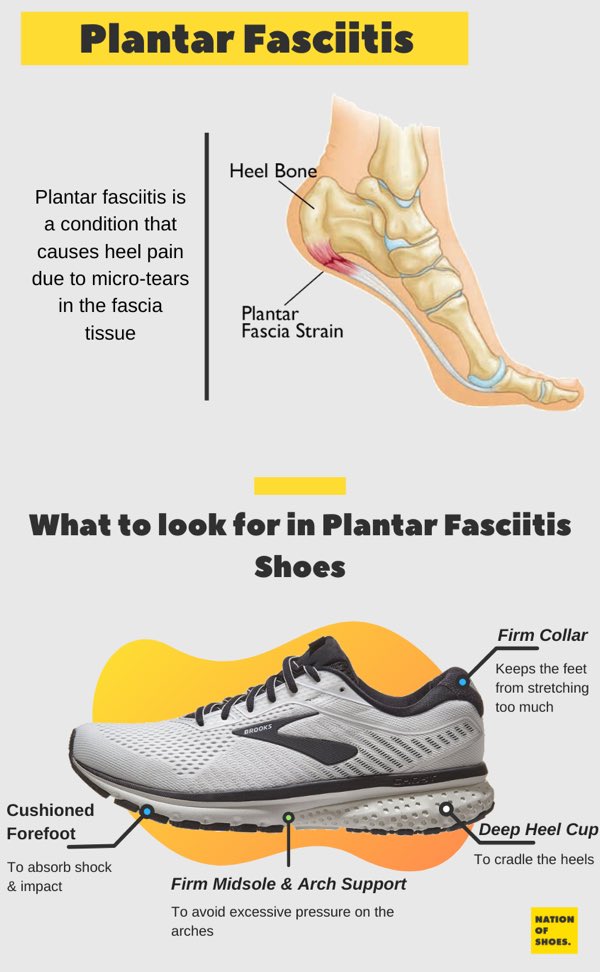 Causes of Plantar Fasciitis
The plantar fascia tissue is responsible for absorbing shock and impact when walking or running. When this tissue is overused, as in the case of runners, micro-tears can occur in the fascia band and cause irritation or inflammation. Some factors can accelerate the cause of plantar fasciitis and this includes:
Obesity: People who are overweight are prone to put more pressure and stress on the fascia tissue.
Age: As with most things related to the human body, with age comes increased risk of causing tears on the fascia band. It is believed that plantar fasciitis is more common among people who are between the ages of 40 and 60.
Excessive Use: People who engage in certain types of exercises that overly stretch the foot (like ballet dancing) or run long distances regularly are more prone to developing plantar fasciitis.
Certain types of jobs: People who work long hours on their feet are at risk of developing plantar fasciitis earlier than those that work desk jobs – like teachers, line-workers, construction crew, etc
Pre-existing foot conditions: Foot abnormalities like flat feet or high arches are can also cause an early onset of plantar fasciitis. This is due to the fact that an abnormal gait cycle can cause an imbalance in weight distribution and hence, add more stress to the fascia band.
---
Things to look for in Plantar Fasciitis Shoes
With plantar fasciitis, the goal is to find shoes that are both supportive and cushioned. For this reason, it is important to AVOID footwear that has very little cushioning and stability like that of minimalist shoes. The cool and trendy five finger shoes are a no-go since these have less padding, lack supportive midsoles and do very little in the way of dissipating impact forces while walking or running.
On the other hand, it is recommended to buy shoes with the following key characteristics:
Firm Cushioning: It is important to pick plantar fasciitis shoes with extra rigidity and firmness in the midsole. Shoes with rocker bottoms or thick midsoles are usually the ideal choice for people with plantar fasciitis. At the same time, the shoe also needs to have softer cushioning in the midfoot region to discourage heel-striking, which can alleviate heel pains.
Supportive Heel Counter: A supportive heel counter disables your feet from stretching too much and causing pain. A firm heel counter will also stabilize your feet and keep them aligned.
Arch Support: Shoes with adequate arch support is important to cradle your feet, thus avoiding excessive pressure on your arches. Arch support is essential to reduce the overstretching of the fascia tissue.
Deep Heel Cup: Shoes designed for plantar fasciitis will usually sport deep heel cups to effectively protect and cradle the heels from overuse. It is important to avoid shoes with soft and plushy heel support like the Adidas UltraBoost series.
---