Do You Need Plantar Fasciitis Insoles?
In its most basic terms, Plantar Fasciitis is an inflammation of the thick band of tissue, your fascia, located at the bottom of your foot. This band supports the muscles in your foot as well as your arch. When this band is stretched too much, you can develop small tears on the surface, bringing about pain and eventually even bony heel spurs.
A great way of dealing with this issue, healing your fascia band, and preventing further damage, is to wear supportive insoles in your day-to-day shoes. That is where this article comes in. Here we will list to you what we believe to be the 10 best insoles for plantar fasciitis to try when it comes to dealing with plantar related pain and discomfort. Alternatively, you can also buy dedicated shoes for plantar fasciitis if insoles are not your thing.

1. Spenco Total Support Original Insole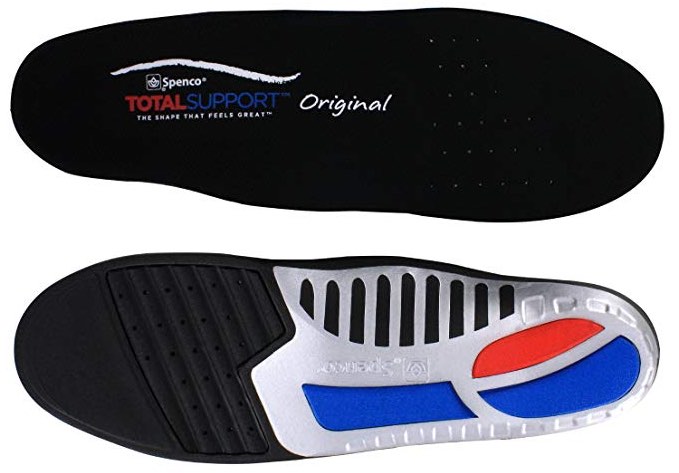 First up is the Total Support Original Insole by Spenco. These insoles feature a 3-POD modulation system, placing pods with a varying degree of hardness underneath key areas of the foot and hence altering the impact forces from reaching the foot during intense activities. This, in turn, tunes the walking experience to reduce certain foot conditions like overpronation, lower body pain, and plantar fasciitis.
The Spenco Total Support insole has semi-rigid orthotic arch support to improve stability and it is wear-moldable, with a full-contact comfort fit. There is also a PolySorb stability cradle for arch support compounded by metatarsal arch support which offloads pressure from the ball of the foot to the midfoot. Total Support Original insoles also have a forefoot crashpad to provide extra ball-of-the-foot support and smooth toe-off experience.
The major drawbacks of this insole lie in the fact that there is a bit of a break-in period associated with the first few weeks of wear, and despite their relatively cheap cost, if you find yourself dissatisfied with their feel or perhaps got a wrong size and want to return them, you are unable to return them if you buy it from anywhere other than Amazon. Regardless of these shortcomings, the Spenco Total Support is one of the best inserts for plantar fasciitis at a budget-friendly price.
Pros
+ Modulation system improves the walking experience
+ Excellent support for plantar fasciitis
+ Stability cradle provides arch support
+ Budget-friendly option
Cons
– Needs to be broken in
---
2. Tread Labs Pace Insoles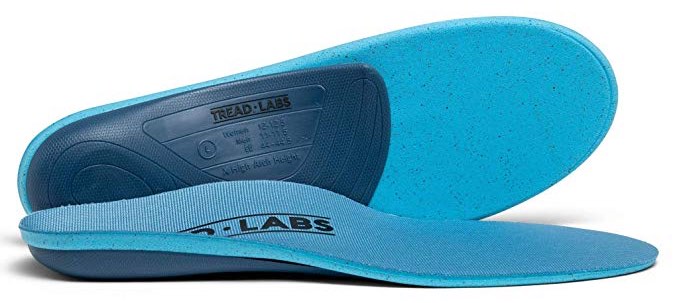 Part of Tread Labs' pain relief series, the Pace insoles are aimed at alleviating common foot ailments like plantar fasciitis through strong support. They offer such support via different arch heights, that you pick to match your foot's natural contour. The insole provides firm support rather than cushioning as they believe that real pain relief comes from firm support created by medical professionals rather than soft foamy inserts that don't help the root cause.
By creating four different arch types to choose from (low, medium, high, extra high), you are able to better customize your insole experience to match your foot's unique needs. Whether your foot is high off the ground when you stand or it's totally flat when on the ground, you have options to remedy your plantar fasciitis specifically and not deal with a one-size-fits-all approach. The arch support material is made of PolyPro+, and the top is an interchangeable cover. The covers are 3D molded high rebound polyurethane foam, has antimicrobial treatment as well as created with recycled polyester fiber.
One of the only few drawbacks of this very customizable insole is that it is a bit on the more expensive side compared to other options on the market currently. But, for this price, you do get the manufacturing standards from a company with 30-years of experience in foot biomechanics. And to really prove that they make a quality insole, Tread Labs backs their plantar fasciitis inserts with a million-mile guarantee. This reason alone makes this one of the best insoles for plantar fasciitis.
Pros
+ Firm support for plantar fasciitis
+ Different arch heights allow a customizable experience
+ Comes with a Million-Mile guarantee
Cons
– Relatively expensive compared to other options
---
3. Protalus M100 Max Series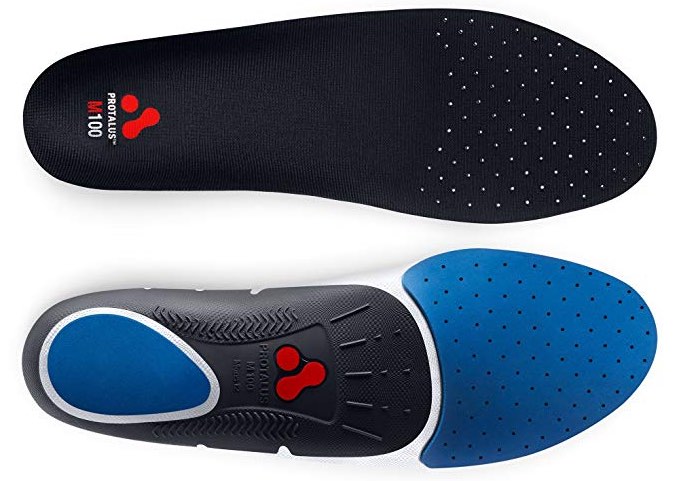 These insoles by Protalus aim to align your body by supporting the subtalar joint, therefore preventing unnecessary stress on your feet, ankles, knees, and lower back. By realigning your feet properly, your foot's natural efficiency in stride improves greatly, helping reduce inflammation and pain experienced by plantar fasciitis or heel spurs.
The M100 series provides you with a combination of high-quality materials to produce great impact reduction as well as high moisture-wicking capabilities so your feet never feel too stuffy or sweaty while walking with these insoles slipped in. The M line by Protalus also denotes that it is meant for sporting, wide shoes and large feet, so if you find that you'll be doing a lot of sporting or simply have wide feet that need the extra space and support, the M100 Max is a good option given that it caters to those needs more so than a narrower insole.
Similar to the other insoles mentioned, the problem the Prolatus M100 faces is the fact that it is a bit on the expensive side, and becoming a bit harder to find, especially at a discounted price. While there might not be anything particularly wrong about the insole itself, the budget required to purchase it may be a barrier to entry for some.
Pros
+ Firm realignment support for plantar fasciitis
+ Good impact reduction and moisture-wicking fabric
+ Meant for wide feet and sporting activities
Cons
– Relatively high price
– Becoming harder to find online
---
4. Sof Sole Plantar Fascia Insole
This insole, as the name implies, is Sof Sole's answer to pain resulting from stress placed on your plantar fascia band. It features a Plantar Relief Bridge to provide you with sturdy support for your arches, as well as gel cushioning in the heel to disperse the heel-strike impact and soothe your heel spurs.
The aforementioned relief bridge is comprised of a durable composite Nylon Arch plate, and it gently soothes the Plantar Fascia to create a smooth and therapeutic walking experience in any shoe you put these insoles into. It is a ¾ lengths insole able to fit most types of footwear, and it is ideal for casual occasions like walking, running, or even work for extended periods of time. These also come with a year-long warranty as they are meant to last and if that expectation isn't met, you can return them at any time.
The only significant issue with these insoles is the fact that they aren't full length, and in some shoes or with some feet, have a tendency to move around and need to be held in place by other means than just the shoe frame itself. Apart from that, these are one of the best inserts for plantar fasciitis from a reputed brand. These are one of the best insoles for plantar fasciitis for those who don't require a full-length insert.
Pros
+ Has Plantar Relief Bridge to alleviate pain from Plantar Fasciitis
+ Fits most types of shoes, meant for any occasion
+ Full-year return policy
Cons
– Not full length, ¾ size may not be compatible with certain shoes or foot types
---
5. Physix Gear Sport Orthotic Insoles
Physix Gear Sport is a growing brand in the footwear industry, with its full-length Orthotics for plantar fasciitis being very popular among consumers in recent months. It's no wonder why these are a great pair of insoles for those of you with foot conditions including Plantar Fasciitis. The Gear Sport has a robust arch support system that serves as a balance for the force created by your foot in motion, and it is designed to be very soothing for sensitive foot-conditions.
The material used is high quality, medical-grade EVA foam and PU material. They feature a deep heel cradle as well to improve your stability when walking. They are a low profile and ultra-thin design, so you can slip these into most any shoes you have to deal with the pain of plantar fasciitis. On top of that, they are so confident in their design that if you contact them for a replacement or refund, you will be guaranteed satisfactory service no matter the issue.
The only complaint there is about the Gear Sport from Physix is that there is a little less cushioning on this model than other mainstay orthotic insoles on the market, and as such, if you're used to a really cushioned experience, these will be a rude awakening when breaking in. For those of you who simply don't care about a bit of extra padding and just want to have a low-profile insole that deals with your Plantar Fasciitis effectively, though, this is a solid option.
Pros
+ Designed to support your arch with high seating
+ Top-quality construction
+ Durable and long lifespan
Cons
– Cushioning is a bit lacking compared to other insoles
---
6. ProFoot Plantar Fasciitis Insole
Next up is the ProFoot Plantar Fasciitis insole, which is an orthotic that is specifically designed and clinically tested to fight many of the issues and symptoms associated with Plantar Fasciitis, including inflammation, burning sensations, or arching pain in your heel area. ProFoot patented their revolutionary arch design that was made to support the entire Plantar Fascia and transfer the pressure away from your sensitive and painful heels via a deep heel cup that cradles your foot and provides it with support and stability to distribute weight evenly during movement.
The Gel heel is great for absorbing shock on top of weight distribution and the rest of the insole is made with VitaFoam XD – a top-quality foam that helps gently seat your foot in place. This model is an APMA accepted shoe inserts for plantar fasciitis, and with that qualification comes the credibility to back up these claims of rectifying various degrees of heel pain.
The main issue with this insole is that it is a ¾ length insole and that means it will leave room in the toe box more than likely. If you are someone who needs support on the ball of your foot, and not just your heel, then you should consider an insole that is full length. With that said, you're free to give it a try, and if you are not satisfied, they guarantee a full refund or replacement upon returning your pair.
Pros
+ Clinically proven insole design
+ APMA accepted orthotic
+ Specifically designed for those with Plantar Fasciitis
+ Good return policy
Cons
– ¾ length means that there is little to no support for the forefoot or ball of the foot
---
7. Speedfeet Sport Gel Insoles
Created from a combination of silicone and gel that gently cushions and comforts your heel area, these insoles are great if you are dealing with any kind of heel pain. These plantar fasciitis shoe inserts are also covered in velvet to give it a soft, smooth feel to it that your feet will definitely enjoy as much as your hands.
The velvet liner also helps prevent buildup from perspiration as a result of long sessions of activity, which in turn prevents any excessive friction or possible blistering, which can be a serious problem when you have Plantar Fasciitis. The form of this insole, similar to Speedfeet's other products also helps reaffirm good walking posture and gait, meaning that wearing these insoles will also help towards rectifying or avoiding other prominent foot conditions associated with plantar fasciitis.
While there are a lot of positives to this comfy design, there are a few glaring flaws, such as the fact that the gel is rather squishy meaning that in some cases you may feel a bit of shifting inside your shoe, as well as the fact that some have reported "leaks" from the gel, likely due to excessive and unusual applied force to the pad. If you value comfort and a smooth feeling for your feet, these issues are something to look out for but aren't actually dealbreakers.
Pros
+ Superb comfort for your Plantar and heel
+ Supportive design
+ Relatively budget-friendly
Cons
– Bit "loose" feeling in some shoes because of the gel
– Some have reported the gel to leak
---
8. LLSOARSS Orthotic Insoles
These Orthotics by LLSOARS are a semi-rigid yet firm pair of insoles for plantar fasciitis that helps mitigate pain and discomfort. They feature two layers of foam, which lend to cushioning your most important and sensitive areas, namely the heel and arch. The insoles also have a top fabric that is coated with an antimicrobial layer. This antimicrobial helps to prevent foul odor from building up after a long day of work, run, or exercise, by eliminating the bacteria that would create this odor from your built-up perspiration.
The heel area features an additional layer that not only adds to the comfort for your foot but also supports it even better than it otherwise would by lowering the impact of heel-strikes upon moving. These insoles are meant to be supportive and helpful in dealing with Plantar Fasciitis, budget-friendly, and also to be used in almost any situation as they are both low profile and low volume, so they can fit in almost any kind of shoe for any kind of occasion. LLSOARSS also offers a full refund for those of you who may be unsatisfied in the future.
The drawback with these insoles is apparent from just looking at them though – they're very low profile. If you're a person who needs a lot of padding or expects it from their insoles, these insoles by LLSOARSS are a bit lacking. When it comes to additional padding, there is very little beyond the arch, and this is likely due to the design choice by LLSOARSS to have it be minimalistic, affordable, and to-the-point.
Pros
+ Lightweight and comfortable
+ Supportive in the heel and arch area
+ Affordable
Cons
– Extra padding is a bit lackluster
---
9. Footminders Comfort Orthotic Insoles
The penultimate insoles on our list are the Comfort Orthotics by Footminders. These insoles are to the point – firm arch support and cushioning. These are the two foundations that were being considered when these insoles were being designed, to provide pain relief and comfort respectively. The Footminders orthotics are made of a medium-density EVA, making it supportive yet 'giving' at the same time.
They were initially designed by podiatrists as a pain-relieving arch support system, and with the intended use for lace-up sports shoes as well as work boots. It is ideal for those of you who like to run, walk, or have to stand for long periods of time. On top of providing pain relief for Plantar Fasciitis, these insoles also aim to properly align your lower body via its deep heel cups that stabilize your ankles and foot in place.
These pairs of insoles by Footminders also come with a money-back guarantee as well as a discount of 10% for future purchases. In typical fashion, these insoles are coated with bacteria-resistant material and coated with an antimicrobial to make sure that there is no problem when it comes to heat or sweat buildup.
The only issue with these insoles is the fact that there is a bit of a breaking-in period associated with them. Despite the quality, craftsmanship, and research that went into the production of these shoes, Footminders was able to not compromise functionality or durability when it came up with such an affordable price, as a result, it is hard to knock on these insoles for much else.
Pros
+ Firm arch support and cushioning
+ Durable and long-lasting EVA
+ Developed by podiatrists to meet the needs of Plantar Fasciitis
+ Affordable pricing
Cons
– Need a few days to be broken in
---
10. Vionic Orthaheel Full-Length Relief Insoles
These shoe inserts by Vionic are made to relieve pain associated with Plantar Fasciitis, as well as being not so oppressive as to only be worn with certain shoes. In many cases, especially with custom orthotics, it can be a hard time juggling low volume and low profile with function and capability.
The Vionic Orthaheels do just that and are suited for those of you who suffer from Plantar Fasciitis but still need to work long hours, exercise, hike, or run. The way these insoles help deal with Plantar Fasciitis is all in the sole, as they have an increased arch support design to help avoid those flat, fallen arches and reduce the inflammation and soreness that comes with Plantar Fasciitis.
They are made of completely synthetic materials and their claim to fame is being able to be used with most dress shoes! There is also a gel disc in the heel cup to provide additional relief on top of the increased arch support.
Similar to a few other options on this list, the Vionic Orthaheel's are also prone to a break-in time. Ideally, you wear these, or other insoles, in with a few hours a day of non-serious use for a week, so that your feet can have an easier time getting used to them, and by the time you need them for all-day use, they'll be broken in and blend well with your feet without problems.
Pros
+ Comfortable, quality orthotic
+ Low profile, can be used in most shoes
+ High arch and gel disc to help alleviate Plantar issues
Cons
– Needs a break-in period when fresh out of the package
---
Conclusion
To conclude, having Plantar Fasciitis can be a devastating condition than makes you wince at the idea of standing up and walking around, but there is hope! The insoles listed here should give you the much-needed comfort and support for your fascia band to recover and not feel quite so sensitive in the long run. While we recommend just about any of these insoles, it is up to your own personal discretion and budget on which pair you choose to purchase.