Being a Chef is a tough and demanding job requiring not just careful attention to the food being prepared, but also standing or walking for up to 13 hours a day in a hot and crowded kitchen. Add to that, the hazard of slipping or falling due to an oil spill, and it becomes evidently clear that the best chef shoe not only has to contend with slippery surfaces but also provide cushioning, support and stability to the Chef himself.

Gordon Ramsay stands at 6'2″, but wears a size 15 shoe!
The shoes reviewed on our list are some of the best chef shoes on the market and are capable of providing last comfort and durability. It is important to note that there are certain safety standards that shoes must meet to be allowed in a commercial kitchen. A lot of the times, people overlook this and wear their street sneakers, which I really don't recommend.
1. Merrell Encore Gust

The Merrell Encore Gust is an excellent shoe that makes a great kitchen companion. These shoes are made from a full-grain leather upper (so none of that cheap faux stuff) with a soft fabric lining. A removable EVA insole makes this pair easy to clean and maintain, while the slip-on design is easy to take on and off without having to wiggle your foot in.
In terms of the midsole, these are the best shoes for chefs when it comes to softness thanks to its padded collar and compression molded EVA midsole which feels supple and plush even after using them for 12+ hours straight. The outsole comes with Merrell's trademark Encore 2 Sticky Rubber sole to give you that needed traction and non-slip grip for wet kitchen floors.
The Merrell Encore Gust also contains the Merrell Air Cushion technology in the heel for shock absorption and stability. Not all are amazing with the Encore Gust though. The leather upper developed creases only after a few days of use. Also, the sizes run large and if you have narrow feet, you might want to consider going down 1/2 a size for optimal fit.
With that being said, the toe-box is also sufficiently roomy for adequate room to maneuver your toes around. All in all, these shoes should definitely be on your list if you're looking for a workhorse pair of kitchen shoes.
Pros
+ Made from premium quality full-grain leather
+ Extremely plush and comfortable footbed
+ Easy slip-on design
+ Extra cushioning for stability and shock absorption
Cons
– Leather upper creases very easily
– Sizes run large. Recommended going down 1/2 an inch
---
2. Skechers Flex Advantage McAllen

Skechers is a brand that makes some of the most comfortable work shoes and is worn by a large number of people that work in the service industry. The Skechers Flex Advantage McAllen is no different and features Skechers' signature memory foam insole and soft fabric lining to keep your feet pampered throughout the day. A synthetic and slip-resistant outsole keep you planted firmly on the ground for those long work hours in the kitchen.
The mesh upper is stretchy and minimalistic without going overboard on flashy colors. In fact, this shoe is quite low-profile and I rather liked its muted design elements. The shoes have a slip-on padded collar further emphasizing the importance of comfort. Unfortunately, the same can't be said for its durability and the treads on the outsole started coming off only after a few weeks of use.
The upper and sides also started to fray and showed very visible signs of wear and tear. There is also some heel slippage and if you're someone with narrow feet, it's best to go half a size down. All in all, the Skechers Flex Advantage SR McAllen is one of the most comfortable work shoes out there if you're prepared to overlook its obvious durability issues.
Pros
+ Upper is stretchy and conforms to your feet
+ Relaxed fit feels great for long hours of use
+ Very comfortable footbed
+ Stylish with a low profile design
Cons
– Plagued by durability issues
– Treads come apart with use
– Wide around the ankles causing heel slippage
---
3. Mozo Finn Slip-Resistant

Mozo is one of those underdog brands that make a solid pair of work shoes that are affordable, built like a tank and surprisingly comfortable. These shoes are insanely durable and sometimes you'd just wish they'd break down so you can buy a new pair of shoes. The gel insoles are sufficient in providing a cushioning ride for those long work hours and an internal heel counter takes care of the support and stability.
The full grain leather upper feels soft and supple – not something often found in work shoes. Slip-resistant outsole grips pretty well with little wear or tears on the treads. If you buy the high-top version of these shoes, you get additional ankle support, but what would you possibly need ankle support for in a kitchen environment?
The shoes themselves are narrow and if you have wide feet, you might want to go up half a size for a comfortable fit. A break-in period is also required as with most leather shoes and once broken in, they do feel great! And being that they are full-grain leather (and not the synthetic stuff), they need to be better maintained for longevity.
Pros
+ Incredibly durable
+ Water-resistant full-grain leather upper
+ Trendy looking shoes
+ Slip-on design despite the laces
Cons
– Requires a break-in period
– Shoes are narrow. Recommended going half a size up
---
4. Crocs Specialist Vent Clogs

The Crocs Specialist Vent Clog is a workhorse of a shoe that can take a beating in any kitchen environment. The metatarsal area of the clog is made from thicker materials to protect the top of your foot from spills etc. The patented Croslite footbed conforms to the shape of your feet creating a customized fit. The closed heel design makes it compliant with workplace standards and the heel straps do a good job of keeping your feet in place.
Comfortability is not on par with other contenders on this list, but there are tiny nubs placed strategically along the midsole to increase blood flow and give you that massage-like feeling. Additionally, what makes these clogs stand out is their ease of maintenance. Just rinse them with soap and water and you're good to go.
The vents on the forefoot of the clog do an impressive job of increasing air-flow, but I also found that gunk and scraps of food on the floor tend to get lodged in them and that can be quite annoying. I was also not a fan of the "roomy fit" that the company touted in its literature simple because my feet kept slipping and sliding which caused some blisters.
Pros
+ Easy to clean
+ Open design helps with ventilation
+ Lightweight and flexible
+ Croslite footbed conforms to the shape of your feet
Cons
– Gunk from the floor get into your feet through the vents
– "Roomy fit" caused some blistering
– Not as comfortable as comparative options
---
5. Merrell Jungle Moc Pro-Grip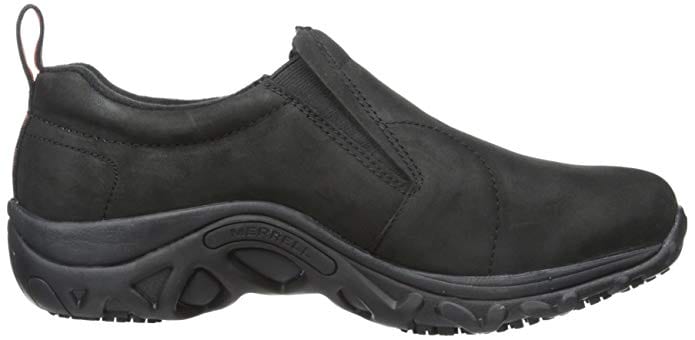 Let's be honest – work shoes are bland, boring and often uncomfortable in an effort to make them meet certain safety standards. A lot of work shoes have stiff and unforgiving midsoles. You can't wear comfortable running shoes in a kitchen either because they're not slip-resistant (hip replacement surgery is expensive) and neither do they meet the above-mentioned safety standards. But, you'll be pleasantly surprised if you were to try the Merrell Jungle Mocs. I've been a fan of Merrell shoes for a long time and they make some of the best durable work shoes that are both stylish and durable.
The midsole on the Merrell Jungle Moc is made from compression-molded EVA foam for enhanced cushioning and the molded soft lining of the insole provides additional underfoot plush. The inside of the shoes also contains odor-fighting technology so you can easily spend 12 hours in them comfortably. If that wasn't enough, the soles on this shoe have air-cushioning to absorb impact shock.
The upper comes in either a leather or suede-fabric variant, but I'd suggest going with the leather since its easier to clean and maintain. The elastic on the upper that helps with slipping on these shoes are just perfect. They're easy enough for me to wear by just standing on them and snug enough to not come off when walking or turning corners quickly.
Not all is perfect with the Jungle Moc though. For one, the soft inside lining starts to come off after a few months of use. Secondly, they can get squeaky at times. But, regardless of these quirks, I'd highly recommend the Merrell Jungle Moc Pro-Grip as one of the best chef shoes you can get on the market today.
Pros
+ Superior build quality
+ Comfortable midsole for standing all day
+ Elastic on upper keeps your feet snug
+ Looks very stylish
Cons
– Can get squeaky at times
– Inside lining not very durable
---
6. SensFoot Slip-Resistant Clogs

The SensFoot slip-resistant clogs are the Crocs-alternative for chefs and cooks. They are manufactured from imported environmentally friendly EVA materials. The clogs themselves are extremely lightweight and weigh less than 0.6 lb for a size 9. The midsole is quite comfortable and I had no problem spending 10 hours a day in them.
I did however not like the fact that they are stiff and don't conform to the shape of your feet. I also found them to be narrow and a bit large on my feet.
But, these clogs are still a good value especially since they're customizable with a removable strap and have side vents for added breathability. The manufacturer claims that these clogs meet the highest level of slip resistance for people working in the service industry and we won't dispute that claim since the non-slip soles held well against our greasy kitchen floor. And performed equally well on a wet linoleum surface.
Bear in mind though that if you're someone with wide or flat feet, these may not be the best chef shoes for you.
Pros
+ Environmentally friendly EVA material
+ Removable straps
+ Durable non-slip outsole
+ Lightweight
Cons
– Narrow fit. Not recommended for people with wide feet
– Sizes run a bit large. Go down 1/2 a size
– Stiffer than crocs
– Lacks arch support
---
7. Skechers Felton Slip-Resistant

The Skechers Felton Slip-Resistant shoe is for those that like a more traditional footwear with a conventional lace design. The rubber outsole is slip resistant and OSHA compliant, and they work really well on both wet and greasy floors. The outsoles are also quite durable for use in the kitchen, but not so much if you wear them outside regularly.
The shoe did come off at the seams around the 6-month mark, but the durability factor may play differently for others. The shoe feels stiff initially and a break-in period is required, but once you get them broken in, they are very comfortable and cushioning.
The faux leather upper has a padded collar and tongue to hug your feet ever so gently. The memory foam in the footbed has the right balance of softness and firmness to give you all-day comfort, while also not sacrificing stability. The soft fabric shoe liner is also a bonus and I've had no problems wearing these without any socks.
The upper isn't really water resistant, but they do an adequate job of protecting you from accidental spills. Also, the shoes are somewhat heavy due to the bulky construction, but if you like lace-up shoes and have wide feet, these are the best chef shoes for you.
Pros
+ Roomy toe box provides a relaxed fit
+ Memory foam in the heel is very comfortable
+ Oil-resistant rubber soles work like a charm
Cons
– Came off at the seams only after 6 months of use
– Bulky construction
– Feels stiff and requires a break-in
---
8. Crocs Unisex Bistro Clogs

Crocs are a staple for any chef working long hours in a busy kitchen. It's understandable why that would be so – they're priced affordably, they're effortlessly easy to maintain, and its slip-on slip-off design doesn't require the most advanced motor skills to use. The Crocs Unisex Bistro might be just what you need if what you're looking for is a cost-effective pair of kitchen shoes without all the bells and whistles.
The Crocs Unisex Bistro isn't exactly the most comfortable of the bunch, and neither are they immune to accidental spills. But, you do get a contoured footbed made of Croslite material that makes this clog both lightweight and durable. The heel strap does an adequate job of keeping your feet secure and though these are not exactly "stylish" looking shoes, you do get the option of customizing your clogs with Jibbitz charms to match your personality.
The synthetic outsole is both durable and slip-resistant to last you a while before needing a replacement. I've used this pair when working at the pizza counter where I know I won't be spilling any hot liquids, but on days when I'm working in the dish pit where I'm dealing with boiling hot water, I pick either of the Skechers models on this list to stay on the safer side.
Pros
+ Affordable price
+ Lightweight and durable
+ Customizable with Jibbitz charms
+ Very easy to wash and clean
Cons
– Not quite as comfortable as competing chef shoes
– Hard to achieve a snug fit
– Not very immune to accidental spills
---
9. Keen Utility Men's PTC Slip-On
The Merrell leather shoes are certainly on the premium end, but there are other shoes of equal quality that chefs might like and the Keen Utility PTC Slip-On is one of them. It features a unique design where the outsole of the shoe wraps up to provide extra protection for the toes against bumps etc. The easy slip-on design is simplistic and does offer sufficient padding to not be irritating on your heel.
The midsole is comfortable and made from compression molded EVA. The company likes to call this patented technology KEEN.Cush which is manufactured from a blend of things like recycled PU, cork and memory foam to contour to the shape of your feet precisely.
The shoes are quite easy to clean and maintain and using a wet towel will not do any harm since they're waterproof. While the company claims the shoes meet the highest specifications of ASTM F1677-96 MARK II and ASTM F2913 SATRA nonslip testing standards, I did find that they do slip from time to time on very oily surfaces and that is its biggest drawback. The other minor setback is that when you use these shoes for a few weeks, the heel portion of the shoes can widen with use and cause heel slippage.
Pros
+ Easy to clean leather upper
+ Durable construction
+ Outsole extends to the toe to provide extra protection
Cons
– Does cause some slippage on very oily surfaces
– Heel part of the shoe widens with use causing heel slippage
---
10. Skechers Women's Sure Track Trickel
Surprising how a women's shoe can be quite so good-looking and comfortable for a guy? Oh, there's no shame in wearing quality women's shoes especially in today's world where everything is unisex. Don't let the "women" in the title fool you, these are a sturdy pair of kitchen shoes for the price especially when you realize that it's constructed from genuine leather. They're also more on the casual side with its lace-up design though it does take some time putting on.
Cooling and breathability on this shoe are really good, thanks to its mini perforated strips on the sides. The rugged construction can take quite a beating and I've had hot liquids fall on my shoes accidentally without causing me any injury. I do really like its more streamlined feature since most work shoes for men are bulky and cumbersome. The FlexSole midsole is flexible and lightweight and has no issues absorbing shock and ground impact. The removable memory foam insoles are cushioned and add an additional layer of underfoot comfort.
Be warned though that since the shoes are made for the tender feet of our womenfolk, sizes do run narrow and you'd have to hop 1/2 a size up for a comfortable fit. And altogether avoid them if you have really wider feet. But, if you do have narrow feet, it would be like stepping into a cloud and your feet will love the arch support no doubt.
Pros
+ Slim and subtle form factor
+ Rugged construction can take a lot of abuse
+ Highly cushioned footbed for all work scenarios
Cons
– Narrow build not recommended for those with wide feet
– Not a slip-on design so does take time getting into
---
11. Skechers Flex Advantage Oxford
Now there's a reason why Skechers appear on our list over and over again. For one, they made incredible work shoes that are packed with quality, value, and comfort. Secondly, they look very stylish and I'm sure a lot of chefs would agree with me when I say that the Skechers Flex Advantage Oxford shoes look very much like lifestyle sneakers and not a boring workhorse. The sleek design is a standout feature from many of the other selections on our list that are bulky and cumbersome to meet various safety standards.
The tennis shoe design of this shoe has a sporty lace-up design and durable mesh panels on the sides for a cooling effect. The memory foam cushioned insoles are gel-infused for additional comfort and can be easily replaced with aftermarket insoles for people with foot conditions like flat-feet or plantar fasciitis. The underside of the shoe is lightweight and flexible to accommodate an extended range of motion. The fit is wonderful and the non-slip outsole holds remarkably well on even the most slippery of surfaces.
The only negatives I can think of the top of my head concerning these shoes are that the treads on the outsole started peeling on the sides after a few months of use and the make a squeaky noise on linoleum surfaces. Other than that, I'd more than recommend these as the best chef shoes for anyone looking to upgrade their style game.
Pros
+ Sport and sleek design
+ Lightweight and flexible body
+ Removable insoles with added cushioning
+ Fits as expected
Cons
– Treads on the outsole started peeling off after a few months
– Narrow fit. Recommended to go half a size up
– Makes a squeaky noise on linoleum surfaces
---
12. Mozo Men's Grind Canvas
Mozo seems to have made it their mission to serve chefs who are also part-time skateboarders. Like the Mozo Finn, the Mozo Grind resemble skateboarding sneakers with the exception of being constructed out of canvas. The Mozo Grind comes in two colors – an all black and a black/white pattern. Best chef shoes if you're looking for a fashionable canvas design.
The canvas upper offers plenty of cooling and ventilation while remaining fairly lightweight and flexible. Being that they are canvas, you should watch out for spills as they are not really waterproof. There is some level of water resistance thanks to a wax coating, but it will wear off with use. The rubber toe cap provides additional protection against bumping your toes on the end of a table. The shoes are moderately durable but the canvas upper frays easily which reduces its durability significantly compared to the leather upper variant.
The slip-resistant outsole is made by Shoes for Crews and holds well on slick and oily surfaces. Though the Mozo Grind looks like a lace-up shoe, elastic goring on the tongue allows for an easy slip-on and slip-off. Gel insoles do help with a good fit but sizes can run a bit big so it's better to order half a size down for those with narrow feet.
Pros
+ Canvas upper is very lightweight and flexible
+ Sleek and sporty design
+ Good slip-resistant outsole
Cons
– Canvas upper frays easily
– Sizes run large. Recommend to go half a size down
– Not very water resistant once wax coating wears off.
---

Things to Consider When Buying Chef Shoes:
Slip-Resistant Outsole: This is the most important requirement. It's imperative that the soles are OSHA compliant and slip-resistant. The biggest hazard while working in a kitchen is greasy floors and slip-resistant shoes are a real life-saver (literally). Even if you don't work in a greasy environment, slip-resistant shoes are definitely better recommended than your normal sneakers. Like all shoes, the outsole on your chef shoes will wear out over time and it's important to replace them every year or so. Proper care of the outsole will also ensure a safe and lasting traction in your work environment. In some cases, gunk and debris from the floor will get clogged in the treads of the outsole causing your shoes to slip and slide. This doesn't necessarily mean that your shoes have become bad, but rather they need a good wash to retain their non-slip properties.
Spill-Proof Upper: Hot boiling liquids and feet don't mix well, unfortunately. The upper on some of the best chef shoes are either made from leather or synthetic material that are highly resistant to heat and water. Genuine leather upper is usually the best choice to go with simply because they feel very soft and comfortable, and they are very easy to clean. The downside to leather is that it requires a break-in period and need extra care compared to their synthetic counterparts. The leather is also not quite as breathable as canvas/fabric uppers and can give you hot feet over a long day's work. Ultimately, it comes down to the user's preference in this regard. For our buyer's guide, we have included leather, synthetic leather and canvas options to fit everyone's taste.
Cushioned Midsole: This is not really a hazard, but it's something that will affect you in the long run. A cushioned midsole prevents achy knees and joints letting you stay on your feet longer. Achy feet don't pose an immediate threat but over the years, you will develop issues with your joints. Foot fatigue can be a serious problem for people who stand all day (like chefs and teachers) and it's for this reason that a highly cushioned midsole will not only provide lasting comfort but also helps in proper shock absorption by distributing it evenly across the surface of the foot.
Slip-On Design: Chefs are busy people. It's good to have something to get into quickly. Wearing slip-on shoes with socks are recommended since the strap that holds the shoe can get annoying and irritating against the skin. Some chef shoes like the offerings from Mozo have a lace-up design but allow for slip-on capabilities via elastic gorings on the tongue.
Fit & Size: You may not think that a shoe slightly bigger or smaller would be no issue, but smaller sizes will start pinching the feet after a few hours of use and larger shoes can cause blisters since your foot is rubbing and scraping on the inside. A good fit will provide lasting comfort and keep away those painful blisters. Fortunately, most shoe manufacturers and online retailers like Amazon these days have a generous return policy so you can send the shoe back if they don't fit your liking.
---
Testing Methodology
As a chef, I strongly believe that you shouldn't feed something to your customers if you won't eat it yourself. Same way, I would not recommend any footwear to my fellow cooks/chefs without me having first tried it myself. Thankfully, I have gone through a lot of kitchen shoes during my time as a chef and I can safely recommend any of the above mentioned. The shoes/clogs on this list are some of my personal favorites and I've spent at least a considerable amount of time in each of them before including them in this list. Believe it or not, when you're working 10-12 hours a day on your feet, footwear should be the last of your concerns.
A good pair of shoes/clogs will make you forget about your joints and feet, and enable you to put amazing dishes on the table. I like to own both a slip-on and lace-up style shoe depending on my mood for the day and just how lazy I am. Slip-on shoes are definitely very fast to get into and be out the door, but they don't fit nearly as well as lace-ups and sometimes it's good to have a snug fit for a long day ahead.
Why it Matters
Just as sitting for a prolonged period of time can be detrimental, standing for extended hours can cause health problems. Around 75% of the world's population spends a significant amount of time on their feet working in industries like agriculture, construction, and the service industry. Prolonged standing can lead to bunions, backaches, cramps, pressure on the joints and muscle fatigue. Not everyone realizes the importance of shoes but good quality footwear will add many more years to your working career.
Just as good chef will maintain and make sure their knives are sharp and smooth, you should also take some time out to properly maintain your footwear and regularly clean them so they continue to serve you as the best chef shoes. At the end of the day, if your feet feel sore and achy, it might be because you're not using proper footwear, or it could be because of other foot conditions like flat-feet which are unrelated to your shoes. For this reason, I suggest you speak to a doctor and follow necessary precautions like using an orthotic insole or specialized shoes built for your condition.
Frequently Asked Questions
1. Do I really need slip-resistant shoes?
Yes, according to health and safety standards set by the US Federal Government to protect workers and create a safe working environment. A lot of new entrants into the service industry will assume that normal street shoes will do – this is partially due to the negligence of footwear safety standards by some restaurants and hotels. But, slip-resistant shoes are needed for anyone who is working in both dry and slippery flooring surfaces.
2. Are all slip-resistant chef shoes the same?
No, not all slip-resistant soles are created equally. Outsoles are tested against ASTM standards by measuring the coefficient of friction in a variety of flooring surfaces both dry and contaminated. At the very least, non-slip shoes must meet ASTM C1028 test method or be able to withstand a 0.5 SCOF (Static Coefficient of Friction).
3. What about spills and other corrosive liquids?
There is no standard that applies separately for shoes that govern spills and other liquids. As a rule of thumb, any synthetic upper will do fairly well against corrosive liquids. Real leather, on the other hand, might peel off depending on the quality of the leather. Canvas uppers will offer some the best level of breathability, but they're not very effective against corrosive liquids. If you're working with corrosive elements, it is best to wear shoes with a synthetic upper.
4. How should I be taking care of my chef shoes?
Leather and synthetic uppers are generally the easiest to clean where a wet cloth will do the trick. Canvas, on the other hand, will require cleaning products to make it look good again. Once washed, let the shoes air dry to have them smelling fresh again. Under NO circumstances should you put your shoes in the dryer as the intense heat can melt the glue holding the shoe together.
5. When should I replace my chef shoes?
It's good to replace your shoes as soon as you start seeing signs of extended wear and tear. What exactly is extended wear and tear? If the outsole is starting to peel away or if the upper has developed a hole, this would usually classify as extended wear. On the other hand, if the insole wears off, this is not usually a concern as you can get more use out of them.