What are Flat Feet?
Flat feet, also sometimes called fallen arches, is a postural abnormality in which the arches of your foot collapse and your underfoot no longer forms a bow-like shape, but instead is flat to the ground. It is not particularly uncommon, and you'll find that it affects roughly a quarter of the population.
Many solutions exist including invasive surgical procedures, but oftentimes, the easiest way to relieve flat-feet is by wearing shoes or sandals meant for flat feet. If you're looking to save more money, you could always get flat-feet insoles and be done with it.
---
How Does it Impact Our Body?
The arch, or bow, of the foot, has a very specific and important role in the way our legs work. The specific form the arch normally takes provides you with an elastic and springy buffer area between the heel of the foot and the forefoot.
Because of this springiness, most of the force you would experience when walking or putting weight on your foot is dissipated before impacting the legs and knees.
This essentially offsets stress and absorbs shock naturally for us and in the long run helping to maintain our overall foot health. With fallen arches, though, this buffer zone no longer exists, leading to pain and the deterioration of leg health, since the knees and lower leg are now getting the brunt of the impact when walking.
If you have flat feet, you'll know exactly what we're talking about, the stinging or pulsing pain after the end of a walk, when it is most noticeable.
---
Sandals for Flat Feet
Fortunately, there is a way to mediate this pain – through the use of footwear that cushions and supports your foot especially well, to make up for this structural deficiency some of us have. By wearing sandals, for example, that provides a bow-like structure and construction in place to lessen the impact of walking or putting our weight evenly across the foot, much of the pain and symptoms associated with flat-feet are simply gone.
This is why finding the right pair of sandals to complement our feet, and help in what we are lacking, is so important, especially for everyday life. In this list, we've compiled what we consider to be the 9 best sandals for flat feet.
Whether you live in a particularly hot place or enjoying the weather by the beach, you shouldn't have to experience the frustration and pain that comes with flat-feet, and have it ruin the activities you're doing, which is where these sandals come in.
---
1. OLUKAI Men's Ohana Sandal

First up are the OluKai Ohana sandals – a vegan-friendly, synthetically produced sandal that works wonders for those of us with flat feet. The Ohana features a water-resistant construction with an anatomically aligned footbed that has a smooth drop-in design.
The footbed is made of a compression-molded EVA midsole with a drop-in ICEVA footbed designed for sustained comfort. Since this shape is anatomically focussed, if you have fallen arches, these sandals will help mitigate some of the pain by emulating an arch, relieving stress, and absorbing shock well.
The outsole of the Ohana is made from a non-marking rubber with a lug style that is similar to the coral reef, not only unique aesthetically but providing you with a solid grip on surfaces. While the OluKai Ohana is great for flat feet given their anatomically correct footbed and pronounced curve, it isn't without its share of flaws.
Firstly, they tend to run a bit smaller than normal – meaning you might need a full size up from your true size to get the best fit. Secondly, the strap design may not be to your liking, as some people can experience discomfort in the web of their feet, or simply prefer a purely horizontal strap with no other anchoring.
Finally, if you get these sandals wet during a normal outing at the beach, you may find that the insoles get very slippery, creating a bit of an awkward walking experience until they dry off. Regardless of these quirks, the Ohana is one of the best flip flops for flat feet given their sturdy construction and comfortable footbed.
Pros
Eco-friendly and vegan alternative
Comfortable EVA midsole and drop-in ICEVA footbed
Ergonomic footbed provides excellent support flat-feet
Non-slip coral reef style lugs
Cons
Tends to run small, best fit may be a full size up
Strap design may be irritating to some
Footbed fairly slippery when wet
---
2. Birkenstock Unisex Arizona Sandal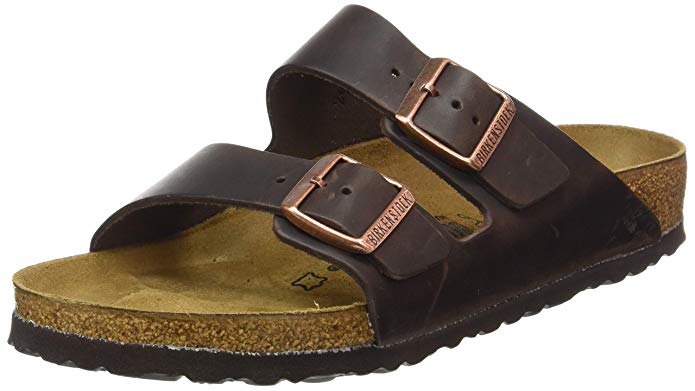 Next up are the timelessly stylish Birkenstock Arizona sandals that are as comfortable as they are simplistic and classy. The design features a synthetic dual Birko-Floor strapped upper that keeps your foot well adjusted in the shoe, with a cork footbed that is made to mold to your specific footprint, while remaining firm.
The cork footbed is great at providing comfort – especially over time, in the areas you may need it most. This is done by subtly contouring to your specific foot shape. The naturally arched shape of the Arizona is also great for flat-feet, as while it will mold to areas of high impact, you will still have the right amount of support to ease your foot when walking, to make up for the lack of arch on your foot.
The midsole is man-made synthetic EVA that gives a touch of extra shock absorption, which is great for reducing that 'whittling away' feeling you may normally experience when walking for a while on your flat feet. There are a variety of color combinations to choose from, and more importantly – a variety of sizing options. The Arizona comes in a range of X-Narrow to Wide, meaning there should be a particular sizing that matches your foot best.
There are realistically only two issues with the Birkenstock Arizona. Firstly, the price tag definitely reflects a brand-name price. If you're looking for a cheap sandal, these aren't it. They are made from top-quality materials which explain the need for a higher price, but it is restrictive nonetheless.
Secondly, while the cork footbed definitely gets more comfortable over time, you will at some point need to replace them when it molds 'too well' to your flat feet, and you begin to lose out on the support your midfoot requires. While it may take years to actually mold that deep, it is something to consider if you don't want to fork over a good chunk of change every 4 to 5 years.
Pros
Comfortable dual-strap upper keeps your foot in place
Cork footbed naturally contours to your foot over time
EVA midsole gives good shock absorption
Aesthetically pleasing and timeless design
Cons
Relatively expensive sandals
May need to be replaced in 4-5 years when cork is fully worn in
---
3. ECCO Unisex Yucatan Sandal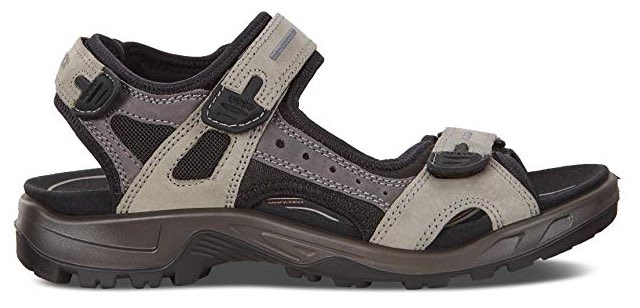 Next up, we have a sandal by ECCO – a footwear company that has a reputation for making industrial-strength shoes. It comes in variants for both men and women, with a premium nubuck leather and synthetic upper. It is made to be a three-point adjustable strap system for a firm fit on your feet, that is also comfortable and durable.
The Yucatan is also lined with textile to make it even more cushioned, and providing extra moisture-wicking qualities. For flat feet, you'll be pleased to know that the footbed is anatomically molded to emulate a natural food shape to provide good fit and flexibility that we would otherwise lack.
The Yucatan features ECCO FluidForm and Receptor technology that ensures a perfect balance of cushioning, durability, and impact absorption while also helping maintain an ergonomic and natural state of motion. This gives you great arch support, stability, and rebound for push-off.
The outsole is also incredibly well-gripped – suited for minor hiking, so in case that is what you fancy, you can wear these on a summer hike too. Overall, this sandal is a great option as a casual walker on a hot day going on an excursion, or on the beach. If you have a sensitive flat-foot and want to make sure that you are adequately supported and can keep on walking without any pain, the Yucatan offers that up easily.
The Ecco Yucatan is by no means perfect though, with a few problems that should be noted. The first of which being that the footbed, while comfortable, is definitely sweat-inducing. Secondly, the sizing lacks a wide-width option, which can make the straps feel a bit constricting if you have wider-set feet.
Finally, if you do intend to hike or get these sandals into the water, it should be noted they don't dry as easily as other options on this list, as this construction has multiple layers of different fabrics, compared to other sandals that are either unibody or have slick durable surfaces.
Pros
Nubuck leather and synthetic upper with 3 points of adjustment
FluidForm and Receptor tech makes the Yucatan a comfortable choice for flat feet
Outsole is very grippy, meant for hiking trails
Can be used in a variety of environments, from parks, beaches to trails
Cons
Footbed is a bit sweat-inducing
Feels a bit narrow, exacerbating the straps a bit
Take a while to dry off if you get them wet or submerged
---
4. Chaco Men's Flip Ecotread Flip-Flop

Now we have the Flip Ecotread sandal by Chaco – a company whose main design philosophy is all about function, quality, comfort, and fit. Chaco makes footwear that can be fixed or professionally repaired when broken or damaged, instead of being thrown out and sent into a landfill, harming the environment.
Similar to most other Chaco models, the sole is made of a custom PU composition that is able to stand the test of time, yet remain very flexible. The method of securing the sandal on your foot is with a strap and toe post, both of which are especially durable to ensure that the sandal stays intact for years to come.
What you are probably most concerned about is how it helps with flat feet, and it does this via the LUVSEAT sole technology – clinically proven to reduce the pain that stems from foot conditions and general foot issues, including flat-feet. You will feel adequately supported in these sandals, without fear of pain the moment you take a break from your activities.
The sandal is also composed of a quarter recycled rubber – another step Chaco has taken to make its entire line of footwear eco-friendly. The sandals are also available in a variety of color options to match your style or desires. Finally, you are able to contact Chaco directly with specifications of your foot if there are unique aspects or dimensions you want covered, which is an interesting feature from a customer service standpoint.
The Ecotread isn't perfect, as they do tend to run small, and if you have a tall instep even with flat-feet, the straps may irritate or put pressure on your foot, so be wary of that. On top of that, the treading needs to be replaced after a while as it is prone to wearing down.
With that said, these issues are easily fixable by contacting Chaco yourself, and either getting a customized pair of Ecotreads or having them replace your worn outsole since they do put the customer and environment first. The Chaco Flip Ecotread is one of the best men's flip flops with arch support given all the above-mentioned factors.
Pros
Environmentally conscious choice
Clinically proven insole that alleviates foot pains and helps flat feet
Can contact Chaco to customize the sandal to your specifications
Easily fixable when broken down
Cons
Runs a bit small
Strap may cause friction on taller insteps
---
5. Skechers Women's Reggae Trailway Flip-Flop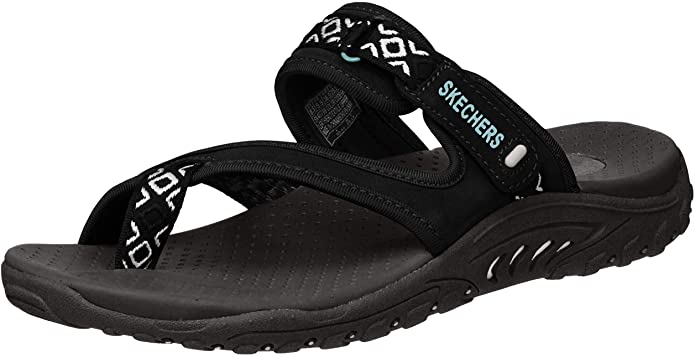 Here we have the Reggae Trailway Flip-Flops by Skechers, and they are a particularly effective pair of sandals for those of us with foot conditions involving overpronation. The Reggae Trailway has foot health at the forefront of its design philosophy – proven by numerous customers raving about its efficacy.
The sandals have a mixture of leather and textile upper, with an EVA rubber outsole and a custom-designed footbed that increases your comfort and support for the arch area, especially important if you have flat-feet. The instep strap is also adjustable with its hook and loop closure, allowing for a bit more a tailored fit.
Despite being a fairly run-of-the-mill sandal aesthetically, you can rest assured that the footbed is one of the best on the market to support your feet and keep you walking without pain all day long. Because they are so unassuming, the sandals actually work in a variety of circumstances, as they don't stand out or scream "vacation" like a lot of the other options do.
With that said, the Trailway definitely does lack at least some color options to add in some flair for those who don't care if the sandals stand out. Also, the sandals aren't particularly stylish or feminine, which may rub certain women the wrong way. On the flip side, men should rejoice, provided they get a big enough size, because the Trailway looks fairly unisex and men too can experience the comfort it offers to your feet.
Pros
Custom designed footbed that puts foot health first
Well regarded shoe for a variety of foot conditions including flat-feet
Superior fit thanks to the hook and loop closure
Can be worn almost anywhere, by anyone
Cons
Could do with some vibrant color options
Not particularly 'feminine'
---
6. OOFOS Unisex OOriginal

Next up are the Unisex "OOriginal" thong sandals by OOFOS. Typical to the OOFOS line, the OOriginal provides a highly responsive, comfortable experience founded on a quality foam footbed.
The OOriginal aims to speed up your recovery process by reducing stress on your body to help you feel better after a long day on your feet and were scientifically tested to verify this. The way it does so is with its patented OOfoam technology – a patented footbed design and this midsole technology absorbs roughly 37% more impact than traditional foam.
This footbed reduces impact – alleviating stress across your feet, and if you have flat-feet, you'll enjoy the cradled feeling the footbed provides. It is great for reducing stress on sore arches, ankles, and knees. The ergonomic design of the OOriginal also allows for a more natural range of motion, so your gait cycle will remain healthy and balanced.
On top of all that, the OOriginal is very easily maintained, durable, and simple to clean off by putting in a washing machine. They are also fairly inexpensive, which is great if you're on a budget but still need a quality sandal.
Overall, these sandals are pretty great, but they aren't without their quirks. Firstly, OOFOS are strictly made in whole sizes, and run a bit big, so we recommend that if you're in a half-size range, get a size down for the best fit.
Secondly, these sandals are fairly durable, but after months of intense use, they can begin to show signs of wear and tear, such as cracks or splits. While this isn't the worst thing in the world, you should be aware that eventually, these do break down over time. But, regardless of this issue, these are some of the best flat feet sandals, especially for the price.
Pros
Highly comfortable OOfoam technology
Absorbs a significant amount of impact
Cradles your arch area well
Easily washable and manageable
Cons
Does not have half-sizes, round down if you are in this range
Can show signs of wear after months of intense daily use
---
7. Crocs Unisex Modi Flip-Flop

As our list winds down we present to you the Modi Flip-Flop by Crocs – a well-known brand for their famous water shoes. These are a pair of sandals with a synthetic sole featuring a soft, massage-pod footbed that is dual-layered with a Croslite-foam cushioning, called the Dual Crocs Comfort.
The Dual Crocs Comfort midsole is well-balanced enough for flat-feet that we highly recommend them as they provide a great amount of support for your arch area without compromising on the comfort aspect. It is a fairly relaxed fit, with a bit of a sporty vibe to it, so you shouldn't feel shy putting these on for some beach volleyball after taking a stroll along the coast.
The Crocs Unisex Modi comes in a variety of colors to choose from as well, which is a plus. The outsole is made of the same synthetic rubber that is treaded in a way that provides optimal traction on precarious surfaces, with key areas having pods for shock-absorption.
Finally, because this is a completely synthetic and man-made sandal, you can feel comforted in the fact that it is cruelty-free yet just as durable as other sandals if you are morally inclined to avoid certain materials.
There are only two major issues to the Modi Flip-Flop. The first being that they aren't true to size, and if you have wide or big feet, you are best off ordering a full size up for the best experience possible.
Secondly, these orthopedic flip flops can get very very slippery when wet because of the synthetic material it is made from. As a result, it can be difficult to wear these going from wet to dry environments in a pinch, making for awkward footing. With that said, they should dry off quickly, especially if the sun is beaming down on you on a day at the beach.
Pros
Soft Dual Crocs Comfort System is great for comfort and support
Ideal for sporty activities on the beach
Wide color selection
Shock absorption pods on the outsole
Cons
Not true to size, best to get a half to a full size up
Very slippery when wet, though dries off fairly quickly
---
8. Chaco Women's Z Volv X2 Sport Sandal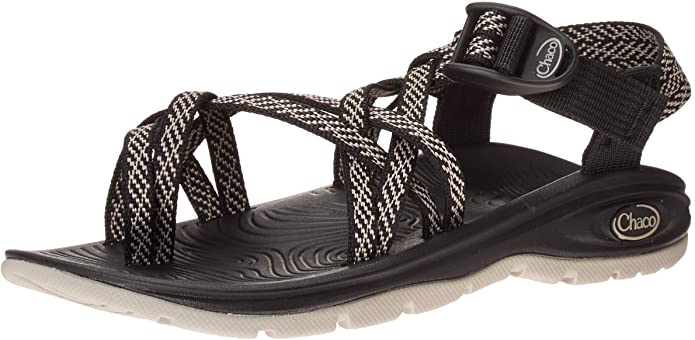 Our penultimate sandal for flat feet is the Women's Zvolv X2 Sport Sandals by Chaco, once again. The Z Volv X2 has a double-strapped polyester jacquard webbed-upper that wraps around your foot and goes through the midsole to give you a more customized fit, and a toe loop for added security during movement.
There are also heel webbings that are adjustable, durable, and high-tensile, and an injection-molded ladder-lock buckle. Both systems add to the overall stability and security. For your flat-footed needs, Chaco has designed a specific LUVSEAT PU midsole made of a particularly soft variation of PU that gives you a great underfoot feel and ample support.
Without a doubt, you'll notice an improvement when you put these on, as Chaco has also included a topographic textured groove design on the footbed, giving you traction within the sandal itself.
As for the outsole, it is made from a non-marking EcoTread rubber that has 3mm lugs for traction and is a quarter recycled compound that is good for the environment. These sandals are not just great, but great overall as a versatile sandal in hot climates, given its grippy outsole that can be used in urban as well as rural areas easily.
The Zvolv isn't perfect, though, and has two issues worth noting. The first of which being that they might feel a bit too narrow for some, so if you have a wider-set foot, these may end up feeling constricted. The second being that the straps are a bit time-consuming to adjust and take on or off. While this is only a minor nuisance, it is a core aspect of the sandal and if you prefer a quicker to put on sandal, these may not be ideal.
Pros
Stable and secure webbing keeps your feet in place
Features a LUVSEAT PU and midsole wrap
Outsole is durable and has good traction
Environmentally-friendly
Cons
Feels a bit too narrow
Webbed upper can be a bit of a nuisance to adjust or put on/off
---
9. Mephisto Women's Helen Thong Sandals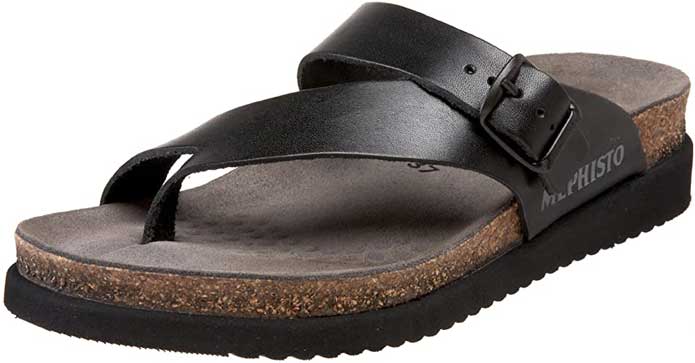 Our final sandal on the list is the Helen Thong Sandals by Mephisto. Aesthetically speaking, these sandals are so simple yet chic, with a focus on quality construction. Mephisto created these sandals to be a pair of comfortable, casual footwear that give you all-day walking comfort.
The upper strap is a calfskin leather that is sleek, and durable, with a simple buckle system to make sure the sandal perfectly fits and remains secure at the instep. The footbed is made from a contoured, shock-absorbing material that gives you stability and optimal comfort.
The footbed is made of cork with a latex lining, on top of the thick rubber "Lug Sole" sole, giving you a stable firmness you expect, and may need, for your flat-feet. It is a tried and true material, used in the renowned clog style of footwear to provide comfort and support with minimal contouring required.
You'll find that with time, the Helen sandals will groove and contour further, the more you wear them and fit your feet even better as time goes on to achieve a custom fit. Overall, it wouldn't be surprising if you end up wearing these around the clock given how comfortable they are and how well they alleviate flat-feet issues.
With that said, there are two issues to bring up concerning the Helen Sandals. Despite their quality, they are a bit narrow, which is an issue if you have wider feet. The sandals would do better if they allowed for more toe-spread, which is a common trait of Birkenstock-style sandals.
Finally, they are a bit on the expensive side, as a result of the high-quality materials used, which may be a barrier for some who really like these sandals but simply can't afford them right now. Apart from that, the Mephisto Helen does its job admirably well. They are one of the best supportive flip flops with an extremely high-quality finish.
Pros
Simple yet pleasing design with many colors
Cork footbed with latex lining provides excellent support for the arches
Thick rubber outsole increases grip on surfaces
Feels better the longer you wear them
Cons
A bit narrow; could use a wider toe area
Bit expensive, which excludes certain consumers
Conclusion
To conclude, we have enlightened you on what flat feet are, how it can impact our day to day lives, and most importantly, how it can be easily addressed with proper footwear and foot care.
If you need a fresh pair of flip flops with arch support for going hiking, walking, or having fun during the summer months, each and every one of these sandals should have a proper footbed for your flat feet to rest on without worry or pain.
Your feet will be well supported throughout the day with any of these options, so it is up to you which is most appealing based on either stand-out features or stand-out visuals. Alternatively, you can always get full-toe shoes for flat-feet if you're feeling like going on a run.