How do I choose winter boots?
When it comes to buying winter boots the most important factor comes down to determining whether you need heavy-duty snow boots or less extreme winter boots. We'll get into it in detail in the FAQ section, but a quick rundown is that snow boots are meant for harsher climates and winters while winter boots are made for milder winters.
The tradeoffs are noticeable so you want to make sure you get the right kind of boot for your surroundings. Also, you should consider what you will be using the boots for – are they more for going out to the shop in the snow, or are they for going out into the woods?
This will help narrow down whether you should go for deep treaded and lugged boots, that excel in precarious terrain or a comfier and more reserved style of boot that works in casual day to day use.
---
What is the difference between snow boots and winter boots?
While both may be used interchangeably by some, the two terms are actually different types of shoe designs. There is some overlap in that both boots have decent insulation built-in to keep your foot warm, and both are often waterproof, or in winter boot's case, at least water repellent.
Where they differ is mostly in the design of the ankle and lower leg. Snow boots are designed to keep snow and wetness out, with things like a complete rubber outsole that repels water from any direction, and a snow gaiter that prevents snow from tumbling into your shoes from the top or melting in.
Winter boots on the other hand do not have this design, meaning snow can get in easier and so can water. Not to mention the degree of waterproof is just not comparable, with snow boots excelling in this category.
Winter boots are also typically harder to clean from debris since they don't opt for easily manageable rubber across the whole shoe, but often leather. While snow boots are definitely great, they can sometimes be overkill, so if you don't have powerful winters, there may be no point for all that extra protection when a winter boot will be just fine and preferred as it is more light and breathable.
Having said that, we go onto our list of the 10 best winter boots that can be used by both men or women.
---
1. Columbia Bugaboot IV Omni-Heat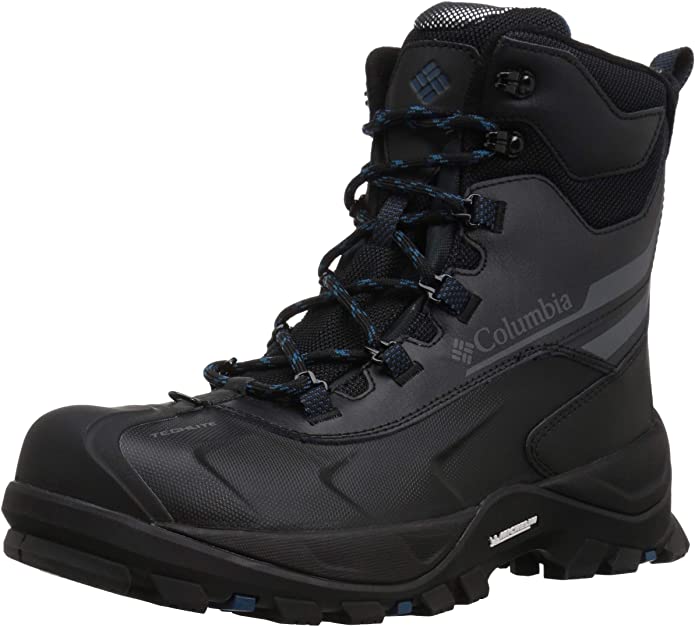 First up is the Bugaboot IV's by Columbia. These boots are a great choice whether you find yourself walking out on a cold day, or covered in snow in the backcountry. They are styled with a mountaineer aesthetic using Leather, nylon webbing, and some sleek metal around the eyelets.
The leather is also PU coated to make doubly sure that water stays out. The construction of the Bugaboot is Seam-Taped with 200g synthetic insulation, meaning no water gets in and you stay warm even at -25F. The Bugaboot IV is one of the best winter boots for a reason and it doesn't cost an arm and a leg to buy unlike other options.
Columbia also went out of their way to include Thermal Reflective lining and EVA midsole with a Michelin Compound sole that can take consistent use and harsh weather. Overall, the Bugaboot is a good combination of full-height snow boots with rugged function and great traction.
The only real complaint regarding the Bugaboot IV is that the upper section around the calf area can feel a bit stiff when first used. This is common among many shoes and breaking them in after a few wears, solves the issue completely. With that said, for the money you're shelling out for a good winter boot, you may not want to deal with even the slightest of inconveniences, and want it to be perfect right out of the box.
Pros
+ Good for backcountry as well as city
+ Nylon and Leather upper coated in PU to keep feet dry
+ 200g synthetic insulation makes sure you're warm
+ EVA midsole and Michelin Winter Compound outsole are sturdy
Cons
– Upper portion needs a bit of breaking in initially
---
2. Sorel Caribou Boots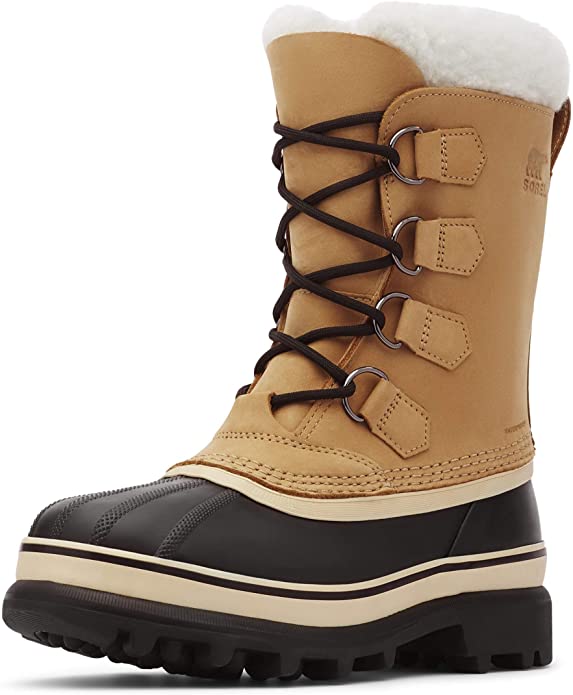 Now we have the ever classic Caribou design made by Sorel – a company that has been around for a very long time. It manages to balance performance, comfort, and aesthetics quite well. The upper is made of waterproofed Nubuck leather, triple-stitched and bound to waterproof rubber bottoms that give it quite the lifespan.
It has a 9mm Thermoplus liner that insulates to -40F and is also removable. The collar is made of a soft and warm acrylic fleece that also helps to ensure that no snow or debris gets inside when you're wearing them. The aforementioned outsoles are handcrafted with a Sorel Aero-Trac non-loading technology, making for a deep lug and long-lasting life-span.
When it comes to quality, it is hard to top Sorel and the Caribou is no exception when it comes to astounding material and design. With that in mind, the only drawback of note is the fact that they may run a bit large, meaning you should aim for a size down or so if you intend to go with these boots. If you do however decide to wear thick socks, this should be fine.
Pros
+ Highly trusted brand
+ Nubuck Leather, Fleece, and Liner make for a warm and cozy experience
+ Durable deep aero-trac lugs
+ Classic design that is aesthetically pleasing
Cons
– Runs a bit large, best to get a full size down if not wearing thick socks
---
3. Oboz Bridger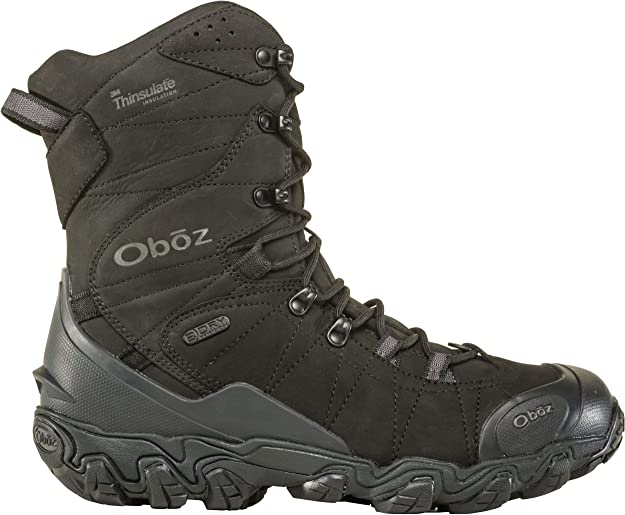 Next is the Oboz Bridger – a rugged and tough boot that can get you through almost any weather. The Oboz model features a waterproof and breathable membrane that keeps your feet dry, with 400g Thinsulate insulation to keep them warm too.
The upper is made of durable nubuck leather, easily keeping the elements out and a durable water repellent (DWR) that makes moisture bead up rather than slowly seeping into your boot. Oboz also designed the Bridger with a molded rubber toe cap as well as rubber heel kicks to add durability, protection, and a smooth ride.
The midsoles in these boots are dual-density and well-cushioned, meant for all-day hiking expeditions or snowshoe trekking. The chassis of the bridger is also geared towards durability with a TPU and nylon shank for torsional stability and the prevention of stone bruising. Finally, the outsoles are a Granite Peak make, with directional lugs meant for gaining traction at an incline.
Despite being great for snow and hiking, it should be noted that the Oboz Bridger is not well-equipped for sheet ice, so if you live in an area where long stretches of sheet ice are common or want to go trekking in that type of environment, these may not be the best bet. Instead, these boots are best worn on rugged trails, variable terrain, and less slippery conditions.
Pros
+ Waterproof and breathable
+ 400g insulation keeping you warm during harshest of colds
+ Rubber toe cap and heel kick for added protection
+ TPU chassis and Nylon shank make this a very durable choice
+ Granite Peak outsoles that are great for hikes
Cons
– Not meant for sheet ice or similar slippery conditions
---
4. Kamik NationPlus Winter Boots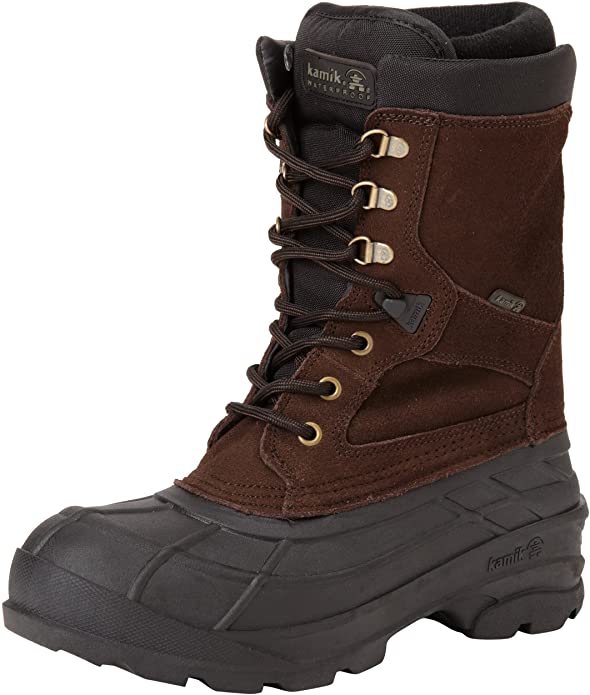 Here is the Nationplus by Kamik, a leather upped tall winter boot meant to withstand lows of -40F. They have a seam-sealed waterproof design, synthetic rubber shell, and 200g Thinsulate insulation all making sure you are: warm, well-protected, and secured when wearing them.
Kamik also added a rustproof speed lacing system with moisture-wicking lining internally, knowing that when you wear these boots, you expect to get wet and messy. What also should be of noticeable importance is the fact that these boots are cheaper than the typical winter boots. In tandem with some thick socks, you'll find that the Nationplus works similarly well.
As good as the price is, though, it comes at a cost. These boots aren't made of the kind of quality material you may have come to expect on a more expensive boot model, and that means over time they will break down, and sooner than expensive models.
If you are willing to take the hit on quality for a serviceable and affordable pair of boots, though, the Kamik Nationplus is definitely one of the best winter boots for the price.
Pros
+ Affordably priced
+ 200g Thinsulate and moisture-wicking liner
+ Comfortable ride
+ Tough leather upper that can take a beating
Cons
– Not as high quality as more expensive models
– Breaks down sooner
---
5. Bogs Bozeman Tall Boots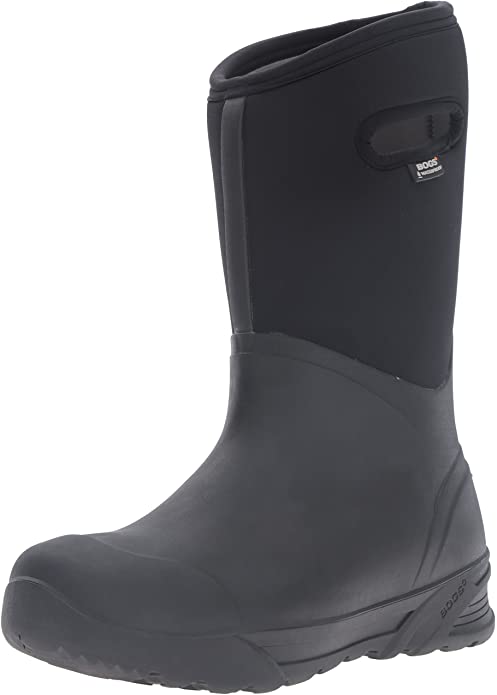 At the halfway point we have the Bozeman Tall by Bogs. These boots are great if you're in the kind of climate where winter is long and harsh, and summer is short. They are easy to put on and have a very tall shaft that streamlines the process and gives you a precise feel.
The upper of the Bozeman is made of a textile and rubber hybrid, with 7MM Neo-Tech insulation rated to -72F, making it very well equipped for cold temperatures. Bogs also made sure that there is solid rebound technology in the insole, making for a comfortable and smooth ride that is also responsive when in motion.
They also lined it with Max-Wick technology to easily evaporate sweat buildup. The footbed is also made up of a dual-density EVA coated in a layer of Ortholite and DuraFresh odor blocking tech. Finally, the outsole has a self-cleaning BioGrip chemical and slip resistance.
The only real issue with the Bozeman is the fact that sizing only comes in absolutes, meaning there are no half-sizes to better fit your foot. You may also notice the ankle and heel padding, which for some will be a bit on the irritating side. Apart from these two relatively minor issues, the Bozeman Tall is definitely a hard-to-pass-up boot option if you deal with harsh winter weather often.
Pros
+ Great for harsh weather
+ Solid comfort and responsiveness in the footbed + Highly moisture-wicking, with odor-blocking technology
+ Self-cleaning BioGrip outsole that is slip-resistant
Cons
– Doesn't come in half sizes
– Some may find the ankle and heel padding to be irritating
---
6. Blundstone Thermal 566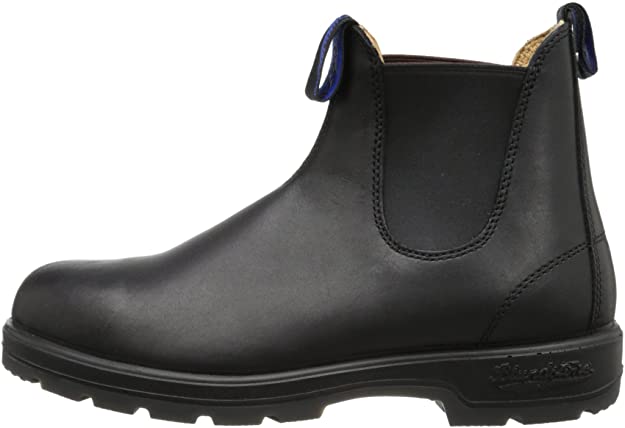 On to the other half of the list, we have the Thermal 566 by Blundstone. These are an aesthetically pleasing boot in the Chelsea slip-on style. They are rugged, great in terms of water resistance, and fit like a glove. The upper is made completely of leather, and despite having no laces, it is designed in a way that it wraps around your feet quite well when worn.
Blundstone implemented a removable sheepskin liner that, together with the supportive footbed, is incredibly comfortable. Compared to other very tough boots, you'll find the Thermal 566 to be very plush. Overall it is stylish, comfortable, easy to put on, and can be worn either on a hike or on the way to the grocery store in the dead of winter. These are some of the best winter boots for men with a minimalistic design.
As great as the Thermal 566 is in the looks and warmth department, compared to its less pretty competition, it lacks traction. When it comes to steep slopes or lots of ice, the outsole just isn't as grippy, aggressive, or edged enough to give you the same amount of sure-footedness. With that said, if you're looking for a more casual boot that can be worn during the cold months, yet not on a super rugged adventure, the Blundstone doesn't disappoint.
Pros
+ Highly comfortable
+ Snug fit and aesthetically pleasing
+ Incredibly comfortable internals
+ Plush yet water resistant
Cons
– Not great for slopes or super slippery conditions
– Outsole not as rugged as other boot models
---
7. Original Muck Arctic Ice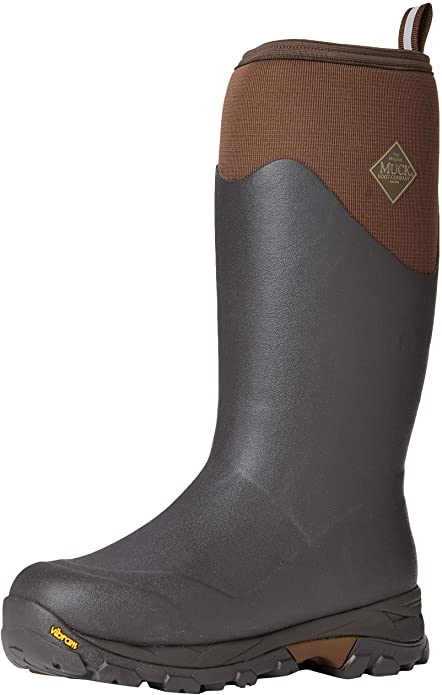 Next are the classic Muck brand's Arctic Ice boot model. These are a heavy-duty no-nonsense boot with 8mm of CR Flex-Foam Neoprene – making it fully waterproof, highly comfortable, flexible, and still shock absorbent.
Neoprene is also great for heat retention in harsh cold, and it is snug enough to adjust to your foot and lower leg's contours, preventing any chafing from occurring. Internally, the company included Spandura for added protection, coverage, and flexibility. The Arctic Ice is also lined with soft fleece to give you some extra warmth and comfort, good for longer treks.
When it comes to the outsole, they decided to go with a Vibram Arctic Grip outsole, delivering some of the best traction on wet ice. Overall, if you're looking for a boot with amazing traction on slippery surfaces, and easy on-off, warmth, and complete waterproofing, the Arctic Ice is a stellar choice.
As great as it is for dealing strictly with cold, wet, and icy conditions, the Arctic Ice is decidedly not a hiking or snowshoeing boot. If you are on the market for a boot to bring along on a winter hike on precarious terrain or go snowshoeing, then the Arctic Ice doesn't bring as much to the table compared to other dedicated winter hiking boots. With that said, what it does focus on, it excels at.
Pros
+ Great traction on ice and slippery surfaces
+ Warm lining and waterproof neoprene upper
+ Snug and chaff-preventing design
+ Decent protection and will never have you feeling underprepared for winter
Cons
– Not ideal for winter hiking or snowshoeing, if that's what you want in a boot
---
8. Salomon X Ultra Winter CS WP2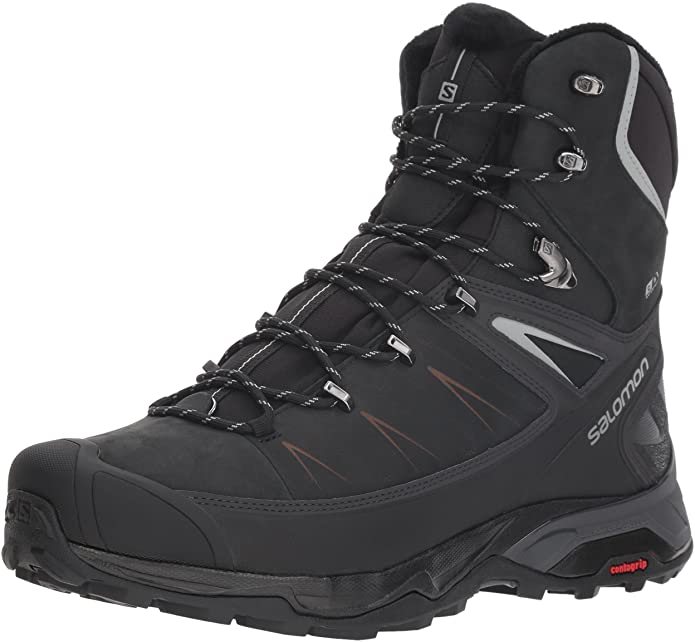 In contrast to our last boot, this one is definitely hiking oriented. The Salomon X Ultra Winter CS WP2 comes from a company that has a deep heritage in making quality hiking gear and footwear. The boot features light Thinsulate, keeping your feet warm and cozy in almost any condition.
They also added in a heel pad for added grip to snowshoe straps, along with gaiter hooks that are good for deep-snow adventures, with great ankle stability coming from the extended upper. The CS WP2's tongue is gusseted, creating a continuous connection to the uppers and sealing out any wetness or snow.
The chassis of the CS WP2 is made from Salomon Advanced tech, giving you stability and motion control, without giving up any responsiveness or weighing you down. The midsole of this boot is injection-molded EVA, and also includes an Ortholite sockliner to give you support and comfort respectively.
There is also waterproofing in the form of ClimaSalomon membranes, mudguards and a rubber toe cap for rough terrain, and a Winter Contagrip outsole to give you traction on just about anything. These boots will no doubt excel in any type of cold hiking situations.
While Salomon has a lot to be proud of in regards to the CS WP2's design, there are a few small issues to be mentioned. Firstly, the toe box is fairly snug, meaning that if you're someone with wide feet or wear heavy socks, you actually should buy a size up to accommodate your feet.
Secondly, while it is warm, it is lightly insulated meaning that if you're not moving much or out in extremely frigid temperatures, you may feel a bit colder than you would on a hike and in motion.
Pros
+ Excellent winter hiking boot
+ Features heel pad, gaiter hooks, and supports snowshoe straps
+ Waterproof design as well as a gusseted tongue to make sure nothing penetrates
+ Rubber toe cap and ContaGrip provide good protection and stability
Cons
– Best to order a size up for wide feet or heavy socks
– Might feel colder when not in motion
---
9. Baffin Impact Boots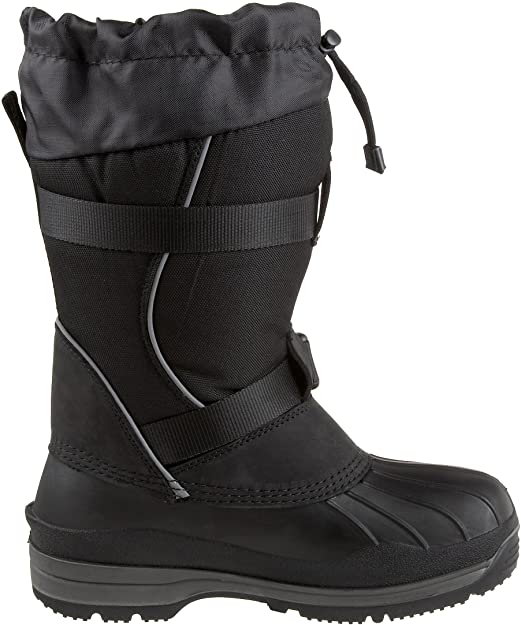 Our penultimate boot is the Baffin Impact – another boot meant for extreme conditions. If blizzards and frigid temperatures are commonplace for your area, then this may be the boot for you.
It has an incredibly high rating for cold temperatures (-148F), a multilayer insulation system, and waterproof construction making sure you're never going to freeze up or get icy moisture buildup. Baffin designed the Impact with an adjustable snow collar to stop deep snow from sneaking its way into your shoe from the top and a double buckle fastener to give you security in its fit. When it comes to a harsh weather boot, it doesn't get much better than this
Consequently, as incredible as it is for harsh weather, the Baffin Impact isn't actually ideal for milder winters. Because it is made for bone-chilling cold, it isn't as breathable as some of the other options on this list and is meant purely for tough weather.
It is also incredibly bulky compared to milder designs as well. Because of this, unless you only deal with a supremely harsh winter, the Impact boots would not be the best choice for milder cold seasons.
Pros
+ Incredible insulation and warmth for bone-chilling weather
+ Bulky design is great for deep-snow
+ Keeps icy moisture out with its snow collar and waterproof construction
Cons
– Not meant for mild winters as it isn't very breathable and heavy
---
10. Sperry Top-Sider Winter Boots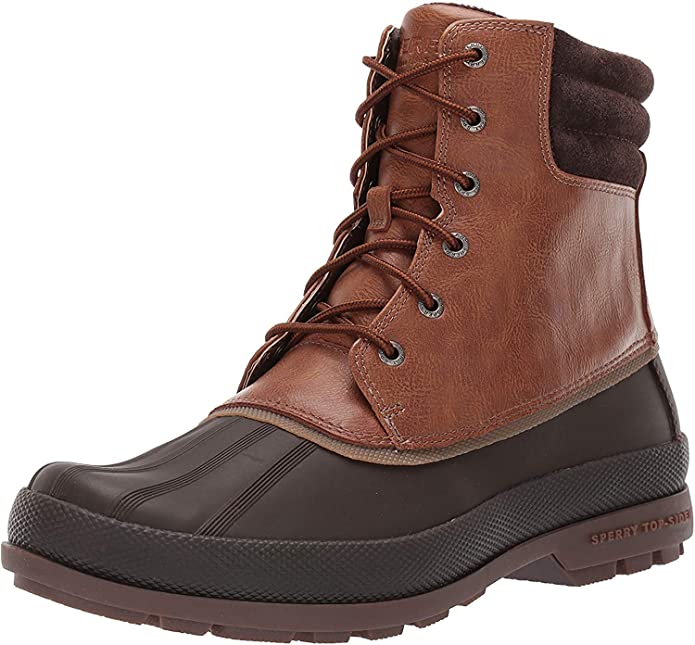 The last boot on our list is the Top-Sider Cold Bay by Sperry. While the other boots on our list may cater towards purely casual or heavy-duty performance, the Top-Sider boots aim to be a middle ground.
At the bottom, there is a waterproof rubber that repels snow and moisture, with the upper being made out of leather which feels highly comfortable and gives it a unique look. The Top-Sider by Sperry comes fleece-lined with 200g Thinsulate insulation. The outsole is also non-marking and slip-resistant so it serves well in slippery conditions.
There is no fur or fancy wool lining inside, but the fleece does the job just as well. On top of that, they are true to size, so it's best to get a size up if you decide to wear thick socks.
The only glaring issue is that the outsoles feel kinda plasticky and stiff. Also, while our sample unit didn't have any durability issues, some users have reported that the fleece lining tends to peel after a few weeks of use, so that is definitely something to keep in mind. Having said that, if you're looking for a boot that isn't too bulky, but offers adequate protection, the Sperry Top-Sider is a choice pick for good winter boots.
Pros
+ Good middle ground between casual and performance boots
+ Aesthetically pleasing design
+ Comes in wide sizing for those with wide feet
+ No-slip outsole with waterproofing
Cons
– Outsole feels stiff and hard
– Fleece lining tends to peel off after a few weeks of use
---
Frequently Asked Questions
What type of socks should I wear with winter boots?
While this more or less depends on your boot choice, wool is generally ideal as it is warm and keeps body heat in well compared to other fabrics. If you have a pair of thick boots, it may actually be hard to get your feet in with wool socks, meaning you'll either need a thinner pair or order a size up of that boot to make sure you fit in with your preferred sock type.
Can I wear sneakers in the snow?
While it is technically possible to wear sneakers in the snow, it is not recommended at all, for a number of reasons. The first being that you won't be getting enough protection from the elements in a sneaker as it isn't meant to protect you in that way. You would definitely get cold feet quickly, and have moisture seep in overtime. It's not a fun feeling dealing with wet socks in sub-zero temperatures.
The second reason you wouldn't want to do this is that it will ruin your sneakers. If you wear them in conditions they are not meant for, they will more quickly break down and even face permanent damage from the ice, sleet, and slush.
Do you need waterproof boots for snow?
Considering that snow melts into water when it is exposed to higher temperatures, such as the heat emanating from your body, it is definitely recommended to buy a pair of boots that are waterproof.
This prevents water-logging if snow does somehow find its way into your boots. By letting water in during winter, you will not only feel uncomfortable but also get colder faster and lose heat, which can cause harm to your body depending on how long you're out in the harsh weather.
---
Should you buy winter boots a size bigger?
This is highly subjective depending on the conditions you most commonly face. If you have harsh winters (looking at your Minnesota) that require heavy-duty boots, then it is actually a wise choice to buy a size bigger to give you more room in the boot for thicker socks.
If you don't deal with harsh winters, and thick socks aren't as crucial, then ordering your regular size should be good enough with a generic pair of socks. If you do get a size up, keep in mind that it is necessary to use thicker socks and clothing to fill in the gaps and not let the elements seep into the boot.
If you wear generic socks with a bigger boot size you will notice there is a bit of wiggle room that will allow things like moisture particles and melted snow inside, so make sure to always have a snug fit.
---
Can worn-out shoes hurt your feet?
If you are someone who has a pair of old winter boots lying around, you might be wondering if you should wear them, or whether there's a risk of wearing boots well past their prime. The simple answer is that it is not wise to wear worn-out shoes.
They don't provide the same support they used to internally, giving out and making for arch pain and deteriorating your foot health the longer you continue to wear them. Worn-out shoes are a common cause of gait issues and can worsen conditions such as underpronation or overpronation.
When it comes to winter shoes the issue goes even further, with the sealing not being as tight as before – meaning water and snow may be able to get in easier from the deteriorated nooks and crannies developed over the years of taking a beating from the elements.
For this reason, it is highly recommended that when you see signs of your boots giving out, like foot pain after use or moisture getting in, you replace them as soon as you can.
---
Things to consider when buying winter boots?
When it comes to actually picking a boot, it can be challenging, so we will break down a few small criteria for you to consider:
Warmth is the most important factor in determining a good quality boot, of course, and you want to feel toasty even when treading through thick snow. With that said, you never want to be too warm, and this is where insulation comes into question.
Some boots come with removable lining, meaning you can add insulation to keep more heat in if required. Some boots will have non-removable insulation that may actually be too warm when you move around, depending on your climate as well as activity level.
Determine whether you'll be super active when using them, or if winter is milder most days, before going out and getting the most heavily insulated boot. On the other hand, if you go out hunting in the winter or engage in other physical work that requires an outdoor presence, its best to get boots with added insulation.
It is a no brainer that we all want and expect waterproofing from a boot, but you will need to determine to what degree the waterproofing needs to be. Most watertight boots are usually full-rubber top to bottom and aren't the most stylish thing around. They are just meant to work.
If you deal with a lot of water or melted snow, this is a good option. If you don't, though, and would prefer a more stylish model, then there are other less watertight options that are more "semi-waterproof" and still work well enough without looking bulky.
When it comes to the rise, or height of the boot up the leg, the taller the boot is, the more protective it is for high snow levels. They will also give more ankle support. Conversely, a shorter boot may not give the same protection for high snow, but give you more flexibility and ease when putting on and taking off.
Ask yourself whether or not you need added protection or flexibility during the winter.
---
Conclusion
To conclude, we've compiled some of the most fundamental questions regarding winter boots and what to consider before purchasing your first pair. Whether you're someone who lives in an area where harsh winters are normal, or dwell in a more temperate climate, we have a pair of boots listed that will meet your needs.
Whether you deal with high snow and ice, or only a bit of snow and cold weather. Every pair of boots here is great in their own respective ways and deserves consideration.