Types of Hunting Boots
When it comes to hunting, you are prone to find yourself in typically wet or cold terrain and in areas that are less-than-convenient – like wetlands and mountainous regions. When it comes to staying prepared and making sure you're ready for what is ahead of you on a hunt, it can be a little tricky.
That is why we've created this list of what we consider to be the 10 best hunting boots for 2022. Before we dig into that, let's break down the types of boots you'll have to choose from, and their advantages, so you get a sense of what is out there and more importantly, what makes the most sense for you.
First are field hunting boots – which are solid forms of protection during an inland hunt that has a variety of dry terrains and even cold weather. Typically these boots are made of materials like leather, mesh or nylon – so not quite waterproof. This means, if you plan on going hunting in wet weather or in a wet area, field boots aren't ideal. It is a classic boot for rugged terrain and comes in various degrees of insulation, but not meant to get wet.
Next are rubber boots, which you are probably familiar with because more often than not, they are the long, covering much of your leg. These boots are for those who want to get down and dirty in the wetlands or in seasons with a lot of rain.
Rubber boots keep you as dry as possible, and also avoid collecting your personal smell to alert your prey, since rubber doesn't hold odor and wicks away water easily. They are ideal for wet marshlands and bogs. With that said, these types of boots aren't the kind you bring into a very cold environment since rubber and insulation don't mix well.
Finally, we have the snake boots. These are supposed to be a mix of both field and rubber boots that can work adequately well in both environments without much hassle. You'll find that these snake boots often have extended collars, are thoroughly tough, and made of materials that can even protect you from snake bites.
How much is enough Grams of Insulation in Hunting Boots?

You're probably looking at those numbers and find yourself a little confused if you're new. The amount in grams of insulation a particular set of boots has is of the utmost importance when it comes to deciding the right pair of hunting boots. The right number varies on the area you'll be hunting, time of day, and how active you'll be. For example, 200g of insulation is perfect for a mid-day or evening hunt in a mild climate, so long as you're active and less idle.
More often than not though, the 400g to 600g range is where most hunting boots will fall into, as these are a sweet spot for colder days with less movement. If you're going to an even colder climate, 800g of insulation is better.
1000g and above is definitely reserved for sub-zero temperatures, as this level of insulation would just be overkill any other time. If you're going out into minus-twenty (hello Canada), 2000g may be an even better choice.
With those fundamentals out of the way, we can now give you our list of the 10 best insulated hunting boots to buy if you're looking to hunt in 2022.
---
1. Irish Setter 808 Wingshooter Hunting Boots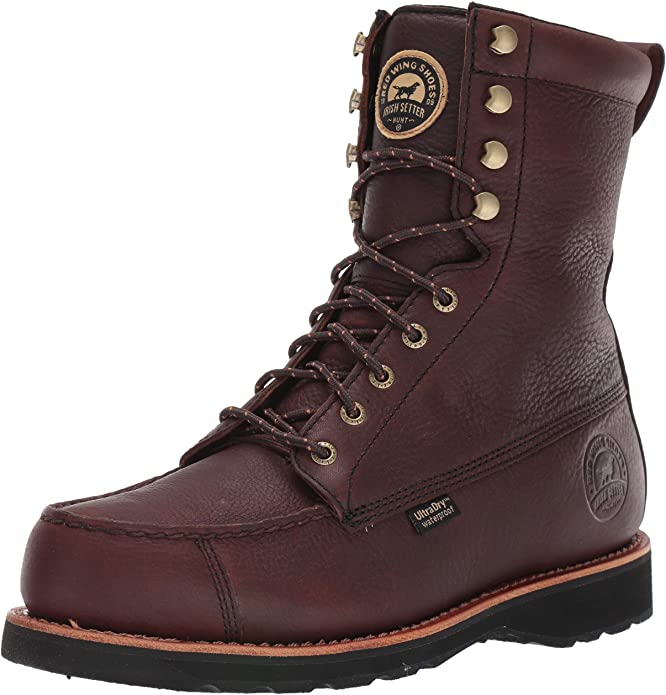 First shoe on our list is the 808 Wingshooter by Irish Setter. These are a 9-inch hunter's boot with a half-inch heel to them. The 808's are a moc-toe boot built with UltraDry waterproof technology that can take a beating in most any terrain while keeping your foot tightly fastened, dry, and comfortable. There are also notched-shafts with speed lacing and a well-padded collar.
All in all, the 808 Wingshooter affords a comfortable experience and smooth transition without causing any foot-fatigue. The construction of the shoe uses the Goodyear Leather Welt method, with a strip of leather joining the upper and the sole of the boot together via stitching, resulting in one of the most long-lasting styles of boots available.
You should expect years of comfort and work to come out of the 808 Wingshooters given the construction style. Finally, the outsole is made from a durable and thick prairie outdoor outsole, giving you good traction for slippery terrain, and thick enough to provide protection below from jagged rocks and other tricky terrains.
While the 808 Wingshooter is a pretty solid all-around comfortable hunting boot, one issue you may come across is the fact that this model's fit is quite tight. If you're used to the 838 especially, you'll find that these are even tighter than that. If you have particularly big feet, or wear very thick socks, the 808's may be too tight at your true size. For this reason, we recommend getting a half size up if you prefer a less snug fit or prefer to wear thick-cut socks.
Pros
+ Waterproof and durable
+ Comfortable and snug-fitting
+ Features Welt method construction, very long-lasting
+ Thick and protective outsole
Cons
– Tighter than other models, may need a half size up
---
2. Kenetrek Mountain Extreme Ni Hunting Boots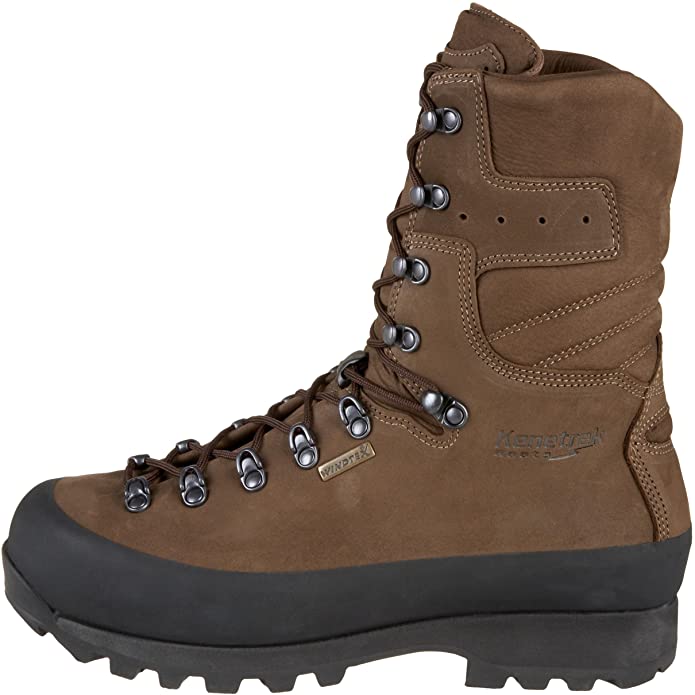 Up next is the Mountain Extreme Ni by Kenetrek. These Kenetrek mountain hunting boots were made to endure rugged terrain, severe weather, and the brutal backcountry experience in general. To ensure the best quality and durability, Kenetrek puts its models through extensive testing and rigorous experimentation.
The Ni hunting boot is a full-leather one-piece vamp with a stiff Nylon midsole to give you optimal support. These boots are outfitted with specialized K-Talon outsoles with thick lugs to make sure you are always on secured footing even in slippery or muddy environments. They are waterproof and feature a breathable WindTex membrane to keep you dry and keep water out.
Interestingly enough, these boots are also non-insulated to help you stay comfortable in warmer weather. Overall, given their tough upper, firm underfoot experience, and rugged outsole, these shoes are a great option for hunting – especially if you're out in the country on dreary days where you need the best footing while hunting game on precarious terrain.
While there is a lot of magic under the hood, there are a few issues to the Ni hunting boots that you should consider. Firstly, these are some of the most expensive mass-produced hunting boots available. The price is around $400 and that can be a hefty sum to pay for many and definitely an issue if you are a hunter in need of a boot that is more budget-friendly.
Secondly, the stiff and firm underfoot experience is great for support but takes a bit of time to break in, so if you're someone who prefers a boot that is comfortable out of the box, these may leave you feeling a little disappointed.
Regardless of these drawbacks (especially the price), the Kenetrek Ni is one of the best mountain hunting boots you can buy in this price segment especially if you want a high-quality footwear that will last you a lifetime.
Pros
+ Top-quality testing and research put into these boots
+ Full leather upper, very durable
+ Firm midsole for support
+ WindText membrane keeps your feet dry
+ Thick lugs to take on muddy terrain
Cons
– Fairly expensive
– Have a break in time to reach peak comfort
---
3. ArcticShield Neoprene Outdoor Boots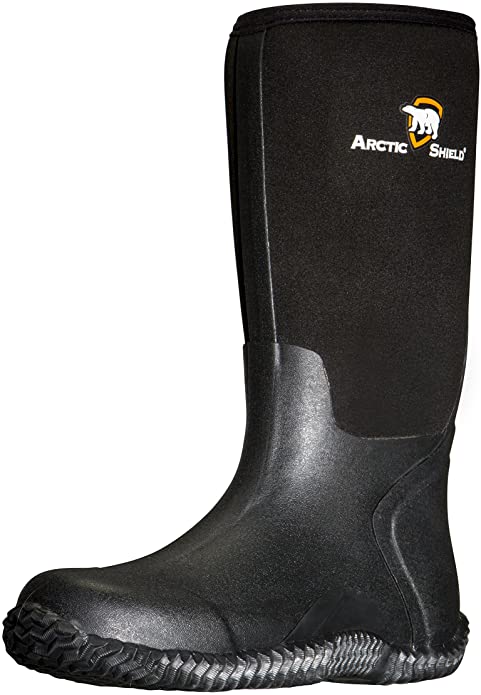 Now we have the Neoprene Outdoor Boots by ArcticShield, made from top-quality rubber and Neoprene – specifically the 7MM variety. These shoes are designed to take on any kind of weather, but work especially well in winter. They are completely waterproof and feature a protective rubber overlay.
The upper is combined with a lightweight retain insulation to give you reliable warmth and protection from the elements. This combination of insulating materials returns nearly 90% of the body's warmth back to you, so you'll be as warm as possible during even the coldest days, since the heat your body exudes will go right back to you.
At 14-inches, much of your leg will be covered by these boots. The insoles are well-cushioned and provide comfort with every step, but in case they don't fit your needs, they are completely removable, so you can put in whatever set of orthotics work best for you. ArcticShield also wanted these to be as easy to put on and take off as possible. This is achieved by including pull tabs for you to seamlessly push or pull on.
Finally, the outsoles are a durable rubber with traditional zagged treading to provide you with even-footed traction across snowy and slippery terrain. The outsole is also quite durable to wear and tear and will last you quite a long time through many hunting seasons.
With that in mind, the ArcticShield Neoprene is definitely on the big side. When it comes to sizing, these can be tricky, and we recommend anywhere between a half-size or full-size down from your true size since these boots naturally run larger. If you have particularly narrow or small feet, definitely go a full size down, but if your foot is generally on the average size for other shoes, then a half-size will likely be more ideal for you.
Pros
+ Retains good amount of body heat
+ Top-quality 7MM Neoprene upper
+ Lightweight but well-covered and cushioned
+ Removable insoles
+ Ideal treading for light snow conditions
Cons
– Run a tad big, best to get a half-size or full size down

---

4. LaCrosse Grange 18″ Boots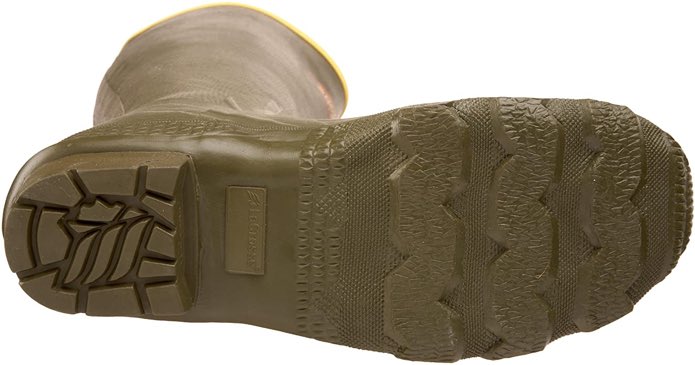 Next are the Grange 18-Inch Hunting Boots by LaCrosse, best suited for wetland hunting. The upper consists of premium PU and Neoprene, with a patented AeroForm technology giving you superior comfort and durability in this high-top boot. Branded as ZXT Rubber, it is ozone, abrasion, and tear-resistant. It has better tensile strength than other compositions.
There is a multilayer rubber on the toe and heel areas, with a ribbed vamp to ensure stellar durability. The design of the Grange includes a narrower Ankle Fit, to lock in the heel, as well as a top-strap to maintain comfort and adjustability without compromising a snug fit.
The EVA Foam footbed is removable, yet comfortable on its own. LaCrosse also includes a supportive fiberglass midfoot shank for added stability. Finally, the outsole is a Chevron-cleated design that will eat into mud and wetlands easily, while not tracking dirt or mud. These boots are overall a really great pick if you're big into wetland hunting, because ankle-wading water turns into knee-deep water in an instant, especially when the weather isn't on your side.
The Grange 18-Inch boot provides you with incredible coverage and flexibility to not only stay dry, but remain nimble on the hunt. The outsole treads are placed in such a way that it doesn't drag mud and dirt and easily dislodges debris caught between the lugs.
As great as they are, there are a few issues with the LaCrosse Grange. Most importantly, the sizing on these boots can be a bit off, as they run a bit small. We recommend going a half-size up or full size if you have particularly wide feet. Also, these tend to have a suction effect on your ankle that, while on the hunt, are amazing, but when trying to remove them, it can be a bit of a hassle.
Pros
+ AeroForm tech gives you great comfort and flexibility
+ Neoprene and PU upper keeps water out
+ Large 18-Inch leg coverage, great for wetlands
+ Removable EVA foam footbed
+ AnkleFit and top-strap keep you locked in
Cons
– Runs a bit small, ideally get a half size up
– Suction effect on the AnkleFit can be a pain to take off
---
5. Rocky Core Comfort 800G Insulated Boots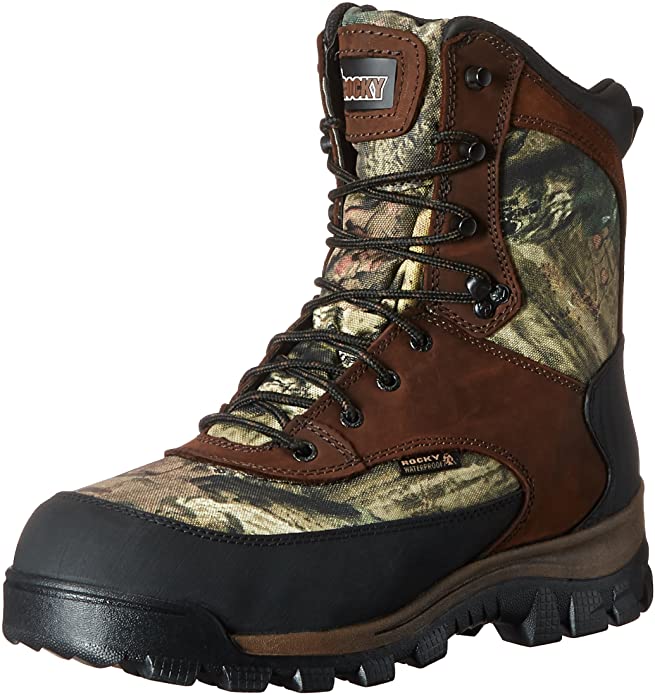 The Core Comfort Boot by Rocky is the company's attempt at making one of the most comfortable hunting boots. This is an 8-inch, 800g insulated boot with full leather and synthetic upper. The boot features a 900 Denier Nylon to give you a tough, waterproof, and comfortable experience when you're in them.
As for the insulation, it uses 3M Thinsulate Ultra technology to provide you with great insulation on a long hunting trip with absolutely no compromises. Internally, there is a removable EVA foam insole, which by itself gives you ample cushioning that you'll appreciate throughout the hunt, bolstered by firm construction all around.
The Rocky Core Comfort is built with cement-style construction, meaning it won't last quite as long as a leather-welt type, but is significantly less expensive which is great if you're on a budget. Unless you want your hunting boots to last you several years, cement construction is still perfectly fine given the price.
On top of the protection and durability you get from the abrasion-resistant upper, there is also a raised toe bumper and rubber on the toe and heel which protects you from cuts and scuffs. The tongue and large collar are both padded to give you the most comfortable yet firm ride possible. Finally, the outsole is a hard rubber compound with sizable lugs to give you solid traction by digging into the ground beneath. All things considered, this is a good and affordable all-around hunting boot.
As for the issues, the Core Comfort does take a bit of time to break-in, as you'd expect from a tough leather upper. If this causes discomfort or you want to make the experience a bit more manageable, wearing two layers of socks makes the break-in period go by a lot easier.
Secondly, to reiterate, these boots will not last as long as a leather-welt constructed pair, and you shouldn't expect a long life from them, as they are prone to breaking down. The price is significantly cheaper because this form of construction is simpler, yet not as long-lasting, so take that into consideration if you are someone who prefers to have boots for years at a time.
Pros
+ Tough leather and nylon fabric upper
+ 3M Thinsulate insulation technology
+ Removable footbed for custom orthotics
+ Raised toe bumper and added rubber in the heel and toe areas
+ Affordable price
Cons
– Takes some time for break-in
– Won't last as long as leather welt construction boots
---
6. Danner Powderhorn 10-Inch 1000G Hunting Boots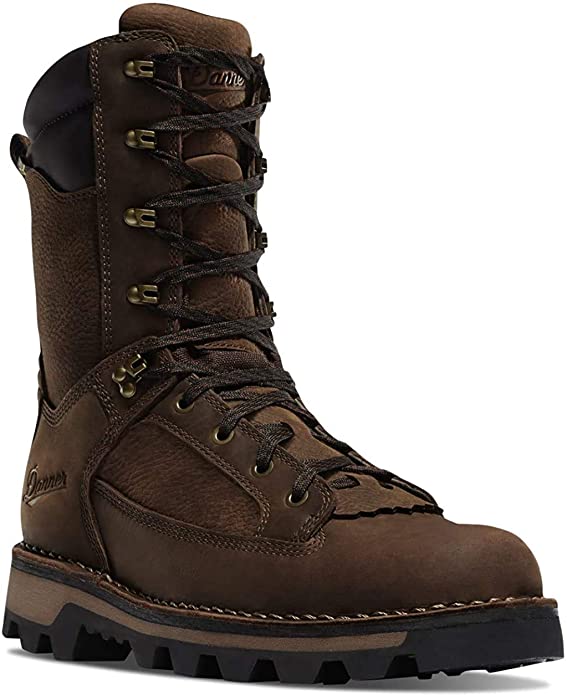 At our halfway point is the Powderhorn 10-Inch Hunting Boots by Danner. This is a 100% full-grain leather boot that is handcrafted with stitchdown construction and a Gore-Tex waterproof breathable lining across the boot to make sure absolutely nothing gets in. Additionally, these boots also consist of 1000G Thinsulate Ultra insulation technology to keep your foot and lower leg properly insulated when they're on.
Danner makes a point of putting comfort first, with an open-cell Ortholite footbed with multi-density foam patterning across, eliminating any pinch points or hotspots, keeping your underfoot experience consistent and smooth. Underneath that is the Bi-Fit stability board for added underfoot comfort, reducing the overall weight yet adding extra flex in the forefoot.
The outsole is Danner's Powderhorn compound, providing you with superb traction and durability, making it suitable for diverse terrain and elements. Finally, the Powderhorn comes in wide sizing, which is great if you have wider-set feet.
As for its issues, the truth is there aren't all that many. Probably most obvious is that the price point is a bit high, and there are a plethora of more cost-efficient options, especially if you're on a budget, then these boots are just too expensive. Secondly, the lacing is a bit short, as there is barely enough left at the top to make a proper bow. This isn't a particularly big deal or deal-breaker, though, as you can replace the laces with longer paracord.
Apart from that, if you're someone who wants a top-quality hunting boot with insulation, then the Danner Powderhorn is one of the best hunting boots for men in terms of affordability and it will last you ages before any signs of wear and tear.
Pros
+ Handcrafted construction that comes in wide sizes
+ Waterproof and durable upper
+ 1000G insulation
+ Comfortable ortholite footbed and bi-fit stability board
+ Outsole is great for a variety of surfaces and weather conditions
Cons
– Fairly expensive
– Laces could be longer but can be replaced easily
---
7. Irish Setter Vaprtrek LS 1200G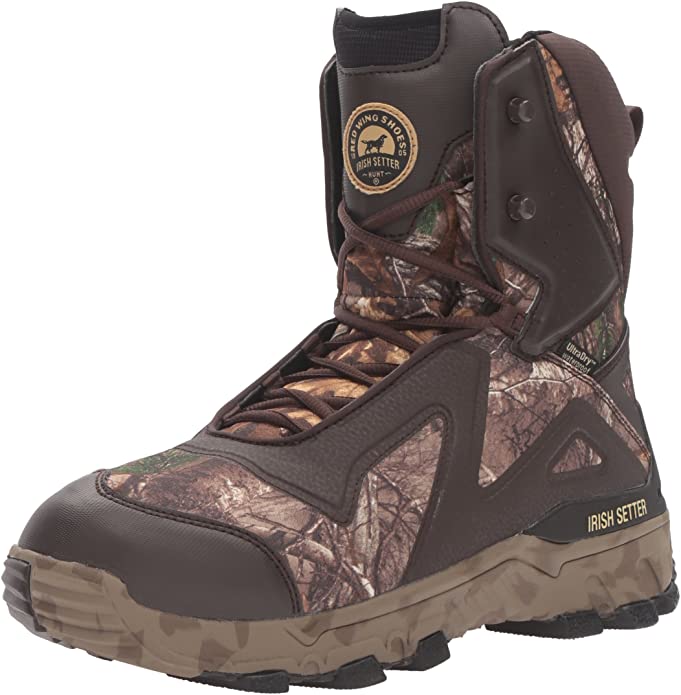 Another pair by Irish Setter makes the list and this time, it is the Vaprtrek LS 1200G Hunting Boot. The upper of this boot is composed of a blend of 80% Honeycomb Ripstop Nylon and 20% synthetic fabric, with a 9-inch lace-up closure that utilizes the Primaloft insulation.
As for the underfoot, Irish Setter implemented a comfort-cork EVA footbed with memory foam, which is also removable if you prefer to use a third party orthotic that meets your specific needs. There is also ScentBan technology inside, which is used to kill odor-causing bacteria, making sure that the inside of your boot doesn't actually smell like the inside of a boot.
The VaprTrek LS boots, similar to other models Irish Setter has, uses the UltraDry Waterproofing System to ensure that the boot is completely waterproof, so you will have no need to worry about stray liquid making its way onto and into your boots. Irish Setter also uses RPM Composite technology to reduce the overall weight of the boot without compromising the comfort or durability of the Vaprtrek.
As for protection, the Vaprtrek has Armatec abrasion-resistant covering on the toe and heel area to make sure these sensitive spots are well guarded. The outsole is what you'd expect out of a hunting boot – a tough rubber with thick deep lug treading to ensure no slippage on slippery terrain and to dig into the ground with every step. The Vaprtrek also has wide options for most of its sizings, 10 and up.
Despite having these wide sizing options, the Vaprtrek is not actually true to size. You will find that they tend to run a bit small, and we recommend a half size up, if not a full size up especially if you tend to wear thick wool socks. This may seem like trial and error, depending on the kind of layering you typically wear, but Irish Setter does offer returns to ensure you get that just-right fit for your needs. Apart from this sizing issue, which definitely could be better, the Vaprtrek is a pretty solid hunting boot that works especially well in muddy areas.
Pros
+ Durable nylon/synthetic upper
+ 1200G Primaloft insulation
+ Removable cork footbed with memory foam to ensure comfort
+ UltraDry Waterproofing to make sure liquid stays off
+ Abrasion-resistant covering for the heel and toe area
+ Wide options available
Cons
– Finding the perfect size can be an issue since they tend to run small
---
8. Guide Gear Insulated 800G Hunting Boots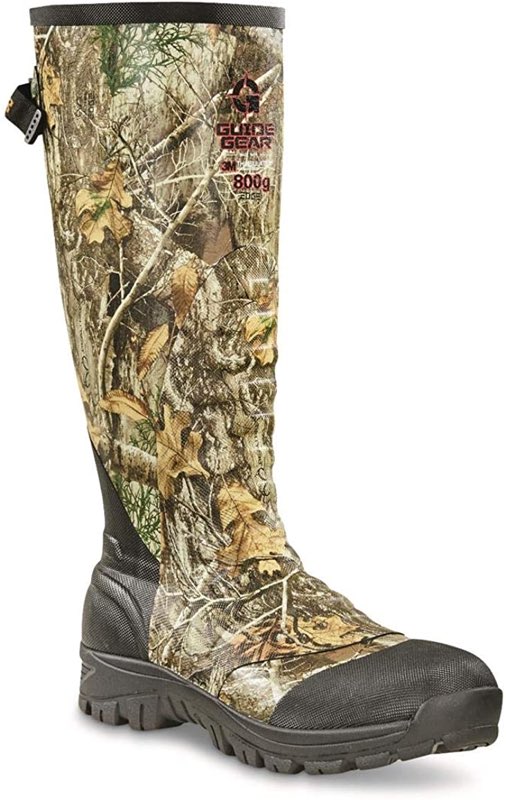 Next we have the insulated Hunting Boots by Sportsman's Guide – an army surplus outlet that only began branding their items in the past few years, with a focus on hunting. The upper is made of a rugged leather and nylon combination, with Guide Dry technology making the boot both breathable and 100% waterproof, with a RealTree Xtra camo design across the upper.
The speed lacing system works well with the no-nonsense philosophy of the boot, making sure that you can get these on in a pinch. Inside there is a lightweight molded EVA midsole giving you shock absorption, a TPU shank giving your arch added support, and padding across the tongue and collar to bring together a comfortable yet supportive experience.
The hunting boot also uses the Thinsulate Ultra insulation system, with 800g of top-notch insulation, making it a solid pick for a chillier climate. Finally, there is a tough outsole with a dedication to torsion control which helps prevent your foot from twisting and giving you enhanced movement and stability control. Last but not least, these shoes are incredibly affordable, well under the $60 mark. So, if you're looking for a quick and easy beginner pair, these are very attractive.
With that said, as good as they are for the money spent, they aren't the quality you're going to need later down the line, which is why veteran hunters throw down a lot of money for top-of-the-line boots. These boots do not have the same level of detail as the more expensive shoes on this list, and will not last as long either. The main allure of this boot is just how affordable it is, great for when you're just learning the ropes and still on the fence whether or not to dive into more quality, but expensive, gear.
Pros
+ Tough leather and nylon upper, fully waterproof
+ Molded EVA midsole and TPU shank provide ample support to your underfoot
+ Well insulated for colder weather
+ Outsole has torsion control elements to prevent twisting
+ Very affordable
Cons
– Does not offer the same level of quality as more expensive boots
---
9. Irish Setter 882 Elk Tracker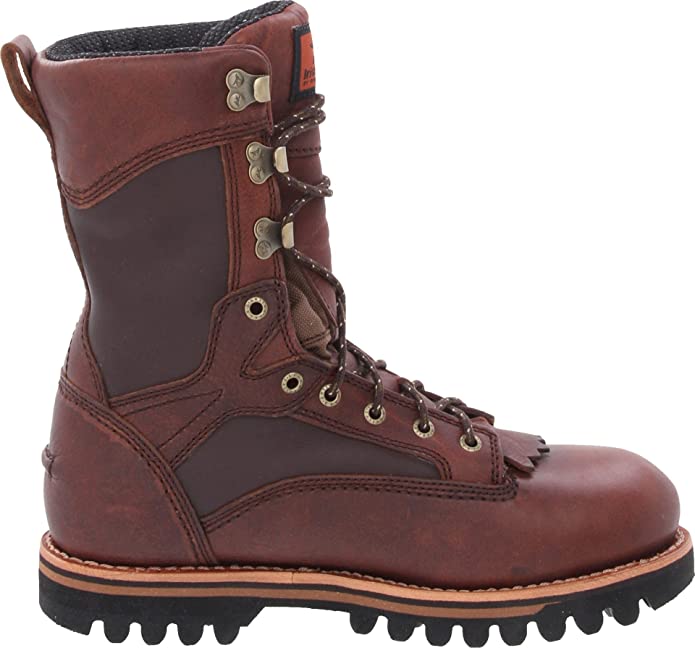 Our second-last boot on the list, and the final Irish Setter on the list, is the 882 Elk Tracker. The Elk Tracker is a fully leather upper with a 9″ collar around the ankle and lower-leg area. It is insulated with 600g of 3M Thinsulate and has a waterproof Gore-Tex fabric lining to make sure your feet are dry at all times.
Inside the shoe, there is a cork EVA footbed with memory foam along with ScentBan technology to remove any chance of odor build up during its lifespan. Because these are moderately insulated, you should see a good use for them in both warm and cold temperatures (but extremes of neither).
The Elk Tracker 882 also comes in wide sizing – great if you are someone who needs the extra space, and it also has a decently roomy toe-box. Moreover, maintaining these shoes is extremely straightforward. We'd recommend to wipe or spray these down with some lukewarm water and let them air dry after wearing or use non-scented soap. It is as simple as that, really.
The outsole has deep and prominent lugs that are great on muddy, marshy terrain. If you're looking for a good quality boot with moderate insulation, the Elk Tracker is all that in an aesthetically pleasing package.
As for its shortcomings, you are best off getting these a half size up, since the true size will feel just a bit tight, especially if you like to wear thick wool socks. Ideal for light wetness, these boots are not made for extreme cold and insulation aren't built with that in mind, so take that into account when you consider buying a pair.

Pros
+ Full leather upper with a thick collar
+ Thinsulate insulation and Gore-Tex lining
+ Firm EVA footbed with soft memory foam midsole
+ Scentban removes foul odor buildup
+ Comes in wider sizing options
+ Easily cleaned and manageable
Cons
– Not true to size, recommended half a size up for best fit
– Not meant for harsh cold weather
---
10. Under Armour Men's Valsetz RTS Boot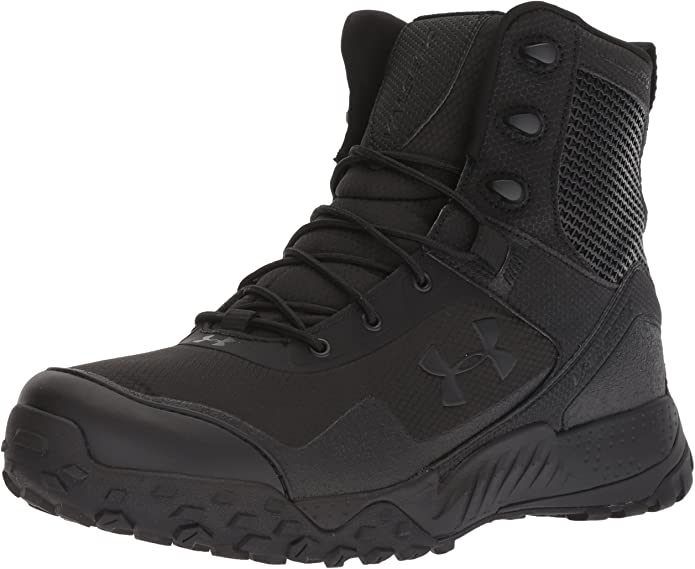 The final boot on our hunting list is a lightweight tactical boot by Under Armour – the Valsetz RTS. Compared to the other options that typically rise higher, the RTS ends a tad bit lower to give you additional flexibility in the joints over elemental protection. In a word, these hunting boots are comfortable.

The upper is made of synthetic materials and textile, and a very durable rubber outsole that can take a beating while out on a hunt. Internally, UA implemented a full-length micro-G foam insole that helps cushion your feet and gives you a bunch of energy return when you strike the ground, fueling your next step. This micro-G foam is the same that Under Armour uses in their running shoes and that should tell you just how comfortable and cushioned these boots are.
UA also put in ClutchFit technology – a staple on their more traditional footwear, to wrap around your ankle with a synthetic durable leather that gives you a socklike or second-skin type of feel. On top of that, the synthetic leather ClutchFit just makes you feel more secure and well-protected while not overdoing it and makes you feel like you have tanks strapped to your feet.
There is also a TPU shank sandwiched between the insole and outsole, giving your midfoot some support, adding to the cushioning you get from the Micro-G Foam. Essentially, the Valsetz RTS is the kind of hunting boot you buy when you appreciate comfort and being nimble over having a high-rising stereotypical hunting boot.
With that said, by picking this boot, you need to keep in mind that the durability of the RTS isn't as developed as it could be compared other rugged hunting boots on this list. The RTS will wear down with extreme and consistent use in a way that some other hunting boots may not. As bad as that sounds, UA is a well-respected brand that welcomes replacements with open arms. If you are someone who values flexibility and comfort in your hunting experience, though, you can't go wrong with the Valsetz RTS.

Pros
+ Highly comfortable design all around
+ Flexible yet firm enough to feel sturdy and hefty thanks to ClutchFit tech
+ Abrasion-resistant design
+ Ample support from Micro-G Foam and TPU shank
+ Can get a replacement from the manufacturer
Cons
– Can wear down quicker than other hunting boots
– Some may prefer a hunting boot with more coverage up the leg
Conclusion
To conclude, we've outlined the different types of hunting boots available, the types of insulation measures you should take depending on weather, and finally, we've given you a comprehensive list of our best 10 picks for hunting boots in 2022. All of the boots on our list encompass a wide variety of styles, varying degrees of insulation, and hopefully is extensive enough to meet your needs.

We have aimed to include boots dedicated to temperate weather, soft terrain, rough terrain, wetlands, bone-chilling cold, and anything in between. So, take into account how and where you'll be hunting to make the most informed and best decision of which of these boots are best for you.