Importance of Shoes for Teachers
Teachers are an essential part of our society and it's no doubt that our silent heros spend an awful lot of time on their feet whether it be teaching students in front of a black/whiteboard or walking around from one class to another.
There are a whole host of negative effects that stem from standing for prolonged periods of time. For this reason, it is important for our teachers to not just be conscious of their foot health, but also to utilize shoes that are effective at mitigating the stresses of standing for extended durations.
Unlike healthcare workers, teachers don't have to deal with workplace hazards like liquid spills and corrosive elements. But, at the same time, teachers may have to put up with kids who are most definitely going to judge them for the way they are dressed.
So, for our list of the best shoes for teachers, we've decided to include footwear that doesn't just feel good, but also looks good! This should make you look as hip and trendy as the 14-year-olds you'd be teaching, without sacrificing comfort and function, of course.
---
The Hazard of Standing for Long Hours
It has been noted that there are certain complications associated with standing, working, or walking for prolonged periods of time. Many jobs like retail staff, healthcare staff, assembly line workers, and teaching require an inordinate amount of time on one's feet to effectively do the task at hand. Complications like lower back and leg pain, muscle fatigue, some cardiovascular disorders, and slouching are all common symptoms.
Footwear is the easiest and least intrusive way of mitigating these damaging effects. For teachers, it's ideal to pick shoes that have excellent shock absorption capabilities, adequate cushioning, and fit the foot well.
For this reason, it is better to AVOID shoes that are flat or have heels higher than 2 inches (5cm). If you already have shoes and are looking for a cheaper alternative, you can always get comfortable insoles to supplement your footwear.
---
1. Adidas UltraBoost 20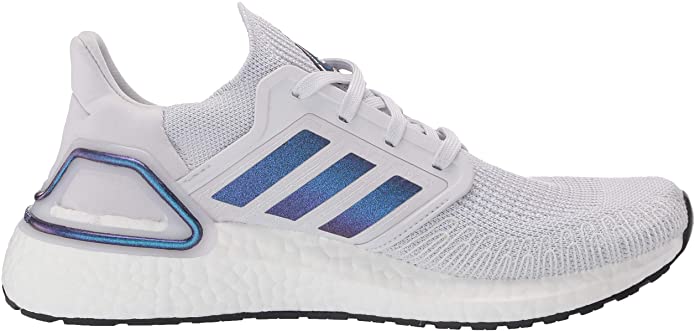 If you want a comfortable and fashionable sneaker for teaching, you will be hard-pressed to find anything better than the Adidas UltraBoost 20. For one, these shoes are insanely stylish and it jives fairly well with the young and trendy crowd. Secondly, the UltraBoost 20 has some of the best cushioning on the planet thanks to Adidas' proprietary Boost technology that consists of thousands of tiny EVA pellets fused together to form its midsole.
Let's just say that the UltraBoost 20 feels like a bouncy castle strapped to your feet. Apart from being insanely cushioned, these shoes have exceptional energy return and every stride you take is that much easier. There's also a removable footbed if you're looking to replace them with your own orthotics.
The upper of the UltraBoost 20 is made of cloth-like Primeknit fabric that comes in a wide array of colorways if you decide to be a bit more relaxed with your dress code. Apart from the visuals, the upper is well ventilated and has a soft interior feel. These shoes could easily be worn without socks if you so please. Additionally, there are TPU fit cages on the upper to keep your feet locked-in and supported.
The outsole on the UltraBoost 19 is made from Continental rubber, the same kind that is used in car tires and this provides exceptional grip and traction in all weather conditions. When you're on your feet for an extended amount of time, it's important to get a shoe that has a good amount of stability, support, and comfort – something the UltraBoost 20 provides in droves.
The UltraBoost 20 is not without flaws though. Firstly, they are on the pricey end of the spectrum. Secondly, these shoes require good care and maintenance especially since the white Boost midsole can get dirty quite easily. But, regardless of these issues, the UltraBoost 20 is one of the best shoes for teachers and the level of comfort it offers is unparalleled. They are definitely one of the most comfortable teaching shoes.
Pros
+ Very comfortable and cushioned midsole
+ Sleek and trendy design to get your students talking
+ Good energy return on every stride
+ Continental rubber outsole has very good traction
Cons
– Expensive
– White midsole gets dirty quickly
---
2. Brooks Addiction Walker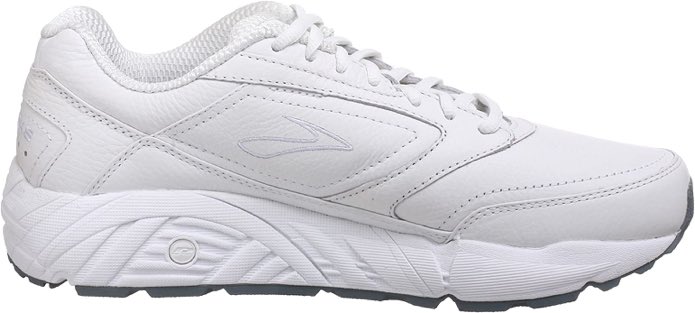 The Brooks Addiction Walker is a comfortable walking shoe from a company that has a long reputation for manufacturing some of the best footwear on the market. The Addiction Walker from Brooks is an affordable shoe for teachers that markets itself as all-day comfort footwear. These shoes have a sturdy and supportive base with a well-padded collar to keep your feet cradled and cushioned all day long.
The midsole of this shoe is made from Brooks' signature BioMogo DNA compound that is also biodegradable and environmentally-friendly. The midsole also consists of an Extended Progressive Diagonal Rollbar (PDBR) arch support that strategically guides your foot into a healthy gait-cycle to reduce the effects of flat-feet.
As for the outsole, they are made from ASTM-rated slip-resistant rubber to keep you on your feet regardless of any slips or liquids you may encounter in the lunchroom. The outsole is also highly durable and lasts quite a long time before getting worn down.
To sweeten the pie even further, the Addiction Walker's upper is made from full-grain leather that feels soft and supple on the outside. Plush lining on the inside provides an equally soft in-foot experience. It's actually quite surprising to see quality leather construction given the shoe's affordable price-tag. Since teachers spend most of their hours standing or walking from one class to another, it's no doubt that the Brooks Addiction Walker is one of the most comfortable shoes for teachers.
Finally, the Addiction Walker also comes in two different options – lace-up enclosure or straps. The shoelace on the lace-up variant is a bit short but nothing to lose sleep over. What might be bothersome though is that these shoes can sometimes squeak especially when walking on linoleum floors. Other than that, they also look and feel bulky due to its multi-layer padding. So, if you're looking for a lightweight shoe, you're better off with the Adidas UltraBoosts.
Pros
+ Very comfortable all-day shoes
+ Relieves pain and discomfort
+ Affordable price given its features
+ Supportive and stable footbed
Cons
– Squeaky when used on linoleum flooring
– Feels bulky due to its multi-layer construction
---
3. Ecco Soft 1 Tie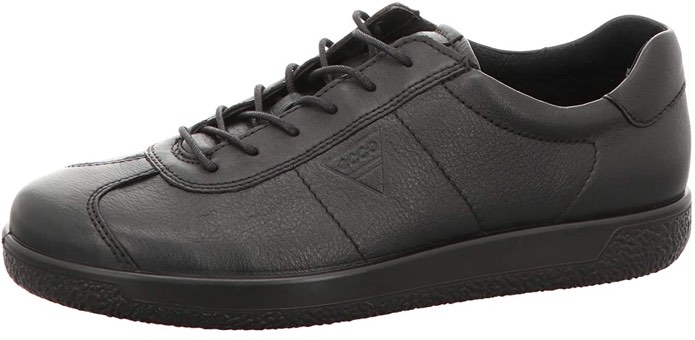 Ecco is a boutique shoe manufacturer from Denmark and who can fault the Danes for their fashion sense? These low-tops from Ecco display a very classic and laidback design thanks to its sleek and soft leather upper which makes it good not just as teacher shoes but also as lifestyle wear. The comfort while wearing these shoes is quite surprising and is ideal for all-day use. The Ecco Soft 1 Tie is best used for work or for casual hangout at a party. Thanks to its leather construction, this shoe can take quite a beating and still maintain its durability over several months.
The shoe consists of an anatomically molded footbed for increased comfort and cushioning. The lace-up enclosure provides a snug and customized fit. Minimalism is a key feature of the Ecco Soft 1 Tie, and is also quite lightweight. You can easily wear these shoes for 12+ hours and not feel any foot fatigue. These are one of the best shoes for male teachers.
They also fit true to size, but one of the drawbacks is the lack of half sizes (as of the time of this writing). If you require a bigger size, you need to go a full size up. Apart from that, the direct-injected PU outsole is not very capable on wet surfaces, so if you're a Chemistry teacher working with liquids a lot, you may want to consider another shoe on this list.
Having said that, the ECCO Soft 1 Ti is a solid pick for teacher shoes, especially if you're an educator who loves to teach and chill a bit.
Pros
+ Stylish shoes that can be paired with a variety of outfits
+ Lightweight design with soft leather upper
+ Comfortable to wear for extended periods of time
+ High-quality materials and construction
Cons
– Lacks grip on wet surfaces
---
4. Dansko Professional Clogs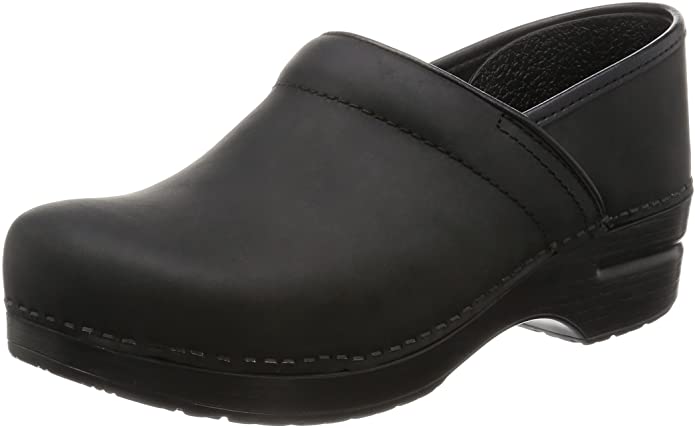 There are some who absolutely love clogs and others who absolutely loathe them. Regardless of which camp you belong to, one can always appreciate the qualities of fine craftsmanship and that's what the Dansko Professional Clog is all about.
The Professional Clog is made from 100% leather for a classic and comfortable finish. The collar is padded and has extra support elements to give you stability and support during the long hours you're on your feet. The shoe itself is quite roomy on the inside so there's no pinching or discomfort while wearing these. There's also a leather sockliner to prevent your feet from rubbing on inside. All this leather construction does increase its cost, but it's well worth the money for a pair of shoes that will last a long time.
The Dansko Professional Clog is a rocker-bottom design and coupled with the anatomically contoured PU midsole, this shoe does a great job at guiding your feet while in motion without causing foot-fatigue. A protective heel counter offers additional support and stability.
Moreover, the platform measures approximately 0.75 inches, and the heel measures around 2 inches – which is well within the earlier-mentioned guidelines for acceptable work shoes that don't put stress on your feet.
Finally, the outsole does a good job of absorbing shock and impact while walking. It might look like a bulky shoe, but the bulk acts in your favor to keep your back, legs, and feet pain-free. The only downside to this shoe is the fact that they have a break-in time associated with them since they are made of full leather. Users have reported taking around 2 weeks for it to be fully broken in, but in my case, I was able to get comfy in just a week.
Pros
+ Quality leather construction throughout
+ Rocker-bottom design to alleviate fatigue
+ Heel counter provides good support
+ Comes with a leather insole that feels soft
Cons
– Takes around 1-2 weeks to be fully broken in
– Pricey
---
5. Clarks Un.ravel Men's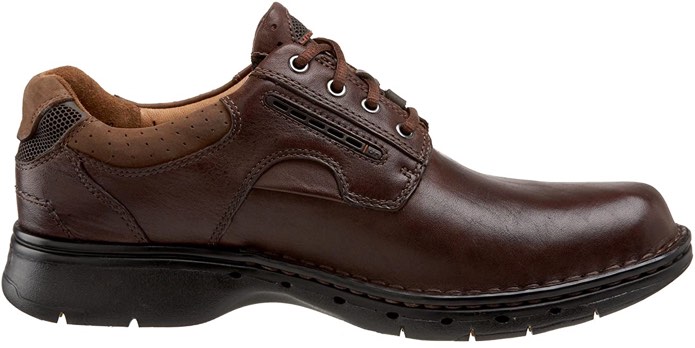 Another luxurious pair of teaching shoes for men are the Clarks Un.ravel which is made (again) from 100% leather. The Lambskin lining offers unparalleled softness and comfort, thus drastically reducing irritation and blisters.
The Un.ravel also comes with a removable leather insole that adds to the comfort and cushioning and is ideal for people who stand and teach on their feet for hours on end. While the upper is made from leather, breathability is not fully sacrificed thanks to the exhaust vents at either side of the shoe.
The shoe implements a lightweight EVA footbed for added comfort and shock attenuation – which comes in handy after a long day of teaching bratty kids. Clarks have a history of making exceptionally comfortable and cute-looking shoes, and the Un.ravel is no exception. It's not just the looks with this oxford-style shoe, but it packs enough padding to be used for long periods of time without feeling any pain or discomfort.
Unfortunately, the Clarks Un.ravel is not without flaws. Even though there are exhaust vents for air circulation, the shoes tend to get a bit hot especially if worn with thick socks. The sizing can also be a bit tricky and the shoes often run a little wide. So, if you have exceptionally narrow feet, it's recommended to go half a size down to achieve an optimal fit. But, regardless of these setbacks, the Clarks Un.ravel performs well with both formal and casual wear. So, if you're the type of person who wants a single shoe to wear with your suit or jeans, these are the ones for you.
Pros
+ Soft leather upper and lambskin lining
+ Looks good with both formal and casual wear
+ Ample padding for all-day comfort
+ Adequate stability and support
Cons
– Gets a bit hot especially if you wear thick socks
– Sizes run wide; go down half a size if you have narrow feet
---
6. Skechers GOwalk 4 Exceed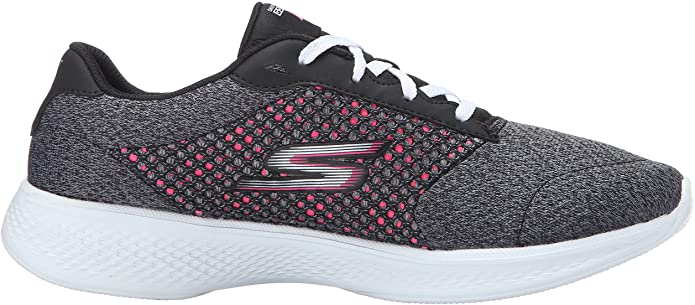 The Skechers GOwalk4 Exceed is a neutral walking shoe from a company that is well-known in the footwear industry. The upper of the Gowalk 4 Exceed is made of athletic mesh and this fabric-like material is both lightweight and contours to the shape of your feet. A traditional lace-up enclosure tops the fabric upper and if laces aren't your thing, then there is a variant available as a slip-on design.
The midsole of the Gowalk4 is called the 5GEN and the footbed on these shoes are extremely comfortable for standing and teaching all day. The midsole has exceptional shock-absorption and even after a long day's work, you won't feel any aches or pains. To further enhance the cushioning, the shoes come with a Goga Max insole which is made from bamboo fabric for its antimicrobial properties.
The outsole is an extension of the midsole which keeps this shoe lightweight and this is not to say that they degrade quickly. In fact, the outsole is quite durable and is engineered to evenly distribute the bodyweight along the base of the shoe. There are four Goga Pillars positioned on the heel and forefoot for increased cushioning and comfort. The Skechers GOwalk 4 has been reported by several testers to alleviate not just foot fatigue, but also help with pain associated with knees, legs, and back.
The only two issues with the Gowalk 4 Exceed are the insufficient arch supports and the fact that the insole tends to move around inside the shoe. Both these issues could be remedied by using an aftermarket orthotic that has both arch support and sits firmly inside the shoe.
Pros
+ Very comfortable shoe all-day use
+ Sleek looking upper design
+ One-piece midsole and outsole design
+ Helps with back, knee and leg pains
Cons
– Lacks sufficient arch support
– Insoles tend to move around when walking
---
7. Saucony Integrity ST 2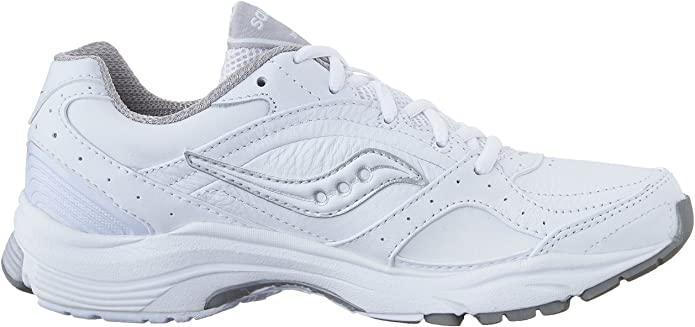 Saucony is a brand that is quite popular amongst veteran runners for its line of capable running shoes. The Integrity ST 2 is actually one of Saucony's most popular walking shoes for both men and women. These shoes sport a minimalistic design that is purpose-built for sessions of prolonged standing and walking.
The upper of the Integrity ST 2 is actually made of full-grain leather available in both black and white colorways. The leather has a soft and snug feel and these shoes require no break-in period, unlike other leather-made footwear. There is ample room in the toe-box for a comfortable toe-splay, and the padded collar is comfortable and provides much-needed support without irritating the skin.
The magic of these shoes lies in its midsole which is made from a number of different components for the best teaching experience. The midsole is composed of a CMEVA layer as the main cushioning layer, while the HRC compound in the forefoot area gives you a bounce during the toe-off phase. And to top it all off, there is a removable insole that adds to the overall comfort and cushioning.
The outsole of the Integrity ST 2 is made from a highly durable carbon blown rubber to prevent wear and tear. The outsole is lightweight and also non-marking which is great if you're a PE teacher and don't want to change shoes. The sole is dotted with XT-900 rubber to enhance grip and traction. Finally, there are flex grooves along the forefoot section which allows the shoe to bend naturally with your feet.
Regardless of having an impressive feature-set, the Saucony Integrity ST 2 is not very aesthetically pleasing with the only colors available are white, black, and beige. Also, these shoes are so grippy that they make squeaking noises on hardwood floors. Apart from these aesthetic drawbacks, the Saucony Integrity ST 2 is one of the best shoes for teachers.
Pros
+ Exceptional shock absorption capabilities
+ Easily accommodates aftermarket insoles
+ Doesn't require a break-in period
+ Lightweight and durable construction throughout
Cons
– Boring colorways
– Squeaks when used on hardwood floors
---
8. Ugg Men's Dustin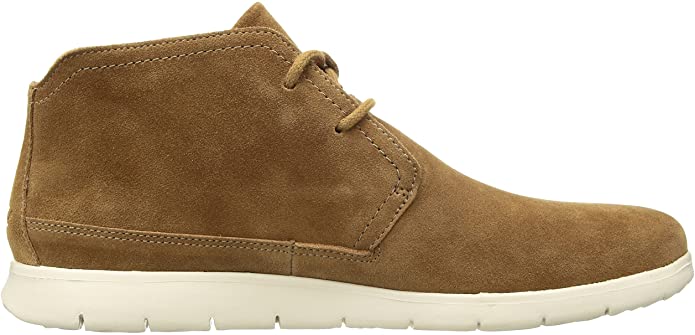 You might be a source of inspiration to your students, but the Ugg Men's Dustin will also make you a source of fashion. Ugg is a manufacturer known for making quality sheepskin boots and the Ugg Dustin is no different. This shoe is made from a soft suede upper that looks clean and simplistic without too much drama. The suede upper is quite breathable (unlike leather) and has a soft in-foot feel.
The midsole on the Ugg Dustin is made from standard EVA foam, but that's not to say that these boots are incapable of providing comfort throughout a full day's work. In fact, the Ugg Dustin has some exceptional shock-absorption capabilities and they don't feel too rigid or too plush and strike a good balance between both.
The outsole is a proprietary rubber sole known as TreadLite. The outsole is quite durable and has zoned multi-directional treads for added traction. The entire base of the sole is covered in flex grooves to keep you nimble on your feet especially when you're half-walking, half-sprinting to your next class.
One of the drawbacks of this shoe is that suede doesn't perform very well in wet conditions and it's prone to absorb water if it happens to rain. Another minor inconvenience is the fact that suede requires more upkeep than regular leather to keep it looking sharp. At the end of the day, if you're a teacher that loves to dress smart and look smart, you can't go wrong with the Ugg Dustin.
Pros
+ TreadLite outsole is quite durable
+ Versatile shoes that go with a variety of outfits
+ Soft suede upper is very comfortable to wear
+ Sleek, minimalistic design
Cons
– Not recommended to get wet
– Requires more maintenance than regular leather
---
Conclusion
Teaching can be a difficult but rewarding career especially when you're beloved by your students. A teacher is someone who makes a difference in the life of a young individual. So, why not make that difference while wearing a comfortable pair of teaching shoes?
No matter your style, there is something on this list that will suit your taste. Regardless of which shoe you pick, all of them are equally capable to keep you on your feet all day long without any of the pain or discomfort. It is also important to stretch your feet and massage them (if you can) while on a break to avoid long-term foot complications.