Editor's Note: We have updated some of the shoes on our list to reflect the latest selections for 2022. Our review is a culmination of 25 hours of research and testing of 45 different pairs of shoes.
What is Jump Training?
In this article, we will be discussing the various types of shoes that are dedicated to jumping rope and jump training, or plyometrics, at large. Plyometric exercises, or colloquially known as jump training, are exercises where we exert the maximum force of our muscles in a short time interval, multiple times in succession, to increase our power (speed and strength) long term.
Jump training is a great way to learn to move from muscle extension to muscle contraction in a single explosive motion. It is a great way to burn off excess calories, stay in shape, or most importantly, help us excel in our physical and sporting activities.
The ability to exert an explosive power at will is an incredible skill to have in a variety of sports – basketball, soccer, and volleyball to name a few.
We're not here to sell you on plyometrics, though, but rather provide you with a comprehensive and authoritative list on some of the best shoes to consider wearing when jumping rope or jump training.
It should be noted that if you are a physically sound person, jumping shoeless will enable your feet to develop exponentially, strengthening the minute but important muscles for jumping and leaping.
---
Should I Wear Shoes When Jumping Rope?
Even though a lot of fitness aficionados believe that jumping and performing exercises barefoot will improve your foot strength, wearing shoes will provide you with a more comfortable and safer experience. The pressure on your knees, ankles, and lower spine when doing prolonged jumping exercises will be offset by the support of a shoe. This will, in turn, help you train longer and heal faster.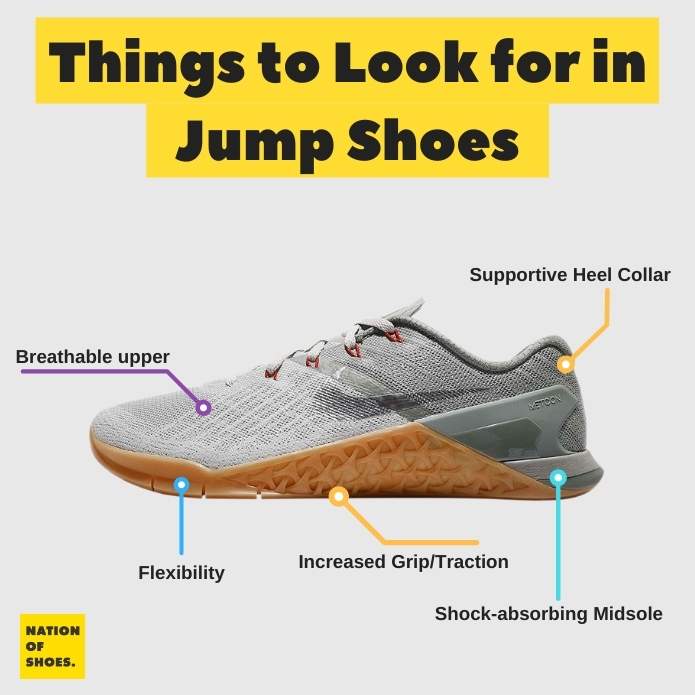 You'll often find that it can sometimes be dangerous to do jump training without shoes as you can open yourself up to unnecessary injury. As a result, we have compiled a list of the ten best shoes for jumping rope in 2022 so that you can give your feet, legs, and back, the support they need – instead of sacrificing them for faster muscle gains.
Now, onto our list of shoes that we consider to be some of the best shoes for jumping rope in 2022.
---
1. Inov-8 F-Lite 235 V2 Cross-Training Shoe
The Inov-8 Company is focussed on producing the most light-weight and flexible footwear available on the market. The F-Lites are no exception, being created to compliment the natural motor functions of human body biomechanics. It features a rubber sole that is not only durable but able to cushion the blow of coming down from high jumps, bringing some of that energy back to aid in the following movement or jump.
The F-Lites feature ADAPTERFIT technology that provides a variable fit depending on your foot type. For people with wide feet, the shoe envelops and cradles the foot while doing hard lateral and medial movements but has a roomy toe box allowing for the toes to properly splay, ideal for jumping, and other movements that require foot contortion.
The second is called the Precision form, which is a closer precise fit that ensures minimal movement within the shoe. This is more in line with individuals who have a narrower forefoot.
The number in the name is a hint as to how light and bare-feeling this shoe is intended to be, coming at around 195 grams, and a 3mm heel to toe drop. The F-Lites are designed to be super fast and offer an enhanced grounded feel for extra flexibility and mobility, explaining its more "stripped back" look.
The Inov-8 F-Lite 235 also features a Meta-Flex groove in the forefoot of the outsole, making it so the foot can move more naturally when pushing your limits, something that regular sneaker designs would overlook. It serves as a natural flex-point at the bottom of the shoe, and just by looking at it, you can see why it would be perfect for jumpers.
Speaking of the forefoot, the F-Lites also have a sticky rubber outsole that draws its inspiration from rock-climbing gear, meaning it is well equipped to keep you planted before a jump. As for aesthetics, it has a sleek design with a variety of colorways: Black/Lime/Blue, Blue/Red, Grey/Blue/Yellow to name a few of their most stand-out combinations. The F-Lites are definitely not color-shy.
Overall this shoe is a great design aimed at providing a crisp foot-to-ground feel, perfect for jumpers and jumping rope, as no excess designs or architecture hinder your range of movement in motion. One issue is the fact that they may run a half-size bigger than intended, so try ordering a half-size down from your true size.
Pros
+ Minimalistic design and bare-foot feel
+ Good grip outsole
+ Breathable, well-cushioned
+ Good price point
Cons
– Runs half a size bigger
---
2. Reebok Nano 8.0 Trainers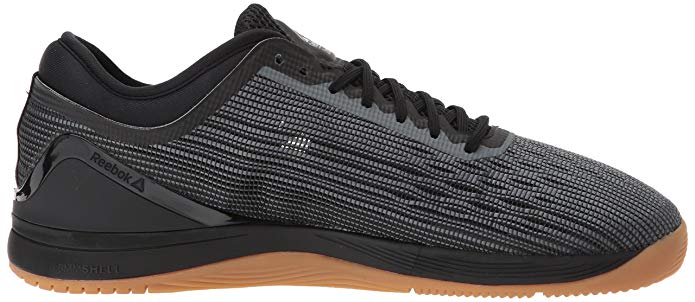 The Nano 8.0's come in two forms for the upper, you can choose between fabric or textile. Both are intended to be highly breathable, but the option exists for those who prefer one type over the other (be it merely aesthetic or allergic to a material-type). Both materials have the nano-weave engineering behind it, so the fit and breathability are equal. It features a rubber sole much like other shoes designed for jumping and rapid exercise in mind – energy feedback loop and high durability.
The Nano series has always had a proven level of comfort and performance, but the 8.0's take it to the next level with a new comfort fit: a new heel bootie construct and molded sock liner. This provides great performance comfort with its ample cushioning and curability after excessive use. There is also a high abrasion rubber outsole and cheval molded midsole for that bit of extra cushioning you'll really come to love after doing a ton of jumps.
The 8.0 also has a forefoot groove for added flexibility, coming in the clutch when jumping for prolonged periods, as it really is the small things that add up after a while that take a toll on your stamina. Of course, it is also a low-cut design as to not restrict the ankle or lower leg to the point you would not be getting the exact precision and power from your jumps as you'd like.
To sum it up, the Nano 8.0's are a solid pick for all sorts of HIIT workout routines, plyometrics included. These are high-quality shoes with a reputable brand behind it, and that is reflected in the price tag as it is on the upper end of the spectrum. This is to be expected, but a definite downside when considering these shoes over others, that may be more budget-appropriate.
Pros
+ Great design for a variety of activities and sports
+ Features ample cushioning and support
+ Roomy toe box for natural toe-splay
+ The outsole has grooves that conform to your foot's natural movement
Cons
– A tad on the expensive side
---
3. Nike Metcon 4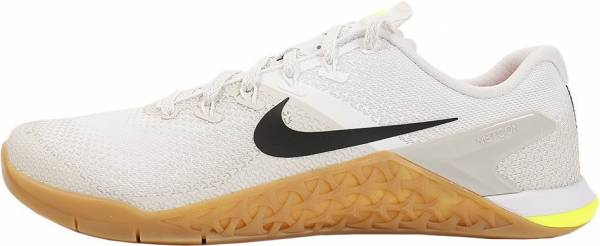 Beyond brand recognition, the Nike Metcon series garnered a lot of notoriety for being banned by Reebok-led CrossFit competitions at the highest level and subsequently created a witty marketing campaign against Reebok's actions. The Metcon 4 fixes all the issues with the previous iteration of Metcon, with a super-strong flywire cable combined with laces to lock these shoes on your feet. It also sports a lightweight foam cushioning to comfort your feet during high impacts.
The Metcon 4's have a stable platform with a flat heel that aims to keep you feeling stable and planted on the ground. It's perfect for lifting, running, and jump training, with a durable and comfortable sole to keep the entirety of your foot feeling planted.
The colorway is phenomenal, a slew of colors can be at your disposal, and given that these are a more traditional design, you should be inclined to wear them even beyond jump training workouts, but in all other routines, you have as well. The only noticeable issue is that this pair of shoes do run small, so half a size up from your true size would be ideal for you. They hold up quite well even after tons of rigorous training regimens, and unlike other top-notch brands, their pricing is very competitive.
Pros
+ Quality design and aesthetic
+ Durable and long-lasting
+ Affordable
+ Variety of colors available
Cons
– Runs small, half a size up is ideal
---
4. Vibram Men's V Trail Runner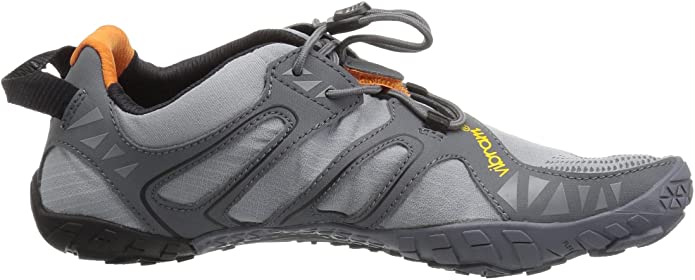 These shoes are comprised of Polyester and Spandex upper, which are aimed to keep the top portion of your feet adequately flexible and nimble – not hunkered down in place by a bulky or thick design. The V Trail Runners are Vibram's latest version of the Spyridon elite running shoes, with a 3d cocoon technology molded into their rubber sole, combined with a 2mm EVA insole.
This is intended to provide high protection, especially for the ball of the foot, to have both the flexibility as well as the durability needed to endure an extensive amount of force applied within seconds, over and over.
The outsole of the Trail Runners is multi-directional, meaning that the bottom of the shoe will have grip for a slew of directions. Wherever or however you plant your foot downwards, the Trail Runners outsole will make sure to keep your feet feeling glued to the ground until you blast off. They come in a few shades – black, dark grey, light grey, and even blue. While not the most eye-catching, the Trail Runners aim to get the job done.
As for its design, it emulates the shape of a regular human foot – instead of the rounded off designs that we have grown accustomed to. The reason being that this kind of design should afford just a bit more flexibility for our feet and help us adequately stretch and use our feet the best extent we can while jumping with a pair of shoes on.
One such drawback is that if you intend to wear this kind of shoe without socks, you might need to order half a size up because they are meant to be worn sockless more often than not. This is, of course, a minor inconvenience. What might not be so minor is the price tag associated with these Trail Runners, as they are on the higher end of the jumping shoe spectrum, deservedly so. If you are looking for a more economical pair of shoes, the Trail Runners might not be your best option.
Pros
+ Great "bare-foot" feel to them
+ Flexible and durable
+ Good grip and traction
Cons
– Lack of colorways and unconventional design
– The price tag is a bit higher than other options
---
5. New Balance Men's Mx608v4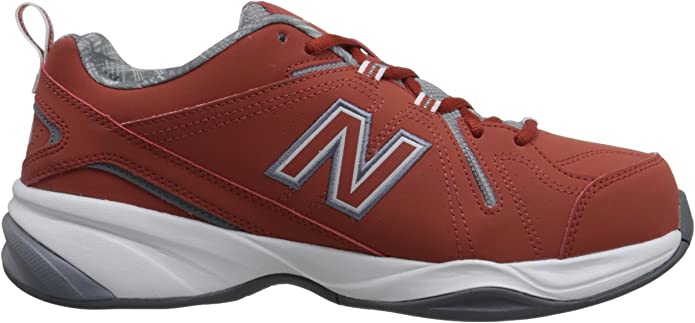 Our next pair of shoes is also well known for providing support and comfort for a variety of your needs – the MX608v4s are comprised of a breathable leather upper, rubber sole, and lace-up closure. The lining makes for a comfortable and breathable experience and the EVA footbed will make jump rope feel a lot easier on your feet.
Despite their bulky and heavy look, the NB MX608v4's are flexible and lightweight while offering a great balance of cushioning, support, and durability. It is a Medicare-approved design like many of the other New Balance line of shoes. The midsole is comprised of IMEVA, and has the ABZORBZ tech behind it, creating a great landing after each jump.
This is not a shoe without flaws though, as it tends to run a bit small, about half a size, and the additional cushioning you wouldn't find on other shoes of this kind might be bothersome or take a period of adjustment if you're used to a totally different style.
Pros
+ Great leather upper
+ Comfortable extra padding
+ Supportive midsoles
+ Room for custom orthotics
Cons
– Runs a bit small
– Not very stylish or appealing
---
6. Xero Shoes Prio – Minimalist Barefoot Shoe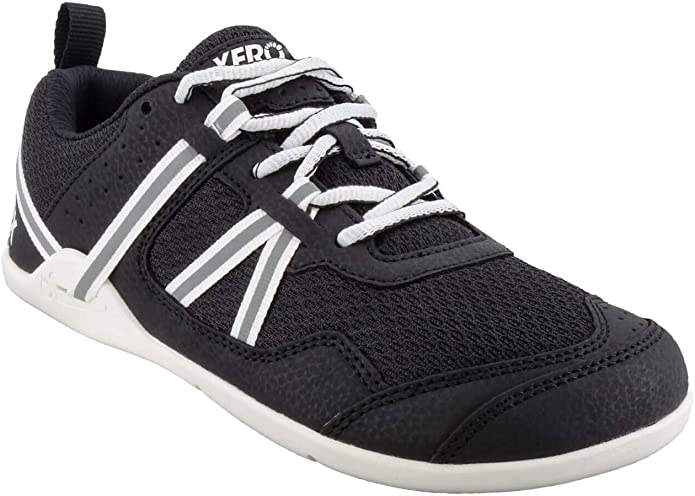 Despite its tongue-twister of a name, these shoes are fairly basic in design – very clean and minimal. Xero has designed these shoes to feel incredibly lightweight and comfortable. They feature a foot-first design, with a wide toe box for splaying your toes and increasing its overall comfort when worn.
They are also non-elevated at the sole, to make you feel right on the ground, which is a good feeling when jumping rope or jump training. It is also beneficial for your posture as well as your balance and agility, you won't feel off-center or bogged down by these sneakers.
Xero crafted a FeelTrue sole that is built into the Prio, giving you a feeling of traction, protection, and feedback you expect from a top-of-the-line sole. It's a "natural fit", meaning it wants to stay true to the source, namely how you feel on your bare feet. You'll be feeling similarly serene and comfortable in these shoes. Previously, these shoes had a habit of being improperly sized, but as of summer 2019, they have undergone a complete sizing overhaul and now are true to size.
The only other possible qualm is the lack of colors available, with only Black, Black/Red, Black/White, and Grey/Blue being on offer. The price is middle of the road, though a bit on the high side, but that is to be expected with a specialty shoe.
Pros
+ Lightweight and flexible
+ Good for all sorts of activities including jumping
+ Barefoot feeling
Cons
– Lack of colors
– Middle of the road pricing
---
7. Adidas Freak X Carbon Mid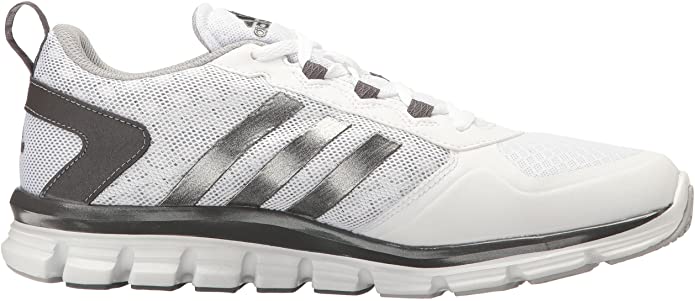 These shoes are a mixture of synthetic and mesh upper as to provide you with greater breathability when exercising, and dissipating heat at an appropriate rate to prevent discomfort. They feature a rubber sole to cushion impact and empower further movement, as well as an EVA midsole for support. The outsole features grooves with traction control and durable material, so you will not have any issue staying on your feet, as slipping is simply not an option.
This is a lightweight shoe designed for running and jumping in particular, and you can tell Adidas took its time crafting this in such a way that comfort and ease of the user are at the forefront of the experience when wearing the Freak X Carbon Mid Cross Trainers. Whether you're jumping rope or doing another jump related exercise, these shoes will not disappoint.
It's an overall reliable shoe, but one problem that persists is the fact that you will need a half size or so larger order compared to your foot's true size, as that's just how they happen to manufacture them. The price point is proportionate, not quite expensive, but expensive enough to warrant keeping your eyes peeled for a good deal or sale.
Pros
+ Increased breathability thanks to the mesh upper
+ Rubber sole and EVA midsole for durability and comfort
+ The outsole has great traction control and friction creation thanks to its grooves
Cons
– Lacking in unique colors
– Should order half a size up to be safe
---
8. Nike Free TR 8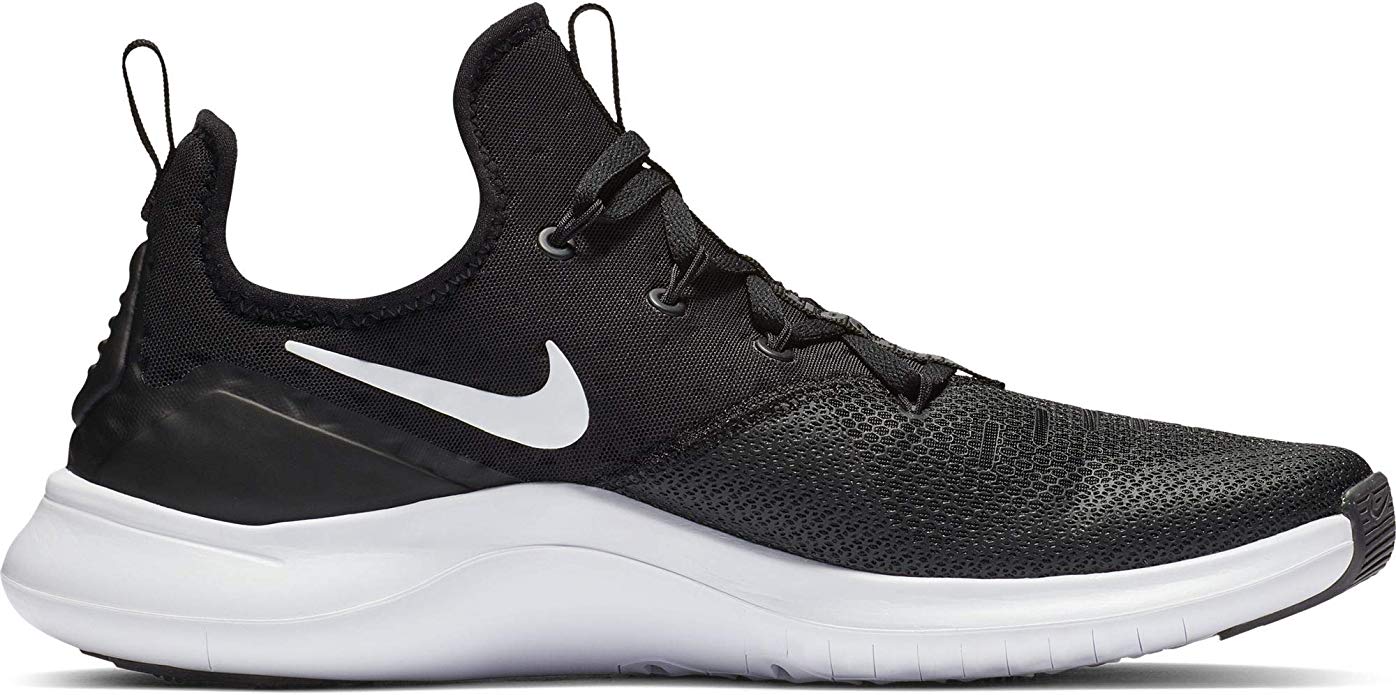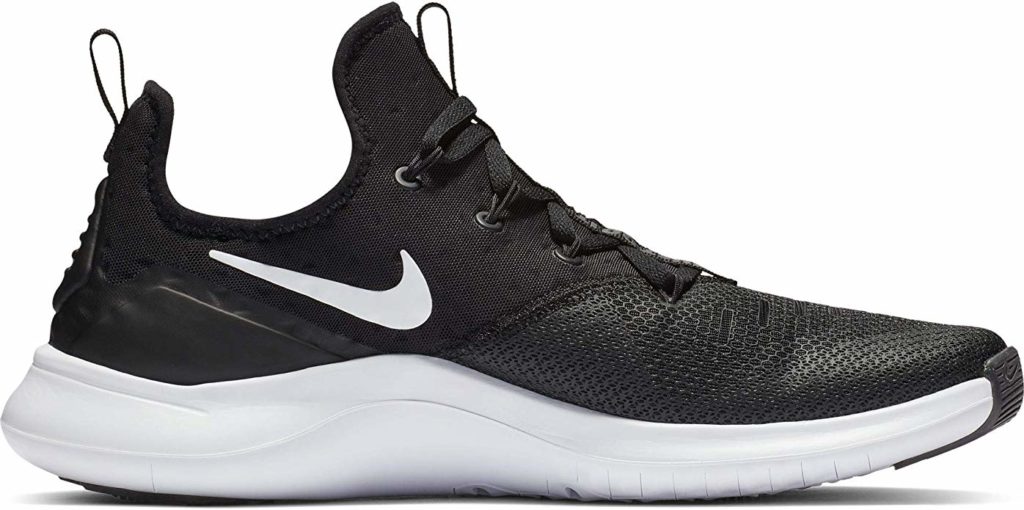 Truly a staple on any shoe list, the Nike brand never ceases to amaze with its designs that are not only tantalizing to look at but practical. It shares many traits with all the other top jump rope shoes – light-weight, mesh upper for breathability, flexible, and great traction. These are great jump rope shoes that are suitable for all sorts of minute movements and doesn't make your foot feel like it's stuck in place but allows for fluid movements.
The Nike Free TR 8 is actually lighter than a lot of the other cross-training/jumping sneakers on the market. The Flywire technology employed in the design of this shoe gives you a greater sense of mobility and reaction, allowing for great movement and precision. You may question whether you're wearing a comfortable sock rather than an exercise shoe.
The only glaring issue with the Nike Free TR 8 is the fact that the elevated collar on the back can sometimes cause irritation. Also, certain colors and sizes can be difficult to find. With all the said, they do have a lot going for them and as a result, made it on this list.
Pros
+ Soft and comfortable
+ Flexible and lightweight
+ Allow for a wide range of movement
+ Never overheats your feet
Cons
– Elevated collar can cause irritation for some
– Difficult to find certain sizes/colors
---
9. PUMA Tazon 6 Fracture FM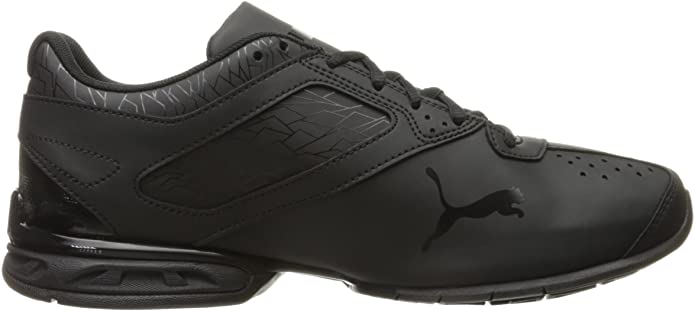 This is the classic PUMA fracture look with a modern spin on it, making for very stylish yet minimalistic shoe design. This design treads the line between conventional jumper shoes (a la Nike) and the comfortable runners (a la NB), with a midsole made of soft foam with additional support in the form of a TPU shank across the middle of the insole.
Internally, it is incredibly comfortable, and it also has enough breathability that it doesn't seem to fall in line with other "comfortable yet suffocating" type shoes. Its outsole provides a lot of grip as well as arch support – clearly visible from all angles.
With that said, this shoe runs into trouble in the flexibility and durability department. At times it can feel quite stiff or quite padded, which is counteractive to some of the maneuvers you intend to do during jump rope or jump training.
It tends to run small, and with stuffy socks, you can experience a bit too much heat built up when seriously exercising. Given that you may be prone to overheat, the shoe suffers as well, with its durability going out the window if overexposed to heat or just worked to the bone.
At the end of the day, these shoes aren't totally ideal for the most hardcore of jump ropers, as they will inevitably give out, but they find a place among people who mix and match their routines and require a bit of both worlds – lightness and stability.
Pros
+ Aesthetically pleasing design
+ Stable and comfortable cushioning
+ Great support via TPU Shank
Cons
– Not as flexible and runs hot at times
– Runs small
---
10. Nike Air Monarch IV Trainer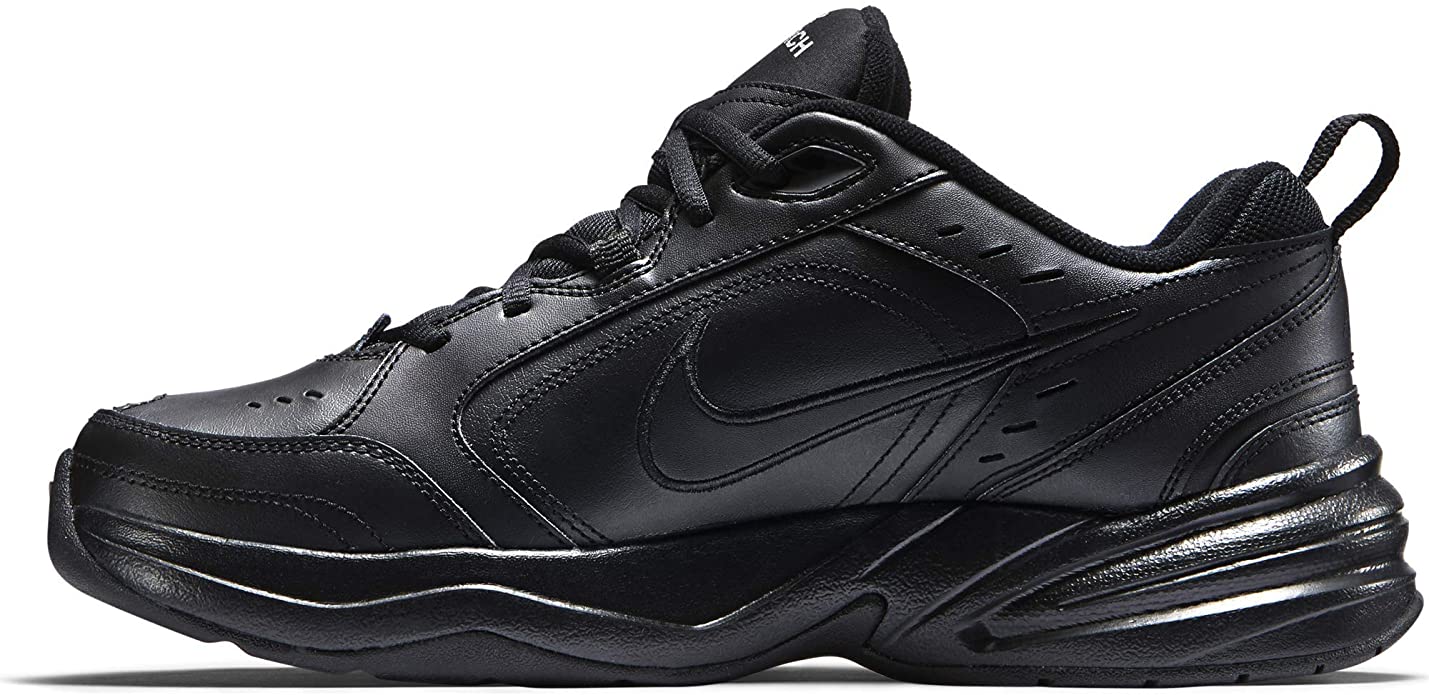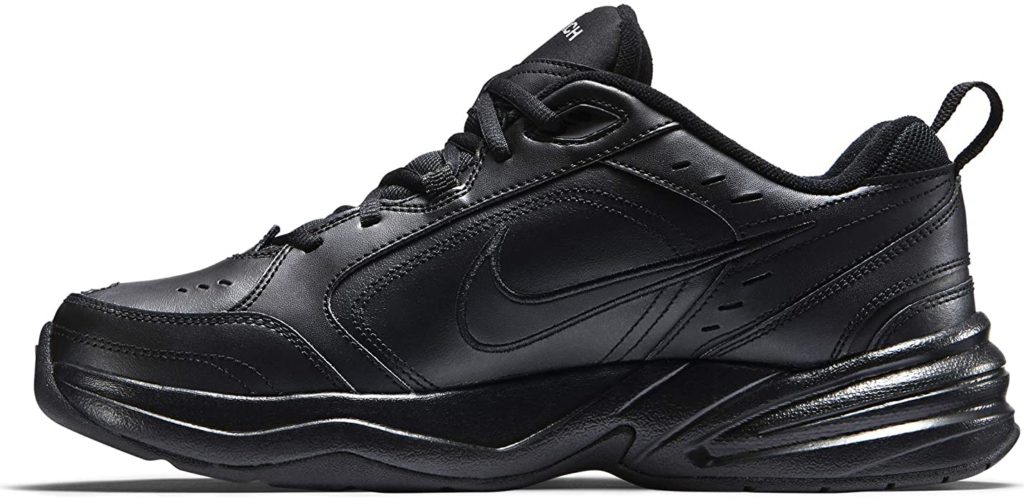 Rounding out our list is another pair of Nikes, but this time sporting a much different, classic look. The Air Monarch feature a leather-synthetic mixed upper and rubber sole, which is, of course, is to help with shock absorption from rapid movements as well as high jumps, of which you'll be doing many in these kicks. They are a very comfortable shoe with a Foam Phylon midsole, Air-Sole unit cushions, and overall a very soft feel to them.
The outsole is solid rubber providing a durable and friction-full movement over a wide array of surfaces, so you do not have to worry about where you're treading with these pairs of shoes. If you're a fan of the classic retro sneaker look, but with the added ergonomics of the current decade, the Air Monarchs fits your niche. Despite their bulky look, they are deceptively lightweight and smooth, with a mesh shoe tongue and easy-to-slip-on heel tab.
As for its downsides, the colors aren't very awe-inspiring, just black and variations of white to its name, it won't arouse much envy from looks alone. They are practical, come at a practical price, and are true to size, so the only major flaws are the fact you may not dig the retro vibe nor will the colors shock you. Apart from that, they are a stellar comfortable shoe that will be of great use when you start your sets of jump rope or anything else since they are a ubiquitous design.
Pros
+ Comfortable thanks to a slew of cushioning
+ Durable rubber outsole and good grip
+ Lightweight despite its looks
+ Affordable pricing
Cons
– Not super flexible
– The bulky look might not appeal compared to sleeker shoes
---
What to Look for in Jumping Shoes
You might be asking yourself now, what are the tell-tale signs that you have a good pair of jumping shoes on your hands, or more aptly, feet? Here is what you should look for when determining whether a pair of shoes are good for jumping rope or plyometrics:
Breathability:
Shoes that allow for an adequate amount of airflow to pass throughout the foot. By having a breathable design, your feet are less likely to heat up or sweat, which would normally cause discomfort or make you fatigue faster.
Flexibility:
Ideally, a flexible insole allows you to jump smoother, as you can stretch your foot to the fullest range possible without them feeling caged up in a pair of sneakers. The same is true for the toe cap, you want a flexible top end of the shoe that allows for your toes to have a proper range of motion, but also not so malleable as to get stuck in a malformed shape from use. Remember, we want the support of a shoe, but the feel of bare feet.
Grip/Traction:
imperative to a good jumping shoe is its ability to create friction and therefore provide enough traction for your feet to have a clean, powerful jump, after making contact with all kinds of surfaces. A better grip will give your feet the foundation they need to make a big leap.
Shock Absorption:
A great pair of jumping shoes have the design in mind to allow for a bit of your expended energy from jumping back to you and make each jump that much easier, almost like a rebound or recycling of spent energy that is being used to power the following jump just a bit.
Durability:
Hand in hand with breathability comes durability, as both are impacted by the type of material used for a pair of jumping shoes. Ideally, you have a material that is both breathable but also durable, not prone to have holes, wear out, or come apart with time.
Weight:
As a general rule of thumb, when it comes to jumping shoes, the less weight you have tacked onto you, the better. Because of this, it is best to avoid excessively clunky or heavyweight shoes that will keep you too planted on the ground. Lightweight shoes will help you better while jumping rope without tiring your feet.
---
Conclusion
To conclude, we've gone over what to look out for when considering shoes dedicated to jumping ropes as well as plyometrics and we've given you a detailed list of what shoes to look out for as well. We have a whole host of training shoes, a great variety of designs: some border on the wild, some are sleek and refined, some are basic and to the point.
Regardless of which shoe meets your aesthetic needs, they all should fulfill the purpose of giving you a smooth, comfortable, and precise experience when jumping. We hope we've given just a bit of insight and counsel to your inquisitive minds – enough so that you go out there and buy a pair of great jumping shoes before 2022 ends!