What is Cross Training?
Cross-training is the practice of engaging in more than one type of workout to maximize performance and improve overall fitness. For example, you can couple your running or cycling with strength training or CrossFit to target those muscle groups not used while running. Even being engaged in two or more sports can be considered cross-training. But, for an effective workout, you're going to need the best cross training shoes.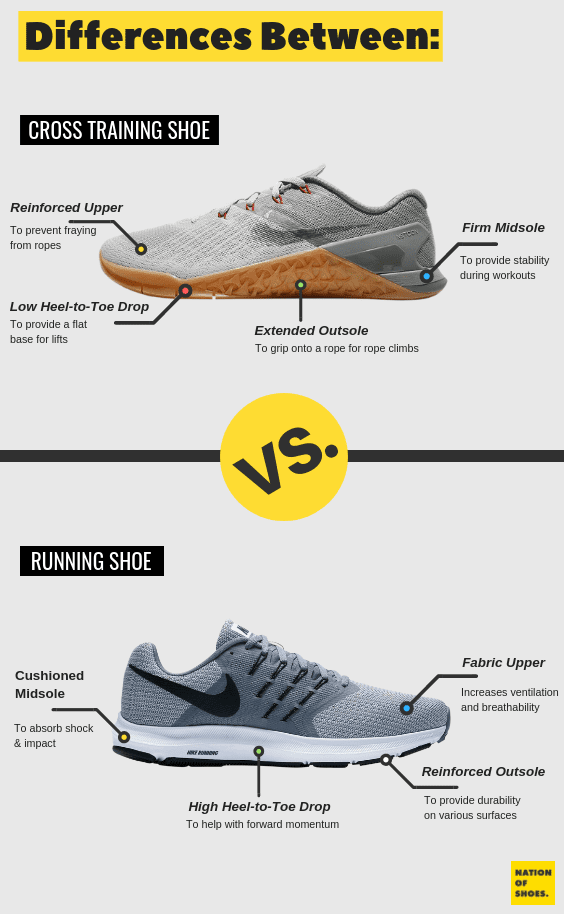 Cross trainer shoes (as the name suggests) are multi-purpose training shoes that can be used in a variety of different physical exercises or sports without buying an individual pair of shoes for each sport. They are versatile shoes that are built for lateral movements and feature some level of cushioning if you plan on doing some light running.
Please note that if the majority of your workout involves running, it is important to get separate running shoes that provide better cushioning and comfort to stave off those running related pains and injuries.
Whether you're into swimming, sports, CrossFit, strength training, or resistance training, it goes without saying that a good pair of cross trainers are extremely important to support the weight of your body during those strenuous workouts. A good pair of cross training shoes can make the difference between an energizing workout, or a painful chore resulting in sore and achy muscles.
---
What are Cross Training Shoes?
Cross Training shoes are specialized training or gym shoes that not only help with doing weight training, but also other types of cross training like box jumps, burpees or any other kind of resistance training. Cross-training shoes offer a good balance between stability and support for both weight training or running/jumping activities.
The shoes on our list were extensively tested in the gym through a variety of exercises including burpees, rope climbs, plyometrics, and weights. These are the best cross training shoes for men on the market right now. Some shoes on the list like the Adidas PowerLift 3.1 are more geared towards serious weightlifters, while others are general purpose training shoes.
It's important to keep in mind that you should avoid using your running shoes at the gym since they lack the stability and support required for hard lateral movements. Running shoes also lack the outsole/midsole durability necessary for cross-training and hence, you will wear them out quickly.
---
The Best Cross Training Shoes
1. Nike Metcon 4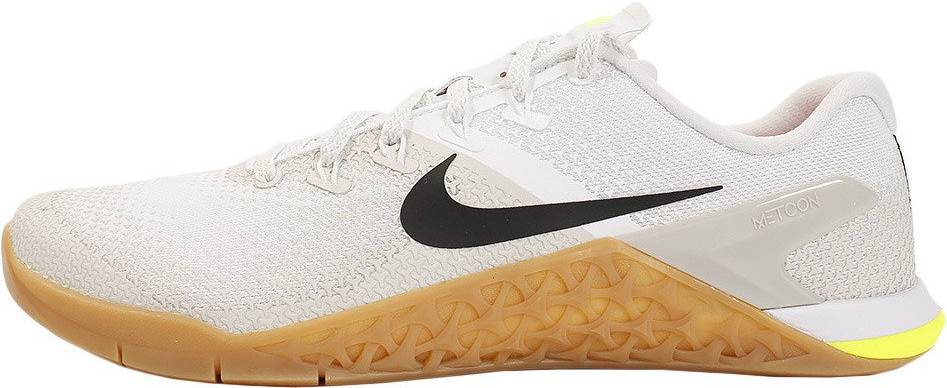 The Nike Metcon 4 from last year has become a staple brand when it comes to cross-training. The Metcon 4 is so robust and well-built that, in our opinion, you wouldn't even need to buy the new (more expensive) Metcon 5. We tested the Metcon 4 for over 6 months both inside and outside the gym with stellar results. If you're looking for hands-down the best training shoes on this list, then you need not read any further and go buy these puppies.
Nike has bestowed the Metcon 4 will all the features you could ever ask for in a training shoe. The upper construction is made from a blend of both soft mesh and reinforced synthetic material. The upper is quite flexible and comfortable which is excellent for workouts like burpees and box jumps.
The Metcon 4 also has an integrated Flywire system for a snug and close fit. There is minimal heel-slippage when you're engaged in a lot of side-to-side lateral movements as you feel the shoe is really hugging your feet.
The outsole of the Metcon 4 extends outward past the arches along the medial and lateral sides of the shoe. This is an excellent option for rope climbing or sled pushes and the outsole is covered in sticky rubber for this exact purpose. The textured grip on the soles can take quite a beating while still retaining its traction control, coupled with a heel-clip to stabilize side-to-side movements.
The midsole on the Metcon 4 is a standout feature as they are firm and stable. You wouldn't need any specialized weight lighting shoes when you have the Nike Metcon 4. The flat offset of the heel helps with providing a stable platform for explosive lifts by making you feel more connected to the ground.
It's safe to say that you can work up to heavy triples on the back squat without noticing any give or instability. Moreover, these shoes are also quite good for short runs and sprints without needing specialized running shoes. The cushioning on the heel portion of the shoe is slightly stiffer than the cushioning towards the forefoot. This helps with flexibility and makes the shoe feel more lightweight.
The only issue with these shoes is that some people might find it too firm and if you're doing multiple box jumps, you are prone to feel it. This, however, isn't that big of an issue when you focus on all the positives. It is without a doubt that the Nike Metcon 4 has the overall best features in any training shoe and hence earns the title as the best cross training shoes for men or women in this list.
Pros
+ High-quality, durable construction
+ Flat and stable midsole for weightlifting
+ Variety of color combinations to choose from
+ Great for short runs and sprints
Cons
– Some might find the midsole a bit too firm
---
2. Reebok CrossFit Nano 9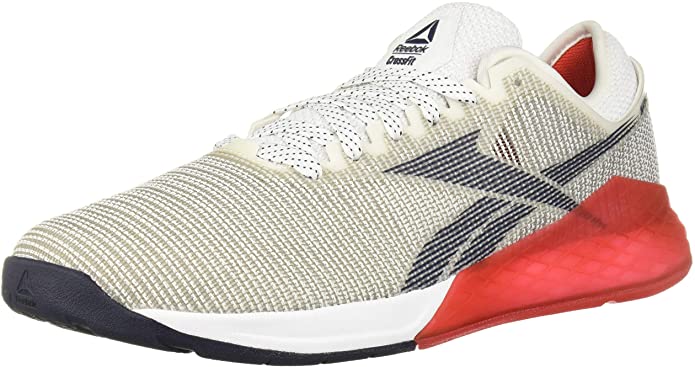 If your training regimen includes more CrossFit style WODs along with some traditional training and running, then the Reebok CrossFit Nano 9 bridges the gap perfectly. While the older Nano 8 is a remarkable cross-training shoe, the Nano 9 takes it just a little bit further with a few enhanced features.
One of the standout features of the Nano 9 different from its previous iteration is the translucent rubber grip that overflows to either side of the shoe. This rubber grip is wider around the midfoot to create a stable weightlifting platform. It also doubles the traction on rope climbs and aids in multi-directional movements. The heel platform has also been widened significantly to make it more weightlifting-friendly and the base resembles that of a squat shoe.
To sweeten the package even further, Reebok has made the Nano 9 more running-focussed than previous iterations by adding a single-density injection-molded EVA foam into the midsole. While this doesn't replace a dedicated runner, it is perfect for some light running and cardio to supplement your training regimen. The single-density foam is lightweight and flexible compared to traditional hard-foam midsoles on cross-training shoes.
Reebok's signature Flexweave upper has received an upgrade for the Nano 9 model. The upper is more stretchy and has been made thinner to better contour to the natural shape of the foot. The Nano 9 feels nimble on the feet and doesn't weigh you down when performing rope climbs or box jumps.
As for the styling aspects, the Nano 9 sports the classic heritage logo of Reebok. The shoes themselves are quite minimalistic without being overly flashy. In my opinion, the colorways could have used a bit more "flair", but that's just me being nitpicky.
Pros
+ Enhanced features from previous Nano 8 model
+ Lightweight and upgraded Flexweave upper
+ Single-density EVA foam allows for short sprints
+ Extended rubber grip is great for rope climbs
Cons
– Might feel too big for people with narrow feet
---
3. Nike Free x Metcon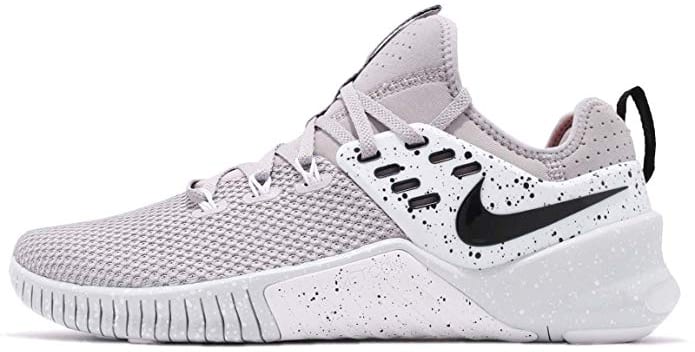 The Nike Free x Metcon is a hybrid between the Nike Free shoes and Nike Metcon line. They feature the best of both worlds by pairing the support and durability of the Metcons with the comfort of the Nike Free. The Free X Metcon is definitely on par with our previous favorite – the Nike Metcon 4. These are the best training shoes for someone that has a training regimen that includes more running and cardio – purely because the Nike Free X Metcon is what you get if a running shoe and cross-training shoe had a baby together.
During our testing, the Free X Metcons were decidedly on the comfortable side without feeling too squishy. It was perfect for an extended cardio session at the gym without experiencing any sores or aches. The Flywire lacing system combined with the midfoot cage locks your foot in place for hard side-to-side movements. The rubber on the outsole wraps up to the side of the shoe to provide more coverage and durability for rope climbing.
The official description says it's made out of breathable mesh construction, but we did experience "hot feet" due to the sock-like sleeve that's designed to keep your feet snug and in place. The tri-star grooves planted on the outsole of the shoe did an adequate job of providing ample grip on the gym floor.
While these shoes aren't meant for professional powerlifting or weightlifting, they performed admirably in all the different challenges we threw at it like squats, jumping jacks, burpees, and even some light running. These are an all-around best pair of cross training shoes for men.
Pros
+ A versatile pair of shoes that's good for cross training or lifting
+ Sock-like material wraps around your feet for an excellent fit
+ Feels comfortable with no slipping or rubbing
+ Has excellent grip while performing lateral movements
Cons
– Sizes run small and better to order 1/2 size up for a good fit
– Can get hot because of the sock-like sleeve
---
4. New Balance Minimus 40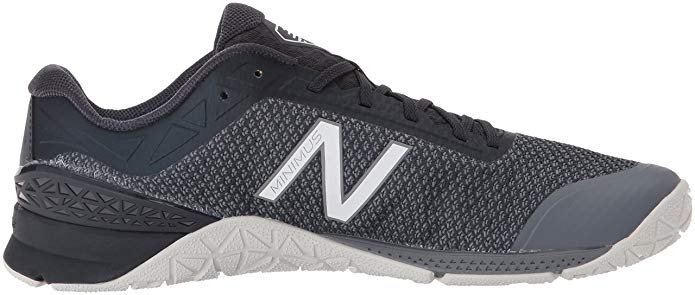 The Minimus 40 is the latest shoe in the long-running Minimus series for New Balance. The shoes come equipped with the new Rapid Rebound outsole foam which is very responsive for workouts that contain lots of jumping like plyometrics, burpees, and box jumps. A REVlite heel provides added shock absorption in the heel area while also increasing stability and durability. The TPU heel clip does a great job of minimizing heel slippage.
The Minimus 40 is constructed from a woven synthetic upper with TPU reinforcement for breathability. The breathable upper is designed to flow with the contortions of the foot without creating any pressure points. The design aspect of the Minimus 40 leans towards the minimalist side with a clean look and simplistic color combinations.
With its responsive cushioning and balanced comfort, the New Balance Minimus 40 is marketed as one of the most run-friendly shoes on our list, and we certainly agree with that. For people who incorporate more running elements into their cross-training, this is the perfect shoe for them.
A dense, grippy Vibram rubber outsole provides maximum traction during intense exercises. The Vibram outsole extends to the sides of the shoe for precise lateral movements. While they're not dedicated running shoes, the Minimus 40 contains a moderate amount of padding for light running. Our only quip was the narrow design and people with wide feet might have some difficulties. Nevertheless, you can't go wrong with these extremely flexible and versatile shoes that weigh only 290 grams.
Pros
+ Minimalistic and lightweight shoes
+ Good balance of cushioning and firmness
+ Side to side movement was quick and responsive
+ Flexible shoes with good ankle support
Cons
– Sizes can run half a size big and narrow
– Not ideal for heavy weightlifting
---
5. Reebok Nano 8.0 Flexweave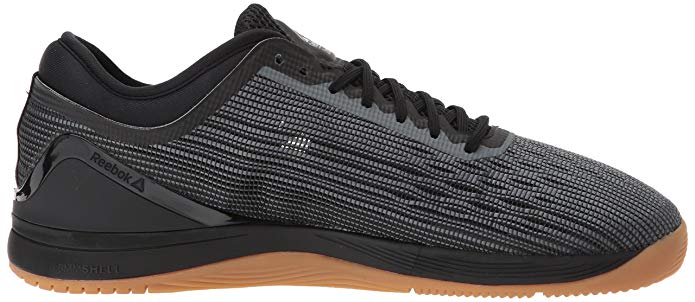 While the Nano 8 might not be winning any design or style awards anytime soon, this newer iteration from Reebok makes up for it in terms of durability and construction. The shoes feature a bootie design that sits independently to the exterior shoe material and slides on to your feet like a glove. The shoes are quite flexible and comfortable without feeling overly snug or constricting.
The wider toe box is a welcome addition and I've noticed that they give me enough room to spread my toes out a bit to get a better perch while doing squats. This can be especially useful when you're pushing through the last few reps on a back squat. The shoes provide good ankle support for lateral movements, along with a flat and stable base for weightlifting.
The midsole of the Nano 8 has a minimal 4mm drop which gives it added stability for wobble-free lifts. In terms of cushioning, there is a removable OrthoLite sockliner for shock-absorption if you plan on doing some box jumps.
The outsole is made from high-abrasion rubber which contains deep flex grooves to keep the shoe very flexible, and it moves naturally with the foot which makes it feel like an extension to your feet. The outsole also consists of RopePro tech on both sides of the shoe for rope-climbing.
The upper is constructed from durable Flexweave material and is versatile in both form and function. The Flexweave pattern is very breathable and also resistant to scraping and fraying from rope climbs and climbing walls. The bootie design is not without its flaw though and our only concern is the connective piece that bonds the inner bootie to the heel of the outer shoe. Not very ideal if it were to snap.
Pros
+ Extremely comfortable and breathable thanks to flexweave construction
+ Flat and stable midsole, but flexible at the same time
+ Good ankle support for those intense workout sessions
+ Wide toe box adds to the already amazing comfort of these shoes
Cons
– Not recommended for running as it degrades stability for weightlifting
– Wider toe box may not be suitable for people with narrow feet
---
6. Reebok CrossFit Speed TR 2.0

Reebok is a name synonymous with CrossFit. This latest offering from the company is made with HIIT, CrossFit, and cross training as its modus operandi. At 241 grams, it's a lightweight shoe that is tougher than it looks. It holds itself well by providing the support and stability needed for weightlifting, while not sacrificing comfort.
The shoes did an admirable job of maintaining enough flex to engage in copious amounts of other intense activities and even CrossFit WODs. To make sure your shoes stay intact during strenuous workouts, the outsole comes equipped with upgraded RopePro technology for superior grip and traction.
The midsole is made of a soft-EVA foam for cushioning and impact absorption. It is a full-length cushioning unit and has a low heel-drop of just 3mm, making it a grounded and stable base for weightlifting. The outsole features a multi-directional lug pattern that improves traction for workouts like sled pushes.
The one major downside to the Speed TR 2.0 is its durability and we found the mesh coming apart from the upper after only a month of use. The shoe is also awkwardly shaped with the toe-box being narrow and the ankle area disproportionately wide causing heel slippage while doing tire flips. Apart from these, the Speed TR 2.0 is perhaps the best training shoes for men in this price segment.
Pros
+ Lightweight but stable shoes for lifting weights
+ Great support and firmness without being uncomfortable
+ Excellent for different types of intense workouts including CrossFit WODs
+ Good flexibility for quick lateral movements
Cons
– Construction is subpar
– Not suitable for people with wide feet
---
7. Adidas PowerLift.3.1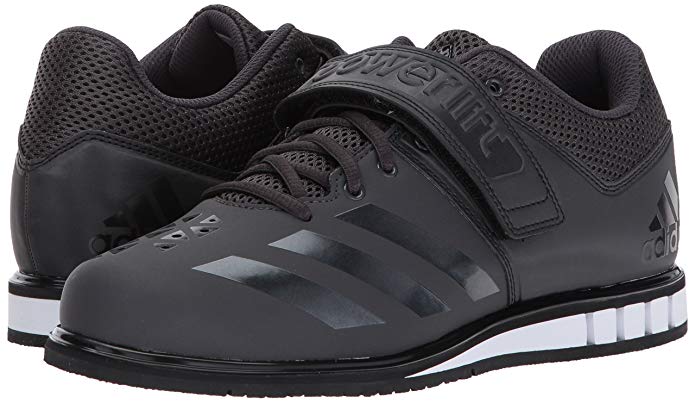 As the latest update to the famous Powerlift series, the Adidas PowerLift 3.1 adds to its predecessors by incorporating a weightlifting-specific 15mm wedge on the midsole to allow for better a squatting position. The Powerlift 3.1 sports a non-compressible EVA foam that acts as a stable platform during lifts. You won't be wearing these out to the mall anytime soon and they're not exactly ideal for plyometrics either. But, the one thing that this shoe does – weight lighting: it does it very well.
The toe-box is quite flexible thanks to the synthetic leather upper to allow for toe-splaying through those last few reps. The toe-box also contains perforations thereby keeping your feet well ventilated. One thing we would like to note is that the shoes come equipped with lace as well as velcro to get a tight and snug fit. Being more geared towards serious lifters, Powerlift 3.1 feels somewhat inadequate for workouts that involve lots of jumping – like plyometrics, burpees or jump squats.
If you're primarily into weightlifting, you can't go wrong with the Adidas Powerlift 3.1 given its excellent price-performance ratio, high-quality construction, and stability.
Pros
+ Steadiness and stability are excellent for weightlifting
+ Solid construction helps with keeping form during squats
+ Good value for money
Cons
– Not nearly as stylish as the offerings from Nike
– Unsuitable for HIIT or cardio intense workouts
---
8. Adidas Athletics 24/7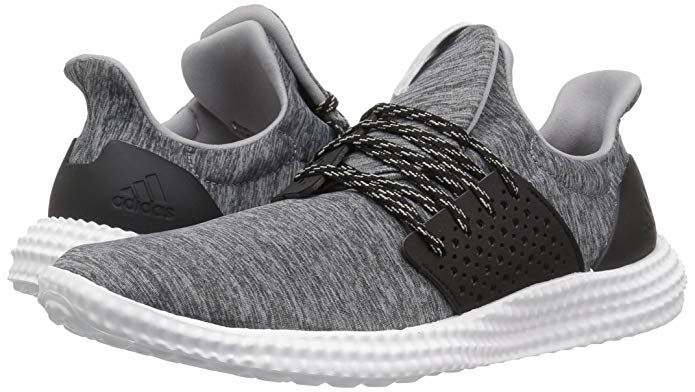 The Adidas Athletics 24/7 brings the hallmark UltraBoost levels of comfort and cushioning in a training shoe without sacrificing on looks. These are probably some of the nicest looking cross trainers we have seen and the stylish textile upper folds into a double tongue, albeit it feeling somewhat bulky when worn with thicker socks. They certainly pack the "cool factor" when worn around the gym. The Athletics 24/7 also doubles as a lifestyle shoe that can be matched with casual wear.
The lacing system is quite versatile and with some quick adjustments, you'd be able to find your ideal fit. In our case, we found that looping the laces through the lower eyelets was the only way to keep these shoes from sliding off especially since the fabric lining can be quite slippery. The fabric lining is quite comfortable though and the sock-like-fit has various points of contact to acquire optimal fit. The upper is also quite giving and stretchy, which helps with freedom of movement and room for more toe-splay.
This textile construction does help significantly with heat dissipation, but also lacks meaningful ankle support and hence not recommended for people with flat-feet without additional insoles. But, on the bright side, the shoes come with interchangeable insoles which can be easily replaced for aftermarket ones. The shoes are perfect for workouts that involved running and jumping, but not so much for weightlifting or powerlifting as the base is not as steady as the Metcon 4 or the Reebok Nano 8.
Pros
+ Probably the most comfortable cross trainers we've tried
+ Stylish design that can be worn as lifestyle shoes
+ Adjustable lacing system helps in securing a tighter fit.
+ Can be used for running due to its cushioned lightweight midsole.
Cons
– Textile construction lacks ankle support.
– Split tongue design feels bulky
– Tend to slip off the feet if not laced tightly.
---
9. UA Ultimate Speed

Apart from their partnership with Dwayne "The Rock" Johnson, Under Armour also make rock hard (see what we did there?) and comfortable shoes. The dual-layer compression-molded midsole is made from EVA foam and packs optimum cushioning for a wide array of workouts. They are good for weight training, though they might feel a bit mushy for heavy weightlifting. The energy return from the midsole is fantastic and it felt "bouncy" when engaged in plyometrics. The UA Ultimate Speed also provides sufficient shock absorption to be used as part-time running shoes. If your workout routine involves a lot of jumping and plyometrics, then these are by far the best training shoes for that matter.
The upper is constructed from perforated leather and mesh for maximum breathability. A TPU heel clip prevents slippage, although we experienced some discomfort in the heel area due to the tight fit. The Commit does require a break-in period and we recommend going up half a size for best fit. The 4D foam insole provides additional cushioning, but unfortunately, it cannot be removed if you're looking to replace it with an aftermarket insole.
The outsole of the UA Commit is a multi-surface specialist whether it be on the road or at the gym. The outsole also consists of flex grooves that are strategically placed to improve agility and flexibility. The lightweight design coupled with superior ankle support at an affordable price makes this shoe a very budget-friendly option.
Pros
+ Comfortable shoes with good cushioning
+ Good support for lateral movements
+ Budget-friendly pricing
+ Well rounded and versatile training shoes
Cons
– Sizes can run about half a size small
– Requires a break-in period and the heel portion can be a little tight
---
10. NoBull Project Trainers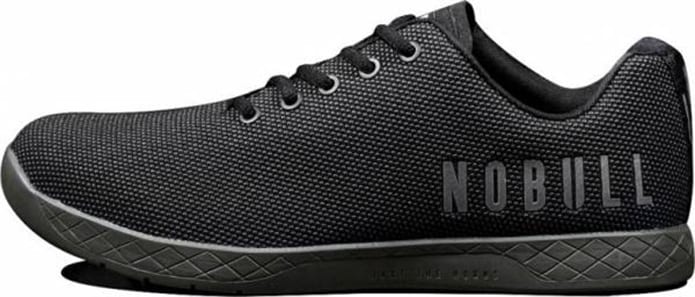 True to its name, the NoBull project trainers are a plain and simple shoe without all the advanced alien technology in other shoes that shoot lasers. The latest iteration from NoBull now sports a midsole that is even less compressible than its predecessor, making it an ideal shoe for heavy weight training.
The upper is constructed from a one-piece SuperFabric that have dotted "guard" plates to give it an alligator skin look. There's also canvas and leather options available if that's more your flair. The SuperFabric is an extremely durable material that is stretchy and abrasion-resistant. We saw no visible signs of wear while doing rope climbs. The construction is seamless which gives it a very clean and simplistic look. The NoBull trainer comes with two laces of different colors in the box, so you can use them interchangeably for a refreshed look.
Speaking of rope climbs, this shoe's outsole extends to the sides for medial rope grip. The outsole is relatively flat and consists of a uniform lug pattern for exceptional grip. High carbon rubber covers the entirety of the outsole for maximum traction while performing sled pushes and works well both indoors and outdoors. Bear in mind that at $130, these shoes are pricey and may not fit everyone's budget especially since it has so little features.
It also lacks arch support or cushioning, making it more or less purely for weightlifting. That's not to say you wouldn't be able to do CrossFit or other strenuous workouts in them. I personally found that my feet were exhausted after a session of P90X in these shoes, but it may or may not be the same for you. The NoBull Project trainers are the best training shoes for men meant for those who want a simplistic look that gets straight to the point.
Pros
+ SuperFabric construction is tuff as nails
+ Extended outsole ideal for rope climbs
+ Incompressible midsole provides a stable base for weightlifting
Cons
– The SuperFabric upper creases when bent or stretched
– Pricey and lacks extra features
– No arch support
---
11. Nike Zoom Train Command
Nike has put HIIT training front and center with the Zoom Train Command. Apart from being an incredibly capable cross trainer, the Zoom Train Command is also built to look like a stylish pair of street sneakers. The bootie construction of these shoes makes for a snug and comfortable fit, while the rubber traction pods on the outsole help in quick and nippy movements. The Nike Zoom Train Command is made for people that love to engage in multiple workouts.
The ZTC sports a TPU midfoot wrap and the shoes themselves are quite flexible. While these aren't specialist shoes, they are ideal for cross-training, moderate weightlifting, running and CrossFit. The Flywire cables are woven into the fabric of the shoe and integrate directly with the laces so your feet stay snug and locked-down.
The ZTC is not without its flaws though as the lightweight nature of the shoe feels unstable when training with maximal weights. Moreover, sizes do run small and it can be difficult to get your foot into the inner sock-like sleeve. Hence, we recommend ordering a half size up for a perfect fit. And if you have wide feet, we'd highly recommend looking at an alternative option since the shoe is quite narrow and will cause pinching.
Pros
+ Lightweight shoes, making them decent for running.
+ Stylish shoes that go well with casual wear.
+ Rubber traction pod on the outsole make them quick and agile.
Cons
–
Sizes run small. Better to order a 1/2 size up.
–
The lightweight construction feels unsteady during weight training.
---
Why Cross-Training?
With obesity reaching epidemic proportions in the US and the rest of the world, it's more important now than ever to live an active lifestyle and train hard. If you're just starting out, remember that everything has to begin somewhere and it's never too late. A healthy body fosters a healthy mind and hence, working out can greatly improve your mood. Doing one type of workout can become boring very quickly and this is where cross-training can keep you challenged by activating all muscle groups simultaneously.
In short, if you're planning on doing several different types of workout regimens to reach a specific fitness component, then that is called cross-training and it's often recommended to get the best cross-training shoes to maximize your output.
---
Using Regular Running Shoes at the Gym
We get asked quite frequently if it's ok to use regular running or sports shoes in the gym and for weightlifting. While you might be able to get away with this for cardio workouts, it can be downright dangerous to use it for weightlifting or weight training exercises. This is because running shoes by nature have a spongy and soft midsole that can cause you to lose your balance if you decide to do squats in them.
Cross training shoes, on the other hand, offer a good balance between cushioning and stability which can help for a variety of workouts including cardio and even some running thrown into the mix. Here's an image illustrating the differences between running and cross training shoes.
As you can see above, running shoes have a high heel-to-toe drop that is meant to help propel you forward in a running motion, while cross-training shoes have a flat base to provide maximum stability for lifts and squats. Moreover, running shoes have well-cushioned midsoles that act as a pillow for your feet while running, but this doesn't help for cross-training as you're more likely to twist your ankles while doing box jumps or injure yourself in other ways.
We always recommend following safety-first while at the gym and your shoes are an integral part of that safety protocol. Alternatively, if you're engaged in lots of CrossFit as part of your training, we suggest you check out our detailed guide on the best shoes for CrossFit.
---
Review Criteria Used
The most important criteria to look for when picking the best cross training shoes is that of stability. A shoe with good stability will act as a firm platform for lifting weights. Shoes that have a thick midsole will often feel wobbly while doing weightlifting and should generally be avoided.
Keep in mind that shoes with high stability don't necessarily mean they need to be stiff and uncomfortable. Shoes like the Nike Metcon series or the NB Minimus 40 offer plenty of cushioning and comfort to not leave your feet sore after your gym session.
Traction is important to keep your feet firmly planted while being engaged in high-intensity workouts. The last thing you want is to have your foot slip from under you while squatting 200lbs. Some shoes will have outsoles that extend to the medial (inside) part of the foot to help with grip for doing rope climbs. The outsoles on cross training shoes are often reinforced with hard rubber to aid in traction and increase the life of the soles.
A good fitting shoe will often increase your performance and should feel neither too tight nor too loose. A tight-fitting shoe will cause your feet to swell and ache, while a loose-fitting shoe will cause your feet to slip out which can, in turn, result in blisters and rashes. For an optimal fit, make sure there is at least half an inch of space between your biggest toe and the inside tip of the shoe.
Remember to have some wiggle room for your toes to allow your feet to breathe and reduce built-up heat from all that intense activity. Some of the best training shoes will come with a reinforced upper that prevents the fabric from fraying caused by rope climbs. A good fitting cross-training shoe should act as an extension to your feet.
Let's be honest – cross-training is exceptionally good for your body, but it can be brutal for your shoes. A good pair of cross training shoes should be able to take a beating no matter which workout you throw at it. For this reason, manufacturers like Nike, Reebok, and Adidas spend tons of money on research and development to produce shoes that can withstand the stress from training while at the same time being comfortable for your feet.
It's also important to note that the wear and tear of your training shoe are directly linked to how hard you train at the gym. If you're the proverbial "gym rat", do not expect your shoes to last more than a few months. On the other hand, if you only go to the gym occasionally, you should be able to pull a few years from your footwear.
A comfortable training shoe will allow you to squeeze a little bit more from you during every workout. If you're not comfortable in your shoes, you will not be comfortable working out and pushing your limit, which in turn will have an indirect effect on you going to the gym less. Comfy shoes will always help you avoid injuries thus needing less time for recovery.
Pick the comfort level of your shoe based on your training regimen. If your cross-training includes more running, jumping or cardio; choose shoes that have cushioned midsoles like the Nike Free X Metcon or New Balance Minimus 40. But, if your workout includes a lot of strength training and weightlifting, choose shoes with a stiff and firm base like the Reebok Nano 8 or the Adidas Power.3.1.
Lastly, if your training includes a mix of both cardio and weightlifting, then you can't go wrong with the Nike Metcon 4.
Care and Maintenance for Cross Trainers
It is essential to give proper care and maintenance to your training shoes to keep them in good shape and make it last longer. After finishing your workout, be sure to not leave your smelly socks in the shoe and let it air-dry naturally.
Every few months, wash your shoes in the washing machine by removing your laces and placing both shoes and laces in a pillowcase for anywhere between 30-45 minutes in the wash. Do NOT use hot water or dryer under any circumstances as the heat can melt the glue in the shoe, drastically reducing its lifespan.
Finally, use an old toothbrush to clean dirt and debris stuck to the outsole of the shoe to improve its traction on the gym floor. You can also buy shoe cleaning kits that make this job a lot easier.