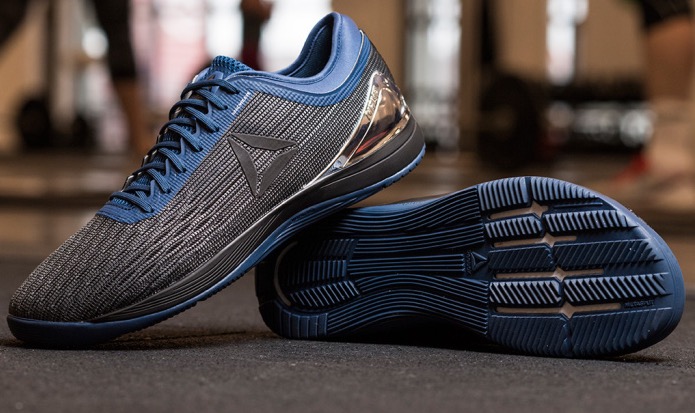 CrossFit training involves a multitude of training disciplines, so shoes used for CrossFit should be versatile, stable and comfortable. The best CrossFit training shoes absorb shock through their soles, and that excessive shock is then dissipated rather than hurt your knees or joints. On the other hand, the hard soles found in the some of the best CrossFit shoes manage to return that power to you, allowing it to be used for your lifts and to pump those weights.
As a result, just like any good training shoes, you'll want balanced CrossFit shoes capable of offering proper absorption when running or doing cardio while also managing to provide a stable base that returns power when lifting.
---
Here's what to look for in shoes for CrossFit:
Hard and well-crafted soles
Stiff reinforced hard soles are paramount for stability in jumps and lifting weights. Heavy lifting is where the need for such soles become abundantly apparent. A solid and reliable sole helps you remain well-planted to the ground, giving you the confidence you require to perform appropriately, knowing that your feet will not fail you during a lift.
Wider and more resilient toebox
Some cross fit shoes include a wider toe-box that are specifically designed to endure even the most punishing CrossFit exercises, particularly when you are focused on lifting heavyweights. The heavier the weights, the more your feet, and toes will spread (called toe splay) so that's why you'll want a wider toe-box that provides ample stability and control to power through the last few reps in a lift.
Flexible Design
A lot of functional training exercises will require VERY flexible shoes, especially when doing ladder moves, jumping ropes or any kind of agility drills. Alternatively, it's best to get separate shoes for jumping rope if you are more in the plyometric element.
Well-Calculated Rise:
Shoes designed for running have a high rise in the heel to help propel you forward. This is often referred to as the heel-to-toe drop. CrossFit shoes, on the other hand, have a low heel-to-toe ratio (4mm or less) to help keep you stable by distributing the weight evenly on the midsole. This is a tricky one since many CrossFit activities call for a shoe with a relatively small heel-to-toe drop but are not completely flat.
Solid Lockdown
It basically means that good CrossFit shoes are meant to securely hold your feet in place by way of a modified lacing system like the Flywires used by Nike or being snugly attached with a strap. You'll feel glued to the ground when you want to.
I know a lot of folks that prefer a sturdier design to lift even more weight but you don't necessarily require that. The truth is simpler than you would think. Use the right CrossFit shoe that mixes proper stability with adaptability and you'll be able to perform well in any type of exercise.
Durability
When picking shoes for CrossFit, durability should be given prime consideration. CrossFit involves a huge amount of different workout elements that are done at VERY high intensities.
This means that even the best CrossFit shoe will have to endure repeated high-intensity moves that include:
Running that wear the soles mostly at the forefoot (the point of greatest torsion)
Rope climbing that also includes sliding back in a controlled motion that wears down the medial side of the shoe.
Lateral moves that are very demanding since they place huge amounts of stress on the glued seams of the shoe. A subpar CrossFit shoe won't be able to endure much of that.
Box jumping, which can turn out to be the destroyer of shoes, so you need to be very careful on how you lace them. Excessive tightness will definitely reduce the lifespan of even the most reliable CrossFit shoe.
Applying the aforementioned criteria, we ended up picking these 9 best CrossFit shoes for men and women alike:
---
1. New Balance Minimus 40 Training Shoe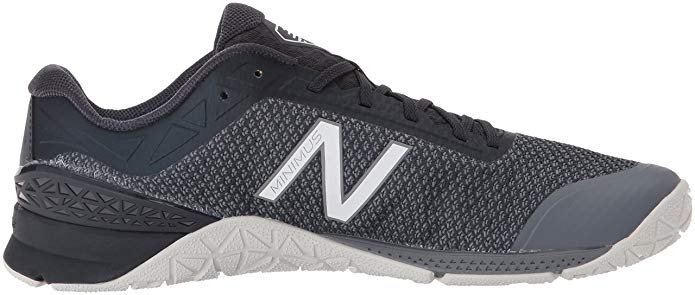 Strength training? Perfect. Short runs? No problem. New Balance gave their Minimus 40 Trainer a well-deserved update meant to make them more versatile than they have ever been before. That makes it perfect for very different types of exercises like short runs as well as strength training (just to mention a couple).
The Minimus 40 includes a Rapid Rebound midsole that's designed to replicate the response and cushioning you would normally see in a running shoe. REVLite in the heel area is also a stand-out feature and you will enjoy this one since it is a compound much lighter than the usual midsole foams, but still brings the same excellent cushioning and superior stability. To make it even better, the outsole is made of hard Vibram rubber that adds both grip and durability.
The upper is constructed from a woven synthetic mesh that offers very good ventilation and flexibility while remaining relatively lightweight. What's not to love from this pair? Definitely recommended as a daily driver to take care of those high-intensity workouts. The only downside I found with these shoes is that they're narrow for people with wide feet (like myself). It's better to go for the wider option if you have wide feet.
Pros
+ Highly versatile shoes for all types of CrossFit workouts
+ Woven mesh provides good ventilation and airflow
+ Lightweight with the right amount of cushioning
+ Good firmness for moderate weightlifting
Cons
– Narrow construction. Better to go with the wider option for people with wide feet.
---
2. Nike Romaleos 3 Weightlifting Shoe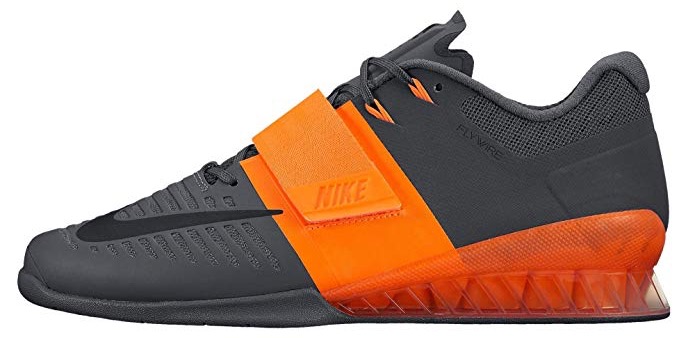 When you live for CrossFit, you'll want to be prepared with a shoe that has been specifically designed for those intense weight training days. Weightlifting shoes geared towards CrossFit are an exception to the usual foray of CrossFit shoes because they have a relatively high heel-to-drop ratio and are not meant to be as versatile as some of the other shoes on this list.
The heel-to-toe drop on the Nike Romaleos is 20mm and in terms of looks, they don't come much better than this one from Nike that has beautiful uppers made of a balanced combination of mesh and synthetic leather. They also include some nice Flywire cables that cradle your feet for extra support and a well-placed midfoot strap that gives you that stable and locked-down feel that you'll need when pushing through those last few reps. However, I wasn't a fan of the "seat belt" like material of the strap.
The Romaleos also provides an enthusiastic CrossFitter with a strong and wide base that offers a solid platform for lifting weights. The insoles are interchangeable and come with two insoles in the packaging which can give you either firm or soft support, depending on your personal preferences and the regimen you're following at the time. One of the negatives of this shoe is that these shoes cannot be used for anything other than weightlifting. Using it for jumps and other activities impacts the stability and durability for lifting weights.
Pros
+ Excellent weightlifting shoes
+ Comes with both soft and firm interchangeable insoles
+ Lightweight and breathable construction
+ Stable platform and supportive midsole
Cons
– Cannot be used for anything other than weightlifting
---
3. Reebok Men's CrossFit Nano 8.0 Flexweave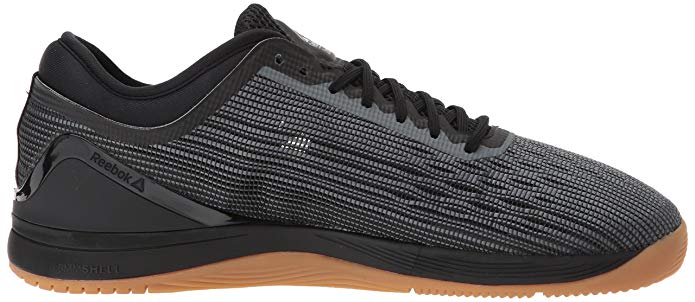 The Reebok Men's CrossFit Nano 8.0 is for those of us that want to work out in a shoe that is both reliable and minimalistic. The shoes are not particularly flashy but the design is no pushover in terms of construction since it comes in a bootie design that is independent of the outer shell that provides a lot of added cushioning and comfort. The shoe also offers excellent support without losing the lightweight feel every CrossFitter wants from his/her shoes.
The EVA midsole is quite comfortable and proportional in terms of being engaged in a variety of CrossFit training regimen. Even the forefoot is cushioned in the Nano 8.0 and with a minimum-drop outsole of just 4mm. This is one of the best CrossFit shoes from Reebok and it's a favorite amongst seasoned CrossFitters.
Moreover, the open-weave mesh upper gives it great breathability. And the RopePro protective wrap is the icing on the cake for high-intensity CrossFit WODs. The Nano 8.0 also incorporates a wide toe box to allow for toe splays to maintain a good perch for back squats.
To complement it all, the Nano 8.0 comes with lace closure, which coupled with the bootie design, should give you no problem in achieving a tight and snug fit. The only issue is that the wide toe box design might feel a bit too loose for those with narrow feet.
Pros
+ Highly durable Flexweave construction
+ RopePro protective reinforcements for the outsole
+ No-BS construction with a bootie design
+ Minimal heel-drop of just 4mm
Cons
– Wide toe box is not ideal for those with narrow feet
---
4. Reebok Men's CrossFit Speed TR 2.0

The Reebok Men's CrossFit Speed TR shoe has been designed to get you through almost anything you can imagine. Whether you're preparing for a triathlon or just warming-up for a modest routine that seeks to improve your overall fitness level, you'll want this jack-of-all-trades training shoe.
Its low-cut design maximizes stability and also comes with a forefoot cradle for increased comfort during moments of extreme exertion. Reebok shows how far its technology has evolved, giving this model a compression-molded midsole that will adapt to your feet beautifully without making them feel sluggish.
It offers a 5mm drop, which makes it a decently stable base for lifts. In terms of flexibility, the Reebok CrossFit Speed TR is quite flexible. The upper is constructed from Cordura fabric which is resistant to cuts, tears, and scuffs. The midsole is made from an ultra-soft full-length EVA foam that delivers great cushioning and shock absorption.
This is great for doing some moderate running without needing specialist running shoes. In terms of grip, it is awesome thanks to its RopePro technology lug patters on the outsole to withstand challenging rope climbs. The Speed TR is definitely one of the most comfortable and versatile CrossFit shoes you'll find.
The only major con with this model is that the collar and heel are uncomfortable around the ankle and results in occasional heel slippage. This can be remedied by wearing thicker socks or tightening your laces.
Pros
+ Good value-for-money shoes
+ RopePro technology is excellent for rope climbs
+ Very flexible and stylish looking shoes
+ Lightweight and breathable design
Cons
– Uncomfortable collar area causes heel slippage.
---
5. Adidas Performance Men's Powerlift 3.1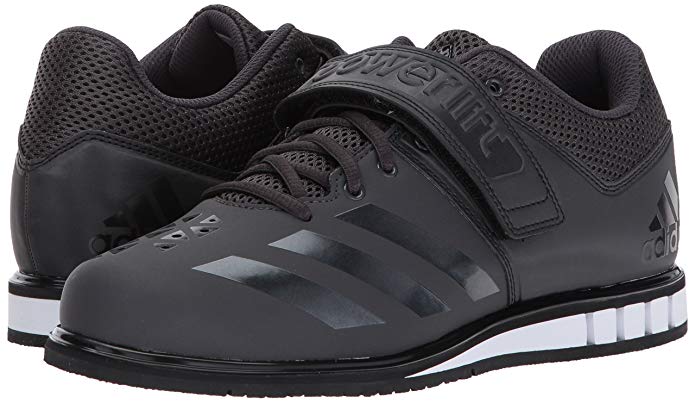 The Adidas Performance Men's Powerlift 3.1 is one you will need if you intend to incorporate weight training sessions into your CrossFit routine. If you check its rubber insole, you will notice the honeycomb pattern from Adidas known as ADIWEAR. The outsole offers a very good grip on the floor which leads to a lot less effort while trying to maintain your posture and balance.
No matter what you want to do with them, the removable insoles will give you a very comfortable fit. It also comes with a nice cross-over strap meant to offer additional support as needed.
The midsole consists of a 15mm wedge made of non-compressive EVA foam specific to weightlifting and powerlifting. The midsole is quite stable and you won't be experiencing any wobble no matter how heavy you decide to go. This also helps you achieve a better squatting position for explosive power to chug along with those power squats.
The Powerlift 3.1 has a snug upper that delivers excellent lateral support and its extra-wide design makes it perfect if you are looking for a functional fit. I'd say that the construction of these makes it much easier to keep a good squatting form since it allows them to hit the depths quite easily without having to worry about compensating with the toes or wobbling.
If your CrossFit training involves a fair amount of weight lifting, you can't go wrong with the PowerLift 3.1, but it might not be adequate for anything else that involves jumping, running or plyometrics.
Pros
+ Excellent stability for weightlifting
+ High-quality construction that can take a beating
+ Affordable price-tag
Cons
– Not suited for cardio and jumps
---
6. 5.11 Men's Recon Training Shoe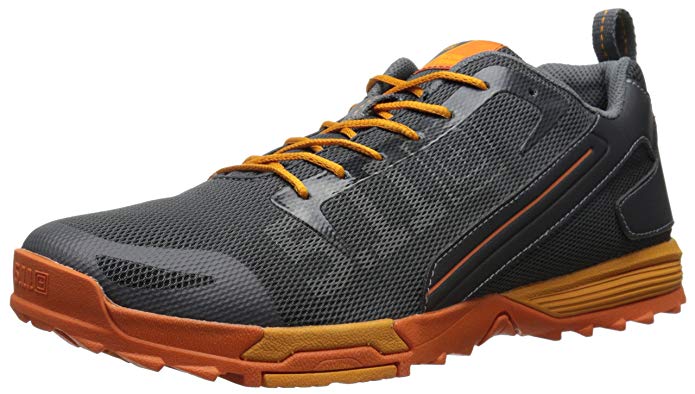 The 5.11 Tactical Men's Recon Cross-Training Shoe is a for those that are looking for sensibly priced CrossFit shoes that still offers all the features you could possibly want. The construction materials are a good combination of synthetic and leather. The Ortholite insole is quite comfortable and it also offers toe reinforcement so you can push them hard without worrying about them coming apart.
The stretch mesh upper takes care of giving you both breathability and flexibility. One of the standout features on this shoe is the military-inspired look that comes in a variety of sleek-looking color combinations. The look of the shoe reflects its hybrid design, making it great for indoor activities as well as those demanding outdoor runs. The shoe consists of a nylon shank for greater support and stability, while the strategically placed lugs on the outsoles are rope-ready and offer enhanced traction.
The high-performance mesh upper consists of HELCOR leather overlays for increased durability while also allowing for ventilation and breathability. The CMEVA midsole used in this shoe makes it a versatile cross-training shoe that can take on both training and cardio. Also on offer is a thick outsole making it that special type of running shoes that is not afraid of any type of weather. The heel is reinforced for extra action without sacrificing padding.
If you're planning on buying these military-styled shoes, you should keep in mind that they require a break-in period and the laces are quite thin making it prone to snapping off. I'd recommend swapping out the laces for paracord variants.
Pros
+ Military-designed training shoes
+ Excellent price given its high-quality construction
+ Versatile cross trainers that can tackle anything you throw at it
+ Good mix of cushioning and support
Cons
– Requires a break-in period
– Laces are quite thin
---
7. Inov-8 F-Lite 235 v2
Inov-8 definitely made their 235s more resistant by including a thicker bumper on the toe and better protection for rope climbs. Still, keep in mind they are a training shoe meant for those that love speed and power but hate excessive padding in the midsole. This makes them great for strength training, but plyometrics and running might be a stretch with these. The textile and synthetic upper provides all-day ventilation for tough and strenuous workouts.
The 235 v2's are extremely lightweight coming around 8 ounces with a drop of nearly zero. That is a bit of a matter of taste since you may either love it or hate it. That basically means you have a much flatter surface for lifts, but running can be a bit more complicated. The insoles are fortunately removable so you can put in aftermarket orthotics for additional comfort and cushioning depending on your need.
This new version of the Inov-8 also provides for a more snug and comfortable fit compared to its predecessors.
Pros
+ Low heel-drop shoes
+ Lightweight and agile without compromising on quality
+ Removable insoles
Cons
– Lacks padding and cushioning
– Not ideal for running
---
8. Project NoBull Trainers
As the name suggests, the NoBull trainers are just exactly as the name suggests – no BS. Here you get a Superfabric one-piece upper, which is an abrasion-resistant material that is also durable and breathable. High carbon lateral and medial guards for added protection on sidewalls and rope climbs.
The medial side rope grip is terrific for extra secure footing during those complicated rope climbs. On the other hand, the outsole lug pattern is meant for multi-environment uses, allowing you to transition between inside and outside with the right mixture of flexibility, support, and traction.
Its strong heel cup will help to keep your feet in place during those heavy lifts and the construction of the shoe itself makes it much easier to reach and keep proper squatting form.
The midsole is very supportive and the Project No Bull Trainers are amazingly stable. No matter the type of lifting you are doing, you will feel taken care of and comfortable, which is most welcome when you are pumping 180+ lbs.
Finally, I would mention that they really put the spring in every step – with a very springy sole, box jumps become much easier and less demanding on occasions when you're already tired and running at half-tank. Your feet will leave the ground with significantly less effort and the rebound is definitely good on this pair.
Having said that, the upper even though reinforced does look frayed after a few months of use that give this shoe a certain type of character as those of leather shoes. The shoes also lack arch support so if you're someone looking for CrossFit shoes for flat-feet, you're out of luck and you'd be better off getting the UA Charged Ultimate 2.0 that's next on the list.
Pros
+ Grippy outsoles for rope climbs and sled pushes
+ Non-compressible midsole is ideal for weightlifting
+ Clean and minimalistic training shoes
Cons
– Upper looks frayed and faded after a few months of use
– Pricey
---
9. Under Armour Charged Ultimate 2.0
These Under Armour training shoes are recommended for those looking for great arch support and superior comfort, while still keeping in mind the need for flexibility for running and stability for lifting.
Even though they can be a bit narrow, the sole support is quite good with a 10 mm drop and offers a low profile heel counter for stability when engaged in box jumps or burpees. They're very flexible, great for agility training with amazing responsiveness.
In terms of grip, it will make sure you're taken care of on any surface or gym since the floors you'll find in different CrossFit gyms are extremely different and uneven. These are excellent trainers for those with narrow feet who also need arch support. Probably the best CrossFit shoes around with high arch support.
The Charged Ultimate 2.0 does provide a really good lock-in feel. It has thermoplastic polyurethane (TPU) layer in the forefoot and heel areas which give increased stability during strenuous exercises. Unfortunately, you will not find any extra support material but that's only a minor gripe.
Pros
+ Snug and comfortable fit for all-day use
+ Agile shoe ideal for box jumps and burpees
+ Arch support for those with flat feet
Cons
– Lacks stability and support needed for lifts
– Some heel slippage if laces are not tied tight