Editor's Note: We have updated this article to include the latest shoes for the year 2022. Our review is the culmination of 40 hours of research and 53 different shoes tested during a 2-month period. We have also taken into consideration the reviews and ratings from other runners.
What is Supination?
Supination (also known as underpronation) is a condition of the foot where it excessively rolls outwards at the ankle. This results in excessive weight being placed on the outside of the foot. It makes running difficult and often painful. This is why you need the best running shoes for supination to help prevent this pain and discomfort.
A good pair of supination shoes helps correct your posture and aids foot movements without placing too much pressure on the lateral part of your foot – which is most affected for people suffering from supination or underpronation.
Supination is essentially a type of gait that can lead to easily worn-out shoes. Running shoes for supination come in a variety of different styles, features, and prices. They are tailored to the individual and how their feet operate whilst running.
It is therefore essential to invest in a pair of good shoes for supination. You don't necessarily have to spend a fortune on the best running shoes for supination. Luckily, there are running shoes that tackle this problem. We list 13 of the best running shoes for supination in 2022.
---
What Causes Supination?
Supination is usually an inherited disability that affects the structure of the feet. Other than being congenital in nature, supination can also be caused due to an injury or a weakness that may be present in the muscles on your feet, leg, or ankle.
Supination can be further worsened by wearing improper shoes that can lead to the misalignment of the body and poor posture. This can lead to aches, pain, and foot fatigue. Supination is especially bothersome for runners and it is therefore important to choose your supination runners wisely.
---
Tips for Picking Shoes for Supination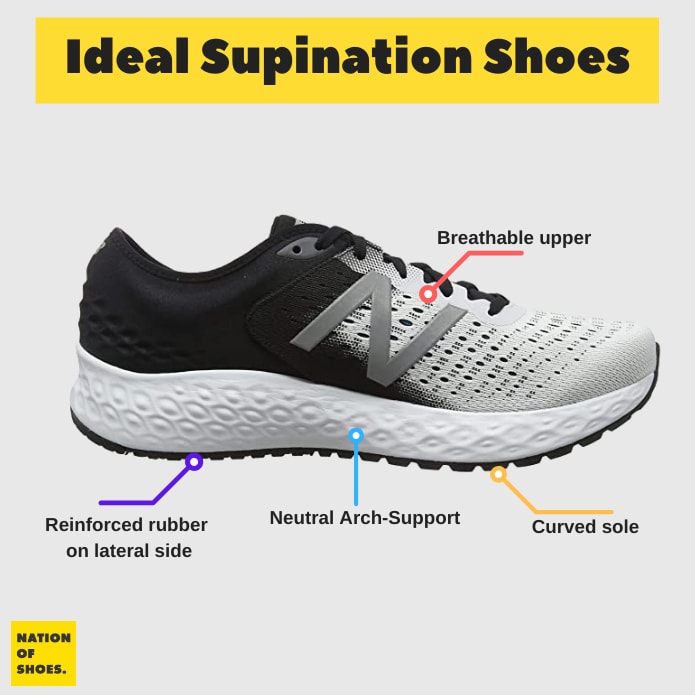 For runners that suffer from supination, it is important to remember that shoes come in 3 different basic foot shapes, which can be identified by the sole: straight, curved, and semi-curved.
In order to pick the best shoes for supination, you should look for a shoe with curved soles so they contour the natural shape of your feet, especially for runners with supination. Supination running shoes are nothing more than neutral shoes with additional padding on the lateral (outside) part of the shoe where people with supination experience maximum wear and tear.
Here's a quick rundown of what you should consider when buying supination running shoes:
Pick neutral running shoes with a curved sole for your feet.
Extra cushioning and padding on the lateral (outside) side of the midsole to ease with weight distribution of the foot.
Ideal to have reinforced rubber coating on the lateral (outside) part of the outsole to manage the increased wear and tear from supination.
Should have a flexible and lightweight underfoot experience because it helps the foot move more freely and naturally through the gait cycle.
---
The Best Shoes for Underpronation (Supination)