The best running shoes for supination come in a variety of different styles, features, and prices. They are tailored to the individual and how their feet operate whilst running. Supination (also known as underpronation) is a condition of the foot where it excessively rolls outwards at the ankle. This results in excessive weight being placed upon the outside of the foot. This can make running difficult and often painful.
Supination is essentially a type of gait that can lead to easily worn-out shoes. It is therefore essential to invest in a pair of good shoes for supination. You don't necessarily have to spend a fortune on the best running shoes for supination. Luckily, there are running shoes that tackle this problem. We list 13 of the best running shoes for supination in 2019.
The Best Shoes for Supination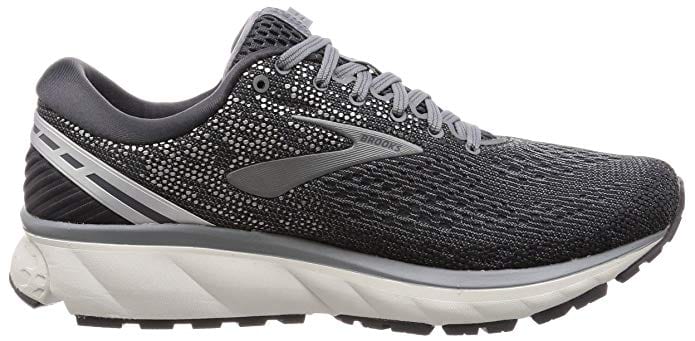 The first shoe on our list is the Brooks Ghost 11. This is the latest version of the Brooks Ghosts running shoe that is highly popular with many athletes. The Ghost 11 is lighter and softer than its predecessor. These shoes are particularly good for supination due to their advanced cushioning system. They are durable but without needing to be heavyweight.
The specialized crash pad means that impact from every step you take is absorbed well. This occurs with all types of landings which makes these shoes especially good for those with supination by reducing the stress placed on the lateral part of the foot. Stability is also on-point with the Ghost 11 and it helps with maintaining a natural gait cycle.
The outsole is highly durable and consists of carbon blown rubber. This provides excellent underfoot stability which is essential for someone with supination. The shoe is both responsive and breathable. The toe box, however, is a little narrow, so those with wider feet should consider going ½ a size up.
The upper mesh of the shoe is finely crafted for a soft and secure fit. The shoes are comparatively cheaper than many of their competitors which makes them excellent value for money. The technical features are outstanding, and it also comes in a sleek design. Having an upper that is soft and smooth does have its drawbacks, namely reduced durability and looking frayed with just a few weeks of use.
Nonetheless, if you are looking for an everyday running shoe that can cope with a variety of distances and helps with supination, then you should consider the Brooks Ghost 11 as one of the best shoes for supination on the market right now.
Pros
+ Lightweight and comfortable for daily running
+ Very responsive and has a good bounce
+ Sleek looking design
+ Excellent price for the features it packs
Cons
– Narrow toe box. Recommend to go 1/2 size up
– Upper looks frayed and worn even with limited use
---

The second running shoe to make it on our list is the Mizuno Wave Rider 21. Mizuno is a well known Japanese company that has garnered a reputation for their high quality running shoe lineup. Their standout shoe is the wave rider 21 which has become an incredibly popular choice for seasoned runners with supination. There are many reasons why the wave rider has become the go-to shoe for those who are serious about their running.
The sole is springy and responsive – this provides excellent comfort for long distance running. The Wave Rider 21 can cover half marathons with ease; however, there are better models if you need a shoe for full marathons. The grip is also good; however, the ride can be a bit too firm for some people. The upper is highly breathable and does a good job of keeping your feet cool and dry. It fits true to size and therefore won't be a problem for those who have slightly wider feet. But, the toe-box can be narrow on first use and requires a break-in period to achieve a comfortable fit.
The neutral footbed and springy nature of the shoes make them a fantastic running shoe for supination. They provide superior cushioning and balance for the foot which can provide ease and comfort for those suffering from high arches. They are the best running shoes for supination for medium distances and come at a very competitive price point. However, for those looking for some more standout features, you may want to consider some of the other shoes we've outlined on this guide.
Pros
+ Good support and cushioning to run half marathons
+ Lightweight construction
+ Highly Breathable upper
+ Outsole has excellent grip
Cons
– Requires a brief break-in period
– Bland color options
---

On Cloudflow is a relatively new kid on the block. If you believe in regularly achieving your runner's high (a psychological state of mind after completing a run), then you can bet your laces that the On Cloudflow will get you there since their entire marketing slogan is: "Shortcut to Runner's High" and damn do they make it happen.
The Cloudflow is a perfectly tuned competition shoe that gives you the bounce and cushioning needed to give you going, and then some more. At just 220g (7.7 ounces), this Swiss engineered rocketship is extremely lightweight with phenomenal levels of cushioning. Couple that with the fact that the 6mm heel-to-drop ratio will ensure you have maximum energy return with every stride.
Being that it is Swiss made, it has a robust construction made from high-quality materials. The On Cloudflow easily contends to be one of the best running shoes for supination and neutral runners. Starting at the midsole, the Cloudflow uses "Zero Gravity EVA" as the foam material of choice. This midsole compound is durable, lightweight and responsive without compromising on cushioning. The same material is used for the "Cloud Pods" which are the quirky tubular things on the base on the shoe.
The Cloud Pods are designed to provide ample cushioning and comfort to guide the runner successfully through the gait cycle by attenuating impact shock during the landing stage. They also help propel you forward in sudden energy bursts. This is one race shoe that makes a good running shoe for supination by not sacrificing on comfort and cushioning.
The outsole utilizes CloudTec rubber to protect the Cloud Pods and adds more responsiveness to the forefoot region during toe-off. The waffle-like pattern on the outsole is designed to act like the treads on a car tire and thus gives you plenty of grip on both wet and dry surfaces. The downside to this is that stones and debris get stuck in between the treads and makes them somewhat annoying to remove.
Finally, the On Cloud rounds up its fantastic feature-set with a mesh breathable upper that consists of an inbuilt sock inner sleeve that has a soft feel and wraps snugly around the foot allowing for natural foot movements. The upper is also covered in an anti-microbial coating to prevent bacteria that builds up from sweat and moisture. Sizes do run big, so getting 1/2 a size smaller is highly recommended.
Pros
+ High energy returning competition shoes
+ Comfortable despite low heel-to-drop
+ Maintains grip even on wet surfaces
+ Lightweight, flexible and durable
Cons
– Sizes run big. Better to go down 1/2 a size
– Small stones tend to get stuck in between the Cloud Pods
---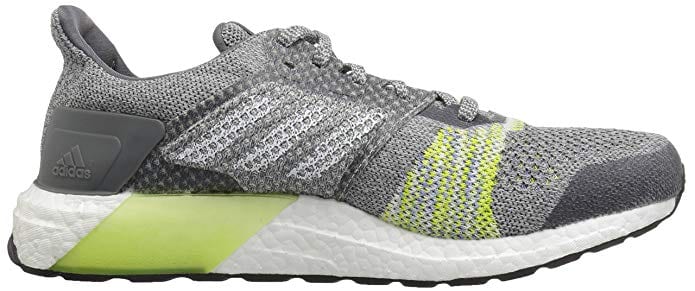 Adidas is an icon when it comes to making some of the most comfortable shoes on the market. This global sportswear behemoth has many high-quality running shoes included in their latest lineup. However, the best shoe in their line for supination is the Adidas UltraBoost ST.
This is a luxuriously cushioned shoe that adds on extra stability and cushioning to the already popular UltraBoost line. It delivers superior cushioning for the entire run which makes it a good pick for those who need a regular running shoe. Many testers and reviewers have pointed to just how plush the comfort levels of this shoe are and we couldn't agree more.
The extra stability alongside the cushioning transforms a world class offering from Adidas into the perfect running shoe that is suitable for everyday use. The shoe offers excellent responsiveness and a brilliant breathable primeknit upper. Adidas have called the UltraBoost the "best running shoe ever" and when you look at this creation, it is easy to understand why they have made this serious claim. This is a shoe that lives up to the hype and one that carries a sleek standout aesthetic if you can afford its premium price.
Pros
+ Excellent support and stability
+ Very comfortable
+ Holds up well for everyday use
+ Stylish looks for lifestyle wear
Cons
– Premium price tag
– Oversized heel tab
---
5
Nike Air Zoom Vomero 13

Since we've now mentioned Adidas, we have to, of course, look to their big rival – Nike. They aren't slouches either when it comes to designing running shoes. The Air Zooms have garnered a massive reputation for their high performance and modern design. The Vomero 13's are the perfect running shoes for those with supination, but not so perfect for supinators with wide feet (as with more Nike shoes).
The forefoot of this shoe is narrow and your toes can really feel crammed in there. But for those with narrow feet, the Vomero 13 will fit like a glove. The underfoot cushioning is springy and highly responsive. This makes it ideal for repeated use and means that the comfort levels do not decrease during long distance runs. The outsoles traction capacity allows more precise and quick movements on the ground. This is important for those with supination as these movements can sometimes cause pain.
The shoe is lightweight when compared to similar shoes which makes it feel springy and breathable. The shoes are exceptionally comfortable and the overall design is also quite impressive. Nike takes pride in cutting edge designs that combine form and fashion. Overall the latest Vomero is an excellent choice for those with supination shoes that require a running shoe that won't break the bank too much.
Pros
+ Sleek design
+ Springy and responsive
+ Comfortable without being too mushy
+ Lightweight structure
Cons
– Forefoot can be a bit narrow for those with wide feet
– Requires breaking in
---
6
New Balance Fresh Foam 1080 v8

Another major player in the running shoe game is New Balance. They have made impressive progress in recent years by designing pristine running shoes that are well built with the performance to match. One immediate feature about the fresh foams that stands out is the cushioning. The footbed has a full-length foam unit that doubles on both comfort and responsiveness.
However, aside from comfort, the shoe also packs a punch. It is very durable and reliable which makes it ideal for long-distance running. The mesh in the toe box also expands well to accommodate wider toes. The midsole is generally firm and supportive. These features make the Fresh Foams a good pick for those with supination. The comfort and support levels are excellent which means the issue or your feet rolling outwards can be negated.
However, an important point to note is that the fresh foams are relatively heavier than similar running shoes. This isn't necessarily a problem; it can be a hindrance to those who prefer lighter shoes. It also comes on the top end scale of the price range. This higher price range can be justified when taking into account the various features that come included. The Fresh Foam v8 are the best running shoes for supination especially if you have wide feet. Width options available are narrow, medium, wide and extra wide.
Pros
+ Toe-box adjusts well to those with wider feet
+ Midsole is firm and supportive
+ Highly reliable and durable
+ Performs well on rugged surfaces
Cons
– Pricey
– Midsole could be more responsive
– Slightly heavy
---

Asics are known for making performance shoes for runners with foot problems and the Gel Nimbus 20 is no different. It combines a modern design with plush comfort. One of the main features of the Gel Nimbus 20 is that it provides excellent support on multiple terrains. This is important for those with supination as different terrains can make this condition worse. The cushioning of the shoes is also excellent, and this can be attributed to the FlyteFoam midsole which is 55% lighter than conventional EVA foam. The foam contains traces of organic fibers that give it a plush and bouncy feel.
The snug fit is also good, and the true-to-size fit is commendable. The Gel Nimbus 20 uses Asics' Fluid Fit technology that allows for a secure hold while maintaining the natural flex and torsion exerted by your feet. The upper is also soft and irritant-free, so these shoes can be worn even without socks. A Heel Clutching System prevents heel slippage and further keep a hold of your feet.
The shoe's comfort is designed to last even during long-distance running. This means you can take part in marathons with the peace of mind that supination won't cause you discomfort. The upper mesh is breathable and smooth. The heel clutching system ensures that your heel remains stable and secure. The "FlyteFoam" technology which is present in most Asics runners also makes an appearance in this shoe, and it provides lightweight cushioning. The only downsides of this shoe are that the cushioning is more on the plush side and the toe-box is comparatively narrow.
Pros
+ Good for half or full marathons
+ Excellent build quality
+ Stylish design and colorways
Cons
– Narrow toe-box
– Midsole feels very mushy
---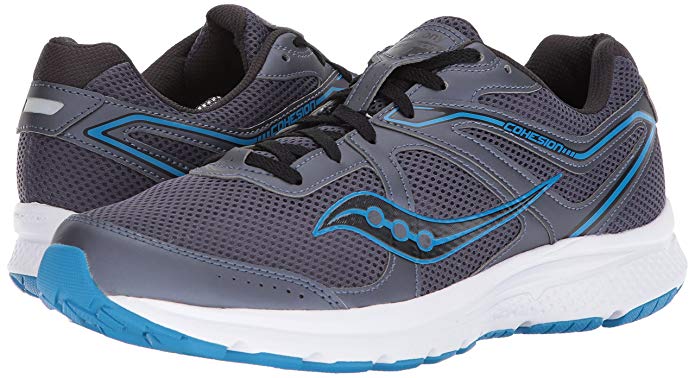 The Saucony brand may not be as dazzling as some of the other brands on our list. However, it's second to none when it comes to its durability and ruggedness. In fact, this is one of the most durable shoes to make it on our list. This makes the shoe ideal for daily use since they can take quite a beating. The rubber outsole offers reliable traction which makes the shoe a good fit for those with a supination gait.
Many times a durable shoe will come with added weight, however, in this case, the shoe is still lightweight enough for this not be an issue. The width is also excellent on the toe box which affords reasonable wiggle room for your toes without feeling too loose.
The aesthetic of the shoe may be slightly lacking, but for those who need a reliable and lightweight running shoe, the Saucony Cohesion 11 is the best running shoes for supination on a budget. It is also far more affordable than comparable running shoes that are made by more notable brands.
Pros
+ Highly durable construction
+ Affordable price
+ Rubber outsole offers reliable traction
Cons
– Bland color schemes and design
– Underfoot cushioning could be better
---
9
Under Armour Micro G Assert 7

UA is a brand that has recently made waves for their line of running shoes. The Micro G Assert 7 is a lightweight and breathable running shoe thanks to its mesh upper. The mesh is also quite stretchable and wraps around the feet comfortably. The fit is neither too tight, nor too loose in my opinion. Also, another noteworthy feature of the upper is its flexibility and ability to twist and turn along with the movement of the foot. Both of these characteristics are crucial for long runs.
The midsole is a solid piece Micro G foam that runs the length of the underfoot providing cushioning from heel to toe. The midsole also offers superior stability and prevents muscle fatigue by absorbing impact shock and spreading it evenly across the base of the foot. But, bear in mind that sizes do run small and going up half a size will achieve a more comfortable fit.
The durability of the Assert 7 is another positive and the shoes will quickly become your daily favorite. The price point is also excellent, and it is priced significantly lower than comparative shoes. Under Armour display a sleek and modern aesthetic for this shoe which makes it easy on the eye, however, this design is backed up by a superior construction.
We recommend the UA Micro G Assert 7 for those who need a supination running shoe that is both reliable and breathable.
Pros
+ Lightweight and durable
+ Highly durable
+ Good value
Cons
– It is tight around the heels
– Not as responsive as other options
– Runs 1/2 a size smaller
---
10
Nike Air Zoom Winflo 4

The Nike Winflo 4 is one of the highest rated running shoes on the market right now. The Winflo 4 has been replaced by the Winflo 5, but the 5s are not meant for people with supination.
The standout feature on the Nike Winflo 4 is the dual-density Nike Zoom Air midsole that has gained a reputation for providing high levels of responsiveness and comfort while remaining fairly lightweight. Cushion crash pads provide additional shock absorption during the impact phase to protect your feet while landing and toe-off. The midsole elegantly curves along the midfoot to provide the best level of fit for supinators.
The upper on the Nike Winflo4 is made from a breathable upper that feels soft against the skin and does not cause any irritation even when worn with no socks. Flywire cables are integrated into the fabric of the upper to create what Nike calls a "Dynamic Fit System". The cables are rooted deep into the sides of the upper to give a secured fit and keep your shoes intact regardless of how hard you're running. The color schemes of the upper should also be a noteworthy mention since they look quite sleek and stylish.
The outsole is fitted with waffle-pattern treads and maintains a certain level of sponginess which is ideal for everyday runners. Flex grooves located in the forefoot region allow for increased flexibility and a natural stride. This supination shoe is built for both wet and dry conditions and we had no problem securing a solid grasp in the Winflo4.
Some may find the generally heavier weight of the shoes to be a negative, but after our team tried them on for several weeks, we can report back that the weight does not cause any foot fatigue.
Pros
+ Affordable supination shoes
+ Wide toe box for comfortable toe splay
+ Smooth and comfortable ride
+ Stylish coloring
Cons
– Narrow along the midfoot
– Heavy compared to other running shoes
---

The Skechers GOrun 600 is a versatile shoe that performs well as running, walking or lifestyle shoes. The Skechers GOrun 600 comes in muted grey color schemes that look amazing with casual wear and not like those bright orange running shoes that stick out like a sore thumb when you wear jeans.
While the GOrun 600 has you fooled with its good looks, its true potential is unlocked when you take it out for a run. This road running shoe is specifically designed to be an excellent running shoe for supination and neutral pronation. The shoe's minimalist upper is constructed from a breathable mesh material that keeps the GOrun lightweight and flexible.
Unlike other running shoes that incorporate complicated lacing systems to maintain a snug fit, the GOrun 600 uses a lightweight 3D printed synthetic overlay to keep your feet secure. This works in conjunction with a padded collar and tongue eradicate unintentional heel slippage. The layered mesh construction of the upper is supposed to increase durability, but we found that the upper fabric looked frayed and worn after about a month's use.
The best part about the Skechers GOrun 600 that makes it an ideal supination running shoe is the full-length 5GEN foam midsole that maintains a comfortable and bouncy underfoot experience particularly for long-distance running. Further increasing the cushioning is a proprietary "Goga Run" insole that not only cradles your feet but also absorbs shock generated by heel-strike.
The outsole of the GOrun has a very flat appearance to it but wave-like grooves allow for good flexibility and traction. Rubber traction pods are strategically placed in the forefoot and heel regions to further help with surface grip and to protect the soft midsole from wear and tear. Skechers is usually a brand that goes unnoticed among the noise of the bigger brands like Nike or Adidas but, the GOrun 600 is a definite winner. It is one of the best running shoes for supination if you're the type that's not into the bright flashy colors and instead prefers something more minimalistic.
Pros
+ Specifically designed for runners with supination
+ Versatile supination shoe ideal for walking, running, lifestyle
+ Cushioning is very comfortable without being overly spongy
+ No break-in period required
Cons
– Upper not very durable
– Sizes run small. Recommended to get half size bigger
---

The Saucony Ride 10 is like a rocket booster strapped to your feet. If you're a supinator looking for a shoe with high-energy return then the Saucony Ride 10 are the best running shoes for supination and race days. This high energy return is possible thanks to the PWR Foam in its midsole with added cushioning delivered by the EVERUN top-sole.
The midsole is also very durable and able to withstand high-impact stress during a race, making it far more resistant than conventional EVA foam. The heel area of the Ride 10 consists of SRC landing zones that dampen shock and ground impact for a far more smoother ride (especially for a race shoe). To further cement itself as a capable running shoe for supination, the Saucony Ride 10 features vertical flex grooves that allow for more natural foot movements while negating the effects of supination.
Flexibility is also a standout feature in the outsole. The TRIFLEX technology increases grip and traction and also increases flexibility in the forefoot region at the same time. The carbon compound XT-900 located in the heel area is meant to increase traction and provide added durability, but we found that this was not the case on wet surfaces. Otherwise, the shoe does perform admirably on dry ground.
The shoe has a less than average heel-to-toe ratio of 8mm and considerably less cushioning than what can be found the other best shoes for supination. For this reason, the Saucony Ride 10 doesn't put up well for long-distance running.
Pros
+ Race shoes with good energy return
+ High on durability, low on maintenance
+ Comes in different width options
+ Very flexible forefoot experience
Cons
– Traction is so-so on wet surfaces
– Not ideal for running long distances
– Lacks cushioning in the forefoot region
---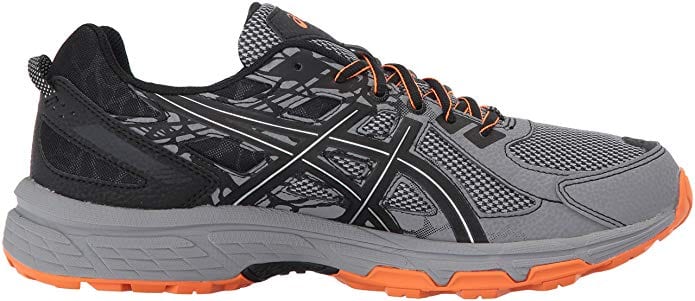 Asics are a brand that is well known for producing running shoes that combine style and performance. The Venture 6s have a focus on durability as well as comfort. This makes them an ideal choice for those with supination issues since supinators tend to wear down the soles quickly.
There are a few new updates on the latest model which carry some notable improvements from the Asics 5 – this includes a new midsole and upper. The upper is well designed which allows the foot to remain snug and stable. These shoes are specially designed for trail runners. They are therefore an excellent choice if you are an avid trail runner who has a supination gait.
The shoe has high traction and grip which is why it is so effective when used for trail running. It performs well on a variety of terrains which means you can be confident that your supination will not ruin a tricky trail running route. The outsole is specifically designed to withstand different terrain conditions. This includes wet and snowy conditions, where supination issues can be particularly problematic.
The weight of the shoe is slightly above average when compared with similar shoes available on the market. However, this doesn't prove to be too much of an issue since the comfort of the shoe is more than adequate.
The Asics Gel Venture 6 are the best shoes for supination for those who want to tackle challenging trail runs.
Pros
+ Good value for money
+ Excellent traction on wet surfaces
+ Fairly durable for everyday use
+ Upper fit is snug and comfortable
Cons
– Comparatively heavier weight
– Lacks responsiveness
---
Tips on How to Pick the Best Running Shoes for Supination
For runners that suffer from supination, it is important to remember that shoes come in 3 different basic shapes, which can be identified by the sole: straight, curved and semi-curved.
In order to pick the best shoes for supination, you should look for a shoe with curved soles so they contour the natural shape of your feet, especially for runners with supination. Supination running shoes are nothing more than neutral shoes with additional padding on the lateral (outside) part of the shoe where people with supination experience maximum wear and tear.
Here's a quick rundown of what you should consider when buying supination running shoes:
Pick neutral running shoes with a curved sole.
Extra cushioning and padding on the lateral (outside) side of the midsole to ease with weight distribution.
Ideal to have reinforced rubber coating on the lateral (outside) part of the outsole to manage the increased wear and tear from supination.
Should have a flexible and lightweight underfoot experience because it helps the foot move more freely and naturally through the gait cycle.
---
Frequently Asked Question
How do I know if I have supination?
Supination is the outward roll of the ankles which results in high arches. The easiest way to find out is to wet your feet and stand on a paper towel. If the resulting imprint shows that your arches are non-existent, then you most likely have supination.
If I have supination, do I have to buy only shoes designed for supination?
Yes. The reason it's important is that it affects your "Gait Cycle". A gait cycle is the movement of the body from one heel-strike to another. Improper shoes can lead to poor posture and abnormal gait cycles. The best shoes for supination helps to correct the negative effects of high arches and results in proper posture and a natural foot movement.
What are some other ways to help with supination?
In addition to having the right footwear, you also perform a number of exercises that can alleviate aches and muscle soreness caused by high arches. Exercises that stimulate the calves, hamstrings, and quads are generally recommended for people with supination.
How often should I change my shoes?
Even the most durable shoes for supination are not designed to be indestructible. Depending on your running/walking habits, it's good to change your shoes either every 300 miles or when there is visible wear and tear on the soles (whichever comes first). Some supination shoes might require a break-in period so do keep that in mind.
---
Conclusion
A supination gait can lead to some problems (both short-term and long-term) when running, like sore feet, and pain in the ankles or joints. Regardless, with good supination shoes, you can enjoy running without the risk of pain or causing damage to your feet. Or in the very least, minimize the damage caused by supination.
These are the best running shoes on the market that are designed to deal with the issues of supination. We have made sure to include only the latest and greatest. All of the shoes to make it on our list combine form and design with performance.