What is Supination?
Supination, also known as underpronation, boils down to putting an excessive amount of weight on the (outer) edges of our feet rather than the ball of the foot when walking. This is a significant walking abnormality that requires correction, as it can create serious problems if left untreated.
Some of the causes of supination include: having abnormal bone structure, in such a way that their alignment is off and affects the way you walk, chronic conditions such as diabetes or obesity, having high foot arches that cause underpronation naturally during the gait cycle, or due to external foot injuries.
Supination typically leads to foot aches as well as constant pains at the end of a long workday on your feet, which only gets worse with time. While it is incredibly common to have supination as a result of high arches, that isn't always the case. If you're a supinator due to high arches, you can check out our in-depth guide on insoles for high arches.
---
How do insoles help?
Supination insoles correct the way your foot moves and where weight gets distributed. Typically this comes in the form of support across the edges of the foot or arch area, helping mitigate the improper way the foot is placing itself naturally, and making it a smooth walking experience. Insoles for supination also help alleviate pain caused by underpronation, especially if you work in an industry that requires you to be on your feet for extended hours at a time.
With this in mind, we will be going through our list of 7 picks of insoles of what we think are some of the best insoles for supination, or underpronation.
---
1. FORM Ultra-Thin Insoles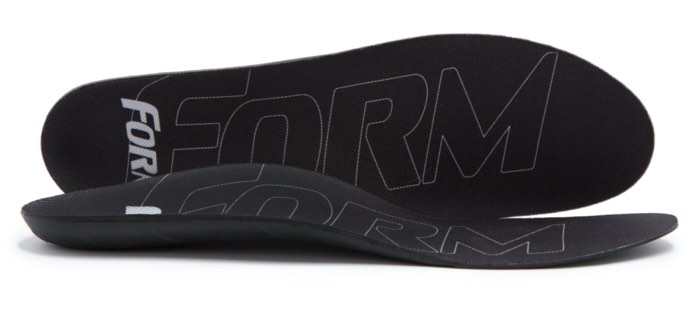 First up, we have the FORM insoles for supinators. These are purpose-built insoles for supination that can be used by both men and women. Apart from just supination, the FORM insoles accommodate a wide range of arch types and activity types. The ultra-thin profile is excellent for shallow-fitting shoes especially if you lead an active lifestyle and want something less intrusive living inside your shoes.
If you're unsure of the arch type, it is best to go with the neutral design as it fits most foot types reasonably well. The FORM insoles have a soft-textured top layer which is excellent at absorbing sweat and reduces odor-causing bacteria. The insoles sport a deep heel-cup design for extra stability and support.
A standout feature of the FORM insoles is its heat-moldable capabilities. This ensures that you'd able to get a custom fit without having to buy custom-made orthotics that can cost hundreds of dollars. These insoles are a good choice for those of you who have supination and want to be able to mediate its effect during walking, running, exercise, or just casual use.
The FORM insole does have its flaw, though. They run a bit narrow for those of you with wider feet. Also, not everyone might have the time or patience to heat-mold their insoles for a customized fit.
Pros
+ Ultra-thin profile takes very minimal space inside shoes
+ Good support from the deep heel cup
+ Moisture-wicking design
+ Ideal for treatment of supination
Cons
– A bit narrow, if you have wider set feet
---
2. Powerstep Unisex Pinnacle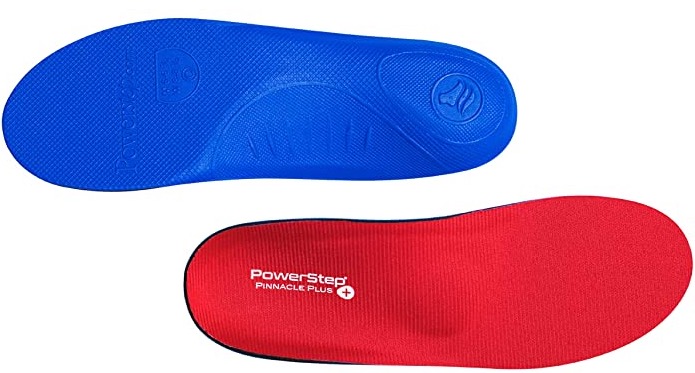 Next up on our list of best insoles for dealing with supination is the unisex Pinnacle by Powerstep. These insoles are dedicated to a wide array of foot conditions, and ideal for the prevention as well as alleviation of arch pain, heel pain, soreness, metatarsal pain, and much more.
Needless to say, the pain associated with supination is heavily mitigated by the design Powerstep chose. The Pinnacle features Variable Cushioning Technology (VCT) providing targeted cushioning and support in the areas you need most. The cushioning is dual-layered and has an EVA foam base to increase longevity as well as the durability of the insole.
The arch support system is semi-rigid and has a heel cradle to further increase the support and stability of the arch and heel areas simultaneously. The fabric cover is great for getting rid of sweat or slippage as it is heat and friction reducing. On top of this, it is also antimicrobial treated, so a lot of the sweat and germs that tend to accumulate over time will be eradicated quickly leaving no odor.
These insoles aren't perfect, though, and unfortunately, they have been noted to have a fairly long break-in time, of about a week before your foot is fully accommodated to the design. For many people, this minor hassle is worth it in the end, because you'll have a custom form-fitted insole that helps with your supination and can be worn in all of your shoes.
Pros
+ Designed to alleviate pain associated with supination
+ Long lifespan and very durable
+ Can fit in all shoe types without the hassle
+ Antimicrobial coating prevents odor
Cons
– For the best experience, it might take a week to get broken in
---
3. Pedag Correct Plus 3/4 Unisex Orthotic Footbed
Pedag is a well-established company in the shoe insert industry. With this latest model, they have created a three-quarter length insole that is meant to fit great in heels, flats, open toes, dress shoes, and the like. It comes in four different variants covering sizes 4-10 in women and 8-13 for men.
It consists of a natural vegetable tanned leather upper and latex bottom and can be worn by themselves, or underneath existing insoles to amplify support even further. The design aim of the Correct Plus, as the name implies, is to realign your feet, preventing supination and alleviating pain associated with it.
Overall a solid choice on their own, or to compliment pre-existing orthotic systems you may already have in place. If you're a man or woman who wears a variety of casual or formal shoes, these are a solid option.
The only serious issue with Pedag Correct Plus is the fact that the leather and the latex tend to separate after extensive use. Though they are still usable without this upper layer, it is definitely not ideal. With that said, they are fairly affordable and comes with a return warranty. These are some of the best insoles for high arches.
Pros
+ Helps correct supination naturally
+ Can be used in tandem with other insole systems
+ Good for casual and formal wear
+ Comes in a variety of sizes
Cons
– The leather and latex tend to separate after extensive use
---
4. FootScientific Unisex Type 3 High Arch Insoles
Now we have the Type 3 Orthotic shoe insoles by FootScience, which aims to replicate the quality one would expect out of a custom orthotic, with a material designed to mold to your foot's unique shape over a three-week period.
The Type 3s have a molded cork layer that helps correct your foot's form and helps with impact absorption simultaneously. The foam heel of this insole also has extra padding to stabilize the area and add comfort, with another layer of EVA foam to keep your feet exceptionally cushioned.
Finally, the Type 3s have a mesh layer to wick away moisture as well as an antimicrobial coating to make sure you are sweatless and odorless. If you're unsatisfied with the way these insoles comfort or aid your supination pains, they also come with a one-year guarantee for peace of mind.
The only issue is the fact that if you like them a lot and are prone to wearing them constantly, they will inevitably break down within a few months. These soles are definitely not a one-and-done purchase. They will need to be replaced on a consistent basis, and despite their affordability, some people would rather opt for a more long-lasting pair of insoles and shell out extra money for it.
Pros
+ Comfortable and ergonomic cork material
+ Supportive multi-layer design for foot correction
+ Keeps you dry and microbe-free
Cons
– Prone to wear down quickly and require replacement
---
5. Spenco Total Support MAX Insole
Next, we have the Total Support insole created by Spenco. They feature a 3-POD modulation system, with pods strategically placed with a varying degree of hardness underneath key areas of the foot. This alters the specific impact forces from reaching these areas harshly, and hence decreasing discomfort.
When it comes to arch support, it has semi-rigid support with the ability to improve stability, compounded by metatarsal arch support offloading pressure from the ball of the foot to the midfoot. This offloads pressure from sensitive areas quite well.
The fabric upper is a four-way stretch system that helps reduce issues like increased friction and blistering. The upper is also treated with Silpure antimicrobial, giving it great odor control. Best of all, Spenco offers you a one-year unconditional guarantee, so you may be eligible to return it if things don't go as planned. These are solid shoe inserts for supination if you have a problem with weight distribution while walking. And if it doesn't work out, you can get a full refund on them.
When it comes to its drawbacks, many will find the insoles run a bit longer than they'd like, meaning the toe area might need some trimming to be a better fit. Also, the insoles can be quite thick, so in certain shoes, you'll find less wiggle room than normal. Apart from that, these are some of the best supination inserts that come with a robust warranty.
Pros
+ Modulation system improves walking experience
+ Great corrective insole for supination
+ Stability cradle increases arch support
+ One year guarantee
Cons
– Might need to be trimmed in the toe area
– Certain shoes might feel more cramped than normal with these on
---
6. Prothotic Unisex Motion Control Insoles
Our penultimate insoles for supination on this list are the Motion Control insoles by Prothotic. These are meant to greatly reduce the impact of aches, pains, swelling, and various other conditions you may normally experience.
It features state-of-the-art biomechanical engineering, with a dual-layer design that creates a unique insole with technology inside to avoid supination or arch hyperextension and excessive friction. The Motion Control insoles have the Vy-Gel elastomer pads and antifriction fabrics across the footbed to protect your feet and shield them from issues that plague people with high arches and supination.
There are integrated shock pads to help deflect impact and return energy to your feet where they need it most. As far as supination is concerned, the extended arch support and its contoured design give you a balance between comfort and stability, preventing fatigue and correcting gait.
There are only two serious issues with these orthotics for supination – namely that they are becoming harder to come across, and that there is no return policy in case they end up breaking down over time. Unfortunately, if they do break down you will have to simply buy a new pair, compared to other alternatives that may have such guarantees in place.
Pros
+ Great for supination, and other severe foot conditions
+ Shock absorption pads help with impact control
+ Solid motion control thanks to the elastomer pads
+ Extended arch support give you added support
Cons
– Becoming harder to find
– No return policy in place
---
7. StepComfy Unisex Moderate Support Insoles
Finally, we have the Moderate Support Insoles by StepComfy. They have the ideal design for people with moderate arches, plus a whole host of other benefits like resolving aches and pains including supination. These Orthotic insoles provide additional arch support and comfort via a special design that aims to redistribute the weight of your body to reduce high pressure on one spot of your feet.
The heel cradle is especially helpful in this as it gives additional arch support and minimizes pressure in the heel and arch areas. The top is made of a silky velvet that is antimicrobial treated, with a high-density EVA foam shell that helps reduce the impact on your feet, and an anti-slip design to reduce any possible slippage.
What is probably best of all, is the fact there is a year-long warranty in case things go awry, as well as a 30-day money-back guarantee if you're simply not satisfied with the StepComfy Support Insoles.
While there is ample metatarsal support, an issue a few people have had is the fact that these insoles are particularly firm or hard, which for some can cause a bit of discomfort and requires breaking-in. If you know for a fact that firm insoles are the bane of your foot's comfort, then you may want to consider a softer or more delicate insole.
Pros
+ Good metatarsal support
+ Designed to redistribute weight properly
+ Durable EVA foam shell and smooth top-layer
+ Comes with a warranty and money-back guarantee
Cons
– May feel a bit too firm for some
---
Conclusion
To conclude, it cannot be stressed enough that finding the right pair of insoles to treat your issue of supination is key to proper foot health in the short term as well as the long term. If you wish to remain pain-free later in life or alleviate current pains, insoles custom made for this issue is your best bet. Alternatively, if you're looking for dedicated shoes for your condition, you can also check out our in-depth list of supination shoes.
We hope that these 7 best insoles for your supination have helped you come to a more educated conclusion about what would work best for you.