If you've ever played basketball, you know there's a world of difference between playing indoors and outdoors. Indoors basketball courts typically have hardwood floors, air conditioning, stable temperature, and stable forces, with all things considered. When you play outdoor basketball, you're opening yourself up to the elements. Nothing is the same: the court isn't hardwood anymore, it may be a rubber compound or it might be just painted concrete.
The weather can change on you, from sunny and lightly breezy to cloudy and gusting. The temperature ranges from hot or warm to chilly or cold, whatever the weather decides to throw at you that particular day is what you're going to get when you're playing ball outdoors.
If you're one to prefer the game in a less forgiving environment, outdoor basketball has you covered. With that in mind, indoor basketball shoes will only get you so far, which is why we compiled a list of the 9 best outdoor basketball shoes you can pick up if you're considering switching it up.
These shoes will be better designed to take a beating and last longer than other sneakers when they're no longer in a plush hardwood indoor environment. You'd be right to assume that these shoes are designed differently, and now we'll breakdown the aspects and key differences to be aware of when looking for the best basketball shoes for your outdoor ball games.

---
Features to look for in Good Outdoor Basketball Shoes
Breathability
When it comes to uppers for basketball shoes, of course, you're looking for a pair of shoes that implements a highly breathable material. Engineered mesh or fabric-like material has optimal ventilation capabilities. You might even be able to get away with a leather upper provided there are ventilation holes. This is doubly true when you're playing outside, as breathability matters, even more, when you're playing in a hot environment.
Cushioning
As we've alluded to earlier, indoor hardwood courts are a lot more forgiving on your shoes. If you're playing on an outdoor concrete court, you will need a shoe that gives you added cushioning, because you'll need it when you're running and jumping constantly. Ample cushioning will lessen the impact of those kinds of movements, and on concrete, the landing impact is a lot greater than landing on the hardwood floor.
Tread Pattern
Given that you're going to be playing outside, you need shoes that have an effective tread pattern. You might be accustomed to thin grooved treads when you look underneath your shoe, but these are actually less desirable when you're playing outside because these smaller grooves are easily able to catch loose debris, causing you discomfort and a loss of traction. If you're on the market for outdoor basketball shoes, you should look for wide-set grooves to make sure that debris can clear easily and not get stuck in between the treads.
Also, a small tip – if you're aware of a specific part of the outsole you tend to wear out quicker than other parts, then you should consider a shoe that has reinforced tread pattern in that area. It will give your shoes a longer lifespan.
Sole
We've separated tread and sole because they require grossly different qualities. Treads need to be wide-set for the outdoors and soles need to be made from a harder rubber than you would find in an indoor basketball shoe. The reason for this is because the outdoor sole will have to deal with a lot of different textures and ruggedness of an outside court, while the indoor shoe has to only deal with polished hardwood.
Without further adieu, here is our list of the best outdoor basketball shoes:
---
1. Nike Lebron Soldier XII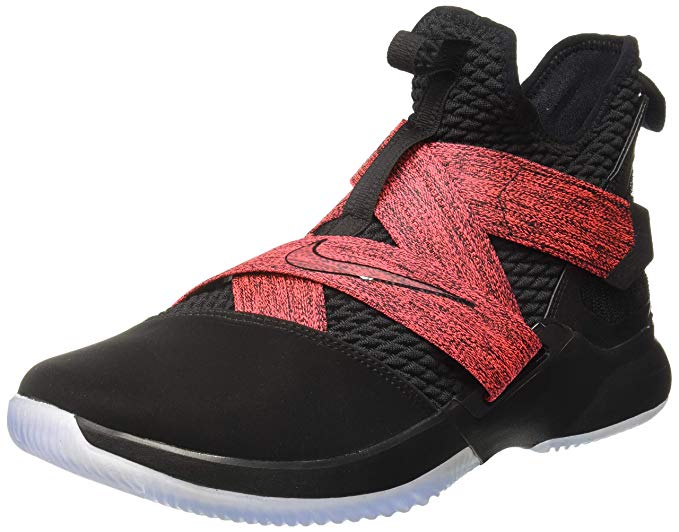 First up is the Nike Lebron Soldier XII, with a futuristic and clean design to them. These shoes actually have a suede sole – improving the quality and feel in your foot and also giving you something to talk about.
The dynamic crisscrossed straps across the shoe also add to this futuristic feel to the shoe and keep your feet strapped in and locked at all times. It also places itself across the ankle for added support to the area on the top for added containment. The Soldier XII also features Zoom Air units that aren't there just for show but to provide you with added cushioning, impact protection, and energy return.
The heel counter and raised midsole design of the Soldier XII's also help prevent any slippage on the court. The engineered circle-mesh upper provides excellent comfort and breathability, on top of looking elegant. The tread pattern is known as the Racetrack Herringbone, and it is not just functional but ideal for staying gripped to the court, be it hardwood or outdoor concrete.
Overall, the Soldier XII is a great aesthetic shoe on and off the court. If you want a futuristic vibe on a shoe that can handle putting up numbers outside, these are by far the best outdoor basketball shoes. As many of you know, when it comes to rocking the newest or the best basketball shoes, money shouldn't be an obstacle. It depends on what the shoe is worth to you.
Unfortunately, while the Soldier XII's are within the typical price range, they have other issues. Namely, these shoes feel a bit narrow and therefore imbalanced, similar to something like the KD 11's. You may also have to do some experimenting to figure out what is the best tightness and alignment for the straps given your own personal preferences, as compared to the tried and true lace-up design.
Pros
+ Aesthetically pleasing
+ Comfortable padded design
+ Racetrack Herringbone-pattern is good on outdoor courts
+ Can easily be worn off the court as a fashion statement
Cons
– Slightly narrow for some
---
2. Under Armour Curry 2.5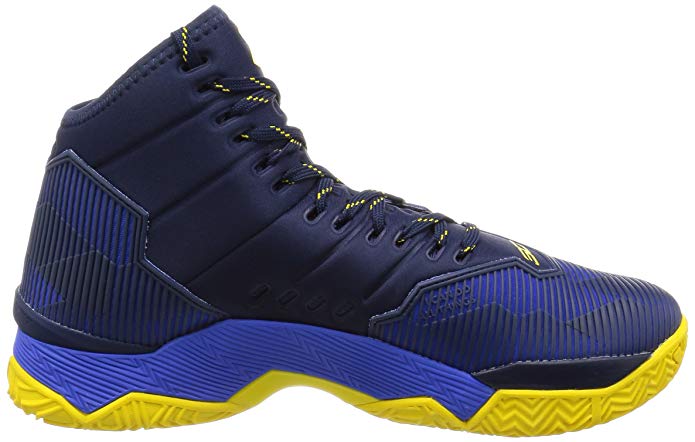 If you're someone who simply must have a high top shoe, and prefer the support and 'locked-in' feeling over flexibility, the Curry 2.5's might be a good option. They still offer some of the support you'd typically expect from a low-top, thanks to its 'burrito wrap' design along with asymmetrical lacing. This provides you with a really secure and locked feeling throughout the course of an entire game.
If you have previously worn the Curry 2's, you'll find that the 2.5' actually manages to fit even better than its predecessor. The cushioning has been improved, in large part due to the PU insole. And in tandem with the snug upper, these shoes end up feeling like an extension of your foot. A great reason to pick these shoes for outdoor use is the fact that compared to the Curry 2, the 2.5's upper materials are much sturdier and can take a beating.
Traction on the outsole is more or less unchanged – it's simply top-notch! UA has engineered these shoes with a great quality rubber outsole that gives you all the grip you need, and the herringbone pattern provides an opportunity for multi-directional movement easily. Finally, the threading pattern is made to reduce the collection of dirt and debris – a must if you're playing outdoors and really want to avoid having to clean up your kicks after every game.
The UA Curry 2.5's aren't without fault, though. Break-in time for these shoes is a real thing, and it may take a game or two to get that optimal feel to them. On top of this, they also run slightly small for some, so consider getting a half size up if you prefer the 'roomy' feel in your outdoor basketball shoes.
Pros
+ Good snug fit
+ Sturdier material than the previous iteration
+ Unique burrito wrap construction
+ Durable
Cons
– Runs a little small – better to get half a size up
– Break-in period required
---
3. Nike Air Force 1 Mid 07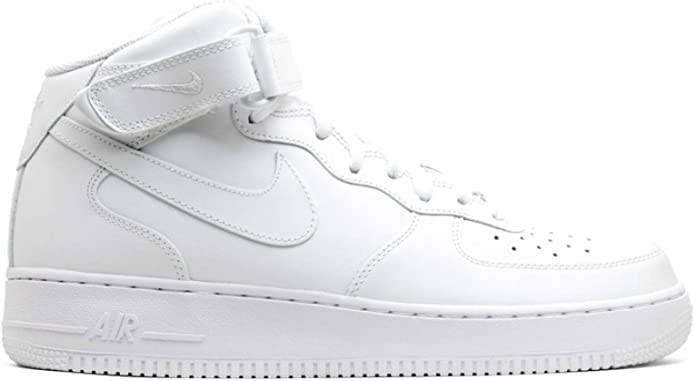 A classic among ballers is the Nike Air Force series. They feature a distinct and iconic look that you've come to expect, making it versatile on and off the court. It runs true to size so there is no reason to worry whether the size you ordered online will actually fit your foot.
These shoes are actually a hybrid between low and high top, known as mid, so it has some of the ankle support and straps that a high top would have but with the contour and shape is similar to a low top, as it doesn't fully encapsulate your ankle area. The AF1 line is a tried and true design with some of the most durable all-purpose outsoles on the market. Overall a very durable and trusted shoe that is sure to please.
Of the few issues, there are, the most obvious is the fact that it happens to crease, so if you are looking for a pair of shoes that look the same as the day you bought them months down the line, it's unlikely the AF1 Mid 07's will fill that niche for you.
Also, the rubber sole is durable, but their ridges are borderline when it comes to keeping debris out and unclogged. They aren't super tight yet they aren't very wide-set, so you might still get debris stuck in them depending on how you land.
Pros
+ Timeless design
+ Good for use outside of the court
+ Durable and comfortable
+ True to size
Cons
– Creases easily
– Outsole sometimes get clogged by debris
---
4. Under Armour ClutchFit Drive 3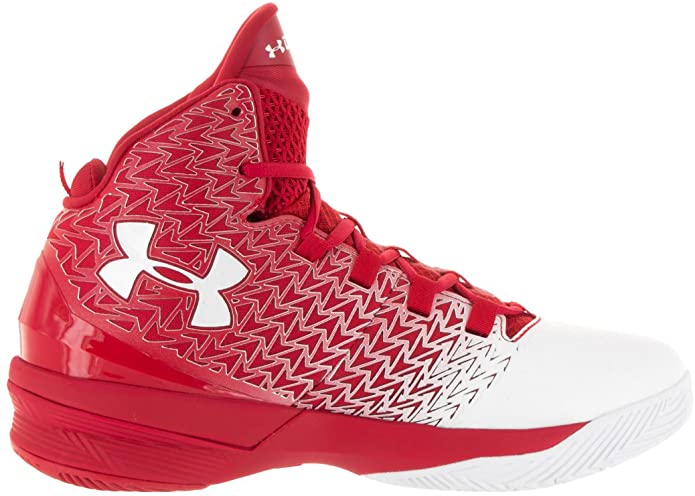 UA's Clutchfit Drive 3 is a good contender for purchase when considering outdoor play. It is completely imported synthetic fabric with updated ClutchFit technology from their ClutchFIt 2 model. It stretches and supports the foot better than ever before. They also brought back the staple Micro-G foam to bring you exceptional cushioning, which is great on hard surfaces.
The external heel counter in tandem with the internal shanks helps to deliver stability and support to your foot. They also fashioned it with a bear-trap lacing system that connects to the high-rising tongue to give you a tight and locked-in fit. Inside the Drive 3's is also an Achilles pillow to give you additional padding and comfort in that area. Finally, there is a die-cut anti-microbial sockliner that molds to the natural shape of your foot. Great for extended use and weathering the elements.
These shoes don't really need to be broken in as they feel great fresh out of the box. The area that ClutchFit 3's are lacking in is breathability. The upper is great at keeping debris and dirt out, but it can end up feeling stuffy if you end up playing a rather long and intense game. On top of that, despite being a high top, the ankle support is a bit more flexible than you'd expect, which, if you're going for a high top in the first place, is probably something you don't want.
Pros
+ Sleek design
+ Great cushioning and stability from the heel counter
+ Achilles pillow provides added comfort
+ No break-in time required
Cons
– Upper keeps debris out but isn't as breathable as we'd like
– Ankle support is too flexible
---
5. Reebok Q96 Basketball Shoes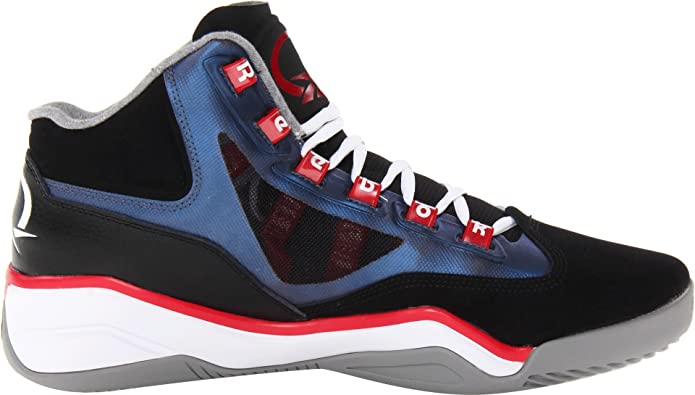 Based on the classic Iverson line of Reebok's, the Q96 is an all-new reimagination. It's a stylish and very vibrant retro shoe, with uppers made of synthetic materials that are both light and breathable yet don't feel particularly fragile.
Inside the shoe is a 3D FuseFrame at the midfoot, giving you even greater breathability and ensuring that your foot stays dry throughout the game. Along the midsole is DMX Foam throughout that provides you with long-lasting comfort, which you're going to need on more rugged surfaces. The lace loops that are incorporated into the Q96's are designed for quick speed lacing, which is definitely a good thing if your shoe comes loose in the middle of a game.
On top of this, for a long time, many players felt that while translucent rubber outsoles looked great, their performance was lacking and slippage was common. The Q96 does away with that notion, as the shoe features both translucent rubber and a grip that is too sticky for its own good.
There are two glaring issues with the Q96 Cross Examine's, though, which firstly is the fact that the leather upper is not of the highest quality you'd come to expect. The second issue is the fact that there are much more modern and cheaper-to-equal-priced shoes that have similar qualities. If you appreciate the classics, this is a must-have, but if you don't, this is just another expensive shoe.
Pros
+ Reimagination of a classic design
+ 3DFuseFrame and DMX Foam provides support and comfort on concrete
+ Lace Loops are a welcome convenience
+ A status symbol to many
Cons
– The leather upper isn't the highest quality possible
– If you're not into the retro look, it's not particularly enticing
---
6. Nike KD 8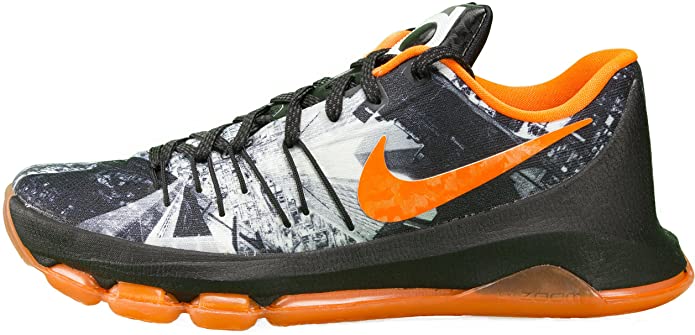 Next up we have the Nike designed shoes inspired by the growing legend that is Kevin Durant. It features Nike's iconic Flyweave technology, making it not only light and exceptionally breathable, but durable too. It is more flexible in key areas and thicker and stronger in others, giving you support for those sharp cuts and comfort during a big sprint.
There is a Zoom Air unit as a staple to give you a low-profile cushion with added flexibility and bounce you'd expect from a Nike product. The KD 8's also feature ultra-strong and light Flywire cables that are integrated into the laces for support and this allows for a bit of leeway during motion. They actually come from the midsole to keep your foot anchored yet flexible and responsive to movement, alleviating any stress to your instep. The color options available with these shoes are also nothing to scoff at.
The KD 8's are definitely not the shoe for someone who needs or wants additional ankle support though, as the low cut design means you won't be getting any of that. Also, these shoes do take some time to break in, so they are also not ideal right out of the box but will take a game or two to get into the groove.
Pros
+ Flyweave technology makes the upper very breathable
+ Zoom Air unit packs superior cushioning and comfort
+ Flywire cables make it a much more agile and formfitting shoe
+ Variety of color options
Cons
– Does not have ankle support
– Requires a bit of a break-in, one or two games worth of use
---
7. Air Jordan 7 Retro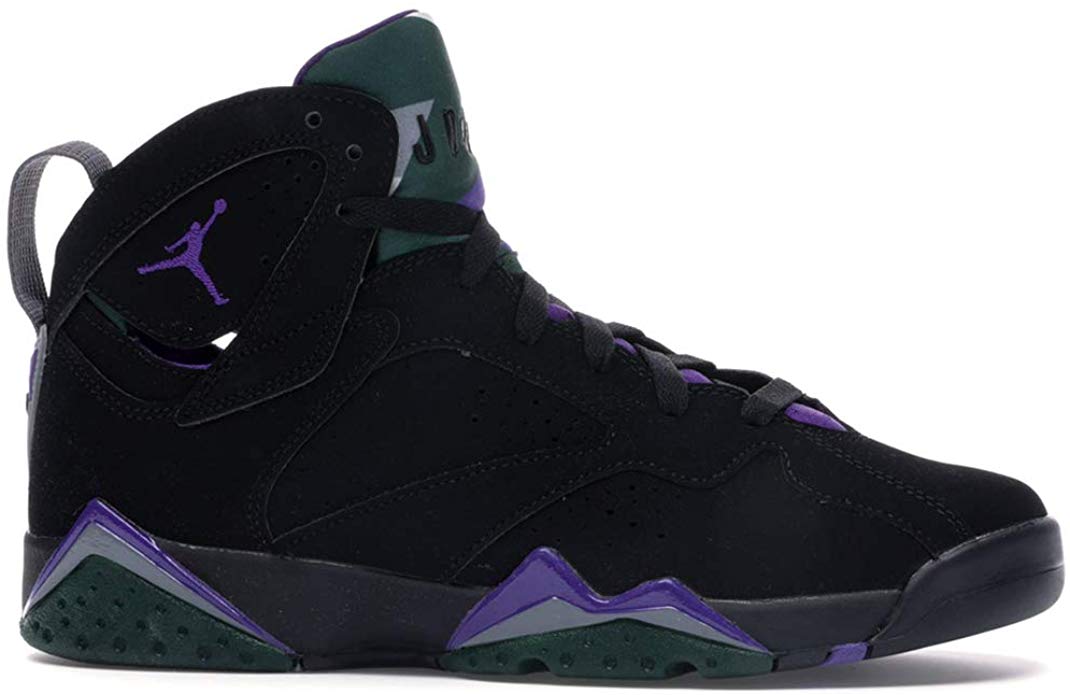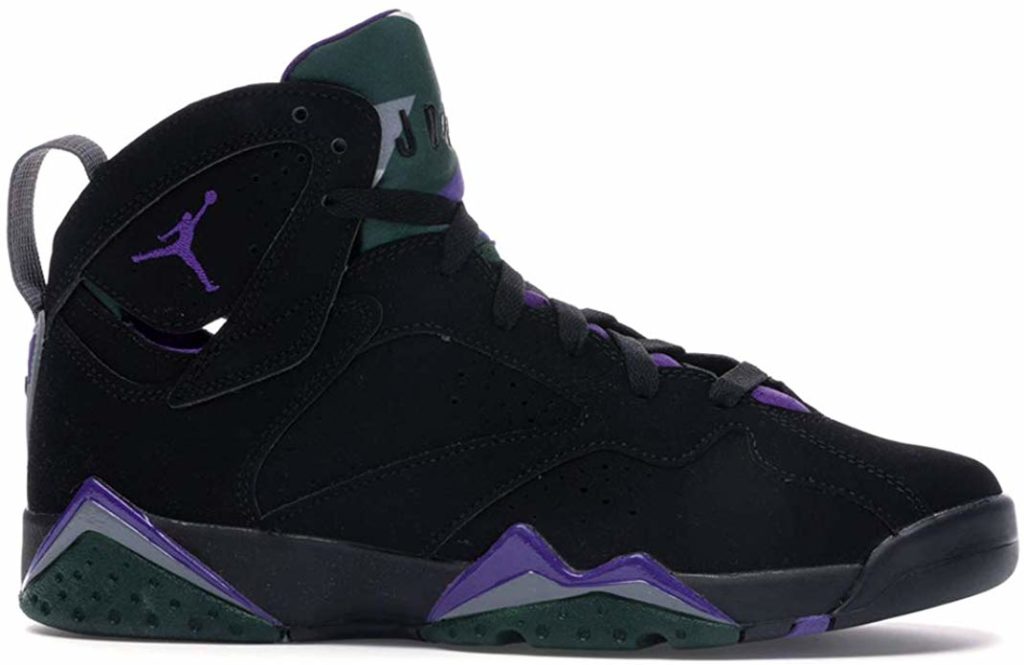 Is any basketball shoe list truly complete without an Air Jordan on the list? The Air Jordan 7 Retro's are quality basketball shoes made with durability and performance in mind. It features a thick rubber outsole with a tough black leather upper that is meant to last. These two factors alone make it great for streetball and outdoor basketball in general, as they can take a beating and keep on going without a hitch.
The trademark hightops give you great ankle support, especially for quick movements and multi-directional flexibility and support. The tread on the Air Jordan 7 Retro are quite good for the outdoors as there aren't too many grooves where debris could get stuck, with an exception being a perfectly sized pebble positioned poorly possibly lodging itself. Though this is a very rare occurrence, it is technically possible. The 7 Retro also has a breathable mesh interior lining to keep your feet dry and comfortable for extended play.
It's difficult not to notice how these shoes are built like a tank. They are large and don't let things in and don't easily get damaged. This comes at a cost of overall breathability. The 7 Retros have soft tumbled leather, which is great, but they are not very ventilated. Nor are these shoes ready out of the box as they need to be broken in.
If you're a basketball player who likes a bulky and durable shoe at the cost of breathability and having to be broken in, these are the best outdoor basketball shoes for you.
Pros
+ Iconic design that can be worn off the court
+ Tough, durable leather upper and rubber outsole
+ Lots of support and cushioning elements
Cons
– Might be too bulky for some
– Breaking in period and breathability are issues
---
8. Nike Zoom HyperRev 2015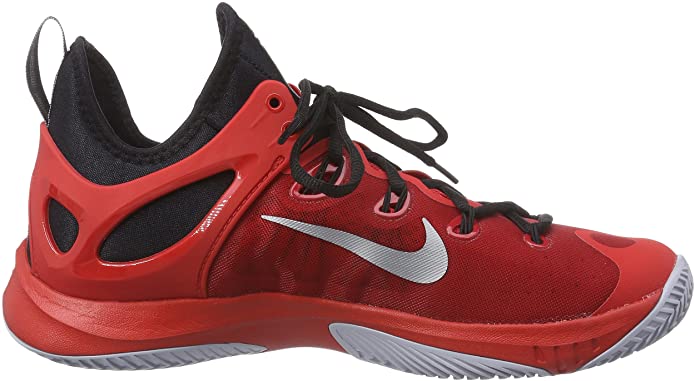 Don't let the "2015" in its name fool you. The Zoom HyperRev 2015 model is a very lightweight shoe with impeccable outsole traction. On top of having an excellent grip, the shoe is designed to have a sock-like fit. This allows you to move as freely as you like, with a great amount of flexibility for your foot. It molds around your foot, providing a great feeling of support and a close fit.
Despite having the sock-like fit, the HyperRev doesn't scrunch up when lacing up tightly, instead, it locks down the foot in place. The heel unit is just like the Nike Zoom, which prevents and heel slips or internal slippage because it is made from sculpted foam. In the forefoot, there is also a Zoom unit that is rectangularly shaped for added comfort.
The HyperRev also has Dynamic Flywire to tighten around your foot, as the aforementioned lockdown alludes to. The upper is mesh material and extremely durable – perfect if you're in rough conditions and not indoors. Overall, this is a shoe that will give you a nimble and quick feeling with added peace of mind that it won't break down from outdoor use.
The HyperRev's are not without their share of problems. For one, the narrow heel-collar construction makes it a pain to get on. There is also the fact that the ankle pull tab can cause irritation if you're not wearing high socks. Some would argue that the previous HyperRev model's full-length cushioning is better than the segmented and targeted cushioning of this 2015 model.
Pros
+ Comfortable sock-like feel
+ Laces up firmly and keeps your foot locked
+ Durable construction
Cons
– Tough to get on at times
– Might need socks to prevent irritation from pull-tab
---
9. Adidas Performance D Rose 6 Boost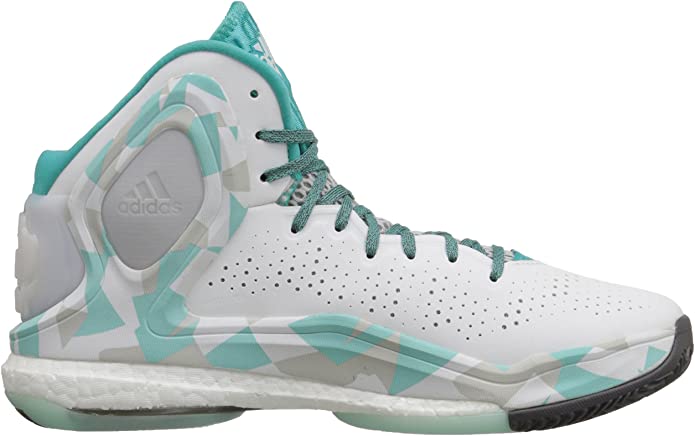 Our final outdoor basketball shoe is the Adidas Performance D Rose 6 Boost. This is an outdoor basketball shoe meant to be worn by someone who is fast, full of energy, and explosive in their game. It is a high-top that as the name implies, features Boost technology to deliver good impact protection as well as support and ample energy return.
The midsole cage of this shoe has an integrated EVA material to keep your foot locked in and allows you to have nimble and precise movements with no loss of stability. The outsole is made of hard rubber with great traction but has tighter treads. The upper is made of Sprint Web technology to reduce weight and improve comfort. A tip for those that are looking to buy these shoes is that if you have wider feet, aim to get a pair with mesh upper as it gives a bit more leeway since the material is able to flex a bit more. It is also true to size.
Some issues with this shoe are the fact that the tread-pattern is spread tightly together, making it more likely to catch debris and have small stones get stuck in them. Not a major issue, but in the middle of the game, it can be a bit irritating and distracting. On top of this, the outsole is prone to make squeaking noises, which is also a bit irritating and distracting, but not abnormal on the court.
Pros
+ Boost technology has good support and energy return
+ EVA midsole keeps your foot cushioned
+ Sprint Web upper improves comfort and reduces weight
+ True to size
Cons
– Treading is tightly packed
– Squeaky outsole
---
Conclusion
There you have it. Our list of the top 9 best outdoor basketball shoes. All the options here are of similar price ranges but wildly different styles and meant for different kinds of preferences and styles of play. With a little bit in here for everybody, we suggest you look into a shoe we've described here that fits your style, and dive in. On the other hand, if you have a foot condition like flat feet, we suggest you check out our in-depth guide on basketball shoes for flat feet to better suit your condition.
They are all quality shoes that are meant to be worn outside, for casual or competitive games of street basketball. Good luck finding your right pair, and keep hooping!