Flat Feet: What are they?
Simply put, flat feet are the condition where a person has little to no arch in their feet. Typically the human foot has a noticeable arch that raises parallel to the ground, serving a very specific function – distribution of body weight across one's feet and legs, and giving us a "spring in our step".
Our foot arches have to be flexible, in order to be malleable to ever-changing environments we traverse. Whether you are hiking up steep mountains, walking to the kitchen, or playing basketball, our feet need the right kind of support to not only prevent stress on the rest of the leg but also to help us perform at our best at all times!
Those afflicted with flat feet do not have this innate "springy" function, as a result, their feet oftentimes roll to the inner side or point outward whether they are walking, running, or standing. This results in pain in the feet because the rest of the leg suffers from abnormal straining in muscles and ligaments that would normally be relieved by a foot arch.
---
How do Flat-Feet Basketball Shoes Help?
To alleviate stress caused by flat feet, shoes with arch support tailored to help deal with this condition have been developed and tested by big brands, providing the most comfort, especially during physical activity.
This is especially true for the basketball industry because this affliction would cost players and teams money if injury would occur to some of their star players who suffer from flat-footedness. A lot of time, thought, and money has been put into the ergonomic designs that various basketball shoe manufacturers have proliferated in recent years, all with fallen arches in mind!
With that said, we move on to our list of the absolute best basketball shoes, because no one wants to be caught flat-footed!
In this article, we'll break down the technical aspects of each shoe, such as their unique technology in various areas like the midsole, upper and outsole, comfort, durability, and their pros and cons. By the end of this list, you should find at least one shoe that is the best for your flat feet, and get you one step closer to reaching the NBA!
The Best Basketball Shoes for Flat Feet
1. Nike Air Force 1 High '07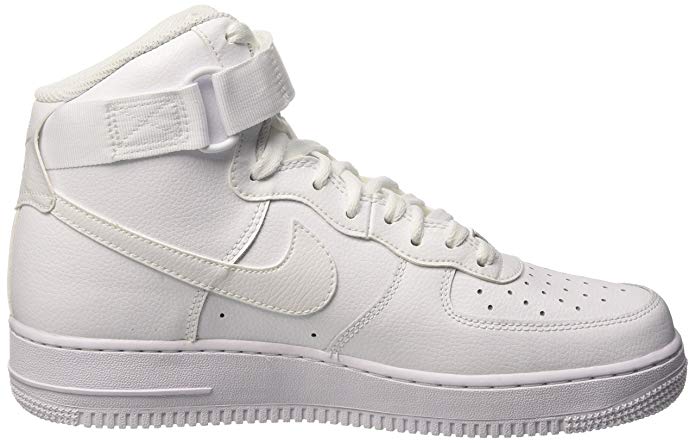 A staple in basketball for decades, an unmistakable and revered design in tandem with some of the best comfort and support in its class – Air Force 1s. These Nike Air Force 1 Highs provide some of the best support for basketball players with or without flat-feet because it has quality soft cushioning as well as a firm high-top design to keep your entire foot steady on the court's hardwood.
The Air Force 1 High's have been on the market for so long, there is every color imaginable at this point. These are the kind of shoes that have become synonymous with not only basketball but fashion in general, as a result, they can easily be worn off the basketball court.
With all this said, these shoes do come with a few drawbacks, despite being great especially for flat-feet, they are heavy and bulky shoes. You definitely feel planted on the ground, and that is not a feeling everyone enjoys. Secondly, they are a snug fit, and while it is possible to put insoles in them, it can get quite cramped. Finally, these shoes are prone to crease, especially after a lot of playtime.
Pros
+ Iconic design
+ Well-cushioned and top-notch quality
+ High-top ankle provides stability and support
+ Can be used on and off the basketball court
Cons
– Bulky and heavy-feeling
– Creases easily
---
2. Nike Kobe X Low Basketball Shoe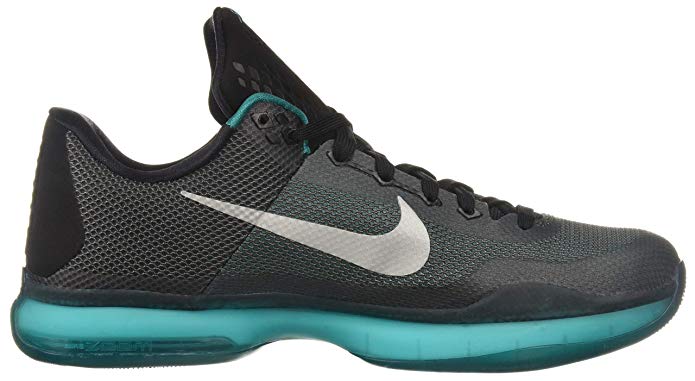 The Kobe X's are a mainstay as some of the best basketball shoes in the industry, not just because of its sleek design and the legacy of the player, but one of its most vital features – "responsive cushioning". This is a particular type of midsole cushioning made of foam that helps your flat-feet absorb the impact of constant running and jumping across that freshly polished hardwood.
What's more, is that there are grooves etched across the foam that not only open more space for your toes and increase breathability but make you feel a lot more light on your feet and agile.
These kicks are made of a special type of material dubbed the "Nike Flyknit Yarn", making these basketball shoes feel weightless – the flexibility of this material takes away a lot of stress from your feet and improves your overall running comfort on the court. These shoes are durable like no other, and come in at upwards of nineteen different colors, practically the entire rainbow, so whatever team you have to rep on the court, Kobe X's have you covered.
With that said, for those of you looking for more ankle support, you might want to reconsider Kobe X's over a pair with high-tops. These are a low-cut style, so the support on your ankles is minimal and everything is focussed on the soles of your feet – great for flat-feet but not ideal for people with extreme ankle discomfort.
Pros
+ Responsive cushioning absorbs shock and tension
+ Lightweight Nike Flyknit design
+ Foam and grooves increase breathability and comfort on the under-foot
Cons
– Pricey
– Lacks good ankle support
---
3. AND1 Men's Rocket 3.0 Basketball Shoes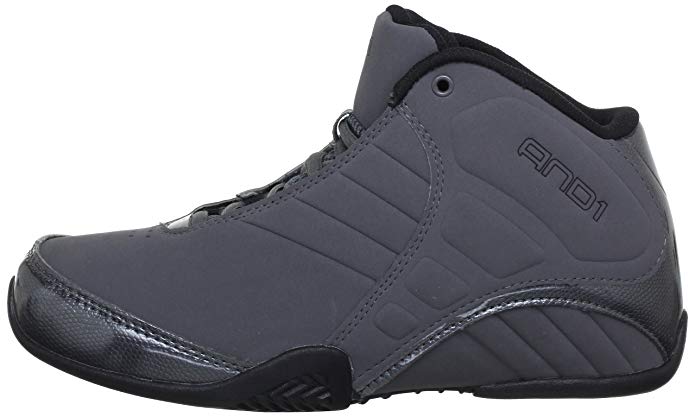 For everybody turned off by low-tops or high cost, this basketball shoe is for you. The AND1 Men's Rocket Shoes are not only higher-topped for ankle support but boast an incredible price point at ~$35. For that price, you would expect to find only the most basic of workout shoes, in the clearance section. The AND1 Men's seek to break that stereotype – they are an extremely comfortable and durable pair of kicks.
Some of the more polished and unique characteristics and tech underneath the likes of Nike or UnderArmor aren't present here, but their comfort and stability at this price cannot be beaten. These shoes have a padded insole and a mesh lining that increases comfort and breathability for your flat-feet, including a lot of leeway in stretchiness and enough space for a specialized footpad mold.
Conversely to the previous pair, these shoes have a high top design that supports your ankle fairly well and provides the stability those of you with sore ankles need on the basketball court. Those who look for that extra comfort and anchor for their feet at an affordable rate should seriously consider AND1 Men's Rocket 3.0. They are perhaps the best basketball shoes for flat feet when it comes to price and affordability.
The only serious downside to these shoes is probably the fact that they aren't going to be as durable as the other more expensive shoes on this list – which is a given. To be a bit picky as well, they really only come in the Black/Red scheme, and for those of you who want to have a bit of extra flair doing your lay-ups, the AND1's will not stand out.
Pros
+ Great price-point
+ Adequate ankle support
+ Good breathability
+ Ample space for flat-feet orthopedic inserts
Cons
– Not as durable as more expensive alternatives
– Bulky and lacks color diversity
---
4. Adidas D.O.N Issue 1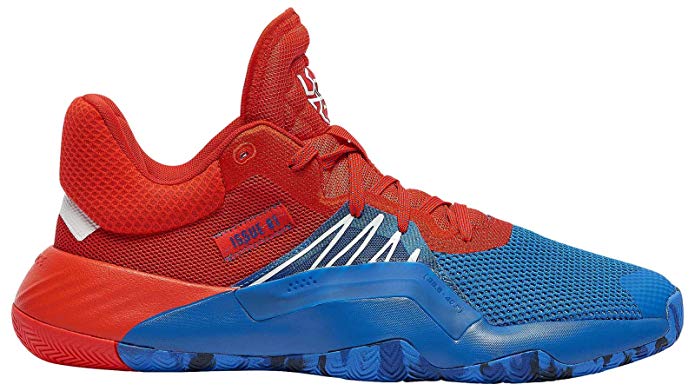 Third on our list are these bulky bad-boys, the Adidas D.O.N Issue #1's, with a distinct color scheme and herringbone pattern. As far as the support of this pair goes, the midsole shape and overall sculpting create great caging of your foot movements – regardless of if you go with the D.O.N Issue #1's textile/mesh or synthetic leather version. The base of the shoe is flat and wide, perfect for orthopedic molds for flat-feet, and the design cages your feet in place.
The fit of these shoes is astounding – they are true to size, fit like a glove, and overall provide a tight experience for wearers. Unfortunately, the traction on these shoes seemed to be a hit or miss. There were moments where it had a pretty good grip on the court and other times, it just felt like wearing skates on ice.
As far as colors go, you can't go wrong with the iconic red/blue split, but there are others ranging from Black/Pink to Purple/Ice Blue, the selection isn't huge but it makes up for it with distinct and exciting combinations.
Pros
+ Amazing support
+ True to size, fits like a glove
+ Spacious enough for inserts
+ Distinct combination of designs
Cons
– Traction is a gamble
– No wide array of colors
---
5. Nike Men's Zoom Evidence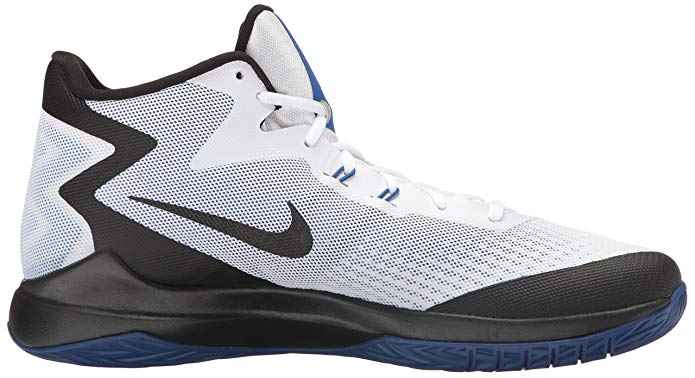 This is a straight-forward, no-nonsense design that can see use in everyday settings as well as during competitive play as true basketball shoes. Performance-wise, its midsole is Phylon, giving it a measured and stable feel and the Zoom Air unit provides cushion from impacts and sudden darting movements across the court – some of the best traits for flat-footed buyers.
The colors include White/Black/White, Silver/Polar Blue, basic team colors like Black/Bright Crimson/White, so there is an extensive variety, but usually anchored around Black or White.
This shoe is a high-top without the bulk, it provides a lightweight experience with a bulky-looking aesthetic, so for flat-footed peeps that are into the look without the feel, this is the best pseudo-bulky basketball shoe. It also runs true to size.
As for possible cons, for those with serious flat-foot issues, it would be recommended to use your own inserts that allow for arch support and cushioning for extra comfort. There is also the issue where towards the top, it narrows down, which for some foot types can be a source of discomfort or irritation, which also needs to be kept in mind.
Pros
+ Lightweight feel, bulky design
+ Great team color variety
+ Phylon midsole
+ True to size
Cons
– Requires additional insert for flat-footed buyers seeking better comfort
– Narrow at the top, which can cause irritation
– Not a very flamboyant design
---
6. Air Jordan XXXI Basketball Shoes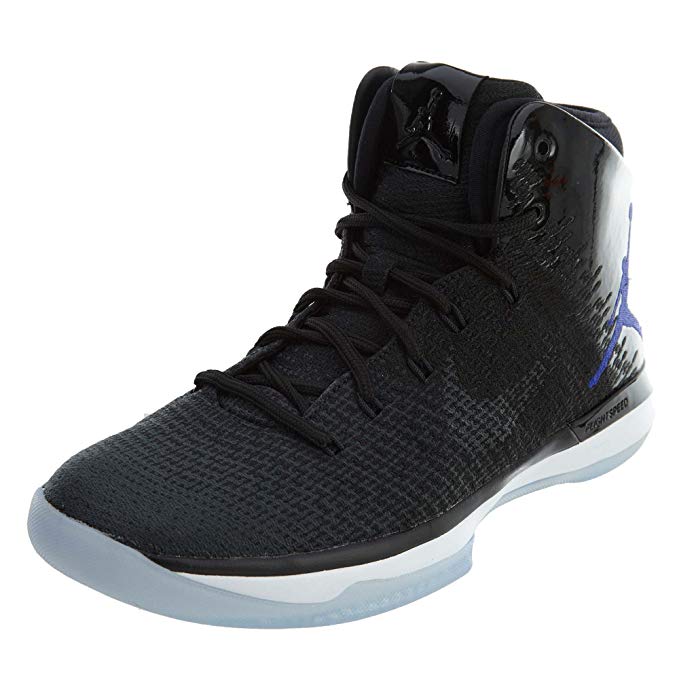 It wouldn't be a "Best Basketball Shoes for flat feet" list without a pair of Jordans somewhere in there, would it? These are a high-topped basketball shoe design made of synthetic leather and rubber outsole, aimed to keep your feet relaxed and comforted while under high pressure during an intense game. Inside, the arches are more pronounced, best for flat-footed buyers who desire a springier step without the need of an insert.
These are tried and true Jordan designs, and while it is a staple among even the absolute best basketball players, sometimes you want to stand out. In that case, these AJ XXXI's don't provide a look you've never seen before, so they lack a bit of pizazz. They fade from red at the front to black at the back (for the red version), with the iconic logo moved beside the classic Nike check.
A sleek design, to be sure, but not something that screams, "look at me"! Other than the fact that they are Jordans and by default so successful, they no longer stand-out. These are the best basketball shoes for flat feet for those who want a trusted name, and one of the best basketball shoe designs for flat-feet.
Pros
+ Excellent arch support for players with flat feet
+ Can be worn outside of the court – Jordans are sexy!
+ High-tops with optimal ankle support
Cons
– Brand-name price
– Design brings nothing new to the table
– High tops might cause irritation without proper socks
---
7. Nike Kobe Mamba Rage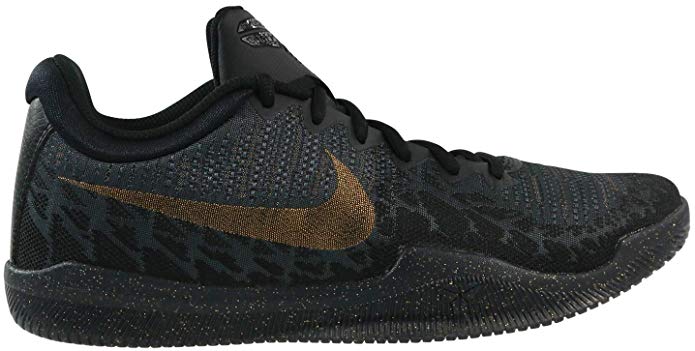 Oh, look! Another Nike shoe on the list. At the half-way point of our list is the Kobe Mamba Rage – one of the best durability shoes on this list, and also some of the most comfortable for flat-feet. They feature a built-in sole promoting an arch at the midway of the foot – helpful for those with flat feet. But for those who have custom soles or find these to be too intense after a long session of basketball, they can be removed for better comfort or customizability.
The Mamba Rage features Nike's Flyweave tech, making them breathable and durable for longterm use – perfect for flat-footed fellows that want some free space and a cooling sensation during those intense matches. This is also a part of Kobe's budget-conscious line of basketball shoes – coming in at around $80 and for great brand-quality footwear, that is a steal. These shoes are meant to be a snug fit and protect the arch area of the foot, for light-on-your-feet feeling and high-velocity movement.
Some of the drawbacks include that, of course, the sole with prominent arches can be irritating to some buyers, despite being able to be removed and custom orthotics being supported. Also, the shoes run narrower and a bit smaller than usual Kobe line models, so it is recommended to go half a size larger to solve this issue. These are the best basketball shoes for flat-feet when it comes to price and customizability.
Pros
+ Sleek design and affordable price
+ High quality and durability
+ Removable insoles for added comfort
Cons
– The included sole can be discomforting after prolonged play
– Runs smaller than other Kobe line Basketball shoes
---
8. Adidas Dame 5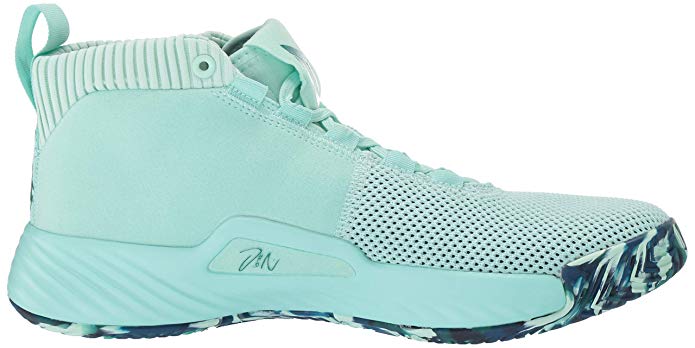 Our next set of basketball shoes might just have some of the best-looking color designs thus far – along with some of the best comfort at this price-point. The Dame 5's have a wider toe box, helpful for custom insoles, a padded pod system, and flexible Bounce midsole cushion for those who don't need additional insoles, and the ankle design is aimed to keep the shoe comfortably in place.
Their colors are a wide range from Black/Active-Gold/Shock Pink to even Seafoam Blue/Turquoise. Adidas Dame 5 also sports a herringbone pattern to maintain a sticky grip on the basketball court.
While its comfortability and great colors are almost unrivaled at this price, for those of you who want a very firm shoe, this might not be for you – the ankle support is still fairly malleable/stretchy compared to other shoe designs and the cushioning can be a bit mushy at times. Also, when considering purchasing this, it should be noted that they run big and it is recommended to purchase them at a ½ size down compared to your average Nike shoes. When all is said and done, the Adidas Dame 5 is a serious contender for the best basketball shoes for flat feet especially in terms of style, comfort, and affordable pricing
Pros
+ Highly durable construction for a great price
+ Very comfortable cushioning
+ Versatile and unique color schemes
Cons
– Soft and mushy midsole – not ideal for those looking for a stiffer shoe
– Runs half a size larger than your normal shoes
---
9. Under Armour Team Drive 4
For those put off by the Dame's lightweight design – Under Armour's Team Drive 4 might be your style. Inspired by the designs of the previous Clutchfit Drives, Team Drive 4s feature multiple foam layers along with the Clutchfit technology and cushioning. At its inception, CF Drive's were some of the most qualified and advanced basketball shoes based on its incredible cushioning and layering, incidentally, making them some of the best basketball shoes for flat-feet. Now, Team Drive 4's seek to reclaim that glory – Achilles tendon support included.
With the re-featuring of Micro-G foam layering, Team Drive 4's are bulky, tactile, and durable. They feel great on the court with the herringbone design for maximum grip, and the ankle support is fairly robust, with laces reaching all the way up the shoe.
Some of the drawbacks include that despite having a well-done color-pallette, it doesn't particularly stand-out. On top of this, while internally they are durable, the fabric loop holding in place the laces at the midway point of the shoe can be prone to wearing out. Finally, despite being well insulated, these shoes can get very moist after long play sessions – internally as well as externally.
Pros
+ Some of the best cushioning for basketball shoes
+ Spiritual successor to the Clutchfit's
+ Achilles support is great for flat-feet
Cons
– Color schemes are basic
– Some durability issues on non-vital components
– Avid basketball players will find these shoes to soak up their sweat too much
---
10. Nike Kobe AD NXT FF
If there is something these shoes do well, its stand-out color and design-wise. Despite only having only a few color schemes – Core Black, Core Grey, and Tie-Dye, the Kobe NXT FF's are some of the sleekest and best-designed basketball shoes. It features an internal four-way mesh that stretches over your contours to lock in your feet – ideal for flat-footed individuals who are worried about your feet slipping out.
At the top, it features an adjustable strap to also lock in your ankle, in-tandem with a plastic clip at the midway point of the shoe to assure your feet are locked in and ready to hit some 3-pointers. The Kobe NXT FF's FastFit tech offers a close fit, bringing fluidity to your motions and helping your foot's ability to react to impact without too much strain.
Some of the issues you might experience, though, are that since they are so close-fitting, it can sometimes be hard to slip the shoes on smoothly, depending on your socks or foot-type. With that said, breaking these bad-boys in will definitely help, but this is something to look out for when first using them. The other issue is that despite their color schemes being a stand-out, they lack variety beyond a few basic schemes – an issue for people who like to match their shoes with team colors.
Pros
+ Unique looking
+ Internal mesh locks down your feet inside
+ Smooth and cushioned ride
+ Fastfit technology offers more fluidity
Cons
– Can be too form-fitting before being broken in
– Expensive
– Lack of color schemes despite having a few great designs
---
11. Nike Air Command Force Basketball Shoes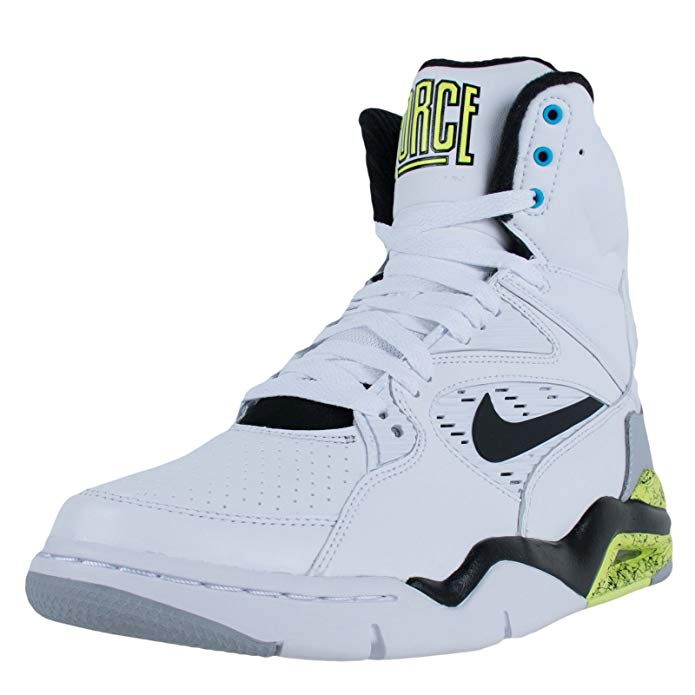 If nothing else, the NIKE Air Force Command shoes scream "retro", with their heavy and bulky design that emblemizes basketball of yesteryear. It features a NIKE Air unit, making the shoe feel fairly light compared to its appearance. It has soft cushioning to help brace your flat-feet to high impact jumping and running on the basketball court, and the bulky design protects your feet from any external forces – a very protective design.
Its ankle support is almost unrivaled – the design projects higher than most other shoe designs. This means that your entire ankle is secured and also serves as a bulky bulwark against rough surfaces, physical contact, or falls. As previously mentioned, these shoes sport a retro design, and fashion is pushing more and more back into the '90s, where these shoes would shine as a piece outside just as it would in the basketball court.
As for any issues associated with the NIKE Air Command Force's, the basketball shoes tend to run small, which should be taken into consideration when ordering your size. Some might not prefer the '90s feel, the bulkiness, or how high the ankle support goes. For those with flat-foot, though, it is likely to be a welcome bonus.
Pros
+ Retro vibe
+ Can be worn off the basketball court
+ Some of the best support for flat-feet as basketball shoes
+ Protective and sturdy design
Cons
– Some might consider it to be too bulky
– '90s aesthetic is not everyone's cup of tea
– Ankle support might be a bit too much for some people
---
12. Adidas Performance Crazy Bounce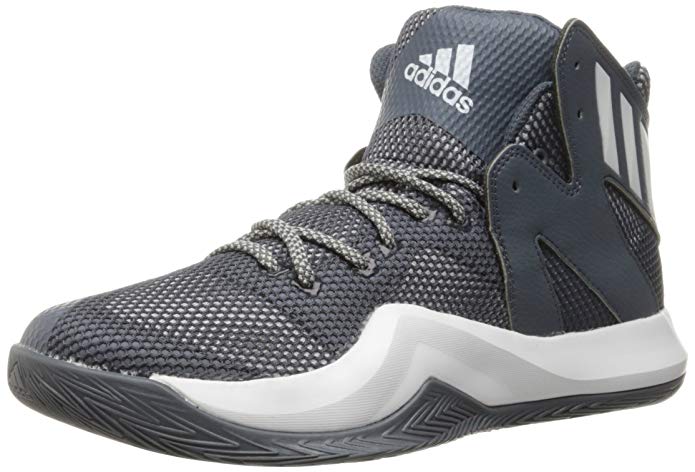 To round out this list is another Adidas shoe that features Bounce technology. The Adidas Performance Crazy Bounce is not to be taken lightly simply because they are at the bottom – these are some of the most lasting and innovative basketball shoes on the market. They have an elastic, lightweight design that aims to return all your post-take-off energy and bring it back, making you feel like you're quite literally all over the court, hence the name – Bounce. The heel and ankle support is designed to protect from all sorts of high impact, be it from all the air-time you're getting, or accidentally bouncing into someone.
The Performance Crazy Bounce is a simplistic design compared to some of the other shoes on this list, but they are excellent on and off the basketball court for this reason. One second you're with your family grilling on the BBQ, the next you're hopping circles all around the basketball court. The TPU plate on the midfoot ensures you won't be slipping anytime soon, and the bulky lower section makes sure that there is a stable foundation for you to feel comfortable bouncing and running around at top speeds – even with flat-feet.
Beyond the design behind making these some of the best and most comfortable basketball shoes on the market, the Performance Crazy Bounce's come in upwards of ten colors, so there is little left to the imagination of what could have been. Adidas made sure if there's a color, the Crazy Bounce comes in it.
Some of the few issues with this shoe include that they run fairly small and that the laces can be very tricky to maneuver – they are both short and have to be laced inside the shoe in certain spots. In this case, given these are a budget shoe, you should have the leftover cash to buy some longer laces. These are by far the best basketball shoes for flat feet for those who don't want to buy the classic Nike or Jordans. But, at the same time, it comes feature-packed for maximum performance on the court.
Pros
+ Highly comfortable for flat-feet
+ Lightweight, bouncy
+ Simple design – can be worn anywhere
+ TPU plate ensures no-slip
Cons
– Runs smaller than normal, should get half a size up
– Laces are too short
– Laces can be a trick to maneuver inside the shoe
---
Tips on How to Pick the Best Basketball Shoes for Flat Feet
For players that suffer from flat-feet, it is crucial to remember that sports shoes come in 3 different basic shapes identified by the sole: straight, curved, and semi-curved.
In order to pick the best basketball shoes for flat feet, you should pick footwear with a curved or semi-curved sole with additional arch support so you can get the extra support necessary to perform at your peak and avoid injury. Flat feet basketball shoes are purpose-built with additional padding and support on the medial (inside) part of the shoe where people with flat-feet experience maximum wear and tear.
Here's a quick rundown of what you should consider when buying supination running shoes:
Pick basketball shoes with good arch support.
Extra padding and cushioning on the medial (inside) side of the midsole to help with weight distribution.
Ideal to have basketball shoes with reinforced outsole coating on the inside part of the shoe to manage the increased degradation from flat feet.
---
Conclusion
We've gone through an extensive list of basketball shoes that are not only aimed to be the best in the sport but for some of the best for those of us who have flat-feet. We have come across a few budget shoes, like the AND1's and Adidas Dame 5's, a few higher-end shoes, like the Jordan AJ XXXI's and Air Force's.
We tried to include a wide array of shoe designs, for those of you who appreciate bulky designs, and those who appreciate minimalism. For flat-footers that have ankle support issues, there are basketball shoes here that have high tops, and there are shoes with low-tops for those of us who get irritated with the ankle grip or simply don't need it.
Every shoe here should have enough of their own internal support systems in place for sufferers of fallen arches, but the option to put in your own insert system is always available. Most if not all shoes on this list are compatible with your own previously-purchased arch support or orthotic soles, though some of these basketball shoes are better designed (more internal space) for this than others, and as such, we have that highlighted as a pro.
Every shoe here will provide you with a great degree of shock absorption, stability, and cushioning to enjoy long sessions of basketball, but it is up to you to find what basketball shoe is best for your own personal needs. We hope that this list has not only exposed you to new basketball shoes that we consider to be the best but also helped you decide based on your situation which shoe "fits" with your sense of style and comfort. Thank you very much for reading, and above all else, stay comfortable and keep playing ball!