If you've worn your pair of shoes for a long time, you probably hold them dear and it can be easy and common for it to start falling apart over time. If you have a pair of shoes you adore, but find that they are coming loose or already broken apart, not all hope is lost. Whether it is the heel, upper, or sole that is coming apart, there is a way to repair it back to working condition.
Shoe repair shops often use what is known as shoe adhesives that are typically heat, cold, and water-resistant. These adhesives are highly effective and very strong, able to repair and mend some of the most gruesome of damages. This is also something you can do at home, for a lower cost, if you get the right materials yourself and know what to do.
As someone that's worked in a variety of jobs that require heavy use out of my shoes, I've become rather adept at repairing my own footwear especially since work shoes cost so much already! Some of the glue compounds on this list is for running shoes, while others are for boots.
---
What are the different types of shoe glue?
Firstly, you'll need to know what the best type of glue for your footwear is. Shoes vary in make and materials, so different adhesives work differently. In general, you want an adhesive that doesn't stiffen, as the shoe will still need to be flexible to a degree, be able to bond well with crepe, leather, and even PU or rubber. Our list will have a variety of glue types, but we'll list the main ones to give you a better idea of what you'll be running into when looking for shoe adhesives.
Urethane Rubber
Urethane is a kind of adhesive that is both heat and cold resistant, as well as waterproof. On top of these features, it is great at remaining flexible, making it a good pick if your shoe has had its soles separated or damaged in some way. By choosing this type of glue, you should expect a durable and flexible seal.
Neoprene Cement
Neoprene adhesives are meant for providing an incredibly powerful bond, being fast-acting, non-corrosive, and can be used on the fly. This type of adhesive is best for athletic sneakers and rubber-soled shoes. They aren't quite as flexible but provide a super-strong bond that you need if the shoes you are using them on are meant to take a beating.
Super Glue
Probably the type of glue you're most familiar with since it is commonly used for a variety of purposes outside of shoe repair. Super glue is a very fast-acting glue that requires little downtime to create a strong bond. The bond is typically not quite as strong as a glue that requires more curing time, but super glue is great for peeling or leaking soles.
Epoxy Glue
Finally, Epoxy is a type of adhesive that will help bond most any materials together and is a staple for footwear repair. Ideally, the kind of Epoxy you get will be one with less catalyst, meaning it will avoid being brittle or cracking over time. This glue type takes a fair amount of time to dry – 24 hours minimum but provides an incredibly strong bond that is stable and durable.
---
How do you properly fix a sole-separated shoe?

Be it a major separation or minor one, the process to repair your shoes and make sure your soles stay properly fixed to the rest of your shoe is a simple and easy one. This type of issue might seem like a big deal, but it is actually quite straightforward, so there is no need to pay a shoe repair shop to fix it when you can do a great job yourself at home for cheaper.
Step 1: The first step is to make sure that the sole is completely removed from the shoe, this will make the sole easier to work with and ensure a better all-around stick and longevity. Clean the existing glue residue with a cleaning wipe to completely remove the old gunk. You may also want to consider sanding up the surfaces to make sure the adhesive bonds better.
Step 2: Clean both the shoe as well as the separate sole surfaces, getting any debris out, to make sure that the adhesive will be effective at holding the two pieces together.
Step 3: Apply a thin narrow line of adhesive to both the edge of the sole and a thin layer of adhesive in a zig-zag pattern to the bottom of the interior surface.
Step 4: Once generously lathered, you should consider clamping them together and letting the shoes set for however long is dictated by the adhesive's instructions. Some adhesives set fairly quickly, others may take minutes or hours.
So, with that out of the way, here is a list of the 8 best shoe glue for your next DIY shoe repair.
---
1. Shoe-Fix Glue (Shoes)

First up on the list is Shoe-Fix Shoe Glue, which is an adhesive that bonds almost instantly without the need for clamping or long setting time. This glue doesn't expand nor dry out and is made by a company that has been in the shoe repair business for three generations.
This glue is great for re-attaching your soles, as it creates a flexible bond that is unaffected by temperature, humidity, or moisture. Shoe-Fix Glue also dries clear when applied, as to be more appealing to the eye, and prevent any smudging, smears, or discoloration of the shoe.
Shoe-Fix is an adhesive that is safe to use on all rubber and vinyl footwear, ranging from dress shoes, athletic shoes, boots, climbing shoes, and sandals. Overall, this adhesive is great if you're looking for something easy to use, easy to get off if you get it on your hands, and need a clear-dry for aesthetics.
While this adhesive is great as a jack of all trades that you can simply pick up and use, they aren't as solid for heavy-duty shoes and work boots that are going to take a beating. If you are aiming to use this glue on shoes meant for harder physical activities, they might leave you wanting more. This compound is one of the best shoe repair glue you can buy – especially if you're a beginner and want something quick and effortless.
Pros
Easy to use and apply
Simple instructions to wash off
Clear-dry makes it great for making your shoe seems brand new
Dries easily and quickly
Cons
Won't last as long on shoes you use for demanding physical activity
---
2. Gear Aid AquaSeal SR (Shoes & Boots)

Next up is an adhesive that is meant for long-lasting repairs, sealing leaks, and repairing soles on hiking boots, climbing shoes, running shoes, and cleats. Unlike the previous all-around glue, Gear Aid decided to make an adhesive meant specifically for more rugged shoes.
The AquaSeal SR is a durable Urethane adhesive that bonds permanently to soles and heels, dries clearly into a flexible rubber-like compound that will not peel or crack over time. The SR provides you with superior abrasion resistance, making it ideal for creating toe-protectors on work boots or even rebuilding worn heels.
Despite being a heavy-duty adhesive for heavy-duty shoes, the SR is compatible with all sorts of footwear from leather, suede, rubber, neoprene, canvas, and even Gore-Tex boots and shoes. Overall, if you intend to use these on a shoe or boot meant for demanding work or activity, the AquaSeal SR will provide you with the durability and flexibility you'll need to keep those shoes going.
With that said, there are some quirks to the AquaSeal SR. Firstly, while it may take 24 hours to cure for certain shoe types, if you are using SR to fill in space or gap, you'll find that it will take up to 48 hours to completely cure. If you are attempting to completely rebuild a sole, give it 3-4 days to be completely secure.
The more paste you use, expect it to take longer to cure. Finally, the instructions tell you to wash your soles and sandpaper it down a bit for a smooth surface. It is actually ideal to clean the surface after smoothing it over with sandpaper to give it some good bonding. The AquaSeal SR is one of the best glue for shoes and boots especially if you're the outdoorsy type.
Pros
Highly effective
Great for use on demanding shoes and boots
Works on a variety of materials
Great for filling gaps and heels
Cons
Trial and error with curing
Requires a lot of time for the very best stability and cure
Instructions given are not always the best course of action
---
3. Gorilla Glue Original (Shoes and Boots)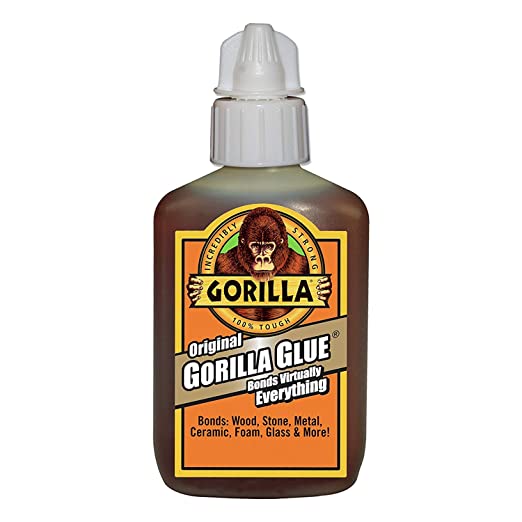 Now we have Gorilla Glue Original, that you may already be well aware of if you tend to repair or restore things in your home. This glue is a versatile and effective adhesive that is completely waterproof and able to bond with wood, stone, metal, foam, and a whole lot more. For this reason, it sees a lot of use for home repairs and projects.
Moreover, this industrial-strength glue is also great at ensuring that your sole will remain completely fixed to your shoe if applied. You'll find that this glue is flexible, waterproof, and incredibly good on unlikely materials like leather, vinyl, canvas, and rubber – making it a natural for shoe sole repair.
The way it works is by expanding itself into the materials it's on, creating a tight bond. Gorilla Glue is a polyurethane compound making it fairly flexible while still being very durable and long-lasting. The curing time is roughly an hour or two while clamped down.
While Gorilla Glue is definitely the most versatile adhesive on this list, by virtue of being used on more than just footwear, it also lacks some of the specializations that dedicated shoe repair glue will have. One such example is the creation of heels, or filling spaces easily and well. Gorilla Glue is a great option for fixing soles and sticking things back together, but if you want something more complex than that, or made specifically with footwear in mind, this may not be your top choice.
Pros
Highly versatile, used for various footwear
Flexible yet durable
Can be used outside of just footwear
Waterproof, bonds to nay materials
Cons
Not as comprehensive as a dedicated footwear glue
4. Loctite Ultra Gel (Shoes and Boots)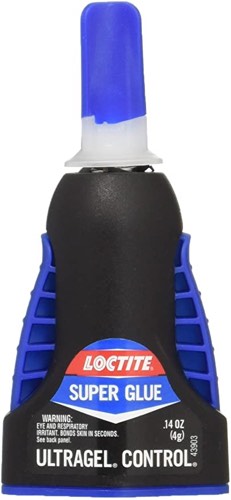 Loctite Ultra is a rubber-toughened instant adhesive that has impact-resistance along with resistance against vibrations and varied temperatures. These features make it a solid choice if you intend to use this super glue on your soles.
It is a non-drip formula that is great for both horizontal and vertical surfaces, quickly sets in a minute or less, and has a precise control applicator. It also dries transparently, making it a good choice if you want to maintain your shoe's aesthetics post-repair. You will find that Loctite Ultra Gel will neither crack nor peel and is easy to handle and apply.
This super glue is great if you need to repair things like peeling soles, damaged heels or toes. Overall, the Loctite Ultra is a simple to use adhesive that is intuitive, fast, effective, that hopefully breathes new life into your broken footwear.
The Ultra Gel does have a glaring flaw, though. This is the fact that it comes in incredibly small portions. There are "packs" that contain more, but if you were to go out and buy a single one, you would not only be lacking in sufficient glue for a big repair but also feel tricked.
The newer packaging has a casing around the actual tube that makes it appear bigger and more voluminous than it actually is. If you do intend to use this super glue, we recommend buying multiples to be sure you have enough, and it isn't terribly expensive.

Pros
Fast-acting non-drip formula that sets in under a minute
Dries clear, doesn't crack or peel
Good for repairing peeled soles on work boots
Simple to use
Cons
Comes in small amounts
Packaging makes it seem more voluminous
5. Boot-Fix Glue (Boots)

From the same people that bought Shoe-Fix, Boot-Fix is a super glue meant to give you professional-grade and flexible boot repair glue that bonds easily without creating a lumpy mess. This glue does not expand or dry thick, and helps reattach boot soles with ease. The bond created by this super glue formula is unaltered by moisture and hot or cold temperatures.
The Boot-Fix Glue is also specially formulated to be used on all forms of footwear, from rubber to vinyl, and should have no problem repairing your boots back into working order. Overall, this glue is great especially if you intend to use it on rough worn-out boots that have seen better days.
The Boot-Fix glue isn't perfect, and we recommend that you hold it together for a couple of minutes to let it completely settle, especially if you are repairing a large area. If you want to be extra precautious, let it sit and dry overnight for the best hold. Apart from that, not much can be said other than it just works.
Pros
Professional grade adhesive with a strong bond
Great for fixing separated soles
Deals well with moisture and temperatures
Ideal for boots
Cons
Should be clamped for a few minutes despite the advertised fast set time
The best hold is after overnight setting, so not very quick but long-lasting
6. Barge All-Purpose (Shoes and Boots)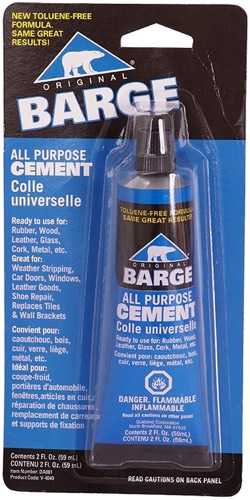 Nearing the end of our list is Barge's All-Purpose adhesive. It boasts an incredible bonding power thanks to its neoprene cement formula. It is a professional grade adhesive, notoriously used by cobblers on a regular basis for its durability and reliability.
Unlike many other types of glue, Barge glue can actually be bought in bulk if you so wish, meaning you can have access to a large amount of top-notch cement adhesive for multiple pairs of shoes.
Neoprene cement adhesives are typically great at providing a powerful bond, setting fairly quickly, and are non-corrosive. If you are looking for a meaningful and long-lasting bond, Barge is a good option, and you should expect your shoe to be rock-steady afterward.
With that said, the all-purpose glue has a yellow tint to it when it dries, and if you are a stickler for aesthetics, and would rather not risk a bit of yellow poking out in some areas, then perhaps another adhesive would be better. This cement mixture is best if you have a tough separation that you just want fixing, so either be ready for a little bit of yellow on your shoe's underside or be very diligent when applying so as not to spill any excess.
Pros
A very effective and long-lasting bond
Trusted by cobblers
Great for both boots and athletic shoes
Can be ordered in bulk
Cons
Has a yellow tinge to it post-bonding, noticeable if you are not careful when applying
7. Beacon Adhesive Quick-Grip (Shoes and Boots)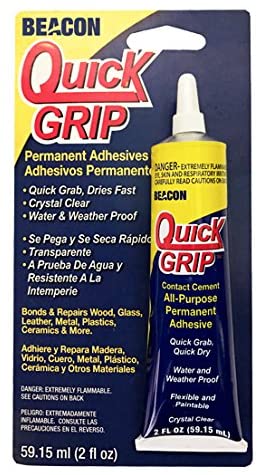 Our penultimate adhesive choice on the list is Beacon's Quick Grip all-purpose glue. This is an affordable, quick and strong adhesive that is great not only for shoes but projects in and around your home or work. It is water and weatherproof, as well as flexible and paintable.
If you have an athletic pair of shoes, you may find that Quick Grip is a good choice because of this flexibility. While it does dry clear, you can paint over it if you so choose to improve or better align the glue with the aesthetics of the shoe you're repairing.
It has a unique foaming application that makes sure that your footwear isn't weighed down after application, or feel clumpy. As previously stated, this Quick-Grip adhesive is also more than capable of projects beyond footwear, so you can also use it on anything needing a fix – from wood to ceramic.
All things considered, the Quick-Grip isn't perfect for every scenario. The bubbling application is great for sticking but doesn't easily lend itself to minor cracks or self-leveling, meaning you will have to take a bit of time and effort to make sure that it ends up bonding in the exact way you want it to, provided this isn't a simple sole repair job. Apart from that, it does its job well and is good for filling gaps.
Pros
Affordable, water-and-weatherproof formula
Paintable and can be used for things other than footwear
Won't weigh down your shoe post-bond
Bubbly formula good for filling gaps
Cons
Not ideal for minor cracks
Cannot self-level, requires attention and diligence when used for certain tasks
8. Gear Aid AquaSeal FD (Shoes and Boots)

Another variant from Gear Air is the AquaSeal FD – a slightly different adhesive formulation and the last one on our list. This adhesive is meant to easily fix tears and rips permanently on a variety of clothing – including footwear, with a setting time of roughly 2 hours depending on the severity.
AquaSeal FD can be applied to neoprene, nylon, canvas, leather, rubber, and even GORE-TEX fabrics. It creates a water-tight seal that refuses to crack or erode over time. If the type of shoe repair you need is more about slight holes, rips, minor sole separation along a shoe line, the AquaSeal FD is a quality choice. It should hold up fairly well if you just intend to re-bond an entire sole as well.
The FD does its job fairly well. The only serious complaint is the fact that its shelf life isn't terribly long. This might be the type of product you use once for a certain pair of shoes, but later down the line, you'll have to re-buy a fresh package because the old one tends to lose its adhesive potency. At least, in some way, it encourages you to not skimp out on the project at hand 'just in case' you need it again sometime later.
Pros
Great for fixing tears, rips, and soles
Can be used on a variety of things from footwear to wetsuits
Completely watertight seal after bonding
Good for minor as well as major shoe repair jobs
Cons
Shelf life is short-lived and loses potency
Conclusion
To conclude, if you are in desperate need of shoe repair, but prefer doing things on your own, or don't want to spend extra money on something you can do at home, then you should definitely consider repairing your shoes with straightforward and effective glue formulas.
We've highlighted and outlined different types of glue you should look into if you intend to repair your shoes, as well as the fairly simple process of repairing your separated sole – which is easily one of the most common footwear issues.
Even for some of the more unusual issues such as heel breaking or toe peeling, heavy-duty glue is more than enough to bring your shoes back to life. If you also have a particular pair of shoes you want to look just as good as they did pre-break, many of these glues dry clear, making it a whole lot easier on the eyes.