What is Cross Country?
Simply put, cross country running is a form of running that is completed on natural terrain, as opposed to long-distance track running or road running. It is an open-air competition that goes back thousands of years. Cross country is incredibly entertaining and a great work out for our bodies.
It can be performed as an individual or as a team sport, and you'll find that unlike many other sports, cross country is an autumn or winter sport primarily. So, it goes without saying that weather conditions will vary wildly, with some competitions being in the rain, snow, hail, or heat. And you quickly get an idea of why you need the best cross country shoes when tackling these elements.
---
What Shoes Should You Wear for Cross Country?
If you're new to cross country or sporting in general, you might be surprised that unlike a variety of other athletics, cross-country's only true staple is running shoes. What matters most is understanding the type of terrain you'll be up against, as it impacts the kinds of shoes you'll be wearing.
If you're someone who intends to go the full season, you'll actually need two types of footwear. The first are trainers, which are for all-around running workouts and practices (as the name implies). These are the shoes you'll be spending a lot of your hours practicing with. When it comes to trainers, not all are made equal, though. Trail runners will offer the best bang for your buck.
Trail runners are typically the most durable, decent in most environments, and give you a better grip than other generic trainers. The second kind of shoes are racers, which have spikes. The spikes are either made of rubber or metal, are very lightweight, and offers very little in terms of support.
Again, as the name implies, these shoes are all about speed during a race. Cross country spikes protect your feet and give you ample footing, nothing more. These shoes are the kind you only wear on racing days and avoid wearing them when training as it will be detrimental to your foot health in the long run.
---
1. Salomon Speedcross 5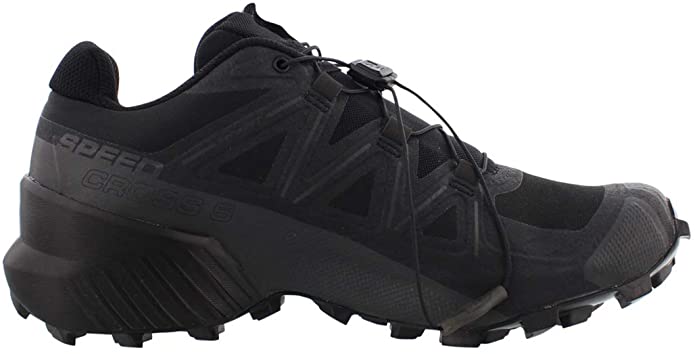 The Speedcross 5 is one of the most popular cross country shoes by Salomon (and for good reason). These shoes are dedicated to running on tough trails and shifty terrain, evidenced by their rugged look.
The outsole features prominent lug pattern treading, and the Speedcross 5 actually doubles down on this aspect further, compared to its predecessors. If you intend to run on soft or muddy terrain, you'll still be standing firm thanks to this outsole. It is made of a Wet Traction Contagrip, which is ideal for both wet, dry, and soft terrain.
The upper is completely synthetic, featuring Sensifit technology and an advanced Quicklace system, ensuring a seamless and tight-fitting experience. This form-fitting shoe owes its popularity in part to the Endofit upper technology – making it highly comfortable as well as totally immune to things like dirt and mud.
Given how cleverly these shoes cradle your feet, expect clean feet every time. Inside you will find a molded EVA midsole and EVA footbed with an ortholite system, providing you with lots of comfort and security despite its form factor. These trail shoes make for great cross country runners that meet the needs of all but the most extreme terrains, and a great all-around pick.
The Speedcross 5 isn't without its quirks, though. First and foremost, if you're not used to it, the height of the shoe stack can have a bit of a learning curve to them, and definitely not meant for firm and hard terrain.
The second issue is that despite all the great innovation that went into the upper, these shoes aren't particularly breathable, making them feel a bit stuffy if you're in the scorching heat. Having said that, the Speedcross 5 is still easily one of the best cross country shoes revered by both amateur and professionals alike.
Pros
Comfortable and durable upper
Ideal for muddy and wet terrain
Impressive internal support system
Firm lacing system
Keeps your feet dry and safe
Cons
High stack height isn't ideal for firm surfaces
Not very breathable
---
2. Saucony Kilkenny XC5

Next up is the Kilkenny XC5 cross country racing shoe. This is an ultra-light yet comfortable option from a highly respected footwear manufacturer – Saucony. If you value a light on your feet feel, the XC5 is a solid option as it foregoes a lot of extra padding or protection, like toe guards, to give you pure performance and speed.
It has lightweight flex-film overlays with an XT-600 carbon outsole, and a four-pin plate to dig into terrain with ease. The midsole is a compression-molded EVA that gives you a surprising amount of comfort despite what its weight might have you believe.
Overall, getting through some tougher courses on race day with the Kilkenny XC5 isn't too much of a challenge, and they really pull their weight easily. If you are intending to take a crack at courses that have a lot of mud and messiness to them, these are a great option.
With that in mind, the Kilkenny does have a few minor issues. The first one is that the shoes tend to run small, so we definitely recommend getting them in a half or full size up for the best fit. The second is that because these are racing shoes, you should expect a tight fit.
The instep may feel too cramped, though, depending on your individual feet, so if you have a particularly large instep, you may have to reconsider these shoes or at the very least, their sizing. At the end of the day, if you're on a budget, then the XC5 is one of the best cross country running shoes for you.
Pros
Incredibly lightweight and flexible
Supportive midsole and durable carbon outsole
Four pin plate that digs into precarious terrain with ease
Affordable pricing
Cons
Runs small, best to order up a half or full size for the best fit
Instep can feel a bit narrow depending on your feet
---
3. La Sportiva Wildcat 2.0 GTX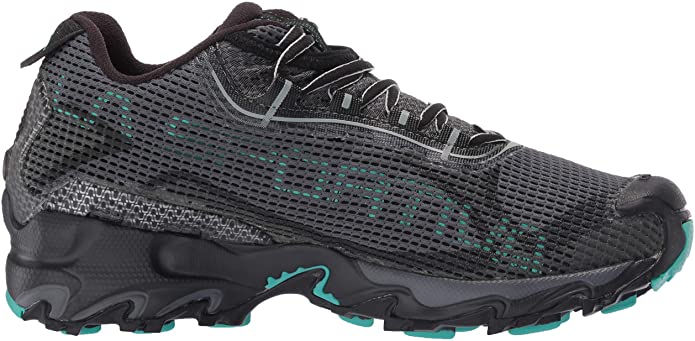 Next up we have the Wildcat 2.0 GTS running shoe by La Sportiva. The Wildcat 2.0 is a highly durable and advanced piece of footwear designed for enduring rough terrain and weather alike – this is especially true for colder climates. The 2.0 features stretch Gore-Tex lining to make it completely waterproof – ideal for running in wet conditions.
There is also a high-frequency molded lacing harness that ensures a tight and secure fit around your feet so that these runners never come loose. The upper has a mesh cage that is protective and highly wear-resistant, ideal for trailing as well as cross country running.
Finally, an Impact brake System is implemented to help improve your stopping power by up to 20%. La Sportiva pulled out all the stops for this model, meaning you're getting some of the highest quality trainers on the market, with zero break-in time required. Overall, these are a stellar trainer, and while they aren't the type of shoe you'd bring on racing day, these are shoes you'd expect to be training with for years on end.
The Wildcat 2.0 isn't without its flaws though, and the biggest one being its fairly steep price tag. Because of all the resources poured into this design, the Wildcat 2.0 is one of the more expensive trainers you can get.
Secondly, because they are meant to deal with colder climates and wet weather, if you're primarily running in hot or dry climates, they won't be ideal as they are too thick. With that in mind, if you're fine with spending your money on a quality trainer that works well in winter, these are a stellar choice.
Pros
Advanced design able to combat cool climates
Gore-Tex lining makes for a waterproof shoe
Features a high impact brake system for added stopping power
Long lifespan due to high-quality materials used
Little to no break-in time required
Cons
Fairly expensive
Not ideal for hot or dry climates, as they are on the thicker side
---
4. Adidas Performance Supernova Riot Trail Runner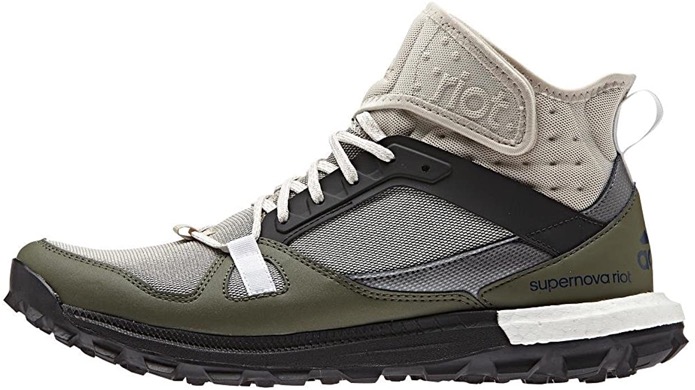 Now we have the Supernova Riot made by the world-renowned Adidas. Made with top-level quality, the Supernova is manufactured from breathable materials that allow for maximum comfort while running, while the outsole has tough and solid traction design to grip onto most surfaces easily.
Internally there is Adidas Boost technology to provide you with ample energy return, so you'll be out on the trails for longer. There is a unique hook-and-loop elastic strap to help make doubly sure your feet are secure and locked in, on top of the overall sock-like construction. You'll find that these are top quality shoes that make for a useful and stylish training shoe with even some uses outside of cross country running.
Despite its great qualities, the Supernova Riot is an expensive shoe – a direct result of higher quality materials and brand-naming. If you are more budget-minded, these shoes might be on the cost-prohibitive side.
The only positive being that they would have the ability to be used outside of just cross country training. Another issue is that if you're used to more traditional trainers, this sock-like high-top might rub you the wrong way. If you aren't a fan of the added material around the ankle area, these cross country racing flats might not be your first pick.
Pros
High-quality construction
Great comfort thanks to Adidas Boost
Unique look and durable enough for extensive training
Stylish and versatile outside of cross country use
Cons
Fairly expensive
High top design might not be for everyone
---
5. Pearl Izumi Peak 2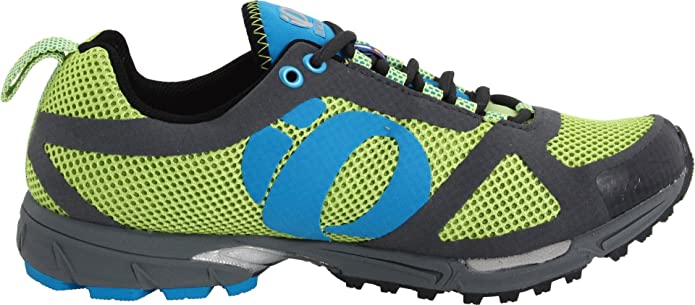 Next are the Pearl Izumi Peak 2 cross country training shoes. As the design might lead you to believe, these are a lightweight, form-fitting, and breathable pair of trainers that puts to use a variety of materials to give you a smooth ride on the trail.
The upper features a perforated textile and synthetic mix allowing for a light feel with great cooling properties while on a run. Internally there is an ortholite sockliner that helps to wick away moisture, and an EVA foam insole to give you arch support and comfort when striking rough terrain.
The outsole is made of hard carbon which increases its overall longevity and durability on the trail, and its design has become a lot more flexible than previous iterations. If you are a cross country runner that prefers that iconic barefoot feel when you run but still have the protection of a shoe, then the Peak 2 is a solid contender for your next set of cross country trainers.
The Pearl Izumi Peak 2 isn't perfect, and the two most glaring issues with these shoes are the fact that they run a full size smaller than your true size, and that the sock-like feel may not be for everyone. If you want these shoes to fit right, you'll be best off buying them an entire size up, and if you aren't too much of a fan of that sock-like barefoot feeling, or want more protection, the Peak 2's may not be the best choice for you. But all other things considered, these are some of the best shoes for cross country.
Pros
Lightweight design
Highly breathable and durable upper
Carbon outsole with good durability and lifespan
EVA insole and ortholite sockliner internals
More flexible than earlier versions
Cons
Runs fairly small, buying a full size up is recommended
Socklike feel may not be everyone's preference
---
6. ASICS Cross Freak 2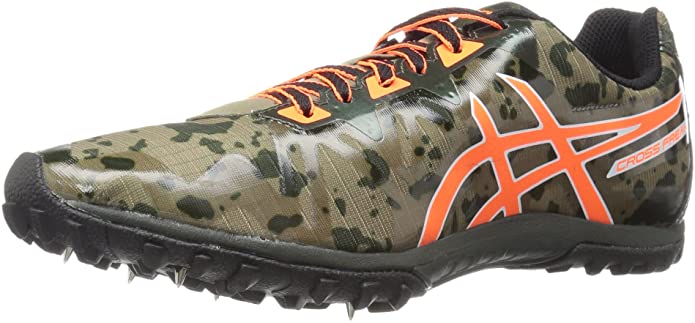 Here are the Cross Freak 2 cross country racing shoes. Because these shoes are meant for race day, you'll notice they are particularly form-fitting, light, and have five spikes on the outsole for unrivaled traction and grip.
The upper is made of a synthetic mesh that provides some breathability so you won't feel like your feet are in a sauna while racing. ASICS also incorporated the Trussic System they use in their variety of other shoe models, which is a design choice that features strong overlays for stability in tandem with deep lugged outsoles.
These strong overlays help give your feet a lot more stability which in turn helps prevent slipping on the trail or injuries in general, like ankle twisting. Despite the Cross Freak 2 being so lightweight, they are highly durable and last a surprisingly long time.
While the Cross Freak 2 is protective, it also lacks prominent toe protection or a toe bumper. If you are someone who greatly appreciates an extra level of protection on racing day, this might be a bit of a deal-breaker for you. On top of this, despite being somewhat breathable, the upper could do with even more areas of airflow. If all of that doesn't bother you, the ASICS Cross Freak 2 definitely deserves to be the best cross country spikes.
Pros
Form-fitting and very lightweight
5 spikes that easily bite into any surface
Great stability thanks to ASICS Trussic System
Mitigates improper movement and injuries
Surprisingly long life span
Cons
Lacks toe bumper, some may appreciate the added protection
Could be more breathable
---
7. ASICS Gel-Kayano 25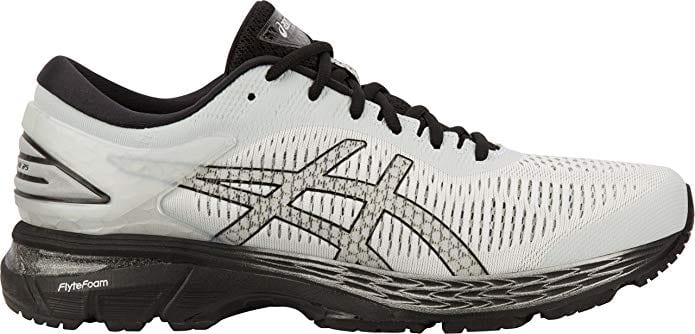 As we draw close to the end of our list we have the Gel-Kayano 25 by ASICS. While these shoes are a more all-purpose running shoe, they work wonders as a trainer if you need ample support. The Gel-Kayano design has been around for over 25 years, and it has managed to stick around that long because it is a high-quality and affordable model.
When it comes to support and stability, the Kayano 25 has a two-layering cushioning system throughout the midsole – ASICS FlyFoam Proper, and FlyteFoam Lyte, all comprising the FLUIDRIDE system ASICS prides itself in. There are also gel cushions at the heel of the shoe, allowing for more comfortable movement, as well as a Heel Clutch System, minimizing the gap between your heel and the shoe.
Overall, you get a supreme sense of comfort and responsiveness. When it comes to cross country running, there is the DuoMax Support System that drastically reduces the weight and increases support across the foot, making for a speedy training shoe overall. There are also deep veins across the outsole to provide added traction when running – helpful on some of the rougher trails.
As for its imperfections, the Gel Kayano 25 has a few. First and foremost, the outsole doesn't have very thick lugs nor does it have a spike system. This means that if you intend to train on wet or muddy environments, these shoes will simply not be ideal.
If the cross country trails you intend to take are more lenient and you value comfort above all else, these are a good pick otherwise. Finally, if you happen to have big toes, the toe area of the upper has been known to wear down as a result of extensive use, which may be an issue.
Pros
Kayano line is well trusted among runners
Highly comfortable thanks to the FLUIDRIDE system
Great heel support
A smoother ride than traditional trainers
Very lightweight
Cons
Doesn't have a robust outsole, can't withstand muddy or messy conditions well
The upper's toe area has been known to wear down over time
---
8. New Balance 900v4

New Balance is no stranger to the running game and as a brand with worldwide recognition for their innovative footwear, the 900v4 is no exception to this. The shoe is amazing at providing a durable shoe in a fairly lightweight package.
The upper is a 360-degree mesh that gives you great breathability while in motion, keeping your feet cool and dry. NB also implemented FantomFit technology, allowing for the upper mesh to mold to your foot better and give you a comfortable fit. You'll find that the 900v4 feels very natural on the feet, very lightweight, and most importantly, allows for the full range of motion you need.
The durable reinforced rubber outsole includes a 6-pin removable spike plate, giving you incredible traction on the slipperiest of surfaces. More than the spikes, the outsole also has an aggressive lug pattern that adds a bit of extra stability and support, while being abrasion-resistant and durable.
The New Balance 900v4's are definitely a great pair of trainers given their affordable price point, quality materials, and overall durability. With that in mind, it does have its hiccups. One of which being that it is a fairly form-fitting piece of footwear, and for some, that may create an unwanted feeling of snugness or tightness.
The collar is also padded, compounding that snugness and perhaps even being too soft for some. Apart from these two issues, the 900v4's are very versatile and should be high on your list when shopping for a men's cross country spikes.
Pros
Affordable, trusted brand
Breathable 360 mesh upper
FantomFit for a socklike feel
Lightweight yet durable
6 pin removable spike plate for tough terrain
Cons
Socklike feel may not be your style
Padded collar is fairly soft and may be too snug for some
---
9. Brooks Mach 17 Track and Field Shoe

Our final cross country shoe recommendation to you is the Mach 17 Track and Field shoe made by Brooks. Its upper is composed of a full 3D-printed textile fabric that is comfortable and fairly form-fitting, on top of being aesthetically pleasing.
The rubber outsole is also spiked, with reinforced rubber that is known to take a beating. The heel drop of the Mach 17 is roughly 4mm, meaning you get close to barefoot feeling with them on. The tongue and collar are both lightly padded, adding to the feeling of overall comfort and support, with a fabric lining inside and an EVA midsole for even more cushioning.
If you are looking for a serious shoe that provides you with decent traction via spiked outsole, comfortable ride via cushioning and support internally, and an aesthetically pleasing design, the Mach 17 definitely fits the bill. Not to mention these are very reasonably priced, especially in comparison to higher-end shoes on this list.
The Mach 17 aren't without their share of problems though. The first being that the price is reflective of the quality you get – meaning these aren't a pair of runners you will be getting as many years out of compared to a pair that costs double the amount.
If you have the money to spare or want a pair of shoes that will last very long, perhaps the Mach 17 isn't at the top of the list. Secondly, despite being comfortable, the form-fitting design may feel like a hindrance to some, as it can feel a bit stuffy especially when you're being put through your paces in a real cross country race. If you prefer a slimmer fit, or a less expensive shoe, though, the Mach 17 is still great.
Pros
Breathable 3D printed textile upper
Spiked rubber outsole with reinforced rubber
Padding internally make for a very smooth ride
Very affordable
Cons
Won't last as long as more expensive cross country shoes
Might feel a bit stuffy because of its form-fitting design
---
Things to Look for in Cross Country Shoes
Now that you know what pairs of shoes you'll be needing, here are a few things you should look out for when buying a pair, or pairs, of cross country runners.
Quality: First and foremost, you'll want to buy a pair of shoes that will stand the test of time. That isn't an easy feat, since both racers and trainers take a beating. A good way of ensuring you're buying a good pair of shoes is by going with trusted brands. Brand-name manufacturers pride themselves in their quality and never settle for an inferior product. A lot of the big shoe brands like Nike have generous return policies for their footwear if you're not happy with your purchase. With that said, top of the line shoes will always be a bit more expensive than generic ones.
Midsole: It might not seem obvious at first, but finding the right midsole is crucial. If your midsole is too thick, you are minimizing ground contact and balance, if it is too thin, you might not have enough protection and feel discomfort while running. Finding the right balance for yourself is key, and only comes with experience but ideally, you'd pick a midsole that isn't too thick nor too thin.
Sizing: In a perfect world, all shoes are true to size. Unfortunately, we don't live in a perfect world, and sizing varies wildly by manufacturer. Doing a bit of research on the manufacturer's sizing is always a good idea since you don't want to order the wrong size and deal with the hassle of returning them back. This is so important in fact that we always highlight whether or not a shoe on our list runs on the smaller or larger side – to give you a bit of virtual shopping help.
Toe Box Space: Similar to sizing, the toe box is an area that also varies by make and model of a shoe. The last thing you want is a cramped toe box that leaves you feeling uncomfortable during a run or a large toe box that makes the foot wiggle around when running. Finding the right toe box sizing for your feet is an individual matter, since every foot is unique, so remember to make a note of it when picking out runners.
---
General Cross Country Tips
If you're a beginner or never attended a cross country event before, we'll give you a few fundamental tips that will help make the experience go by a lot smoother and be more enjoyable overall.
Firstly, train specifically for the event(s) in question. The main goal of training is to adequately prepare your body to meet the demands of the event you'll be participating in, and the activities you'll be performing. To effectively prepare for cross country means to try and replicate the course and its potential conditions during training.
Get as much information as possible on the course, often there is some information on the event website. Also, consider what type of weather is typical for the time you'll be running, as that plays a large role in how the terrain acts and feels.
Secondly, don't worry about your pace. Instead, focus on the effort you're putting in. In other races, it is the time on a clock that matters most, but in cross country, all that matters is the effort you're putting out in relation to your competitors and beating them. Don't focus on the pace you're currently keeping as much as the effort you are currently putting in. Pacing is something that varies wildly depending on your terrain, so ditch that mindset entirely when you're cross country racing.
---
Frequently Asked Questions
Do you wear socks with cross country spikes?
This is often a matter of preference because blistering varies from person to person, and from shoe to shoe. Some people prefer socks at all distances, and some prefer no socks at all. If you tend to blister up after a race, definitely consider special cushioned race socks. For some people, socks or no socks is a matter of distance, so short distances you could abstain from wearing socks, but wear them for longer distances. Overall, this boils down to personal preference.
Can Track Shoes Be Used for Cross Country?
As previously alluded to, cross country has its own set of specialized racing shoes that balance weight, speed, and traction. For this reason, shoes designed for track racing are not ideal, since they simply aren't made for the rough terrain of a cross country race. They might possibly find some use during training, but even then there are specialized trainers that have more of the qualities you'll need out of your shoes during practice.
What Size Spikes Should I Use for Cross Country?
Finding the right-sized spikes can be a bit of a challenge if you don't know where to start since they range from 1/8th to 5/8th inches. We recommend you stick to pyramid spikes when running cross country. To be clear and concise for you, here is a short list of track types with their appropriate spike lengths
Dry and firm courses (may or may not include some pavement) – 1/4th inch spike
Zero pavement, with grass, gravel, or dirt – 3/8th inch spike
Rainy days with lots of mud, slipping or sliding – ½ inch spike
The muddiest, messiest, wettest, and most slippery conditions – 5/8th inch spike
---
Conclusion
To conclude, we have provided you with a guide of the most fundamental aspects of cross country shoes, what to look out for, common questions or misconceptions, and our select list of trainers and racers we think you deserve to look into and try on for yourselves.
If you're an experienced runner, these tips will be familiar to you, but if you're just learning the ropes, we hope to make your transition just a tad bit smoother and more enjoyable. Our list, on the other hand, is relatable to new and old runners alike, whether your favorite pair of old racers are on their last legs, or you have never bought a pair of cross country racers in your life.
Cross country running is an activity that you should at least dip your toes into, as it is highly rewarding physically and psychologically. All in all, if we've managed to broaden your horizons or acquainted you with something new, we'll take that as a win!