What shoes go with everything for men?
When it comes to picking the right pair of shoes for a man, the answer can be deceptively simple: considering what else you're wearing with it. It may be difficult when you think to yourself what shoes work best for a given event when you think of them in a vacuum, but when you take into account what you're comfortable with everything else you're wearing (the shirt, pants, and accessories), you can easily determine what shoes make the most sense with that particular outfit.

For example, you'd probably not find that canvas sneakers 'match' a two-piece suit, as you wouldn't find a pair of dark dress shoes matching a pair of jeans and crewneck. When it comes to finding a shoe that 'goes with everything', you're typically looking for a pair that doesn't particularly stand out, doesn't overtly represent one style, and is "inoffensive" with just about any combination of clothes.
These shoes are the ones you could see yourself wearing when you're dressing up or dressing down. They don't attract too much negative attention and flow decently enough with whatever else you have on. As for types of shoes that fit this mold, shoes like slip-ons, boat shoes, loafers, as well as very specific low-key sneakers and dress shoes can all be appropriate.
It can definitely be hard to find the right shoes for a variety of occasions, so this list we have compiled will have 8 of the best options if you're looking for a pair that works in just about any situation, making your decision-making process that much easier when picking an outfit.
---
The Best Men's Casual Shoes
1. Merrell Jungle Moc Slip-On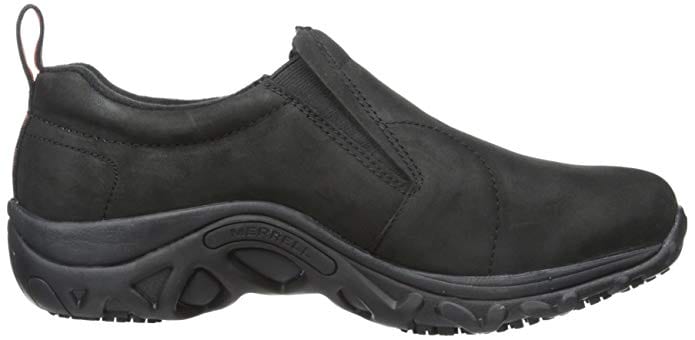 First up, we have the Jungle Moc Slip-On by Merrell. These shoes feature a full suede leather upper to give you a smooth and comfortable feel, while also looking classy and overall practical.
The comfort features of the Jungle Moc include a pigskin lining and an Ortholite footbed, giving you a solid foundation of comfort that works for nearly any situation. Merrell also made sure the Ortholite footbed was also compression molded for maximum comfort and support.
On top of this, the implementation of air cushions in the heel help absorb shock, improve overall stability as well as provide a way to make the shoe feel very breathable and prevent any heat buildup.
The rubber outsole's traction is also nothing to scoff at, and you should expect it to do a bang-up job outside, so no matter where you take the Jungle Mocs, they'll work. They also come in a plethora of colors, meaning that if you are going for a low-key look, a darker brown or black is great, but more stand out colors are also available.
While the support, aesthetic, and quality make the Jungle Moc a great option, they do have a bit of a sizing issue. The Jungle Moc tends to run a little small, meaning that if you have your eyes set on them, consider getting a half size or so up to make sure you're getting a good fit.
A smaller fit would be terrible for your foot health, especially if you intend to do some more energetic activities. Having said that, the Merrell Jungle Moc is without a doubt, one of the most comfortable men's casual shoes.
Pros
+ Quality construction and durability
+ Looks good for every occasion
+ Solid support and comfort from EVA footbed and lining
+ Outsole has decent traction, making it a viable shoe for outdoor use
Cons
– Tends to run on the small side
---
2. Polo Ralph Lauren Faxon Low Sneaker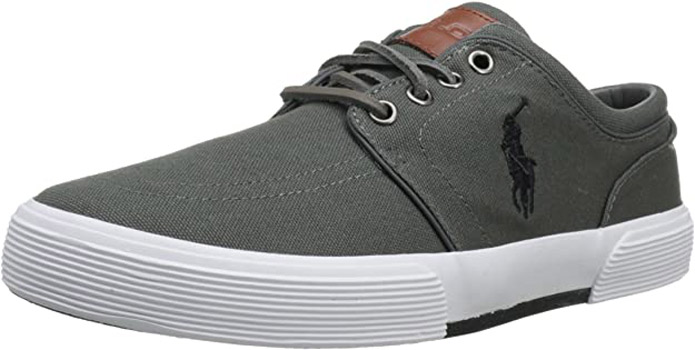 Next up is the Faxon Low by Ralph Lauren, who have done their absolute best to create a distinctive shoe that is imbued with the classic RL style – with the retro shape, rawhide lacing, midsole stripes, and large embroidered logo that gives it a lowkey yet unique look.
The upper is composed of a majority canvas material with slight PU to keep it together, making it feel very light and breathable. Despite their unassuming look, the Faxon is actually quite durable as casual shoes go, and feature a whopping 36 colors to choose from, so if the classic grey doesn't suit you, there are options.
While on paper the Faxon is a 'canvas sneaker', these shoes don't have that feel to them, but instead are just about usable in any circumstance with any set of clothes without seeming too out of place. They are a good all-around casual shoe that you can pride yourself in owning, quality-wise.
With that said, the Faxon has a sizing problem just as our last pair has, but in the opposite direction. The Faxon tends to run a bit larger than normal, so you're better off ordering a half-size or so down, to make sure the shoes you get are adequately filled by your feet.
While shoes on the smaller end have serious consequences if worn consistently, larger shoes simply provide less support, create a weird or misaligned walk cycle, and are overall awkward and uncomfortable. It isn't recommended to wear a size shoe even slightly larger than your foot needs.
Pros
+ A classy and distinguished look
+ High-quality materials used
+ Surprisingly durable
+ Wide selection of colors
Cons
– Runs a half-size larger than true size
---
3. Sperry Sarape Leather Boat Shoes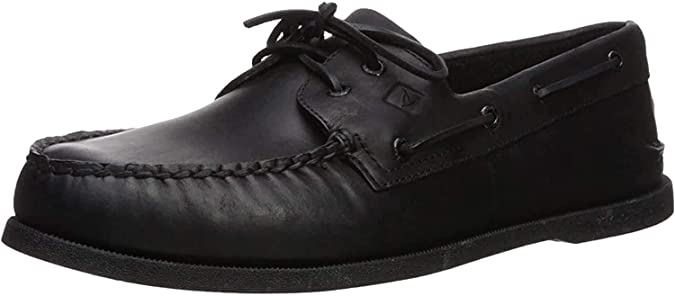 Now we have Sperry's Sarape leather boat shoe – a fully leather low-top shoe with a non-marking rubber outsole. The Sperry line is a long-trusted brand on casual yet appropriate shoes for any occasion.
These shoes will never look out of place and are very comfortable. They feature a hand-sewn Tru-Moc construction giving you comfort and longevity, with a shock-absorbing EVA heel cup, giving you just a pinch more comfort.
Interestingly enough, the outsole is a razor-cut Wave-Siping, giving you stellar wet/dry traction, earning its boat shoe title. Internally, the Sperry has also included an underfoot cushioning system that doubles down on the EVA heel cup's comfort and shock absorption.
These shoes look good, feel good, and will never do you wrong, simple as that. They pair well with polo shirts and chinos as well as they would with a pair of jeans and a v-neck. It's hard to go wrong with shoes of this style. Despite brown being the classic "Sperry" look, there are a variety of other options if that isn't your preference.
Despite all the things the Sperry Sarape has going for it, the heel design, while practical, may not be for everyone. For a lot of us, the simple flat sole design is the most comfortable and accessible structure, and anything else feels 'wrong'.
For those of you that can't find yourself getting over this design choice and need a more pronounced heel, there is a whole host of other options available. Having said that, the Sperry line is definitely one of the most comfortable casual shoes for men out there.
Pros
+ Highly stylish and versatile design
+ Slip-proof outsole
+ Shock absorbent and comfortable internals
+ Works with just about any clothing
Cons
– The heel design may not be your style
---
4. DADAWEN Classic Oxford Business Casual Shoes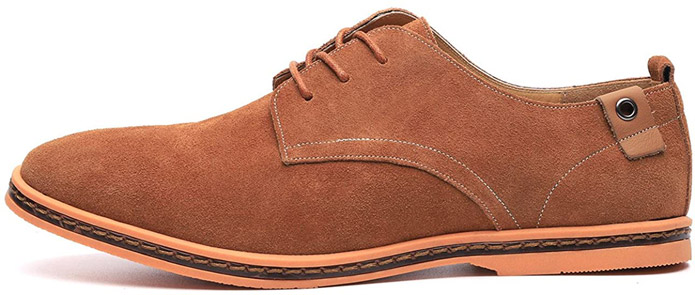 At our half-way point is the ever-stylish Oxfords by DADAWEN. The oxford design is a timeless shoe design that in this case is well blended between modern, classy, and casual. DADAWEN has made sure the upper is made of fine suede leather giving you stellar quality and feel, while also looking fairly stylish at the same time.
On top of that, the soles are made with a camel-colored sole to give the shoe a bit of an 'edge' to it. There are a variety of colors to choose from, depending on your taste, but any option will look good in just about any scenario or occasion you find yourself in.
The soles are made of a thermoplastic rubber (TPR) that provides you with stability and comfort, compounded by the fact that the back half of the upper keeps you firmly planted in the shoe. Overall, these shoes are a must-have in a business-casual environment, especially at an affordable cost.
No shoe is perfect, though, and the Classic Oxford's do have their hiccups. Firstly, they tend to run a bit bigger, so we recommend a half size down from your true size for the best fit. Secondly, if you're not typically in a business casual environment, then this style of shoe may not be the best option out there, as there are more casual or more refined options with their own set of traits.
Pros
+ Modern yet timeless design
+ Great for business-casual environments
+ Comfortable and stable
+ Incredibly affordable
Cons
– Tends to run a bit bigger than true-size
---
5. Cole Haan Men's Grandpro Sneakers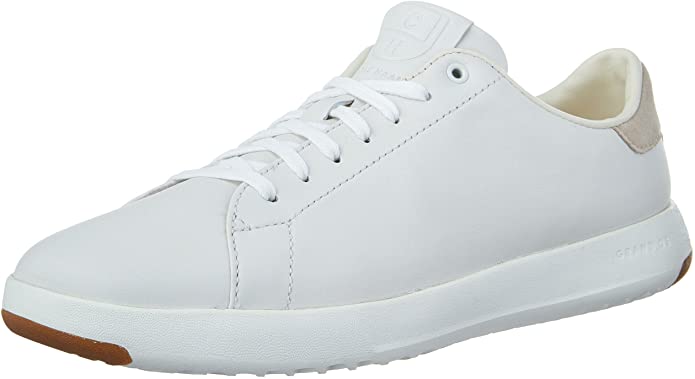 As we pass the halfway point, we also make our way into the category of pricier options, starting with the Grandpro sneaker from Cole Haan. It is one of the flagship models of the designer brand, with solid attention to detail and craftsmanship.
The Grandpro is a highly durable and lightweight sneaker that is sure to fit into any casual situation – whether it's lounging with friends or for a night out with a date. The upper consists of a full-grain calfskin leather giving you a durable and comfortable foundation. Inside there is a removable textile-covered insole for added comfort and support.
Rubber pods align the sole of the shoe and have a decent amount of traction and grip on most surfaces. There is also tonal stitching along the upper to give this shoe a simplistic and classy feel.
The quality of the Grandpro sneaker is not to be understated, and the price it retails for is a lot lower than you'd expect from a designer brand's flagship calfskin leather shoe. With that said, these Cole Haan sneakers have very stiff cushioning and that might not be to everyone's taste.
In some sense, this is a great casual shoe for that very reason, but if you expect to get extra mileage from this outside of looking cool, you might experience some sore feet. Having said that, we can't discount the fact that the Cole Haan Grandpro sneakers are one of the best casual shoes for men and fit into most outfits you throw at it.
Pros
+ Durable and quality calfskin upper
+ Rubber sole with pods for added traction and grip
+ Insole is textile-covered for added comfort
+ Decent price for good quality
Cons
– Stiff cushioning
---
6. La Milano Men's Ankle Boot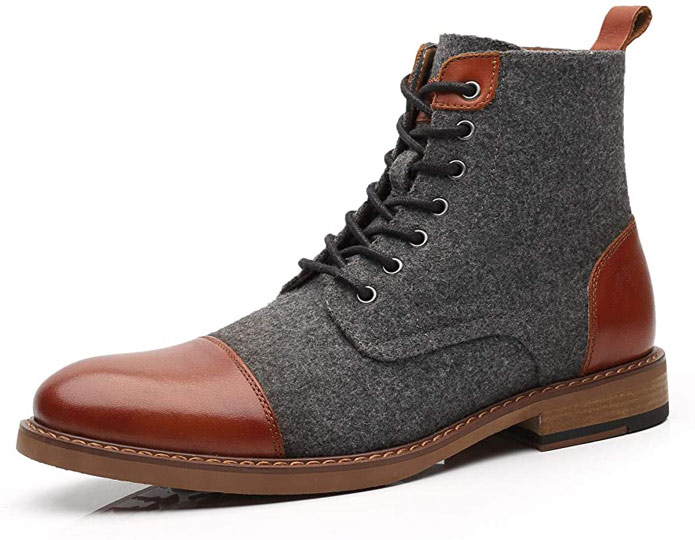 Next up, we have a completely unique pseudo boot, the La Milano Men's boot. This is an incredibly one of a kind design that you will either love or hate. While some might not like the use of two different upper materials, it gives it a very special look that certainly no one else has.
The upper consists of top-grain leather and wool combination, that stands out and manages to look quite regal. The heel counter is also made from leather, and the outsole is also completely waterproof with a few rubber inserts to increase traction and durability.
The boot features welt construction and a 3-layer insole for increased comfort throughout the day. The welt construction also means that if it does eventually break down, it is fixable, which is a huge plus when it comes to bang for your buck. Finally, the closure is a traditional lacing system with the top eyelets also being made from leather.
While the boot definitely has a lot of great aspects, it is easy to see that the design is polarizing, and while some might really love this as a casual all-around boot, others may feel out of place with them on.
For some, this design is too different to go with their innate style, and wouldn't work well. It should also be mentioned that the La Milano boot does fit true to size, so that size shouldn't be a hassle.
Pros
+ Durable leather and wool upper
+ Very distinct look
+ Longevity is through the roof given its solid construction
+ Can be re-soled and glued
Cons
– Polarizing design that not everyone might love
---
7. Beckett Simonon Cohen Loafer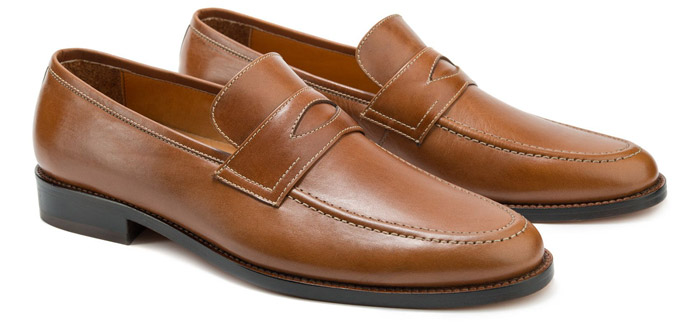 Our penultimate casual shoe is the Cohen Loafer by Beckett Simonon, an ethically-conscious and timeless shoe design. Most telling of all is the fact that Beckett uses the Blake method of stitching to make sure the Loafer is incredibly comfortable and sturdy, but can also be re-soled down the line quite easily.
It is made of high-quality leather and over time develops its own patina. If you're big on leather, it's best to condition it with shea butter and carnauba wax to give it a deep color and retain a natural luster.
These are marketed as a "street slipper" that can be used just about anywhere, and shine as a style of shoe for the man who wants a timeless and premium designed leather shoe that he can take pride in wearing and maintaining for a long time.
If that isn't up your alley, though, the idea of maintaining or re-soling a shoe may seem more like a chore. For some, the penny loafer style just doesn't jive with the vibe they have on a daily basis, and for those, this shoe may be a complete miss.
And while they are long-lasting and easily fixed when broken down, they can be a bit on the pricey side. Beckett offsets this with payment installments and a "made to order" style of purchase that means it gets made with a variety of other shoe orders at the end of the month, meaning the reduced cost comes at the price of shipping delays. They are never-the-less one of the most comfortable casual shoes on our list alongside the Merrells.
Pros
+ Regal design
+ Long-lasting, ethically sourced materials
+ Easily maintained and can be resoled
+ Features payment installations and "made to order"
Cons
– A bit pricey.
– Might be too much maintenance for some
---
8. Ace Marks Duke Sneaker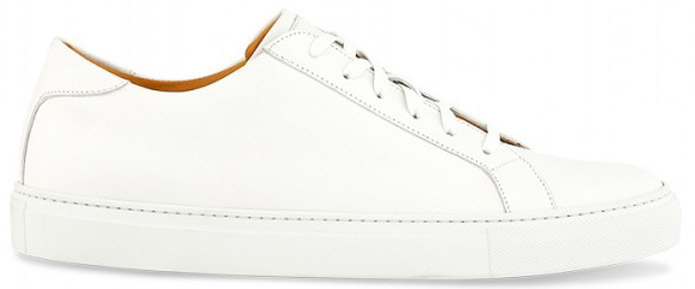 Finally, we have the Duke dress sneaker by Ace Marks, a handcrafted Italian shoe that fits almost any occasion quite well. These shoes, while bearing a similar design to other dress sneakers, feature a variety of colors to choose from, even changing certain materials depending on what colorway you choose.
The basic Duke is a low top dress sneaker with a full leather upper that is hand-dyed, hand-burnished, and has ample padding in the tongue and collar to give you a luxurious feel. The Duke also has a stitched rubber outsole and waxed shoelaces and a silhouette that works with about any outfit you can imagine. The calfskin leather is also surprisingly breathable.
While Ace Marks provides great returns and exchanges, along with quick and free shipping, the price tag associated with the Duke itself may be a bit much for some. For some of you, what you want is a casual shoe that gets to the point and is appropriate for any environment, and not a high-end dress sneaker.
For those who want something just as practical, but on a budget, there are other options that may not be as durable, but easier on the wallet. Regardless of this, the Ace Marks Duke is one of the best men's casual shoes by a mile.
Pros
+ Highly durable
+ Refined dress sneaker look
+ Good for any occasion
+ Comfortable and features ample padding
+ Quality customer service
Cons
– Cost may be prohibitive for some
---
What are some things to consider when buying casual shoes?
If you're completely lost as to where to begin, we'll start breaking down the types of shoe materials that exist, so you can get an idea of what you'd like to wear most, as well as some more basic questions you may already be asking yourself.
Probably the most obvious question to ask is regarding the material the shoe is made out of, and what that entails for your in-foot experience. We'll list some of the possible options in the market today for casual men's footwear, to give you an idea of what you may like best on your feet.
Materials Types:
Leather: This is a common quality material used to make a variety of shoes, including casual everyday shoes. It's a longstanding material that holds up well over time, provides protection, and is typically porous enough to provide decent breathability.
Suede: Suede is a soft and highly distinctive material made of the underside of cowskin – its texture and almost furry appearance being a hallmark. This is another long-time staple in men's casual wear because it goes with just about anything. It may not be quite as breathable, and a bit on the delicate side, but it is highly fashionable.
Canvas: The highly popular material for summer and springtime, canvas fabric is a lightweight and pliable material that is universally accepted as one of the best foundations to base a shoe's upper on. It is a durable and plain-woven fabric that gives you decent sturdiness and breathability, while also looking good. It may not be as refined as the previous two options, but it is to the point.
Mesh: Mesh uppers are quite common in running shoes and other lifestyle shoes like the Adidas line of UltraBoost shoes. While they are not traditionally seen as casual shoes, they are becoming increasingly trendy and commonplace for a lot of guys and millennials. Mesh fabrics have excellent breathability and feel, but can sometimes lack the durability of traditional leather.
---
When should you replace your shoes?
While scuff marks and small imperfections may make some of you just want to throw the entire pair of shoes away, realistically, there are only certain times you really need to retire a pair of footwear.
First and foremost, if they start to hurt your feet, that is a sign they need complete replacement. Foot pain is merely a symptom of a deeper set of issues like – wearing down of the insoles, outsole, or the upper. Each of these on their own can cause discomfort, and if your shoe is breaking down on all of these factors, it isn't even a question whether you need to find a replacement.
Take a look at your shoes, and inspect each of these elements. Does the outsole pattern on your shoe look faded, or just not visible at all anymore? Does the upper of the shoe feel too frail, have compromising structure (flimsy, holes, etc)? When you wear them for extended periods of time, does a certain part of your foot hurt, or does the inside of the shoe look worn down?
These basic questions will help you quickly determine whether or not it's time to get a new pair of shoes. If your answer to any, or multiple, of these questions, is yes, then you know what to do.
---
Can worn-out shoes hurt your feet?
It goes without saying that a faulty pair of shoes can wreak havoc on your feet, calves, and even lower back. The reason for this is that depending on the circumstance, a compromised pair of shoes can lack the support (worn insole), stability (worn outsole), or protection (worn upper) to adequately suit your feet and their needs.
These issues spiral into bigger problems, like foot, ankle, or lower leg pain. Prolonged use of shoes that are better off scrapped are an actual health concern, with not only immediate problems like aches but also the possibility of getting your gait (natural walking motion) out of whack. If you are concerned about your well-being, it is always best to not use shoes well past their prime, or you'll face a slew of problems down the line.
---
Frequently Asked Questions
Is it bad to wear the same shoes every day?
This question is a bit more of a case-by-case basis, in the fact that it really depends on what state the shoes in question are in. If the shoes you are wearing are relatively new or in great condition, wearing them frequently is not a terrible idea.
Shoes that provide adequate stability, posture support, and promote an ergonomic gait cycle are definitely good to wear daily. With that said, shoes that are inadequate in their support can be detrimental to wear especially daily.
If you are wearing an old pair of shoes that were once comfortable, that does not mean they are still up to snuff, and can actually do more harm than good. For this reason, we definitely recommend you to use shoes that are either in great shape or new and designed for consistent use.
How many pairs of shoes should you own?
Another case-by-case question you may be asking yourself. In this instance, it really depends on what kind of job you are doing or how frequently you burn through a new pair of shoes. If you are also the kind of person who values fashion and variety, that too would warrant more than a few pairs of shoes in your collection.
If you are a minimalist, though, and prefer a pair of shoes that can do it all (which is also great for your bank account), then just one or two trusty pairs of shoes are more than enough.
Which shoes are best for daily use?
Another question you may be asking yourself is what kind of shoe is best? Simply put, the shoe type that will always be good to use on a daily basis is the one that gives you the best ride, most ergonomic design, and fits your needs well.
All of the shoes on our list, and on the market in general, will be great for support and stability, so you can't go wrong there, meaning you should focus on picking the style of shoe you would use most, and meets your personal preferences best.
As long as they are comfortable, ergonomic, and promote foot health, you can rest easy knowing that daily use is not a problem. Another thing you may want to consider is the material used, with sturdier material, like leather, lasting a lot longer and can put up with more of a beating day by day than a softer fabric for example.
---
Conclusion
To conclude, we hope that we've brought everything together in a clear concise way that helps you pick the right kind of casual men's shoes. From basic important questions to just the more frequent ones, you should find an answer for more or less any pressing questions on your mind.
On top of this, we can assure you that every shoe here is appropriate for casual wear, and in many cases, good for nearly any other type of occasion. If you're not sure what kind of shoe to wear, or you just want a shoe you think will go with everything else in your clothing arsenal, a casual low-key pair of kicks will do the job just fine.