Do Athletic Socks Really Help?
If you're an athlete, you probably already know very well how much of a difference a good pair of athletic socks can make, compounding the greatness of a good pair of running shoes.
If you're not so aware of the ins and outs of quality socks, know that modern socks are some of the most advanced and helpful pieces of clothing in current-day athletics. They add to the overall support, breathability, and temperature regulation of your shoe experience.
A good pair of socks makes the difference between an engaging workout and a disastrous blister. So, here's our list of the 9 best athletic socks and other tips and tricks for picking the best socks for you.
---
How to Pick the Best Athletic Socks
When it comes to picking the right socks for a given activity, a lot of it revolves around sweat and heat management. Your foot has a quarter-million sweat glands, making it a hotspot for sweat build-up, to say the least. We'll cover the best performance fabrics that help to adequately disperse and absorb moisture – the good and the bad.
Merino Wool: Fine and itch-free fibers, highly temperature regulating, and are incredibly versatile. Merino wool can be used in both warm or cool temperatures, wicks away moisture, provides up to 30% of its weight in water absorption, and also doesn't have that itchy feeling regular wool does. On the negative side, it dries slower than synthetic material, and it is oftentimes more expensive as well.
Synthetics: This is a catch-all term to describe materials that are often put together or combined in certain areas of a sock to give you a great fit. Polyester, Acrylic, and Polypropylene are common fabrics that are great for keeping moisture away and preventing blisters.

Lycra and Nylon are great at retaining shape, giving you a formed fit and in some cases can provide some arch support on their own. These fabrics dry fast and provide cushioning, but aren't ideal for hot climates, and also their overall insulation takes a hit when their absorption has reached its limit
Ingeo: Corn-based polylactic (PLA) fibers that are similar in terms of function to polyester, but are eco-conscious alternatives. If you're a big supporter of taking individual responsibility for our climate and environment, ingeo might be a choice that meets your athletic and ethical needs. They are recyclable and great as sock fabric, but they aren't as durable as other options and can only be composted commercially.
Silk: The last common fabric you'll find for active sock wear is silk. Silk is a natural insulator that is used as a liner. It easily wicks away moisture while also providing a smooth texture that feels good on your skin.

This is especially useful for runners, as long runs can create a lot of friction between the foot and the shoe, leading to discomfort. Silk is a good lightweight way of combating that while also being incredibly soft. With that said, it isn't quite as durable as Merino or Synthetics.
---
1. Rockay Accelerate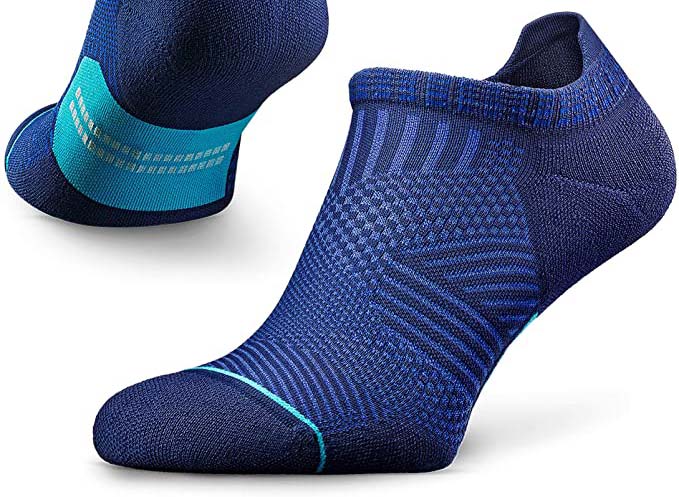 First up we have the Accelerate Anti-Blister running socks by Rockay, an award-winning performance sock with a lifetime guarantee to back up the claim that they are incredibly durable.
The materials that comprise the Accelerate are fully recycled Econyl – a form of Nylon made from previously disposed of fabric. On top of this is a polygiene coating that actually makes it so you have to wash them less than you would normally have to for a regular pair of socks, in turn letting them last longer and be less maintenance-intensive overall.
The sock features ventilation zones that make for a super breathable feel, even in the most vigorous activities, helping to completely prevent blistering. Finally, if being made from completely recycled materials wasn't enough, Rockay went above and beyond and partnered up with the ReSea project to remove 125g of plaster per sock pair sold, further committing to the preservation of our ecosystems worldwide. Overall a very solid choice and a nice snug fit.
As incredible as they are, the Rockay Accelerate comes with a bit of a steep price tag for a single pair, perhaps making it not the first choice if you're on a budget and want to be able to get multiple pairs for a week's usage.
If you are very budget-conscious, it may be best to hold off on the Rockay Accelerate despite its features and opt for a more affordable and efficient option down our list. Regardless of the price, the Rockay Accelerate is one of the best sports socks you can buy.
Pros
+ Very eco-friendly
+ Soft and snug nylon composition
+ Ventilation zones prevent blisters
+ Low maintenance
Cons
– Expensive
---
2. ASICS Cushion Low Cut

Next, we have the ASICS Cushion Low athletic sock design. These socks are a particularly good choice if you want comfort, decent durability, and an affordable price tag. The ASICS Cushion Low is a mostly Polyester (92%) sock that is machine washable and very soft on the skin.
The comfort is only compounded by the fact that ASICS included a soft-sole cushion within the sock to add even more pleasure to your running experience. The Cushion Low also comes with a good moisture management system in the form of a knit-in mesh, giving you solid breathability and ventilation.
They're a good form-fitting sock with a tab at the ankle for a smooth application to your feet – overall a pick that we recommend, and you can't go wrong with. These socks don't cause any chaffing or blisters even while running under intense heat.
Despite their highly competitive pricing, decent build quality, breathability, and softness, the ASICS Cushion Low does have a small caveat. Namely that, after a few washes, shrinkage is known to happen.
While in some cases it may be minor and negligible, over time they may continue to shrink to a point where you should no longer wear them, and have them completely replaced. While for some this may not be a big deal, these aren't the kinds of socks that are a one and done. Regardless of this quirk, the ASICS Cushion Low is one of the most comfortable socks in terms of value and performance.
Pros
+ Incredibly soft and comfortable
+ Engineered mesh makes for a breathable experience
+ Ankle tab simplifies putting them on
+ Very affordable
Cons
– May shrink after a few washes
---
3. Saucony Bolt Performance Comfort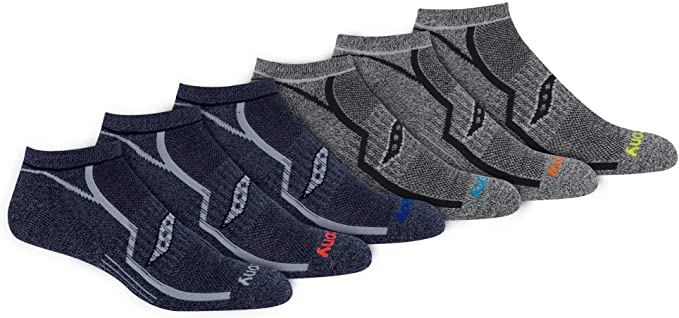 Coming next are the Bolt Performance no-shows by Saucony. These socks are some of the most affordable, considering they come in multipacks similar in price to single pairs of athletic socks. The Saucony Bolt is a Polyester sock that is machine-washable and runs dry thanks to Saucony's Ultra Wicking Fibers. This means that you should never fear heat or sweat build-up with a pair of these on.
There is also an air mesh venting system that maximizes the airflow within the sock to give you an effortlessly cool ride regardless of running conditions. Possibly most interesting of all is the compression-engineered arch support that gives you a stable and secure feel, preventing bunching or slipping.
As incredibly well-priced as these are, the Bolt Performance has a glaring problem in its durability. They are prone to breaking down quicker than more expensive options and despite holding up in other ways like cooling and support, some of you may prefer a sock that really stands the test of time.
If you don't particularly care, because of the sheer volume you can buy for a low price, then more power to you, but these socks aren't a one-off purchase. These are one of the best low cut socks that you can buy in bulk without spending a lot of money
Pros
+ Highly budget-friendly
+ Ultra Wicking Fibers eliminates moisture easily
+ Air mesh ventilation prevents heat buildup
+ Compression engineered arch support prevents slipping or bunching
Cons
– Not as durable as other options on the market
---
4. Nike Performance Cushion Crew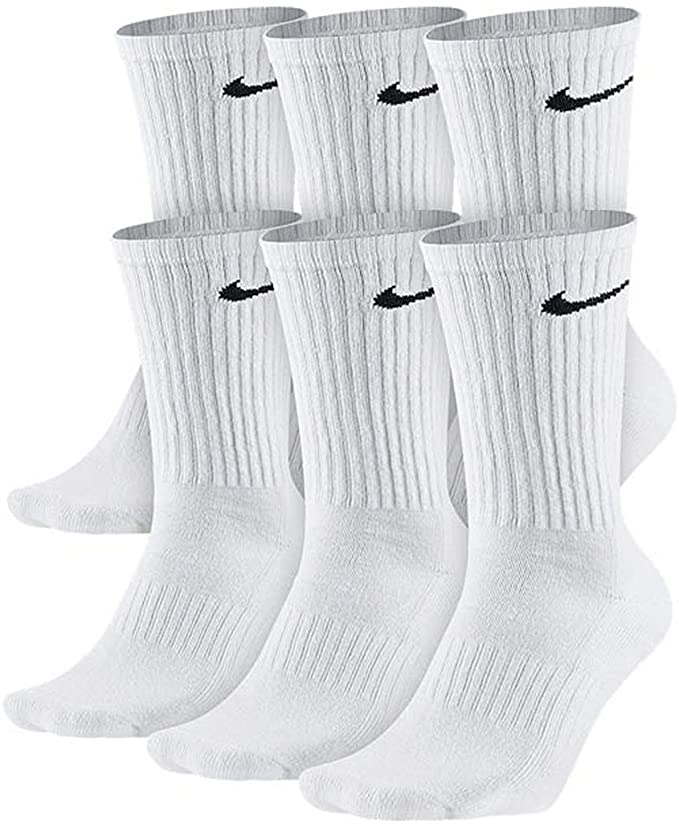 Nearing the halfway point is the Nike Performance Cushion Crew. Unlike our previous options, these socks go higher than the ankle, giving you more support and comfort in the lower leg-area.
They are a majority Cotton and Nylon composition, completely machine-washable with a reinforced heel and toe area, helping them last longer. In high-wear areas like the heel and toe, where we exert the most force when running, having extra fabric helps keep the pair of socks in good condition.
The Performance Cushion also features rib cuffs and arch support – both helping to support and secure your foot while you wear them. Finally, they are also decently priced given the fact that they come in half-dozen pairs.
As great as these pairs of socks are in most regards, the Nike Performance Cushion isn't quite as heat-dispersing as other options, so if you're in a hotter climate, you may be better off with a different pair.
Secondly, the long design may also not be the best option out of preference as well as climate since it will be trapping in more heat, or just not your style if you're very used to low-cut socks. If you intend to run or exercise in varying degrees of weather, though, these are still an incredibly good option. These are one of the best men's athletic socks in terms of comfort and support.
Pros
+ High quality, low cost
+ Breathable and soft material
+ Supportive design, strategically reinforced areas
+ Comes with 6 pairs
Cons
– Not ideal for hotter climates
– Long sock design may not be your preference
---
5. Balega Hidden Comfort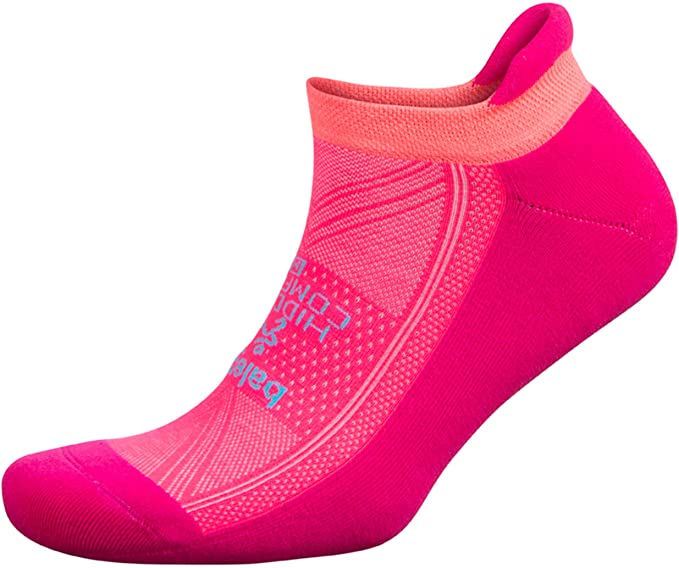 Next up are the Hidden Comfort no-show's by Balega – a trusted sock manufacturer. These cushioned socks are dedicated to running and other intense activities, with a proprietary Drynamix fabric that easily wicks away moisture from your skin.
This fabric is paired with specially designed microfiber mesh that not only keeps your feet dry and ventilated, but a bit more secured. The toe-box is hand-linked to minimize friction and prevent any form of chafing.
Balega boasts that they knit roughly 30% more stitches than the competition, ensuring heel protection as well as optimizing sock stretching. Finally, despite being no-shows, they come in a plethora of different colors if you feel like expressing yourself. Overall, a very unique and safe pick.
While being interesting and unique, the Balega Hidden Comfort is a bit expensive for a single pair of socks. If you are someone looking to buy multiples so you have a fresh pair every workout day, this might become a costly affair.
For that reason, we don't recommend them for very budget-minded athletes who need the most bang for their buck. They are definitely one of the best women's athletic socks with their vibrant colors, but they'd have to really knock your "socks off" to validate buying multiple pairs at one time.
Pros
+ Proprietary fabric easily wicks away moisture
+ Microfiber mesh keeps your feet well-ventilated
+ Features 30% more stitches than the competition
+ Variety of colors to choose from
Cons
– Expensive for a single pair of socks
---
6. Physix Gear Compression Socks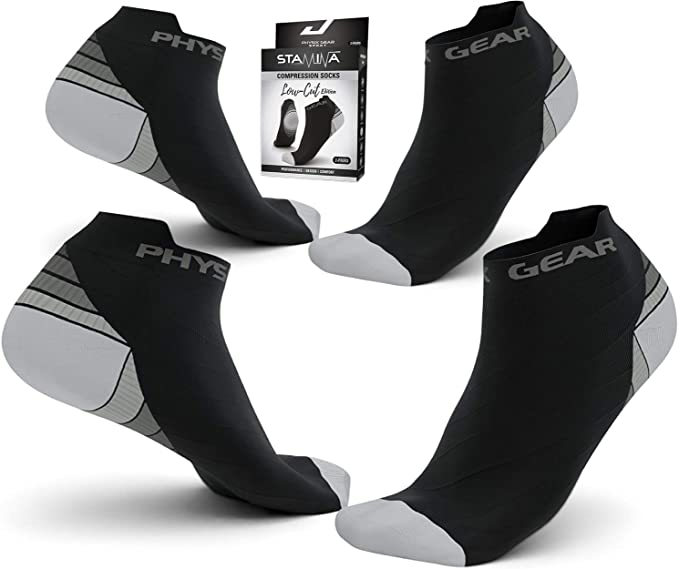 Next we have the Physix Gear Compression Socks, made to be a durable compression sock designed to last without compromise. These socks are made from double-stitched fabric that provides immediate comfort, and a great pick if the activities you're doing are things like cycling or skiing for example.
They go in the wash just fine without losing compression, which is important for toning your vasculature. When they're on, they are great at wicking moisture away and providing ample breathability.
These low-cut (also available in knee-high version) socks are great for getting your blood circulating quickly, relieving most forms of swelling issues you may have. If you're someone who suffers from chronic aches, pains or swelling, good compression socks like these are a must-have for the instant comfort and support they provide.
Physix made sure to cut no corners with these socks and doubled down on that commitment by making sure that if you're aren't completely satisfied, you get your money back, guaranteed. The Physix Gear Compression Socks are a medical-grade solution to a lot of foot and leg-health issues while also being a good general sock.
With that said, if you're not someone with aches or swelling, this type of purchase may not be needed at all. If you're not concerned about these types of issues, then you may be better off putting your money into buying more pairs of socks for a similar price, for example.
Pros
+ Provides immediate comfort for aches, pains, and swelling
+ Good for blood circulation
+ Highly moisture-wicking and ventilated fabric
+ Money-back guarantee
Cons
– Not a necessary purchase if you do not have any foot aches or pains
---
7. Injinji Ultra Run Toe Socks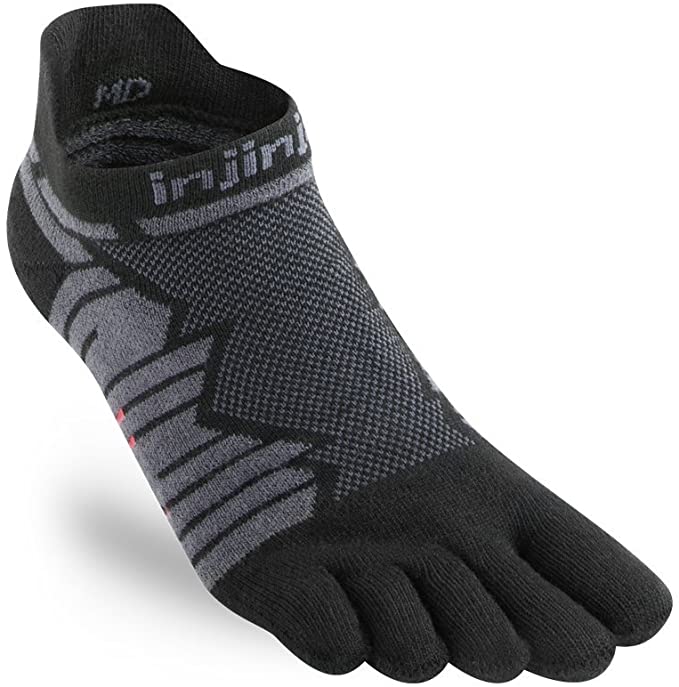 Winding down, we have the Ultra Run Toe Socks by Injinji. This design is decidedly different from the normal sock look, and a polarizing one at that. For some, nothing feels better than that grounded natural feel, while for others the toe-sock may just feel too different than what they're used to.
In the case of the Ultra Run, the individual toe sleeves are designed to keep your toes properly aligned and greatly diminishing the chances of inner-toe blisters. While the majority of the Ultra Run is made from light and tightly woven fabric with high thread-count, the upper portion is actually a mesh, allowing for acute ventilation, and in tandem with the moisture-wicking fabric, you'll have a cool and dry experience.
Injinji also included an enhanced cuff around the ankle area to make putting them on a breeze, as well as comfortable holding the sock in place during even extreme motions. The sizing also fits true to size and there is no wiggle room once worn.
With that in mind, we touched on one possible issue an athlete may have: simply not liking the feel of toe-socks. If you don't know yet, it wouldn't hurt to try them out. Also, these socks are best for milder conditions, and not for extreme or harsh weather. For that reason, they may not be recommended depending on your specific workout regiment and location.
Pros
+ Allows for more natural toe-splaying
+ Mesh upper for high ventilation
+ Reduces inner-toe blistering
+ Soft feel and high thread-count
Cons
– Some may not like the toe-sock style
– Designed only for milder weather and climates
---
8. Feetures Elite Max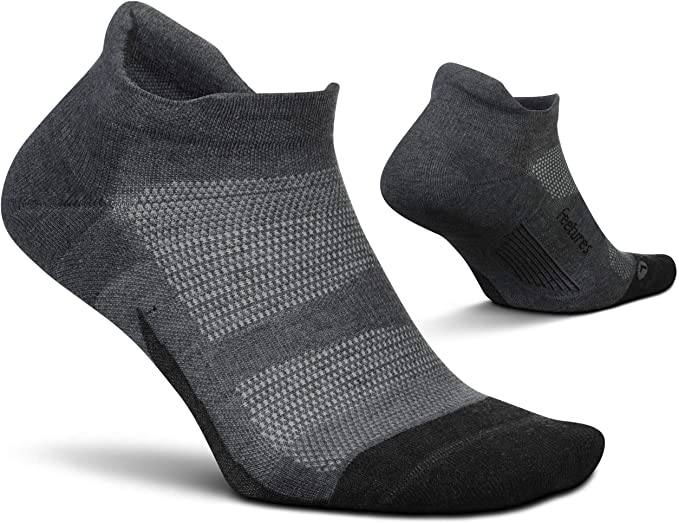 Our penultimate pair of athletic socks are the Elite Max cushion by Feetures – a company that might be too late in the realization that their brand-name may have been misspelled. Still, their product cannot be discounted in any way. These are durable highly and cushioned socks that work for a variety of different activities – from running to tennis.
They boast a targeted custom-like fit thanks to compression zones and an anatomically correct design. This helps give you a unique and comfortable feel that helps to reduce common sock issues like bunching or blistering.
The company also makes the claim that the most advanced synthetic Lycra fibers are used in the Elite Max, with impressive moisture-wicking, seamless irritation prevention, and a smooth ride all around.
In fact, they are so confident in these fibers that they provide you with a lifetime guarantee, and if you're unsatisfied, you can return it. Finally, there is a pull tab in the back to help put them on quickly and securely.
The only real downside to the Elite Max is the fact that they may feel a bit tight around your feet after a full workout because they are compression-based socks. For some, this feeling may be comfortable and 'secure' but if that isn't your cup of tea, it can feel constricting and uncomfortable especially when working out or on a run.
Pros
+ High-quality Lycra fabric
+ Great moisture wicking properties and irritation prevention
+ Lifetime guarantee
+ Targeted compression secures your feet
Cons
– Can feel a bit constricting
---
9. Rockay Agile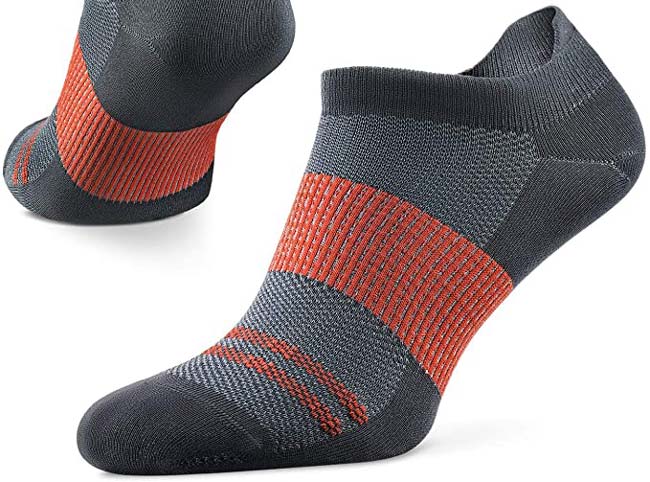 Finally, we have the Agile by Rockay. The Agile is an ultralight running sock that aims to be the lightest among the entire Rockay line. It has mesh panels all over the upper, making it a great choice for warm and hot climates.
If you're looking for the lightest and coolest, Agile definitely has your back. On top of this, Rockay uses completely recycled materials in the creation of their socks, using it to create the Nylon fibres. The Agile, like others of this line, is meant to completely eradicate odor and chances to blister or chaffing. It is built to last a while and keep you going for longer.
The Agile is also fairly low maintenance as it uses Polygeine Stay Fresh Technology in its manufacture, so washing doesn't have to happen constantly. Finally, similar to their other lines, Rockay partnered to remove 125g of plastic per pair of socks purchased, incentivizing the eco-warrior in all of us to do our part while also getting a solid pair of athletic socks.
The truth is, there isn't a whole lot to complain about the Rockay Agile other than its price tag, which is a bit on the expensive side. If you are on a budget, there are definitely other bang-for-your-buck options on this list.
The only other issue is the fact that there is only a limited number of color choices, meaning if you're playing on a sports team and want matching socks, you'll be out of luck with the Agile.
Pros
+ Features breathability panels
+ Completely recycled
+ Washable yet very low maintenance
+ Anti Blistering and chafing fabric
+ Incentivized purchase to help out the environment
Cons
– Expensive for a single pair
---
When should you replace your socks?
If you already have a pair of socks you use for athletics, you may be wondering whether it's time to hang that pair up and get a new set of socks to continue your activities. The fact of the matter is we don't change our socks often enough, actually. Athletic socks especially tend to deteriorate over time, so we'll address a few common signs that mean it's time for a new pair.
Holes/Thinning: If you have a pair that displays signs of fabric thinning (see-through, doesn't feel as thick) or holes coming on, this is an immediate sign for replacement, as they can cause irritation and blisters with continued use.
Loss of Form: Another sign of excessive use, misshapen socks can also lead to blister or rash formation as the sock may bunch up inside of your shoe during activity. When a sock has lost form, it also tends to lose any supportive qualities it once had for your feet, too.
Hot Spots after use: if you finish a workout with a pair of socks that you think are perfectly fine, but experience a tingling or heated feeling in certain areas of your feet, this is a sign of not only early blistering but a breakdown of sock fabric in those hotspot areas.

If you experience hot spots post-workout, you should consider replacing your socks and getting a new pair, as you may get blisters in the immediate future otherwise.
---
Frequently Asked Questions
When it comes to athletics, cotton socks are easily some of the worst kinds you can choose to wear. The reason for this is that cotton is well-known as a fabric that keeps in heat and sweat, leading to much easier blistering.
When considering a sock for athletics, you want the exact opposite types of qualities – like breathability and moisture-wicking, that prevent uncomfortable temperature build up as well as reduce the probability of getting blisters after a workout.
Do I need Moisture-Wicking Socks?
When it comes to athletic socks, it cannot be overstated how valuable moisture-wicking is. Moisture-wicking is highly important not only when it comes to the prevention of things like blisters after a run, but also during the actual activity.
If you don't wear a moisture-wicking styled sock, you'll notice right away that sweat and heat build up incredibly quickly, making the activity you're doing just that much harder, and uncomfortable. If you want to have a competitive edge and perform your best without unnecessary hindrances, moisture-wicking is a necessity in your sock choice.
Merino wool is a naturally grown fiber coming from Merino sheep. It is a thinner and softer version of normal wool, making it very easy to wear during vigorous activities. Merino wool is a good option if you're particularly conscious about the environment and your own wellbeing.
This is because merino wool is completely renewable, completely natural, and poses no harm to the environment during the manufacturing process. Merino is also excellent at keeping your feet at a stable temperature, in both hot and cold climates. Most of all, it is great at keeping your feet dry and sweat-free.
Can socks prevent Blistering?
As somewhat alluded to in the previous sections, the wrong types of socks can greatly increase the chance of blistering. The opposite is also true, as the right kind of socks can most definitely prevent the majority of blisters from ever occurring.
Blistering occurs most often during exercise because of sweat and heat buildup, and when you put on a pair of socks that regulate the temperature of your feet well, the aforementioned sweat and heat never happen. Blisters will not form very easily at all with a good pair of moisture-wicking and temperature-stabilizing socks.
---
Conclusion
To conclude, we have gone over some unique insights into picking good athletic socks, replacing old ones, as well as addressing a few common questions you may have if you're completely new to buying performance socks.
Socks are instrumental to your athletic success and can be a complete detriment if you simply choose not to care what fabric you use or the state your current socks are in. All of the socks on this list are worth trying out and seeing which fits your style best. Needless to say, they all provide ample moisture-wicking, cooling off, and blister-less experiences.
So long as you take care of your feet post-workout, pay close attention to your sock condition, and pick the fabric that meets your personal needs and preferences, you'll have a smooth and enjoyable time. Nobody likes blistering, or feeling hindered mid-race, so mitigate these possibilities by putting thought into what goes between your foot and your shoe!