What Are Long-Distance Running Shoes?
As their name implies, long-distance running shoes are made for those of you who rack-up high-mileage on your runs. If you are someone looking into going the distance as a newbie, or already in love with running miles on end, you'll know that when you're a long-distance runner, you'll need the best marathon shoes to keep you going.
Not only are you asking your shoes to take a beating of near-endless miles, but long-distance runners demand fine-tuned cushioning on pavement, firmness for support during every single push-off, and durability to withstand it all for multiple sessions and marathons. Long-distance running is a worthy grind that is great for your health, psyche, and physique. But takes a toll on any shoe no matter how good.
This is why shoe manufacturers have created shoes that can better deal with these conditions than, say, a volleyball or basketball shoe. Shoes dedicated to running have to be able to provide the wearer with the aforementioned support, firmness, comfort, and durability required to keep on going, and many sport-specific shoes would break down far earlier from all the stress.
Because of this, it isn't recommended that you try to turn your sports shoes into a multi-purpose piece of footwear. Instead, buying a unique and dedicated runner is the best course of action. In this article we will highlight differences between marathon types, provide a few tips for those of you who are new to long-distance running, and then top it off with a list of the 9 best long distance running shoes we think you should get in 2022.
---
1. Brooks Ghost 12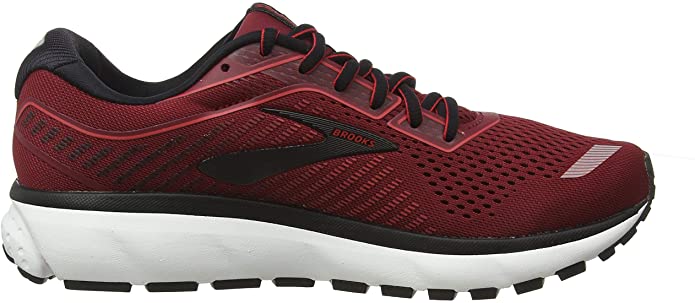 First up, we have the Brooks Ghost 12. This running shoe is a neutral-designed, lightweight, and smooth-riding shoe that doesn't compromise on cushioning or firmness. The Ghost 12 running shoes features the tried-and-true BioMoGo and DNA LOFT cushioning systems that together help give you that just-right softness for the underfoot area without losing out on any responsiveness or overall durability.
Internally, there is a segmented crash pad, which is an integrated system of shock absorbers, softening every step and stride, giving you a solid heel-to-toe transition without fail. Brooks also provided a 3D Fit Print engineered mesh that stylishly adorns the upper part of the shoe, giving you flexibility, support, and a nice aesthetic.
Finally, there is a durable rubber outsole and lace-up system that keeps your feet snugly bound to the shoe, without providing any discomfort or unneeded chafing. Overall, these running shoes are a solid pick if you plan on long-distance running, giving you a bit of everything without conceding very much at all.
The only serious issue with the Ghost 12 is the fact that its toe-box is slightly smaller than some would like, and that they feel a bit different than previous Ghost models. If you are used to and love the previous versions, or prefer a wide toe-box, these may be issues for you when trying the Brooks Ghost 12. Fortunately, this can be easily remedied by ordering half-a-size up for a comfortable fit.
Having said that, whether you're a seasoned marathoner or just a beginner, the Brooks Ghost 12 is more than capable of handling your needs and is one of the best long-distance running shoes in terms of versatility and function.
Pros
+ Soft and comfortable upper made of 3D Fit Print mesh
+ DNA LOFT and BioMoGo both provide solid cushioning
+ Segmented Crash Pad for shock absorption
+ Good colorway options
Cons
– Some may find the toe-box to be a bit smaller than ideal
– Other Ghost models felt better in the past
---
2. Nike Pegasus 36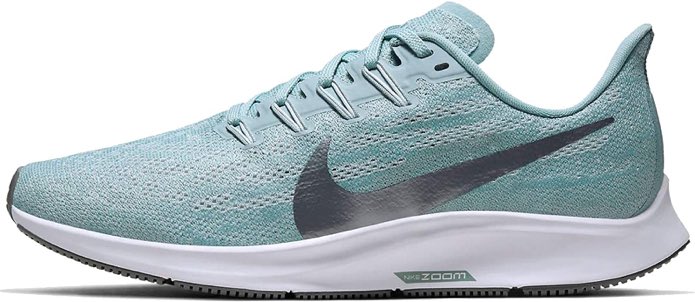 Now we have the Nike Air Zoom Pegasus 36, with its perforated mesh upper that gives you awesome breathability in the forefoot as well as arch area – two of the areas that need it most during a long run. The Pegasus 36 also features a full-length Nike Zoom Air unit built into its internals to give you a firm and smooth ride that still manages to be very comfortable.
In previous iterations, the Pegasus was a bit bulkier in design, so this time around Nike decided to slim down the model and reduce its overall bulky look by opting for a more sock-like aesthetic. Internally, there is a cushion ST foam to give your feet ample comfort, which is of utmost importance during particularly long runs.
The cushioning is fairly responsive and allows for quick movements and flexibility, meaning as your run goes on you won't feel any of that awkward fatigue where you start to "feel" the weight of your running shoes. In the midfoot area are exposed Flywire cables giving you a tighter and secure fit that won't get in the way of movement without causing discomfort.
Since these shoes are so breathable thanks to the perforated mesh, you can keep running to your heart's content without dealing with sweat accumulation or feeling overheated while staying cool and comfortable for the full length of your run. Like a lot of Nike shoes, the Pegasus 36 is also a sleek and well-designed shoe with its dual-tone upper and contrasting swoosh logo.
As great as the Pegasus 36 is, it does lack comprehensive sizing options. If you're a runner with a fairly wide foot, these sock-like shoes may feel too snug as the design is narrow along the forefoot. Since there are no specifically made wide options available, they may end up feeling a bit constricting on the sides.
While some of you may be able to live with it, depending on how wide your feet are, it may be too much to bear over a couple of miles. Given that these are fairly pricey, we expect a bit more when it comes to wider sizes. Regardless of this, the Nike Pegasus 36 is one of the best long distance running shoes, especially if you like the Nike brand.
Pros
+ Sleek and form-fitting design
+ Upper is snug and breathable without feeling obtrusive
+ Great for long runs since the breathability is astounding
+ Cushioned ST system keeps you comfortable for longer
Cons
– Lacks wider sizing for people with wide-set feet
---
3. New Balance Fresh Foam 1080v9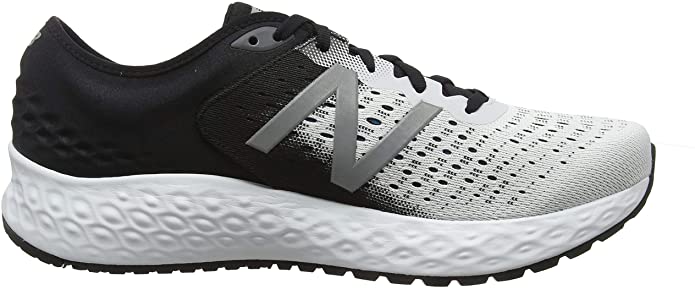 Next up is the v9 of the 1080 series by New Balance. It has a breathable engineered mesh mixture of textile and synthetic fabrics for optimal breathability and cooling. It consists of a lace-up system with a plush tongue and collar padding which is helpful to reduce friction burns or stress in the ankle area during prolonged runs.
As for cushioning, there is a full-length Fresh Foam midsole to deliver a lightweight plush comfort that also promotes a more natural movement and ride to your stride. There is also an Ortholite premium footbed across the underfoot, providing you ample arch support and cushioning.
This is especially helpful for people with foot abnormalities as your arch is highly stressed the longer your marathon drags on. New Balance also wanted to increase comfort by adding in a smooth fabric lining across the in-shoe to provide a soft feel to it when you're wearing it.
Lastly, the outsole is made of a durable high impact rubber that has flex grooves allowing for the foot to move more freely. Overall, the New Balance 1080v9 running shoes are a great high energy-return cushioning, with appropriate sizing options for those with wider feet.
The only minor issue with the New Balance 1080v9's is that the heel area may feel a bit oddly shaped for some, as it is a bit on the narrow side. If you have unusually big ankles, this is something to keep in mind. On top of that, the pricing can be somewhat expensive, though it is mitigated by the fact that you're paying for a very comfortable top-tier shoe with extensive sizing options.
Pros
+ Breathable engineered mesh upper
+ High impact cushioning from the midsole and insole
+ Smooth fabric lining increases comfort
+ Flex grooves in the outsole for more freedom of movement
Cons
– Heel area may feel a bit narrow for some
– Bit expensive
---
4. Adidas UltraBoost 19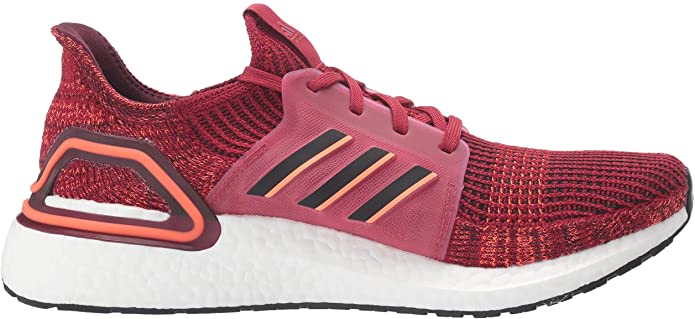 The Adidas brand finally makes an appearance on our list, in the form of the Ultraboost 19's – aimed at people who enjoy supreme levels of cushioning with stellar energy return. This long-distance runner features a textile and synthetic upper with the most responsive cushioning ever created by Adidas.
Internally, the Boost midsole aims to deliver great energy return, based on the principle that the more energy you give, the more you get back. The upper itself is known as Adidas Prime Knit and it wraps around your foot for a custom fit and targeted support that helps enhance movement as opposed to constricting or limiting it.
There is also a molded heel counter that enables you to achieve a natural fit, allowing for optimal movement of the Achilles area without causing any heel slippage. Adidas implemented a torsion spring into the midsole area to provide support during landing, and propulsion during toe-off.
Unlike many other running shoes, the toe-box is fairly spacious and the fabric comfortably stretches for natural toe-splaying. The durable rubber outsole is made by Continental and is thick with an intriguing symmetrical treading pattern to give you optimal coverage on the pavement. Overall, these shoes are a solid versatile shoe that can be used both for marathons as well as more urban adventures.
The serious issue with the Ultraboost 19's is actually stylistic in nature. The white Boost midsoles tend to get dirty fairly easily and if you want your shoes to look their best all the time, you'd need to clean your sneakers at least once a month.
Pros
+ Adidas Prime Knit upper is very breathable and comfortable
+ Molded heel counter allows natural movement of the ankles
+ Spacious design affords toe splaying
+ Midsole offers good bounce and quick propulsion
Cons
– White midsole gets dirty quickly
---
5. ASICS Gel-Kayano 26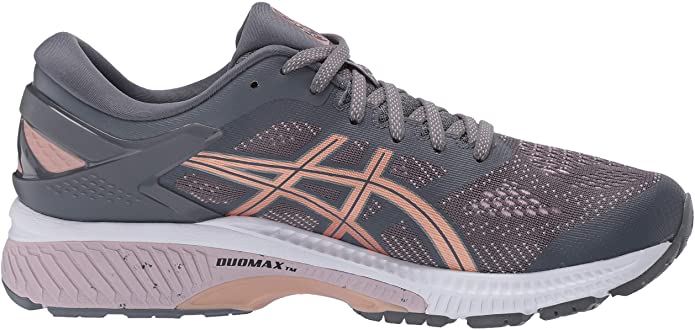 The Gel-Kayano 26 hails from a long line of trusted and respected running shoe models by ASICS. Seeing as it's been around for over a quarter-century, ASICS has had the opportunity to perfectly hone its design and continues to improve it steadily. If you're familiar with the previous iterations of the Gel-Kayano's, these have many of the same forms and functions, yet have improved certain aspects to reel you back in.
Namely, the two-layered cushioning found throughout the midsole, and the FLUIDRIDE system, being the ASICS FlyFoam Propel and their FlyFloat Lyte technology put together. These two cushioning systems aren't the only new additions to improve your overall comfort and ride, as ASICS has employed gel-cushioning at the heels of the shoe to increase comfortability as well as add just a pinch of movement-improvement.
ASICS also added in what they call the Heel Clutching System, which is a specially designed piece of resin deep inside the heel counter to minimize the gap between your heel area and the arch area, giving you even better support and sense of comfort in both areas respectively.
Finally, rounding out its specs is the DuoMax Support system, which essentially reduces the overall weight of the shoe and increases the platform support across the foot. Truth be told, there is a lot going on here that can be hard to keep up with, but all of these additions were crafted with precision comfort and support in mind, and it shows.
As far as sizing goes, the Gel-Kayano 26 runs true to size, have a whole host of colors to choose from and leave very little missing, with the only noticeable issue being the fact that there is a weak point in the upper, located right on the toe area that is prone to breaking if you happen to have big toes or run in an odd fashion that propels the toe into the fabric.
If you have either of those issues, you'll notice that a hole will be poked at the top of the shoe where the wearing occurs, which is an uncommon quirk to say the least. Apart from this, these are one of the best long distance running shoes in terms of features and value.
Pros
+ Amazing support and comfort from the FLUIDRIDE system
+ Heel Clutching System and gel-cushioning provide ample support
+ Features DuoMax support system, making the shoe lightweight yet firm
+ Fits true to size
Cons
– Prone to having a hole poke out of the top of the shoe with prolonged wear
---
6. Hoka One One Clifton 5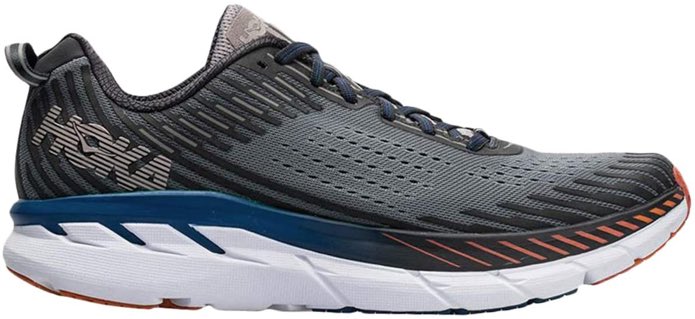 Up next is a long-distance by the Hoka brand – a company that prides itself on creating running shoes with unparalleled cushioning and support and the Clifton series particularly delivers on that goal. Throughout the midsole of the Clifton 5 is a single cut unit of EVA foam, grooved around the edges, and curves to your natural foot shape to provide a tailor-made feel and comfort you'd expect from a quality marathon shoe.
The Clifton 5 gives you much needed cushioning and support for your foot with this particular design because not only is the foam incredibly soft, but because it is a singular piece, you'll find that every step you take is a bit softer than normal.
This is because the shock you'd normally experience is dispersed across the EVA footbed. Unlike other shoes that implement segmented crash pads to disperse impact, the Clifton 5 uses just a singular shock-absorbing slice of foam taking the brunt of the force for you.
A lot of running shoes choose to focus on certain areas that are high impact and therefore need added support, and while there is nothing wrong with that, this design is inherently different as it doesn't treat one area especially well and conceding comfort elsewhere in the foot. The Hoka One One Clifton 5 evenly comforts and distributes stress across the foam footbed.
For this reason, if you really do appreciate plush comfort, the Clifton 5 is a serious contender. The upper is quite firm, yet breathable, and the thick rubber outsole can take a beating for days – ideal for long, drawn-out running.
With all of that said, the Clifton 5 is by no means perfect. For one, the upper may feel a bit too stiff or the material may rub your skin the wrong way if your skin is particularly sensitive. On top of that, because they went with such a narrow design, the shoe can feel fairly constricted on wider-set feet.
If you are someone who doesn't appreciate a stiff upper or likes wide size shoes, the Clifton 5 may be a pair you should pass up on despite the great comfort. But, if you're someone who suffers from bad knees and need well-cushioned shoes, the Hoka One One Clifton 5 is one of the best long distance running shoes for marathons and half marathons.
Pros
+ Runs true to size
+ Single-cut EVA foam bed provides great comfort and shock absorption
+ Aesthetically pleasing design
+ Breathable fabric upper that doesn't lose shape
Cons
– Upper may be too stiff for some
– Narrow fit not ideal for wide footed runners
---
7. Brooks Adrenaline GTS 19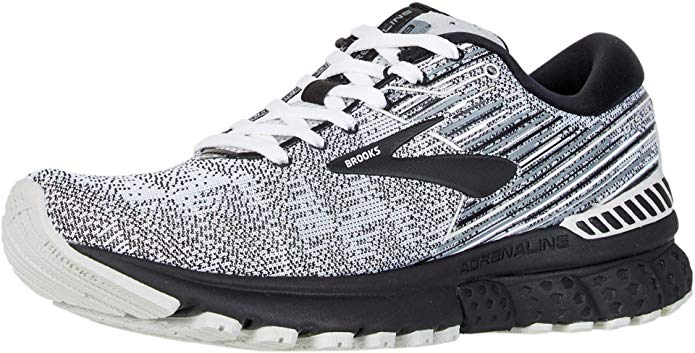 Another Brooks design makes it onto our long-distance runners' list, and for good reason. Here we have the Brooks Adrenaline GTS 19. If you are an avid runner who appreciates support above all else, you'll like these running shoes. The reason being that the GTS 19 features the GuideRails Holistic Support system, which looks at not just your feet, but knees and lower legs as areas needing support.
The way it helps your knees is that the GuideRails keep your movement in a comfortable rhythm while helping to minimize our subconscious excessive movements, keeping them in check rather than let them slowly whittle away at your joints.
Similar to other Brooks models, the GTS 19 has a BioMoGo and DNA LOFT cushioning system to provide you with that just-right softness for the underfoot area while also providing support, without any compromise to responsiveness.
The upper is composed of a highly breathable fabric, so you'll remain cool and well-ventilated throughout the long run. Brooks also included the 3D Fit Print model, to provide you with the support and comfort you expect out of all their shoe models.
Overall, a fairly savvy choice for long-distance running, which notoriously takes a toll on your joints so the GTS 19's GuideRail system is almost mandatory in keeping you aligned healthily.
The GTS 19 do have their share of problems though, notably the fact that the heel area may feel narrow for some, and the intense use often sees these shoes breakdown at a young age, in a matter of a half-year or so. If you need that extra heel space or want a shoe that will last longer than 6 months without replacement under stressful conditions, you may have to look elsewhere, assuming that trump's your desire for what GuideRail has to offer.
Pros
+ Internal GuideRail system improves the gait cycle
+ Cushioning is soft yet firm and supportive
+ 3D Fit Print provides you with excellent support and comfort
+ Breathable fabric upper helps over the course of many miles
Cons
– Heel area may feel slightly cramped
– Extensive use might cause break down over the course of 6 months
---
8. Nike Zoom Fly 3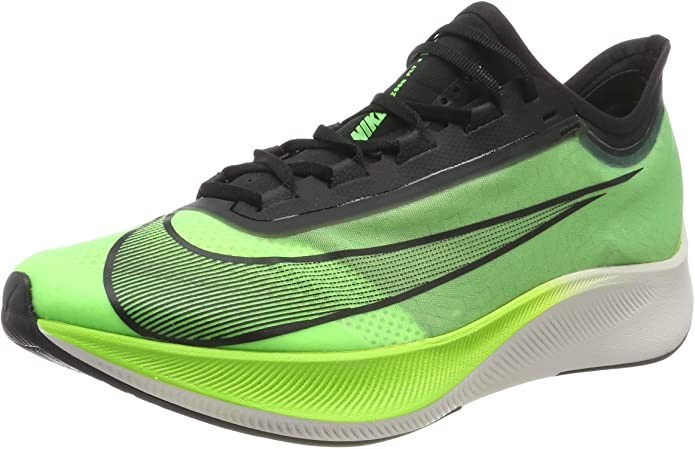 Our penultimate shoe is the Zoom Fly 3 by Nike. Easily one of the most unique looking long-distance running shoes on this list, the Zoom Fly 3 features a VaporWeave fabric upper, as well as an arch band lacing system across the upper that work together to meld to your foot's shape for a great sock-like feel when worn.
By being attached to your laces, the arch band helps take the pressure off your instep. The Zoom Fly 3 also features a full-length Nike React midsole that balances cushioning needs and responsiveness with lightweight durable foam that gives you a smooth ride every mile.
Probably one of the most interesting aspects of the Zoom Fly 3 is the carbon fiber plate that Nike has sandwiched between layers of React foam, giving you a lightweight yet strong rebound that is snappy enough to help you keep up the pace.
The plate can also shrink or expand to some degree for maximum flexibility. A nice little feature that you'd appreciate having never worn something like this before.
Nike has also designed the heel arches away from your ankle, helping to relieve pressure on the Achilles tendon, which can take a beating throughout your many miles of running. Finally, the outsole is a high abrasion thick rubber on the front half in a lattice patterned groove, and the heel area has rubber strips on each side – both of which aim to provide extra traction and support for the ends of your feet. Overall this is a trendy yet practical runner that is hard to say no to, especially with its intriguing carbon fiber plate.
With that said, there are a few reasons you may want to say no to the Nike Zoom Fly 3. Firstly, the underfoot experience of the Zoom 3 may be a bit too soft for you, and you may want to opt for something more firm and supportive for a longer run.
The second issue is that the shoe is actually a little bit on the heavy side, so as a racer you may not want to be dragged down by a slightly heavier shoe than you're used to, especially as you'll be feeling that weight the longer a marathon goes on.
Despite these issues, the Nike Zoom Fly 3 is a favorite amongst veteran marathon runners and is one of the best running shoes on our list.
Pros
+ Great comfortable upper and band system that helps your instep
+ Carbon fiber plate is responsive and improves the quality of the ride
+ Comfortable Nike React insole that is still firm and supportive as ever
+ Heel designed to reduce stress on the Achilles tendon
Cons
– Midsole may be too soft for some, especially if you like firm support
---
9. Saucony Triumph ISO 5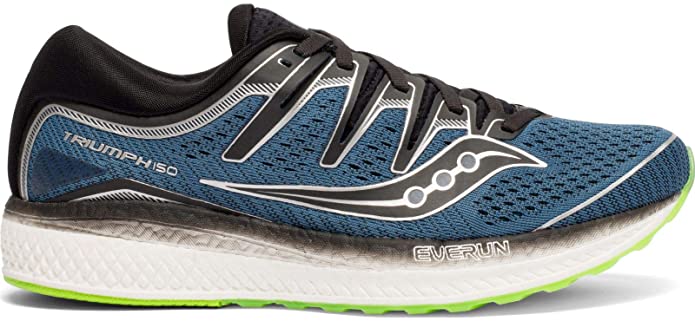 Finally, we have the Triumph ISO 5 by Saucony. Besides the unique coloring designs, a lot of thought and technology went into the creation of the ISO 5, making them a great option for long-distance running. The upper is a synthetic mesh that has great air-flow to keep your feet fairly cool throughout a run.
The internals includes an EVERUN full-length responsive cushioning compound which is designed to distribute the force of impact across a large area rather than concentrated only on one point of the midfoot.
The topsole is also a part of the EVERUN line, with an additional layer of responsive cushioning to further enhance the energy return of every step and strike you take. There is IBR+ material in the forefoot area, giving you a lightweight flexible material that improves overall cushioning and response of the shoe.
The outsole of these running shoes is made from XT-900 material. Throughout the entire body of the outsole, a carbon rubber material that offers great traction as well as longevity and durability.
Overall, the ISO 5 is a highly comfortable and responsive shoe that demands consideration by long-distance runners looking for a new shoe. It is also great for those of you who have foot conditions like underpronation as it helps align your feet for a more natural gait cycle.
The problem with the ISO 5 is the fact that on wet surfaces, the XT-900 outsole just isn't very sticky, so if you are someone who often runs in any condition or prefers rainy runs, then the ISO 5's outsole will leave you wanting more. On top of this, the forefoot area does run a little smaller, meaning if that isn't your style and you prefer a lot of room for toe-splaying, it may be a deal-breaker.
Pros
+ Responsive shock-absorbing cushioning in the midsole
+ EVERUN topsole that improves energy return
+ Lightweight IBR+ material for a nimble feel when on your feet
+ Long-lasting and durable XT-900 outsole
Cons
– Not ideal on wet surfaces, just needs more grip
– Forefoot area may feel a bit constricted for some
---
Frequently Asked Questions
What shoes do marathon runners wear?
Marathon runners wear a variety of shoes based on preference and performance. Nike, Adidas, Brooks, Saucony, and ASICS are all well-known brands used by veteran marathoners. Recent advances in shoes like the Nike VaporFly have caused a bit of a controversy by giving its wearer an "unfair" advantage when running.
What type of shoes are best for running?
Everyday Running Shoes: These are the shoes you wear every day and they are quite durable and often not as lightweight. Everyday runners also have balanced cushioning and support
Lightweight shoes: These shoes are generally reserved for races and competitions. These shoes sacrifice cushioning and durability for lightweight agility. They are also prone to breaking down easily if used outside of competition.
Marathon shoes: Marathon shoes are cushioned runners that can also be lightweight to maintain comfort over long distances while also being fairly light to reduce foot fatigue. Shoes designed for marathons also have to be extremely durable to put up with all that mileage.
---
Marathon vs. Half-Marathon
If you're a new runner, the following sections are for you. When you're starting out, a marathon (full or half) can be like the holy grail for runners. First and foremost, it is best to remember to not bite off more than you can chew as a beginner.
You must completely understand the dedication and effort required to train for either a full or half marathon and decide which is best for you at your current level. Here are some of the most prominent differences between the two, if you're on the fence about which to work towards as your running career advances.
Most obviously, the distance differential between a half marathon and a full marathon is significant. A full marathon is 26.3 miles long, much longer than a half marathon, and there is a huge difference in terrain covered. In full marathons, you may find uphills and downhills, and constant and radical shifts are common to find in a typical marathon event.
As for a half marathon, it is 13.1 miles long, and probably best suited for those of you who have already comfortably completed 5k and 10k runs (3 and 6 miles) respectively. Even then, you will still be challenged, because a half marathon is equivalent to two 10k runs and some change.
While it might not seem like the training regiment required for a half marathon or full marathon would differ much, this is actually not the case. When it comes to half marathons, you are actually more inclined to go for a speedy time and you'll find that avid half-marathoners will try to beat their previous times and get increasingly faster as they gain more experience.
Essentially, half marathons are training in themselves. Compared to the slow grind that is a full marathon, training for this event is actually very extensive, and most runners simply ignore recovery days and opt for lighter workouts instead.
The two events require significantly different sets of skills and while, of course, endurance is key for both, a half marathon will be much more forgiving and you can afford to try and pick up the pace for an overall better time.
Full marathons are downright brutal and endurance training is an absolute must. When you're on the starting line, you're in it for the long haul, without a doubt. But, being physically ready is only half the battle. You must be mentally prepared for that, too.
It goes without saying that marathon runners are some of the most dedicated and seasoned athletes on the planet. This is exactly why you need some of the best long-distance running shoes to cope with all the stresses of running a marathon.
Another fairly significant difference is that full marathons typically need more demanding nutrition and hydration requirements. Both marathons require some energy consumption in the pre-race stage – in the form of simple and complex carbs. Per-mile, you're looking at about anywhere between 30 to 60g of simple carbohydrates during the run per hour.
In a full marathon, you'll need to ingest more carbs since you'll be going for longer and experience burn-out faster as the race drags on. As for hydration, for every 15 minutes of running, take a 5 to 12-ounce dose of water. By the hour and a half mark, you'll have to alternate between water and a sports drink to make sure your potassium is at a steady level throughout the rest of the race.
---
Tips for Long-Distance Runners
If all of that previous section is overwhelming for you, don't be discouraged or shy away from running, as marathons are not the be-all and end-all of running. In case that isn't your style or you're simply not ready to consider those things yet, we have a few general tips for long-distance running that universally apply for even 5K and 10K.
Mentally Prepare Yourself
The worst thing one can do is psyche themselves out before a long run. Perhaps by thinking about how long or excruciating a run is going to be or making it feel like it is just an impossible task. You have to get into a winning mindset and make the run feel manageable.
Perhaps it means completely blanking out, or just rewording it in your head to bring that fear down by telling yourself, "I'll only be gone for a movie length's time". Whatever method you pick, having the right state of mind is key when taking on long-distance running. A can-do attitude is more important than running shoes when it comes to running long distances.
Take walking breaks when required
It's easy to overwork and stress yourself beyond your current limits. Don't feel pressured into running fast, because, at the end of the day, the point of the run is to get those distances in, not to do them quickly. Perhaps you would be better off alternating between sections of walking and running or dividing it up in another way that works for you.
This is especially true if you're just starting out. Remember that the distance is still the same whether you're sprinting or walking, so don't put undue stress onto yourself by going full gear all the way.
This might seem obvious, but remember that no matter how slow your regular run pace is, you should still tone it down for the longer runs. The purpose is again, to clock to miles and you should focus on your length rather than speed.
Take it easy, and remember there isn't a need to pick up the pace unnecessarily. All of these little things add up to excess pressure physically and mentally that do you no good. So run slow, take walk breaks, and get in the right headspace to topple 10 miles and more.
With all of that out of the way, we hope you've gained a little insight into the way marathons work and the importance of pacing, nutrition, and conditioning when it comes to tackling long distances. It can be hard switching from the typical speed mentality, but it is required if you hope to succeed in longer distances that simply cannot be done with speed in mind.
Our list of the 9 best long distance running shoes and marathon shoes is in now way a be-all-end-all list for marathoners. There is no singular perfect shoe, and each of them has their strengths and weaknesses. It is just up to you to determine which fits you best literally and figuratively.
---
Conclusion
To conclude, we have provided you with the not-so-subtle differences between the demands of a marathon and a half marathon. We've also covered tips for beginners and other shadow readers who are on the fence about attempting a marathon. And topped it off with our top 9 picks of the best long-distance runners in 2022.
If you're looking for more options for running shoes, make sure the cushioning is both soft and supportive. Each of these running shoes here on our list is solid in their own right and deserve a shot at making its way onto your feet, so consider each one's strengths and weaknesses carefully to see what aligns with your needs best and most accurately.
Finally, as for our all-around tips and information, we hope that they serve you well as they are universal, helping you whether you're doing your first 5K, or on your third full marathon.
Remembering the basics at crucial times are key to staying on track and not losing your cool in intense races, so make sure to have them stuck in your head before you venture into this summer's marathon.