Overall Verdict
If you're someone who is looking for a shoe you can wear on any track, road, or treadmill, you can't go wrong with the Pegasus 37. If you're coming from the Pegasus 36 and looking for a replacement, these aren't a bad option as they are definitely improved upon in terms of breathability, yet similar enough for you to feel at home.
Pros
+ Comfortable lightweight upper
+ Excellent cushioning and responsiveness
+ No-nonsense design
+ Flexible and supportive upper
Cons
– Needs a bit of breaking in to reach peak comfort
– May feel a bit snug to some
– Some heel slippage
---
Intro
The Pegasus line has been a shoe Nike has used as a standard design for versatility and comfort, effortlessly working well for novices and seasoned runners alike. If you were never one for taking chances and wanted a pair of shoes you knew were going to get the job done, the Pegasus was the go-to.
If you're a runner who wants a pair of shoes that are good on the track, on the road, or in the gym, the Pegasus 37 is an all-around pick that feels solid anywhere. Now we'll break down just what we thought about the Pegasus 37, from top to bottom, and see how it stacks up to its predecessors.
Upper Unit
First up are the things most unique to the Pegasus 37 – the upper unit. Compared to the rest of the design choices of the shoe, the upper is what is most changed since the last installment. The whole upper is a simple Flywire mesh that wraps around your front from front to back, the iconic Nike Logo finds its usual place on the side.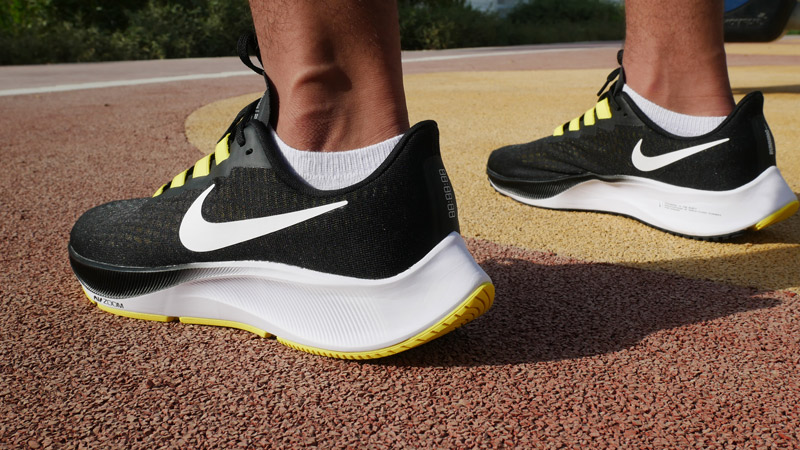 Nike intelligently structured this mesh to be denser in areas of high stress, particularly around the toe and lacing area. We cannot stress enough that this mesh system is a moderate improvement in overall breathability compared to the previous iterations.
The Pegasus 37 retained the Flyknit system, yet slightly tweaked it to give a bit more support below the laces. Most uniquely, when you try them on, you'll realize that the outer part of your foot has extra fabric that is ergonomically designed to almost wrap around your ankle when they're on.
The signature Flyknit upper is also very flexible and offers a neat little touch for extra style points. There's no doubt that these shoes are good looking and you won't stand out if you decided to wear these with some casual
This kind of rubs up against your ankle, and is definitely a sore spot for some, but we really enjoyed the asymmetrical design after a few runs. The heel streamlines into an edge towards the rear of the shoe and helps with explosive energy return with each stride. Unfortunately, if you're someone with skinny ankles, you might find some heel-slippage while running or jogging.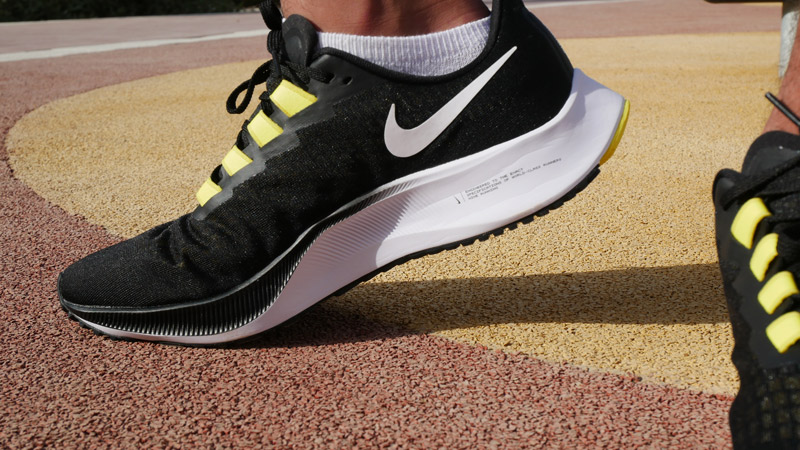 The tongue of the Pegasus 36 is also slightly overhauled, and it is becoming more of a mainstream design choice among trainers. The tongue on the Pegasus 37 is a lot less like a traditional tongue and is more like an inner toe-wrap. Essentially, Nike created a road-racer styled tongue that is a lot shorter than the previous Pegasus models, and it isn't to its detriment.
Then, there's a second layer to it, behind the lacing system, up to the tongue, that brings it all together very snuggly, which we very much enjoyed. This is a good design choice as it prevents the tongue from moving erratically, and adds durability by doubling down on fabric layers.
Overall, the Pegasus 37 may feel a bit narrower or snug compared to previous iterations, making it feel a little less cushy, but definitely more comfortable and form-fitting, making the miles go by a lot nicer.
---
Soles
Let's get this out of the way first – the Pegasus 37's sole is just about the same as its predecessor, which means no fancy new tech, but no surprises the first time we put them on. Since the release of the Pegasus 36, the outsole has had a warped square/pod hybrid design, with a crash rail along the lateral sides.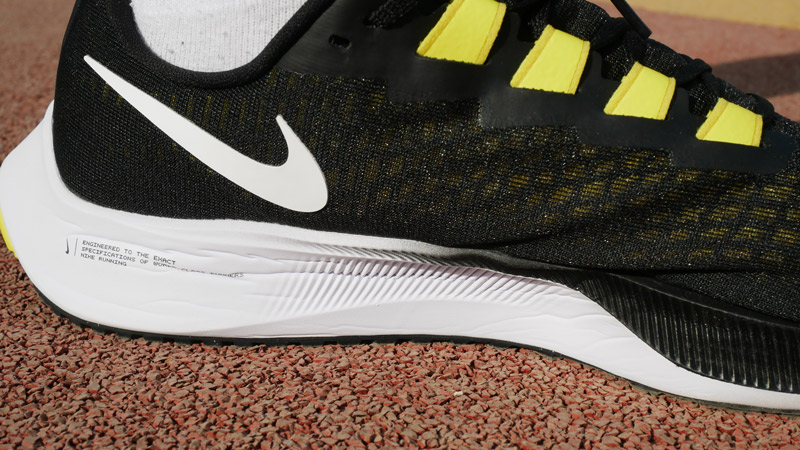 We can understand why no changes were made here, as the outsole is generally cleverly designed. It has well-articulated geometry to actually work well with the midsole seamlessly and created out of carbon rubber to make transitions buttery smooth. Reinforcing the notion of stability all around. Traction-wise, the Pegasus 37's rubber outsole grips most surfaces that we've tried very well, so they're a safe bet wherever you intend to use them.
Our only complaint is that the midsole creases quite easily as you can see in the picture above and that doesn't look very nice on a brand-new sneaker you've tried for hardly a mile.
Moreover, the full-length Zoom Air unit is a firm EVA midsole that is at the heart of this shoe's versatility. The firmness of this insole doesn't mean we didn't feel cushioned, as there's plenty of that in the underfoot (like the blown-foam insole), but the support and firmness from the stacked Zoom Air and EVA layer give you the kind of feel you'd need for both a shorter 5K or even 10K and beyond.
We found that these shoes were good on the track just as much as they were on roads or a gym treadmill, so in that sense, not much has changed since the line's inception. Compared to something like the Vapor Fly's, though, the Pegasus 36 are surprisingly good in wet conditions.

---
Durability
The overarching commonality in our opinion of the Pegasus 37 is that it is very similar to the 36, and this holds true for its longevity as well. The multiple layers of mesh we touched on in the first section lend itself to lasting longer, and the Flywire structure does a great job in helping to spread stress around through flexing and grooving.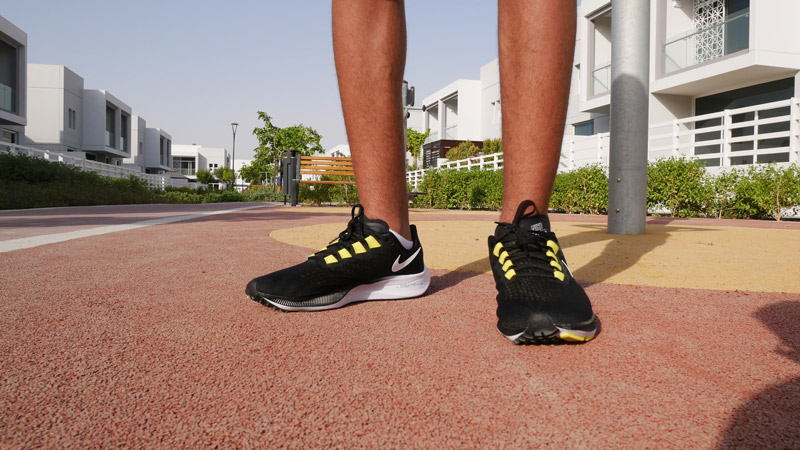 While it is definitely possible that tears can occur, that comes part and parcel with this style of shoe, and not unique to the Pegasus 37. You should expect upwards of 450 miles out of the 37s, if not much more, as these shoes are well constructed and the materials aren't particularly prone to breaking down.
We have no complaints there, as no part of the Pegasus 37 stood out as a particularly weak or vulnerable area prone to failure. Similar to previous models, the 37 will serve you well, and for a while without needing to replace or repair them.
---
Ride & Comfort
When it comes to a good trainer, having responsiveness that just jives with your personal preferences is a big deal. In the case of the Pegasus 37, the ride you'll get is definitely not the most jaw-dropping, especially if you're more accustomed to the springiness of Nike's ZoomX, but it is still very well done.
Towards the rear, you'll be getting a medium-soft type of ride, with a decidedly firm feel in the forefoot, which is to be expected. The Zoom Air Unit we previously talked about, in tandem with the 37's Premium Cushlon Foam, are actually pretty lightweight and decently responsive.
It's low-profile and cushioned, but not to the level of Nike's React foam. On top of all of that is the blown-out foam insole coming in at roughly 5mm, bringing the entire shoe to a 10mm heel-to-toe drop. Just like other 2mm and up insoles, you'll notice that the sort of 'squishy' feeling fades over time and with use becomes compressed to the point that it's a perfect fit for your foot.
---
Conclusion
To be as concise as possible, if you liked the Pegasus 36 or previous models, you'll enjoy the 37 just as much. Not a whole lot has changed from the previous model, except for the somewhat awkward tongue, and more breathable upper, outperforming its older siblings.
There definitely have been some complaints regarding the stiffness or tightness of the shoe (especially the heel collar), but in our experience, it really begins to transition into a more tailored and snug feel after a couple of break-in sessions. The Pegasus 37 aren't groundbreaking, but they are exactly what the Pegasus line always has been – an affordable jack of all trades.