When it comes to picking the absolute perfect hiking footwear for you, a lot of it comes down to individual preferences and realities. In our concise article, we'll shed some light on the different aspects of hiking footwear that needs to be considered on a person-to-person basis to better determine what hiking boot is best for you.
---
Types of Terrain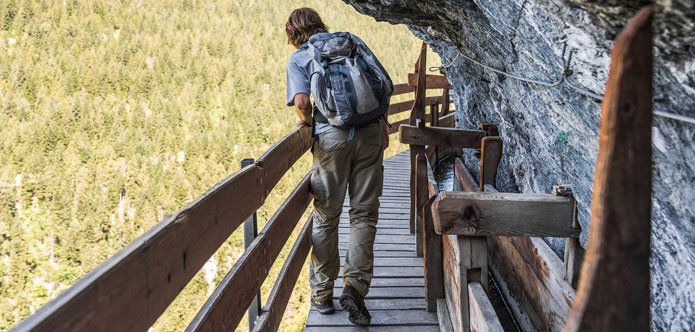 Firstly, when it comes to picking what kind of hiking boots you'll need, it's best to figure out what kind of terrain you see yourself tackling. Either what is available to you locally, or perhaps outside of where you normally reside as a special adventure or vacation.
Simple Trails: These are the types of terrains in prairies or valley bottoms, they are typically large open spaces without stupendous inclines. Most of the terrain on a simple trail is stable, even, and normally doesn't have a lot of hills. This is the type of hiking expedition you might consider if you want something relaxing or are testing the waters for the first time to get into hiking.
Uneven Trails: This type of terrain is found in undulated, wave-like landscapes that will oftentimes be more technical than a simple trail. In this kind of terrain, you'll often have to look out for things like rocks, roots, or different terrain obstacles like mud or dirt. Slanted trails, steps, and steepness are commonplace, and this type of trail is the kind you go on to have a bit more of a workout for your legs.
Off-Trails: The toughest of the tough. These types of trails are uneven, oftentimes unstable, with loose rocks, debris, and unmarked pathways. This kind of terrain adventure is best done with complete concentration and deliberate movement, cutting out inefficiency. You should also be prepared to climb over obstacles in your direct path, cross rivers, and use your hands more than the previous two trails. This rugged terrain is perhaps what most would consider a 'real' daring adventure.
As general rules of thumb, simple trails are best met with flexible and lightweight shoes that minimize fatigue. The more technical and difficult the terrain you're up against is, the stiffer your shoe's outsole should be, thus giving you more stability.
On top of this, a taller shoe which stabilizes, protects, and supports your ankle area is preferred. Finally, serious reinforcements like a heel protector, waterproofing, or rubber toe may be a good idea for the most technical and precarious terrain.
---
Types of Hiking Boots
In the olden days, hiking was normally done in heavy and sturdy leather boots, but as times have changed and technology has improved, we now live in a world where various styles of hiking boots exist, all slightly specialized in one aspect or another.
Trail Running Shoes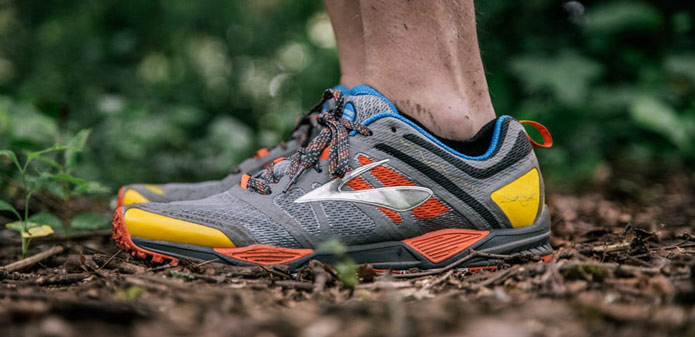 First, we have the sporty and grippy trail runners. These types of shoes are a lot like a regular runner when you look at them superficially, but there's more than meets the eye here. Their outsoles are well-lugged to give you solid traction and have more cushioning to give you a protected underfoot experience when hiking.
With that said, you won't be getting the same stability, support, or durability that you would with a full-on boot. These kinds of runners are best on simple, well-kept trails that don't require the protection or stability a tougher trail would require. They're very lightweight, flexible, and breathable, yet still a bit more durable than a traditional road-running shoe.
Hiking Shoes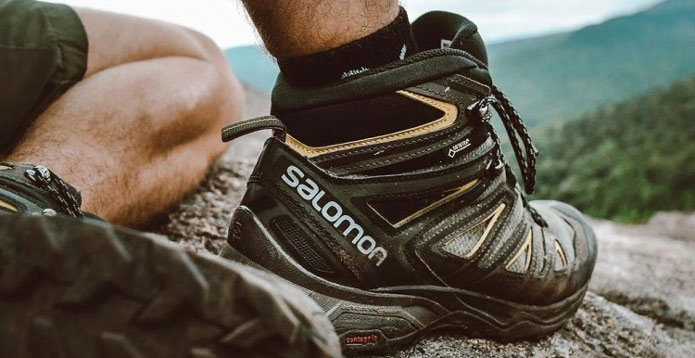 These shoes are low to mid-cut, flexible, and can be summarized as trail runners but sturdier with more ankle support. They are more durable and protective which are meant for various rigors of a trail. Compared to a trail runner, you'll be getting more protection and more stability.
These are the kinds of hiking shoes you'd get if you hike on simple trails or straightforward off-trails, and want the extra flexibility in your ankle. They aren't as incredibly durable as our next options, but hiking shoes sacrifice some durability for added flexibility and range of motion.
Day Hiking Boots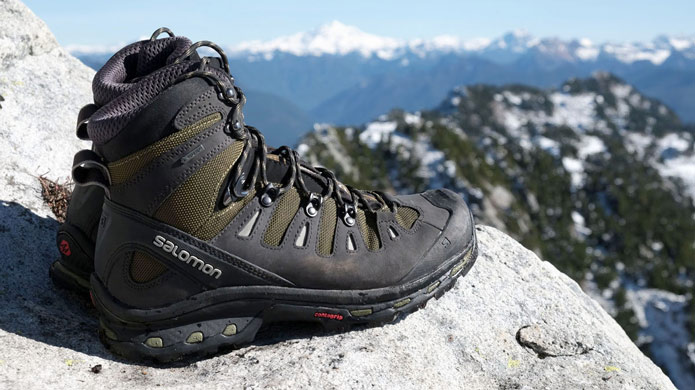 Next, we have day-hiking-oriented boots that typically come in either mid or high cuts, meaning you'll be getting more ankle support and protection for more rugged trails or those hikes where you are lugging around a heavy backpack.
These boots are typically best for more technical trails, long-distance hikes, or again, a heavy-set backpack. They give a good amount of support to the ankle, aren't totally inflexible, and are very durable.
Given that these boots are meant for more technical trails, they'll often be water-resistant too. With that said, if you're going on a simpler trail, they might not be as breathable or flexible as you'd need, so make sure it matches your specific locale appropriately. Hiking boots also cost a lot more than trail shoes and might be overkill for simple trails.
Backpacking Boots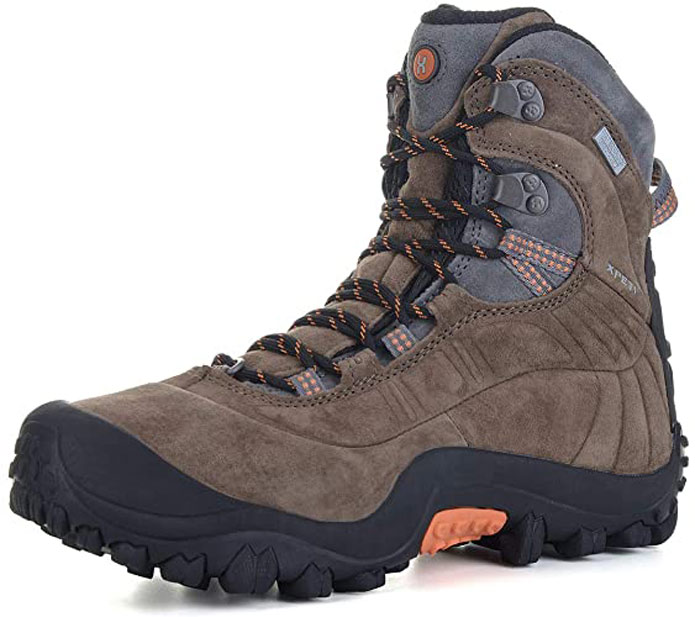 Finally, we have the classics – backpacking boots meant for very rough, technical terrain, and very heavy loads. They're great for stabilizing your ankles when lugging heavy items around and stiff enough to prevent foot fatigue. Backpacking boots are a great choice if the routes you intend to venture into are very demanding.
These boots are high cut with stiff internals, water-resistant, and extremely durable. If you aren't going on a super tough trail though, they will feel very heavy, inflexible, and not quite breathable. Make sure that when you pick this kind of boot, it isn't overkill for the trails you'll be exploring.
---
Things to look out for in a Hiking Boot
Upper Material
The materials used to create a boot's upper greatly impact its breathability, durability, weight, and degree of water resistance. Here are just a few of the more popular choices:
Full-Grain Leather: Leather offers excellent durability and abrasion resistance, with fairly good water resistance. You'll find this type of leather most often in backpacking boots meant for long, hard trails. Not super breathable or light, though.
Split-Grain Leather: This type of leather is usually paired with a mesh or nylon. Split-grain is meant to create a more lightweight leather alternative that offers added breathability. They are typically less expensive, not as durable or water-resistant, but more breathable. Intermediate and uneven trails are definitely the best places to use this kind of upper.
Synthetic: This usually means things like full polyester and nylon fabrics that emulate the leather feel, but are on average lighter, break in easier, dry fast, and are more affordable. With that said, they aren't as durable as real leather, and their stitching can break down after a while whereas leather has an incredibly long life span.
Waterproofing: Boots that advertise this normally mean they are constructed with breathable waterproof membranes, like Gore-Tex, to keep your feet completely dry and capable of handling even the wettest conditions. Their downside is the fact that they are not very breathable and can create a lot of sweat buildup on hotter days. Best for trails on cooler days or very wet environments, not dry or hot ones.
Boot Height
When we refer to height, we mean how high the shoe goes up the ankle. Some shoes are right underneath the ankle (low-top), some are right on it, and others are designed to be well above the ankle.
If you are someone who wants a lot of support in the ankle, it's best to get a high boot design as it secures and locks your ankle in place, and allows for added protection. If you prefer flexibility, though, it is best to go for a shoe that has a low cut to it, so your ankle has more range of motion without being constricted.
Midsoles
The midsole is an area of the shoe that provides a buffer for your feet to absorb shock and provide cushioning. They are also the prime part of where the 'stiff' or 'plush' feelings come from. EVA composed midsoles are usually the cushier kind that is lighter and not as expensive, good for less rigorous trails.
Polyurethane (PU) composed midsoles are the more firm and durable kind, and typically make their home in backpacking and day-hiking boots. Best for technical terrain where support and security trump plush comfort.
Outsoles
The outsole refers to the outer part of the shoe that makes contact with the ground directly. All hiking boots rely on some type of rubber, with a few additives to increase hardness if necessary. A harder outsole is a sign that they are highly durable and good for technical turf but may feel stiff on groomed terrain.
Lug patterns: These are the bumps on the outsole. Deep and thick lugs are best to dig into muddy or precarious terrain, often found in backpacking and day-hiking boots. Less deep and thick lugs are better for smoother terrain that doesn't need to eat into slippery surfaces like mud and are often found in trail runners.
Heel Brake: This is the part of the heel zone that you'll notice is completely distinct from the forefoot or arch. It is of importance because having a unique and strong heel pattern allows for extra grip on declines where a lot of your weight will be on the back half of the shoe.
---
Conclusion
With all that out of the way, you should now feel a lot more confident in your ability to determine which piece of hiking footwear is perfect for your needs. You can use this article as a guide or checklist, determining which parts are relevant to the trails and which are best suited for unexplored terrains.
If you intend to try a harsh trail, remember to go big with a full boot, but if you're not so inclined, and prefer a smoother or streamlined adventure, go for a day-hiking boot or trail runner.
Make sure to use our breakdown of specific parts of a boot to see which qualities you'll need in your shoe or boot respectively, as just knowing you need a runner for smooth terrain, for example, isn't enough – take into account weather and materials that comprise the shoes you've got your eyes on. Make sure the footwear you pick is not just decent quality, but appropriate for the adventures you'll be taking them on!