Types of Wrestling Shoes
If you're looking to get the best wrestling shoes for yourself, it helps to know what options exist out there, as well as what makes each one unique. Here are the types of wrestling shoes you could find yourself wearing:
Split Sole Wrestling Shoes
These shoes are meant to be extremely comfortable, and as the name implies – the sole of the shoe has a split right at the bottom. The separated part is typically made of a rubber compound, and the reason it is so preferred by many is how it successfully mimics the feeling of being barefoot perfectly.
The segmented rubber definitely helps in flexibility, but you'll be finding that there is a slight loss of traction because other sections are made of smooth suede typically. This is useful if you are quick on your feet and want to get out of a tight spot, though. You'll be getting a more natural feeling range of motion when you're on the mats when you use a Split Sole.
Unified (Non-split) Sole Wrestling Shoes
The unified wrestling shoes are often considered as the easier-on-the-eyes wrestling shoes, as the unified sole extends all the way from the toe to the heel, not giving you a disjointed look and being more "traditional".
These shoes are also typically flat in construction – giving you more traction on the mat, especially with the fact the outsole is usually a sticky gum-rubber. Compared to the split sole, it is similarly lightweight, more durable, but not quite as flexible.
If you are the kind of wrestler who prefers lightweight unhinged flexibility and range of motion, you should consider looking into split sole wrestling shoes first. If you can do without a bit of flexibility in exchange for more durability and traction on the mat, then it is more likely that the unified sole type wrestling shoe is for you.
Hybrid Sole Wrestling Shoes
The last (as well as the least common) type of wrestling shoe is the Hybrid. The reason for this name, as you might have already guessed, is the fact that this style is a mixture of both the unisole and split sole wrestling shoes.
How it does so is by having a split sole, but the arch area of the shoe has a piece of sticky rubber on it – amplifying the overall traction without compromising the integrity or flexibility of the split.
If you want a little of both worlds – traction and maneuverability, perhaps a Hybrid sole is for you. Though many wrestlers opt for either one extreme or the other depending on what their wrestling style values more.
---
How do Wrestling Shoes help?

Wrestling shoes are designed in a very specific fashion to fit the needs of wrestlers, and one of the more important aspects of wrestling is having a firm and stable connection between your feet and the ground.
The reason a wrestler needs this balance and traction is to be able to maximize the force they can produce with their full body weight, which is especially true as they get closer to the ground. Sometimes, wrestling shoes can be used for boxing, but there are subtle differences between both.
These types of shoes don't have a significant heel to them, meaning the wider apart your feet are, the more planted you will feel. In wrestling, it is common to take wide stances and reposition yourself constantly, so having a flat-to-the-ground feeling is not just out of comfort, but out of security and balance.
Finally, you'll notice that wrestling shoes have ample ankle cushioning and support, because in the sport you need a whole lot of ankle mobility, so the added support in this area cannot be overstated.
---
1. ASICS Aggressor 4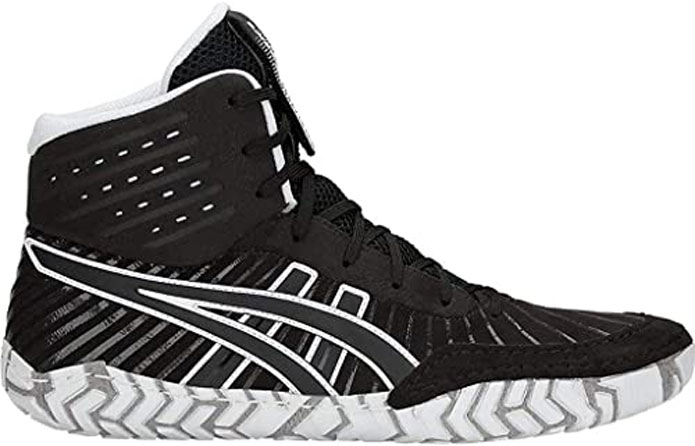 First up is, one of soon to be many ASICS shoes on this list – the Aggressor 4 wrestling shoes. These shoes are a synthetic and mesh combination, with a seamless Ecsaine upper and sticky, durable rubber sole.
This split sole design will keep you planted on the ground while also remaining incredibly agile on the mats, giving you the ability to react faster and with more nuance. The outsole is made from ASICS' tested DuoSole Outsole – a compound that is lightweight and enhances overall flexibility while still being a top-notch sole in terms of durability as well as traction.
The ample ankle padding of the upper mixed with the EVA sockliner makes for a supported and incredibly comfortable fit. Like all other wrestling shoes, these are form-fitting but not too constricting, so you'll feel light on your feet almost as if you're wearing nothing at all. Best of all, the Aggressor 4 is reasonably priced.
The Aggressor 4 does have a few hiccups though – the most prominent of which is the fact that it requires a fair amount of break-in time. If you intend to use this as a competition shoe, you're better off first training in them to get them adequately broken in and completely to your liking by the time competition day arrives.
On top of this, they aren't quite as durable as you'd come to expect if you normally use a unisole design, and if you really beat into them, they can end up falling apart faster. For that reason, we recommend that while you do break them in, make the most of it by using them only in competition, as they aren't ideal as strictly training shoes.
Pros
Highly grippy outsole despite being split soled
Comfortable EVA liner and ankle padding
Form-fitting and smooth ride when worn
Reasonably priced
Cons
Needs to be broken in
Isn't as long-lasting as other options, better as competition shoes
---
2. Nike Hypersweep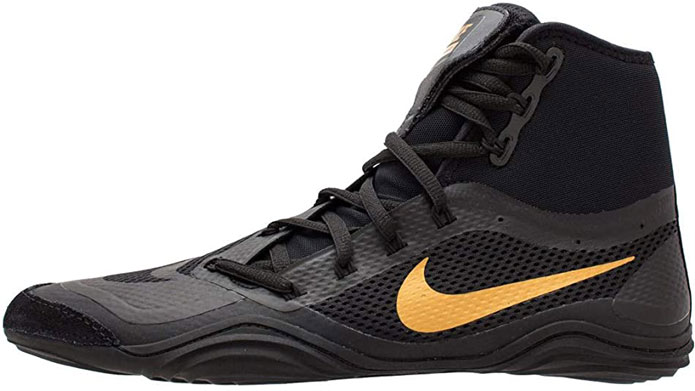 Next, we have the Nike Hypersweeps – a top-quality and aesthetically pleasing wrestling shoe. The Hypersweeps feature a Hyperfuse two-ply, large-hole mesh upper that aims to promote airflow, keeping your feet cooled off and free of sweat build up throughout the course of a wrestling match.
Nike has also implemented an offset lacing Flywire system that helps enhance your lateral stability and ensure that you are tightly bound to these shoes to the point they feel like a natural second-skin. The upper also has an internal ankle support strap to give you added protection and security overall, which is a welcome addition.
The Hypersweeps are also noticeably light in construction, making for a swift and precise pair of wrestling shoes, and stepping up your game by making certain moves more effortless. The ankle support is also just-right, and not constrictive, which makes it feel like a natural extension to your feet for more prominent grounding.
With that said, the Nike Hypersweep has become a bit harder to find for a good price, making them a hassle to come by compared to other options. On top of this, the reflective overlay of the Hypersweep has been known to quickly peel off, which is definitely not ideal nor visually appealing.
With that said, if you really like this pair and are willing to hunt them down, they are definitely one of the best wrestling shoes on the market right now.
Pros
Breathable and flexible Hyperfuse upper
Flywire lacing system makes for a firm and stable fit
Ankle strap adds extra support
Very lightweight and fluid socklike feel
Cons
Not easy to find for a cheap price
Reflective lining peels off over time
---
3. Adidas Combat Speed 5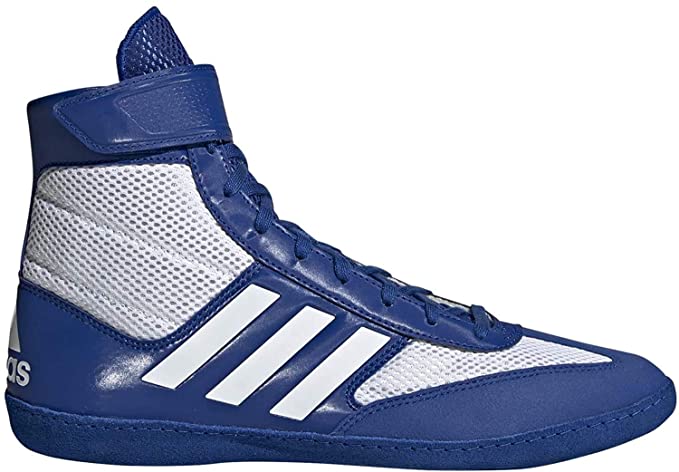 Now we have the Combat Speed 5 by Adidas, a brand we'll be seeing a lot more of next to ASICS on this list. The upper of the Combat Speed 5 is made of a textile and synthetic combination, with single-layer mesh to maximize breathability.
There is also spit suede leather outsole overlays that give you grip yet allow for you to be slippery and hard to pin down on the mats. Internally there is a die-cut EVA midsole to allow for optimal support without compromising the barefoot feeling and stability you expect from a wrestling shoe.
On the sides of the shoe is the Adidas logo that doubles as a supportive 3-stripe TPU with integrated side panels reinforcing a comfortable fit on your foot. The Combat Speed 5 is one of the most comfortable wrestling shoes on the market, and it still has some of the best traction and slide on mats.
On top of all this, the shoe remains flexible and lightweight. Given how great this shoe is, it could see use outside of wrestling, including sports like weight lifting and boxing (depending on the ring). Finally, this shoe in particular isn't hard to find and does go on sale occasionally, as if it needed anything more going for it.
Despite all the amazing aspects of the Adidas Combat Speed 5, the most prevalent issue with this particular model is that the ankle strap is fairly short and doesn't fasten the whole way sometimes. It isn't a terrible drawback, and unless it happens constantly to you, it isn't a big deal, but definitely something to note. Besides that, these are one of the top wrestling shoes given their price-to-performance ratio.
Pros
Highly breathable upper
Outsole has a good mix of traction and slip
Supportive side panels and TPU
Very comfortable and lightweight
Versatile outside of wrestling
Cons
The ankle strap is a bit short, making it comes undone easily
---
4. ASICS Matflex 6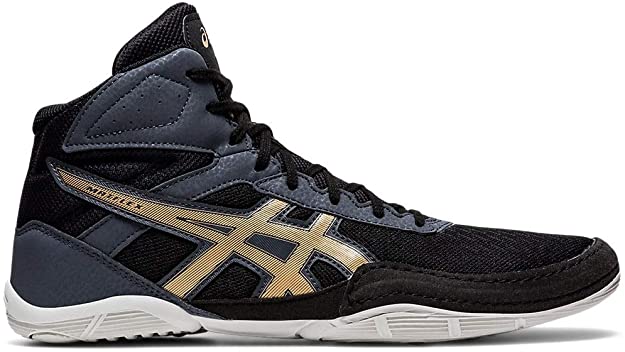 Next is the Matflex 6 by ASICS – a standard-looking pair of wrestling shoes with a lot of features packed under the hood. While they do look unassuming, they dominate because of its lightweight mesh upper, rugged and durable rubber outsole, and supportive ankle design.
The open mesh upper works well with the synthetic overlays added by ASICS, giving you a balance of stability reinforcement and breathability. Both the tongue and collar are lightly padded, subtly adding to the comfortability, along with an integrated lacing system that safely tucks in your laces to make sure they don't get in the way.
The outsole is made from a unisole full-length rubber that provides great traction on all mats as well. These shoes are easily some of the grippiest on the market. ASICS also made sure that the Matflex 6 is a model that could last you numerous seasons without replacement – which is very much appreciated. Despite not being a split sole, the Matflex 6 is still fairly flexible, so you don't have to worry about not performing your best.
The Matflex's perks are definitely enough to make you consider picking a pair up for yourself, but two things should be noted before taking the plunge. Firstly, the Matflex 6 requires a fair amount of break-in time before they are completely comfortable on your foot.
For those who want a pair of wrestling shoes right out of the box that is already primed, this may be an issue. Secondly, there are sometimes visible glue marks on some individual models, and while it has absolutely zero bearings on performance, it isn't particularly pleasing to look at. If you're a neat freak, that may actually bother you, though it is mostly luck of the draw depending on the stock quality.
Pros
Super lightweight and breathable upper
Stable and reinforced thanks to synthetic overlays
Integrated lacing ensures no caught laces
Incredibly sticky full-length rubber outsole
Lasts a very long time, multiple seasons
Cons
Has a fair amount of break in time when first used
Glue marks are sometimes visible, depending on specific pair
---
5. Adidas Adizero XIV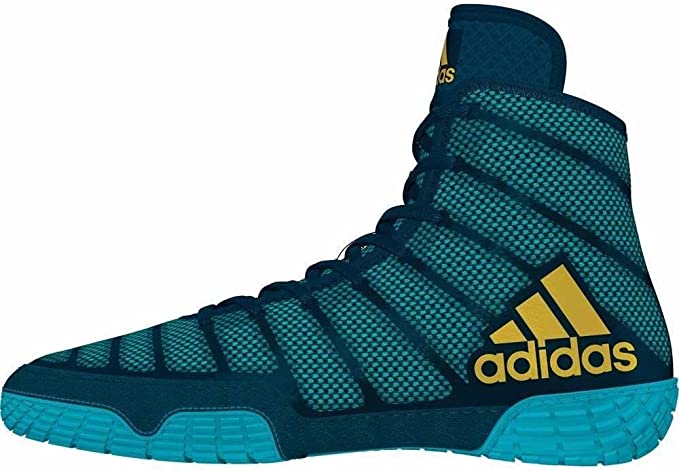 Next up is another Adidas brand pair of wrestling shoes, unsurprisingly, the Adizero XIV. These shoes are a two-piece performance-oriented wrestling shoe that features Adidas' very own mesh upper, making it very breathable and lightweight.
The outsole of the Adizero XIV is suede with rubber inserts, making it a hybrid style wrestling shoe. This design choice helps mold the shoe to your feet, giving you a feeling of barefootedness, with the slip and precision you expect, but without sacrificing traction or losing your ground.
The quality is uncompromising, with the welded upper and high-quality textile and fabric mix. The ankle support on the XIV also doesn't compromise your movement but instead allows for protection and fluidity at the same time. These wrestling shoes are a high-quality option if you are looking for that hybridized style of shoe.
There are two glaring issues with the Adizer XIV, though, with the first being the break-in period associated with a fresh pair of XIV's. If breaking shoes in is at the bottom of your "fun" list, as it is for many athletes, the XIV may not be what you're looking for.
If you also use these constantly as trainers, you may find that odor buildup is also a bit of an issue. If you do not consistently clean it after use, the build-up will be hard to remove. If you want a low maintenance shoe, again the XIV may not be the best pick.
Pros
Great welded upper that is light and breathable
Hybrid style wrestling shoe
Ankle support does not get in the way of movement
Rubber/Suede mix keeps you gripped but has sufficient slip
Cons
Needs to be broken in before unlocking its peak potential
If not properly managed, odor builds up easily
---
6. ASICS Snapdown 2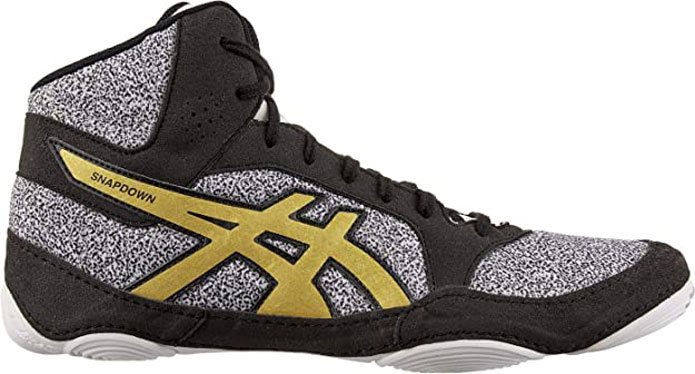 Now we have the ASICS Snapdown 2, a classic wrestling shoe that consists of synthetic leather and mesh in its upper, with a durable rubber sole. It is a great overall unisole rubber bottomed wrestling shoe that is incredibly sticky on the underside, yet still provides flexibility without feeling incredibly stiff.
The collar secures your ankle well, helping to prevent injuries and keeps the area protected. ASICS also implemented an integrated lace pocket, meaning as soon as you have the Snapdown all laced up, you can more or less forget about the laces completely as they won't come undone or get in the way or hinder your performance.
The style of the shoe is also fairly aesthetically pleasing, and the Snapdown 2 is a shoe that can actually find uses outside of wrestling, including cross-training, weightlifting, and possibly even boxing or krav maga if you really enjoy the feel of them.
Despite being durable and incredibly sticky, the Snapdown has two quirks you should consider before being sold on them. The first being that there is a bit of a break in time associated with them. This means the first little while you wear them, they may be a bit stiff, but this gets better the more you wear them in and they become accustomed to your individual foot.
The second quirk is that the Snapdwon could really use some more arch support, as it feels just a bit lacking compared to the competition. Regardless of these quirks, the Snapdown 2 is an excellent choice for men's wrestling shoes.
Pros
Sticky unisole rubber bottom
Flexible yet keeps you planted well
Collar safely cradles your ankle
Lack pocket means no worrying about coming undone
Can be used outside of wrestling easily
Cons
Has a break-in time, will feel stiff at first
Could provide better arch support
---
7. Adidas Mat Wizard 4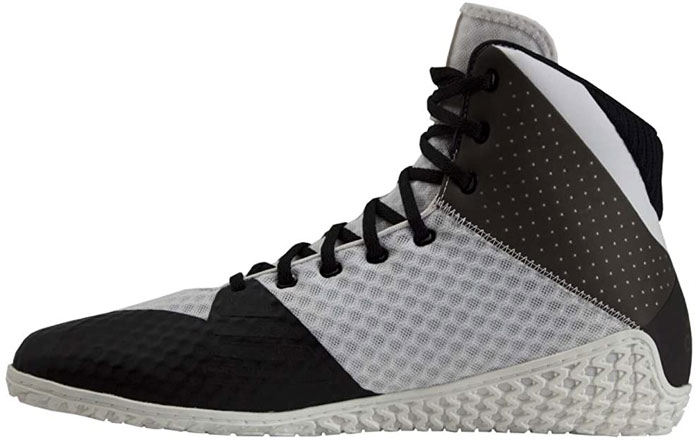 Next from the Adidas brand, we have the Mat Wizard 4, which feature an open mesh upper, creating a very breathable, cool, and comfortable experience. The tongue of the Mat Wizard 4 is also of note – because it is anatomically shaped, giving you the most comfort possible.
The overall fit of the shoe is fairly snug and sock-like, so the upper has the ability to easily conform to your foot in a way that brings you comfort instead of stiffness or pain. The outsole is a unisole construction with a triaxial structuring, which according to Adidas gives you a groundbreaking grip, that we have to agree with.
The grip on the Mat Wizard 4 feels like magic (no pun intended). The Adidas Wizard 4 is a great versatile wrestling shoe that helps you go on the offensive quickly while still maintaining strong grip and traction on the mats. It should also be mentioned that these wrestling shoes are incredibly reasonably priced for the quality you are getting, and it is a model that many other seasoned wrestlers praise.
As great as the Mat Wizard 4 is in all of the above, for some people the breathability simply isn't enough, and if you are someone who sweats a significant amount or has trouble with stuffy wrestling shoes already, the Wizard 4 can't cast a spell and fix itself. Secondly, these shoes are more likely to be better repurposed as competition shoes since they can come apart if you really beat them with daily training for example.
Pros
Very comfortable and eye-catching design
Sock-like upper makes for a smooth ride
Triaxial structured outsole gives you amazing grip
Great price for quality make
Cons
Some may prefer it to be even more breathable
Can break down if used harshly or constantly
---
8. ASICS JB Elite III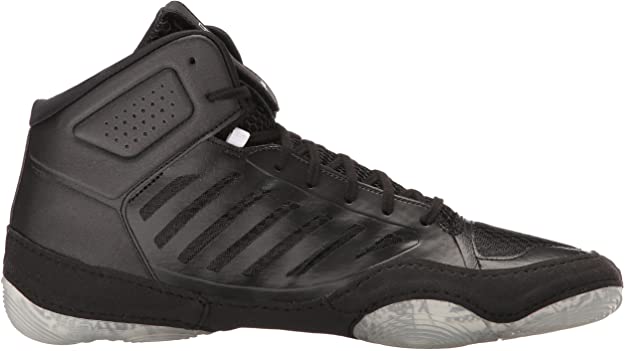 While our list is winding down, our next shoe is certainly not a slowpoke. The ASICS JB Elite III was designed in collaboration with champion wrestler Jordan Burroughs (JB). The JB Elite III is definitely aiming to be a dominant shoe in practice and in-tournament.
The upper consists of a single-layer open mesh that gives you a balance between breathability and flexibility. The lace-up closure features ASICS lace garage pocket, concealing your laces and taking away a point of inconsistency while meeting tournament regulations to a T. The high collar also cradles your ankle but doesn't stifle your movement.
This wrestling shoe consists of a split-sole design, with "serra dial" traction pods, giving you the maximum flexibility and amazing grip on mats. And, for those it really matters to, ASICS has stitched Jordan Burroughs signature on the outer heel to give it some extra personality.
It should also be mentioned that the toe box is more of a square shape, which you may very well appreciate as it allows for more toe splay. Overall, this is a versatile wrestling shoe that, if you like JB, may really be a no brainer to buy.
With that said, the JB Elite III isn't infallible. The outsole tends to collect debris and doesn't deal well with liquids – like sweat, which compromises grip. This is somewhat to be expected of a split sole, but it should be noted since being the biggest JB fan may not mean you're also a split sole fan.
Despite this, if you really want to try split sole or prefer agility and quickness over being grounded, give these a try. These are easily one of the best ASICS wrestling shoes.
Pros
Highly versatile and breathable wrestling shoe
Split sole design gives you great maneuverability
Tournament legal and follows all regulations and guidelines
Aesthetically pleasing, especially to JB fans
Square toe box allows for added toe movement
Cons
Easily collects debris and isn't as grippy as a unisole design
---
9. Adidas HVC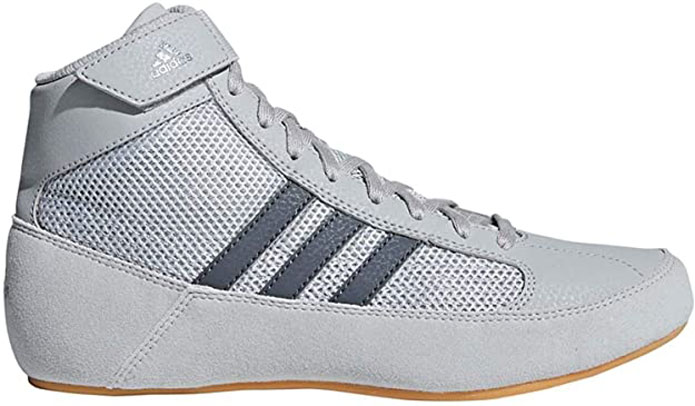 The penultimate wrestling shoe on our list constructed with top-of-the-line materials is the Adidas HVC 2. These shoes feature synthetic leather and suede outsole, providing you with lasting support and comfortability wherever you wear them.
The full-length unisole provides you ample grip on the mats if that is your preferred style of shoe, with strong and sticky rubber. The straps of the HVC 2 are elasticized to help keep them secured and tied at all times.
To say the least, the Adidas HVC simply feels good on the feet, and it may even surprise you with how supportive it can be, even in the ankle area. The HVC refuses to heat up, honestly, and you are unlikely to feel hot at all during practice or tournaments with these on.
To top it all off, the whole aesthetic of the shoe is clean and sleek, without being overstated, so it goes with any uniform colors with ease. These also make for capable boys wrestling shoes and are sized accordingly to accommodate both adults and kids.
With that in mind, despite being a comfortable cooling machine, the HVC isn't prone to taking heavy-use well. It can become separated at the sole from the upper under consistent use, so unless you intend to either strike it lucky with a golden individual pair or get handy with some glue, we recommend keeping the Adias HVC as a tournament shoe for when you really want comfort and cooling.
They also do need a slight time to break in before becoming completely comfortable on your feet, but that time is definitely worth it given all the positive aspects of this shoe. They are a value-packed pair of cheap wrestling shoes (affordable). Don't let the low price fool you though – these shoes are constructed from high-quality materials.
Pros
Synthetic leather and suede keeps you supported and comfortable
Unisole is durable and sticky on mats
Secured laces thanks to being elasticized
Good ankle coverage and cooling
Aesthetically pleasing
Cons
Some models tend to separate at the sole under extreme use
Slight break-in time associated with these shoes
---
10. ASICS Cael v7.0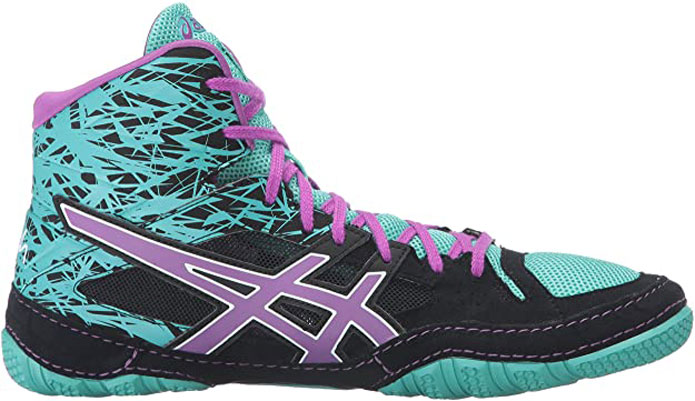 The final shoe to make the cut is the ASICS Cael 7.0 – a split sole design that helps you remain nimble on the mat and uninhibited in movement. It features a completely synthetic Ecsaine and mesh upper – both of which are strategically placed, to remain cool but structured.
The Cael v7.0 also features a lace garage pocket that allows the laces to be tucked in, unexposed, and out of the way. They are also very lightly constructed to the point you'll barely notice them on your feet at all, especially since you are going to be very well ventilated and cozy.
The Cael v7.0 prides itself in its flexibility and ease of use, on top of just being an overall cool looking wrestling shoe that gets the job done well. Despite being a split sole design, the outsole is still fairly grippy so you won't feel like you're compromising too much traction for the extra maneuverability. The features and aesthetics of this wrestling shoe make it an easy choice for many.
With that in mind, the Cael 7.0 does have its drawbacks – namely the fact that after a few months of use, it just doesn't have that same tightness it used to out of the box. For those that prefer that feel, this can be a bit of an issue.
Secondly, under extreme use, these can tend to almost fall apart, and for this reason, we recommend either keeping them well-maintained or using them for tournaments instead of day to day training.
Pros
Ecsaine and mesh upper provide increased ventilation
Lace garage keeps laces out of the way
Very lightweight and airy
Flexible yet grippy split sole design
Aesthetically pleasing design
Cons
Feels less tight over time
Can tend to fall apart under a lot of stress; best used for competitions
---
Frequently Asked Questions
Do you need Wrestling Shoes?
As you may have guessed from reading the previous section, sparring with wrestling shoes is not just an advantage but a necessity. The features these types of shoes bring to the table cannot be beaten, and you'll find that even powerlifters use wrestling shoes because a lot of the qualities you need when squatting, for example, overlaps with wrestling.
These shoes, regardless of which type you pick, all provide amazing stability, support, and groundedness. For this reason, if you intend to wrestle, there is no doubt about it: you need good wrestling shoes.
How long do wrestling shoes last?
Ideally, you must have at least two pairs of wrestling shoes at all times as an advanced wrestler. One that you use during practice that takes all the beating, and one for competition. The ones you are constantly using during training may last a year under the toughest circumstances, but the ones strictly for the competition will typically last much much longer.
Should you wear socks with wrestling shoes?
For many wrestlers, socks are a crucial part of their day to day gear in both training and competition. The reason being that a good pair of socks provides a lot of great perks, and since wrestlers are constantly on their feet, it makes sense to make them as comfortable as possible – uninhibited by pain, fatigue build-up, or general uncomfortableness.
Socks are able to do that by reducing friction between your foot and the shoe, yet maintaining a firm fitting, keep moisture under control, and give you a smooth feel. There are many reasons to wear socks with wrestling shoes.
It is also important to wear snug-fitting socks (not too tight or too loose). If your socks are loose, it might rub against and blister your skin. And tight socks might cause discomfort and restrict motion while on the mat.
Can you wear wrestling shoes as normal shoes?
While many wrestling shoes can be particularly pleasing to the eye or fashionable, they don't often find use as regular day to day shoes. Wrestling shoes are great at keeping you planted to the ground and flexible, but a big draw of modern-day shoes is not just protective qualities, but design choices that improve overall foot health.
Walking barefoot, or its equivalent is in most cases not ideal because of existing conditions or the likelihood of developing conditions later on. Walking on our feet takes a huge toll on us throughout our lives, and wrestling shoes have a large amount of support and cushioning stripped away in exchange for being so grounded.
Walking in shoes that lack these cushioning and supportive elements, in the long run, is not helping your overall foot health. Wearing wrestling shoes as regular footwear is, therefore, not recommended.
Of course, if you were to wear them out once in a while, it may not matter but you'll definitely feel the difference if you intend to do other demanding physical activities like running or jogging.
Should wrestling shoes be tight?
While this is more of a decision based on individual preference, it may help to know that at the top level of wrestling, many professionals choose a snugger fit. Most important when it comes to sizing is being cognizant of brand-specific sizing.
For example, both ASICS and Adidas recommend going a half size larger than your regular shoe size when shopping for a wrestling shoe. Nike, on the other hand, recommends going a whole size up when picking up a shoe from its brand. Knowing sizing differences like that makes more of a difference, and you'll gain an understanding of whether you prefer a snugger or looser fit the more you progress up the ladder.
---
Conclusion
To conclude, for all the newbies out there just getting into wrestling or doing preemptive research, we hope that this article helps to answer some of your burning questions. To our veterans, you already know the ropes, so it's unlikely that we taught you anything new.
For both the old and the new, though, this list of our top 10 wrestling shoes will be valuable. We put in a mixture of each wrestling shoe variant, so no one gets left out based on their preferences, and a wide array of pricing for those with varying budgets. Some wrestling can even be used just as effectively in boxing or weightlifting such as the ASICS Snapdown 2.
Each of the shoes on this list has its merits and also its shortcomings clearly outlined for you to decide: which works best for me? That is a question we cannot grapple for you, but we can assure you every shoe on the list is truly great in its own ways.