Tennis is a widely popular sport enjoyed by people of all ages. It's a sport that involves focus, strategy, and incredible stamina. It also involves a fair amount of running and hence, the shoes you pick will need to have enough cushioning for ground impact and stability/support for lateral displacement.
Thankfully, tennis shoes have come a long way in terms of function and design. Tennis shoes now pack a serious amount of features inside them due to the increasing demands of the game. We went in search of the best tennis shoes in 2022 and put them to the test.
This list will give you an overview of the features that matter and why these shoes made the cut. Our guide will help you pick out a brand new pair of tennis shoes for staying competitive in your game. When purchasing tennis shoes, you should always consider your playing court and personal preferences.
It is crucial to look out for fit, the durability of the outsole, and enough cushioning and stability for sufficient lateral support. You should also make sure that the toe-box has the right fit.
These factors play a crucial role when playing Tennis. Tennis players need shoes that can adapt to a player's quick bursts of power and sprints as well as the frequent lateral movement. The shoes on our list are packed with the best features that allow you to excel on the court.
10 BEST TENNIS SHOES (For men)
1. Adidas Barricade Classic Bounce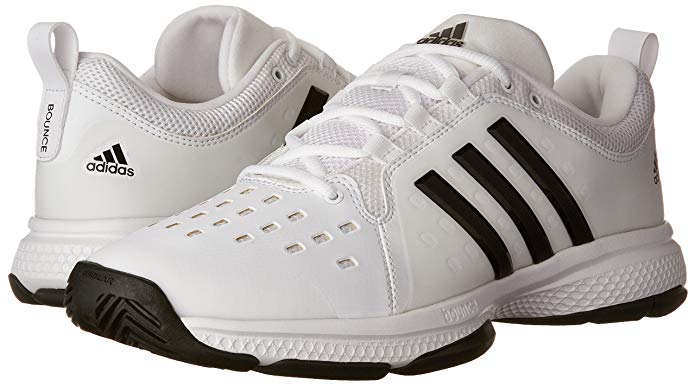 The Adidas Barricade Classic Bounce shoes are no pushovers. After weeks of intense use in the court, their soles are still remarkably intact. No wonder then that Adidas is offering a 6-month outsole guarantee. The shoes do require some "getting used to", but the Classic Bounce strikes a perfect balance between comfort and durability with more than adequate cushioning to keep you playing longer.
Adidas claims that the midsole is packed with what they call the "bounce technology", and this can be felt on the court by making you more agile. Weighing in at around 14.2 ounces (402 grams) for a size 10.5, the Classic Bounce is heavier than competing tennis shoes. The fit is just about right though some may not be so impressed with the breathability factor.
The Classic Bounce demand a reasonable price for the features they pack in a wide feet tennis shoe. Coupled with the 6-month guarantee, the Classic Bounce makes for the all-around best tennis shoes on this list.
Pros:
+ Comes with Adidas 6-month outsole guarantee
+ Not too narrow and has a snug and comfortable fit
+ Reasonably priced for the features it packs
+ Provides sufficient cushioning for the heel and entire foot in general
Cons:
– Noticeably heavier than other tennis shoes
– Can be stiff at first till you get used to them
---
2. Asics Men's Gel-Dedicate 6 Tennis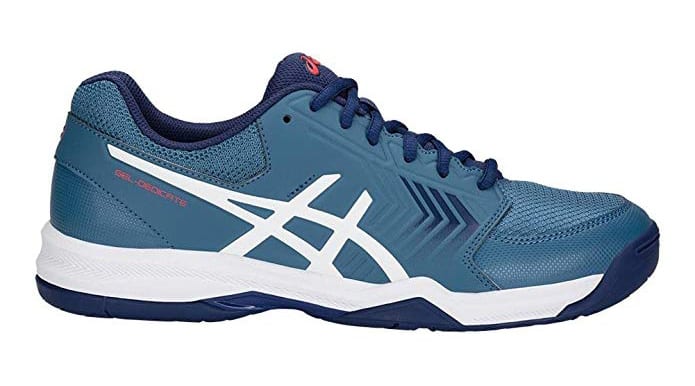 The Gel-Dedicate 6 feature a rubber outsole which provides sustained durability. These shoes are equipped with a gel cushioning system designed to reduce the impact on your heels. They are engineered to withstand shock from rapid movements and feature greater durability than competing shoes. However, due to its heavy construction, breathability does become an issue resulting in "hot feet".
The sizing can run a little tight, so it is recommended for you to go half a size up when purchasing these shoes. They also do require some time to properly break-in. However, even with these factors mentioned, the Asics represents one of the best value for money shoes on the market. They are high-quality tennis shoes for wide feet that are incredibly durable and suited for vigorous tennis matches.
Pros:
+ Sturdy and durable construction
+ Good value for money
+ Flexible once broken in and provide decent levels of cushioning
Cons:
– The fit is a bit tight and narrow. Recommended to go half a size up
– Shoes require breaking in before using them on the court
– Reduced breathability due to heavy construction
---
3. Babolat Propulse Fury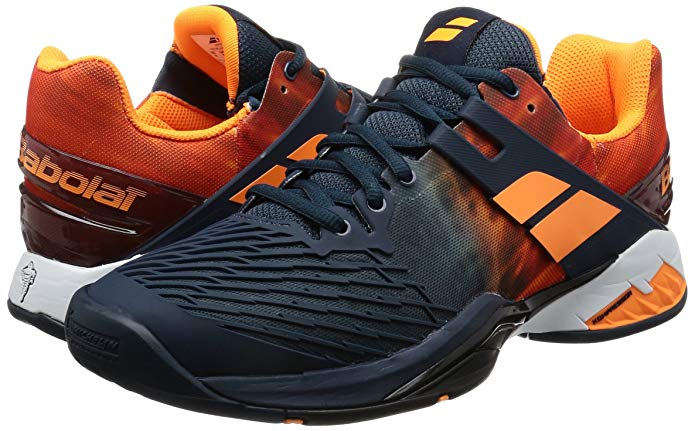 The Babolat Propulse Fury is a shoe made for those looking to take their game to the next level. They come equipped with a Michelin rubber sole that provides excellent durability. The fit of these shoes is a standout feature and they have a roomy toe box that allows for a far more comfortable fit. The powerbelt construction gives you added heel and midfoot support. The high stability that these shoes offer is essential for the court whether you're in an offensive or defensive position. The synthetic material is reasonably breathable as well as being very comfortable.
If you are looking for a durable shoe that places emphasis on comfort and breathability, then these Bobalot's are the perfect option. They are designed to be used on all court surfaces and come with a 6-month outsole guarantee. Some players have mentioned the slightly heavy feel of the shoe; however, this is due to its durable construction. The Babolats are a personal favorite of professional player Benoit Paire, so you can't go wrong with these bad boys.
Pros:
+ Comfortable fit
+ Fairly breathable
+ Good cushioning and support
Cons:
– Some heel slippage
– Can feel slightly heavy
---
4. Wilson Kaos 2.0 All Court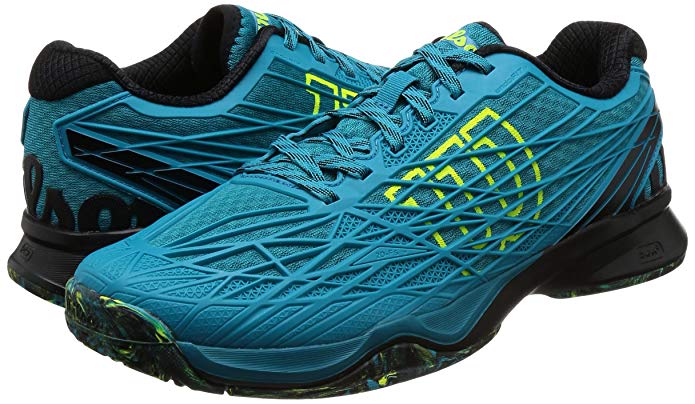 So far on our list, we have mentioned tennis shoes that focus on durability and stability. This can be perfect for intense players but, there are others who would prefer a more lightweight and breathable shoe. The Wilson Kaos 2.0 All Courts are a lightweight and flexible option that can give you the edge on the court. It is designed for players looking for speed and agility. The textile lining is incredibly breathable.
The fit, in general, is good; however, some have noted that it is slightly narrower compared to other wide feet tennis shoes. The toe box area is somewhat smaller than average so it may be worth going half a size up if you have wide feet. The shoes provide adequate cushioning with a low to the ground feel.
The Duralast outsole is also reasonably durable and offers excellent traction. The Kaos 2.0 is a fantastic option to consider for anyone who is looking for a fluid, lightweight, and high-performance tennis shoe. It is also one of the best tennis shoes for women given their vibrant pink colorways which we wish was available for men as well!
Pros:
+ Good breathability
+ Lightweight with an emphasis on speed
+ Good cushioning and comfort
Cons:
– Toe-box slightly narrow
– Lacks support
---
5. Nike Zoom Vapor 9.5 Tour Tennis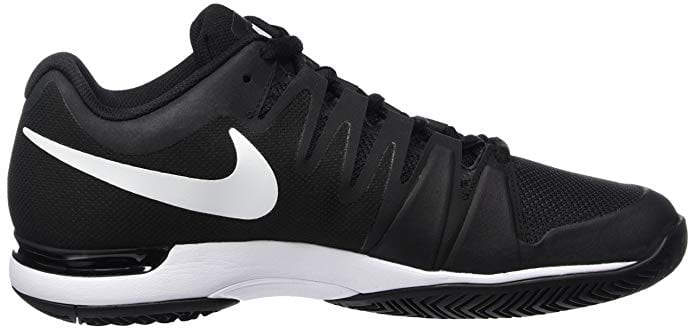 As we approach the halfway point on our list, up next is the Nike Zoom Vapor 9.5 Tour Tennis. This is a shoe that is popular with many players due to the customizable fit which offers incredible support. Nike's revolutionary adaptive fit technology results in one of the most comfortable tennis shoes on the market. They have a perfect level of cushioning that is recognizable upon first wearing these shoes.
The shoes also offer excellent breathability due to the construction of the lightweight upper mesh. The support and stability of these shoes allow you to quickly dart around the court. There are not many other shoes that provide the same level of support as the Nike Zoom Vapor.
The durability of these shoes does leave a lot to be desired and it can be susceptible to being worn out in a short amount of time. The shoes are comparatively light which allows for fast movements on the court.
Pros:
+ Excellent fit and comfort
+ Highly breathable upper
+ Superior support for your wide feet
Cons:
– Durability issues
– Slightly narrow, so those with wider feet should go half a size up
---
6. Adidas Barricade Boost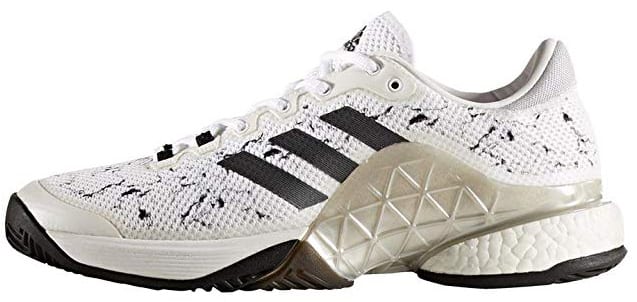 This new version of the Barricade Boost has significant improvements over the previous incarnations of this highly popular shoe. It is far more breathable than its predecessors' thanks to a new upper knit. It features a memory foam ankle collar which allows for excellent stability. The fit is one of the best aspects of the shoe and we liked how snug it felt while allowing for no heel slippage. The boost technology incorporated within the soles of these shoes is exceptionally durable albeit packing a healthy amount of cushioning. The midsoles make you feel like you're playing on a tennis court made out of marshmallows.
They are built to last repeated high-intensity movements. The shoes do weigh slightly more than most wide feet tennis shoes; however, this does not impede their agility. In terms of speed, they are relatively decent. The Barricades are a perfect option for those seeking a high-performance durable shoe that is also breathable. They are the best tennis shoes for those that love the comfort and stability of the Adidas Boost technology.
Pros:
+ High durability and support
+ Breathable upper
+ High stability
Cons:
– Some break-in required
– Midsole may feel slightly narrow for those with wide feet
---
7. New Balance Men's MC1006v1 Tennis
The NB MC1006v1 is a classic shoe for those who prefer a tennis shoe that remains true to its roots. It has a hardened rubber sole that is fairly durable and offers exceptional wear protection. The shoe prioritizes stability and is, therefore, tailor-made for demanding Tennis players. The standard New Balance cushioning helps by providing good support for extended gameplay.
This is a high-performance shoe that is suitable for any serious player. The breathability is also good on this shoe thanks to perforations on the toe box and side panel. The toe-box is reasonably flexible; however, it is slightly narrow which can pose an issue for those with wider feet, hence we recommend going half a size up for a wider toe-box. The MC1006v1 also offers less cushioning than comparable tennis shoes which makes it more suitable for an indoor court rather than a clay court.
Pros:
+ Highly durable for even the most demanding play
+ Good mix of stability and support
+ Upper is airy and breathable
Cons:
– Slightly narrow toe-box
– Poor insole
– Less cushioning than competing tennis shoes
---
8. Prince T22 Men's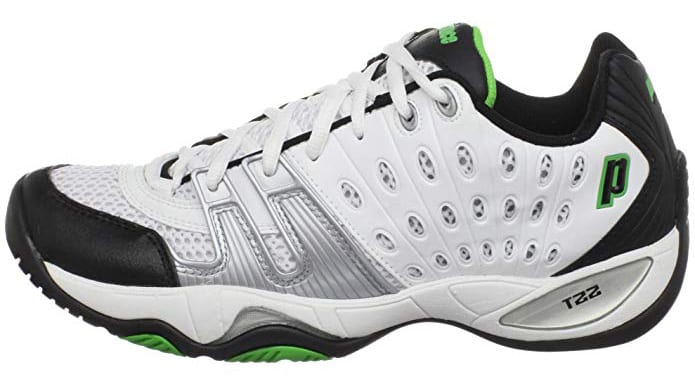 The Prince T Series is renowned for creating high-performance tennis shoes that are reliable and stable. The T22 has all these characteristics along with a mesh upper for increased breathability. The shoe also comes with a 6-month outsole durability guarantee for added peace of mind. This shoe is suitable for intense activity due to its superior support and stability. In our testing, the outsoles endured everything we threw at it and we found that the shoe requires no break-in period which means you can start playing in them right away.
The shoe excels at lateral movements which makes it a perfect fit for hardcore players. The Prince T22 does run a bit narrow and hence it's recommended to go a half size up for those with wide feet. Prince Tennis shoes have a high reputation and benchmark and are a favorite among many professional players given their high performance and reliability. These are the best tennis shoes for those looking for something that's a good balance between performance and comfort.
Pros:
+ No break-in period required
+ Highly durable and stable
+ Good breathability
Cons:
– Slightly narrow, so get half a size bigger.
---
9. Asics Gel Resolution 7
The Asics Gel Resolution series has been around for a while with six previous incarnations. There is a reason why these shoes keep getting updated and it is because of how popular the line is with serious players. The key to the Gel Resolution's success is their high standard of performance. They provide a superior performance advantage compared to most other tennis shoes for wide feet. The midfoot support system ensures excellent lateral support which allows you to dart quickly across the court.
The shoe is incredibly durable but unlike other shoes, this durability doesn't come at the cost of comfort. The shoe is very comfortable due to its plush cushioning. One of the key strengths of the shoe is the fantastic core strength and stability they provide. The shoe features a wider fit which allows for more room, without causing any heel slippage. If you're a serious player looking for a no-BS shoe then the Asics Gel Resolution should be in your consideration. It is definitely one of the best Men's Tennis shoes.
Pros:
+ Highly durable construction
+ Built for elite performance
+ Very breathable and flexible upper
Cons:
– Midfoot shank a bit rigid
– Lacking arch support
---
10. Yonex Power Cushion Eclipsion 2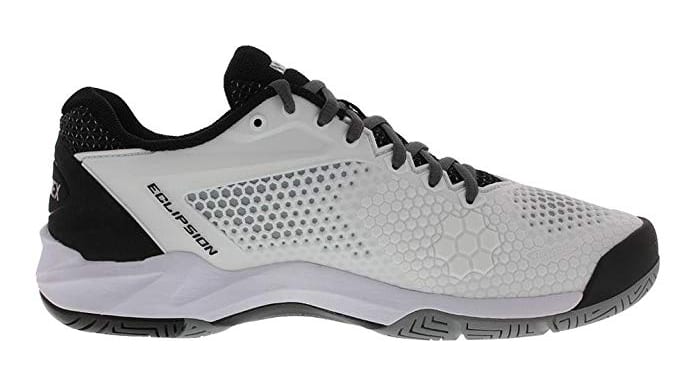 We are all aware of Yonex's heritage when it comes to racquet sports. The Japanese manufacturer's latest in the Power Cushion series is a shoe focused on footwork, shown by its design and performance. The power cushion technology provides fantastic stability and shock absorption. The outsole offers great durability and traction on the court.
The mesh construction is very breathable and has good ventilation without causing hot feet. The shoe gives you an extra boost with every movement you take making it one of the best performing tennis shoes available right now.
It is no surprise that Stan Wawrinka favors this shoe. The fit is good although the toe box is slightly narrow. The shoe does have a break-in period, however, this is short which means you can quickly get playing. These shoes feel more stable than most other competing models, which makes them one of the best wide feet shoes for tennis for those who favor stability and control on the court.
Pros:
+ Excellent cushioning
+ Superior support and stability
+ Mesh upper is well ventilated
Cons:
– Slightly narrow toe-box
– Stiff upper material
---
5 BEST TENNIS SHOES (For women)
11. ASICS Women's GEL-Solution Speed 3
Asics is a brand that is hell-bent on making performance shoes for all types of athletes. The newest GEL-Solution Speed 3 for the ladies incorporates a SOLYTE midsole for a spring-y ride and best suited for agile players. Gel cushioning is available in both rearfoot and forefoot for optimal toe-off phase and landing.
The FLEXION FIT upper is a proprietary knit from Asics that provides a solid form-fitting cover without sacrificing agility. All of this fancy tech does come at a price and it's best suited for those who are serious about the sport.
The GEL-Solution Speed 3 has a low-to-the-ground feel and you'd be sacrificing some comfort for being nimble on the court. Another issue is the breathability and we noticed it can get a bit hot if you're playing outdoors as opposed to indoors.
The FLEXION FIT upper is great at keeping up with your pace but lacks the breathability of the Gel-Resolutions that are also featured on this list. But, bear in mind that the pros of these shoes far outweigh the cons and we personally consider them one of the best tennis shoes for women with wide feet or normal feel
Pros:
+ Form-fitting upper
+ Gel cushioning on rear and forefoot
+ Suited for nimble and agile players
Cons:
– Pricey
– Not the most comfortable tennis shoes for women
– Can get hot if playing outside
---
12. New Balance WC806 Women's Tennis
Now, rumor has it that women love their leather shoes. New Balance are looking to capitalize on this rumor by actually making a great pair of tennis shoes with genuine leather upper for durability and comfort. These shoes are quite grippy and make for a more balanced approach on the court. Best of all, they come in a variety of width options in women's sizes, so those looking for wide feet tennis shoes are in luck.
The internal rollbar adds sufficient motion control, so you don't have to worry about falling over during an intense tennis match. However, due to its leather construction, breathability does take a hit and as long as you're not planning on playing in these all day long, you should be fine.
The NB WC806 is definitely worth the price for an excellent pair of wide feet tennis shoes. The color options might not be the most exciting but think of this shoe as more performance and less show. These shoes are best adapted to seasoned players looking to get the most out of their footwear.
Pros:
+ Genuine leather upper
+ Great value for money
+ Internal rollbar for controlling lateral movements
Cons:
– Limited color options
– slightly heavy compared to other shoes on this list
– Reduced breathability due to heavy construction
---
13. Wilson Kaos 2.0 Women's Tennis
The Wilson Kaos 2.0 tennis shoes for women are by far the coolest and trendiest looking shoes on this list. But, don't let its bright and vivid colorways fool you. These tennis shoes for women are as capable as they look.
They are best suited for intense players with their generous flex and lightweight. It sacrifices some comfort for speed and agility on the court. Breathability is really good thanks to its textile mesh upper and will keep you going all day long.
The fit can be a bit snug for those with wide feet, and it's recommended to get half a size bigger to adjust for that. The Duralast outsole is durable while offering excellent traction on the court. The Kaos 2.0 is a great option for the intense player who is also a fashionista. If you're looking for a smooth, lightweight, and high-performance tennis shoe, you can't go wrong with the Wilson Kaos 2.0.
Pros:
+ Excellent color options
+ Good breathability for extended play
+ Moderate cushioning and support
Cons:
– Can be a snug fit for some
– Comfort is not as good as competing options
---
14. Asics Gel Resolution 7 Women's
The Asics Gel Resolution 7 for Women is a successor to the long-running series from the Japanese shoemaker. These shoes are so popular that Asics makes both a men's and women's variant and both of which are a formidable duo in the tennis shoe category which are quite popular amongst serious players.
New for the Resolution 7 is the exciting colorways and the all-new Trusstic System that gives the added lateral support for quickly darting across the court.
Durability is excellent and the shoe is built like a tank, but it does come at the disadvantage of being somewhat cumbersome. The Gel Resolution 7 Tennis shoes for women are for those who prefer stability over agility. Plus, they also come in wide sizes for those with wide feet and do not cause any heel slippage if that's a concern.
Pros:
+ Very durable construction
+ Made for serious players
+ Flexible upper
Cons:
– Lacks cushioning
– Lacks arch support
---
15. Nike Women's Court Lite 2 Tennis
For women who are not interested in the bright and flashy colors of the other shoes on this list, here comes a contender that sports a nice clean white look and lots of character. The Nike Court Lite 2 is constructed from a leather and mesh blend that stays cool and dry during intense matches. The toe-box on these shoes does run a little tight, so it's best to get half a size bigger to avoid that.
It is also one of the more affordable shoes on the list and that doesn't mean Nike has skimped on features for the Court Lite 2. The shoe sports a full-length Phylon midsole that is notorious for its awesome comfort and cushioning.
Outsole on this shoe is quite good as well and is suited for a variety of court surfaces, so it's a good all-rounder. One thing to note is that this shoe requires a break-in period and can feel snug initially, but after a game or two, it should fit like a glove. For the price, this shoe is definitely one of the best tennis shoes for women with wide feet.
Pros:
+ Breathable mesh and synthetic upper
+ Good for all court surfaces
+ Competitively priced shoe from Nike
Cons:
– Sizes run small, so best to get half a size bigger.
– Requires a break-in period
---
Anatomy of a Tennis Shoe
Tennis is a sport that requires shoes with high traction, a large range of lateral movements, and the flexibility to grip onto multiple surfaces. Breathability and cushioning are also key factors for a tennis shoe. Our testing places a high emphasis on a variety of factors such as features, performance, customer reviews, opinions of professional athletes, and our own rigorous testing.
The outsole plays an important part in a wide feet tennis shoe and therefore most tennis shoes will come equipped with hard rubber outsoles to ensure high stability. The material of the outsole is an important consideration as high abrasion rubber will tend to last longer. Despite this, tennis shoes are known to degrade faster than other types of sports shoes.
The rate at which your soles degrade depends largely upon the player and the court surface. This is why some manufacturers offer an outsole guarantee. The sole material will depend on which court you play on. A clay court requires high traction and therefore you should look for a zig-zag tread pattern.
Grass courts require cleats that will allow for fast movements without slippage. A concrete court requires shoes that have added cushioning and shock absorption to allow your body to adequately handle the shocks exerted by the hard floor. The midsoles of the shoe help with shock absorption which is crucial when landing during a game. You should ideally look for EVA foam midsoles as they allow for greater speed and mobility.
Careful consideration should also be given to the construction of the material and understand whether breathability is an important factor for you. If you're a casual player only looking to play a game or two with your father-in-law on a weekend, it may not be a primary concern to you, but if you're a hardcore player putting in serious time into your game, then breathability should be an important consideration in your checklist. Things can also change depending on your gender. Women's tennis shoes usually are a fair bit narrower than men's so do bear that in mind.
Tennis shoes for wide feet undergo strict testing to ensure they meet the standards needed for superior athletic performance. Mechanical tests are performed to test cushioning to ensure the feet have a smooth landing. Impact tests mimic the conditions that tennis players would go through and this ensures that the shoes are specifically made to help you achieve peak performance.
We have shown you the 15 best tennis shoes for wide feet available on the market right now. A fair majority of them are utilized by professional players themselves. You should now have a much better idea of the different characteristics tennis shoes have and why these are important. This guide (we hope) will help you make a far more informed purchasing decision.