Tactical Boots: Police vs. Military
Law Enforcement is one of the hardest jobs in the US today and whether you're in the Police force, Security services or the Military, the best tactical boots can literally make the difference between a safe working environment or ending up with a critical injury. As a member of law enforcement, you might find yourself standing on your feet for long periods of time, or running at a moment's notice (gotta catch em bad guys, ya know!).
So, tactical boots should be as versatile as possible. They should have the comfort and cushioning of running shoes, and at the same time provide ankle support for added safety so you don't twist your ankle while on a foot chase. Depending on if the boots are being used for police or the army, your requirements will more or less be the same with the only difference being the color (tan color for army boots).
If you are in law enforcement, security, or military, you need a pair of boots that are sturdy, durable, and allow for maximum range of motion without compromising safety. As just mentioned, top of the list to determining the right boot for you is durability as well as flexibility. There's no doubt that you'd be spending an extended amount of time in your boots and hence, you need a pair of shoes that can take a beating as well as not hamper your movement. So, without further ado, here is our list of the 10 best combat boots for those who put their lives on the line to keep us safe at night.

The Best Tactical/Combat Boots
1. Under Armour Men's Stellar Tactical Boot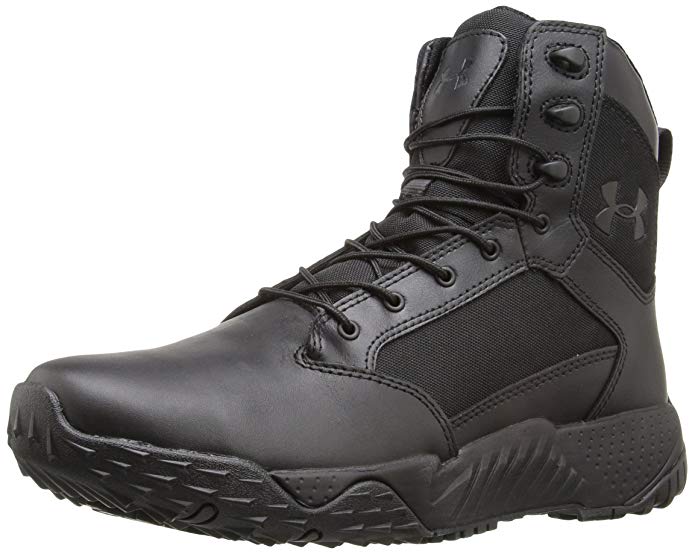 These are a lightweight tactical boot with excellent cushioned comfort and UA refers to these as "tactical sneakers", and I can see why. They feel a lot like wearing running shoes that any law enforcement official might appreciate and the styling is quite nice. Ankle protection is lower than other options that typically end at mid-shin and this is good for more flexibility in the joint area compared to high-top tactical boots. These boots are a mixture of synthetic and textile construction, with a durable rubber outsole that allows for great shock absorption.
Inside, there is a full-length micro-G foam innersole that cushions the underside of your foot and allows for a more explosive take-off when combined with the strength of the outsole. The micro-G midsole is the same one used in the Under Armour running shoes, so it's easy to understand why it's called a "tactical sneaker". The aforementioned lowered ankle protection features a UA ClutchFit Tech that wraps your ankle in light-weight synthetic leather and 900D nylon textile, giving you a second skin type feel for more powerful support and better overall feel.
Across the foot, there is an abrasion-resistant film and a TPU shank within the shoe for increased mid-foot support as well as just the right amount of rigidity that you'd expect from a tactical boot. Finally, there is a molded ortholite sockliner, designed with memory foam top and PU Base. The bottom line is that comfort and flexibility are of the highest priority in the UA Stellar tactical boots and as soon as you put them on, you'll notice the difference compared to other combat boots. The UA Stellar also comes in 2 variants – a side zip and lace-up version.
Unfortunately, with all these positives, there are a few downsides. Namely, the fact that with comfort in mind, these shoes are prone to wear down in a few months from extreme use and needs to be replaced. Fortunately, UA welcomes replacements. Apart from this, if you value comfort and don't think you'll be working your boots to the bone as much, or are alright with having to send them back at one point, these tactical boots are a good choice.
Pros
+ So comfortable that it feels like a running shoe
+ Breathable sock liner
+ Flexible yet rigid
+ Abrasion-resistant material
+ Excellent value for the money
Cons
– Might break down after a few months from extreme use
– Some may prefer more conventional and higher up ankle support
---
2. Bates Men's 8" Ultra-Lites Tactical Sport Side-Zip Boots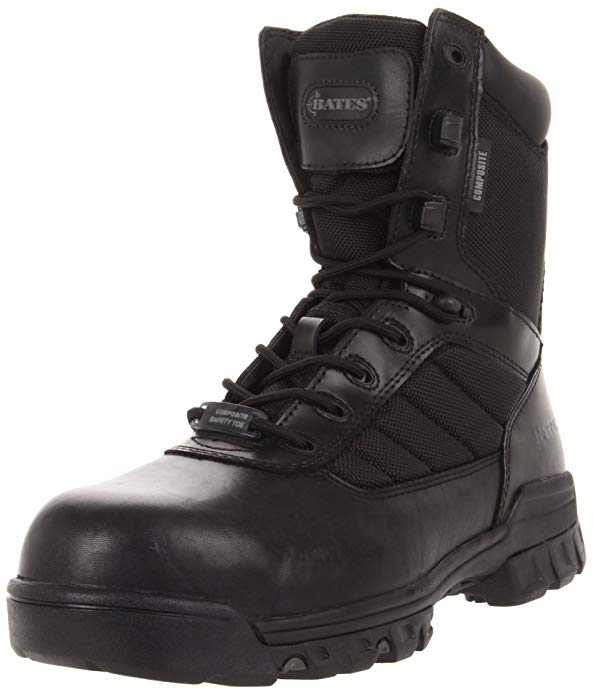 Similarly to the UA Stellar, the Bates' Ultra Lites are very comfortable and lightweight, coming in at a bit under 3lbs. Unlike the UA Stellar boots, the ankle shaft measures about calf-high from the arch. These tactical boots are constructed from performance ballistic nylon and full leather upper. The Ultra-Lites are also side-zipped, meaning they are great if you are in need of shoes that will come on quickly rather than adjustability.
Inside the shoe is a moisture-wicking mesh lining, meaning you can take these out in the rain all day or endure all sorts of wet conditions without worry that they will fall apart. Speaking of various precarious conditions, the Ultra-Lites outsole is equipped with slip-resistance and oil-resistance rubber that improves traction on all sorts of surfaces in all sorts of situations. To bring home the idea that this shoe is designed to be comfortable despite being tough on the outside, there are removable inserts for placing custom orthotics in case the lightweight cushioned EVA midsole is not to your liking.
The Ultra-Lites have a lot going for it – the sturdiness and reputation to endure wet conditions, the cushioned midsole, and the ample support and comfort on offer. With that said, there are a few issues with them that you should consider – firstly, it is of course side-zipped, and not fully lace-up, which matters depending on your preference. Secondly, these are soft-toed boots, so if this is something you require for safety, you may need to get an insert.
Finally, the shoe itself is a little narrower and runs a size smaller, so be wary if you have particularly wide feet. While this issue is easily fixed by returning them, it is better to know beforehand. Regardless, these are the best tactical boots for law enforcement personnel who prefer all-day comfort and cushioning.
Pros
+ Comfortable combat boots
+ Slip and Oil resistant
+ Removable inserts
+ Firm ankle support
Cons
– Soft toed, may not be ideal for more demanding fields
– Runs a bit narrow and a size small
---
3. Maelstrom Men's Tac Force 8″ Military Boots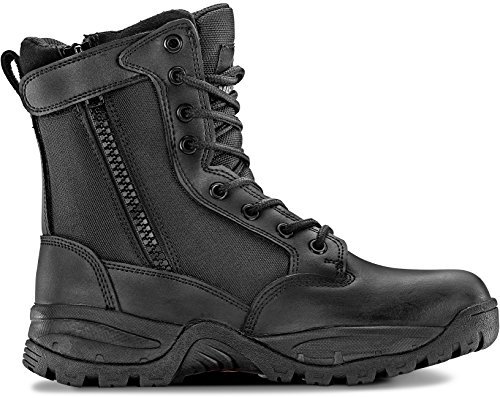 Next up is Maelstrom's TAC FORCE 8″ tactical zipper boot. It is specifically designed with tactical units and law enforcement professionals in mind, as it is made with varying components that will enhance performance in a wide range of environments. Its upper is water-resistant and made from polishable leather as well as nylon, keeping your foot as dry and comfortable as possible with zero chance of water seeping inside. TAC FORCE also features a breathable moisture-wicking lining to prevent bacterial and sweat buildup that helps cooling down one's feet during intense activities.
The Maelstrom Tac Force features a 7" shaft from the arch, being padded to offer extra comfort. The midsole system has a synthetic compound that is aimed at being lightweight, flexible, shock-absorbing and provides extra re-bouncing and cushioning to your feet on impact. Tac Force's outsole is durable with design in mind for optimal traction, meaning slip prevention and great stability when you step on surfaces that are rough, slippery or soggy. Internally there is a high-performance cushion insert that is also removable if it doesn't meet your needs.
The only glaring flaw with this shoe is that despite the allure of polishable leather being able to maintain a proper look provided you take care of the shoes, is that this leather is thin and easily scratched. As a result, you should be careful using these shoes if you know you're going to be close to sharp objects. This is especially true for the tan variation that features a slightly different upper.
Pros
+ Comfortable military boots
+ High-performance design
+ Polishable upper
Cons
– Prone to scratches and scrapes
---
4. Original S.W.A.T. Men's Metro Air 9-Inch Side-Zip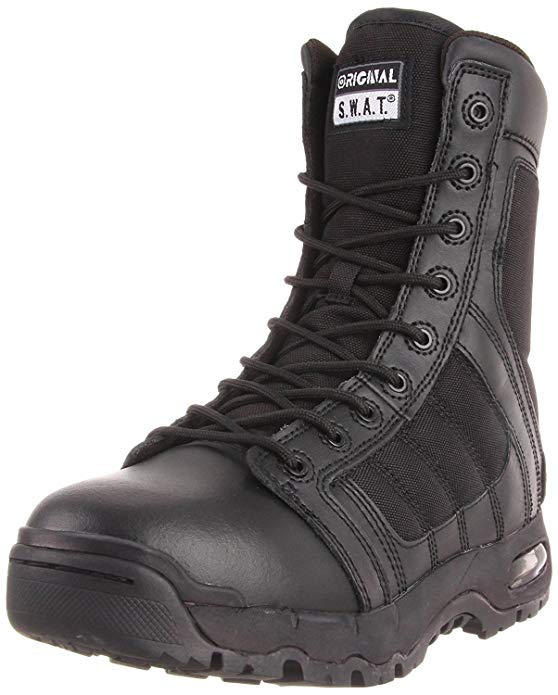 These bad boys are top of the line full leather tactical boots by Original S.W.A.T. with double-stitched upper, 3-ply bonded denier nylon threading to bring you incredible durability. These boots have a nylon shank for lightweight support built-in and are airport friendly, in that they do not set off any metal detectors. The Metro Air's have polishable leather all around, with custom-molded Phylon EVA midsole to provide comfort and cradled support for your foot.
The heel air cell is visible and helps with impact absorption, and with all the aforementioned design choices, the Metro Air's are really quite a comfortable pair of tactical boots. These boots are a low profile zip-up for easy function and the liner wicks away moisture for when you're in an intense situation. They also won't let you down because they have a slip-resistant outsole with the waffle-pattern treads for traction and grip control to maintain stability you definitely need in a whole host of situations.
The biggest drawback in these shoes is that not only do they lack a steel toe for those that need it, but some of their boots are inconsistently made – and wear out quite quickly as a result. Fortunately, this is mitigated by a year-long warranty if you mail in the defective pair's tongue, but still a concern nonetheless.
Pros
+ Comfortable
+ Low profile, zippable
+ Airport friendly
+ 1-year warranty
Cons
– Some pairs fall apart after extensive use
---
5. Magnum Men's Elite Spider 8.0 Boots
Next up is the Men's Elite Spider 8 created by Magnum USA. These boots are specially designed for those in law enforcement, security, or the military business. They feature a full-grain leather upper making it durable under the most extreme conditions. These magnum boots incorporate their AeroMesh ventilation technology that in tandem with the Spider Mesh lining provides amazing cooling and moisture-wicking for the hottest days you have ahead of you.
The Elite Spider 8 also contains a composite shank and lace-up feature in the upper to deliver maximum adjustability and support for you to experience a tight and comfortable fit. The compression-molded EVA cushion midsole absorbs the shock of walking or running on rough surfaces. When it comes to comfort, the Elite Spider 8 also has a high-density cradle layer supporting one's arch and heel very well, as well as an extra pad underneath the heel to provide even more shock absorption so your steps feel light.
The outsole is also very practical in tactical situations as it features a Vibram outsole that is very stable and has a lot of traction. The only few issues with these boots are that they are indeed a snug fit and you will need to wear thick socks to make the most of it and taking them on or off won't be as easy as with a zip-up design. Apart from that, these boots are great for any terrain. The Magnum Elite Spider is one of the best combat boots in terms of versatility in a variety of situations.
Pros
+ Come in half sizes
+ Light and comfortable
+ Good for different tactical situations
+ Breathable upper and non-slip soles
Cons
– Require more time to put on and take off
– Thick socks may be required for best fit and feel
---
6. Belleville TR960ZWP KHYBER Tactical Boots
These Boots by Belleville are designed to be long-lasting, heavy-duty and support your heels, ankles, and arch to perfection. These tactical boots are made of full-grain leather and nylon fabric with a Gore-Tex fabric bootie internally keeping your foot protected from the elements. Despite being primarily lace-up, with aggressive lace-to-toe style for a tight fit, the inside is smooth enough for a smooth slip off when untied. If that isn't your style, it also has a side-zip latched by velcro if you prefer something even easier.
The TR960's midsole is made of EVA foam, an industry standard for absorbing shock upon impact, Vibram soles, an 8-inch shaft from the arch, and petroleum, oil, and lubricant resistant upper and lower. Needless to say, nothing is getting through and nothing is getting between your foot and good grip with these on.
This shoe seems to have a little bit of everything for wider appeal, but the one thing it lacks is enough space in the toe-box, often feeling a bit constricted or tight. Apart from that, the TR960's by Belleville is a great pair of tactical boots for people who actually prefer having the option to alternate between tight lace-ups and smooth zip-ups.

Pros
+ Full-grain leather and nylon
+ Comfortable midsole and smooth Gore-Tex bootie
+ Both lace-up and zip-up options
+ Resistant to all forms of liquid
Cons
– The toe box feels constricted
---
7. Smith & Wesson Breach 2.0 Men's Tactical Side-Zip Boots
S&W is known for its outstanding quality and attention to fine detail, and the Breach 2.0 is no exception, built upon their years of research and top-caliber manufacturing experience. Breach 2.0 features leather and nylon upper construction and a gusseted tongue to keep foreign dirt and debris out from inside your shoe. It has an EVA midsole for added lightweight comfort, cradled support and a steel shank to up the comfort even further.
Its unique construction creates a rigidity that reduces your fatigue during long hours. The breach 2.0's outsole is also engineered to minimize any loss of traction with a unique pattern that effectively grips dirt, smooth surfaces, ladders, fences, and the whole nine yards. Finally, the Breach 2.0 packs good quality for its affordable price point.
The only lost potential issue here is that on top of not being airport-friendly (due to steel shank support), there is no steel toe to go with it and the design itself leaves that area susceptible. They also tend to heat up if you are in a hot climate, so that is something to watch out for as well.
Pros
+ Outstanding quality
+ Sturdy yet comfortable
+ True to size
+ Unique, grippy outsole
Cons
– Non-airport friendly
– Toe box could be supported better
– Heats up in warmer climates
---
8. Rocky Men's FQ0001073 Military and Tactical Boots
Rocky's FQ design is aimed to be a lightweight tactical boot that provides comfort even when traversing extreme terrains. They are made of synthetic materials (Gore-Tex, Polartec, Thinsulate) that are designed to endure grueling conditions. FQ has an EVA midsole to protect and cradle your foot will maximizing comfort by absorbing shock. Ideal for hotter climates, these shoes are able to resist anything from oils to sand and water. The boots are also fast drying, because nothing is worse than a soggy wet boot, especially when you're in it.
The shaft is a standard 8 inches from the arch, making it a mid-length boot. The laces also feature a speed lacing component, making lacing these up fairly quicker compared to generic lace-up systems. The FQ's lack any metal components and as a result are airport friendly, though not quite as rigid as some of the other options on this list.
Unfortunately, since these are designed for hotter climates, the insulation they provide for colder climates is not ideal. They are better left for those of you who are either deployed into countries with hotter climates or only intend to use the boots in the summer months, or else your feet will not be properly insulated by the FQ's.
Pros
+ Synthetic materials and durable and flexible
+ EVA midsole provides stability and comfort
+ Dries very fast when wet
+ Slip-resistant outsole
Cons
– Not meant for cold weather, lacks proper insulation
---
9. Danner Men's Tachyon 8" Black GTX Duty Boots
The penultimate pair of boots on our list is the Black GTZ by Danner. They are a tactical boot made of full-grain leather and 500 Denier nylon, with a waterproof and breathable Gore-Tex membrane, supported by a nylon shank. Its outsole is a Tachyon slip-resistant composition that will make sure your feet are planted in any terrain or situation. The speed lacing system features an improvement over basic lacing systems and is composed of brass hardware.
The Tachyon GTX military boots are a bit higher than standard, at 9" from the arch, so expect extra firmness when these are tied all the way up. The footbed is an open-cell polyurethane compound over EVA foam midsole, which together will provide you with a firm and comfortable step when wearing the Black GTXs. The inserts are also removable to reduce any fatigue during long shifts or arduous tasks.
The only real problem with these shoes is that breathability can be a bit of an issue in hotter climates, as the leather heats up, and the toe-box is a bit short. With that said, there are extensive sizing options for you to be able to find the best fit.
Pros
+ Well designed for form and function
+ Speed lacing system for fast application
+ Comfortable footbed
+ Extended sizes
Cons
– Can feel stuffy
– Toe box is slightly small
---
10. Thorogood Men's Gen-Flex2 Series Tactical Boot
Our final pair of tactical military-style boots are the Gen-Flex 2's by Thorogood. It features a tough leather upper, adjustable lacing as well as a zipper. It has a Goodyear Storm-welt to increase overall durability as well as a removable polyurethane insole for increased comfort. The compression-molded EVA midsole is designed to reduce impact and absorb shock while the composite shank offers extra cushioning and support.
The outsole on the Gen-Flex2 is a treaded rubber that is non-marking as well as slip-resistant so you can rest assured that whatever the situation calls for, the Gen-Flex 2 will not fail you. The shaft is actually 8.5" from the arch, the only one of this list, and the ankle-high style will make you feel tight and grounded. As far as breathability, there is a spacer mesh lining to make sure you don't build up excess sweat and experience discomfort.
The boots can be polished throughout to give you a clean and composed look, but something that isn't particularly good about the Gen-Flex 2's is their squeakiness. In noisy environments, this hardly matters, but for those of you who appreciate or even require stealth, not even breaking these in will help.
Pros
+ 100% leather, easily polished
+ Designed for comfort inside and out
+ Slip-resistant outsole
Cons
– Fairly squeaky, not recommended for those who require stealth.
---
Things to Consider in a Combat/Tactical Boot: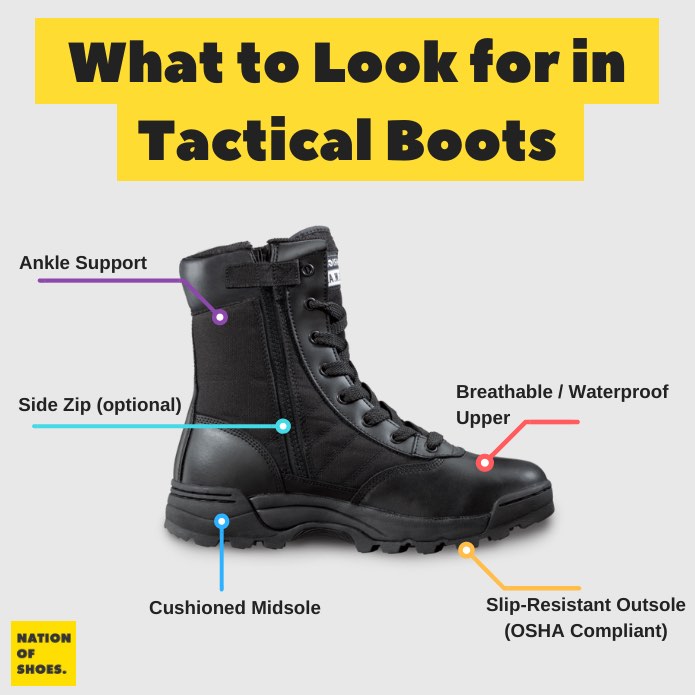 Waterproofing
Given that this line of work is not only one that requires you to be prepared at all times, it is also pertinent that you have a pair of boots that can support you in any weather conditions, be it snow, heat or rain. If you're in a position where you know you need boots that can be submerged without wearing down, you're going to definitely look out for boots that are explicitly waterproofed, or water-resistant if you only need the boots to repel water rather than be submerged.

High Traction, Slip Resistance
This goes without saying, but you need a pair of boots that will keep you planted on the ground when walking, and be able to properly grip to the ground when on the move. Be it during training or out on the field, you need to be able to stay on your feet at all times, ready for anything.

Laces vs. Zippers
While some may harp on zippers provide you with an ease of use and speed that isn't available with lace-up shoes, the fact of the matter is when you need certainty, when you need adjustable and ample support and tightness, laces will always do a better job than zippers, that can easily break or provide openings for water or other liquids to get through. Zipper fanatics may forget to mention that little detail. So, if you're looking for speed and less about adjustability, go for zippered boots, but if you value adjustability and making sure you have an air-tight grip, go for laces. It is a matter of preference as well as job circumstances.

Breathability
You absolutely need a boot that breathes, or your feet will be cooked alive. Nothing is worse than a full day of intense training and opening up your shoe to find a moist, smelly, and uncomfortable form that is supposed to be your foot. It is irritating on the field, as excess moisture leads to abrasions and blisters, and especially off the field when your superiors get a whiff of what you've been cooking all day long. Not a good look, so be sure to get a pair of boots that allow for evaporation of sweat rather than locking it in.
---
Conclusion
To conclude, we have covered what we believe to be the 10 best tactical boots for combat, military, law enforcement, and security. In this list we've comprised, there is a variety of styles, depending on your preference for high support, low support, lace-up grip or zip-up ease.
If you're looking for a new pair of tactical boots or just getting your first pair, you can't really go wrong with any of the boots we've listed. They all have distinct strengths and few weaknesses, making them some of the best tactical boots available on the market today. You can feel at ease ordering any of them. But, if you're looking to increase the value of your combat boots and want even more comfort and support, we recommend you check out our detailed review of the best work boot insoles.