Editor's Note: We have updated our list of soccer cleats for 2022.
We based our review on 40 hours of research and testing of 34 different cleats. Our review is based on the combined value of comfort, design, and performance they offer to the wearer and even though the final list won't satisfy all tastes, you'll end up finding something you'll like A LOT.
Soccer is a game of wits, stability, endurance, and stamina. So, you've made it into your high school/college soccer team and you want nothing but the best soccer shoes for your money, but how do you know which ones are actually the best? This guide is by no means a be-all and end-all list of soccer cleats, but it does give an insight into some of the best soccer cleats out in the market today.
Whether you're looking for women soccer cleats or men's, your requirements will remain basically the same since a good design and top-quality craftsmanship are key to giving the wearer an edge on the field.
---
Types of Soccer Cleats
Firm Ground (FG): This type of soccer cleat is used for natural grass known as Firm Ground. This grass pitch is mostly contained of dry grass and offers comfort, traction, and speed. FG cleats are the most common type of cleats and they can be comfortably used on both natural and artificial grass.
Hard Ground (HG): Hard ground cleats work best on (as the name suggests) hard ground, for example, a patchy field with portions of hard dirt. Instead of digging into the ground like SG cleats, hard-ground cleats are made to stay on top of hard soil without penetrating the surface.
Soft Ground (SG): Soft Ground cleats can also be used on firm ground, but SG cleats are most often reserved for wet and mushy type grass where traction can be particularly problematic. Some FG cleats will also support soft ground pitches. SG cleats often have metal studs and may not be allowed by some leagues, so it's best to check with your league before buying these.
Turf Shoes (AT): Turf shoes are the go-to option for hardwood or concrete surfaces. The outsole on turf shoes has short studs to grip onto a glossy surface and is most commonly made for indoor play and looks a lot like sneakers.
---
Tips for Choosing the Best Soccer Cleats
Purpose: Are these shoes meant to be used regularly or just every once in a while?
Anatomy: Your feet are unique, treat them as such, and choose a model that befits them as well as possible. It's important to know if you have wide, flat, or narrow feet and that makes picking a cleat that much easier. To do this, simply wet your feet and stand on a piece of paper. What's the resulting impression? It's also recommended to visit a podiatrist to get accurate information on the type of feet you have. Depending on this, you could either get cleats that are made for your condition or simply use a custom insole/orthotics.
Position: A defender probably won't use the same shoes as a midfielder so keep that in mind when deciding. If you love playing attack/winger and have particularly fast feet, then you'll need to focus on a light model that favors speed, while a powerful striker may want something heavy with a bit more padding and traction. Alternatively, if you play midfield and do a lot of passing, it's important to get a shoe with a large surface area so you can get the most accurate passes.
Style of Play: All of these are key when deciding what will suit you best, but odds are you just want to enjoy a good game with friends every now and then without worrying much about your shoes. Still, you should have at least two pairs of soccer cleats in good condition. One for indoor games, and one with enhanced traction for games on slippery grass.
These days, pretty much every model will look awesome and that's great but you can't score a goal based on looks alone, so here's our list of the 10 Best Soccer Cleats:
1. Adidas Kaiser 5 Liga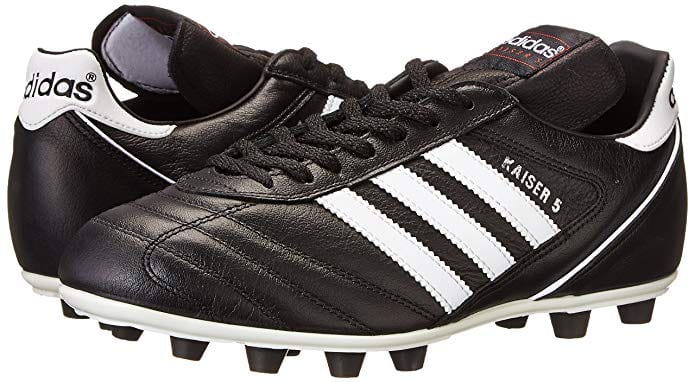 You may recall seeing these bad boys before, and you probably have – way back in 1998 when they were all the rage during that year's world cup. There's a reason the Adidas Kaiser 5 Liga 98 is a classic and it's not just because they were part of some of the most memorable goals in history during the 98 World Cup, but because they deliver at every step with their no-nonsense look and superior comfort.
They are the best soccer cleats for someone who's an amateur, but seriously trying to up their game. These shoes will be appreciated by anyone who likes a clean look without all the flashy crazy colors. Durability is top-notch on the Kaiser 5 Liga with most long-term users stating that it's served them well for years.
The Kaiser 5 Liga's upper is made from full-grain leather upper and the stitching gives the shoe a natural ball grip and feel. The signature fold-over tongue is a classic of Adidas cleats that makes them stand out in the field. The lacing system creates a glove-like fit and won't be slipping off during intense play.
The midsole is comprised of a specialized die-cut EVA foam for added levels of comfort, and the lightweight nature of these cleats only enhances the in-foot feel. The outsole consists of a PU plate made of rubber with round studs directly injected into them, making them ideal for natural grass or turf.
One thing to remember is that, since they are made of natural leather, you should expect them to expand a bit with use. So, if you don't like over-stretched shoes, you might be better off with getting cleats that are half a size smaller so it can settle to your foot's shape when it expands.
Having said that, even if you can't rock them like a pro, you sure can let them make you look awesomely confident at every step. These are some of the best soccer cleats you can buy that will stay true to its heritage.
Pros:
+ Made of full-grain leather
+ Excellent stability on the field
+ They adapt to your fit after a short wear
+ You barely feel them in action (except when it counts)
+ Light yet effective sole cushioning
Cons:
– The leather tends to stretch and become loose over time
– Colors lack the energy of more modern models
---
2. Nike Hypervenom Phantom III Elite FG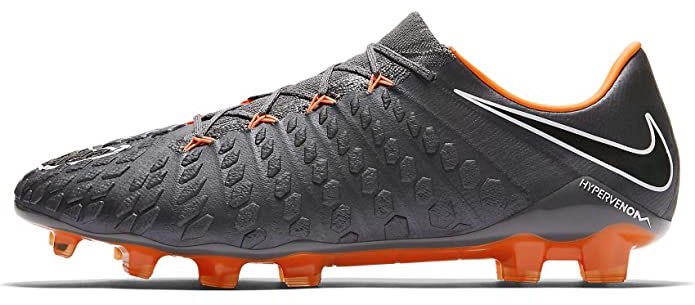 Nike designed the Hypervenom Phantom III to be an exceptionally reliable cleat no matter how competitive the game. This updated version of the Phantom III comes with an all-new Flyknit material that is found in Nike's premier running shoes. This Flyknit material keeps the cleats very lightweight, while also making it extremely durable.
The upper also consists of "strike zones" made from foam pads that are stitched into the upper to create a dampening effect that results in a powerful strike when needed. Ball control is also quite good on natural grass fields and the Flyknit upper never misses a beat.
The high-tech upper mesh on these shoes is excellent for breathability and conforms well to the shape of your feet. As an amazingly dynamic soccer cleat, the Nike Hypervenom Phantom III is definitely what you want for agility and speed while playing on grass or turf.
The outsole is made from Pebax and nylon for support and agility. The responsive flexibility of the forefoot allows players to quickly and efficiently change direction on the pitch. The stud pattern attached to the outsole also allows for sharp lateral movements while keeping your foot stable and comfortable.
The fit is true to size, but you might have trouble getting your foot into the shoe since the opening is narrow. If you have particularly wide feet, you will find this soccer cleat tight as they are made for a narrow foot profile.
Pros:
+ Flyknit upper is durable and has improved breathability
+ Many vibrant color combinations to choose from
+ Sock-like fit offers better ball control
+ Stable traction and lightweight design
Cons:
– Not recommended for people with wide feet
– Can be difficult to put it on
---
3. Adidas Predator 19.3 Firm Ground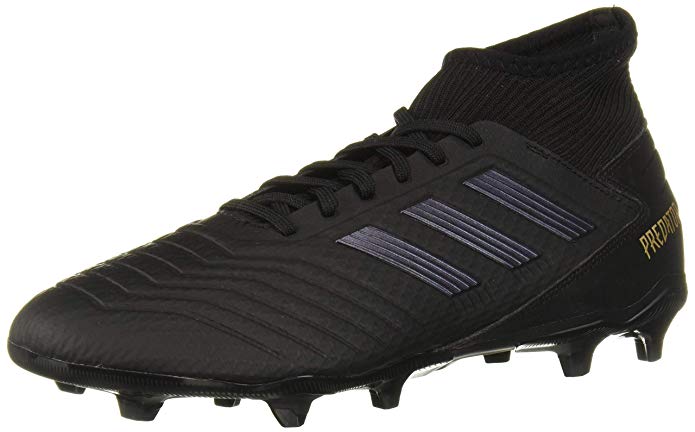 The Adidas Predator is one of the supportive and comfortable soccer cleats out there. Comfort is delivered via the Primemesh upper which feels like a second skin when worn. The ankle-high Primemesh upper provides added support for quick lateral action. The upper also consists of a textured pattern that provides phenomenal ball control. The Predator 19.3 does all this while also remaining fairly breathable and lightweight.
The outsole consists of a TPU soleplate for added flexibility and durability. The stud pattern is configured in such a way that there are 7 studs in the forefoot and 4 in the rearfoot to give players maximum traction and stability during extended sprints.
Above all, the Adidas Predator 19.3 FG looks visually stunning and comes in a wide variety of color combinations. These soccer cleats are a bang for the buck given the number of features it packs and especially considering the high-quality construction of these cleats.
One of the only drawbacks of the Predator 19.3 is that they are a bit narrow along the forefoot region. So, if you have particularly wide feet, you might want to consider getting half a size up. Regardless of this, it is no wonder that legendary players like David Beckham, Xavi, and Paul Pogba have all worn the Predator in their professional careers.
Pros:
+ Amazing ball control capabilities
+ Comfortable cleats for extended playtime
+ Stud pattern maximizes stability
+ Primemesh upper keeps your feet well-ventilated
Cons:
– Narrow along the forefoot
---
4. Adidas X 17.2 Firm Ground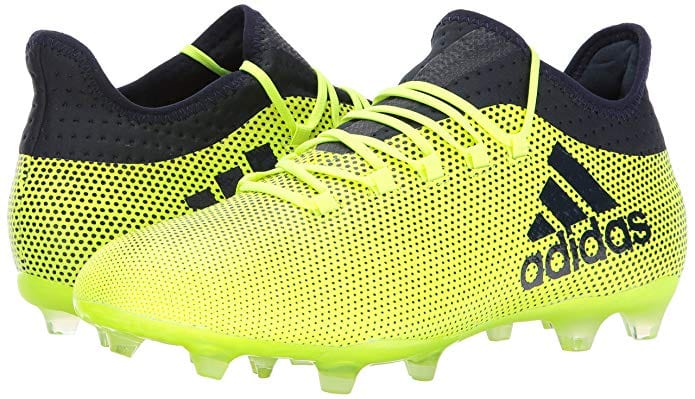 The Adidas X 17.2 FG is the successor to the popular 17.1. New in this iteration is better durability compared to the previous version. The durability has been improved so much that these shoes hold well on both wet and dry grounds and can be worn year-round to all your games without needing a second pair.
The upper of the X 17.2 is comprised of TechFit technology that is made from a compression material of sorts to give you a glove-like fit that molds to the contour of your feet. The upper is covered in a thin PU coating to aid in moisture control, which makes them ideal for wet surfaces. The PU coating also makes it easy to clean and care for. The upper is also peppered with raised dots called "Non Slip Grip" that provides good ball control no matter how wet it is outside.
The base of the outsole is made of a TPU plastic plate that has decent flexibility to it for lateral movements. The stud pattern is designed in a way to give you a boost of energy for running and sudden explosive sprints. The outsole is also quite durable and can tackle wet grass fields with ease.
These shoes are not without flaw though and while they are true to size, they feel narrow along the forefoot. The heel also sometimes slips off during a full-blown sprint and that can be a problem if you've got particularly narrow ankles. If you are someone who has wide feet, these shoes may not be the one for you.
Pros:
+ Very quick breaking-in period
+ Light as feathers due to special upper material
+ Make almost every pass easier and more precise
Cons:
– Forefoot area is quite narrow
– Uncomfortably tight for people with wide feet
---
5. Adidas Nemeziz Messi Tango 17.3 (Turf)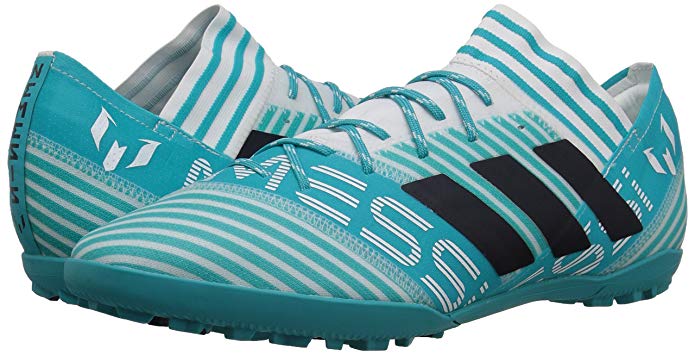 The Nemeziz is an extremely promising and powerful design that is definitely worth its reduced price if you're ready to maintain it properly. These are the type of shoes you'll buy if you play once in a while and don't feel like spending a ton of cash on soccer gear, especially since they can be picked up for under $40.
The upper on these shoes are built to offer a combination of comfort and flexibility. Torsion tapes cover a major part of the upper to provide added support and stability. The shoes fit quite snug and stay in place throughout the game. Add to that, a generous amount of Messi branding and you are sure to stand out on the court.
Since they are meant for turf courts, the outsole is made of rubber with short studs for increased grip and traction. The studs are more concentrated on the forefoot and heel areas for sudden take-off and landing. The stud pattern works well with artificial grass but are not ideal for playing on firm ground.
If you love to take care of your turf soccer shoes then you'll have no problem getting the best performance out of these. Just remember – they're delicate and you'd need to follow care instruction set out by the manufacturer. Properly taken care of, they'll put a rocket on your feet.
One major problem noted by some users was the fact that the insole is not stable and moves around inside while playing. This can be easily remedied with aftermarket insoles, but if you're someone who can't be bothered with that, then these might not be the pair for you.
Pros:
+ Extremely affordable
+ Light construction allows for very fast movements
+ Offers great responsiveness on the ball
+ Doesn't skimp on the padding despite being a light model
Cons:
– Requires a LOT of maintenance
– Insole shifts around while playing
---
6. Puma EvoPower Vigor 1 Graphic Firm Ground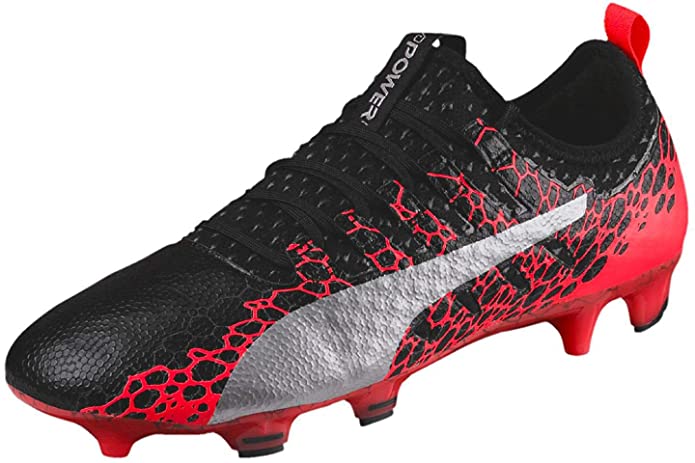 These Firm-Ground soccer cleats are sure to stand out given their very vocal visuals. The Puma EvoPower Vigor 1 Graphic FG uses a stretchable fabric construction for a secure and comfortable wrap.
Sizes do run large, so we recommend going a size down for a good fit. The upper on the Vigor 1 uses AdapLite microfibre that is supposed to simulate a barefoot kicking experience. The Accufoam 3D dots and GripTex pattern help to keep the ball under control in any given situation. Accuracy also feels spot on when passing thanks to the upper.
The outsole is made from lightweight Pebax, making the overall weight of this shoe just shy of 7 ounces. Studs of different shapes are patterns are used in the outsole to give you stability and power in every shot. There is also a GSF spine incorporated into the outsole to give you a more natural feel and motion.
The evoTOUCH was designed for regular players who want something comfortable, affordable, and balanced when it comes to performance. I would say this is a great all-around soccer cleat that's not meant to distinguish itself in any particular trait but to offer a solid performance all around.
This model is almost perfect…except for the fact that they do require a break-in period before getting used to them. The sizes as mentioned previously also run large and this is prone to causing heel-slippage unless you go a size down.
Having said that, the EvoPower Vigor 1 FG is a great cleat for almost every kind of player and even visually, it looks stunning.
Pros:
+ Soft and comfortable leather upper
+ They offer excellent control and stability
+ Rear and front tabs make fitting very easy
+ EvoKNIT knitted sock offers an excellent fit
Cons:
– Excessively tight on the heels which can lead to blistering in the area
– You really feel the impact while striking solid shots due to limited padding in the front
---
7. Adidas Copa 17.2 Firm Ground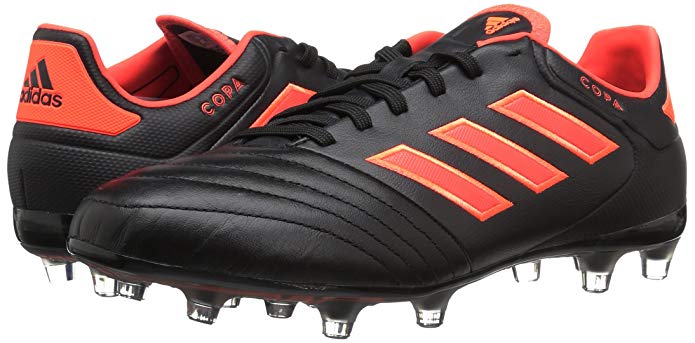 The Adidas Copa 17.2 FG is built like a tank. Made from full-grain calfskin, this soccer cleat offers exceptional durability and the same level of softness as Kangaroo leather. The leather holds up under wet or dry conditions and also acts as padding to pack more power in a kick.
There is an internal counter near the heel area for added support and stability. Rounding out the set of features on the upper is the classic lacing system and a tongue made of synthetic leather. The insole is not removable but it does offer an extra amount of underfoot cushioning.
The outsole consists of a flexible TPU plate that bends and twists with the foot's natural movements. The stud arrangement of the Adidas Copa 17.2 enhances lateral movements and take-off speeds, meaning, you'll be sprinting side-to-side and changing directions on a dime without breaking a sweat.
If you're looking for a sensibly priced and extremely comfortable pair of soccer Firm Ground cleats that evoke the greatest moments of its predecessors then the Copa 17.2 is definitely one you should consider. It's not interested in being particularly flashy or wild, but it does bring to mind everything that made the previous Copa models absolute favorites among the fans.
Adidas tried to bring back the glory of an old classic with this new version of the Copa and it mostly succeeded while maintaining an affordable price that's much welcome amidst so many expensive models.
Pros:
+ Waterproof upper makes it ideal for all types of weather
+ Recalls the old-school vibe of classic earlier models
+ The soleplate is made of very flexible polymer
Cons:
– Can be a particularly tight fit in the toe area
– The flap tongue can be a bit too much, especially if you don't like them that big
8. Adidas Ace Tango 17.3 Turf (Indoor)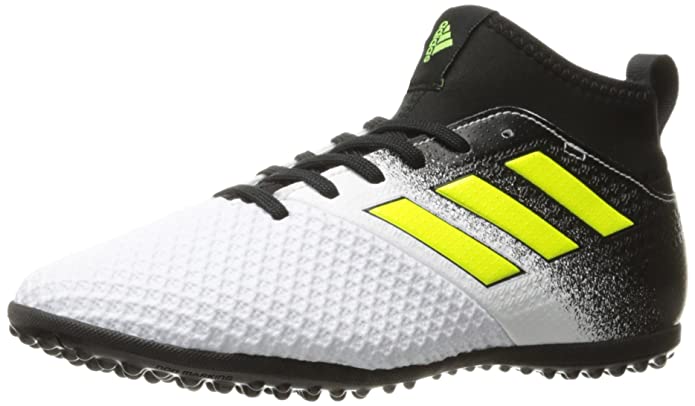 If you ever wanted to feel almost barefoot while playing indoors then the Adidas Ace Tango 17.3 Turf could very well be the answer to your prayers. The upper of the Ace Tango features a 3-part construction where a breathable mesh makes up the forefoot of the shoe, while the midfoot region is covered in a textured mesh to provide more control over the ball. Finally, there is a sock-like collar for a snug and precise fit.
The outsole is made of rubber that Adidas likes to call the "Total Control" outsole and it performs amazingly well for indoor surfaces allowing for quick side-to-side motions at a moment's notice. It is one of the most comfortable indoor soccer shoes that you can find on the market right now.
One of the very few drawbacks of the Ace Tango is that it is only available in Men's sizing. And the fabric collar can get a bit hot and uncomfortable after a while especially if you're sweating. Also, I was not a fan of all the stitchings showing, while led me to believe that the shoe was put together rather hastily.
All in all, the Adidas Ace Tango is meant to be extremely functional in almost every aspect whilst also taking care of your feet's comfort. The Adidas Ace Tango is probably the most cushioned and pleasant indoor soccer cleat you can buy these days. You won't believe it till you wear them and you'll just have to endure some minor discomforts as it adapts to your feet.
Pros:
+ Comfortable upper that gives a sensation of being barefoot
+ Offers a particularly good ball control during shoots and passes
+ Adapts great to both wide and narrow feet
Cons:
– Comes in only men's sizings
– Collar padding gets hot and uncomfortable after a while
---
9. Under Armour ClutchFit Force 3.0 Firm Ground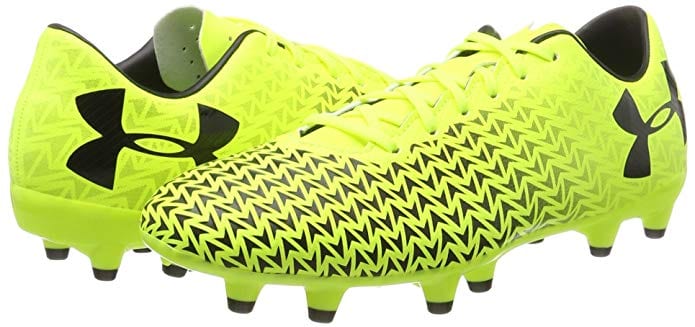 Under Armour Soccer Cleats are not the first thing that comes to mind when looking for something comfortable and with great traction. So if you want to give these underrated beauties a chance, you probably won't be disappointed at all with the performance you'll get from them.
The upper is made from a textured combination of rubberized material and Trivela microfiber that molds to the contours of your feet fresh out of the box requiring no break-in time. A traditional lacing system offers enough tension to keep the cleats snug against your feet without causing any heel-slippage. The tongue is padded with memory foam to prevent pinching from the laces being tied too tight.
Apart from this, the outsole consists of a TPU soleplate that gives a decent amount of flex and torsion. The studs are placed strategically to enhance grip and traction on both dry and wet grasslands. The outsole is comfortable enough to not feel too stiff and running in these cleats feels natural and balanced.
Under Armour decided to go all-in with this model and the final result is extremely impressive, proving that the brand is ready to make a name for itself and probably get some of its competitors deservedly nervous.
The only downside to these soccer cleats is that the heel area is can cause blisters for some after a few hours of play since the internal grip tape in the heel area is prone to producing friction.
Pros:
+ Unbelievably fast break-in time
+ Sole provides excellent cushioning which allows for extended sprints
+ Adaptable upper fits every type of foot
+ Internal heel grip tapes prevent slippages
Cons:
– Can cause some heel blistering
10. Nike MagistaX Proximo II (Indoor)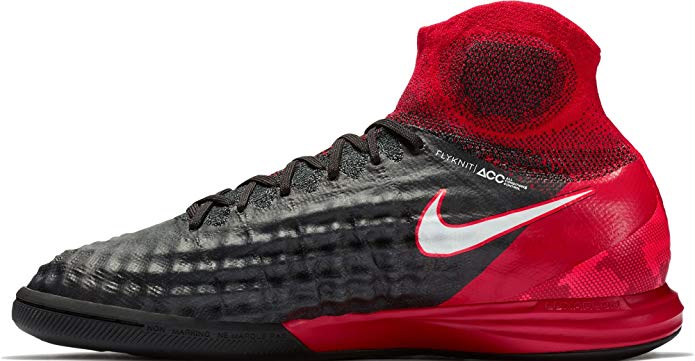 Nike tried to keep its customers happy with this model, delivering good traction, comfortable wear and improved durability as its main features. As a very resistant and comfortable indoor turf shoe, the MagistaX Proximo II is absolutely perfect for those with sensitive feet or some type of injury that still want to play a bit (probably despite the doctor's objections).
You can batter and bruise these as much as you want since they're meant to take a beating and still come up on top. The upper on the Proximo II features Nike's trademark Flyknit material that is durable and long-lasting. The Flyknit upper is known for its comfortable and lightweight properties while maintaining excellent breathability.
A dynamic fit collar is also present to hold your feet firmly in place and create a glove-like fit. Furthermore, Nike has used the Lunarlon midsole in these shoes that deliver a springy and responsive feel. This midsole is the same ones you'll find in some of Nike's top-line running shoes and it goes without saying that these soccer cleats feel very cushioned and comfortable like running shoes.
The outsole is made from a hardened rubber compound with a distinct circular tread pattern to give you more agility and lateral support. The outsole is also non-marking, so you don't have to worry about leaving a streak on your gym or indoor floor.
Unfortunately, in typical Nike fashion, these shoes do run a bit small and narrow – about half a size smaller. So, to get the most optimal fit, I'd recommend getting a half size bigger.
Pros:
+ Flyknit upper has bumps which allow for awesome ball touch
+ Traction is solid and reliable
+ Non-marking outsole protects gym floors
+ Great ball control
Cons:
– Half-size smaller than usual sizes
– Lacks All Conditions Control (ACC) technology unlike other Nike cleats
---
Maintenance Tips
So, you went out and bought the best soccer cleats you can find. But, how do you take care of them so they remain in top condition? A good place to start would be by knowing the strengths and weaknesses of your soccer shoes. A lot of people think their usual turf soccer shoes will provide the same traction under all conditions but that's not the case and as soon as it starts raining and the ground is saturated with water, the sole can slip faster than you can imagine.
That may or may not require you to change shoes since a lot of turf cleats are both waterproof and tested under extreme conditions to maintain good fixation and traction, but nevertheless, there's going to be some loss of grip (you can't beat physics).
The "hot water" myth is extremely popular among amateur players to help speed the breaking in process, but it's something you want to avoid at all costs since even the best shoes are not designed to be submersible. Make sure to dry them properly after a game but do not expose them to heat, especially if they're made of leather which can be extremely sensitive to temperature variations. The good old newspaper/magazine trick will always do since it absorbs moisture from inside the cleat without any complications.
---
Review Criteria Used
We base our reviews on a few important things that should universally benefit all soccer players. When buying the best soccer cleats, the last thing you need to worry about is the shoe itself, and a good soccer shoe will inevitably help you perform at your peak ability. So, here are a few things to remember while out on the field:
Comfort is probably the most important aspect of a cleat. The comfort levels of a shoe will enable you to play longer and harder without worrying about blisters and sore feet post-game. Generally speaking, when buying a new pair of cleats, try them on and see how it feels. Some shoes will require a break-in period and this is a good time to get adjusted to your cleats.
Is there excessive pinching? Are your cleats too tight? If so, then it might be a good idea to return them and get another pair.
Whether you're playing on wet grass or artificial turf, the traction your shoes provide will be crucial. It's the difference between making evasive plays and lying flat on your face. Grass pitch shoes will usually have long studs to grip the surface and propel you forward. On the other hand, turf shoes will have short studs to provide much-needed traction on concrete surfaces and artificial grass.
It's important to use the right type of shoe for the right field. If you use long cleats on concrete floors, not only will you expose yourself to the risk of falling, but you will also damage your shoes beyond repair.
The durability of a soccer cleat does not directly impact your game, but who wants to replace cleats every 6 months? Usually, soccer cleats with leather uppers are the most durable but do sacrifice some level of breathability. Synthetic uppers are better at breathability but lack the soft feel and toughness of real leather.
Fortunately, thanks to the latest manufacturing techniques, synthetic leather uppers nowadays feel exactly like real leather while offering increased durability and breathability. If you're one of tradition though, nothing really beats classic leather.
In an ideal world, a shoe of size 9 would fit a person with the same size feet. But, in reality, there are a lot of things to consider before achieving a perfect fit. Things like wide feet, narrow feet, or flat feet all play a role and it's important to know your foot type.
When buying soccer cleats, make sure it fits neither too tight nor too loose. Loose-fitting cleats will often times rub against the underside of the foot causing blisters and rashes. On the other hand, tight-fitting soccer cleats will cause swelling and aches in your feet especially if you're playing for a few hours.
Ideally, there should be about half an inch of space between your toes and the inside fabric of the shoe. A well-fitting cleat should feel like an extension of your feet while playing soccer.
Soccer is a fast-paced game that involves lots of running and shifts in speed and direction. When you're darting from one side of the pitch to another, stability is what keeps you on your feet. Without stability, there's a high chance you might slip and twist your ankle.
Soccer cleats with lateral and medial support will help you quickly change directions. It also helps provide a stable base for landing and take-offs.
---
Conclusion
Just like you don't want to get lazy with your training and your game, you also need to maintain a decent discipline when it comes to keeping your soccer cleats clean, dry, and only wear them where you're supposed to.
No doubt they look awesome as streetwear, but trust me, they're not meant to endure the punishment of sidewalks and pavements, so even if it seems a relatively short distance, change to your everyday footwear and protect both your feet and your shoes. Remember, every properly maintained soccer cleat will last longer and save you money and pain in the long run.
Choose well and have fun!