What are High Arches?
In case you aren't familiar with the term, an arch refers to the arch of your foot located between the heel and ball of your foot, which is typically slightly curved. When you have a high arch, this natural curve is placed higher than normal, leading to problems that range from occasional pain to more serious issues like walking abnormalities.
The reason being that most of the problems stem from the way your aches impact your natural walking and resting positions, and it isn't uncommon to develop conditions like plantar fasciitis (inflammation in your fascia muscle band), metatarsalgia (inflammation of the ball of your foot), or general foot and ankle instability especially when you aren't properly supporting your high arch placement with adequate footwear.
---
How Can Shoes Help with High Arches?
The way footwear helps avoid these issues is that they provide artificial support that is essential to your unique arch placement, giving you extra stability, cushioning, and reducing naturally occurring stress in the area. By relaxing and reducing stressors on your high arches, you won't feel any unnecessary pain, develop any conditions or unhealthy walking habits.
In this article, we will highlight 10 of the best running shoes for high arches that you can purchase if you want to make sure that your arches are properly supported. While every shoe here is structurally sound and provides the support you'd expect for your feet, some may meet your needs better than others, and none of them are without minor flaws, so take that into consideration when picking the shoe best for your feet.
---
The Best Shoes for High Arches
1. Brooks Ghost 12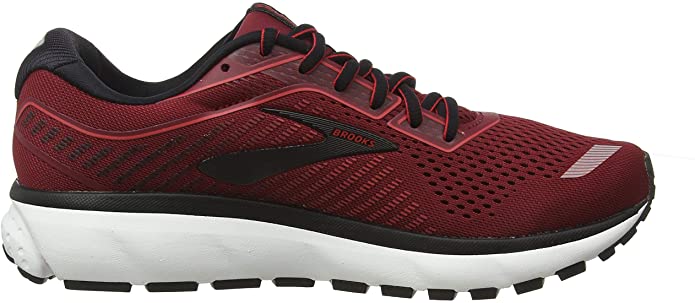 First on our list is a top-tier running shoe by Brooks for high arches. The Brooks Ghost 12 is a lightweight design that is as comfortable as it is speedy; remaining uncompromised in firmness and support. The Ghost 12 features the traditional Brooks BioMoGo and DNA LOFT cushioning systems that Brooks employs, for good reason, as they both work in tandem to give you a comfortable underfoot experience with unflinching responsiveness and durability.
The shoes consist of a segmented crash pad made up of an integrated system of strategically placed shock absorbers that lighten the load of every step you take. This gives you needed relief on top of excellent support that will do your high arches some good.
The upper mesh is Brooks' signature 3D Fit Print engineered mesh that is spread across the foot, giving you flexibility, support, and a minimalistic look. The upper is definitely feels soft and that should be expected for a shoe in this price bracket. Being one of the top-tier shoes from Brooks, the Ghost 12 packs every imaginable feature you could ask for in a high arch running shoe.
As for the outsole, it made from a durable rubber compound with specifically engineered treading to allow for traction on almost any surface you'll be running on. In our tests, the treading held up quite well even after having run 50 miles in these shoes.
These shoes are a great runner to pick if you care about support and cushioning as methods to alleviate any negative effects from having high arches. The Ghost 12 manages to give you all that you'd expect from a top-quality shoe without conceding very much at all.
As for flaws, the only significant issue is that the toe box could be roomier, as it is a bit small. If you're someone who appreciates a roomy toe-box for toe-splaying, this may be a mild inconvenience and it's best to go half a size up for optimal fit. On top of that, if you're used to previous Ghost iterations, these shoes feel somewhat different which may be a good or bad thing depending on your preference. But it must be noted the overall 'feel' does differ.
Pros
+ 3D Fit Print mesh is ultra-soft and breathable
+ DNA Loft and BioMoGo technology helps alleviate stress
+ Great shock-absorption all around, reduces foot stress well
+ Solid color options
Cons
– The toe box feels somewhat cramped, best to get half a size up
– Previous Ghost models feel a bit different, slightly roomier
---
2. New Balance FuelCell Propel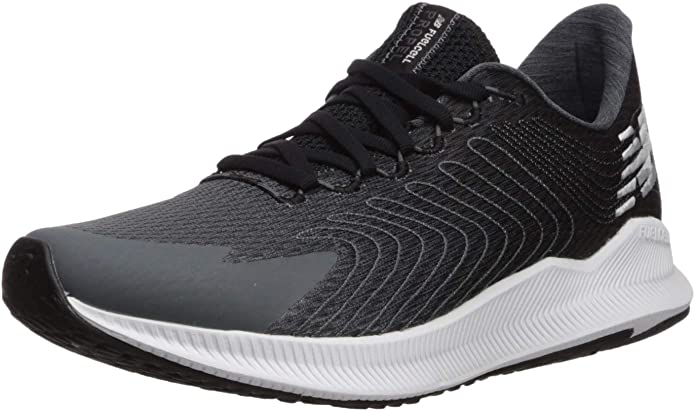 Next up is the FuelCell Propel by New Balance. The central focus to these shoes are the FuelCell formulation on their insole rubber, which is supposed to be the highest rebound performance foam available. The NB FuelCell Propel is true to its name and feels nimble – giving you a unique liveliness in the underfoot that is ideal for road running or being at the gym. The midsole runs the entire length of the shoe and wearing these definitely feels like "walking on clouds".
The foam midsole is purpose-built for high arches as it gives you ample cushioning and support for your feet. The upper of the FuelCell Propel is made of a Trace Fiber material, giving you zonal function support without any excessive seams or layers getting in the way. The Trace Fiber upper is also designed in a way to provide stability at the midfoot area, with a snug fit.
New Balance has provided a lightweight rubber outsole to the FuelCell Propel, made of an NDurance rubber that is durable but doesn't add unnecessary weight to drag you down. This is ideal for running as the lighter on the feet a shoe is, the less you will feel weighed down as you run. A plush sockliner is the cherry-on-top and gives you a smooth underfoot feel, making these shoes be easily worn even without socks.
Finally, there are wide sizing options for this model, so if you're someone who is constantly at odds with manufacturers who don't produce wide enough shoes for your feet, you'll be pleasantly surprised by the FuelCell Propel lineup.
As great as all that is, there are a few hiccups with the FuelCell Propel, namely the break-in time and the toe-box. When it comes to fresh out of the box feel, the FuelCell propel feels a bit stiff and needs a little bit of wear to feel completely comfortable. Not an entirely unheard of issue, but there are a lot of shoes out there that do not need to be worn in before reaching optimal comfort.
Secondly, the overlay used on the toe-box can be a point of discomfort for some of you, as it can irritate your toes over time. This can be remedied by wearing thicker socks, but an inconvenience nonetheless. Having said that, the New Balance FuelCell Proper is one of the best shoes for high arches since it is made specifically for people with the aforementioned condition.
Pros
+ Fuel cell midsole provides good support and cushioning for high arches
+ Trace Fiber upper is comfortable and very breathable
+ NDurance rubber outsole is durable and lightweight
+ Comes in wide sizes
Cons
– Needs a bit of breaking in before feeling comfortable
– Toe-box overlay can cause irritation
---
3. Nike Epic React Flyknit 2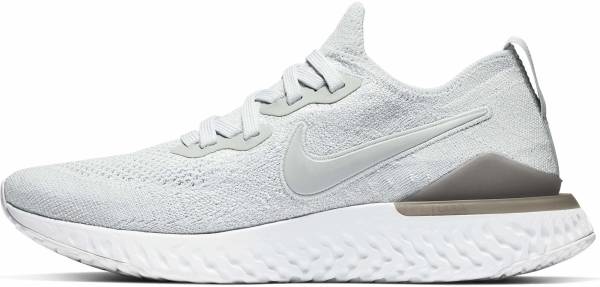 Now we have the Epic React Flyknit 2 by Nike. If the name was any indication, the Flyknit 2 features Nike's signature Flyknit upper fabric – a tried and true construction that gives you a lightweight, stretchy sock-like feel without compromising on any support or structural integrity.
Nike has chosen to implement the React Foam technology in the insole to give you a smoother and more comfortable ride that equally supports your midfoot and high arch area. Nike has also employed a molded heel design to give you a more stable and secure experience, keeping you firm and planted in your shoe.
There is also a contoured collar that sits gently below your ankle, providing just a bit extra comfort and support that you will definitely come to appreciate, especially if you intend to use these shoes for longer runs. It's no doubt that these shoes are extremely good looking. They are not only capable runners but also double as some of the best walking shoes for high arches that can be paired with almost any type of outfit. So, whether you're out on the track or at the mall, you will definitely be packing the "Cool" factor.
The outsole is made of a tough rubber that varies in the forefoot as well as the heel, with a slightly different composition that gives you a bit of extra traction in those respective areas. Overall this is a great running shoe that gives you solid support in the mid, heel, and ankle areas while sporting a competitive and comfortable design at the same time.
As for its flaws, the Epic React Flyknit 2 tends to run a bit small, so it is preferred if you get a half size or so up from your true size. Apart from that, there are no major shortcomings worthy of mention, though if anything, it would have been nice had the price been less costly for certain rare colorways, though the middle-of-the-road price isn't too terrible for its form and function.
Pros
+ Design is fashionable and eye-catching
+ Features soft and stretchy sock-like upper
+ React Foam technology gives you comfort as well as support
+ Contoured collar and molded heel cup your feet well
Cons
– Shoe runs about a half size smaller
– Some colorways are expensive
---
4. Adidas AlphaBoost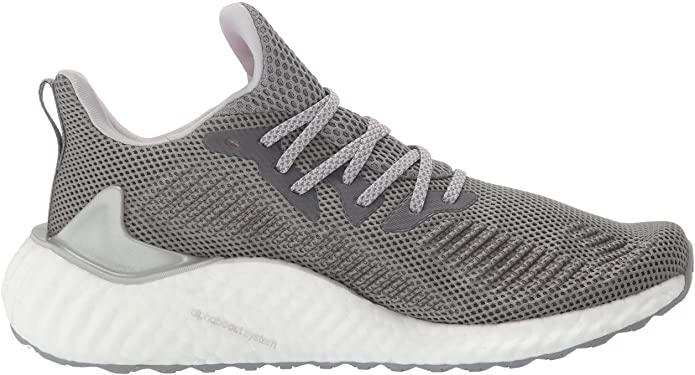 Now we have the Adidas AlphaBoost running shoe, a fully textile and synthetic mesh upper that gives you a comfortable and sock-like feel when worn. The AlphaBoost is designed to have adaptability and flexibility at the forefront, meaning if you love high arch support shoes and do exercises with a lot of lateral movement, the AlphaBoost is great.
The upper also includes a ForgedMesh design that allows for increased breathability and cooling for your feet during activity. What you are probably most concerned about, though, is the ability to support your underfoot, and for that Adidas created the Alphaboost system that features a dual-density Boost unit in the midsole along with stability pods strategically placed on the outsole, meaning your arches and rest of the foot will be more than adequately supported, so no need to worry.
The outsole is made of an extraordinary continental rubber compound that provides solid traction in both wet and dry conditions, which is great if you exercise more outdoors than indoors, exposing yourself to the elements. All in all, the AlphaBoost is a great pair of runners that you can use for a variety of exercises and activities without fear that your high arches might ache by the end of the day.
With that said, the upper is a bit misleading, since this is a sock-like shoe that has a woven-fabric look to it, you'd assume that the upper is fairly stretchy or malleable to a degree. For some that malleability and "comfort" feel to it is a huge selling point, but unfortunately the AlphaBoost's upper is definitely firm, like a more traditional runner. If you're looking for the kind of shoe that is less firm in the upper while still giving you the great arch support, you may need to pick a different pair.

Pros
+ ForgedMesh upper is very breathable and provides great cooling
+ Dual-Density Boost unit in the midsole offers lots of arch support
+ Continental rubber outsole is great on both wet and dry surfaces
+ Appropriate for a variety of exercises and activities
Cons
– Despite its look, the upper is firm like a traditional shoe
---
5. ASICS Gel-Excite 6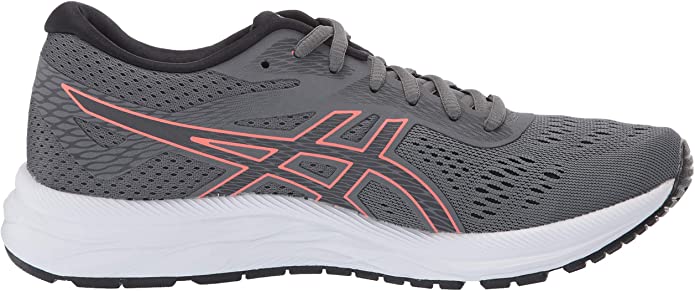 The ASICS Gel-Excite 6 is a comfortable and versatile shoe that can be used for daily activities on top of running or walking and is very affordably priced. It features a fabric upper that is durable and slightly perforated to add to its overall breathability, coming in a variety of colors to choose from.
There is an Amplified Midsole design that is engineered to maintain its durability at softer densities, giving you better flexibility, platform adaptability, and comfort, which are all ideal qualities for a person with high arches. There is also an Ortholite sockliner that aids in moisture management, and improves the overall comfortability and feel of the shoe when being worn.
If you're the kind of runner that goes all out or does hardcore exercises, you'll enjoy the rearfoot gel technology that ASICS employed in their cushioning system. This rearfoot technology attenuates shock during impact fairly well and allows for a solid and smooth transition, which is great if you happen to hit the pavement particularly hard.
Overall, these shoes are great for all sorts of activities ranging from the more demanding sports to just going for a casual walk, all while providing your high arches with the proper support they need. In terms of value, the ASICS Gel-Excite 6 is right on top of the list and the manufacturer has not skimped on its construction either.
The only issue with the Gel Excite 6 is the fact that it is a bit tight in the toe area. This is fairly obvious looking at its construction – which comes to a narrowing point at the toe-box, but it is still worth mentioning in case you are the type of runner who needs toe space, be it for overall comfort and feel, or a real need to have space for toe-splaying. Apart from this issue, though, the Gel Excite 6's are a great all-around pick for high arch support shoes especially for those who are very active.
Pros
+ Fabric upper is durable and breathable thanks to perforated design
+ Amplified midsole technology helps maintain durability and firmness
+ Ortholite sockliner wicks away moisture and increases comfort
+ Rearfoot gel pads help attenuate shock, great for playing sports
+ Affordably priced
Cons
– Toe box is slightly narrow
---
6. Brooks Glycerin 17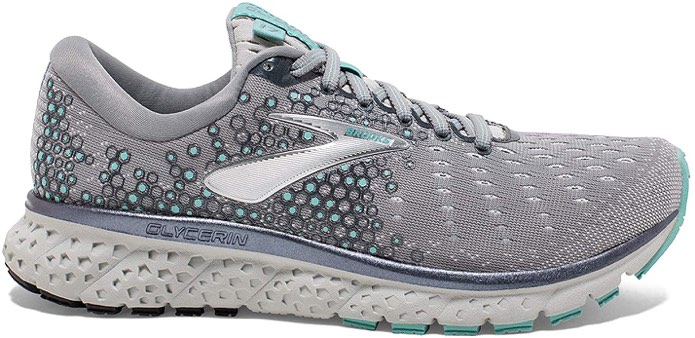 Next up is the Glycerin 17 by Brooks. These are a mixture of synthetic materials and mesh to form the upper, making for a very breathable and light design that keeps you cooler for longer. The mesh is Double Jacquard, engineered for higher breathability, flexibility, and structural integrity.
The entire upper is also engineered with 3D Fit Print technology, so not only is it very breathable, but also enhanced to fit your foot better. Internally, there is a durable synthetic sole that features a DNA LOFT midsole with pressure zones dispersing impact in key areas to give you an effortless and smooth ride.
This is also ideal for high arches and the shoe provides proper support and easing of pressure from the arches. Interestingly enough, Brooks implemented an internal stretch bootie that surrounds your foot and moves with your stride to give you a smooth and lightweight comfort that stays with you as you walk.
The rubber outsole is also ideal for gripping terrain, giving you steadiness and ground control from its padding and traction design, so if you are often on the pavement you'll appreciate the added grip. Overall, this is a very solid runner for high arches, with a stellar underfoot experience, versatility, and quality construction all making it a worthy purchase.
With that said, if you're used to the previous iterations of the Glycerin line, you'll find the 17 definitely feels different and that may not agree with you. Also, the colors and hues seem a bit off compared to the photos, which may be a matter of lighting or effect applied, but worthwhile to mention to prevent any aesthetic disappointments or surprises.
Pros
+ 3D Fit Print Double Jacquard mesh upper gives great support and cooling
+ DNA loft midsole and pressure zones make this shoe great for high arches
+ Grippy rubber outsole
+ Versatile design can be used for a variety of activities
Cons
– Feels a bit different than previous iterations
– Colors aren't as vibrant in person
---
7. Mizuno Wave Rider 23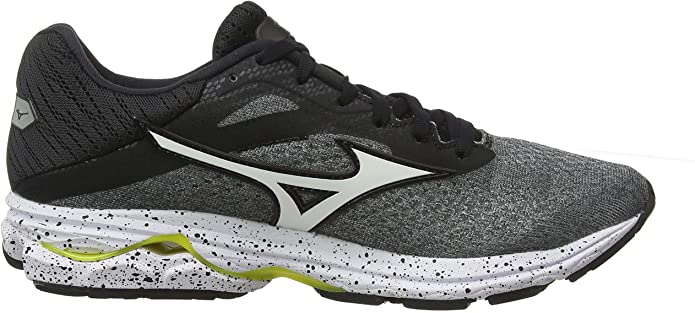 Next up is the Mizuno WaveRider 23, a shoe that is both incredibly comfortable and supportive while fitting snug and secure on your foot. The upper of the Wave Rider 23 is a composition of textile and synthetic fabric perforated in a way that allows for adequate cooling and hot air expelling without compromising any support or structure.
The midsole of the shoe, which is what you're most concerned about with high arches, is a U4ic design that delivers to you optimal shock reduction, durability, and an overall quality ride. There is also the U4icX which is also implemented in the underfoot to give you a soft feeling for a more comfortable transition.
There is a convex-shaped TPU unit that runs from the heel to the midfoot called the "Cloudwave technology" and this ensures that your underfoot is always comfortable no matter the position you put it in. Mizuno is inspired by the Japanese "Hado", a representation of life force, so all of its soft foam soles aim to give back a bit of life to you via energy return.
The outsole is created with X10 durable carbon rubber that not only gives you solid traction but allows for the shoe to last longer, increasing its lifespan significantly, no matter what type of road surface it is used for. The forefoot consists of a different softer rubber compound that provides extra cushioning for heel strikes.
While the 23's are a great iteration of the Wave Rider series, they don't particularly bring too much "new" to the table, as the 22's deliver much of the same feel and quality. If anything, you may actually be better off buying the previous version for a reduced price rather than this newer one that is only marginally better than the old one. Essentially, if this is the shoe you like, see which of the two shoes is more affordable to purchase, since they are equivalent in performance.
Pros
+ Sleek design
+ Good underfoot support from U4ic and U4icX
+ A ton of energy return from the foam soles
+ X10 outsole is very durable
Cons
– Not so much better than the Wave Rider 22
---
8. Nike Zoom Pegasus 36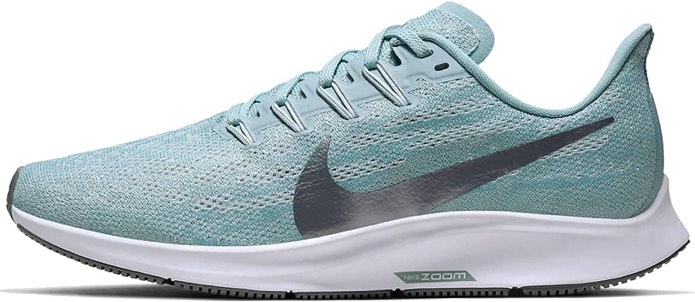 Next up is the Air Zoom Pegasus 36 by Nike, created with breathability in mind, evident by the perforated mesh upper that cools your foot off well, specifically in the arch area and forefoot. The Pegasus 36 features a full-length Nike Zoom Air unit built into it, a staple among all current generation zoom models.
This midsole unit gives you a firm yet smooth ride that is highly comfortable for your high arches. You'll notice that the Pegasus 36 is also fairly sleek in appearance compared to previous versions being a bit bulkier, and this socklike design definitely helps in the overall weight and breathability departments.
The foam used for the insole is known as ST Foam, giving your feet and arches great comfort and firmness during a run, as they hit that "just-right" threshold. This ST Foam cushioning is very responsive, meaning you can make quick movements without losing any support or stability from the shoe.
Nike also opted to include Flywire cables in the midfoot to give you a more secure and tighter fit to make sure it doesn't slip off or feel too loose. Overall, these are fairly breathable runners that are hard to pass up on if you have high arches especially if you intend to run and sweat a lot during workouts and exercises.
As for the flaws of the Pegasus 36, at this price range, you should expect more comprehensive sizing options available. Currently, there is very little that the Pegasus 36 offers for wider-set feet, and given its snug design, even if you choose to ignore that issue, it may be a bit of an irritation for you because of its close-fit. Fortunately, this can be remedied by ordering half a size up for a perfect fit. Apart from that knit pick, they are overall fairly good runners for high arches.
Pros
+ Aesthetically pleasing design
+ Upper is breathable and secured through Flywire cables
+ Solid support for high arches with ST Foam
+ Full-length Zoom unit in the midsole area
Cons
– Requires half a size up for optimal fit
---
9. New Balance Fresh Foam 1080v9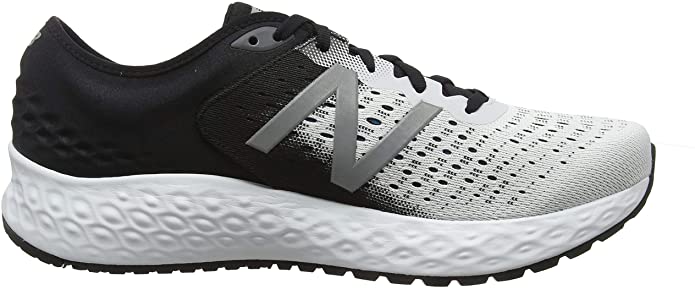 Nearing the end of our list is the 1080v9 by New Balance. These shoes have an excellent breathable mesh upper that is a mixture of both synthetic and textile fabrics that provide optimal cooling for those long sweaty runs.
The lace-up design in tandem with tongue and collar padding helps reduce any friction in the joint area and give you a smooth ride, which is great if you're someone who will be in these shoes a lot, and often.
Inside, there is a Fresh Foam midsole that gives you lightweight yet firm comfort for your high arches, as well as helping to promote ergonomic movement and integrate healthy habits into your natural gait cycle. New Balance has also included an Ortholite premium footbed, giving your underfoot a silky-smooth experience on top of great support.
To further increase your in-foot experience, New Balance also included a soft fabric lining across the internals to give you a softer and smoother feel. As for the outsole, it is made of a durable high-impact rubber that is grooved in a way that flexes easily and grips well, leaving little to be demanded. The NB Fresh Foam 1080v9 is a great pick for high arches given its high arch support and high energy return. On top of this, there are variable sizing options for wider feet.
As for its shortcomings, the New Balance 1080v9 suffers from a bit of an oddly shaped heel area that can be a nuisance to some. Some would also argue it is a bit expensive, but for the quality you're getting, it is understandable.
Pros
+ Mesh upper is engineered to be highly breathable
+ Cushioning and impact control from insole and midsole help high arches a lot
+ Comfort was at the forefront of NB's design philosophy for the v9's
+ Outsole has flexible grooves and a lot of traction to them
Cons
– Heel is a bit narrow, may be irritating to some
– A bit on the expensive side
---
10. Saucony Freedom ISO 2
Our final shoe on the list is the Saucony Freedom ISO 2 – a model that is designed to give you that sock-like feel without taking away any performance qualities. The upper is made of an ISO knit dynamic material that adapts to the shape and motion of your foot with a streamlined design that supports your foot and keeps it locked in.
Internally, Saucony included a full-length EVERUN midsole that enhances energy return while providing continuous cushioning. These two aspects sandwiched between your feet definitely improve conditions for high arches, making sure that you are not just perfectly comfortable, but well supported in motion.
The outsole is made of a highly durable material known as TRI-FLEX Crystal Rubber along the entire length of the shoe to reduce any form of abnormal walking or running motions by guiding your feet. The outsole is also transparent with "EVERUN" writing blazoned across the bottom. On top of this, compared to the previous version, this outsole is considerably more durable and long-lasting. Overall, these are a fairly decent shoe with a huge selection of colors to boot. They are durable shoes with high arch support and also double as lifestyle wear if you ever decide to wear this out to the club.
There is only one foreseeable issue with the Saucony Freedom ISO 2 – which is that it isn't true to size. It runs about a half size big, and that can end up feeling a bit more spacious than you'd like. Secondly, it's definitely in fashion to have a sock-like feel, which Freedom ISO 2 delivers in spades, but for those of you that prefer a snug-fitting shoe, you might have to order half a size smaller.
Pros
+ Soft and comfortable ISO knit upper
+ EVERUN midsole packs good energy return and comfort for high arches
+ TRI-FLEX outsole that is very durable and improved from the previous version
+ Wide color selection
Cons
– Runs a bit bigger, may require a half size down
---
Conclusion
To conclude, we have given you some insight into the specifics of high arches – what they are and how they have the ability to negatively impact your performance in sports and even your daily life. We have also given you what we believe to be one of the easiest remedies to this condition – proper footwear.
By wearing the right type of footwear, not only are you mitigating any current issues you may have as a result of high arches, but preventing further problems down the line too. Each of these shoes on the list has a variety of applicable uses – from traditional runners to even shoes that are good for sports and high-impact activity. But they all share something in common in that they all provide support for high arches to alleviate any pain now or in the future.