Can shoes help back pain?
You may not realize it, but our body isn't just autonomous sections stitched together, but they are a complementary system that works with one another. There is a significant connection between our spine and our legs, with our legs carrying our weight and all of that force is applied onto our feet, and therefore our shoes.
Things like poor posture, aging, or lack of fitness all contribute to back pain, and while we cannot control our age, we can help support our backs and relieve pain by improving our natural walk cycle and posture.
Shoes with adequate engineering do both of those things well, and essentially help correct issues in our back and lower legs.
---
Things to consider when buying shoes for back pain
Normally, when we talk about things to look out for in a shoe, we mention what aspects we like most, but in this case, it is actually best to start with things to avoid when picking out a pair of shoes that will help alleviate back pain. Here are some things to universally avoid:
Shoes that aren't adequately designed to support your underfoot
Shoes that aren't stable, put form and aesthetics over stability
Have very high heels – this isn't good as it forces a shift of weight forward and exacerbates spinal issues
Have zero heels – as this may as well be equivalent to going barefoot. Having a balanced incline is best for your spine as your body will naturally position differently.
Shoes that cause irritation like blistering or bunions – the last thing you want is extra issues to pile on to your back and foot problems, making it even harder to deal with the root causes
In general, you are going to want a shoe that is designed to provide arch support and shock absorption, have a decent but not overdone heel, and reduces any skin irritation. All of the shoes we are going to include in our list are capable and qualified designs that will certainly help with back pain.
---
1. Brooks Addiction Walker 2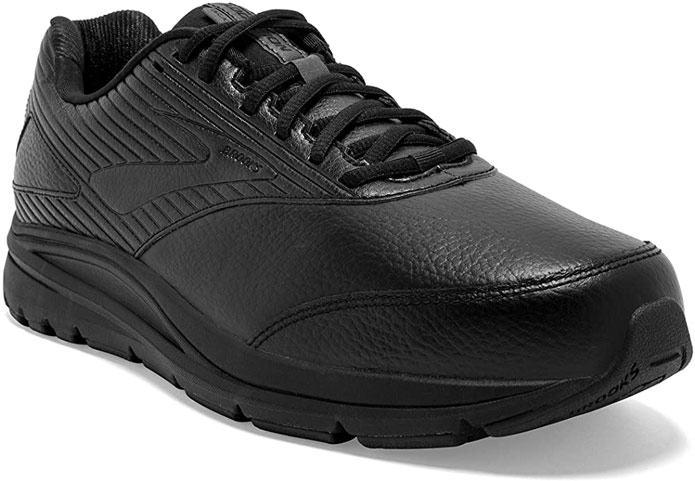 The first pair of shoes we have that help with back pain is the Brooks Addiction Walker 2. These shoes come with a refreshed full-grain leather upper and a synthetic sole. The Walker 2 is a durable and breathable shoe that helps give you long-lasting comfort and support.
If you have wide or narrow feet, don't fret, as they come in varying widths as well. On the inside, the Walker 2 has a diagonal roll-bar, helping to support your arch as well as guide your foot into an ergonomic gait. This in turn helps reduce back pain by getting your body moving in a natural gait cycle.
The insole is Brooks' BioMoGo DNA tech, adapting to your stride, weight distribution, and walking style. The outsoles of the Walker 2 are also exceptional – giving you good footing with its ample traction.
Essentially, you get a very smooth ride that helps better secure your feet and your back in a neutral posture. The Walker 2 is highly durable inside and out, and with the rugged outsoles, you don't have to worry about uncertain terrain, or whether your feet will be adequately protected.
As great and practical as the Addiction Walker 2 is, there are a few gripes some may have with them. Similar to the previous version (though to a slightly lesser extent) they are a bit bulky. Of course, a sturdy shoe has to have a bulky foundation, but that may not be to your liking.
Secondly, the leather upper takes a bit of breaking in, so if you want a shoe fresh out of the box and perfect on the first fit, you may be a bit disappointed that the Walker 2's need some time to adjust to your foot. With that said, when they are broken in, they feel great. The Brooks Addiction Walker 2 is, without a doubt, one of the best shoes for back pain.
Pros
+ Durable full-grain leather
+ Sizing options for various foot widths
+ BioMoGo DNA insole is great for your feet and lower back
+ Designed to improve your natural stride
+ Durable and high traction outsole
Cons
– Are on the bulky side – There is some break-in time associated with them, to better mold to your foot
---
2. ASICS Gel-Kayano 25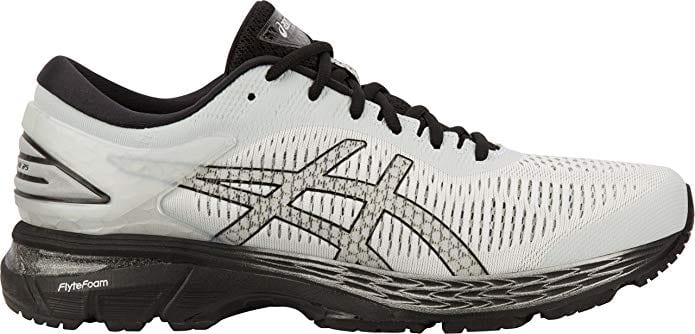 Now we have the Gel-Kayano 25 by ASICS – a long-standing staple for you runners out there. If you want back pain relief, stability, support, and comfort when running, the Kayano 25 certainly delivers.
The upper of the Kayano 25 is a jacquard mesh, making for a very light and breathable ride. ASICS implemented its Impact Guidance System to help improve your foot's gait, a DuoMax Support System to enhance your support and control, and a Trusstic System to give midfoot support.
When it comes to stabilizing your foot, getting it into good form, and being comfortable, the Kayano 25 has one of the best internal systems out there. On top of all that, the Kayano 25 also has a Heel Clutch system – which is like an exoskeletal counter that supports the rearfoot area, along with gel cushions to soften impacts.
The outsole is made of a tough rubber that has a great tread pattern to make sure you have a firm grip and are planted to the ground with every step. If you're a runner and are dealing with back pain, you might find that the support the Kayano 25 provides is just what you need.
As great as the 25 is, they do have a few drawbacks. Firstly, ankle padding could do with a bit more plushness. Secondly, over time the FlyteFoam upper tends to break down, especially right above the toe-box.
If you have large toes or a sensitive ankle, you might have to reconsider the Kayano 25. While these aren't complete deal breakers, it's good to have a full picture of the shoe and its qualities. In terms of price, these are the best shoes for bad back.
Pros
+ Lightweight and flexible upper
+ IGS, DuoMax, and Trusstic Systems helps deal with back pain
+ Gel cushioning softens landings
+ Good outsole treading for all sorts of terrain
Cons
– A bit more plush ankle padding would be preferred
– Upper breaks down over time and with a lot of use
---
3. Brooks Ghost 11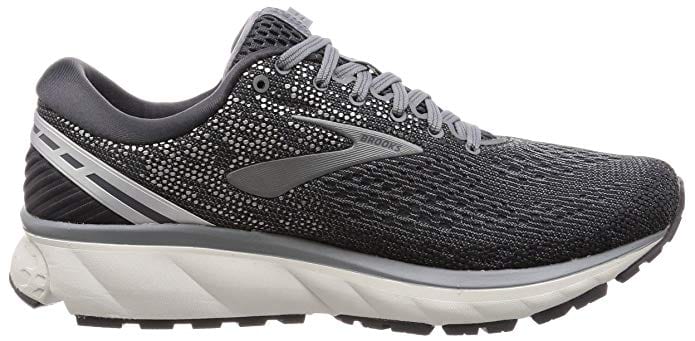 Next is the Ghost 11, another by Brooks, and another running shoe that is equally good at mitigating back pain. The upper is a finely woven mesh upper that is incredibly breathable and gives you a solid snug fit when worn.
It manages to fit your foot's personal shape very well. The mesh also has zones made for ample stretching and give, so you'll get a great range of motion and not feel constricted with them on.
Brooks also added DNA LOFT cushioning to the Ghost 11, giving you support and a spring to your step, which you might really like, and help with lower back pain especially. Similar to the Walker 2, there is BioMoGo DNA foam in the midsole, giving you a very responsive ride that adapts to your running style, and cushions the areas that need it most, like your arches.
The outsole of the 11's is also more aggressively lugged, giving you a more secure grip than previous versions. If you want a trendy and hip looking runner that also alleviates back pain and gets your foot moving in the right ways, the Ghost 11's are a definite contender.
As sleek and helpful as the Ghost 11's are, you'll notice that they aren't super durable. This is mostly because they went for a sock-like upper rather than using a more durable material that is less snug.
This means that they will break down a bit quicker than more rugged options, but for some that won't really be a noticeable issue especially if you take care of your shoes well. Secondly, the toe box may feel a bit narrow depending on your toe width, if they are on the wider side. These are one of the best shoes for back pain especially if you're also into running.
Pros
+ Trendy and snug sock-like upper
+ Mesh gives you a better range of motion and a less constricted feel
+ BioMoGo DNA midsole is great to keep your gait healthy and back relieved
+ Outsole is more aggressively designed; better grip
Cons
– Mesh upper is less durable than other models
– Toe box may be a bit narrow for some
---
4. New Balance Fresh Foam 1080v8
Another amazing shoe for back pain is the Fresh Foam 1080v8 by New Balance. As the name alludes to, there is Fresh Foam innovative midsole that is a singular piece of foam that aids in giving you a more natural gait and relaxed ride overall.
Those with foot conditions or lower back and leg pains have been clamoring for this shoe in particular because of its ergonomically-conscious design. The outsole is tailored to provide ample traction, with a great support system to soften impact and landing, taking unnecessary pain and stress away from the leg and back.
It manages to do all this without skimping out on support in the midfoot or arch areas, too. The model also runs true to size, and with a variety of colors. Overall, there is a lot to love about the 1080v8's.
As wonderful as they are, the 1080's aren't without their weaknesses. Because of how much support you're getting, the underfoot experience is a bit firmer than some would expect.
If you really prefer a light and airy feeling, the 1080's may not meet that desire. With that said, if you do suffer from back pain, the firmness is worth it. They are also a bit hard to get a hold of as their popularity has gone up, and production has gone down. alternatively, the newer models are more easily available and just as effective.
Pros
+ Ergonomically engineered to provide support and natural gait
+ Helpful for lower leg and back pain
+ Good support in the arch and midfoot
+ Variety of color options
+ Aesthetically pleasing
Cons
– Not easy to find for a cheap price
– Underfoot experience is a bit on the firm side
– Not super-lightweight
---
5. Vionic Unisex Wave Flip-Flop Sandal

At the halfway point we have a unique pick, which is unlike the other options on this list. This is the Vionic Wave sandal – a good option for those of you experiencing discomfort in the back and lower leg areas.
They are affordable, made of nylon-weave support, tough rubber outsole and most importantly, it is podiatrist-designed. It has a biomechanical footbed with a deep heel cup, keeping your feet aligned in a natural and smooth way when in motion.
The footbed is certified by the APMA, as well as being clinically proven to help with a variety of foot conditions, on top of giving pain relief to your back. The design is great for those who need extra arch support or has a misaligned gait.
Also interestingly enough, these sandals have a good amount of extra space in the toe area, helping your toes splay out in a comfortable way. It should also go without saying that since they are so open they are very breathable and great for airing your feet out.
As for any downsides, the only thing we noticed is that the sandals do have a bit of a break-in period before they start feeling very comfortable and accustomed to your foot's individual properties.
They also might feel just a bit wide if you happen to have narrower feet. Apart from this, they're a great pick if you want a pair of sandals that help out with your back pain.
Pros
+ Orthotic arch support helps reduce back pain
+ Certified by the APMA, designed by podiatrists
+ Affordable
+ Decent color selection
Cons
– Becomes most comfortable after some break-in time
– Runs a bit wide
---
6. Hoka One One Bondi 6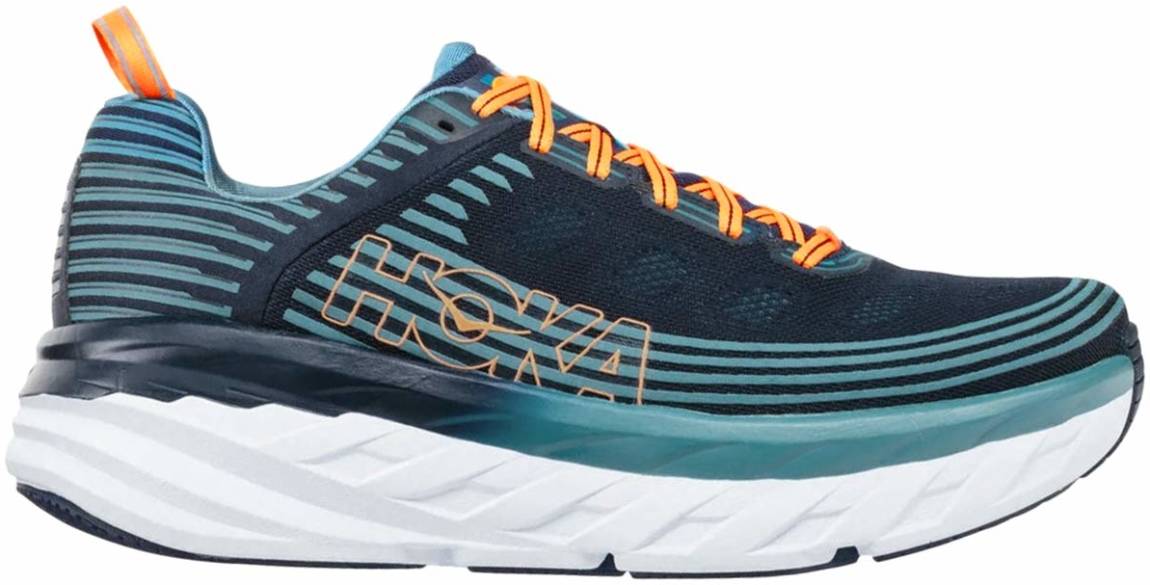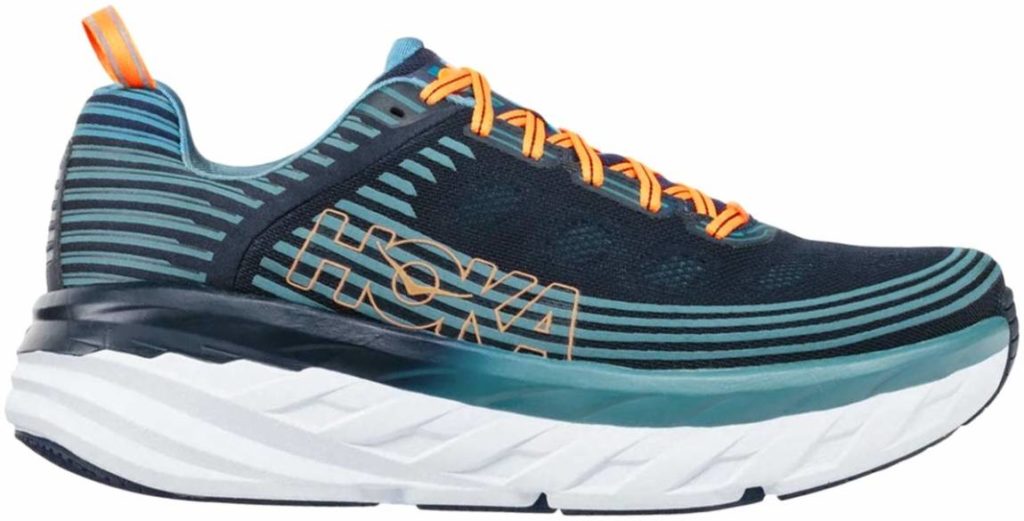 Now we have the ever-stylish Bondi line by Hoka. The upper is an open-engineered mesh that has certain synthetic overlays to help solidify the upper without compromising on any breathability. Hoka also implemented a textile lining that helps ease any friction when they're on your feet, while also still being fairly comfortable and breathable.
The insole is a custom design engineered by Hoka to be amply padded with a full-length EVA midsole, stabilizing your feet, and easing tension on your knees and back. This midsole is also great for reducing the impact upon landing, and not letting all that force go straight to your legs and back.
As we said, the Bondi line is stylish, which means there are a variety of colors to choose from, whether you want to have a pair of vibrant runners or more low-key ones. The Bondi 6 is incredibly comfortable and give you great back relief because of this ergonomic design and solid support system.
If you don't like the existing footbed, though, you can easily replace them with a third party orthotic that you do like, making the Bondi very flexible. The rocket-bottom on the Bondi 6 is engineered to steer your feet into a natural walking motion from landing to toe-off.
As great as they are, you may notice these are a bit bulkier than other runners, which might not be your style compared to trendy sock-like runners. On top of this, they can be a bit on the pricier side compared to other options, and that can be off-putting if you're looking for a budget-friendly alternative.
Pros
+ Great air mesh cooling
+ Versatile, can use third-party orthotics easily
+ Padded collar, tongue provide a comfortable in-foot experience
+ Full-length EVA midsole is great for pain reduction in the back
Cons
– Might not be aesthetically pleasing to some
– A bit expensive
---
7. New Balance 990v5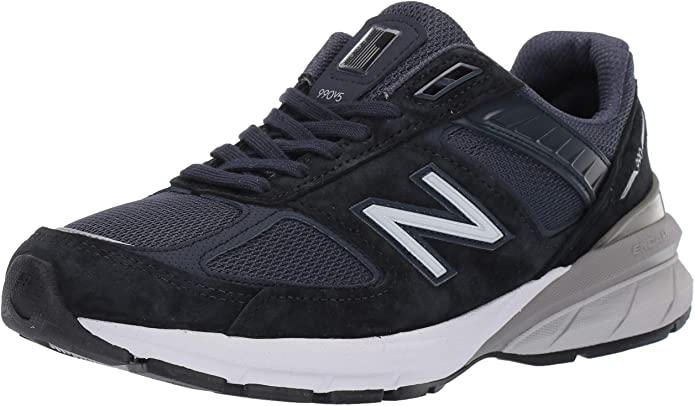 Our penultimate shoes for back pain is the 990v5 by New Balance. The 990v5 is made of a durable mesh and synthetic upper, giving it a bit of firmness and a bit of breathability at the same time.
When it comes to back pain, and mitigating it through the underfoot experience, it should be mentioned that the 990v5 features medial underfoot support through the ENCAP midsole, using ACTEVA LITE foam technology giving you firmness, durability, and comfort.
It also helps to reduce the shock of impact you experience by absorbing most of it by itself. Also, if you're a runner, you'll be pleased to notice that the v5 has a thin 3M reflective surface to make you more noticeable in the dark.
Similar to the v4, they have a great dual-density foam in the ankle and tongue padding to provide a cradled and snug experience for your ankles and lower leg. This will also further help ease your lower leg and back pain.
Just like previous iterations, the v5 has great width sizing, ranging from X-Narrow to 3X-Wide, so regardless of how wide or narrow your feet may be, the v5 will fit just right. The outsole is a strong blown-out rubber that is well received for its durability and stability across many surfaces.
While the v5 is pretty great overall when it comes to performance and cost, some may not fancy the way it looks. If you're not so into the more bulky, boxier look, you may not find the 990v5's as appealing as snug and sock-like runners.

They also may not feel as free (in terms of the range of motion) compared to other options given how supportive the ankle area is. If that isn't too much of a concern for you though, and you just want a pair of runners that will definitely help your back and still be competent runners, these are solid. Having said, these are also one of the best work shoes for back pain.
Pros
+ Synthetic and mesh upper make for breathable and strong upper
+ ENCAP midsole made of ACTEVA Foam helps remove stress form legs and back
+ Ankle and tongue padding are great for security and support
+ 3M Reflectivity is great for night runners
+ Variety of sizing options from X-Narrow to 3X-Wide
Cons
– Not everyone will be a fan of the bulky design choice
– Padding may feel a bit restricting for certain sports
---
8. Altra Escalante 2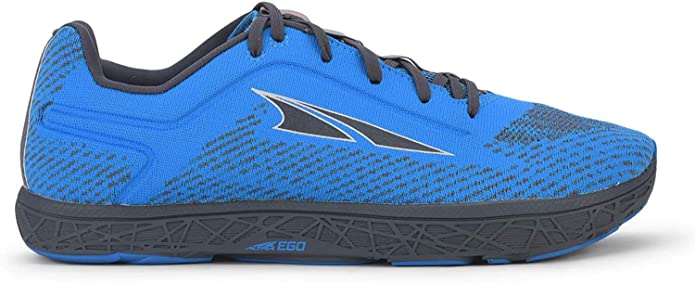 Finally, we have the Altra Escalante 2 – famous for its ample toe spacing and big toe box that allows for natural toe-splaying. While initially made for road running, these shoes have come to prominence for being versatile and capable of more casual activities.
Altra included their EGO technology to the midsole, giving you amazing arch support and foot pods which map the tender areas of the foot and provide a natural rest position. This means when even just standing around you'll be doing wonders for your leg and back health, especially if your current posture and positioning are off.
The EGO tech is dual-natured in that it gives you responsiveness yet soft energy return. If you are fairly active, you'll notice that on these shoes everything will feel overall easier, and gentler on your lower body. The Escalante is an affordable, effective, and well-crafted shoe that checks a lot of boxes because of its great design choices.
As great as it is, the Escalante 2 isn't the perfect shoe. You'll notice that the upper isn't as durable as others when facing the harsh climate of the outdoors, and is better suited to indoor or milder weather activities. On top of this, compared to previous Altra shoes, it just doesn't feel as grounded, which may be off-putting to some. Regardless, these are one of the best walking shoes for back pain and other lower leg issues.
Pros
+ Well designed and very comfortable upper
+ EGO Tech sole makes for a great support system and pain reliever
+ Well priced
+ Toe box is good for toe-splaying
Cons
– Not best for harsh climates
– Doesn't feel as grounded as other versions
---
Does walking barefoot hurt our back?
The simple answer is yes. Walking barefoot over extended periods of time or frequently can create back problems in the long run. Walking barefoot can impede our foot health by taking a toll on our bone structure, as well as stressing our muscles and tendons that have to put up with our body weight without any external support.
Shoes reduce this stress by improving our foot health and making sure we don't develop problems beyond the foot area.
---
Frequently Asked Questions
Is it better to wear shoes or go barefoot?
While we aren't born with shoes, using foot protection and support systems are the preferred way to walk in the long run, as it reduces the stress, tension, and possible gait issues from being barefoot constantly.

Modern shoes do more than just protect us from the elements. They also give us cushioning and shock-absorption that would otherwise fall square on the bottom of our feet, wearing down muscle and creating aches over time. It is highly recommended to walk in shoes instead of barefoot. 
Can back problems cause pain in the feet?
While some problems are strictly isolated to the foot area, such as bunions or ingrown nails, it is definitely possible for unusual spinal conditions to be the underlying cause of certain foot problems.

To give you an idea, here are some general symptoms that are caused by spinal conditions:

– Pain only on one side: if you have foot pain only on one side of your body, this is a typical sign that the root cause is in the spine, such as a pinched nerve. 

– Leg pain: if the foot pain you experience is accompanied by leg pain, this is another sign that a spine condition is a cause. When a nerve in our back isn't doing well, it is evident across the whole leg, not just pain in the foot.

– Difficulty in raising your feet: if you have trouble with this task, or feel pain and numbness when you try, it is likely that the problem comes from your spine. Another sign is that you have an easier time walking on your heels than evenly displacing weight across your feet.
How do you get rid of neuropathy in your feet?
The truth of the matter is there is no magic bullet for neuropathy, and it is also heavily dependent on the type of neuropathy you're dealing with.

In the case of autoimmune neuropathy, diabetic neuropathy, or medication-induced neuropathy, treatment and management can create a positive response that slows or stops further progression.
 
In the case of genetic neuropathy, they are difficult to improve and treatments are often not the simple and easy way to combat it. With that said, lifestyle changes and managing your neuropathy is still viable and still worth a shot.
 
Some of these changes include: losing weight and regularly exercising (walks included), limiting the consumption of substances like alcohol or tobacco, and making sure any injuries don't go untreated.

Consulting a medical professional is best to determine what kind of plan would work for you, but it is not a hopeless cause, just a call for fundamental changes in lifestyle.
Does walking help sciatica?
Sciatica is a very specific type of pain, afflicting the sciatic nerve in your lower back. It starts at the lumbar, runs across your behind, down your gip, and all the way across the foot along the outside.

Sciatic pain is any injury anywhere across this nerve. Sciatica is typically an issue that only affects a single side of your body, and happens often among people who have had repetitive stress injury for example.

As for whether walking will help improve sciatica, the answer is definitely, yes. For the vast majority of people afflicted with this pain, walking is great for pain relief and healing.

In general, physical activity like walking helps to reduce inflammation of the nerve and pain associated with it. It is ideal to create a walking regimen that includes a pair of supportive shoes, and a shorter stride to reduce stress and improve healing.
---
Conclusion
To conclude, we have highlighted some of the most pressing questions you may have regarding back pain, how shoes may be able to help, and what to look out for when buying a good pair of shoes.
Also more generally, we've tried to give insight into some tangentially related questions or concerns you may have based on your current situation and issues. Back pain, in many cases, is heavily influenced by how we walk, and getting a proper pair of shoes that gives us a good stride, ample foot support, and stability, will without a doubt help reduce tenderness and pain in the back.
Our bodies are not all independent of each other, but everything relies on other parts as a whole, so when one part of our body isn't doing its job as well, other parts, like our back, will feel that pain and burden. Alleviating a lot of that through proper leg and foot care is a significant first step to regaining your bearings and living pain-free.