Light up shoes were all the rage in the 90s amongst kids and adults alike. They are now making a comeback with better LED technology, USB charging, and remote controllers. We've covered a total of 14 of the best light up shoes for adults and kids – all of which are perfect depending on what you value.
We've covered some of the things to look out for, as well as each shoe's best attributes as well as some caveats. Overall, we hope this list will help dispel some myths and enlighten you on the world of LED light-up shoes (not just for kids!) and help you find your perfect pair!
Determining the best Light-up shoes for you
Lighting System
When buying light up shoes, one of your top priorities should, of course, be the lighting system the pair of shoes are equipped with. You should check the number of LED light colors present in the sneaker you are thinking about purchasing – does it have the colors you like? Does it have a dynamic color change, or is it a static color? Which do you prefer? If you find yourself to be a particularly indecisive person, getting yourself a shoe with both of those color modes is preferable.
Material
It cannot go without saying that the right material can make or break a shoe, literally. You should consider shoes that consist of durable but also comfortable fabrics that will not irritate your foot nor will it break down after only a few weeks or months. Don't forget, you're intending to get a pair of shoes you, or its recipient, really fancy, and therefore, will be wearing fairly regularly, so they have to last and have to provide you with a decent and comfortable experience.
Size
You're looking for a shoe that fits you, or the person you may be purchasing it for, perfectly. Ideally, the pair of shoes are not too small (causing discomfort and friction) nor are they going to be too big (causing slips, falls, or general irritation).
Battery life
You wouldn't want your light-up shoes to fade out of light in the middle of an outing, which is why it is of utmost importance that you find a pair that contains a rechargeable battery. Typically the batteries used in Light-Up's require two-to-three hours of charging for anywhere between six-to-eleven hours of its light-up feature.
---
1. MOHEM ShinyNight High-Top LED Shoes (Adult/Unisex)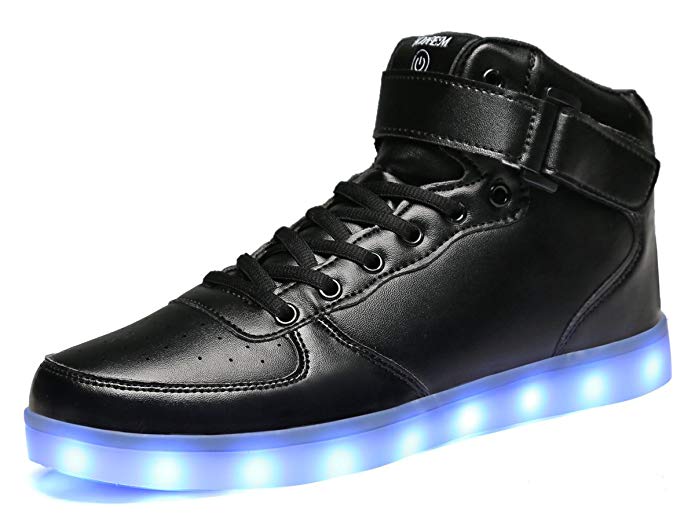 The very first pair on our list, the MOGEM ShinyNight's are a perfect pair of LED light up shoes that are designed for adults as well as children. They are Light up USB charged shoes that come with remote control for easy access. You will not have to squat to change settings or colors with these bad boys. There are four types of dynamic color settings and seven types of static color settings to choose from.
To take them out of idle mode, you will have to flip the switch next to its charging port, and once it is pressed on, it will wake up the MOHEM ShinyNights. Continuous pressing will result in the changing of colors emanating from the shoes. To turn it off you can either press it twelve times or hold it down for five seconds.
MOHEM ShinyNight's are made of high-quality material, meant to be breathable, with rubber soles and ankle cushioning that certainly provide you with a durable and comfortable experience. They must be charged for 2-4 hours and they can get up to 8-10 hours of lighting on a full charge.
On top of having a variety of colors to light up the soles, the ShinyNights also come in a variety of colors from black and white to Shining Gold/Pink/Blue. There are a plethora of women's and men's sizes so it is a light-up shoe for any adult, as they run true to size.
Pros
+ Variety of light up settings
+ Standard material color variations
+ Good price on a budget
+ Sleek and comfortable shoes
Cons
– Can wear out quickly if worn frequently
– High Tops might not be the style you're looking for
---
2. Shinmax Fiber-Optic Light Up Shoes (Unisex/Adult)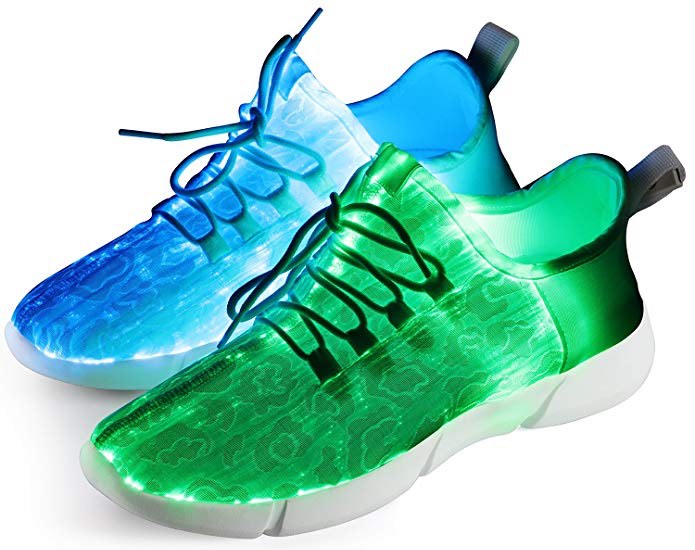 These shoes are designed with women and men who love light up shoes that are comfortable and sturdy. These kicks are manufactured by the most reputable brands in the entire industry, and are of a high enough quality to put up with daily use and abuse. Given their great design, you can wear them practically anywhere you plan to go.
The upper-shoe area is made of a Fiber mesh that makes the entire shoe feel incredibly light-weight. They are foldable and easy to slip on, have a breathable interior and an EVA outsole to provide shock absorption.
As for lighting options, there are 11. Seven of which are single colors and four of them are flashing a variety of colors, with a setting perfect for whatever you feel like at that very moment. The switch for these settings is in the inside of the strap of the heel, so well-hidden. Whether you're at a festival or a party, you will no doubt notice how eyes will be guided to you when these Shinmax Fiber-Optic's turn on. When the lights are off, they look like a regular pair of runners for when you feel like going incognito.
Pros
+ Quality manufacturer
+ Trendy design
+ Flexible and comfortable
Cons
– Slightly more expensive than other options
---
3. SLEVEL LED Light Up Shoes (Kids)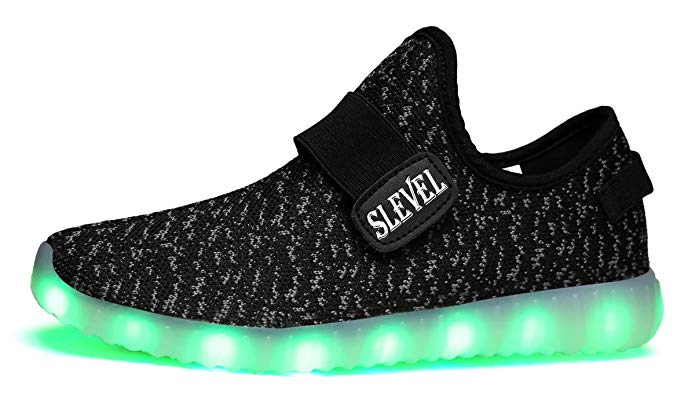 These Light up SLEVEL shoes essentially serve as a version of the MOHEM ShinyNight High-Top meant for children and young adults, but some of the designs being less bulky and more similar to lightweight trendy shoes. They have a rubber sole that is meant to take a beating on the schoolyard and still hold together well after you buy them. To wake these shoes up, hit the switch beside the charging port. Press them to turn it on and with each subsequent press, you can switch colors.
The charging port takes USB cables, meaning you can connect it to your computer, mobile phone, or other chargers. It is universally safe to dock in any of the aforementioned third-party charging devices. The design is great for kids as they are trendy, have a variety of colors, but can also be turned off when the lights are no longer needed.
The SLEVEL shoes come with a remote control to cycle through the sixteen available colors. They feature breathable and water-resistant soles for comfort and durability for your children. SLEVEL's are a great gift idea for children of all ages, as they are sleek, they're bright, and come in a variety of options material-wise. The only poignant issue is the fact that there are no instructions available to teach you how to use the remote, so children may need help from an adult to learn how to use the shoes and all its features on their own the first few times.
Pros
+ Bright colors
+ Two designs: bulky or lightweight
+ Soles are breathable and durable
+ Great present for boys or girls
Cons
– Lack of clarity on using the remote control
---
4. LeoVera LED Shoes (Adult, Unisex)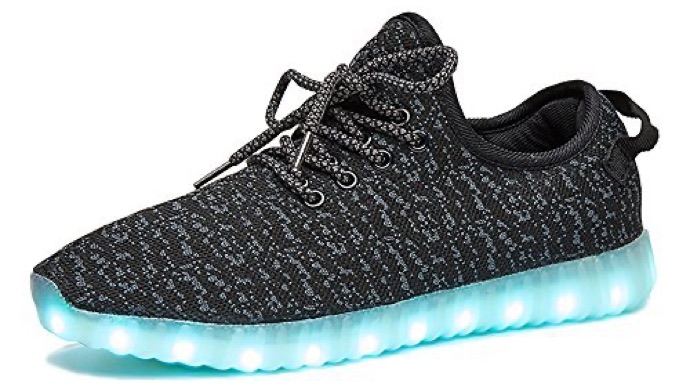 For those of you looking for a comfortable pair of light-up LED shoes for either males or females, then LeoVera may be the perfect light up shoes for adults. The light-up features include a wide range of colors aimed at attracting attention wherever you are. Their design is much like other lightweight trendy shoes on the market currently with the added feature of lighting up at the sole.
They come with a well-hidden switch and USB charging port as well for a fluid and fashionable way to recharge your LED lights. The LeoVera light up shoes is unisex, meaning that both genders should feel more than welcome to buy a pair and wear them wherever they see fit. You can wear them on a night out, at a party, at the club or a get-together, and even at home. Their design and ability to turn off the LED lights means they can be the center of attention when you want them to be, or subtle and unassuming when you don't want them to be.
Material wise, they are a knit fabric top with a non-skid rubber sole, so the LeoVera's are comfortable and flexible but also durable and tough in the right places. With that said, these LeoVera's tend to run a bit smaller than normal – up to half a size smaller. As for the battery life, one charge session of 2 to 3 hours can provide you with up to 8 to 10 hours of light uptime.
Pros
+ Sleek aesthetic and long battery life
+ Comfortable and unassuming when lights are off
+ Center of attention when lights are on
+ Good choice on a budget
Cons
– Not true to size – order half a size up
---
5. DoGeek LED Shoes (Women's)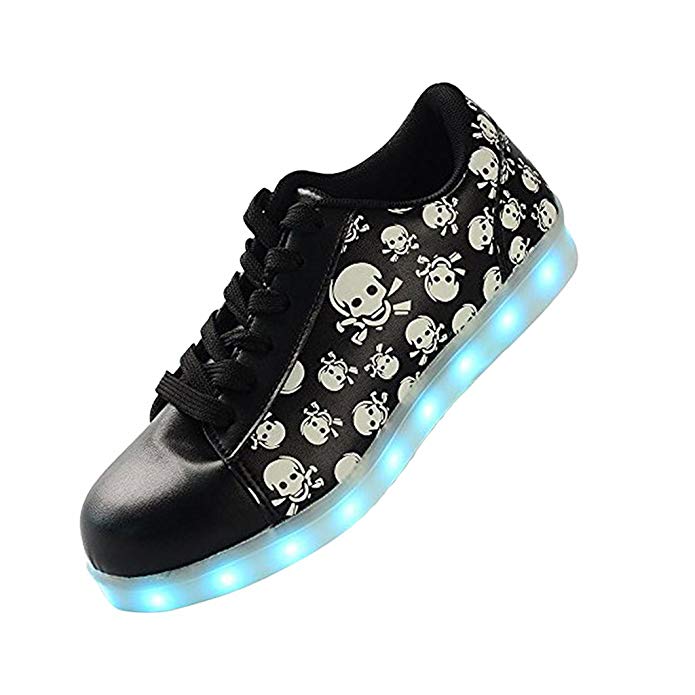 Up until this point, many of these shoes shared the same type of style and influence – they were either fairly bulky and supportive or more lightweight and flexible. The DoGeek's fall into their own category with their own gothic-inspired aesthetic. The DoGeeks are covered in white skulls to contrast with the dark black background and both of which contrast with the bright lights that emanate from the rubber sole. These light up shoes are perfect for the raver in all of us, with a punk design and a light up feature that says "hey, I'm here!". Of course, there is also a switch to change the color to whatever you desire at that moment.
An unfortunate reality for many light up shoes is that the lights end up failing towards the end of their life span, or sometimes the wiring is not properly soldered or well connected. In many of these situations, we are left helpless with a pair of light-up shoes turned regular. With the DoGeek, there is an option to salvage such a situation – a one year warranty. To show their commitment and belief in the product's quality, within a year of purchase you can get a return on these shoes. So if they get roughed up after a summer of hard raving and concerts, you can simply send them in and still rock a fresh pair during the winter.
While the DoGeek's do cater to women's size very well, up to size 11 (men's 8.5), that would not be enough to qualify these as accessible for many men. Another downfall is that these shoes are not made for strenuous tasks or activities, but more as a fashion statement.
Pros
+ Unique style
+ One year warranty
+ Ideal for women
Cons
– Not great for any intense activity
---
6. Another Summer Leisure Flat's (Unisex/Adult)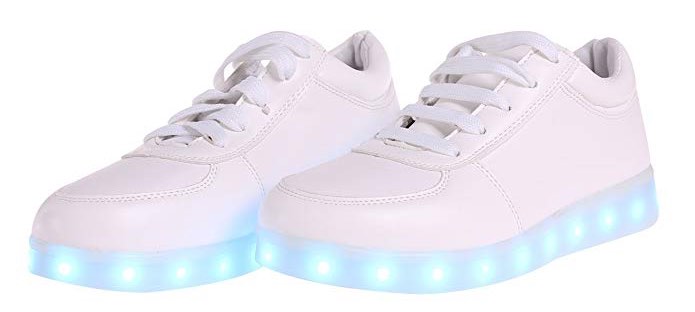 These shoes toe the line between bulky and lightweight in design, with a PU Leather top and rubber light up sole. The lights have seven static colors and a single color changing option that rotates between the following colors: Red, Yellow, Green, Blue, Purple, Aqua and White. These shoes sport a minimalistic design mixed with a slightly bulkier look to create a nice looking sneaker that is appropriate for both men and women, regardless of age. In some sense, it is a timeless design. These shoes are meant to be a cheaper alternative to other light up shoes on the market currently, but do a bang-up job.
The downside is that they only come in a white/creamy colorway and nothing else for the topside of the shoe. So for those who would wish for different colored shoes (not just lights), you're out of luck with Another Summer. The sizes seem to ring true for some, while others state that they need a size down to get the best fit, so that might be another obstacle to overcome.
Pros
+ Clean and simple design
+ Variable color changing options
+ Cheaper alternative to other light up shoe options
Cons
– Sizing varies from person to person
– No other option other than white/creamy topside of shoe
---
7. Gaorui New Women Light Luminous High-Top Sneakers (Women's)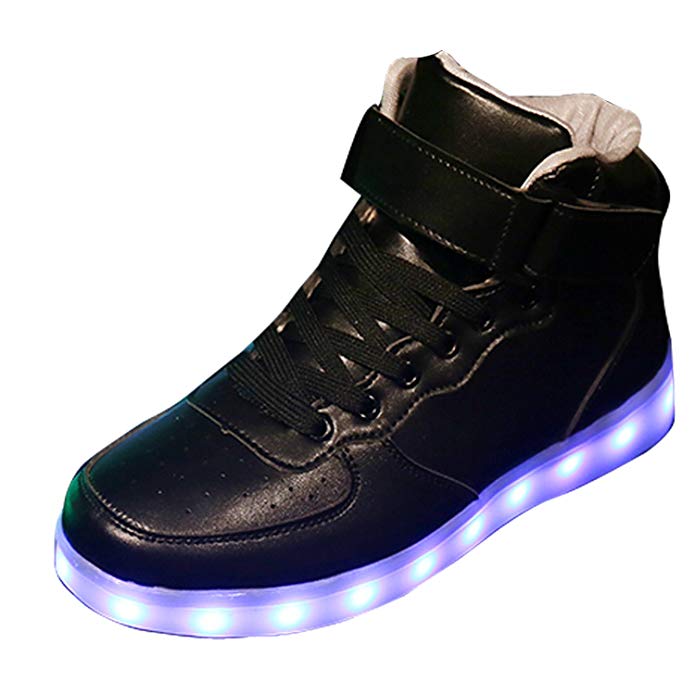 These shoes are comprised of synthetic materials and a rubber sole, and sport an incredibly unique design. It has a cotton fabric lining and aims to keep your feet fresh whenever or for however long you wear them. These shoes have designs clearly dedicated to the more feminine sex – with fur and animal rhinestone looks.
They have a unique design and distinct logo embossed on the very front of the shoe. Other designs are even more flashy, but regardless of the model you pick, you will stand out and inevitably get comments about your kicks, even with the LED lights turned off.
The shoes run true to size, provided you abide by the manufacturer's sizing chart, so there should be no worries there. The only issue is that some of you may be looking for a more low-key design that stops attracting attention the moment you turn the LED lights off – this isn't it. They will attract attention regardless.
Pros
+ Fresh design
+ Multiple styles
+ Wide variety of colors
Cons
– Sizing is tricky if you don't use manufacturer's chart
– Not a leisurely or low-key design
---
8. Idea Frames Fiber Optic Light Up Shoes (All Ages, Unisex)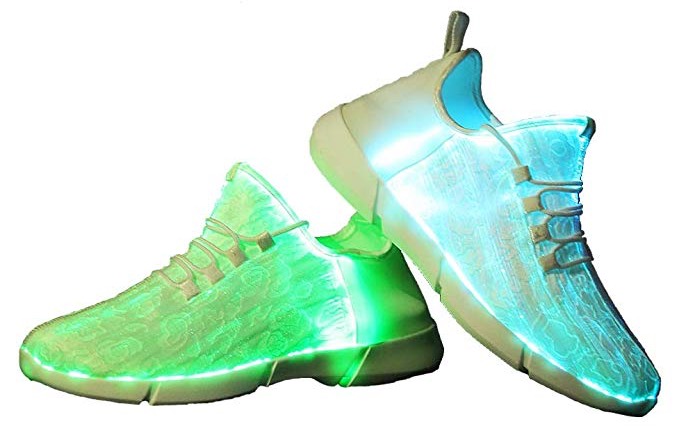 Idea Frame shoes are some of the sleekest looking shoes around, light up or otherwise. These shoes light up the entire foot as opposed to the classic sole designs of yesteryear, providing a very futuristic and high-fashion feel and look to them. They are not bulky, but thin and minimalistic, with a cloth upper that is lightweight and water repellant.
Inside the strap, there is a switch that allows for color control. There is high abrasion and endurance EVA outsole and sturdy design to complement its looks. It goes without saying that these shoes are not just sleek but also built to have a long lifespan.
The shoe features two design choices: black with a glowing pattern across the shoe, or white with the same glowing pattern (though it actually looks more translucent). For cleaning up a spill or mess on them, it is recommended to use a wet towel or sponge eraser to brush out the upper shoe smoothly.
While they are water repellant on the outside, it is ideal to not submerge them as it will cause defects in the internal mechanism. It charges for 2-3 hours with a 5-8 hour light lifespan, so while it is not the longest-lasting, it should definitely stay alive long enough for you to have a great time out. This is also a shoe that can be worn by any gender or age – with kids sizes 12 to a women's 12/men's 10.5.
Pros
+ Very aesthetically pleasing and trendy
+ Good size range
+ Outsole has excellent grip
Cons
– Lights tend to give out and need replacement or repair after a bit
– Limited color options
---
9. UNN Light-up LED Shoes (Unisex, All ages)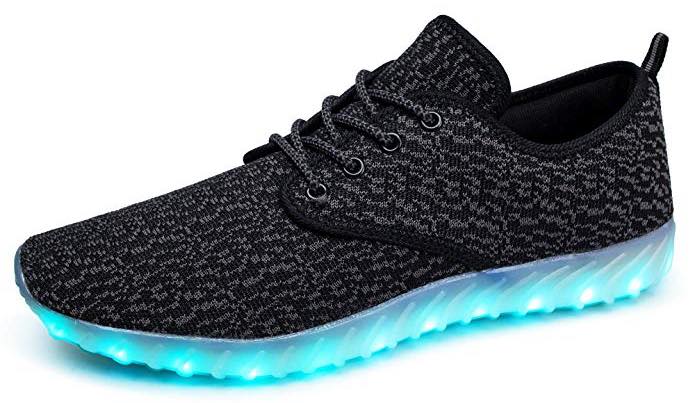 This UNN design is to the point: stylish, simplistic, and practical. It comes in Black, Grey (Dark, Light) and Camouflage Red. The Upper shoe is comprised of Fly-woven fabric making it breathable and soft. This breathability prevents the accumulation of sweat throughout the day or throughout your exercise session.
When it comes to the LED light-up colors, there are – Red, Green, Blue, Yellow, Sky-Blue, Purple, and White. Options include a steady stream of color lights flashing, or nothing at all if you don't feel like sticking out. Fiddling with the controls is a fairly straight-forward process – there is a hidden switch beside the charging port inside the shoe.
Pressing the switch once activates the light, pressing it again changes the light mode/color. Pressing it continuously, cycling through all 11 settings will reset it to idle, as will simply holding the button down for three seconds. Charging the light-up feature takes two-to-three hours, and it will last up to ten hours without needing to recharge again.
When it comes to sizing, it is true to size, but it is safe to double-check the sizing chart given by the manufacturer to make sure. As for its uses, this shoe is appropriate for clubbing, raving, nights out with friends, cosplay, or any time where you feel like illuminating an area with your feet. Alternatively, turning the lights off will make these shoes seem completely normal and simply just a stylish sneaker.
Pros
+ Stylish, simple design for many occasions
+ Flexible and comfortable
+ Relatively inexpensive
+ True to size
Cons
– Fragile, prone to disrepair if you are rough with the charging port or the switch
---
10. TUTUYU Light Up Shoes (Women, Kids)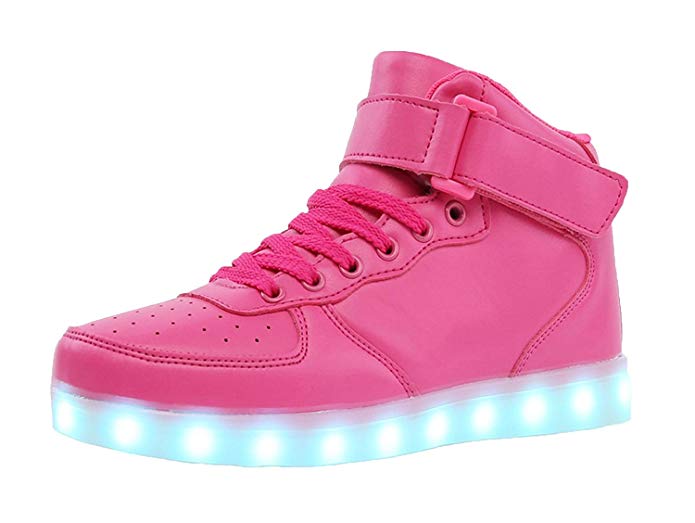 These shoes are also fairly distinct, because while they share a common bulky look. They have vibrant colors and more outer cushioned ridges, making the design more than just basic. They are hot pink with a vibrant rubber sole that exudes LED lighting.
Ideal for girls as it's likely boys will not appreciate the Hot Pink color, the only color available for these shoes thus far. The shoes have 7 static color patterns and 4 kinds of dynamic color settings. To turn these off, you will have to press the switch next to the charger port and hold it down for 10 seconds. At full charge, taking two to three hours of time, it boasts a long-lasting LED glow for up to 11 hours.
The shoes are true to size, but not terribly durable, as such you should take extra care of them if you choose to purchase the TUTUYU's.
Pros
+ True to size
+ Good choices for women and girls
+ Comfortable cushioning
Cons
– Not very durable
---
11. Odema LED Light Up Shoes (Unisex, All Ages)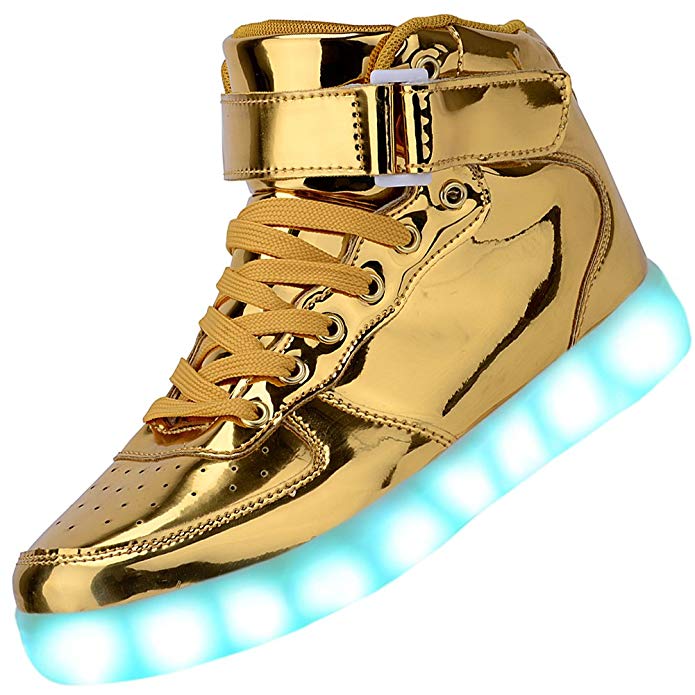 Next up are the Odema Light up shoes meant primarily for adults or older children. The shoes are a minimalist high-top design meant to fit in with the current fashion and up-to-date with the hip new styles that focus on minimalism and flexibility.
These shoes are, on the upper section, constructed with PU leather to maximize your foot's comfort and stretchability, to make you feel light on your feet and never too humid. The rubber sole has a selection of 7 LED colors: Red, Green, Dark Blue, Sky Blue, Yellow, Purple, and White). The Odema also boasts 11 modes to sift through. The drawback is that since these LED's are so vibrant, it takes up to four hours to charge them completely, for a total of seven or eight hours of glow.
The Odema also has a total of 15 fabric colors to choose from, a wide selection, so feel free to pick your favorite color!
Pros
+ Wide array of modes
+ Great leather color selection
+ Flexible and feel premium
+ Affordable
Cons
– Longer than normal charging times
---
12. GreatJoy Cool Light Up Sneakers (Unisex, Kids)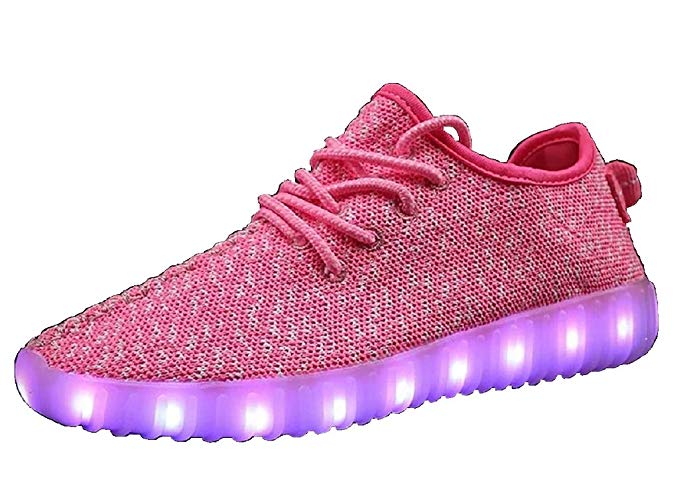 Only coming in smaller sizes, 5 in girls and 4 in boys, these shoes are definitely meant for your younger relatives. They are a bulky high-top design that focuses on support and comfort while also making sure you are the star of the show with their bright LEDs across the rubber sole.
It has great stitching, the rubber sole is non-slip and the upper unit is made of PU leather. All in all it does a fantastic job of increasing its longevity and durability on the feet of a youngster. There are a total of 7 colors and 11 different flashing patterns available for the wearer to choose from. Overall a great pick for a kid who aims to be the star of a party, a dance, or school performance. These shoes are hard to miss.
Pros
+ Durable
+ Quick charging time (1-3 hours)
+ Supportive design
+ Upper fit is snug and comfortable
Cons
– Only comes in smaller sizes, a problem for kids with larger feet
---
13. Fiber Option LED Light Up Shoes (Unisex/Adult)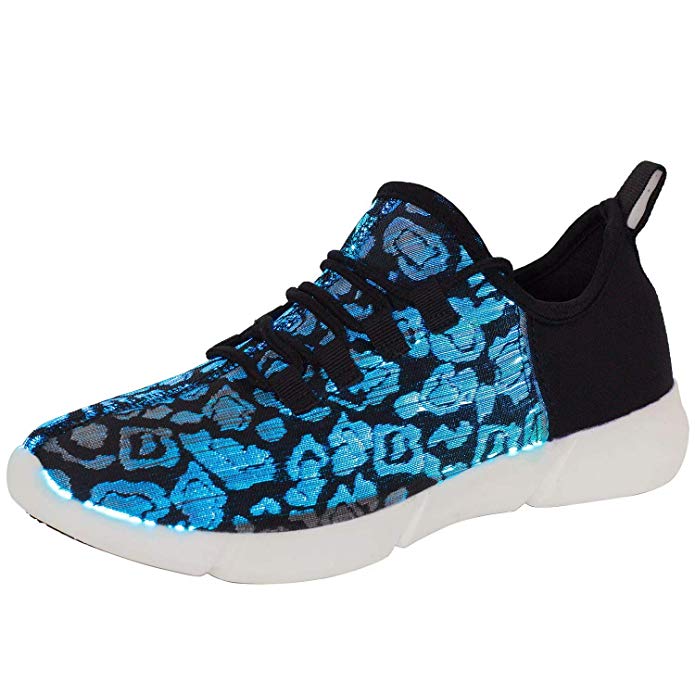 The design is much in line with other minimalistic trendy shoes available at this time, if not a bit more muted because of its softer edges. The Fiber Optic has something else other than softer edges to boast, though, as it has a whole 16 color changes – more than any others on this list. On top of this, it has four dynamic color settings, and all of these are available at the touch of a button with the remote that comes with the Light Up adult shoes. This model is especially good for wider feet as it has a bit more foot real-estate than its competitors.
As for the weave colors, there are – Black, Blue, White and Pink to choose from. These shoes, unlike a few others, are also fine for use in exercises and more intensive activities, as they are wide enough for orthopedics if the default insole isn't enough. Overall a great fit for the more active people who wish to add a little luminescence to their workout.
Pros
+ Huge color variety
+ Good weave color selection
+ Can be used during exercise routines
Cons
– Can be harder to find sizes online nowadays
---
14. HBGisi Fiber Option Sneakers (Unisex/Adults)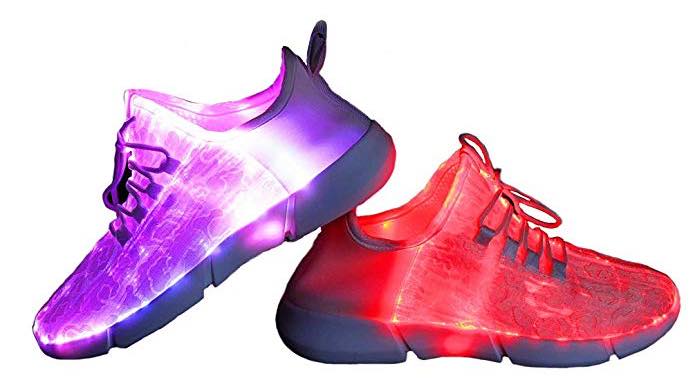 These glowing kicks come with a lace closure, made with a textile that ensures durability and flexibility in any situation. They are simple to use, quick to charge, and very bright. The stretch-knit upper means that it will fit you snuggly but not constrict movement. They feature a removable insole in case you'd like a more supportive sole for your arch.
They come in a variety of bright colors: Purple, Blue, Red, Turquoise, and Green, though some of these colors are not available online. The switch is by the charging port and well-hidden. The charging itself takes up to 3 hours. Joansam features two modes that will either increase the flash speed of the LED lights or lower them, depending on what you prefer. They are perfect low-key shoes for the club, raves, or parties in general.
The only glaring issue is that these can be a bit tricky to find, but there are other similar options available if you're out of luck.
Pros
+ Comfortable and flexible
+ Variety of bright woven colors for the upper shoe
+ Removable insole for third party support
Cons
– Might be hard to find
---
Frequently Asked Questions
How do light up LED shoes work?
LED light-up shoes are simply shoes fitted with colored LED strips, affixed to fabric within the sole. The circuit, as well as the battery and sensor, are also fixed to the sole as to not poke or prod your feet when walking. Upwards of six wires are at the heel's edge, connecting the lights to their power source (the battery). The sensors fixed to the shoe are sensitive to vibration and the striking impact one has when walking or running provides the trigger to make the shoes light up.
Are light up shoes safe?
Since their inception, light up shoes have always been a distracting and awe-inducing gimmick to implement in our shoes, and often times it leads to jealousy and beguiling – if I'm not wearing them, they must be bad! As a result, skeptics have pondered whether the LED battery within the shoe is a cause for alarm or danger to the owner, or the lights are dangerous for the eye. The fact is that LED batteries do not have the capacity to produce a significant electric shock nor are the lights that it emits dangerous to the human eye in any way.
How do you turn light up shoes on?
You may notice that within the light up shoe is a charging port. Close to this charging port is often found a switch that can be used to either turn the shoe on or turn it off. Depending on the system, there is also the option to change the lighting configuration – patterns, lights or delay. The switch is typically located in a convenient and obvious place so you can quickly and easily find it and customize the shoe or turn it on/off. The switch is also hidden from view from others, so it doesn't look like a cheap gimmick.
How do I charge a pair of light up shoes?
Light up shoes typically have a fairly accessible charging port, it is often located on the inside of the shoe. Once located, you can then charge your shoes using a USB cable provided with the shoe or any other standard USB cable. Most of the USB cables that come with the shoes are two way, making it so both shoes can be charged at the same time.
Are Light up shoes safe to get wet?
Finding light up shoes that are waterproof is not as difficult as it might seem. Majority if not all light up shoes are designed to be worn in all sorts of weather, as are most regular shoes. What is of paramount importance, though, is that the battery inside the shoe remains dry. As a result, you should avoid fully submerging your foot in the water, as it might seep into the inside of your shoe.