Bowling is a game that goes beyond just "trying-to-whack-all-the-pins" or socializing with your friends on Friday nights. Bowling requires precision, strategy, balance and it's an ever-shifting game that involves lots of variables like sliding, braking, and oil patterns. This guide outlines some of the best bowling shoes on the market right now, so you can stop worrying about your gear and start focusing on the game.
Without getting into the nitty-gritty, it's important to understand what type of player you are and whether you're looking to up your bowling game beyond the honeymoon phase. There are plenty of reasons why you shouldn't wear your street shoes for bowling. For one, casual sneakers will stick and grip firmly to the surface causing you to topple over. Secondly, they also leave marks on the floorboard, which is never a good thing.
RANK
PICTURE
NAME
RATING
SHOP
#1
StrikeForce Flyer Men's



Affordable price
Lightweight comfort
Great for beginners

Check Price
#2
Dexter THE 9



Interchangeable soles
Hyperflex hinges
For intermediate to pro-players

Check Price
#3
Dexter Pro Am II (Right & Left-Handed)



Affordable performance shoes
Accommodates wide feet
Comfortable shoes

Check Price
#4
Brunswick Edge



Good price
Feels like normal sneakers
Good cushioning

Check Price
#5
Pyramid HPX (Right-Handed)



Pro-level shoes at bargain price
Soft leather
Interchangeable soles

Check Price
#6
StrikeForce Flyer Men's



Canvas construction
Looks hip
Lightweight shoes

Check Price
#7
Brunswick Vapor Men's



Reasonable price
Lightweight
No break-in required

Check Price
Types of Bowling Shoes:
Rented bowling shoes: These are the standard-issue shoes that you rent at the bowling alley. These may be enough if you are a casual player that partakes in a game a two once a blue moon. Rented house shoes are usually uncomfortable and heavily worn out.
Recreational/Athletic Bowling Shoes: So, you're started bowling every other weekend and you're ready to impress your friends with some neat moves and tricks. You're going to need your own pair of shoes at this point. Those unforgiving rented shoes are a no-no for you. This is where getting your own dedicated shoes will improve your overall game (and comfort) by leaps and bounds. Recreational shoes have slide pads on both shoes so you can use them whether you're left or right-handed. They are also usually flat and don't have much in terms of traction. They're perfect for novice players who are looking to develop their form and precision.
Performance Bowling Shoes: These shoes are meant for more serious/intermediate players who want to further sharpen their game. Even pros use performance shoes (the pricier ones) and it's a good investment for anyone who is serious about bowling. These shoes have a sliding sole on one foot and a braking (traction) sole on the other. If you're a right-handed bowler, you would get performance shoes with slide pads on the left shoe (the foot opposite the hand with which you bowl) and vice-versa. Some high-end performance shoes have interchangeable slide pads of varying slick that can be used on either shoe. These are the shoes for bowling if price is no object.
1. StrikeForce Flyer Men's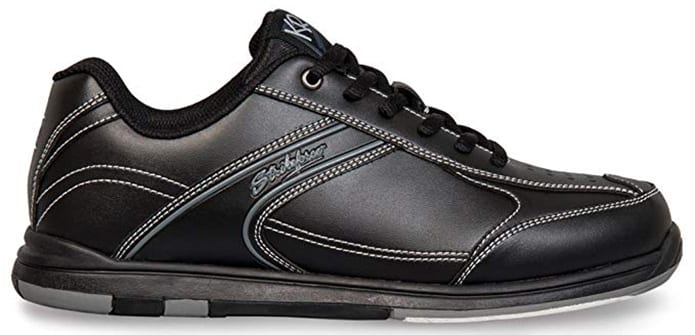 The StrikeForce Flyer shoes are a great pair of affordable bowling shoes for those who are looking to hit up the alley a couple of times a month. They're not overly packed with tech and neither are they lacking. Given the price and performance, they make for a great alternative to rented bowling shoes. The Komfort-Fit construction allows for a snug fit, the textile lining feels soft on the foot and the padded tongue and collar provide lasting comfort. A non-removable microfiber slide pad can be found on both soles making them universal for both left and right-handed bowlers.
The FlexSlide technology allows for a satisfactory slide, but I noticed that the heel does stick and as long as you're a bowler who uses only your toes for sliding, you shouldn't have much of a problem. The man-made leather upper does feel a bit stiff at first, but they quickly adapt to your feet to give you a snug fit. It should be noted that those with wider feet should consider going half a size up as these shoes tend to run small.
The non-marking outsoles are great for someone still improving their form, but they don't slide as much as the other performance shoes on this list – which is to be expected at this price point.
Pros
+ Affordable price
+ Comfortable and lightweight
+ Great shoes for novice players
+ Durable construction
Cons
– Do not slide well
– Heel is sticky
---
2. Dexter THE 9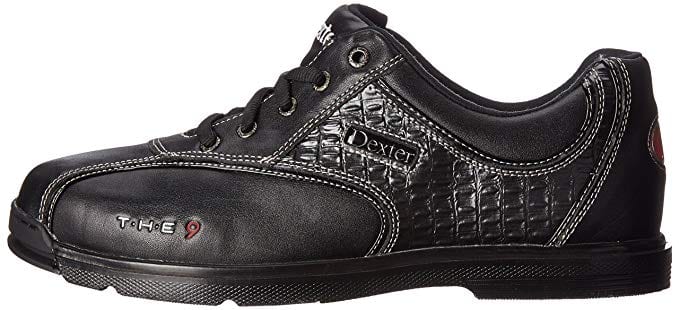 The Dexter THE 9 bowling shoes are the top-end offering from Dexter and the price reflects that accordingly. These are the best bowling shoes for hardcore bowlers and professionals alike. The Dexter THE 9 comes packed with all sorts of tech to keep you at the top of your sport. A totally interchangeable sole and heel system that is compatible with both right and left feet without the need for trimming. The interlocking toe-hold system has tracks to accommodate a toehold clip which helps to increase durability for players that slide with their toes.
The slide pads come with hyperflex grooves that allow for increased flexibility making it very easy to find your perfect form. Included in the box are some shoe covers, THS7 slide pad, H5 ST, THT2 traction pad and an H2 UB heel pad. A raised heel design helps with stability and support for those precise shots.
The upper is constructed from full-grain leather for a soft feel and the fabric lining is great for a comfortable fit. The biggest caveat of the Dexter THE 9 is that cracks appeared in the hyperflex channels after a month's use. It didn't worsen and they still held well, but for a shoe that commands a premium price, it seems the durability issue should have been better handled. We also had some issues with the velcro coming off on the sides.
Pros
+ Interchangeable soles fit on both feet without needing to trim
+ Hyperflex hinges make this shoe extremely flexible
+ Good stability and support
+ Full-grain leather construction on upper
Cons
– Cracks in the hyperflex channels
– Velcro started to come off
– Might need to sell your kidneys on eBay to afford this
---
3. Dexter Pro Am II (Right and Left-Handed)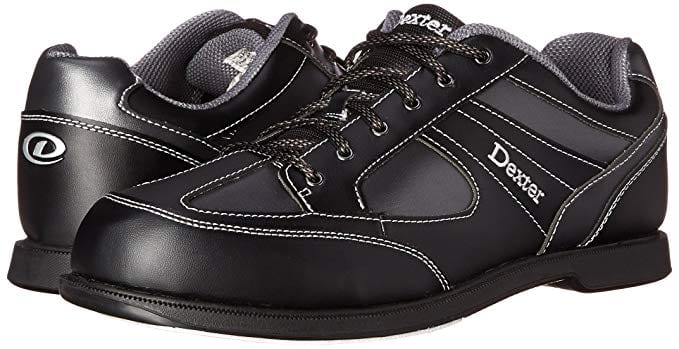 The aptly named Dexter Men's Pro-Am II is a shoe that is fit for a semi-pro player without the excruciating price tag. It's available in both right-handed and left-handed (at the time of this writing) configurations and the slide is not too slick or grippy – making it great for those playing league or just looking to up their game in general. The raised heel design and rubber sole give a predictable, yet smooth push-off for consistent delivery.
The toe-box is wide without causing any slippage and it's a great shoe for those with wide feet. For those with narrow feet, we'd recommend you go half a size down or wear thicker socks for a snug fit. The slide shoe is fitted with an S8 slide sole which is average in terms of slide and brake for a normal approach. The man-made upper is easy to maintain and the textile lining along with the padded tongue and collar are welcome additions on this affordable shoe.
Dexter Pro-Am II does fall short in terms of outsole durability though (as with most Dexter brand bowling shoes). The rubber pads started to peel off near the toes needing copious amounts of glue to put it back in place. The slide pads are also not interchangeable, but what more can you expect for a sub $70 price tag?
Pros
+ Performance shoes at an affordable price
+ Stylish and comfortable out of the box
+ Provide the right amount of slide
+ Good for bowlers with wide feet
Cons
– Rubber pad on the braking shoe started peeling off
– slide pads are not interchangeable
---
4. Brunswick Edge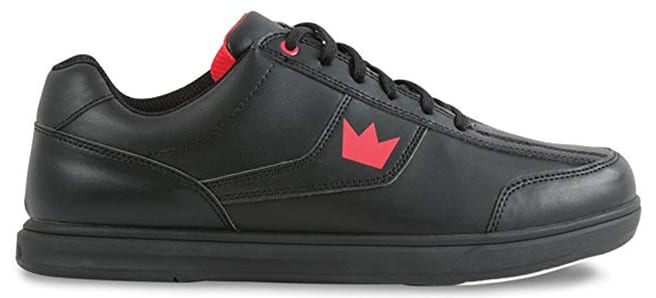 The Brunswick Edge is a good starter shoe for recreational players who want something more than what the typical rental shoes can offer. Although basic, the Brunswick Edge is actually remarkably comfortable and stylish. These shoes will easily pay themselves off in just a few games especially since shoe rentals add up quickly. The red accents and crown are a neat little touch and they could very well be mistaken for street shoes (if only you could wear them outside).
The style is not the only thing on offer with the Brunswick Edge as they are also well-cushioned thanks to the EVA molded midsole. The shoes fit true to size and there is minimal break-in period required to start comfortably playing in them.
The Pure slide fitted to both shoes are made from microfiber, but they don't slide quite as well as I had hoped and can take a few games to wear down – after which they perform as expected. The heels are also quite sticky which prompted me to sandpaper them down for a smoother finish. The breathability and construction are also not that great, but we can't really quip about that since these are some of the cheapest bowling shoes on the market.
Be wary though that depending on your level of use, you might see the shoes start coming off at the seams. But, we're not bothered though since by that time you'd have already saved so much on renting out shoes. If you're a beginner looking for the best bowling shoes at an affordable price, then the Brunswick Edge is your pick.
Pros
+ Excellent mix of comfort and cushioning
+ Affordable price
+ Looks and feels like regular sneakers
+ Fits true to size
Cons
– Breathability is so-so
– Outsole takes time to develop slide
– Overall construction feels cheap
---
5. Pyramid HPX (Right-handed)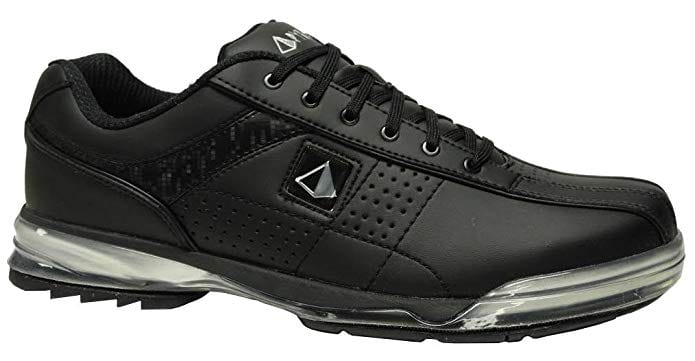 The Pyramid HPX is an amazing performance shoe at a great price. It sits squarely between the entry-level Dexter Pro-Am II and the more expensive fully kitted-out Dexter THE 9. The Pyramid HPX shoes are probably the best bowling shoes in terms of price vs. performance ratio. And mind you, the manufacturer didn't cheap out on construction quality either. It's made from a soft full-grain leather upper that feels very comfortable to be in, but it does take time to be broken-in.
The slide shoe comes equipped with a FlexSlide S8 sole that does perform remarkably on approach and delivery. The slide is smooth and calculated without needing any enhancements and the traction sole does just as well to provide controlled braking for precision shots. You don't get any spare soles in the box, but the outsole themselves are compatible with other interchangeable sole systems. The Pyramid HPX does have some obvious downsides though – for one, they are heavy due to all the padding and material used. Secondly, they run large and are wide around the ankles which cause some heel slippage from time to time. For this reason, I'd recommend getting half a size smaller to accommodate your feet. Nonetheless, if you're looking for a solid performance shoe at a reasonable price, the Pyramid HPX should be on your list.
Pros
+ Pro level shoes at a good price
+ Soft full-grain leather upper
+ Interchangeable soles and heel on both shoes
+ High quality and durable construction
Cons
– Sizes run big. Better to go down half an inch
– Wide around the ankles causing heel slippage
– Heavy and stiff requiring a longer break-in
---
6. Storm Gust Bowling Shoes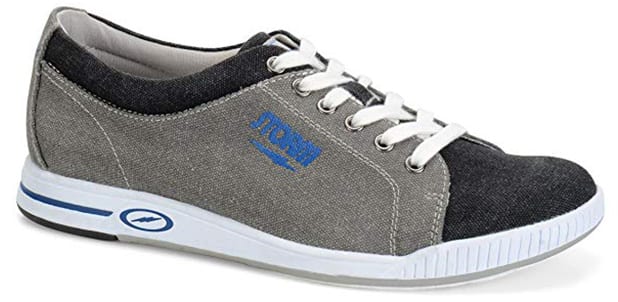 If you've ever owned a pair of Converse shoes, you'd know that they were some of the most stylish sneakers around. The Storm Gust is the Converse of the bowling world borrowing heavily on their canvas upper construction and skateboard shoe design. The cool cotton canvas upper is quite breathable and a welcome addition not found on the other budget bowling shoes made from stiff faux leather. Durability is also good since it's canvas after all.
The Storm Gust comes with a slide sole on both shoes making them universal bowling shoes. The SlideRite pads perform adequately without needing any ultra-slide powder. The shoes come with a removable EVA footbed, but I found the Storm Gust to be more on the firm end of the spectrum and not quite as comfortable as the other options on this list.
The shoe also runs about 1/2 an inch longer than your regular size and are narrow around the middle which resulted in my arches getting pinched occasionally. If you're someone with wide feet, you may struggle to find a comfortable fit. Regardless, these shoes are quite stylish and they will no doubt earn you a compliment or two on the lane.
Pros
+ Cotton canvas upper has good breathability
+ Lightweight shoes with universal soles
+ Stylish design that looks like skateboarding sneakers
Cons
– Narrow fit. Not recommended for bowlers with wide feet
– Not quite as comfortable as it looks
– Sizes run large. Better to go down 1/2 an inch
---
7. Brunswick Vapor Men's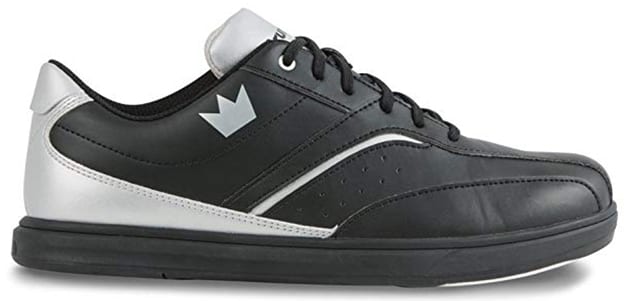 Brunswick's bowling shoes are not only reasonably priced, but they are reasonably priced AND comfortable. The Brunswick Vapor fits true to size out of the box and it requires a minimal break-in period for a comfortable play. The padded collar and tongue are soft and supple which allows you to play well into the night. These shoes are a definite step up in terms of comfort and performance to your standard house clown shoes and they also look stylish.
The Brunswick Vapor comes in a white/black and black/silver color combination. The white/black color option that we bought off Amazon for testing became dirty and scuffed very quickly. So, I'd advise going with the black/silver colorway for this reason.
Since this shoe is more on the plush side, stability does take a hit and you're a more seasoned player, you might struggle with footing on delivery. The slides are also not that good and you will find yourself getting stuck from time to time. For this reason, we can't recommend these shoes to anyone except recreational players.
Pros
+ Fits true to size
+ Feels comfortable and soft on the feet
+ Minimal break-in period
Cons
– Slide pad is sticky for the first few games
– Lacks stability for precise delivery
---