What are Stability Running Shoes?
You may not be aware of this, but at the most basic level, existing running shoes are divided into two distinct classes – Stability and Neutral. Though it may not be overtly specified when you buy them, every shoe in current production is one or the other.
This distinction is determined by the shoes' medial post. A medial post, also known as a dual-density midsole, is a device inside of the midsole that is actually firmer than the rest of the midsole. Shoes that have a medial post are known as stability shoes because the post acts as a stabilizer for your medial rearfoot and reduces arch pronation. This is inherently more supportive than regular cushioned midsoles you will find in neutral design shoes.
So in short, stability running shoes offer a good balance between motion control and cushioning.
If you're someone who needs some form of stabilization for your feet, be it because you experience a type of pronation or just prefer the feel of it over cushioned designs, here is a list for you: our 8 best stability running shoes, with models from top designers such as Nike, Brooks, and ASICS.
---
1. Mizuno Wave Inspire 15
Our first shoe is the Wave Inspire 15's by Mizuno. Its upper is comprised of a mixture of textile and synthetic fabric, with a durable rubber sole and a low-top measurement from the arch. It features MIZUNO WAVE – a selling point of this shoe with great stability, a perfected balance of smooth Cloudwave cushioning and snappy, responsive flex. This is where the shoe gets its name from.
The mesh upper is engineered to be both breathable and durable for races where you need to be at your best performance. Upgraded from previous Wave Inspire models, the 15 has a new soft sockliner to increase comfort and prevent irritation. They also feature a U4ic midsole – a standard for shock attenuation and durability, thus making the run a smooth ride.
There are two problems with these shoes that you should know about before jumping into them. Firstly, they aren't true to size and you should consider half a size up. Secondly, compared to the previous Mizuno Wave Inspires, these aren't as cushion-centric, they are much more oriented towards stability and firmness. If you appreciate that, these will be some of the best stability running shoes you can buy.
Pros
+ Responsive and firm midsole
+ Good for supporting and stabilizing your feet during motion
+ Durable and shock absorbent
+ Great for road-running and races
Cons
– Not true to size, need a half size up
– Not as cushioned as previous models
---
2. Saucony Guide 10
The Guide 10's are a vibrant shoe, touted as some of Saucony's most cushioned trainers to date, making you feel lighter yet supported and feeling firm when you have these on. According to their scale, it is at the top of "light stability" so you get a great blend of cushion and firmness.
The Guide 10's feature an enhanced design meant to be very stretchy while also having a supporting frame for your midsole and heel. The TRI-FLEX/EVERUN series' midsole enhances energy and provides you with continuous cushioning and support throughout your running session. The TRI-FLEX outsole is designed to give your feet a better contact to the ground, never losing grip, and also providing enough flexibility to keep your feet nimble.
Inside the shoe, there is a lightweight and strong material melded into the upper, known as Flexfilm, giving you added comfort and increases overall breathability when running. The Guide 10s are a safe bet for any runner, and it's hard to go wrong with a comfortable, stable, supporting shoe that absorbs stress well and keeps you moving without much trouble.
One noticeable issue that is prevalent among Saucony shoes is that their models are typically not true to size – meaning they'll either be a bit narrower or smaller than your true foot size. As a result, it is recommended that you get a full size up to stay on the safe side. While some like a tight fit, getting improperly sized shoes typically results in cramped quarters, stressing your feet in multiple areas (toebox, heel, arch) and not getting the support you really need especially since you're looking for a stability shoe.
These shoes also have a need to be broken in, so the first few times it may feel a bit stiffer in the upper as a result, but it will end up conforming to your foot for maximum comfort quite quickly.
Pros
+ Firm yet cushioned midsole
+ Comfortable fit
+ Controlled design to keep your feet in place
+ Flexible with a lightweight feel
Cons
– Not true to size, need to order a size up.
– Break-in period associated with new shoes.
---
3. Brooks Adrenaline GTS 19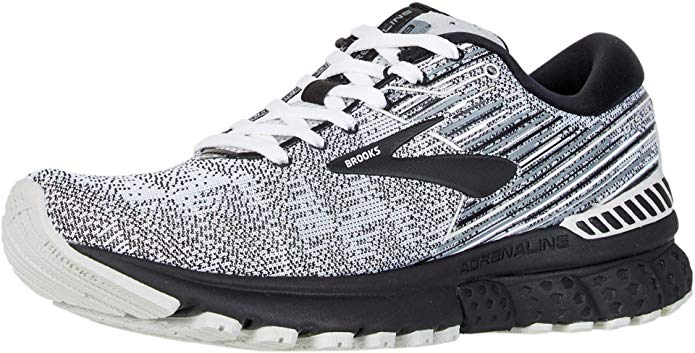 Up next is the Brooks Adrenaline GTS 19. These are shoes designed for running, walking, and keeping your comfort and stability in mind. This shoe is ideal for more active runners looking for a shoe to support their arches. The Adrenaline GTS 19 features a new GuideRail Support system, which focuses beyond just your feet as a primary source of injury, but also the knees.
The interior is soft and protective, with BioMoGo DNA and DNA Loft cushioning working in-tandem to provide the just-right level of softness for the underfoot. This underfoot duo is the backbone of the support system, along with their GuideRail support system that is aimed at combating issues such as overpronation and flat feet. For those of you without that issue, you will just experience added support and firmness when running.
It has an engineered mesh and a 3D Fit Print to provide support and a guaranteed feel to make this shoe a go-to, while also looking fairly stylish. They are true to size and have a proven track record of helping alleviate discomfort and keeping your feet feeling stable and well-balanced while adequately cushioned.
The only serious drawback of this shoe is that finding them, or some of their color combinations is a bit of a challenge. Many available options come at heavily inflated prices, but if you're not too keen on a particular color, you will be able to find a decently priced pair easily.

Pros
+ Well designed in every aspect to help with stability and comfort
+ Comes in a variety of colors
+ True to size
+ Soft and comfortable interior
Cons
– Certain size/color combinations are hard to come by, at least for a decent price.
---
4. ASICS GT-2000 7 Stability Running Shoe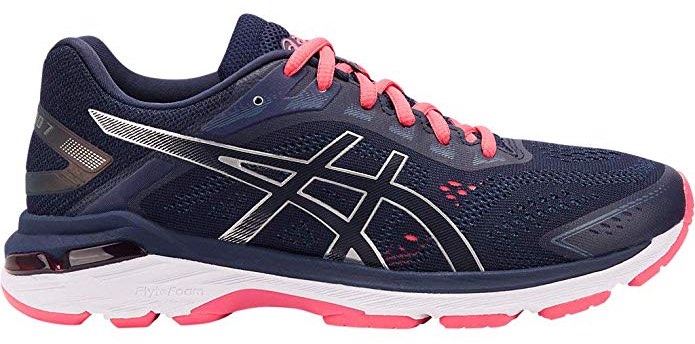 The GT-2000's feature a gum rubber sole, that aims to provide more support than other running shoes, meaning you'll be getting a lot of stability and responsiveness from these shoes.
There is also a strong desire on the part of this design to keep your foot well-ventilated and relieving your feet of any built-up body heat or sweat from a long session of running. The GT-2000's also don't skimp out on the comfort factor, as it is greatly cushioned and the well-gripped sole provides ample traction to keep you firmly on the ground and in proper running position.
The GT-2000 has a FlyteFoam Lyte midsole – the lightest midsole in ASICS line-up, as well as their Ortholite sockliner that helps with managing moisture internally. Finally, there is a rear and forefoot GEL cushioning that attenuates shock during impact and toe-off phases. You'll be feeling cooled off, supported, yet cradled with the GT-2000's strapped to your feet.
Despite these great aspects, the GT-2000's not without its flaws, mainly that users' mileage may vary, as some have reported that the shoes die quickly while others say it's incredibly long-lasting. On top of this, some color options may not be in stock.
Pros
+ GEL cushioning
+ Breathable fabric upper
+ Durable and supportive gum-sole
+ Various colors available
Cons
– Mileage may vary when it comes to durability
– Some colors might not be available
---
5. Nike Lunarglide 9
Nike created a very appealing design when they created the Lunarglide shoes. The Lunarglide 9's use a mixture of lightweight fabrics and durable rubber together to form a great pair of shoes that are both easy to slip on and stable. They ensure that there isn't much weighing you down while also providing enough protection and firm support to keep your feet feeling snug and safe.
The Lunarglide 9 features a rubber sole that is extra supportive. And the Flywire/Mesh system keeps your feet snug and tucked in. The shoes also come in a wide variety of trendy colors to choose from and can easily double as lifestyle wear when not being used as running shoes.
The Lunarglide's also feature water-repellent coating to increase its longevity, so you won't have to worry about replacing these shoes in a few month's time due to hazards. For those of you who truly appreciate the added support, these Nike rubber soles keep your feet stable and aligned at all times, meaning you can run for longer.
Unfortunately, one of the biggest issues with this design is that the soles have deep and wide ridges – a perfect place for debris to get caught in and disrupt your running. For people who hike or intend to run outdoors in areas with a lot of small debris (stones, pebbles, twigs, sand, etc.), be cautious of the fact that the Lunarglide design doesn't lend itself to repel small objects, just liquids. On top of that, remember this is a Nike running shoe so be prepared to pay the matching Nike price tag.
Pros
+ Aesthetically pleasing design
+ Breathable and sleek looking upper
+ Engineered for support and stability
+ Doesn't compromise its lightweight feel
Cons
– Ridges in the outsole is a magnet for small stones and pebbles
– Brand-name pricing
---
6. The North Face Ultra 109 Gore-Tex
New to the list is the North Face brand, with their Ultra 109 GTX model. This shoe is not exactly meant to be an eye-catching piece – with little color variety, but instead, it is a functionally-minded shoe. It is meant to be an outdoor hiking shoe designed specifically to keep your foot inside, and everything else out no matter what.
Inside is a full-length EVA midsole with shank, and a rigid Snake Plate under the ball of your foot for an enhanced feel of protection and stability. It sports a rugged construction, with an UltrATAC rubber sole meant to maintain traction on any surface – wet or dry, and give you consistently solid footing. The membrane is made of GORE-TEX with an extended comfort and waterproof guarantee, a protective TPU toe-cap and PU-coated leather upper with proper midfoot support to make sure that even rocky or edged surfaces will not phase you.
To put it in the simplest terms, these shoes are some of the best stability running shoes for those that like to take off-the-beaten-path and want a whole lot of protection as well as the support of a stability shoe.
The only issue with these shoes is that it is recommended to use a custom insole, as the one provided can wear out if you really give them a beating. Secondly, these shoes come at a hefty price but are of course meant to have serious longevity.
Pros
+ Heavily focussed on support and protection
+ Ideal for hikers or runners who enjoy the rugged terrain
+ True to size
+ Superior protection for your feet
Cons
– On the expensive side
– Insole provided might wear down quickly
---
7. ASICS Gel-Kayano 24
Our penultimate best stability shoe choice is the Gel-Kayano 24 by Asics. The Gel-Kayano design has been around for a quarter of a century now because its quality and design are simply top-notch. The Kayano 24 has the two-layer cushioning system throughout its midsole, with ASICS FlyFoam Propel and FlyteFoat Lyte, called the FLUIDRIDE. These two cushioning systems are not alone, because they are paired with ASICS gel cushioning at the heel of the shoe to increase comfortability during motion.
The Kayano's also feature what ASICS has dubbed the Heel Clutching System, this is an exoskeletal heel counter to provide you with extra support and an improved comfort environment for your heel. It does so by minimizing the gap between your heel and the shoe. This gives you a better ride and comfortable sense of support in the heel and arch area.
Finally, there is the I.G.S technology, the ASICS design philosophy that enhances your foot's natural gait – from heel-strike to toe-off. If you need the added support of a stability shoe to rectify any gait issues, this is a great option.
Of the few issues we noticed, a recurring theme with these Kayano 24's is the fact that their toe-box is a bit cramped and narrow – a telltale sign that they aren't true to size. Because of this, you should be careful buying the Kayano 24's in your true size and aim for a half-size up if possible.
Pros
+ Proper support for your heels and arches.
+ IGS technology improves your natural gait.
+ Variety of colors to choose from
Cons
– Not true to size, so you will need a half size up.
---
8. Adidas SuperNova
The last choice on our list for the best stability shoes are the Adidas SuperNova. They are touted as Adidas' most responsive cushioning ever. This shoe contains Adidas' Torsion system between the forefoot and the heel for a stable ride. There are also lightweight TPU quarter-panels present to provide you with added support with every step that you take.
The outsole is made of STRETCHWEB rubber that flexes during foot movement for an energized and controlled ride. Adidas' engineered mesh upper is also lightweight and breathable, intended to give you a "second skin" feeling for a supportive and comfortable fit no matter what exercise you're doing or movement you're making. They come in a variety of colors with a fairly trendy yet minimalistic design for those of you who also value style in your supportive shoe.
One of the few issues with these shoes is that they can be hard to find in the right size since they tend to sell out quickly and they also have the associated high-quality brand price tag attached to them. So when you do find them in your size, expect to shell out a fair amount of coin to get these shoes. With that said, you will be getting unparalleled quality, as you should expect from an elite brand.
Pros
+ Torsion system and STRETCHWEB make this shoe very tactile
+ Comfortable and lightweight design
+ Aesthetically pleasing and has various color options
Cons
– On the pricier side
---
Conclusion
To conclude, if you're looking for a shoe that is of the stability archetype for your running endeavors, any of the above shoes make that cut. They all have a degree of medial post support that is not present in more cushioned or neutral-oriented shoe designs. If you are getting a pair of supportive shoes not just because you like the feel, but because you want to remedy a foot condition, a fair amount of these shoes on the list are able to accommodate that.
We've included a wide variety – some shoes are on the more economical side, while some others are more expensive. Some of them are meant exclusively for outdoor or rugged terrain, while others are meant for a more conservative terrain. It is up to you which of these shoes meets your needs best.