Why is Arch Support Important?
You may not realize it, but the arch of our foot is one of the most important structural features of our foot, absorbing the majority of the pressure and stress our bodies put on our feet every time we walk.
You can imagine that constantly walking and stressing our arches can lead to severe issues and musculoskeletal changes in our foot shape, so it is of utmost importance we take proper care of our feet and especially our arches. Here are just a few reasons how shoes with good arch support can help you immediately:
Helps distribute pressure
A shoe with proper insoles that take into consideration every aspect of our foot's anatomy, arches included, often help evenly distribute the pressure that would otherwise be left as full responsibility for our arches. By distributing the pressure evenly across the foot, rather than focusing on the arch, you lighten the load and reduce the stress your arch would normally have to put up with.
Arch support shoes are a great source of stability control and balance, by being ergonomically engineered to help improve your balance, foot positioning, and posture subtly. Just by being worn and used regularly, you can greatly reduce the chances of rolled ankles and other injuries. It may also help reduce any existing imbalance problems you may have.
If you have any conditions that hinder your ability to walk pain-free, or would like to reduce those chances greatly, it is common practice to get specific shoes that target your arches and lessen the stress imposed on them as a way to mediate or completely eliminate pain from your walking experience. In some cases, like plantar fasciitis, where the band across your arch is inflamed, you'll find that the right pair of shoes make a world of difference.
Prevents any issues in the future
As we age, our feet are less able to take the ground impact forces they once used to, and you'll often find older individuals having flatter feet as their arches wear down over the many years of constant use. Conditions arise from our arch being whittled away with time or even occur at a young age if we have abnormal walking habits or cycles.
How do Arch Support Shoes Help?
By wearing footwear that supports your underfoot, you'll automatically be helping future-proof your feet from issues down the line, and preventing any issues from cropping up later. Arch support will take off an enormous amount of pressure exerted by the ground on our feet with every step we take. The importance of proper arch support cannot be underestimated.
Because of this, you'll find a huge disparity between the feet of individuals who had access to great shoes throughout their life, and those that neglected that aspect of their health completely or opted for more trendy but less helpful designs. Oftentimes the feet of the person who was attentive will be much more intact and healthy compared to the person who chose to ignore their foot's health and non-compliant shoes instead. So, without further ado, let's get onto our list of the best support shoes you can buy right now.
---
1. Brooks Adrenaline GTS 20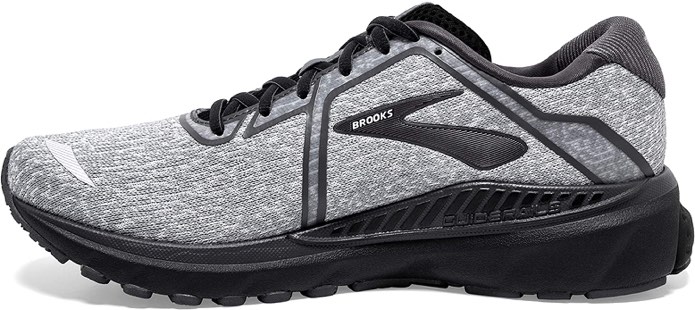 First on our list is the Brooks Adrenaline GTS 20 – a shoe that focuses primarily in providing amply support for your feet and improving your overall foot health overall. The GTS 20's upper is composed of a well-ventilated and very breathable fabric, utilizing the 3D Fit Print Model to give you a sock-like feel with the structural support of a bulkier shoe.
The way it succeeds in achieving this sturdy support is through the 20's GuideRails Holistic Support System, developed by Brooks. The idea in mind that your ankles and knees, not just arches, need to be fully supported as well to truly get the best possible experience.
The GuideRail system keeps your movement in a steady rhythm, minimizing any subconscious movements that are excessive or a hindrance, making sure these quirks are in check. On top of this, much like many other Brooks models, the GTS 20 also has the BioMoGo and DNA LOFT systems dedicated to providing you with that stellar underfoot cushioning and softness, without the responsiveness of the shoe taking a hit.
If you are a runner, health-conscious, or appreciate the kind of support that a runner would need, then the GTS 20 and its GuideRail system is a good place to start on your hunt for a great supportive shoe.
With that said, the Adrenaline GTS 20 is not perfect in every aspect. Most notably, the heel area of the GTS 20 is a bit narrow for some. They are also limited in the colorways you can get them in. If you're on for style, you might find some of the colors to be bland and uninspiring.
If you are someone who is adamant about heel-space or wants a more stylish colorway, then the GTS 20 may not be ideal for you. If on the other hand, you're a serious runner with a moderately shaped heel, you can't go wrong with picking the Adrenaline GTS 20 as they are one of the best arch support shoes you can buy.
Pros
+ Breathable fabric upper that is both durable and ventilated
+ GuideRails Holistic Support system is great for your arches and lower leg health
+ BioMoGo and DNA LOFT cushioning delivers ample comfort
+ 3D Fit Print engineered upper adds in some support to the rest of your foot
Cons
– Heel area is narrow
– Limited colorways
---
2. ASICS Gel-Kayano 26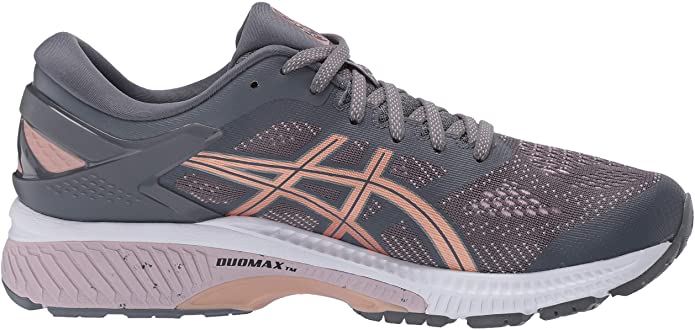 Next up are a long-running line of shoes – the Gel-Kayano 26, by ASICS. Since it has been around for so long, it should come as no surprise that ASICS has been able to tailor this shoe to its ever-increasing quality standards, especially when it comes to arch support.
If you've owned any Gel-Kayanos in the past, you'll find a lot of what you loved, with some new features, added into the mix. ASICS included their tried and tested FlyFoam Propel and FlyFloat combination, which are a two-tiered system of cushioning that improves the overall ride and responsiveness experience of the Gel-Kayano 26.
Known together as the Fluidride system, ASICS also added in some strategically placed gel pads in the heel area to increase the comfort and traction inside of the shoe, keeping you secure as well as padded from shock just a bit more. The Fluidride system will do wonders to keep your arches at peak comfort and performance.
Interestingly, the most intriguing part about the Gel-Kayano 26 is the Heel Clutching System, which actually impacts arches even more, as a piece of resin is applied to the heel counter, tightening the gap between the heel and your arch, giving you a more supportive and stable feel.
Last but not least is the DuoMax Support system that helps improve the overarching support of the shoe on your foot during walking or running, which has actually been improved to weigh less yet increase support across the foot, which is an ingenious improvement. You can see why this shoe is recommended as a top pick for arch support amongst a lot of veteran runners.
So much thought and detail going into the technology of comfort and stability. The Gel-Kayano 26 is also true to size, which is a definite plus since you won't have to worry about your size really being your size when you open the box and try them on.
As for serious issues, the toe area seems to be a bit vulnerable, with the upper in that area prone to being punctured or wearing down after use, which is an unusual quirk and possible engineering oversight. Apart from this issue, which may be a bother to some of you, nothing stands out as truly hindering the performance or support the Gel-Kayano 26s provide to its wearer.
Pros
+ FluidRide, Heel Clutch, and DuoMax systems for superior arch support
+ Strategically placed gel pads help with shock absorption and traction
+ Variety of colors and true to size
+ Lightweight, yet firm and supportive – great for running
Cons
– Toe-area of the upper seems a bit vulnerable to wear or puncturing
---
3. KEEN Utility PTC Oxford Industrial Shoe (Men's)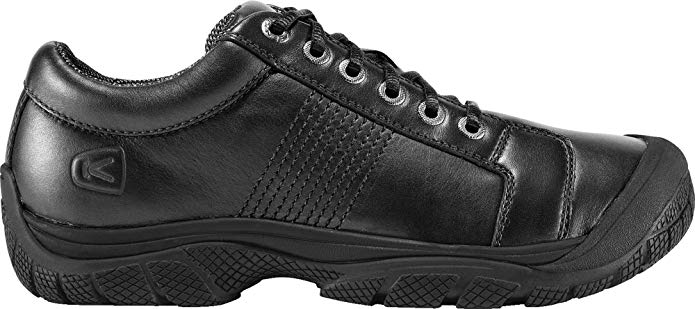 Next, we have the KEEN Utility PTC Oxford Industrial Shoes. Compared to other shoes on this list, they sport more of a more refined look and definitely look less like a traditional runner than most. The reason is apparent that these shoes aren't meant for athletics in particular, but day-to-day use, and use in a professional environment.
The upper is made of 100% leather, with a low top and ample ankle padding for increased comfort and security. The PTC model has a compression-molded EVA midsole, providing relief and comfort to your overworked arches, and the cushioning is made of a PU, cork, and memory foam mix, that conforms to your foot's natural shape easily, giving you a more ergonomic ride.
You may also notice that the PTC also features KEEN's well-known toe-protection, as the tough rubber outsole of the shoe wraps up and around the toe-area. This protection meets CSA standards, if your line of work requires it, or you prefer tested utility shoes.
On top of this feature, the outsole is also oil, slick, and slip-resistant, meeting ASTM testing standards, which again point towards a credible and safe shoe. If you are looking for a low-profile shoe, literally and figuratively, that meets your safety needs while also adequately supporting your arches, the KEEN PTC is a good option.
With that said, it seems to be the luck of the draw whether you're getting a pair that is well-made and up to KEEN standards, lasting years, or a lesser quality one that lasts a year tops. The quality control may have merely been an early-batch quirk and been resolved since, but you should know that it is a bit of a gamble and you may need to return them if you don't get the better quality shoe.
Pros
+ Refined look that is ideal for almost any environment
+ Comfortable EVA midsole to provide arch support
+ Well-cushioned footbed composed of PU, cork, and memory foam
+ Meets a variety of industry-standard safety checks
+ Slip-resistant and easy to maintain
Cons
– Seems to lack consistency in production quality
---
4. Brooks Addiction Walker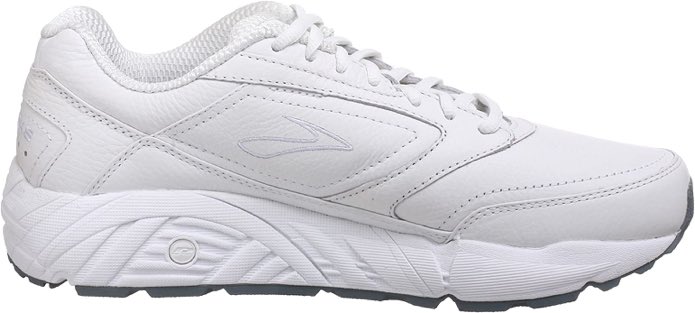 Here we have the Brooks Addiction Walker – a shoes with a full-grain leather upper and a synthetic sole that serves the highly durability, breathable, and long-lasting aspects of the shoe. To get into the specifics, the Addiction Walker has an extended progressive diagonal roll-bar that helps support your arch and also guide your feet into an ergonomic and healthy gait cycle.
Altering your way of movement subtly is a major plus, on top of already packing great arch support. The BioMoGo and DNA Loft insole adapts to your specific stride and contours when you walk, while helping disperse weight across the underfoot and giving you a comfortable and energizing ride.
It is the small things like that, that end up really helping you in more drawn-out sessions of walking, running, or just being in an upright standing position. In the forefoot of the shoe's outsole you will find MC Pods – an outsole design that is set apart by helping keep your foot stable and in the most efficient positioning possible.
Finally, the sizing options for the Addiction Walker are extensive. Whether you have a narrow-set foot or wide-set foot, there is a size for you. Overall, these shoes keep your foot's health in the best shape it can be, diligently taking care of your arch as well as improving your natural gait cycle.
While this is definitely a good thing, especially given the nature of this list, there are a few nitpicks to be made. Firstly, there is a break-in time associated with these shoes and they don't feel as comfortable at the start as they will a few days in. Secondly, they are on the bulkier side, which can be an issue for people who prefer lighter and sleeker shoes. Neither of these issues are big headaches, but something to consider. Despite their looks, these are exceptionally capable shoes with arch support.
Pros
+ Long-lasting durable leather and synthetic sole
+ BioMoGo DNA Loft insole adapts to your foot's shape
+ Helps alleviate aches and improve your natural walk cycle
+ Comes in wide and narrow sizing
Cons
– Has to be broken in to reach peak comfort
– Bulky and not as sleek looking as other options
---
5. Vionic Orthaheel Technology Classic Walker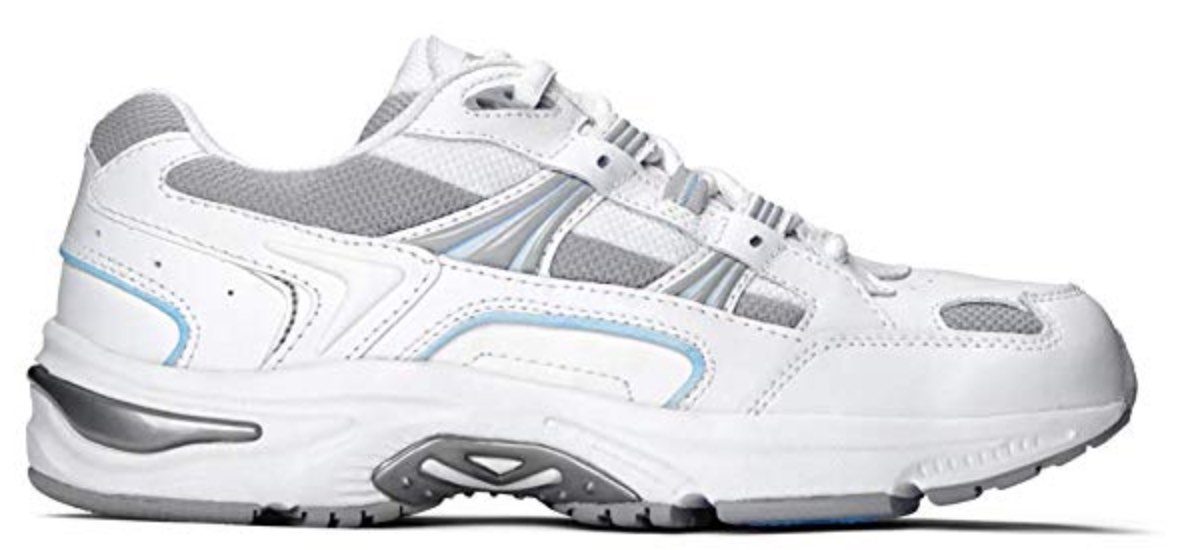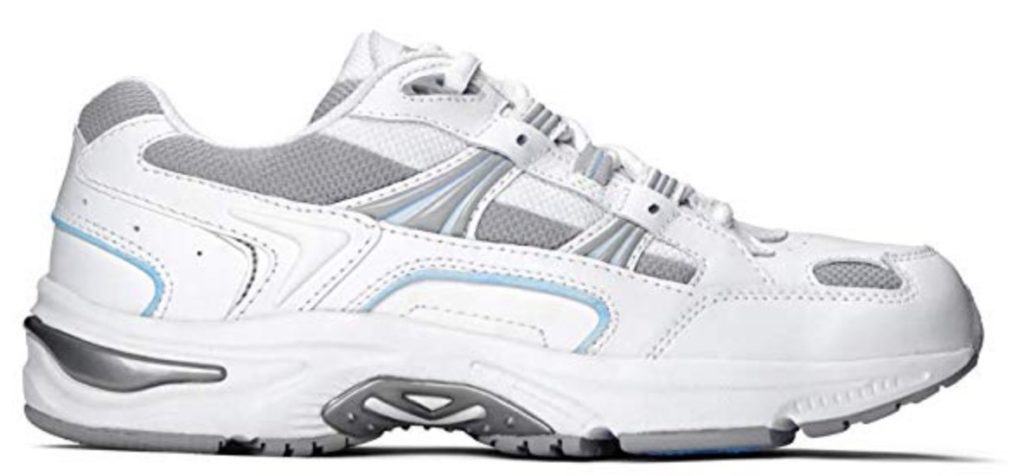 Next up is the Orthaheel Tech Classic Walker by Vionic – a brand well known for creating shoes that combat common foot conditions ranging from pronation and plantar fasciitis to heel spurs. The Walker Classic features a leather upper that is full-grain and water-resistant, combined with an action lacing system that makes putting these on a fluid experience.
Internally, Vionic has added a breathable and moisture-wicking polyester mesh lining, with a PU foam base that reduces friction against your foot. This is a small comfort added in to really increase the overall feel of the shoe and drive home a smooth and comfortable ride. The shoe insert is a podiatrist developed biomechanical orthotic that has an antibacterial top coating to reduce foot odor.
The midsole is an EVA compound that features a half-inch elevation that supports your arch and makes for smooth transitions between heel to toe-off. It is also completely possible to remove this insole if you have a preference for third-party orthotics, but Vionic has made sure that is not a necessity by any means.
Overall you'll find that these shoes will help alleviate any pain or stiffness you may feel in your feet as it gives you a great, comfortable in-foot experience mixed with ergonomic support and stability for your underfoot.
As supportive as the Vionic Classic Walkers are, you may not be attracted to their simplistic design, compared to the more attractive styles that are trending now. The Classic Walker also requires a bit of break-in time for the most optimal comfort – which could be an issue for some who want a shoe at top performance right out of the box. Finally, some users on Amazon have reported that the stitching loosens after months of wear, which is definitely not ideal. So, keep that in mind before making a purchase.
Pros
+ Water-resistant full-grain leather upper
+ Moisture wicking liner
+ Podiatrist created midsole and footbed that provide ample arch support
+ Removable insole if you prefer custom inserts
+ Antibacterial coating to remove any odor buildup
Cons
– Not a very trendy design
– Have to be broken in a bit to experience full comfort
– After months, the stitching can wear down
---
6. Mizuno Wave Inspire 15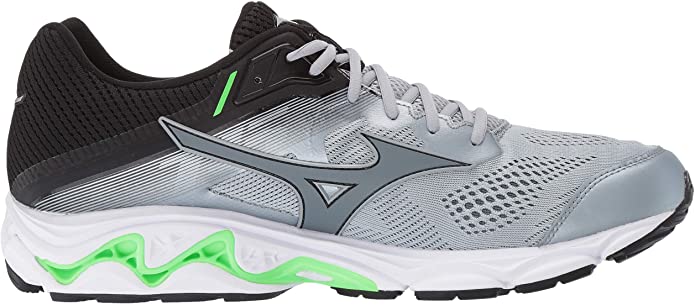 As our list begins to wind down, we now have the Mizuno Wave Inspire 15 – a Japanese manufacturer who is aiming to set a standard of comfort and stability for running shoes. The Wave Inspire 15 consists of a textile and synthetic upper that is meant to maintain structural integrity while also being fairly breathable and ventilating.
Internally, Mizuno implemented Cloudwave cushioning into their insoles, with a responsive and snappy feel to them that gives you the kind of firmness and comfort you need for a run or jog. The midsole of the Wave Inspire 15 is the U4ic, which supports your arch in idle positions, and provides stellar shock attenuation when on the go, alleviating tension your arch would otherwise bear on its own.
You can expect a smooth and comfortable ride thanks to this underfoot experience that appropriately supports and cushions your arches. Compared to the previous iterations, the Wave Inspire 15 has also added a new sockliner to increase the smooth feel and prevent any irritation or friction. The outsole is what you would expect from a high-end running shoe. The outsole consists of a durable rubber compound with key areas having ample treading to hold traction on most surfaces.
As for its issues, though, you should note that the Wave Inspire 15 is a little different than previous versions when it comes to design philosophy. In the past, the Wave Inspire series was focussed most on cushioning. But this version is much more focussed on firmness and stability, especially in the midsole, to give you a better stride.
If you are used to the previous models, this may be a surprise to you when you first try the 15's on. Secondly, these do not run right to size and are about half a size smaller, so we recommend getting a half size up for the best fit. Having said that, the Wave Inspire 15 is definitely one of the best arch support shoes that doubles as sleek running shoes.
Pros
+ Tough and breathable textile upper
+ U4ic midsole and Cloudwave insole support arches well
+ Smooth sockliner for more comfort
+ Responsive and snappy ride
+ Stability-minded design
Cons
– Will need to get half a size up, as these aren't true to size
– More focussed on stability than cushioning compared to older models
---
7. Brooks Ghost 12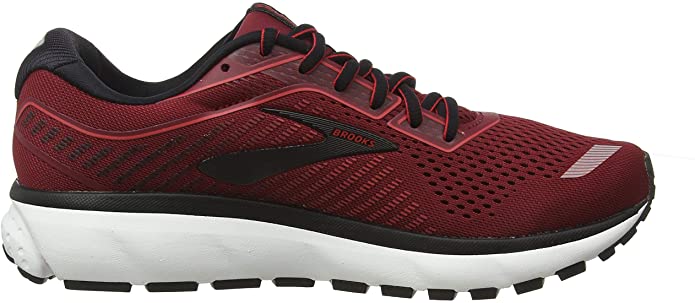 Now we have the Brooks Ghost 12 – a mostly run-oriented shoe that actually works wonders for your arches even if you don't intend to run. The Ghost 12 features a finely woven-style mesh upper that is highly breathable and gives you a snug sock-like feel that fits your foot's natural shape well.
The engineered mesh has strategic zones of stretching that give you ample flexibility and range of motion without getting in the way or feeling constricted. Compared to previous versions, the Ghost 12 has additional DNA LOFT cushioning in the heel area, giving you a soft and springy feel while stabilizing your heels.
Brooks has also added in the signature BioMoGo DNA foam to the midsole, fusing both the technologies together for a fully responsive ride that adapts to your custom needs, such as arch support.
The outsole of the Ghost 12 has also been updated, with a more prominent lug pattern while placement and flexibility of the outsole overall have remained consistent. This more prominent lug pattern will definitely help keep you secure while in motion or even in a bit more precarious terrain, which is much appreciated.
If you're into the trendy and sleek look of the Ghost 12 and want a runner that delivers a custom experience while supporting your arches, these are hard to pass up. While being sleek and comfortable, the only serious issue with these shoes is the fact that they traded off a durable upper for the sock-like appeal.
This soft and malleable upper is less durable than a more bulky and tough design (like an engineered mesh), and as a result, can't take as much of a beating without wearing down. If you intend to use these heavily and are looking for a sturdy upper on your shoe, then this style may not be for you, as it focuses on softness and custom comfortability over durability.
But having said that, the Brooks Ghost 12 is without a doubt, one of the best arch support running shoes especially if you're a daily runner and value comfort.
Pros
+ Snug and comfortable sock-like upper
+ Mesh has strategic zones that allow for flexing during motion
+ BioMoGo DNA midsole cushioning is great on your arches
+ Lightweight and flexible design
+ Updated outsole gains more traction than older versions
Cons
– Treading is tightly packed, can attract small stones and debris
– Not as durable as other options, since Brooks opted for comfort over toughness
---
8. Saucony Grid Omni Walker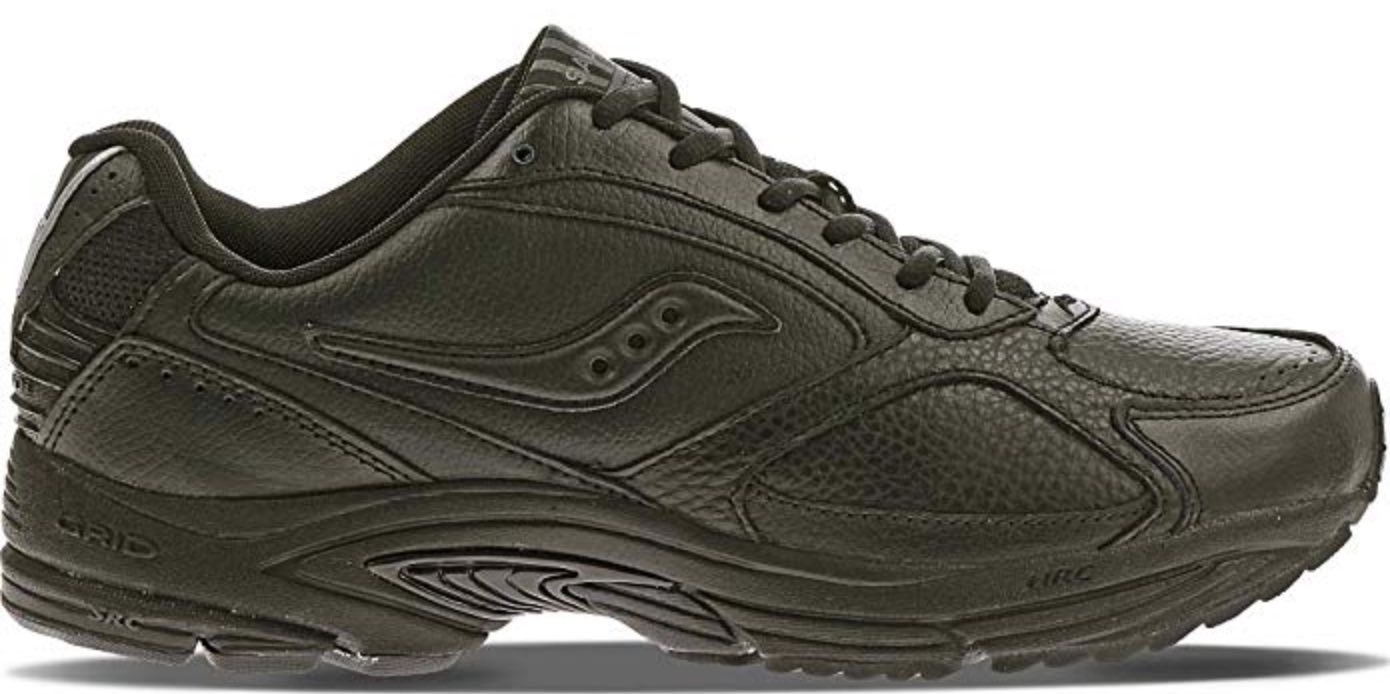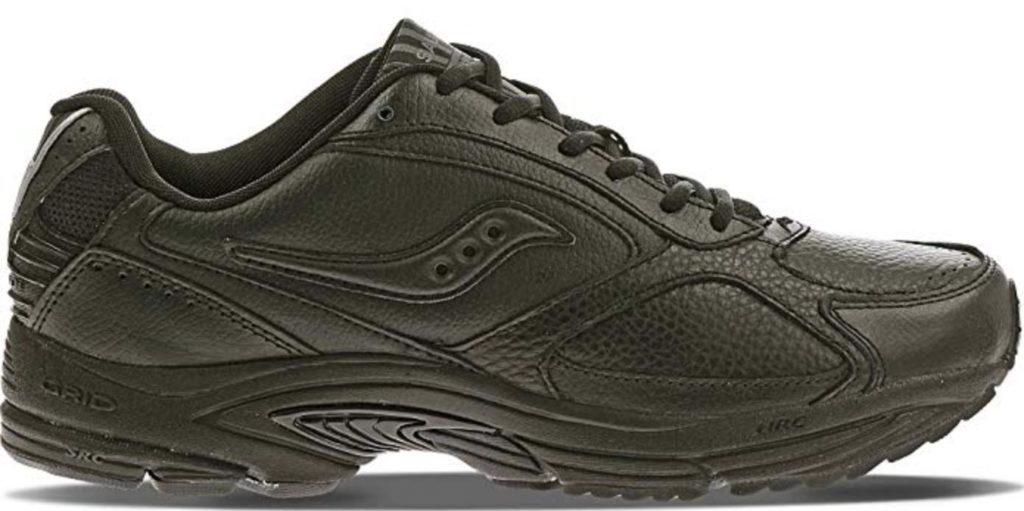 Next is the Saucony Grid-Omni Walker, a long-standing brand in the running shoe market. These are a budget-minded option that features a synthetic leather upper that is highly durable and water-resistant.
The shoes run true to size and provide ample space and support, with their insole being engineered for a biomechanical fit. It is asymmetrical and supportive in the areas our foot needs it most, like the arch and heel, greatly improving your walking experience. The arch support is also furthered by the midfoot bridge Saucony included, designed to add stability to your stride.
The midsole itself is a compression-molded EVA compound with high durability, keeping your natural gait free of abnormal patterns or issues. In the heel area, there are SRC crash pads to keep stress from impact in check – which is something that can really wear you down if you are prone to long walks.
Finally, we have the Walk-Trac outsole design that is engineered to help with your toe-off transitions, and a grid system in place in the rearfoot area to help with stability and shock-absorption. You'll find that the outsole has proprietary XT-900 rubber lugs that improve traction greatly, and since these are meant for walking indoors and outdoors, they are also non-marking.
As greatly engineered as this shoe is on the inside, the outside leaves a lot to be desired. The very bulky design will be a bit of a turn-off for some, especially in a market that is filled with sleek and cleaner looking shoe models. If you prefer the type of shoe that is lightweight, slim, and form fitting, then the Grid-Omni Walker may not do it for you.
Because of their sturdy design, they are also not as breathable as its lightweight competitors. With that said, if you are willing to overlook all that, the Omni Walker adds a whole lot of value to your foot's health through all the technology on the inside. For many, that value completely outweighs the looks.
Pros
+ Durable synthetic leather upper
+ True to size, and greatly helpful for your arches with a midfoot bridge and EVA midsole
+ SRC Crash Pads in the heel area to keep impact under control
+ Outsole has Walk-Trac design and rearfoot grid system
+ XT-900 lugs will keep you well gripped to surfaces
Cons
– The overall aesthetic of the shoe is very bulky and box-like
– Upper could be more breathable
---
9. Ryka Devotion Plus 2 Walking Shoe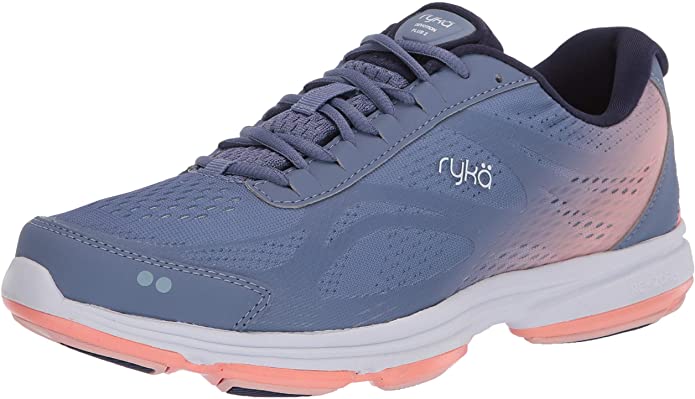 Here we have the Ryka Devotion Plus 2 Walkers, made with breathable and stretchy mesh and synthetic materials for the upper, which is great for both walking and running. Ryka makes sure to include synthetic overlays on top of the breathable mesh to ensure its integrity and firmness over the course of a long walk or run.
What you're probably more concerned with though, is the inside. Internally, there is an anatomically precise footbed that provides you with the impact dispersion you need on a run, with the comfort you need on a walk. It features a full-length RE-ZORB platform, with an external pod network between the midsole and outsole to make doubly sure your comfort is always at its peak.
Ryka also engineered an eight-piece skeletal rubber that improves the structure and firmness of your walk very well. The ergonomic RE-ZORB footbed combined with the skeletal design make it so your walking experience and underfoot comfort are of the highest quality, so there are little complaints on that front.
On the flip side, the Devotion Plus 2 does have its shortcomings. Firstly, the outsole could do with a redesign, as the pod treading does look stylish, but it does lack traction on more wet surfaces. For this reason, you may not feel totally gripped on to particularly slippery or smooth surfaces, which is not a great feeling at all.
Secondly, the Devotion Plus 2 tends to wear down quickly compared to its competition, as a result, you may see yourself replacing them in a half-year or so. For some people, the trendy design and internal support and comfort are enough of a sell, but if you care about solid traction or having a shoe for years on end, the Devotion Plus 2s are a little lacking.
Pros
+ Aesthetically pleasing design
+ Mesh and synthetic upper balances durability and breathability
+ RE-ZORB platform and external pods make for great arch support
+ Eight-piece skeletal rubber gives you a firm walk
+ Come in a variety of colors
Cons
– Traction could be better on the outsole
– Tends to wear out fast under constant use
---
10. New Balance 990V4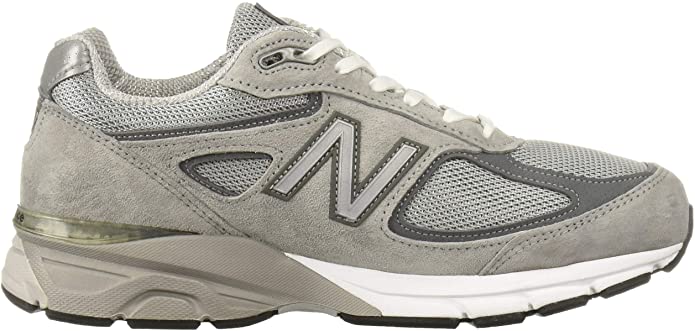 Our penultimate shoe for best quality arch support is the New Balance 990V4's. It's upper is constructed out of full leather and textile fabrics, with sections of mesh upper underlaid. Needless to say, compared to the V3's, the upper construction has improved in durability considerably.
The 990V4 also has a few great quality-of-life improvements, including the lace-keeper system which helps keep the lacing secure and the tongue in place, as well as the 3M reflective accents added to give you some visibility in low-light conditions. The collar foam has been created with a dual-density design, making it just that much more comfortable as an overall experience.
When it comes to support, the V4's have an underfoot support system in the form of their ENCAP midsole technology, with a PU ring and EVA core as well, giving you stellar support and durability. Support and stability are something you should expect and enjoy from the V4's without a doubt, but probably just as important is the sheer sizing options of the V4, ranging from X-Narrow to 3X-Wide, every width under the sun is adequately supported and tended to with this sneaker.
For this reason, it's hard not to think twice about a shoe that properly provides arch support while also perfectly fitting your foot shape. Lastly, the outsole is made of blown-rubber that is highly durable and springy. It is well equipped to take a beating under heavy use and you won't be needing to replace them for a few years down the road.
With that said, there are a few hurdles to get over if you are critically looking at the 990V4's. Firstly, they are on the upper end of the price range, substantiated by the fact they provide unparalleled sizing options and stellar support and comfort.
This may be a barrier to some who seek a more affordable option. Secondly, it is bulky and not as flexible as some would like, specifically if you're getting this shoe for athletics. If you want a shoe that is meant for speed, flexibility, and precision footwork, these may leave you wanting more.
Pros
+ Highly durable and breathable mesh
+ Underfoot support from ENCAP midsole, PU ring, and EVA core
+ Wide array of sizing options
+ Tough blown-rubber outsole
Cons
– High-end pricing
– Bulky and not as flexible as some might want, specifically for sports
---
11. Salomon Sonic RA Max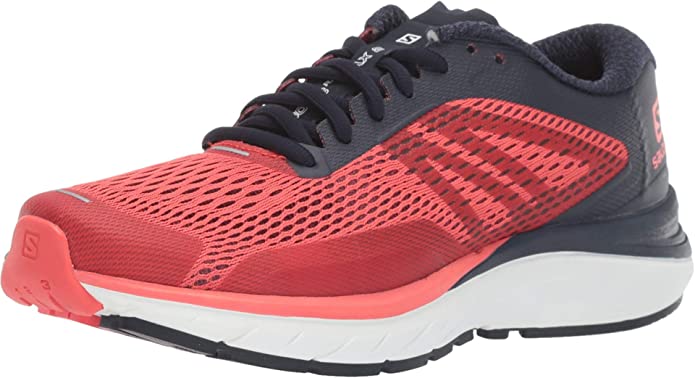 The final shoe on our list is the Salomon Sonic RA Max from Salomon – who is a highly reputed brand in the outdoor niche. The upper is made of breathable mesh throughout, with light textile lining engineered to give you a smooth and sock-like fit when worn.
The internals on the Sonic RA Max is meant to give you an equally smooth ride – with a molded Ortholite insole combined with an EnergyCell+ midsole that gives you superior cushioning and support with astounding energy return, as the name alludes to.
The soft yet firm internals are meant to blend well with the fitting outer tech to provide you with a solid combination of comfort, stability, and cushioning all at once. The shoes themselves are generally geared towards running, as the vibrant flashy colors and sleek design lends itself well to putting up with miles of pavement, be it at night or during the day.
Salomon also made sure to provide a spacious toe-box for those of you who really prefer a more natural toe-splaying atmosphere, compared to a cramped area that would hinder any normal toe-splaying. The outsole is made with Contagrip wide lugs at the forefoot area and at the end of the heel, giving you great grip, durability, and stopping power.
As great as these shoes' features are in regards to support in the midsole and arch area of your foot, we find that the main issue with them is that they have a hard time with durability. A lot of running shoes have more durable and long-lasting soles – which is a definite staple if you're an avid runner.
If you do intend to put these to the test with rigorous run sessions, you may feel disappointed after a few months if they just don't feel as great as they did out of the box. If you are using them for more casual affairs, they should last a fairly long time and are reliable at providing support and stability to your arches.
Pros
+ Ortholite insole and EnergyCell+ midsole provide excellent support
+ Mesh upper is very breathable, which is good for athletes
+ Large toe-box for a more natural toe-splay
+ Contagrip lugs in the outsole make it fairly grippy
Cons
– Under extreme stress, the midsole tends to give out earlier than we'd like
---
Conclusion
To conclude, the importance of our arches on foot health and daily life cannot be understated. We rely on our arches to carry the burden of all our weight when walking, not to mention absorb shock upon impact with every step we take. Arch support shoes play a pivotal role in longterm longevity of your feet and ankles.
By getting the right pair of shoes that support our arches, we increase the likelihood of having a better life down the line, not plagued by poor walking ability or foot conditions. If you already have some of those conditions, getting a better pair of shoes will also help alleviate that pain and stress, while preventing the issues from worsening over time.
Truth be told, there simply is no drawback of getting a proper shoe that meets the needs of our arches. All the shoes we have listed here are able to adequately support your arches for a long time, under constant use. If you are health-conscious, it is a no-brainer to commit to an ergonomic and helpful shoe. You'll thank yourself later.